One of the top things I wanted to do while in the amazing city of Kolkata, was visit Mallick Ghat flower market.
As one of the biggest flower markets in the whole of India; it's a wonderful array of colours, sights, smells and sounds.
As soon as the sun rises, you'll find thousands of wholesalers here with their many kilos of colourful freshly cut flowers from the farmlands.
They will be busy bartering for sales and want to get rid of their wares as soon as humanly possible!
It was one of the most chaotic experiences I had while on my visit to Kolkata and I absolutely LOVED every minute.
It was the first time in a long while I had really felt culture shock in India and visiting made me love this country even more.
But, you should probably prepare yourself before you go. So, here are some important things to know before you visit Mallick Ghat flower market.
Mallick Ghat flower market history
As well as the size of the flower market breaking records, you may be surprised to know it's also one of the oldest running flower markets in India too.
The Mallick Ghat flower market's history started in 1855 when Ram Mohun Mallick built the Ghat. Hence the name!
If you weren't aware a Ghat is a set of stairs leading down to a river. In this case, the Mallick Ghat leads down to the Hooghly River or Ganga.
This makes the market just over 165 years old this year and still runs every morning to this very day!
Fun fact: as well as supplying flowers to businesses around Kolkata and in India. It supplies flowers internationally to Amsterdam, Dubai and Auckland in New Zealand!
Where is Mallick Ghat flower market in Kolkata?
Of course, as the name would suggest, the market can be found at Mallick Ghat on the river.
But, in order to find it, you'll need to make your way over to the iconic Howrah Bridge. Some call this Rabindra Setu bridge.
This is because it was 'rechristened' after the first Indian Nobel laureate (Rabindranth Tagore) in 1965. It is most famously known as the Howrah bridge.
From here, you can walk underneath the bridge and follow the trail of sellers towards the main part of the flower market at Mallick Ghat.
How to reach Mallick Ghat flower market
The best time to visit the market will be sunrise as soon as the flowers come in. This is around 4 or 5 am depending on the season. So, the best way to get to the market would be by pre-arranged taxi.
Your hotel or guest house can arrange one for you. Or, you can hire one of the yellow ambassador taxis around the city.
Just be careful and make sure they put it on the meter. If they refuse to put on the meter, wait for a new taxi or negotiate a price first before you get in.
As it will be so early, the best way to organise a taxi and get an honest price for it is to use Uber.
I pre-arranged my taxi the night before via the app and scheduled a ride ahead of time due to the early hour. You may find if you try to book in the morning, you won't find any working!
If you aren't familiar with how to use Indian Uber, make sure you read my blog post here. It has everything you need to know and a special discount code for your first ride.
Or, go on a Mallick Ghat flower market tour!
One thing I wish I had when I went to Mallick Ghat is a guide. I mean, it was fun exploring on our own.
But, at one point we did have to ask a guide on how to find Mallick Ghat and it would have been nice to get a little more inside knowledge.
Like, how to find the best stalls and where the flowers all come from…and go!
Plus, it's always a nicer experience when you're with someone that can speak the local language (Bengali). So, they can translate any questions you may have.
There are a few tour companies that run special tours of Mallick Ghat with an expert local guide to explain what's going on;
Click here to book your guided tour of the flower market!
12 important things to know before you visit Mallick Ghat flower market
1. It's the biggest flower market in Asia!
Mallick Ghat is one of the biggest flower markets in the whole of Asia, so this is definitely something you should prepare for.
In its humble beginnings, the market was located around the small ghat by the Hooghly River.
Now, it sees way over 2,000 flower sellers every day and they can be found underneath the Howrah Bridge, by the railway tracks, around the Mallick Ghat and all over the area in the mornings.
So, you could spend hours exploring the labyrinth of flower stalls.
Sellers with bags full of flowers, stalls with religious decorations for sale and orange marigold garlands; it's honestly endless!
A great experience is to see all the flower sellers arrive in their trucks for the morning sales.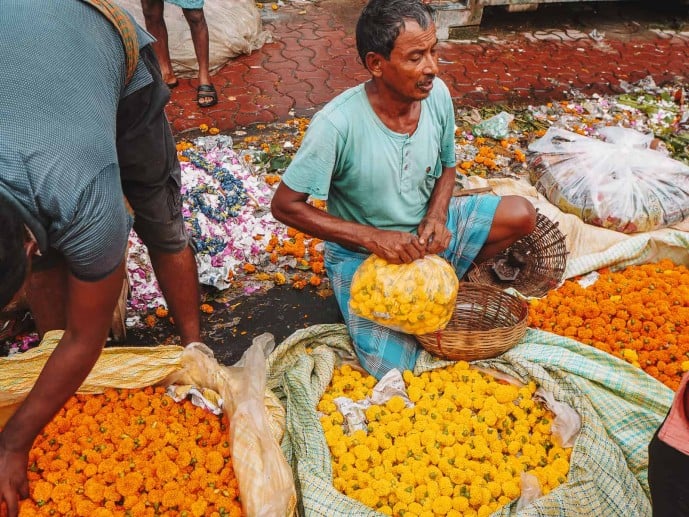 2.
It's FREE but you'll need to be up incredibly early to catch it

Without a doubt, the best time to visit Mallick Ghat flower market is at sunrise.

I know Lonely Planet says it's there 24 hours a day. But, you may regret leaving later.

I know, I know, it's a tough time to get up. Believe me, I've been at the bitter end of that alarm.

However, the early bird really does catch the worm here…or flowers!

Sunrise is when the most flowers are brought out for the day and you'll see them all freshly cut and prepared.

There will be so much colour everywhere. If you leave it too long in the morning time, the best flowers will be sold off and you'll miss all the good colours.
A lot of the flowers eventually wilt and the floor will be covered in castaways, stalks and leftovers rather than the nice stuff.
Regulars that want to buy will know the exact time the market sellers arrive and are quick to purchase as soon as the flowers are out on the street. Once the sellers have sold their stock, they're off!
On special religious holidays, extra flowers are brought over for the occasion.
During these times, you may find these markets go on all day. But, check with a local first.
So, set that alarm. It's incredibly early for a holiday but you won't regret a thing.
3. The market is located underneath Howrah Bridge by the Hooghly River
So, once you get here and are dropped off by Howrah Bridge. What now?
Well at first my friend and I decided to look over the bridge at the market below from a distance.
From here you can get a really beautiful view of the sellers and flowers!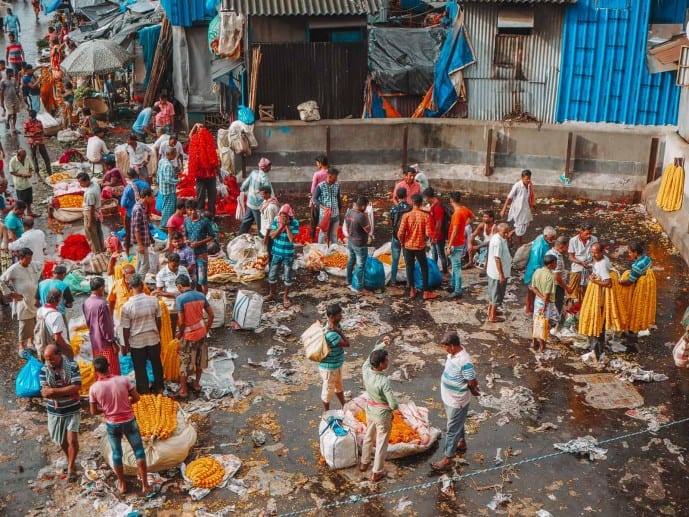 But, if you really want to get in the thick of the flower market, you need to locate Mallick Ghat.
When you walk down the steps of Howrah Bridge carry on down the street and follow the other flower stalls along.
Turn left and enter the centre of the flower market. Many sellers live here in makeshift houses on the ghat as the market is their livelihood. It's almost like a big family.
Here is where you'll find the majority of stalls and flowers. It's mucky, loud, noisy, smelly and chaotic – but it's where the fun is!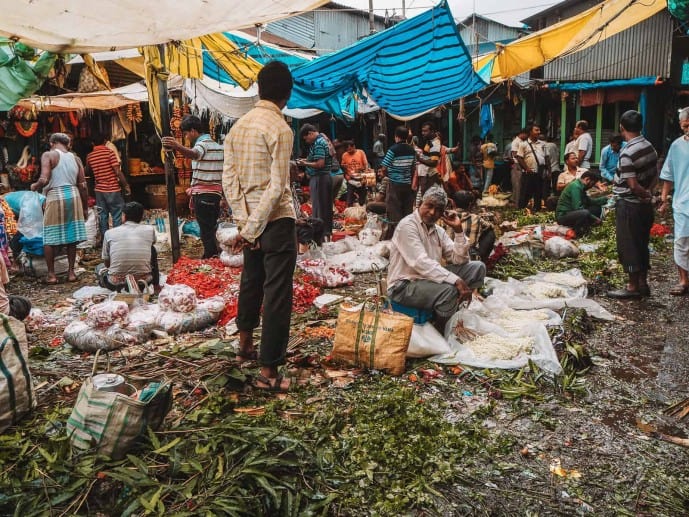 4. Here, you'll find over 2,000 flower sellers and SO much colour!
The reason why this market is so great is that you can walk in amongst all the action.
You'll have sellers arriving in their trucks, unloading thousands of flowers and you can see them setting up their stalls for the day.
Buyers will be coming to look at the best cuts and will start bargaining with the sellers.
You'll see lots of (loud) conversations going on and plenty of money being passed around too.
Although it is an incredible place to photograph as there is so much colour, it's good to take a moment and be present here too.
I loved watching the little moments. Like conversations, negotiations, chai making its way around and everyone, including me, sticking in the mud!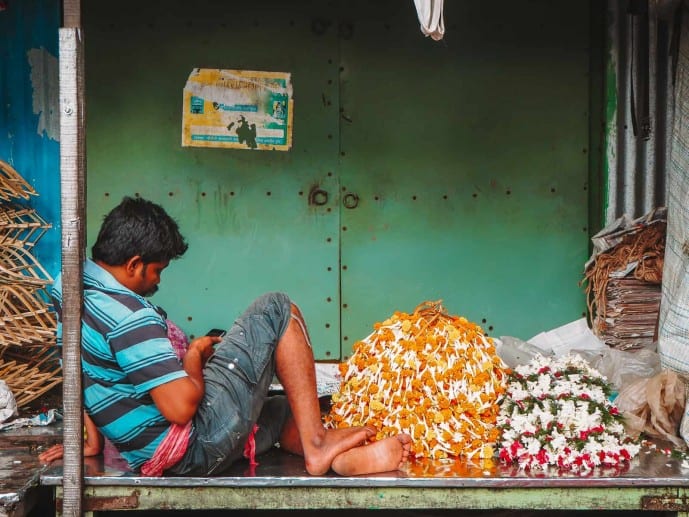 5. It's where all the local businesses and temples buy their flowers for the day
If you are wondering why there is such a big flower market in Kolkata, it's because this is where temples and local businesses will buy their flowers for the day.
The orange flowers, marigolds, are often used as offerings to many of the Hindu gods and goddesses.
The saffron orange colour of marigold is sacred in Hindu culture, hence why you'll see so many being offered in Hindu temples.
In fact, any flowers in Kolkata probably came from Mallick Ghat!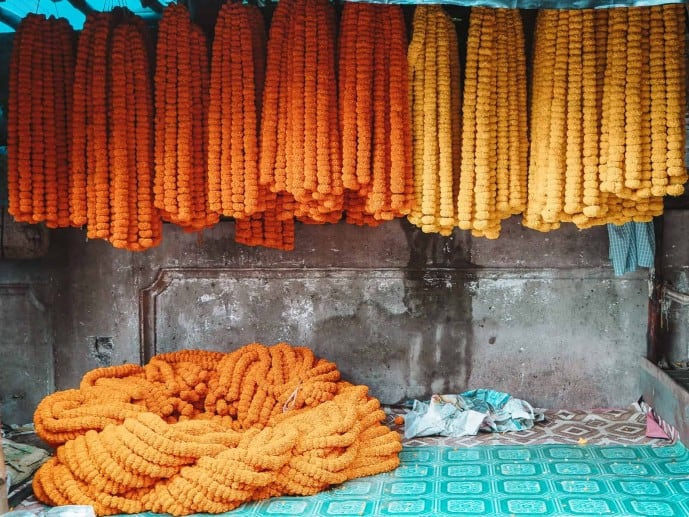 So at the market, temples will buy flowers to sell to pilgrims and pilgrims will buy flowers to offer to temples.
Street sellers buy flowers to sell to taxi and lorry drivers on the road for safe travels and businesses like hotels will buy flowers to put on display.
Many will buy flowers wholesale to sell again separately to other businesses. It's a huge industry that provides for so many in the city.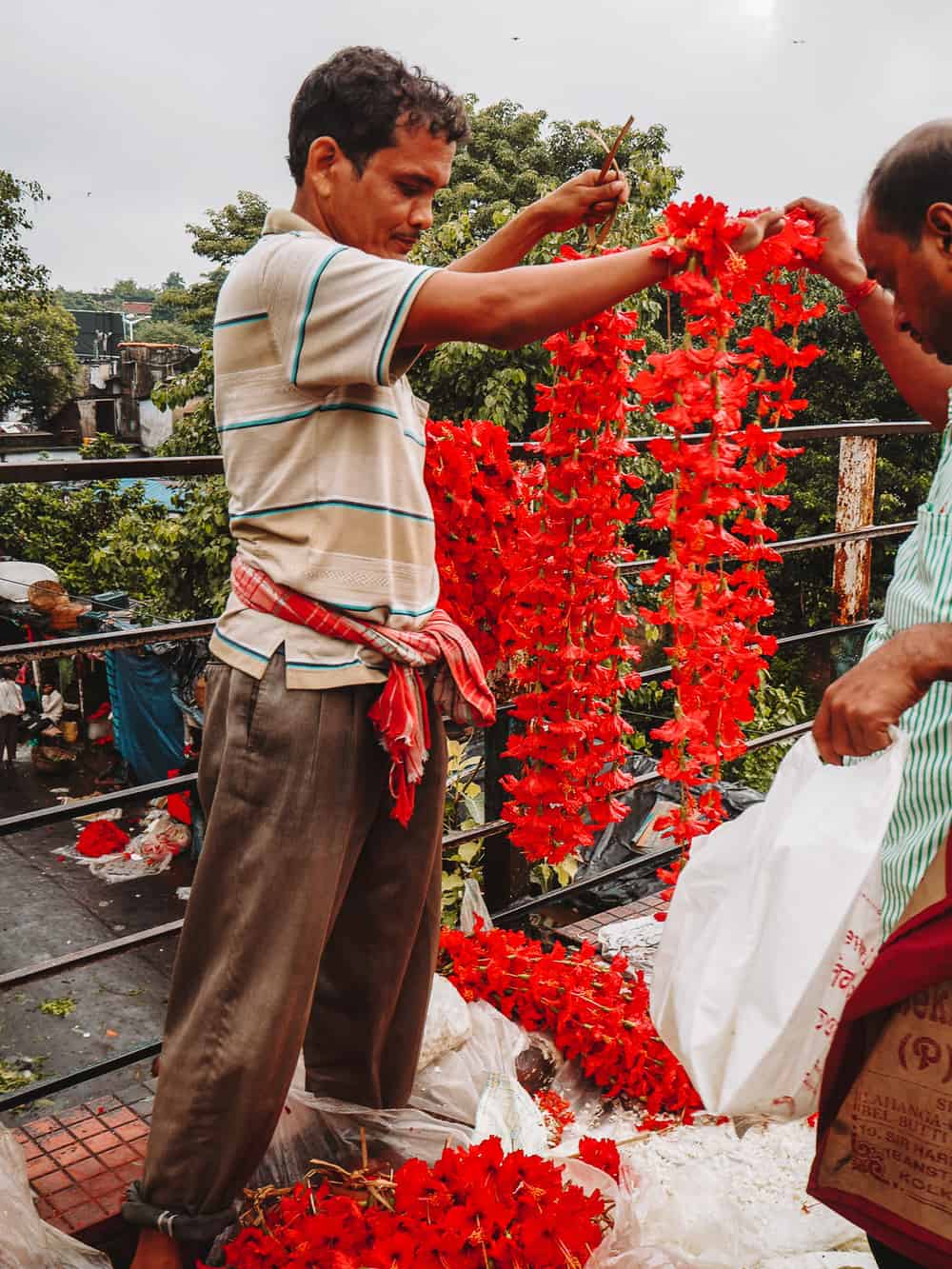 6. You'll enter complete chaos but it's so much fun!
Visiting the Mallick Ghat flower market is a top experience here in Kolkata. But, it's also a very local thing to do as well.
So expect to be culture shocked. Think big crowds, lot's of shouting, people pushing past you, slippy floors, bright colours and stuff on the floor everywhere.
There are also a lot of bees and swarms of flies that surround the flowers, especially the white garlands. So, if you're afraid or allergic don't get too close.
There will be sights, smells and sounds in this colourful maze at every turn, which I found fantastic!
But, it may be a bit much when it's the crack of dawn and you haven't had your morning coffee or breakfast yet.
Luckily, the Oberoi Grand had some coffee and muffins laid out at the reception for those who were getting up early.
So, I crammed some caffeine in my veins and shoved a muffin in my mouth before I got here. I would recommend doing the same.
There are chai and street food stalls at the market too if you forget!
7. The floor gets incredibly muddy, so wear appropriate shoes
The one thing I didn't expect was that the ground in the market would be SO muddy! The floor was like one massive mud bed.
I actually wore a long dress (big mistake) and Birkenstocks (even BIGGER mistake). So, I was less than thrilled having to squish through the mud in both.
Your feet will sink into the wet mud and you'll just hear a big sickening squelch! Just be careful you don't get stuck.
Granted, it had just finished being monsoon. But, I think it's a common thing to happen all year round due to being so close to the river.
Lot's of the locals, who know the market, wear basic flip-flops here and wipe them down after.
But, if you've got closed-toe shoes with a grip, I'd recommend those. It's honestly grim having that mud between your toots!
8. It's a photographers paradise – but don't shoot the ghats / Ganges river
The reason why I wanted to go here mainly was to photograph the flower market.
There is so much inspiration here, you could be capturing it with your camera all day.
The locals are really friendly and don't mind you taking photos of them and the market.
In Rajasthan, I am usually hassled for a tip when taking photos of things, but not here.
It's always a good call to ask someone's permission if you want to take a close up portrait of the first and if you feel you want to tip them for their time.
The one thing I would be wary of is photographing the Ghat leading down to the Ganges river. The water is regarded as holy and many bathe in it daily.
As I mentioned before, there are people living here and it's where they bathe every day. So, they need their privacy.
I was told by my tour guide on a different tour that it is often seen as a sign of disrespect to photograph pilgrims who are bathing at the Ganga. Many locals don't take kindly to it.
9. You can buy flowers, but you'll need to purchase by the kilo
Although it is a flower market, just be aware of the fact that the flower sellers won't sell you a small bag or one flower. It's not that type of market!
Whereas you may have seen bunches of tulips for sale in flower markets in Amsterdam. The Indian flowers here are sold in huge bags and garlands.
It's a wholesale flower market and people want to sell their wares as soon as possible. So, they really only honour sales that are by the kilo… that's as a minimum!
Temples will buy many kilos in HUGE bags to take with them and traders will do the same. I tried to ask them about buying, but the language barrier was quite strong.
Although I can get along in Hindi, the locals speak Bengali. It's completely different. So, I couldn't ask what weight I would have to buy.
I'm pretty sure you won't have enough space in your backpack or suitcase for the amount they want you to purchase. So, just stick to being an onlooker.
10. Don't forget to drink street chai like the locals
If you're feeling like you need a pick me up, then there are plenty of chai stalls around the market to purchase one from. I'll always say it..the chai on the streets is the BEST!
I always love a chai stall as it's almost like a huge industry.
The chai will be bubbling away on the stove while men will gather to chat. Chai delivery boys will earn a few rupees by bringing drinks to the sellers all day too.
A street chai stall is always an adventure in itself and you never know who you'll meet.
We stopped by an amazing stall by the Mallick Ghat where the chai walla was selling 5 rupee chai in traditional terracotta cups.
These cups are eco friendly as they are broken and remade, whereas paper and plastic cause a lot unnecessary waste. It's the traditional way to drink chai.
It was one of the best chai's I had drunk in ages. He made it especially for us, in front of us, and fresh in the pan. So, we had two each!
If you're wary of drinking chai on the street, just know the milk and spices are boiled within the edge of its life. So, nothing to fear of getting Delhi belly here.
11. Its easy to get lost in amongst the labyrinth of stalls but the locals will help you out
The thing about being in the biggest flower market in all of Asia is that it's so easy to get distracted and lost inside.
Once we had enough exploring in the mud and wanted to get back to our hotel for proper breakfast (and a little nap) we realised we had lost our way!
As we didn't want to go in the wrong direction in the eight inches of mud beneath our feet, we asked some of the locals to help us out.
As none of us could speak a word of Bengali, we just asked 'taxi?' and a kind local guided us out the quickest way!
There are many ambassador taxis you can take at the entrance of the market. They will be waiting for tourists.
But, make sure the meter is on. Or, you can order an Uber at your next destination.
12. It's something you will never forget and worth getting up for!
Yes, it is very early to get up for a flower market in Kolkata. But, it's also something worth doing and you won't forget it in a hurry!
It was honestly one of the best experiences I had in this city and really opened my eyes up to the life that goes on by the river here.
As a photographer, it was amazing and I loved snapping away all the people and colours behind the lens.
But, as a traveller, I really loved meeting the locals and being part of those experiences you just can't capture.
You will get a little dirty and you may be a little cranky. But, I promise you, it will be one of the best things you do while you're here.
Read more of my Kolkata travel guides
My ULTIMATE Kolkata bucket list
Taking a Ganges River Cruise in Kolkata
Visiting the Biggest Banyan Tree
Visiting Kumartuli – the potters quarter
The haunted South Park Street Cemetery
Why you needs to visit the Victoria Memorial
Where to stay in Kolkata
I stayed in the Oberoi Grand, or the Grand Dame of Kolkata, a historic 5* hotel on Esplanade.
As the second oldest hotel in the whole city, it's become an icon and sees many famous celebrities and politicians walk through its doors.
Here you can stay in one of their classic deco rooms, fit with a four-poster bed and washroom with a bathtub.
I would highly recommend getting a room that faces inwards towards the pool to limit the noise of traffic from the street. This was much needed in Durga Puja!
The restaurant serves up an incredible breakfast each day with polite staff who want to please! Plus, their buffet dinner and afternoon tea in ThreeSixtyThree was delightful.
My favourite part was chilling out in their pool in the shade. They would offer us free smoothies as a refresher. I honestly felt like royalty here.
Click here to check dates and rates to book a stay!
Like it? Pin it!