Manali was breathtaking. When I arrived from the washout that was Dharamsala, it was so beautiful to finally see some sun!
That along with tall mountains and beautiful luscious green scenery all around. We got off the night bus at the bus stand in Manali at 6 am pretty delirious as it was a rough ride.
Punjabi music playing all night, a noisy engine, and an old bus that could hardly make it around the turns of the winding road weren't exactly fun.
But, on the upside, we made it in one piece. There are two parts to the world of Manali.
These are new Manali, which has the congested Mall Road and is not very pretty, and Old Manali which is across the bridge over the Beas river.
Both are an easy 1km walk away from each other so you can get the best of both worlds! Here's your ULTIMATE Manali travel guide to the hippie town in Himachal.
Old Manali vs. New Manali
Old Manali
Old Manali is where all the backpackers and tourists head and use it as a base as there is a plethora of funky cafés, restaurants, boho shops, and bars to hang out.
Manali was a prominent location on the hippie trail and ever since has been a Himalayan bohemian town.
It's often called the 'Goa of the north' as a lot of people escape here from the heavy monsoon rains in the south.
You'll see a lot of the restaurants and cafés have outlets in both Manali and Goa which is pretty cool.
It has some amazing scenery and a catching laid-back vibe.
Some guys heading back from a party gave us a free ride and dropped us off at Manalsu guest house.
The rooms were cheap at 600 rupees a night and the views were to die for! It felt awesome just to finally arrive there (and have a well-deserved nap!).
The best places to eat in Manali and chill out
There aren't a lot of things to do in Old Manali so to speak, in terms of sightseeing as the views are all around you!
Typical scenes are backpackers chilling out in cafés taking it easy or shopping for tailored clothes!
The beautiful Beas river lies at the bottom of the town and is a beautiful place to go and bask in the sun!
This is also where some of the wonderful Himalayan fish comes from on the restaurant menus.
Dylan's Toasted & Roasted coffee house Manali
Dylan's which is dedicated to the amazing artist and singer Bob Dylan is a wonderful coffee house that is legendary among backpackers.
Not necessarily for their coffee, but for their awesome cookies! These are fresh from the oven and have gooey melt-in-the-middle chocolate filling – they were so scrummy!
At 30 rupees apiece, they're an awesome treat. I still dream of these little treats now and I could go back just for a taste. It's always busy and has a great atmosphere to relax and chat with other travellers.
Click here to read my complete Dylan's Toasted and Roasted review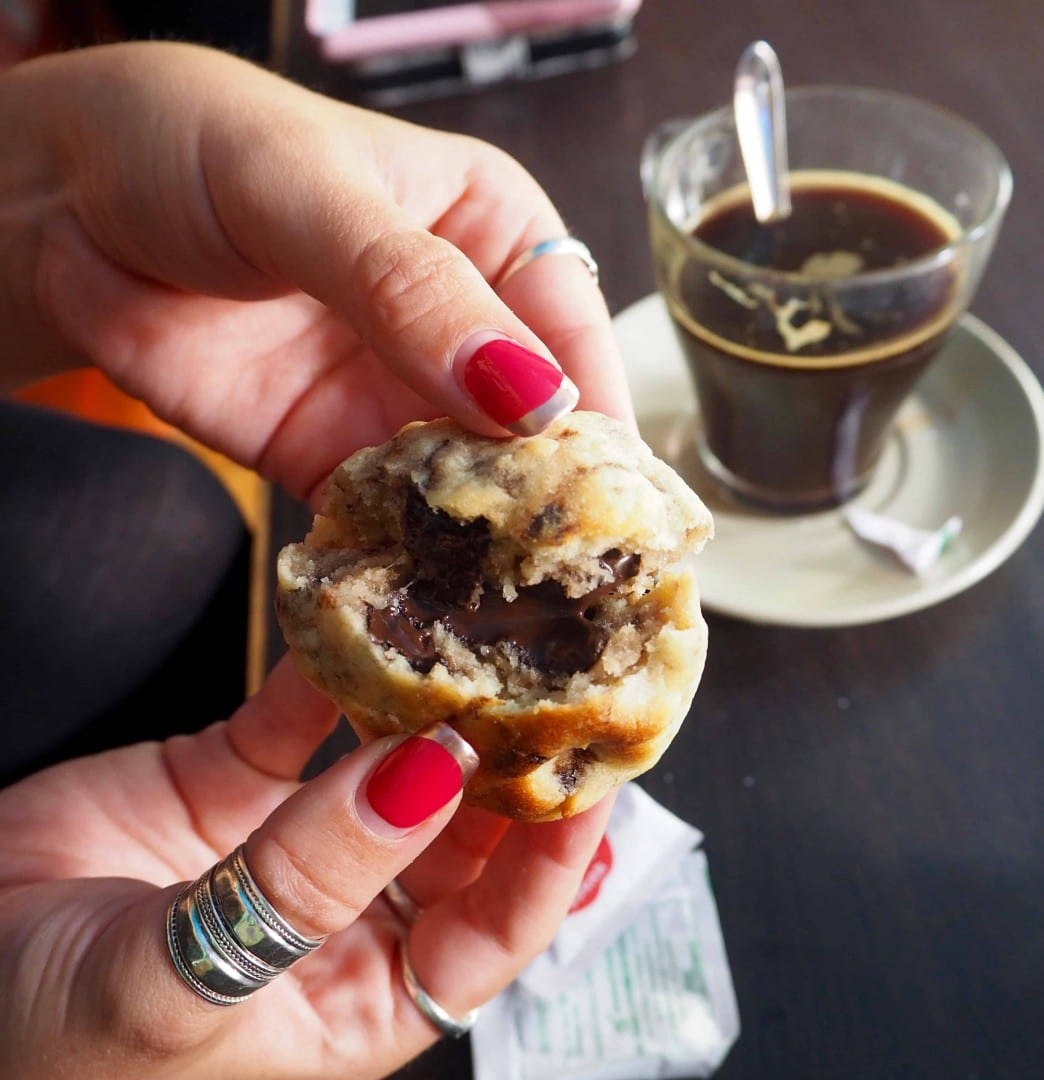 Rendezvous
I found some of the popular cafés like Café 1947 and the Lazy dog to be pretty pricey and out of my range.
They also add some of that dreaded GST on top of the price and it all adds up just for one meal out!
I really wanted to try some of the local Himalayan fish which is caught around the area.
Rendezvous was not only a super cool place to hang out with relaxing live music but also did some tasty cheap meals.
I had their fish sizzler which was so tasty, it came on a bed of rice and fresh veg. It was so good I had it twice while I was here!
Riverside music café and German bakery
As a tourist town for mainly westerners, it was hard to actually find a decent curry even though this is India!
Most of the restaurants sold Italian or Israeli food. So, when I saw mostly Indians eating by the river at the music café, I knew the curry had to be good!
I tried to eat by the riverside as much as possible as it was so effortlessly scenic.
Although I didn't hear any music here, the riverside has the perfect setting for dinner. Their menu is varied (not only curry), tasty and it's cheap.
Where to eat in New Manali: Chopsticks
Probably the one reason to visit New Manali (aside from a working ATM and taxis) would be to try the Asian restaurant Chopsticks. It served up some tasty sushi and a mix of Chinese, Japanese, and Tibetan cuisine.
It packs out almost every night, you'll be waiting for a table but it's worth it!
Things to do in Manali
Now, it wouldn't be a Manali travel guide if I didn't go through all the top places to visit in Manali.
If you're a little tired of just chilling out and eating, there are some awesome things to do in Manali and take in the amazing mountain scenery here!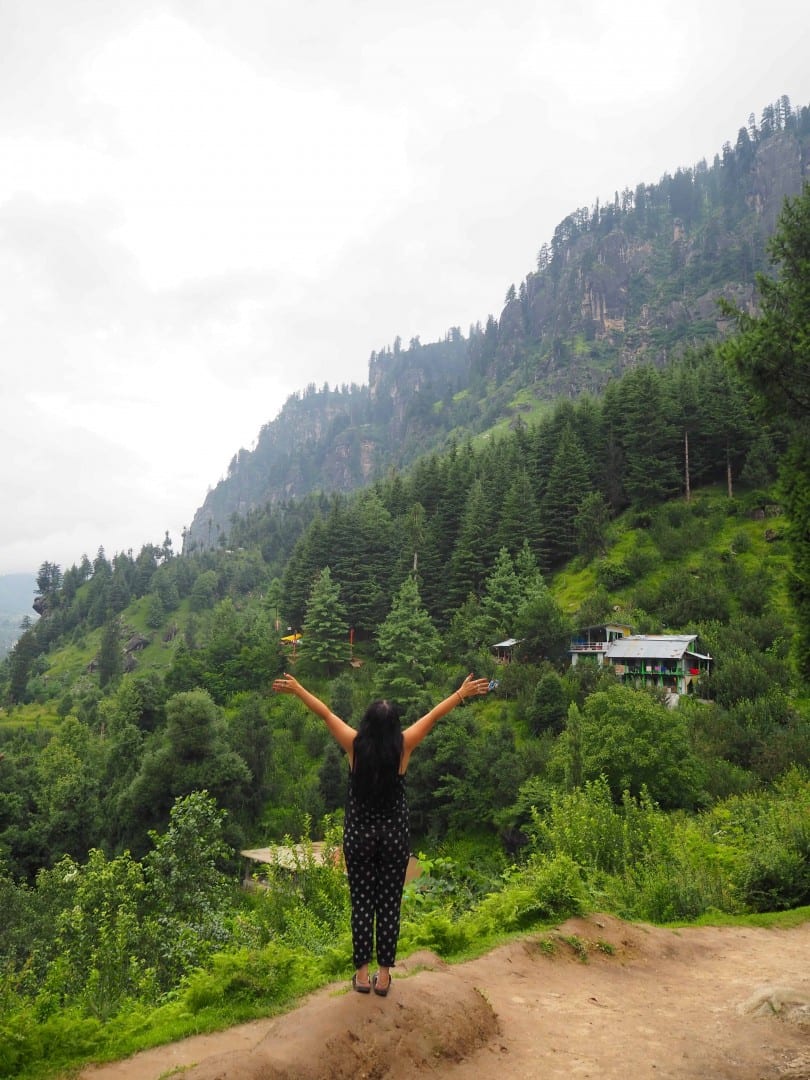 Hadimba Temple
A short walk up the stairs from the Beas river will take you to the main temple in Manali.
The temple lies in a peaceful setting among the tall trees of the forest.
As you approach, you'll see the carved wooden structure laced with animal skulls!
The inside of the temple is pretty small but it's pleasant. The smell of incense fills the air and you can queue for an offering of rice sweets.
The area is nice to relax for a while and take in the atmosphere.
Oh, and you can also ride a Himalayan yak here for 50 rupees – winning! I freaking love yaks!!!
You'll also see these old Himachal ladies carrying fluffy white rabbits around here.
I innocently thought it was just a lady carrying her cute rabbit home in Vashisht, but I soon realized it was a way to make money.
There are so many of them at the temple! Ask what their names are…they're all called Raja! Cute though.
Vashisht falls / Jogini Falls
After a pretty terrible night bus here, we decided that day (after a long nap) to chase some waterfalls as the sun was out.
We got a Tuk Tuk to Vashisht and made our way over to the falls.
When we got to the bottom, we soon realised that the beautiful view of the waterfall was up at the top!
To get there? A vertical climb uphill with no set path.
Feeling pretty knackered, you'd think we'd call it a day and leave it. But, never one to give up on a challenge we decided to clamber our way up!
The climb was, for me, pretty tough. I had sandals on and was totally not prepared!
So many times I nearly fell and had to take breather breaks like a granny (lol). But, the view was SO worth it!
Click here to read my complete Jogini Falls trekking guide
You can chill out here for an hour or so or have a wander around to see what you can find.
Afterward, we made our way through to Vashisht.
The scenic walk is so pretty and we found some awesome chai stalls in tree houses along the way!
Solang valley
Solang is a popular ski location in winter and has beautiful panoramic views of the mountains.
You can reach here by taxi for around 500-1000 rupees.
As I was visiting in monsoon time, there weren't any snowy mountain views, but the rain had made all the mountains glistening and green!
The cable car is expensive at 650 rupees a ticket. It was a short, scary ride up as we broke down for 10 minutes halfway up.
Although I'm sure we'd be fine, Indian safety doesn't have the best reputation!
I just closed my eyes and hoped for the best. I'd like to say the views were worth it, but it was a little clouded over.
Plus, the trees as they were tall shrouded the view.
It was a pleasant place to take a walk but we were warned not to go too high due to the rain. In winter, I'm sure it's spectacular.
Rohtang Pass
If you're not planning to head to Leh from here, you may miss out on seeing the Rohtang Pass!
Known as India's highest and most dangerous road, it's an experience of a lifetime to take the winding journey up.
You can get a private taxi for 3000 rupees from the main stand in Manali or a sharing taxi for 500 per person.
The drive is around 2-3 hours each way depending on the road conditions. Of course, you can do it the more exciting way and take a motorbike!
Hundreds of Royal Enfield's make their way over the pass each day. You can hire a bike anywhere in Manali and head on out!
If you were planning to self-drive remember you need a 500 rupee permit to enter the Rohtang pass. You can apply for this online. The road is a bit sketchy but the views are amazing.
When we reached the top, it was a great feeling. It's 13,000 ft. so you'll definitely feel the altitude!
And it was the day my dreams came true, I finally saw Wild Yaks!! And not just one but 10, I was so excited to see them roaming around.
I've written a detailed guide on my experience on the Rohtang Pass here.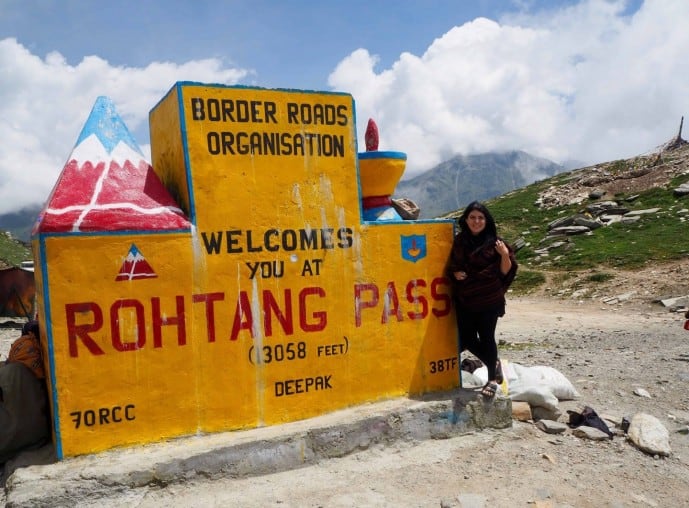 You simply cannot miss…fresh fruit juice!
I loved the fresh juice stalls on the street in Manali, the apple juice was so fresh.
You can see all the apple groves in and around the town and they're so ripe you can pick them to eat! Apple juice was around 50 rupees which is a steal.
Heading to Leh after Manali?
A common route from Manali is to head to Leh in Jammu & Kashmir by bus. The bus ride isn't for the faint-hearted at 20 hours but Leh Ladakh is so worth the journey!
You can book buses in the travel offices in New Manali. But, make sure you book a few days in advance as minibusses and jeeps fill up quickly.
You can do the journey in one go or split it up into two days. But, from the horror stories I heard with the accommodation being literally a bed in a tin can, I would personally opt to do it in one.
I've written a complete guide on what to expect on the bus journey here.
Want to read more on Himachal Pradesh? Look no further
Here are some more articles for exploring Himachal Pradesh & beyond;
What it's like to travel to Leh, the land of high passes
Off the beaten track Ladakh, Thiksay, She and more
Top things to do in Mcleodganj
A complete Bhagsunag waterfall guide
My complete guide for Rishikesh
Visiting the Beatles Ashram in Rishikesh