Travelling on the Manali to Leh bus service was a bitter-sweet experience for me. On the one hand, it has the most spectacular views I have seen in India.
There is no civilisation for miles around and it's just gorgeous mountain valley after mountain pass. The landscapes kept me asking not what country I was in but, what planet am I on?!
Some of it looked like I was on Mars – especially when we entered Jammu & Kashmir.
On the other side, it was a 20-hour minibus journey on the back seat, driving on bumpy, sketchy roads with absolutely no barricades on the sides and a steep dropdown.
But, I'm gonna put it out there as it's probably why you're reading this article in the first place; travelling on the Manali to Leh bus is completely fine!
Hundreds of cars, buses, lorries, and motorbikes take the long beautiful journey every single day. I would 100% choose the Manali to Leh bus journey over flying from the views alone!
Plus, you can acclimatise easier to the altitude as you're heading in a little slower from Manali which is already in the mountains.
Here's everything you need to know about travelling on the Manali to Leh bus service!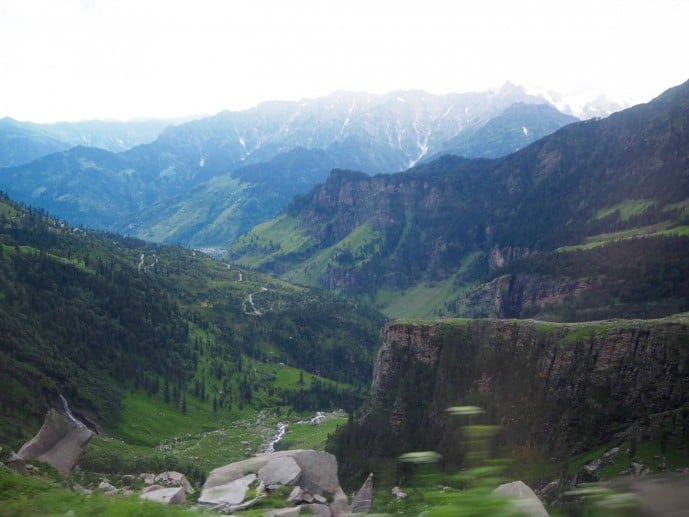 1. Manali to Leh views are spectacular
This is what made the Manali to Leh bus journey totally worth it for me and I purposefully put this point first to prove to you how worth it, it is!
You will head past the Rohtang Pass, Himank, Pangi, Spiti, and finally into Jammu valley.
As you wind around the single-pass mountain roads and tackle the chicanes, you'll get fantastic views from either side.
Cascading waterfalls, mountain villages, and snow-capped mountains are just past the Rohtang and when you head into Jammu & Kashmir, you'll see rainbow canyons, sandy jagged mountains, and winding rivers.
Even though my bus left at 4 am, I simply couldn't sleep as the scenery was just so picture perfect! Make sure you bring your camera as it is unreal territory.
2. You can go by car, bus, jeep or motorbike
There are many different options to choose from when heading to Leh. Not just the Manali to Leh bus.
Personally, I couldn't face a massive coach heading over a single-track road, so we opted for a mini Manali to Leh bus. The ticket was 2100 (£25) rupees per person and there is a strict seating plan!
The best seats in the house are those at the front. As the bus was filling out and we wanted to get moving, we opted to take the back seats.
I hate the back seats as you are a victim to the suspension but the travel agent told us that the buses didn't run over the pass on Tuesdays.
Now, like me, you're probably thinking that we got bamboozled and you're probably right! But we were assured that those heading over were illegal (haha, even worse!), so we decided to head on out on the back seats.
Of course, you can hire a private taxi but the cost is around 15,000 rupees (£150).
If you're planning on hiring a motorbike and self-driving, you will need to hire from Manali and make sure you've applied for the right transit pass online.
3. You can do the Manali to Leh bus service all in one day/night or spread the journey over two
There are two options for tackling the long journey of the Manali to Leh bus.
You can take the journey as I did in one day, which was supposed to be 18 hours but actually turned out to be 20.
The Manali to Leh bus will leave around 4 am from Manali and get into Leh around 9 pm that day.
But, you have to be prepared for the delays on the road which I will explain later.
The second option is to spread the journey over two days. The Manali to Leh bus will drive for around 9 hours over one day, you'll sleep in a tent somewhere along the way, and then you carry on the next day.
This sounds like a decent option as you wouldn't be so tired but a traveller friend told me that the experience wasn't so good and it's slightly more expensive doing it this way.
But it's a personal preference. Looking back, I'm glad I took the one-day journey and not two.
Best to get it out the way and I'm not sure what the accommodation would have been like. Plus, it was freezing in the villages we passed along the way.
4. You'll need your passport handy
We were stopped for passport checks at police checking stations around 5 times on the Manali to Leh bus.
This was only for foreign nationals as they need to inform the embassy that you're on the road here.
There is absolutely no phone signal, no sign of life for miles, and not many places to stop in case of emergency.
At each point, they write down your details to keep a record. This is so they know who to contact should anything happen.
Make sure you have your passport handy for these police stops, it's mandatory.
These stops were actually quite nice as it meant we could get out of the bus and take a break from the road.
On the way back, the driver kept asking us for money for copies of our passports. But, in the end we didn't need any copies!
5. The roads are crazy but you'll be in safe hands
Single track winding roads up mountain passes with vehicles on either side, steep drops with no barrier to stop the fall and crazy drivers means an exciting ride on the road.
You'll feel every bump on the suspension and gasp as you look down into the abyss and make your way around sharp turns.
The roads take some serious skill to drive around! Luckily, if you're heading on the tourist Manali to Leh bus, you'll have safe drivers who will deliver you safely.
You have to think that these guys take on this journey once or twice every week.
So, they know all the turns, the passes, and how to handle vehicles coming the other way.
I think our driver lost his temper once when a taxi was overtaking in the opposite direction and not paying attention.
He shouted 'OI!' and threw a rock at the car. Poor guy, it must take much concentration and it's such a long drive. It's enough to drive anyone a little crazy.
6. You will feel the altitude
The Manali to Leh bus journey heads up and over mountain passes and you actually go a little higher than Leh, to come back down.
As you're driving up and up, you'll definitely start to feel a little breathless.
I didn't feel much in terms of altitude sickness but I did feel my stomach fill up like a balloon! I couldn't stop burping, it was really painful at points!
7. It won't be 18 hours straight driving
Unlike most long bus journeys I have been on in South East Asia, on the Manali to Leh bus service we had plenty of stops along the way.
We had to stop for police checks anyway and there were plenty of food and toilet stops.
It was great to get out and see some of the little villages which were along the roadside along the way in Jammu & Kashmir, it must be such a different life.
The people here pretty much run their businesses from people passing through on the road.
They are so friendly, make jokes, and are just happy. It really put a perspective and made me think on it in contrast to our hectic modern lifestyles.
Children were playing and laughing, families were enjoying the sun. It was lovely to see.
The villages here have many Dhaba's (restaurants) to choose from. They serve up curry, rice, maggie noodles, omelettes, and lots of other choices.
Of course, there were multiple stops for chai which was awesome too!
8. The toilets are REALLY bad!
The toilet stops on the Manali to Leh bus were bad. Most of them were little tin shacks that had not been cleaned in god knows how long.
Some were trying to charge 5 rupees for a hole in the ground!
In the end, I just started going to the loo outside in the open as some of the smells were atrocious.
I have no shame now when it comes to packing a toilet roll and bringing it with me in my backpack. In fact, I get it out and share.
They cost around 40 rupees a roll (50p) and it's so worth it so I can actually feel fresh on the journey.
Most toilets in Asia don't have toilet paper and on this journey, it would be an absolute miracle. So, best to bring some along.
9. There will be delays…and more delays
At many points in the journey on the Manali to Leh bus, we had to stop as there had been a landslide along the way.
A JCB digger would be there and was literally rebuilding the road in front of us!
I was truly amazed as there is literally nothing around for miles, then a random digger shows up.
Each of these stops took around 30 minutes for the road to be safe to pass through.
This meant that the traffic on either side would back up too.
We had two of these half an hour delays which added about an hour or two onto the journey.
This meant we got in at around midnight into Leh…20 hours later.
10. It's a memory of a lifetime!
Looking back, although it was a painful, bumpy 20-hour ride, it was an awesome adventure and one I won't forget in a hurry.
Our Manali to Leh bus driver was awesome, alert (thankfully), and got us there safely.
The travellers we met on the bus made our journey a lot more funny and enjoyable and the people I met in the chai stalls were some of the friendliest I've met in India.
Yes, the road has a reputation for being a little dodgy, but plenty of cars make the journey safely every day.
You will regret not going as the views are truly extraordinary. It's a bucket list item for many, so put it on your list and go for it!
Want to read more on the North of India?
Here are some related articles about my experience in the far North of India;
What it's like to travel to Leh, the land of high passes
Off the beaten track Ladakh, Thiksay, She, and more
A guide to Manali, the hippie town in Himachal
Top things to do in Mcleodganj
A complete Bhagsunag waterfall guide
Visiting the Beatles Ashram in Rishikesh
My complete Rishikesh travel guide
Save these Manali to Leh bus tips for later!