On my recent month-long trip to Arunachal, there were a few places that stuck out as truly spectacular. Somewhere that not only blew my mind but instantly makes me want to go back and visit all over again.
One of those places was 108 Mandala Top Arunachal Pradesh!
Perched at around 10,000 feet above sea level in the Himalayas, Mandala Top or 108 Mani is a relatively new attraction in the area that locals and tourists are raving about.
As a spiritual pilgrimage for many, the feeling you get when you arrive cannot be beaten. 108 religious temples all together make quite an impact and the perfect day trip while you're in the area.
So, here is a complete tourist guide to 108 Mandala Top or 108 Mane / Mani in Arunachal Pradesh!
What is Mandala Top or 108 Mani (Mane)?
Mandala Top is a series of 108 Buddhist stupas that have been built in a circle on top of a mountain in Arunachal Pradesh. It was built in 2018 so it's brand new and hasn't been fully completed yet!
It's the first of its kind in India where the mantra 'Om Mani Padme Hum' is inscribed in 108 pillars.
A Buddhist Stupa is a religious monument that has been built to commemorate a loved one or to place religious artifacts relating to Buddhism or sacred texts.
Although you may have an image in your mind of what a stupa may look like, for example, rounded like in Nepal or other parts of India, the stupas in Arunachal Pradesh are quite different.
The common architecture of a stupa in Arunachal Pradesh is square and long, painted white and red with a yellow rooftop. They also may or may not have a prayer wheel or carvings inside. You'll see them dotted all over the regions of West Kameng and Tawang.
In Mandala Top, the community made a joint effort to donate a stupa from each family. So, the end result was a fantastic religious site for all to enjoy.
Where is Mandala in Arunachal Pradesh? How to get to Mandala Top?
Mandala is elevated at just under 10,000 feet above sea level, so you'll quickly feel the altitude and the cold when you ascend!
Mandala is located around 30 kilometres from Dirang along winding bumpy roads! So it will take you over an hour to drive there
How to get from Dirang to Mandala Top in Arunachal Pradesh
The easiest way to reach Mandala is to follow the main highway NH13 which snakes the whole way through Arunachal Pradesh towards Tawang.
Then, from the Dirang Basti welcome gate or Dirang Power Station, take a left towards Mandala Top on the Tatung Dzong – Bhutan Road.
The whole route will be signposted towards Mandala and, like most of the region, there will be stone markers letting you know how many kilometres you have left.
Can you get to Mandala Top by public transport?
I would say that the best way to reach Mandala Top is by having a car or motorcycle available to you. Luckily, my friend Sange drove us up to the top in his car.
You can rent a taxi from Dirang to take you to Mandala Top and back. But, I would say you're looking at a minimum 3,000 rupee charge. The roads are pretty windy and bumpy!
There aren't really any public buses that go to Mandala Top as Arunachal Pradesh commonly uses Sumo Jeeps. You can ask at the travel desk in Dirang if there are any shared Sumo Jeeps that are heading to Mandala.
If you're not aware of transport in North East India and are curious to know more about Sumo Jeeps, then check out my guide with more information about how to get around North East here.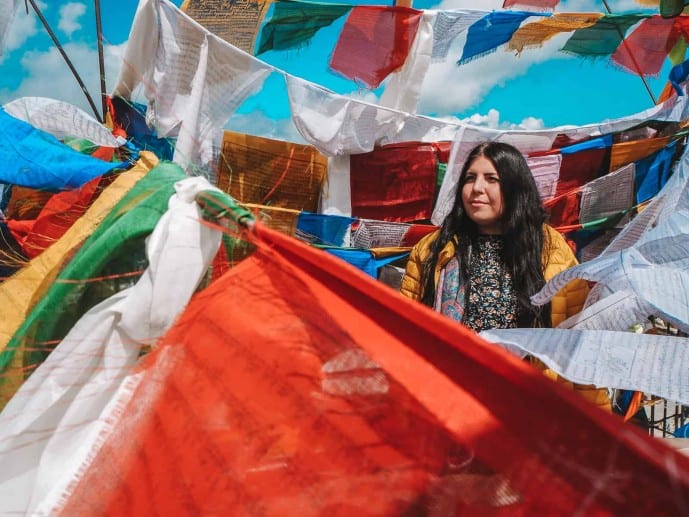 Mandala top ticket prices and opening times
As Mandala Top or 108 Mane is a religious attraction it is open 24 hours a day for pilgrims and tourists to visit. But, I would say after dark it wouldn't be lit up, so you won't be able to see anything!
Arunachal Pradesh doesn't see that many tourists so you don't have to worry about it being overcrowded for photos. We got there around 11 am and it was quite empty, but by the time we left around 2 pm it started to pick up.
Mandala Top is also completely FREE to visit, so the day out won't break the bank!
Things to do in Mandala Top Arunachal Pradesh
So, you're probably wondering what exactly there is to do on Mandala Top, especially if you're going to make the journey up here!
Well, as it's a new attraction in the area, there isn't much infrastructure yet but there are plenty of things to do around the area.
1. Take a clockwise walk around the 108 Mane
This is the obvious one, but one of the main things to do at Mandala Top is to take a stroll around the 108 stupa circle!
In Buddhism, it's tradition to walk clockwise around the stupa, so if you're heading for a walk, make sure you clockwise.
Lots of people were walking in and out of the temples here, taking photos and selfies, and enjoying the atmosphere. So, make sure you take some time to be present and enjoy the area.
What I also loved was seeing all the amazing welcome statues that were placed at the four entrances too.
It may also surprise you to know that 108 Stupa is also part of a cycling trackback to Dirang, so if you're feeling active. You can take a bike up here and cycle down to the bottom!
I'm not a cyclist myself but my friend Sange tried it and said it was a beautiful route.
2. See the prayer flags on top of Mandala temple
The Mandala temple is not finished yet and at the moment all that's there is a concrete structure.
But, in the meantime, they have placed some beautiful prayer flags on the rooftop. So, make sure you head up to the top of the temple to admire the flags and the birds-eye view.
So many people were climbing on top and getting selfies with all the prayer flags. But, just be careful as there is no safety barrier!
3. Get a birds-eye view from the tree houses or bring a picnic!
As you're so high up in the Himalayas there are spectacular views of the trees, hills, and mountain peaks all around you!
So, after you've finished exploring 108 Mani, make sure you take a walk to admire some of the scenery too.
There were lots of treehouse structures around that you could climb up and get a view of the circle from above. These also provided seating and had picnic tables too – so you could bring lunch/dinner with family or friends to enjoy here.
As it was October when I visited it was far too cold to stay still for a picnic but I did have fun climbing up to get a look and taking a walk around.
4. Meet the locals and have butter tea
Whilst I was here, they were preparing for the 108 Mandala Festival which was going to take place in November.
They were building platforms for stages and structures for tents for all the entertainment. So, admittedly, it was really noisy with the sound of drills and saws.
But, the locals here were so kind and wanted to find out more about us and where we came from on our day out.
Eventually, we were invited in for butter tea with some kind ladies in a wooden house nearby. We got chatting and enjoyed the warm tea, shelter, and fire which was a lifesaver from the cold!
I have always found the people of Arunachal Pradesh to be some of the most welcoming and hospitable so I have no doubt you'll find the same.
108 Festival (Mandala festival)
If you plan your trip to Mandala in November, you may be lucky enough to visit Mandala for the 108 Mandala Festival of prayers.
This is a new festival that started in 2019 to attract tourism to the area and it's proved so popular that they are going to run the same in 2020!
The Mandala Festival runs for 3 days and the dates are determined by the lunar calendar.
It's an event to celebrate Buddhist, Monpa, and Tibetan culture by singing and dancing, music, crafts, fashion shows, and cuisine.
Unfortunately, I didn't get the chance to attend this year but I'm hoping that I will be coming back to attend the event next year!
As It happens around the same time as Tawang Festival it's definitely worth adding it to your list.
Catch up with last year or keep updated with their Facebook page here
Things to know before you visit 108 Mandala Top
You will need a permit to visit Arunachal Pradesh. This is an ILP for Indian nationals and a PAP for foreign nationals. An ILP can be purchased online here and a PAP has to be bought from a travel desk in Guwahati or your tour operator in Arunachal Pradesh.
A lot of the army is based here in Mandala and taking photos of army bases, vehicles, or soldiers is forbidden and goes against the rules of your permit. So, just be careful when taking snaps.
Mandala Top has a really high altitude so if you do suffer from altitude sickness make sure you bring tablets.
Mandala is also FREEZING, so make sure you wrap up warm with a coat, hat, and good shoes that won't let the cold in.
There isn't really much infrastructure here, I didn't see a public toilet or facilities (yet). Just letting you know…
Parking at Mandala Top
Parking at Mandala is completely FREE and people were just parking around the circle at the top of the road.
It wasn't overly crowded with vehicles but just make sure you're not blocking any other cars in and you're not blocking any entrances to the 108 stupa circle.
Where to stay near Mandala Top in Arunachal Pradesh
At the moment there isn't much infrastructure at Mandala Top. So, guesthouses/homestays aren't plentiful…yet.
There is a Mandala Birding Lodge of Eagle Nest owned by the Government which is located a little way down the road back to Dirang that has some options for tourists.
But, I would personally recommend basing yourself in Dirang as it is a great spot to access more amazing villages and attractions in the area. Not to mention it's warmer with lots of infrastructure around.
Dirang Boutique Cottages is a brand new hotel that opened up in 2019. Located in the mountains next to the Dirang Chu river, these cosy cottages are a great stopover for a few days on your way to Tawang.
I stayed here for a week with my friend Sange from Holiday Scout whilst in Arunachal Pradesh so make sure you check out my full review here.
Where is your next destination in Arunachal Pradesh?
If you're researching destinations to visit in Arunachal Pradesh, make sure that you check out my detailed articles;
Top things to do in Namshu village
My full Dirang travel guide
Reasons to visit Arunachal Pradesh
Places to see on your Sela Pass road trip
Visiting the ancient Chaksam Bridge
Why you MUST visit the magical Jang Falls
A complete Tawang travel guide
Why you need to visit this secret valley in Arunachal Pradesh
Like it? Pin it!