Margate Shell Grotto is a mysterious serpentine cavern that is covered in millions of seashells.
Discovered completely by chance, no one knows what this extravagant shell collection means or why this place was built at all!
Could it be related to witchcraft, a smuggler's cove, or an ancient Pagan religion? A visit here could present more questions than it gives you answers.
Here is a complete guide for Margate Shell Grotto and how to visit one of the most mysterious places in all of Britain!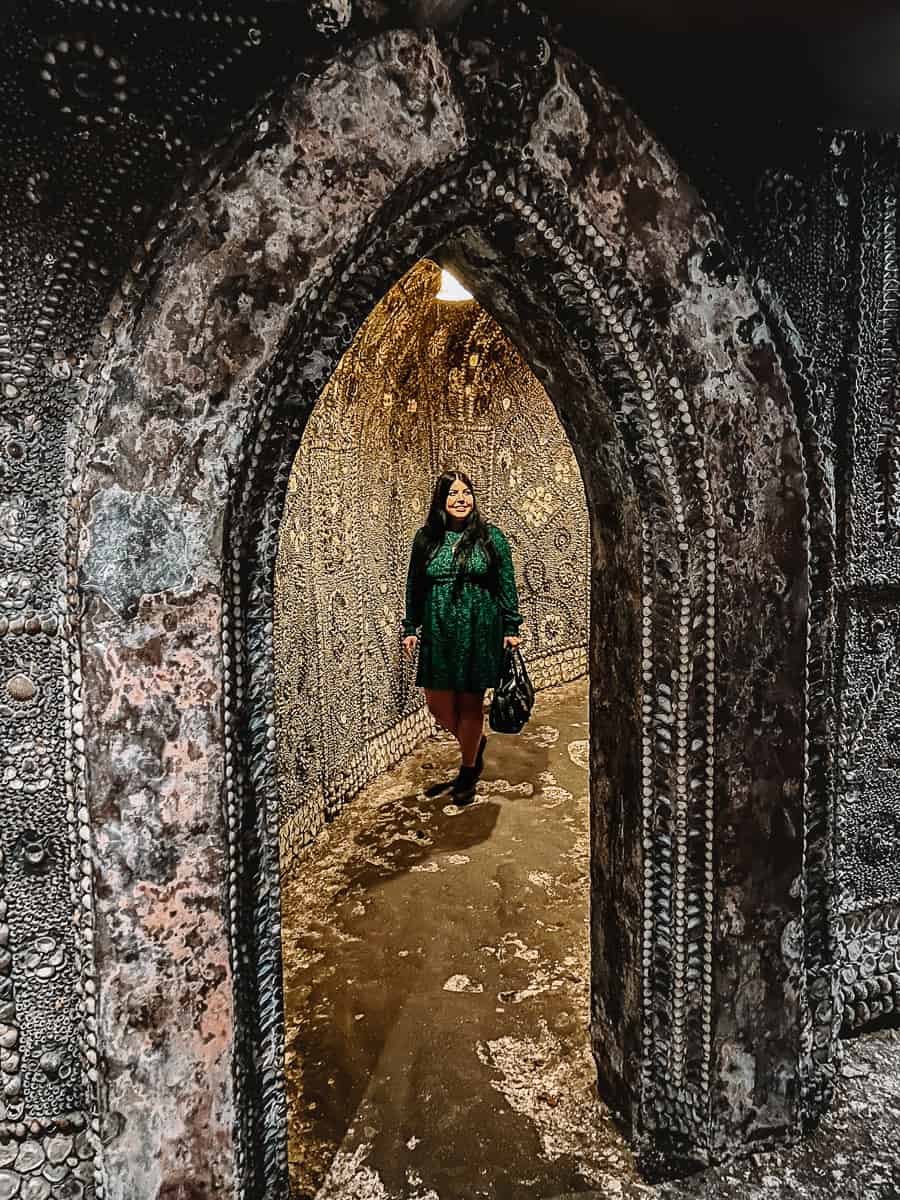 Margate Shell Grotto history
It is generally agreed that the discovery of the shell grotto was found completely by accident one day in 1835.
According to an article in an 1838 Kentish Mercury, a gentleman who purchased Belle Vue cottage decided to do some maintenance work to the property.
He directed the workmen to excavate a few feet beneath the cottage and they discovered a serpentine tunnel leading to a massive Shell Grotto!
Once the word was out, many locals and tourists alike wanted to go and see this incredible find and so the owner made it into a tourist attraction and charged a small fee. It has been privately owned since.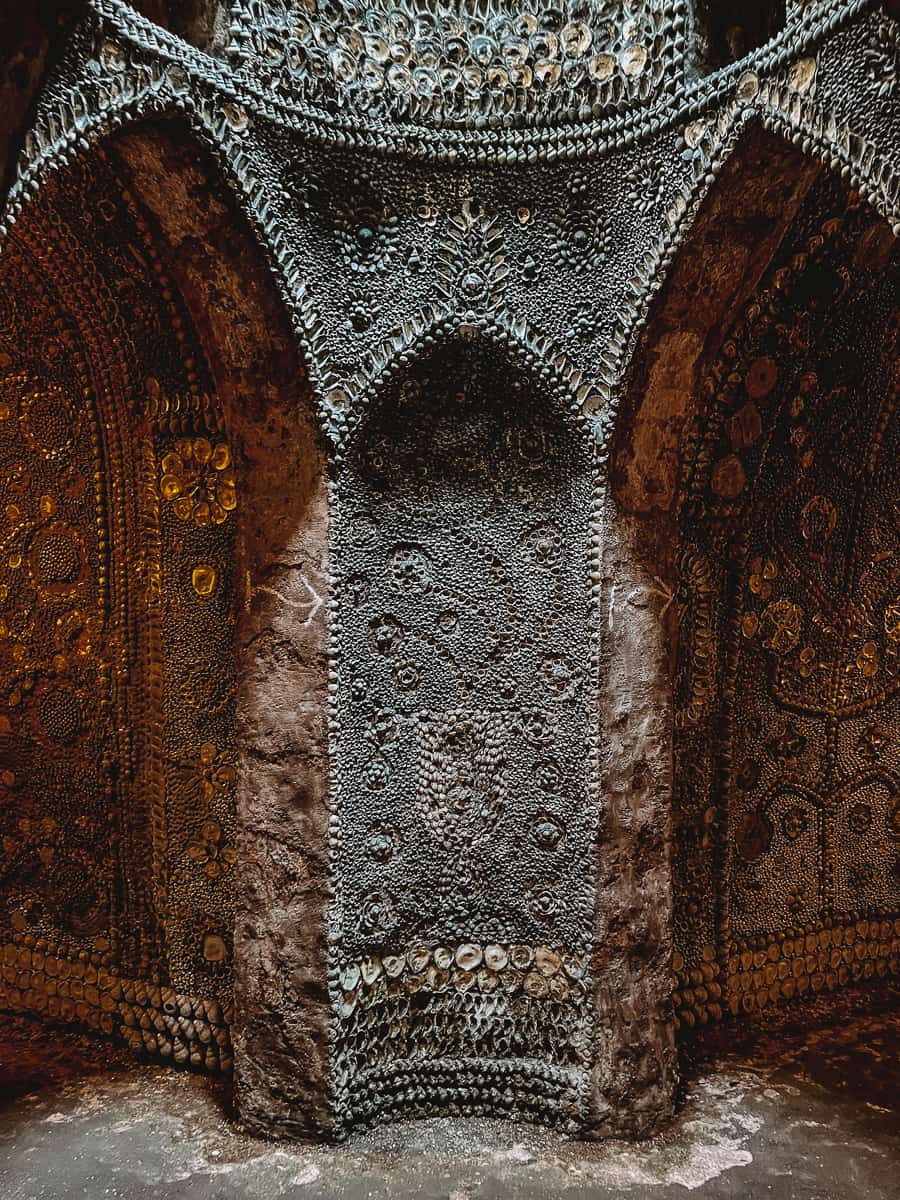 Although it was an incredible find, no one could confirm exactly why this mysterious grotto was built.
Many assumed a Pagan temple as this is on the Viking Coast within the Isle of Thanet. Or, it could be a place for practicing Witchcraft in secret.
Others thought it was connected to the Knights Templar, a Smuggler's hiding place or meeting place of the Freemasons.
It could have just been a lifetime hobby of someone's or a Regency folly to show off immense wealth. To this very day, why it was built and its use remains a complete mystery!
Although the ownership has switched hands many times over the years, the Margate Shell Grotto is still a popular tourist attraction in Kent that is now a protected work of art.
Mysterious Margate Shell Grotto facts
The Shell Grotto contains approximately 4.6 million shells across 2,000 square feet of mosaic.
It's 104ft in length or 70 metres and no one knows why it was built. There are no records of its existence before the discovery.
Almost all of the shells found in the grotto originate from the British Isles. Amongst them are mussel shells, oyster shells, whelks, cockles, razor shells, and limpets. You may spot a rare queen conch in the altar room from the Caribbean.
There are some theories that this shell grotto could be over 3,000 years old! The shells have never been carbon dated, so we cannot tell how old the grotto really is.
All of the mosaics were been created by sticking the shells to the chalk walls
It is a Grade I listed building and is protected by Historic England, English Heritage, and Friends of the Shell Grotto.
Is Margate Shell Grotto worth visiting?
100% YES! I really think that seeing this place is believing. As you wander around you will be amazed by the number of shells gathered together and it all looks so eerily dark and beautiful.
What's even more intriguing is wondering why this place was even built at all! It feels very magical and has a certain energy to it you can't explain.
It will definitely make you ask plenty of questions and give you very few answers. But, that's all part of the fun!
Things to do on your visit
When you enter the grotto, make sure to grab one of their trail maps which will show you the floor plan and things to look out for here.
Museum – Start off at the Shell Grotto Museum exhibit to learn the story of this amazing discovery. You'll find newspaper articles and photos from years ago.
The Rotunda – After you've wound down the chalky North Passage, you'll come across the Rotunda. A circular chamber with a domed rooftop.
Serpentine Passage – Wind down the Serpentine Passage and see some of the interesting panels along the way.
The Altar Chamber – You'll end up in the Altar Chamber at the very end. This is where they held the famous séance in the 1930s. You'll find a large picture of this event in the room.
Patterns and Panels – Many of the panels and patterns here resemble familiar shapes and so they all have nicknames. Your trail map will point out where to find them. You'll see a turtle, tree of life, gods and goddesses, Egyptian Ankh, and even a skeleton made out of shells!
How long do you need to visit?
The Shell Grotto is not a very large place and follows a very simple route underground. The serpentine tunnel is around 70 feet in length.
As well as the grotto itself, there is also a small museum explaining the shell grotto's discovery and story and all the different theories about why the grotto exists.
You'll also find lots of photos, art pieces, newspaper clippings, and artifacts on display.
I would personally leave around 45 minutes to 1 hour to enjoy your visit. This leaves some time to browse the gift shop as well.
Margate Shell Grotto gift shop
Before you leave the grotto, make sure to explore their fabulous gift shop! They have the largest collection of pretty shells that I've ever seen and they are all available to purchase.
They come in all shapes, colours, and sizes and you could honestly spend an age choosing between them as they are so shiny and beautiful.
You'll find individual shells as well as shell jewellery boxes, ornaments, keyrings, and photo frames.
They also have a delightful range of handmade soaps, artwork, clothes, and locally made products to purchase.
If you just fancy a souvenir to remember your visit, they have vintage postcards and magnets near the ticket desk.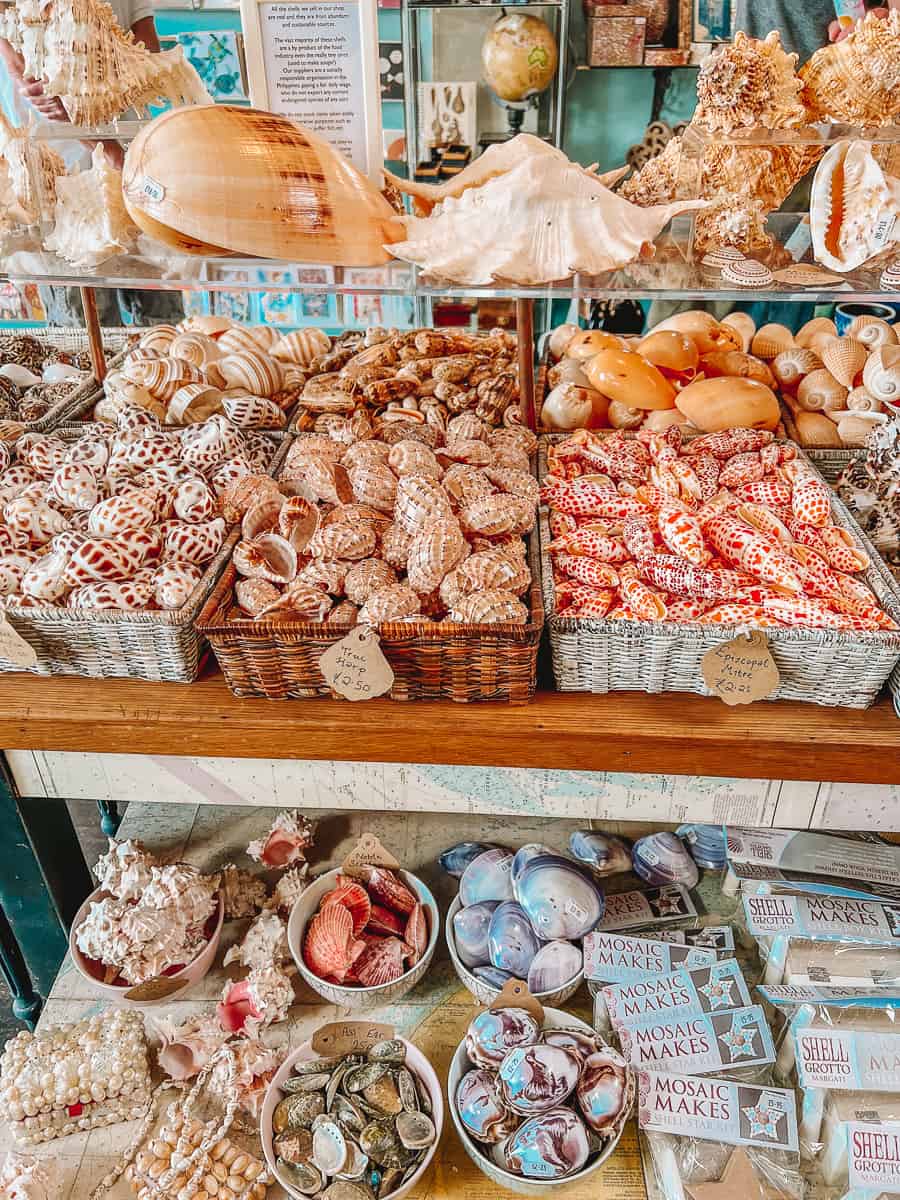 How to visit the Margate Shell Grotto
The Margate Shell Grotto lies underneath Grotto Hill in Margate. This is a seaside town located in the county of Kent in the South East of England.
Margate is easily accessible from Central London. Daily high-speed train services leave from St Pancras and can get you here in around 90 minutes.
The South East is easily accessible by bus. There are regular services from Canterbury, Broadstairs, and Ramsgate.
If you're driving, Margate is a two-hour drive from London, a 40-minute drive from Dover, and a 30-minute drive from the city of Canterbury.
From the main Margate seafront, the Shell Grotto is a 10-15 minute walk on foot. Note that Grotto Hill is quite steep!
The Margate Shell Grotto address is Grotto Hill, Margate, Kent, CT9 2BU. Click here for a Google Pin
Margate Shell Grotto parking
There is no official parking for the Shell Grotto on your visit. But, there is plenty of off-road parking available on Dane Road and Wilderness Hill. Just be mindful of residents and parking times.
The nearest pay and display car park is Trinity Square or Market Street. This may be easier to park here if you're visiting Margate for the day. Both are around a 10-minute walk away.
Margate Shell Grotto opening times and ticket prices
The Shell Grotto is only open Wednesdays to Sundays from 10 am to 5 pm. But, this switches to daily opening hours when there is a half-term or summer holiday.
Ticket prices are £4.50 for an adult and £2 for a child. Family tickets are available at £10 as well as concession discounts at £4 a ticket.
It is recommended to pre-book tickets during busy periods to guarantee entry. Click here to look at the latest opening times and prices!
Looking for more things to do in Kent?
Kent is a beautiful part of England to spend a few days in and there are plenty more beaches to find in this area.
There is Broadstairs and Ramsgate that you can walk to via the England Coast path on the Viking Coast.
This peninsula on the far east Kent coast is called the Isle of Thanet as years ago it used to be separated from the mainland by the Wanstum Channel!
Or, you can head to Whitstable which is home to their famous oyster shops and festival.
The cathedral city of Canterbury is a must-visit in Kent and you can explore their historic quarter as well as punting on the River Stour.
If you wanted to see the famous White Cliffs, then you must visit Dover. Here, you can see one of the largest defense fortresses in Britain with secret wartime tunnels to explore.
Or, why not hop on a ferry and sail over the English Channel to France for the day?!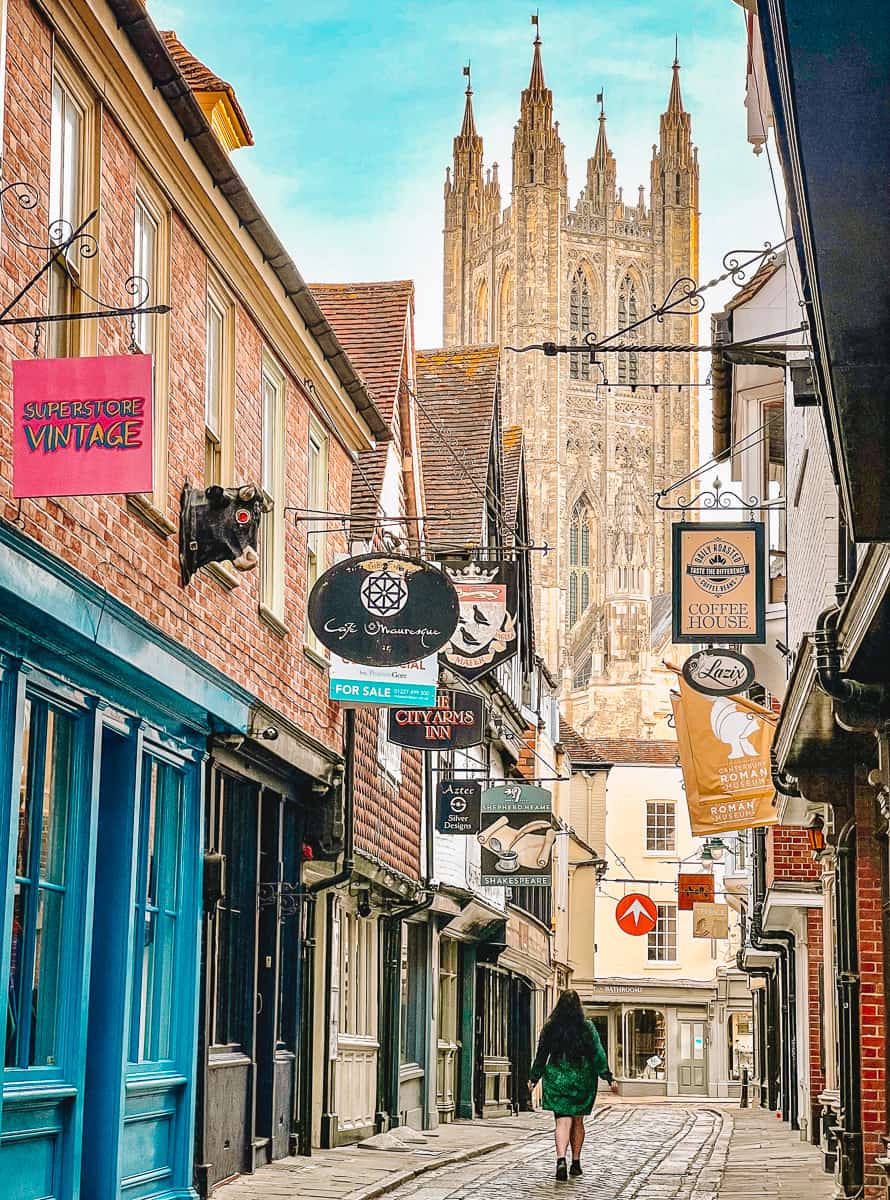 Read my South East England travel guides
Butchery Lane Canterbury Guide
How to spend the perfect day in Brighton
How to visit Ouse Valley Viaduct
Save Margate Shell Grotto for later!