Did you know that Marsh's Library in Dublin was Ireland's very first public library? It still functions as one and is also a museum you can visit in the city.
This magical book gallery will make you feel like you've stepped into the 18th century and you can follow in the footsteps of famous authors like Bram Stoker.
It's a bit of a hidden gem and so you can spend a relaxing hour away from the crowds.
You'll discover historic texts, learn ghost stories and even see cages where readers used to be locked inside.
Here is how to visit Marsh's Library Dublin, the oldest public library in Ireland!
What is Marsh's Library?
Marsh's Library is one of the prettiest libraries in Dublin but also the oldest public library in Ireland!
It opened to the public in 1707 and has been welcoming readers of every background to make use of its archives ever since.
It now has over 25,000 rare texts and 300 manuscripts in its collection. Nearly all of these can be accessed online.
Many of the historic volumes and reading rooms have been perfectly preserved since the Renaissance and early Enlightenment so it also acts as a museum.
Visitors can take a tour of the library and see their book galleries with the ominous reading cages and relax in the secret courtyard garden.
What is the history of Marsh's Library?
Marsh's Library was founded by Archbishop Narcissus Marsh in the 18th century.
He was born in Wiltshire, England, and educated in Oxford. He then became a Provost at Trinity College Dublin.
The books for study at the college were a mess and hard to find with a lack of a catalogue system. Reading materials were also strictly for students and friends of the college.
Marsh also felt that the booksellers in Dublin didn't have materials that were fit for education. So, he set out to open a public library.
To fill the shelves, he bought 10,000 volumes from Edward Stillingfleet's son in 1705. But, he had to keep the books and library a secret until he had parliament's permission.
The library was opened in 1707 following 'An Act for Settling and Preserving a Publick Library forever' passed by Irish Parliament. An act that this library is still governed by today.
It became the first public library in Ireland and Élie Bouhéreau was the first librarian or keeper.
In just a few years, the library needed to expand so a second gallery was built. Also, reading cages were installed to prevent theft. In the first decade of operation over 1000 books were stolen.
Over the years, many famous literary figures like Jonathan Swift, James Joyce, and Bram Stoker have used this library to research their works.
Today, it still functions as a public library open to all and is the oldest public library in the country.
It has been perfectly preserved and thousands of visitors walk through these ancient bookshelves every year. Almost all of their catalogue and exhibitions can be found online.
What is the Marsh's Library Bram Stoker connection?
Did you know that Bram Stoker visited Marsh's Library for research before he wrote his classic novel Dracula in 1897?
His signature can be found in one of the visitor books and the texts he requested, such as Atlas Geographus, are recorded in the reading registers.
You can find the exact pages in their 'Bram Stoker and the Haunting of Marsh's Library' online exhibition.
Although it is widely debated, it is thought that he researched Transylvanian maps in the library and legends of vampires to ensure the accuracy of his story.
Bran Castle in Romania is thought to be the legendary fortress of the 'real' Count Dracula. But, Bram Stoker never once set foot in the country!
His seemingly expert knowledge of Transylvania all came from this wee library in Dublin.
They often have a Bram Stoker festival here around Halloween. On my visit, they also had a LEGO treasure hunt of famous literary figures connected to the library.
Can you find the weeny LEGO Dracula with fangs and a cape on the bookshelf?!
If you love Dracula, same! I'm obsessed with vampires so I have plenty of travel guides. You can read about Whitby where Dracula lands in England and the secrets of the 199 steps. Another place Bram Stoker visited for his novel.
Where is Marsh's Library in Dublin?
Marsh's Library can be found on St Patrick's Close which is right next door to St Patrick's Cathedral.
Although it's just a stone's throw away from one of the busiest attractions in Dublin, this book trove is a hidden gem that sees far fewer visitors.
It's easy to walk to Marsh's Library in the city but you can also take a bus or tram. There is a stop outside St Patrick's Cathedral but the closest is Kevin's Street.
If you're driving, there are some pay-and-display parking spaces just outside the library building.
Marsh's Library address is St Patrick's Close, Dublin 8, D08 FK79, Ireland. Click here for a Google Pin!
How to visit Marsh's Library
Marsh's Library is open to the public and you can pay to take a self-guided tour through their historic galleries and reading rooms.
Tickets only cost 5 euros for an adult and 3 euros for students/concessions. A bargain!
I would recommend purchasing tickets online to guarantee entry, especially in the summer season. But, you can also purchase tickets at the desk on the day. Card payments only.
Marsh's Library opening times are Tuesday to Friday from 9.30 am – 5 pm. On Saturdays, it's open from 10 am – 5 pm. On Sundays and Bank Holidays, it will be closed.
It's well worth purchasing a joint ticket with St Patrick's Cathedral next door. It will save you some time and a little cash.
Things to see in Marsh's Library
As you make your way up to the first floor, you'll be greeted by the team and given a leaflet with lots of information about the library.
Then, you can take a self-guided tour through the towers of tomes. Here's what you can expect to see on your visit;
The First Gallery
The First Gallery is the initial room you'll step into but it was also the first room built for the public library by Narcissus Marsh.
The oak bookshelves here are originals and almost all of the texts in this room were from Stillingfleet's collection. They have not moved for the last 300 years.
It was completed in 1705 before the act of Irish parliament and you can get great views of St Patrick's Cathedral through the windows.
You'll find lots of portraits dotted around and also glass cases showcasing some of their most precious texts and artifacts.
The Old Reading Room
The historic reading room can be found in the middle of the two galleries and was built at the same time as The First Gallery.
It's funny to think that famous literary figures like Bram Stoker sat at this very table to read books.
These reading rooms are open to all and you'll find busts of famous figures, more artifacts, antique maps, and portraits dotted about too.
The Second Gallery
The Second Gallery was added sometime around 1708 to 1709 when the library needed to expand.
This gallery is a lot longer but also much darker. Many say it feels a lot colder in this room too.
Marsh's Library is supposedly haunted and many people have caught sight of Narcissus Marsh's ghost in this room.
As you turn a corner, you'll find even more exhibitions to browse and the famous reading cages.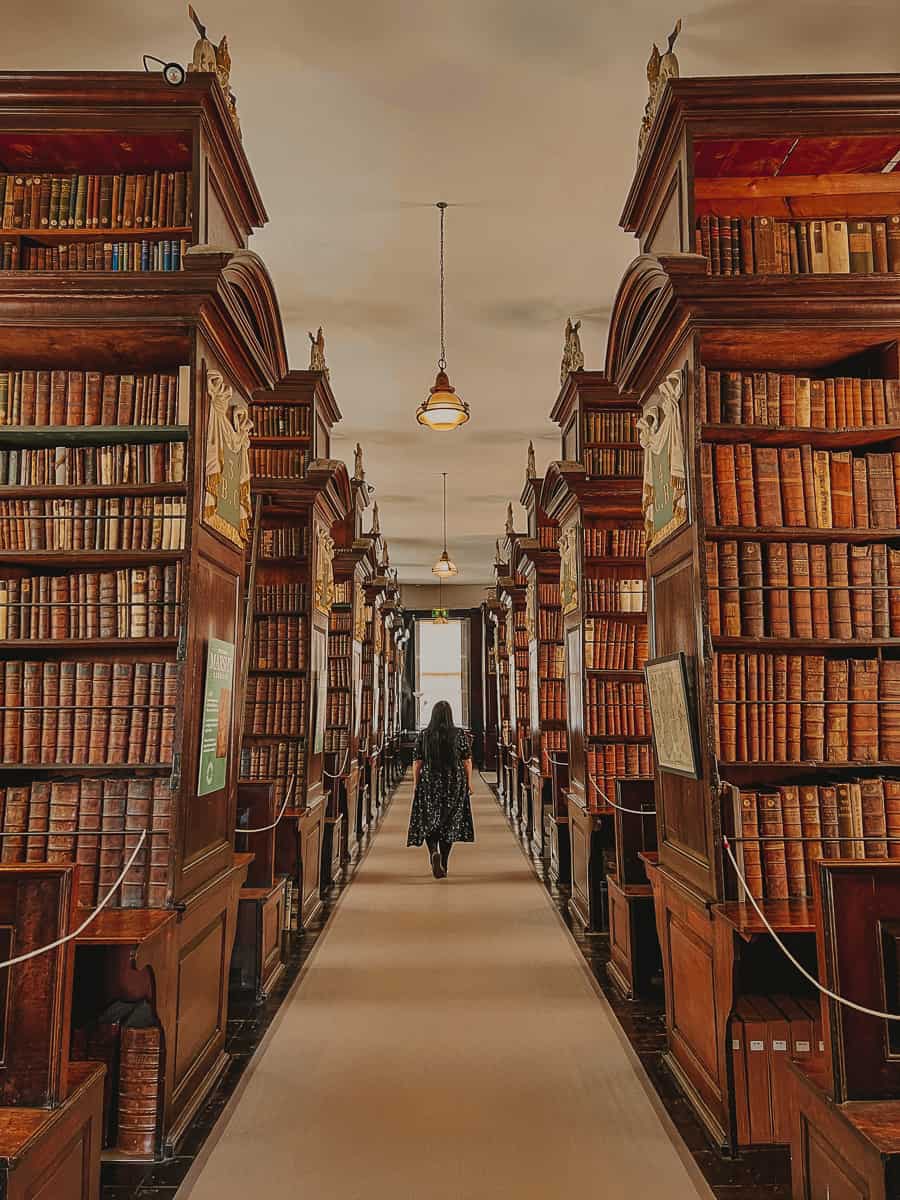 Reading cages
Theft was a huge issue for the library with many precious and rare texts being taken from the archives. More than 1000 books were stolen in its first decade of operation.
Whereas most libraries would chain books to shelves to stop stealing, Marsh's Library had a different way of doing things.
They installed three reading cages at the back of the library. Readers were then locked in them to study to prevent them from stealing the books.
Of course, the reader had to agree to be locked in. But, can you imagine being locked in a cage just to be able to read?!
Marsh's Library skull
One of the things that caught my eye in the reading cages was the skull that they had on display.
Something that you may not know is that Jonathan Swift and his rumoured wife Esther Johnson aka "Stella" are buried next door in St Patrick's Cathedral together.
Jonathan Swift was a famous Irish satirist, author, and later dean of St Patrick's. Stella, his lover whom he married in secret, died in 1728.
After her passing, he was inconsolable and so had her buried beneath the cathedral to keep her near.
Swift had a death mask made at the time of his burial in 1745 and before his death, he requested to be buried with Stella.
Over a century later, William Wilde (father of poet Oscar Wilde) joined a team to exhume the bodies for examination in 1835.
They made casts of both Swift's and Stella's skulls as part of the study. It was quite controversial at the time and many deemed it 'unchristian'.
Regardless, the cast of Jonathan Swift's skull can be now found inside St Patrick's Cathedral on display whereas Stella's cranium cast is in Marsh's Library.
Although they are casts, many believe that these are in fact the real skulls of the secret couple. There is a legend that says Jonathan Swift's ghost haunts the library every once in a while to visit Stella!
Exit through the Gift shop
After your tour of Marsh's Library, you'll descend a spiral staircase and enter their gift shop.
There are lots of souvenirs to browse and purchase. All of the proceeds go towards securing the future of the library so it stays open for many years to come.
You can browse lots of magnets, portraits, and mugs. Plus, you can buy some books to add to your collection.
Marsh's Library garden
An unexpected find after my visit to the library was stepping into the Library Garden which was very peaceful.
Apparently, when the library was founded there was a garden for the library keeper. It's the perfect place to relax away from the city crowds.
It's hidden away in a historic courtyard and you can take a seat and be surrounded by colourful flowers.
It was a really hot and busy day in Dublin on my visit. So, I loved this opportunity to take a breather. Why not use this respite to read a book?
Is visiting Marsh's Library worth it?
Yes, Marsh's Library is definitely worth visiting if you find yourself in Dublin. It's one of the prettiest libraries I've ever stepped into.
I actually preferred this library over the Long Gallery at the Book of Kells, simply as it was much quieter. You could explore in peace and really appreciate the exhibits.
The entrance is only 5 euros which is a bargain to take a step back in time in this historic library. Plus, you get to learn so much!
Make sure to put Marsh's Library Dublin on your Ireland itinerary.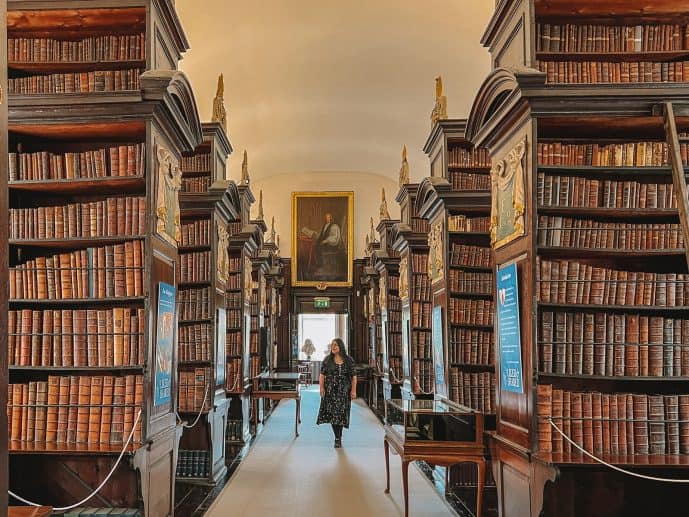 Marsh's Library FAQs
Can I study in Marsh's library? Yes, you can study and read. It invites all readers to make use of their archives if they have a valid reason to.
What is the oldest library in Ireland? Marsh's Library in Dublin, it's been a public library since 1707.
How long do I need to visit Marsh's Library? I would say you would need around 30 minutes to an hour to explore the library. It's a self-guided tour so you can take as long as you like.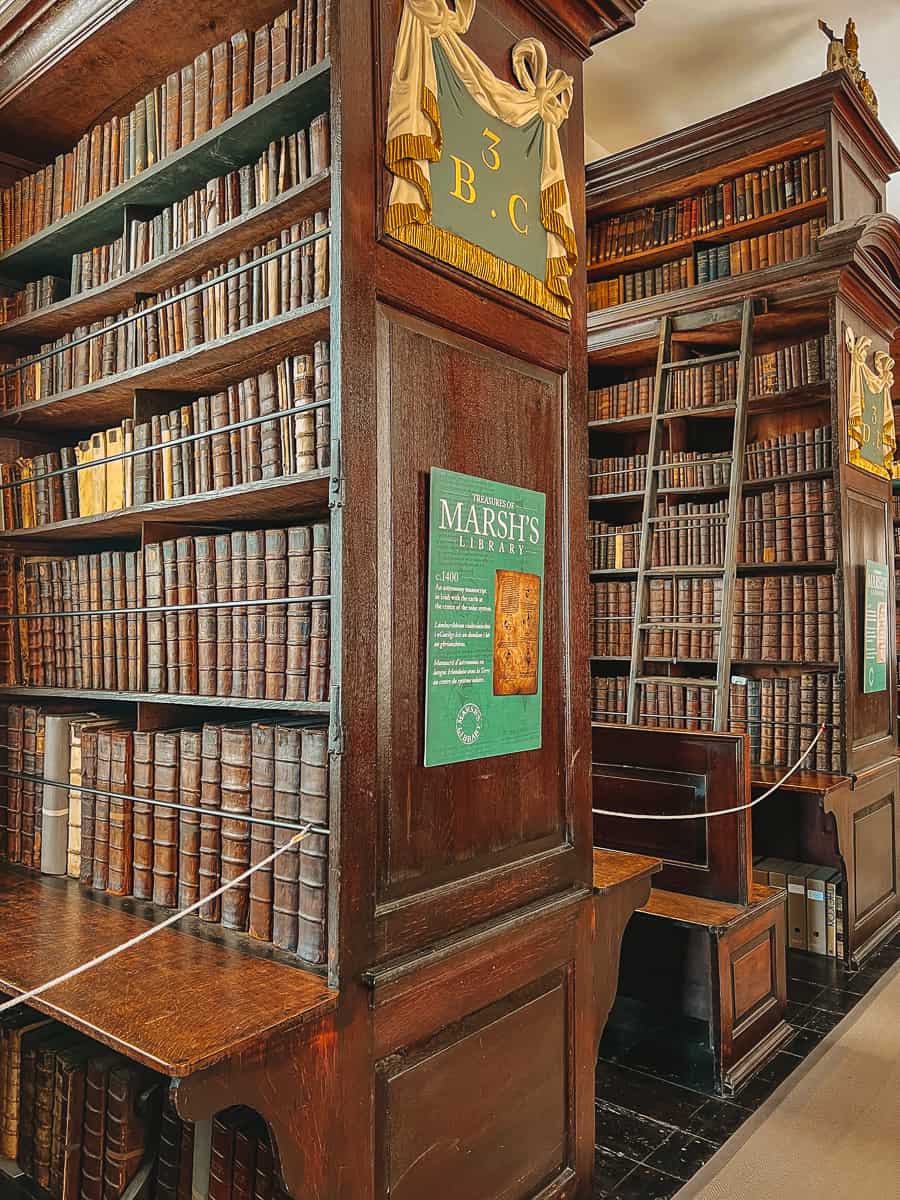 Looking for more things to do in Dublin?
Dublin is one of the busiest cities to visit in Europe and for good reason, it has a wealth of amazing attractions and lively culture.
After you've explored the tomes of Marsh's Library, I would highly recommend the Guinness Storehouse.
It's the number one attraction and you take a self-guided tour through the factory to learn the story of the famous stout. You end your tour with a pint in their Gravity Bar.
You can also visit Jameson's Whisky Experience which is a similar tour with some tastings.
If you're more into historical attractions, I would check out St Patrick's Cathedral, Dublin, and Kilmainham Gaol. It's Dublin's most famous prison and courthouse.
If you love literary destinations, Ireland has them in abundance. You can check out Trinity College, see the Book of Kells, and walk through the Long Room.
This is one of the prettiest libraries in Ireland. But, you must book tickets in advance as it sells out.
A great place to take photos would be the colourful Umbrella Street Dublin on Anne's Lane. There's a cocktail bar nearby.
Speaking of drinks, you really can't visit Dublin without a stop in the lively Temple Bar filled with pubs and restaurants.
Or, why not take a scenic walk along the River Liffey and see the Ha' Penny Bridge?!
Read more of my Ireland guides
How to visit Powerscourt Waterfall Ireland
Visit the magical Muckross Abbey ruins & yew tree
Visit the Cliffs of Moher Harry Potter Cave
How to photograph the Deck of Cards in Cobh
How to visit Ballysaggartmore Towers in Lismore
How to visit Torc Waterfall in Ireland
Visiting Ballintoy Harbour from Game of Thrones
Ultimate Dark Hedges Northern Ireland guide
How to find Umbrella Street Belfast
Game of Thrones Studio Tour review
10 Game of Thrones Doors in Northern Ireland
How to visit the Pollnagollum Cave Game of Thrones location
Tollymore Forest Park Game of Thrones filming locations
How to see the Game of Thrones Tapestry in Belfast
Glass of Thrones walking trail in Belfast
How to visit Lough Tay aka Guinness Lake
How to visit Cushenden Caves in County Antrim
How to find the Ballinastoe Boardwalk in Wicklow
Guinness Storehouse in Dublin review
Save visiting Marsh's Library Dublin for later!