If you're a Marvel fan and you want to find the New Asgard location from Avengers EndGame, then you only need to find St Abb's in Scotland!
This sleepy fishing village in the Scottish Borders transformed into Thor's Home in Tønsberg for the movie.
On your visit to the New Asgard location, you'll find many of the Avengers filming locations used in Endgame and even a sign that has now been set up for Avengers fans!
So, in this guide, I'll show you how to find the New Asgard Location St Abb's in Scotland, a film location tour of New Asgard, and some top tips of things to do in the area too.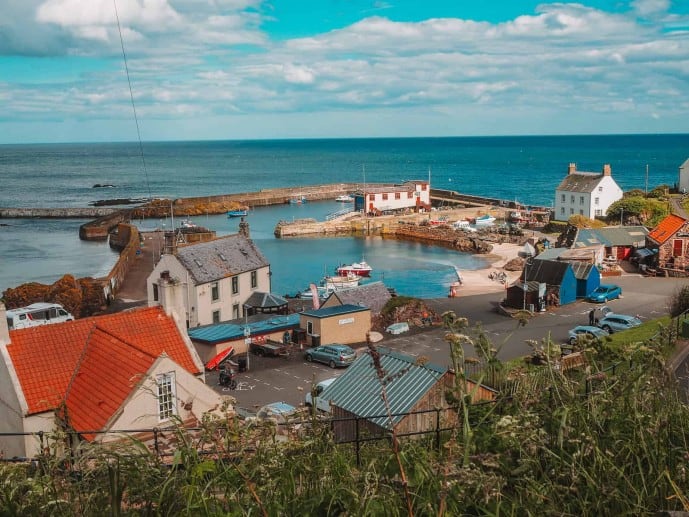 What is New Asgard in Avengers?
So, if you don't know what New Asgard is, I would definitely stop reading this and go and watch the Avengers Endgame movie right now!
But, for those who may be accompanying their Marvel-obsessed family and friends, New Asgard is Thor's Home in Tønsberg.
After the city of Asgard fell, the Asgardians decided to rebuild the city in the same spot.
As it is an alternate state of Earth, the remains of New York City were built into it too, hence it became New Asgard.
The Asgardian refugees and Sakaaran gladiators settled here including Thor, the God of Thunder.
Where does New Asgard appear in Avengers Endgame
*spoiler alert* if you don't want to know any of the plot, look away now!
In the movie, Hulk or Bruce Banner and Rocket Racoon visit Thor in his newfound home of New Asgard.
They pull up into New Asgard harbour and meet Valkyrie on the way. She points them towards Thor's home nearby with barrels of beer outside.
Inside the shack, they find 'Fat' Thor who has lost his way. He now spends his day with Korg, shouting at kids playing Fortnite, drinking beer, and eating pizza!
They convince Thor to come with them to help them fix everything that happened after Thanos used the infinity gauntlet to disintegrate half of all life in the universe.
Where is the New Asgard location in Scotland (St Abbs) and how to get there
New Asgard is 'twinned' with St Abb's, a quaint little fishing village in Scotland.
Specifically, it's in the Borders territories between England and Scotland. Here, you can find some of the most adorable settlements along the coastline.
If you're heading here from Northumberland, it's a 30-minute drive from Berwick-on-Tweed and a 90-minute drive from Newcastle.
From Edinburgh, you can drive here in one hour.
It's much easier if you have your own transport to arrive at St Abbs. But, there are some options by public transport too.
There are some Borders Buses that arrive directly into St Abbs from around The Scottish Borders and Northumberland.
Click here for more details and to plan your journey
Parking at St Abb's
There are a couple of parking spots in St Abbs to choose from. You can drive down the hill to the harbour like the Hulk and Rocket did in the movie or you can park up at the top like I did and walk down.
The benefits of parking at the top are that the car parking spaces are FREE and it saves you a little bit of a stressful 10 point turn to get out of the narrow harbour area.
I parked up here because I knew I was going on the St Abb's Head walk and would be way longer than the meter limit.
But, if you would rather park down the bottom on the harbourside, there are limited spaces (30 with 1 disabled space) in a pay and display car park that are £1 an hour. Over 6 hours will be £7.
5 experiences every Marvel fan must-have in New Asgard or St Abb's
So, if you're ready to go on a little bit of an Avengers treasure hunt of St Abb's…or ahem… the New Asgard location, I have a few places in-store that you must visit while you're here!
Some of them you can find right on the harbour if you're stuck for time and others you will need to go on a bit of a walk towards St Abb's Head.
So, Avengers assemble! Here are the St Abb's Avengers Endgame filming locations and top experiences for Marvel fans;
1. Take a photo with the St Abb's twinned with New Asgard Sign
Firstly, anyone who comes to St Abb's and is a Marvel Fan has to take a cheesy photo with the New Asgard twinned with St Abb's sign.
This small fishing village in The Borders only has 100 residents and is quite a sleepy place that doesn't see many tourists. Not any longer!
After the movie came out, fans were on the lookout for the New Asgard location.
Once the word was out in the media, thousands of Marvel fans flocked here to visit Thor's new home.
It doesn't show any sign of leaving any time soon but just in case, make sure you get a snap of it while you can.
2. Explore St Abb's Harbour or New Asgard Harbour
If you cast your mind back to the movie, Bruce (Hulk) and Rocket pull up in New Asgard harbour after hitchhiking in a truck. It's here they meet Valkyrie while looking for Thor.
These scenes were filmed in and around St Abb's Harbour.
You can get a great view of the harbour from the New Asgard Sign and also head down the steps to wander around the port.
Although it was made to look a little more Norwegian in the movie, it is a working harbour so you'll see fishermen at work, boats parked, and even the crab nets too!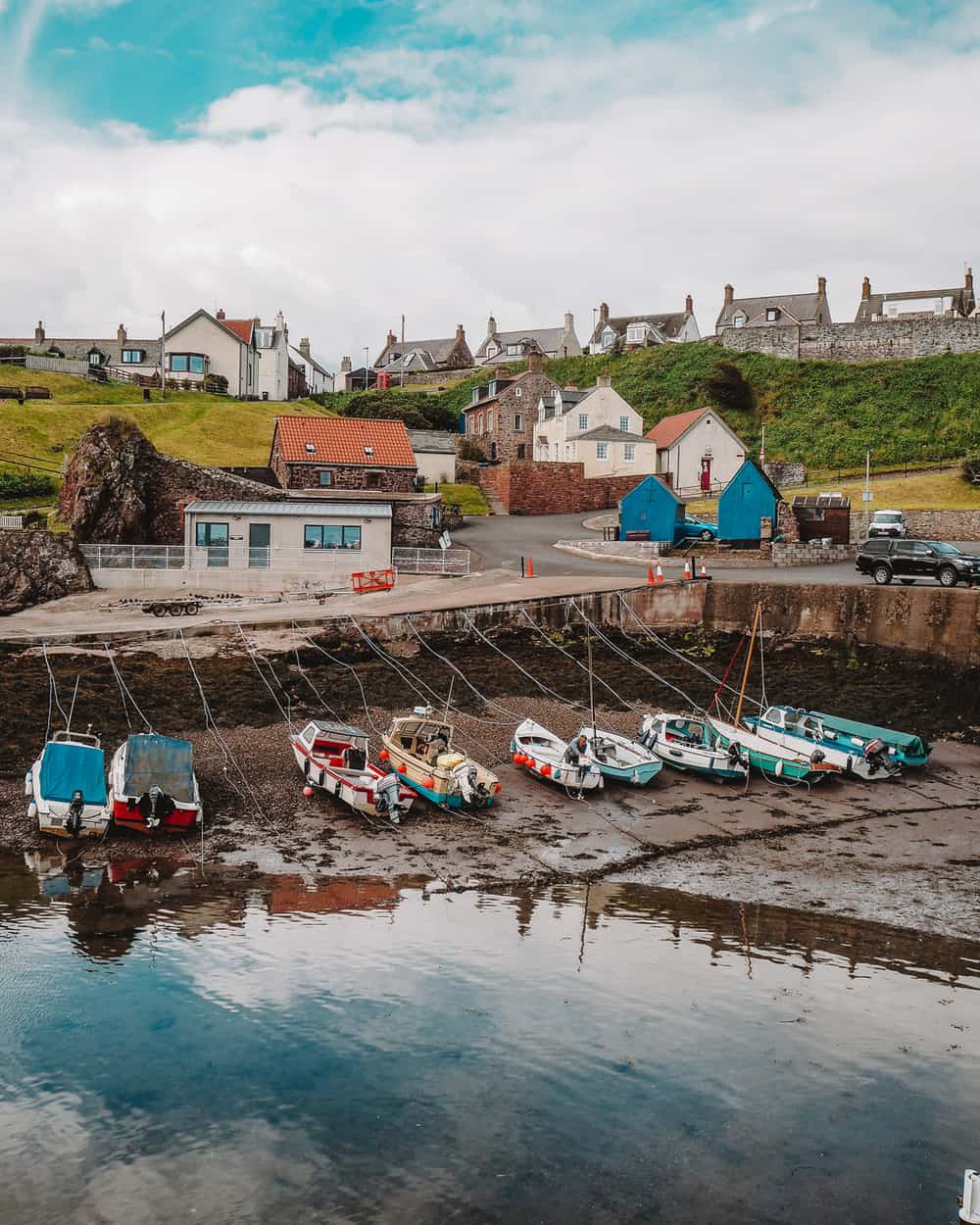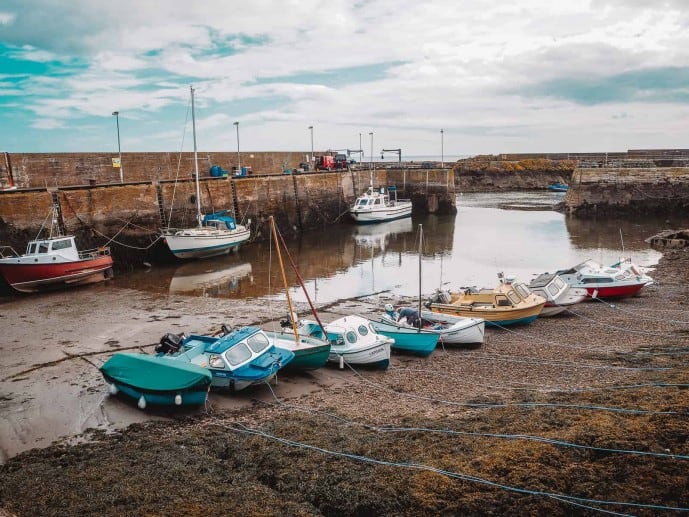 3. Find Thor's Home on Seaview Terrace
If you're wondering where they filmed Thor's house in New Asgard, then you only need to look over the harbour on Seaview Terrace.
Although in the movie, they used CGI to make it look more Norse, it's actually the same white building that was used.
It's good to note, that they didn't film the indoor scenes in the house either. Just the door on the outside!
So, don't go knocking expecting to see Korg and Thor shouting at kids playing Fortnite!
Another time this was used in the Marvel series was in Avengers Infinity War. 6 Seaview Terrace was also used as The Cormorant and Tun, selling haggis and Cullen skink.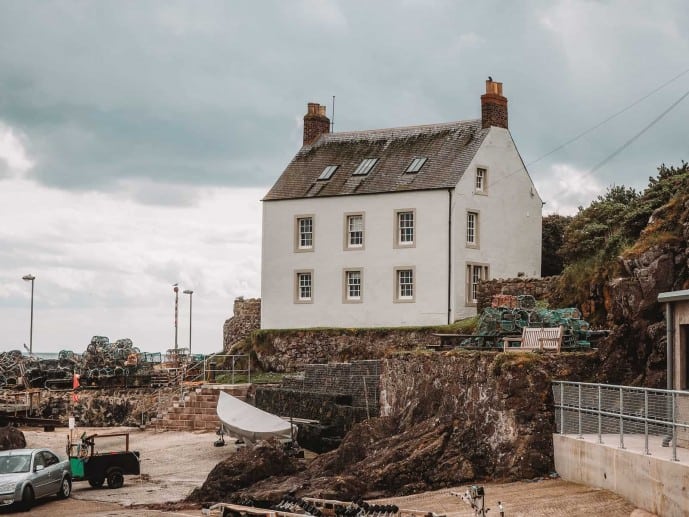 4. Stand upon the hilltop above Horsecastle Bay
For those dedicated Avengers fans, you may remember a deleted scene that was released of Thor and Valkyrie.
They are stood on top of a cliff overlooking Asgard and Thor tells Valkyrie that she will be the leader of New Asgard.
There's also a little funny scene where Thor goes to kiss her! I don't know she refused… Chris Hemsworth is dreamy.
The location where this scene takes place is on the way to St Abb's Head, on the cliff overlooking Horsecastle Bay.
Beyond an Avengers location, this cliff is one of the most picturesque views in St Abb's. So, make sure you check it out!
5. The road to Pettico Wick Bay (St Abb's Head)
I actually found this location by chance while I was out walking towards St Abb's Head!
If you remember in the very beginning of the scenes featuring New Asgard, Bruce and Rocket are in the back of a truck heading down to the harbour.
This film of the road with the dramatic rocky cliffs in the background is on the road to St Abb's Head.
Although the welcome to New Asgard sign won't be there, the views are breathtaking.
If you are heading to St Abb's on a day out, the walk over the clifftops to St Abb's Head is spectacular. You really can't miss it.
You'll walk along the cliffs next to the ocean, past lighthouses, gulls, and bays.
You'll also need to keep your eyes peeled for wildlife. In the visitor centre, they have a notice board of what has been spotted. Amongst them were dolphins and puffins!
There are also butterfly conservation fields and lochs to walk around. It was one of my favourite walks in Scotland.
Where to eat in St Abb's
Ebbcarr's Café
After you have done some location scouting in the New Asgard location, you may need a little pick me up.
This friendly café on the harbour front is downright adorable and perfect if you're looking for coffee with a view.
They have a delightful menu of hot drinks, cold ales, and homemade cakes.
They also have a selection of locally caught seafood sandwiches to buy if you're feeling peckish.
I particularly loved their outdoor seating that had a pretty nautical theme and fresh flowers growing outside! It was lovely to sip coffee here on a sunny day.
Open from 10am-4pm every day except on Monday's. Click here to check out their menu
Ebba Centre – Old School Café
As I was making my way back to the car from my surprisingly strenuous walk over the head, I saw another sign for New Asgard outside of the Old School Café.
I was desperate for a drink as I had run out of water so popped in and was so impressed.
They had Avengers bunting and even some Avengers-themed cupcakes inside!
Instead, I decided to treat myself to my favourite treat in Border Country; A Border Tart!
It's a fruity shortcrust pastry, topped with icing and a cherry on top. So delicious and a must-try in this part of the world.
Open every day from 10am – 4pm. Click here to check out their page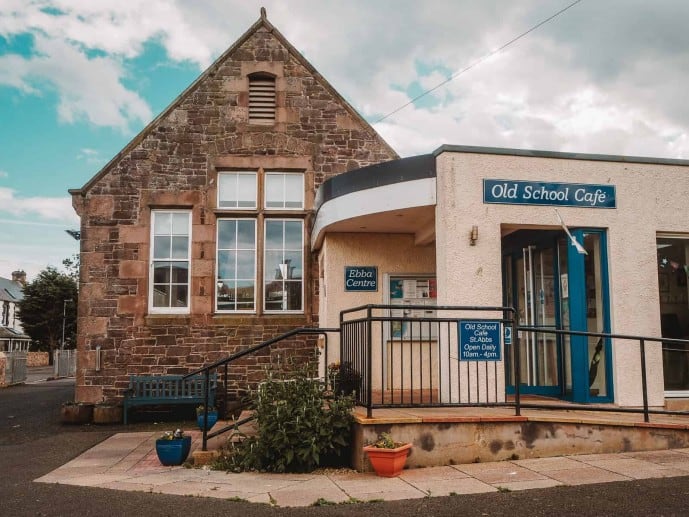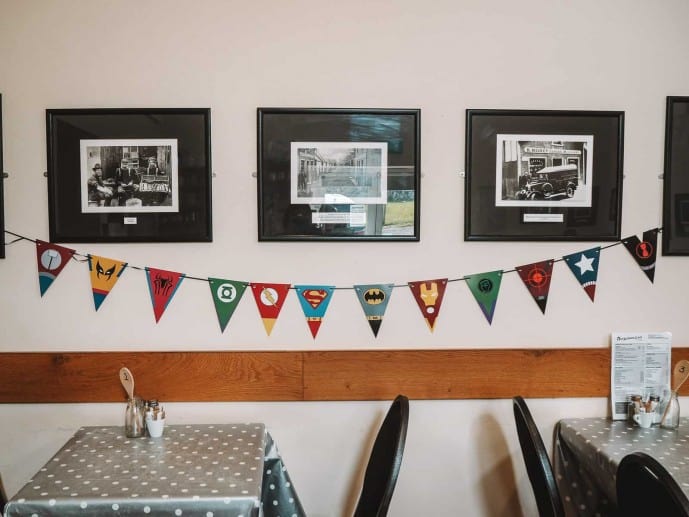 Where to stay in St Abb's
Although residents in the realm have reported the WiFi being quite slow due to all the online gaming going on and the lack of beer (wee joke). There are a couple of lovely places that you can stay in and near New Asgard for the night.
There aren't that many hotels, as most are holiday homes like Near Bank Cottage.
If you have your own car you can stay in Coldingham nearby in Priory View.
Or, if you're looking for a bit more infrastructure then I would recommend staying in Eyemouth, another village down the road. The First and Last lodging is a great choice.
You also have The Home Arms Guesthouse and The Old Coach House too.
Just make sure you check terms and conditions for check-in times as some will not accept late check-in without prior notice.
There may also be last orders for dinner (usually before 7/8 pm) and if there are any curfews too!
Where to visit after St Abb's
Although a visit to the New Asgard location in St Abb's is lovely. I'd say if you're not going to head out on the St Abb's Head trail, a visit to the harbour only takes up a morning or afternoon.
However, the Scottish Borders and Northumberland makes an epic day out and there are plenty of places that are accessible in the area.
From cute coves, to lovely beaches and even islands you can drive over to – it has so much to offer!
Cove Beach
While I was in St Abb's I got talking to a local who saw my camera and asked if I was a photographer.
When I told him that I was a travel blogger he gave me a little tip-off of a secret beach nearby called Cove Beach.
He also told me that it was located in an abandoned harbour that could only be found by walking through a tunnel.
Instantly, I knew I had to find it. So, I parked up at the top of Cove village and made my way down to the tunnel.
Sure enough, the secret tunnel led to a hidden beach!
It was incredible to find and such a well-kept secret, I almost feel bad writing about it. Savvy fans of Vera (a detective drama on ITV) will also recognise this as a filming location!
Click here to read my Cove Harbour Beach travel guide
The Holy Island of Lindisfarne
One of my favourite places in the UK is the Holy Island of Lindisfarne in Northumberland.
It's a small island that can only be accessed at low tide and claims the title of the first place that the Vikings landed in England in the 11th century!
But, I must stress this, PLEASE check the tide times before you go! Too many people get their cars stuck in the water by risking it and it's expensive to send rescue.
Low tide happens twice a day, so if you miss the first time, it will happen later too.
Once you're on the island, you can check out the ruined Lindisfarne Priory and Viking museum to find out more. Or, make your way over to the iconic Lindisfarne Castle.
Another place you have to visit while you're here is St.Aidan's Winery which is home to Lindisfarne Mead. Here, you can sample some of the amazing drinks and buy some to take home.
If you're here on weekends, eating on the island can be a bit of a challenge. Pubs pack up and stop serving lunch at 2 pm and coffee shops have enormous queues.
I would reserve a table in advance or bring your own lunch if you don't have much time!
Click here to read my complete Holy Island guide with everything you can do!
Ford & Etal Estates
Another hidden gem in Northumberland, just 20 minutes away from the border of Scotland, is the Ford & Etal Estates.
A long time ago there were three estates. Ford, Heatherslaw, and Etal were part of Scotland.
They each had their own laird, castle, mills, schools, and clan. They constantly fought one another and if someone from Ford married someone from Etal there would be serious consequences.
Nowadays, it's just one big peaceful area that has fairytale ruined castles, quaint pubs, steam trains, and churches to pop into.
In Etal, you should check out the famous Etal Castle that played a major role in the Battle of Flodden. It was one of the bloodiest in British history.
In Heatherslaw, you can visit the Victorian mill that still produces flour the traditional way.
Also, the Lady Waterford Hall is a treasure in Ford that features amazing portraits from Louisa Anne, Marchioness of Waterford.
Read more about the amazing Ford & Etal estates in my complete guide
Read more of my posts on Scotland
Where is the pink castle in Scotland?
Harry Potter locations in Edinburgh
All the Harry Potter filming locations in Scotland
Why you must visit the Kelpies
My ULTIMATE Edinburgh bucket list
A complete list of Outlander filming locations in Scotland
Cove Beach on the Scottish Borders
How to find the Devil's Pulpit
How to visit the Dunmore Pineapple House
Manuela's Wee Bakery in Scotland!
Magical Fairy Glen on the Isle of Skye
Save the New Asgard Location and St Abb's Avengers Filming locations for later!