One of my favourite hidden gems in Paris has to be the Medici Fountain tucked away in Jardin de Luxembourg.
It's a majestic cascade that looks like something from a fairytale. You'll find mythological statues, colourful flowers, twirling vines, tall trees, and waterfalls.
It was first commissioned by Marie de Medici when she built Luxembourg Palace but has seen numerous transformations since.
Today, this fountain makes a lovely place to relax away from the crowds.
Here is a complete guide to the Medici Fountain Paris, including its history, what it represents, and how to visit in Jardin de Luxembourg.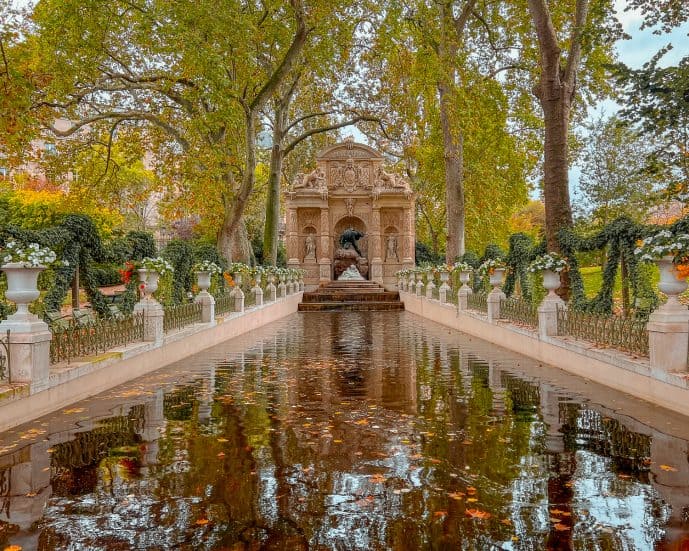 What is the Medici Fountain in Paris?
Paris' Medici Fountain is a gorgeous Italian monument that can be found in Jardin de Luxembourg.
Shaded by trees, it's a popular spot in the city where locals like to relax in the warm weather.
It's one of the most beautiful fountains in all of Paris but it's a hidden gem that many people haven't heard of.
Today, this beautiful cascade tells the story of Polyphemus surprising Acis and Galatea but was first commissioned by Marie de Medici in the 17th century.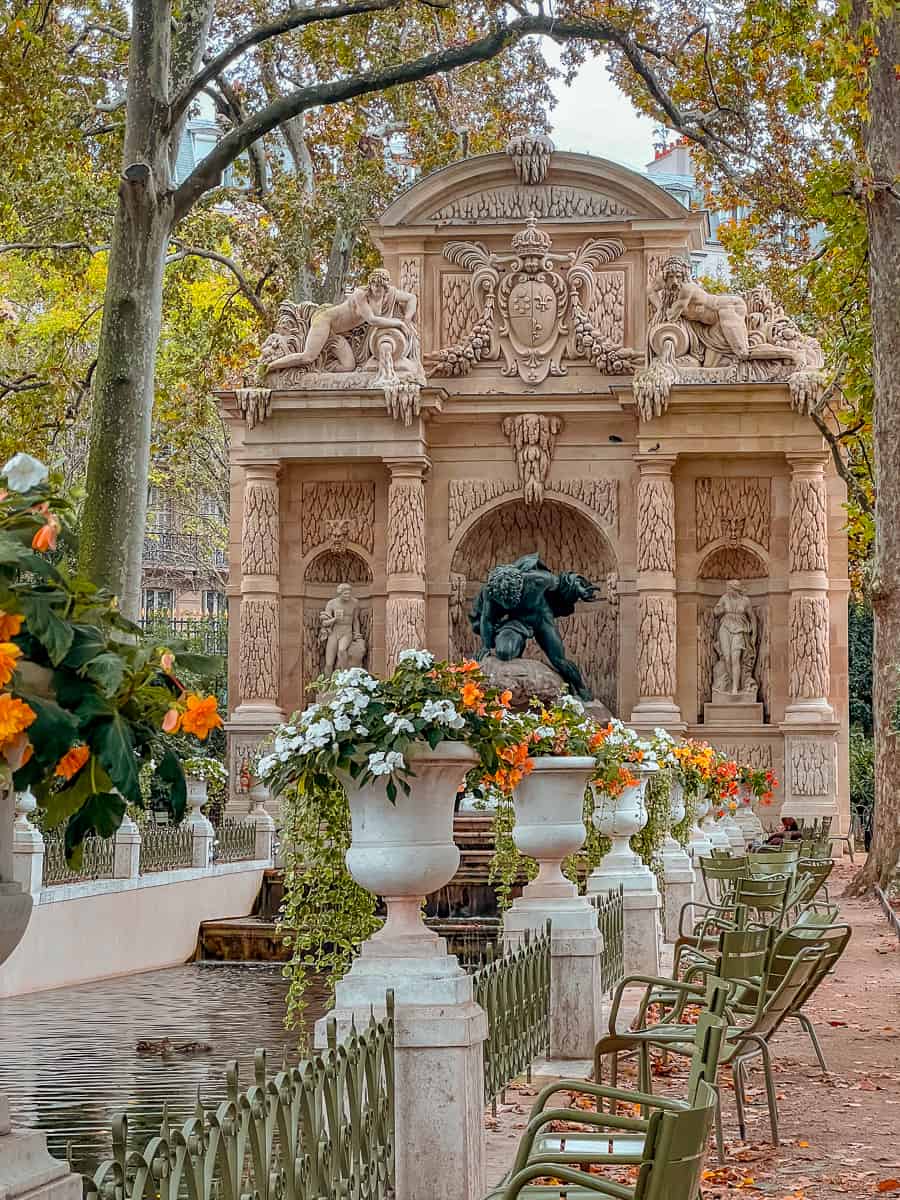 Medici Fountain history
Marie de Medici was an Italian noblewoman who belonged to the powerful House of Medici and the Grand Dukes of Tuscany.
It was her family's great wealth and connections that attracted King Henry IV of France to choose her as his second wife after his divorce.
They married in 1600 and Marie gave birth to Louis XIII in 1601. But, Marie was not to be coronated as Queen Consort of France and Navarre until 1610.
The day after her coronation, Henry IV was assassinated and a mere few hours later she was confirmed as Queen regent for her son.
Feeling betrayed and tired of the French court, she decided to build her own royal palace on the outskirts of the capital.
Marie bought the old hôtel particulier owned by François de Luxembourg. She wanted the palace to be built adjacent to that residence (now Petit Luxembourg) and designed in the Florentine style.
Her 'Palais de Médicis' would have Italian features including grottos, rivers, and caves that would remind her of home.
Luxembourg Palace would take inspiration from Palazzo Pitti and the gardens would take influence from the Boboli Gardens.
She wanted a grand fountain to be built on the grounds and so the Medici Fountain was constructed.
On Marie de Medici's death in 1642, she bequeathed the residence to her son Gaston, Duke d'Orleans who renamed it Palais d'Orléans.
Since her death, the house and gardens have significantly changed over time. But, it still retains the title of Luxembourg Palace today.
Alphonse de Gisors
Over time the Luxembourg Palace had many different owners. In the 18th century, the Italianate style was no longer in vogue after King Louis XIV's Palace of Versailles.
So, the fountain was eventually overlooked, abandoned, and fell into decay. In the 19th century, it received even more transformations.
It was reconstructed under the orders of Napoleon I and it even moved positions in the gardens after Baron Haussmann's project to redesign Paris.
It was during this move that architect Alphonse de Gisors redecorated the fountain as we see it today.
He restored the Medici family crest that was partly destroyed during the French Revolution and left the Italian dripstone grotto appearance.
The fountain gained new statues that were influenced by Greek & Roman mythology and symbolises parts of the city.
What does the Medici Fountain depict?
The central part of the Medici Fountain is called 'Polyphemus Surprising Acis and Galatea' and was designed by Auguste Ottin in 1866.
This scene represents the tragic love story of Acis and Galatea. Galatea was Nereid of Sicily who lived in the waters surrounding Mount Etna, the cyclops Polyphemus would woo her and give her gifts.
But, the sea nymph fell in love with a young mortal called Acis. When Polyphemus discovers the two together he falls into a jealous rage.
The fountain depicts this scene with Polyphemus as a bronze statue discovering the two lovers in a grotto below made of marble.
If you were curious to know how this tale turns out, he rips a boulder from Mount Etna and strikes Acis down.
Although it's a sad tale, don't worry. Galatea turns her lover into a river spirit. He was immortalised as the River Acis in Sicily.
On either side of the fountain, you will see two statues. One is of Faunus (Pan), Acis' father and God of the Forest. You can see him with his pan flute.
The other is the Goddess Diana. She is represented as a Huntress but is also the Goddess of wild animals, fertility, and the moon.
Above them, you can see statues of two figures pouring water out of pitchers and these represent the two rivers of the Rhone and Seine.
There is a rectangular basin out the front of it that reflects the facade in the water and has numerous flower decorations on either side.
Behind the fountain itself, you will also find the hidden Fountain of Léda.
This was a wall fountain that was meant to be destroyed during Haussmann's renovation of Paris but was saved by being installed here.
Where is the Medici Fountain in Paris?
Today, you can find the wonderful Medici Fountain hidden under the trees in a corner of Jardin de Luxembourg.
It's a place for tourists and locals to relax when the weather is warm as the fountain has many shaded seats alongside it.
Jardin de Luxembourg is in the 6th arrondissement of Paris. It's near the Pantheon, Saint-Chapelle, and Notre Dame Cathedral.
There are many ways to visit the park in the city. Paris is best explored by a mix of using the metro and walking.
Fortunately, the Luxembourg metro station is just outside the gardens.
You can alight at the 'Luxembourg' station on the RER B (blue line) and then make your way to the Medici Fountain on foot.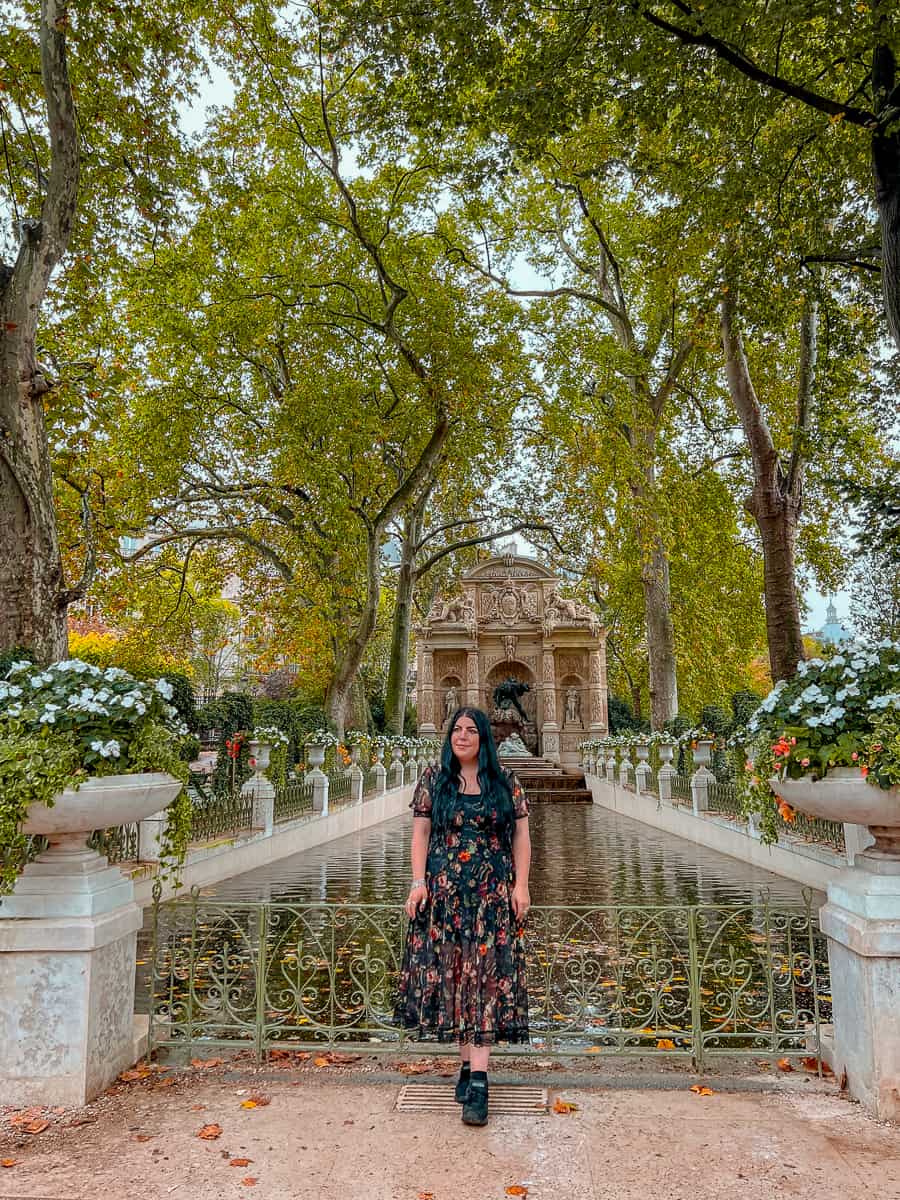 How to find the Medici Fountain in Jardin de Luxembourg
There are many ways to find this fountain in the park but here is the quickest way.
From the entry gate by the Luxembourg RER Station, make an immediate right and follow this path alongside the gate.
Eventually, you will see a series of tiered steps leading down on your left and this path will take you straight to the Medici Fountain.
If you go this way, you will first see the Fountain of Léda on the back, but make your way around to the front and you can see the main basin with its stunning facade.
Alternatively, you'll find the fountain opposite the old east entrance to the palace.
If you're using your phone to navigate, click here for a Google Pin!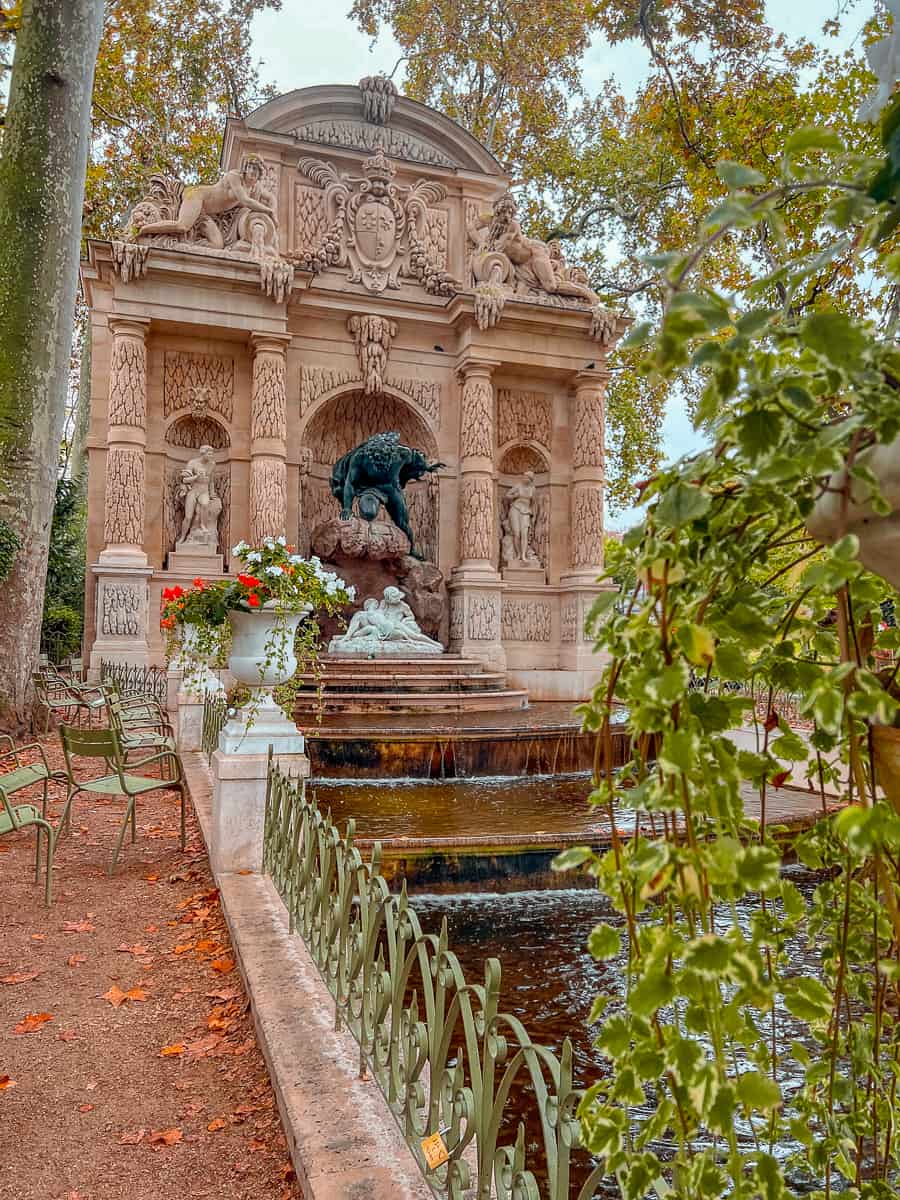 What to expect on your visit
The Medici Fountain is truly majestic and looks like something from a fairytale with its mythological statues and sparkling cascade.
On either side of the fountain, you will see a series of trellised vines hanging between the trees that shelter this area from the rest of the gardens giving it an intimate setting.
You'll also find many flower pots alongside the main basin that give the area a pop of colour and make it look like a scene from a storybook.
It's the perfect place to go for a stroll, chat with friends, read a book, or enjoy your lunch whilst wandering around Paris.
Even in the rain, I loved visiting this fountain as it was so vibrant and ornate. With Marie de Medici's residence in the backdrop, you will feel like royalty strolling around here.
The facade has also had a thorough cleaning in recent years so despite its original foundations being centuries old it looked brand new!
Other things to see in Jardin de Luxembourg
After you have seen the Medici Fountain, there are plenty more things to do in Jardin de Luxembourg as well as museum attractions.
There are hundreds of different statues placed around the park including a miniature Statue of Liberty.
You can find a rose garden, tennis court, basketball court, bandstand, playpark, puppet shows, and pavilions.
The Palace of Luxembourg is now a museum. You can visit on a self-guided tour like this one.
There is also the art gallery Musée de Luxembourg and the Orangerie du Sénat. There is a greenhouse to visit and the Mineralogy Museum.
If you're looking for somewhere to eat nearby, you can visit La Terrasse de Madame in the gardens. They serve up coffee, pastries, and lunch throughout the day.
Jardin de Luxembourg opening times & prices
Jardin de Luxembourg is open all year round but has different opening times depending on the season.
In summer, it will open from around 7 am until 1 hour before sunset, and in winter it will open from 8 am until 1 hour before sunset.
Fair warning, Paris parks are very strict on 'kick out' times. Security guards will be quite forceful when ushering you out.
Visiting Jardin de Luxembourg and the Medici Fountain is completely free. But, you will need to pay to visit Luxembourg Palace and a few other activities in the park.
My top tips for visiting the Medici Fountain in Paris
Visit early – like most Paris attractions if you wanted a quieter visit, I would visit early morning for photos. But, as a hidden gem in Paris, it's not as popular as other photography spots in the city.
Take coffee or lunch – in the warm weather, this makes a great shaded spot to relax. There are lots of seats placed here where you can chat, have coffee, read a book or eat lunch.
Leave at least an hour – Luxembourg Gardens is a huge green space with lots to do besides the Medici Fountain. Leave at least 1-2 hours for your visit.
Is the Medici Fountain in Paris worth visiting?
YES, the Medici Fountain in Paris was one of my favourite places I visited in the city as it's so hidden away.
There weren't masses of crowds like in the Jardin de Tuileries and Louvre, so you could sit here in peace and relax.
The fountain has a fairytale setting with a beautiful facade and is surrounded by vibrant flowers. It also doesn't cost a single cent to visit. So, what's not to love?
Don't skip the Medici Fountain in Paris, it's a slice of heaven amongst the busy crowded streets.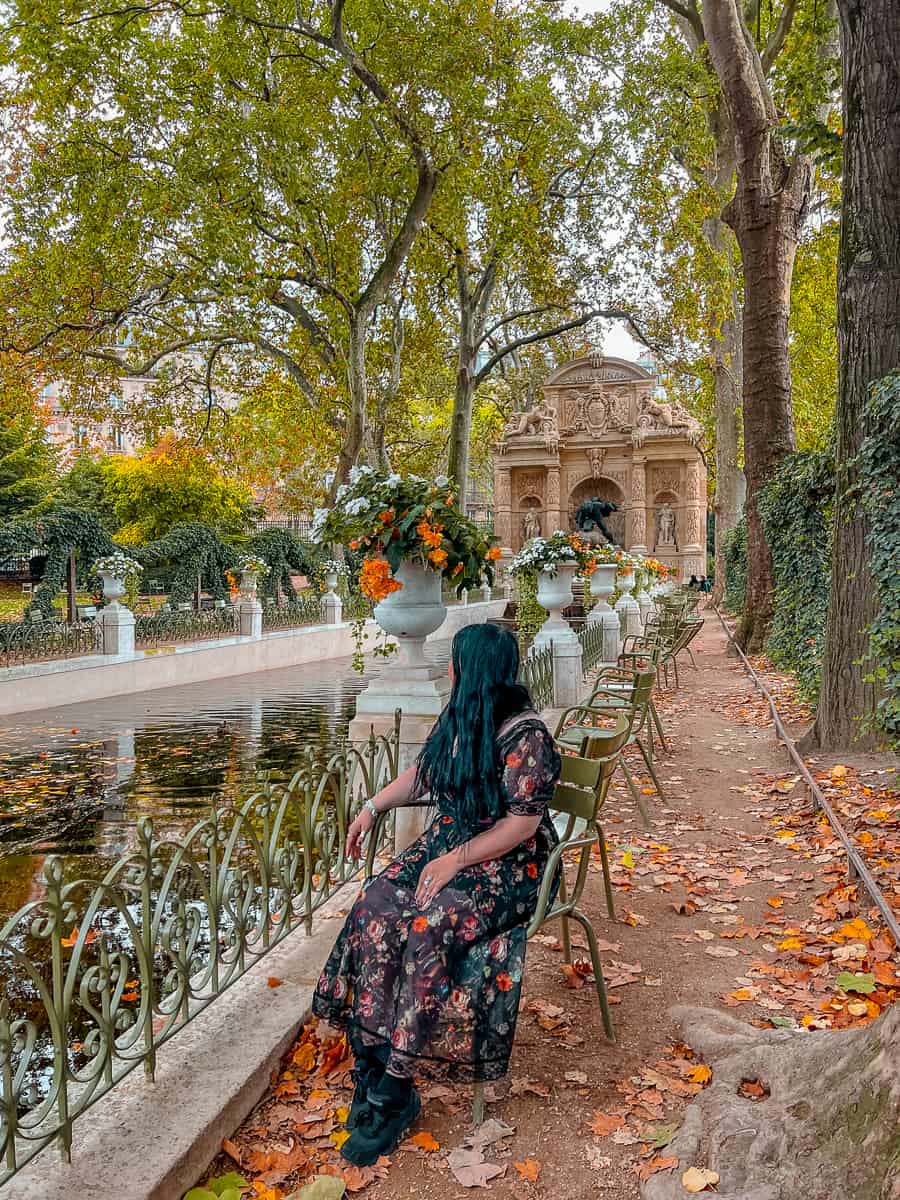 Read more of my Paris guides
Pink Mamma Paris Review – is it worth it?
Starbucks Opera – Is this the prettiest Starbucks?
How to find Colonnes de Buren in Paris
Don't skip the Queen's Hamlet in Versailles
50+ Instagrammable places at Disneyland Paris
25+ Things to do in Disney Village Paris
Don't miss the Disneyland Paris Dragon
Captain Jack's Restaurant Review
How to eat at Bistrot Chez Remy Ratatouille Restaurant
How to find Jim Morrison's Grave at Pere Lachaise Cemetery
How to visit Merlin's Castle at Chateau de Pierrefonds
Save Jardin de Luxembourg's Medici Fountain for later!