The Mena House Hotel Cairo is honestly like a living dream.
I had dreamt of visiting Egypt since I was a little girl and this year was the year I was finally doing it! I wanted it to be special, so I hunted around for the ideal hotel.
As soon as I saw the Mena House pop up on my Pinterest board, it was love at first sight. I knew then that this was going to be the hotel where I was going to wake up and see the pyramids.
Owned by Marriott hotels, and recently renamed the Marriott Mena House, it's the definition of 5* luxury.
You'll be following in the footsteps of world-famous celebrities who spent the night here like Sir Arthur Conan Doyle, Winston Churchill, Agatha Christie, Frank Sinatra, and even Charlie Chaplin!
It's the hottest hotel to stay on the strip and a once-in-a-lifetime experience worth splurging on. Here are 6 reasons to stay at the Mena House Hotel Cairo and why it's the best hotel near the pyramids!
1. There's a long history behind the Mena House Hotel Cairo
If you don't want a history lesson, I would look away now and skip to number 2. But, if you're like me and are interested in the history of the Mena House Hotel Cairo… keep reading for more #factsbysophie haha.
Personally, I'm a massive fan of historical hotels and palaces that have been converted into hotels for the likes of you and me to stay in. It's my little way of living the royal life of a princess I was always meant to have, HA (that's a joke btw for all those cynics out there)!
The history of this particular hotel really piqued my interest.
Egypt has always had tourists, ever since ancient Roman times. If you don't believe me, you can see their numeral graffiti on the temples here.
But, it really rose to fame as a modern tourist destination after the likes of Howard Carter started his great excavation works and discovered the famous tomb of Tutankhamun.
The rich and famous flocked here to get a piece of the action, whether that be to excavate, treasure hunt, study, attend lectures, or to be seen as a person visiting the new popular destination. Anyone who anyone wanted to go to Egypt.
Mena House Hotel Cairo history
Initially, it was a hunting lodge nicknamed 'Mud Hut' built in 1869. It was then sold to a couple called Frederick and Jessie Head who took a liking to the place on their Honeymoon in 1883. By 1885, it was sold to an English couple called Ethel and Hugh F. Locke King and construction started immediately to make the property into a statement hotel.
By 1886 the Mena House Hotel was born, taking the name from King Menes, the founder of the first Egyptian dynasty.
A fun fact I didn't know is that in 1890 the Mena House built Egypt's first swimming pool!
Ever since, it has been a statement hotel for royalty, presidents and celebrities to take residence in. Including Prince Albert, King George V, President Richard Nixon and movie stars like James Bond's Roger Moore.
Read more – my top tips to survive visiting the Pyramids of Giza!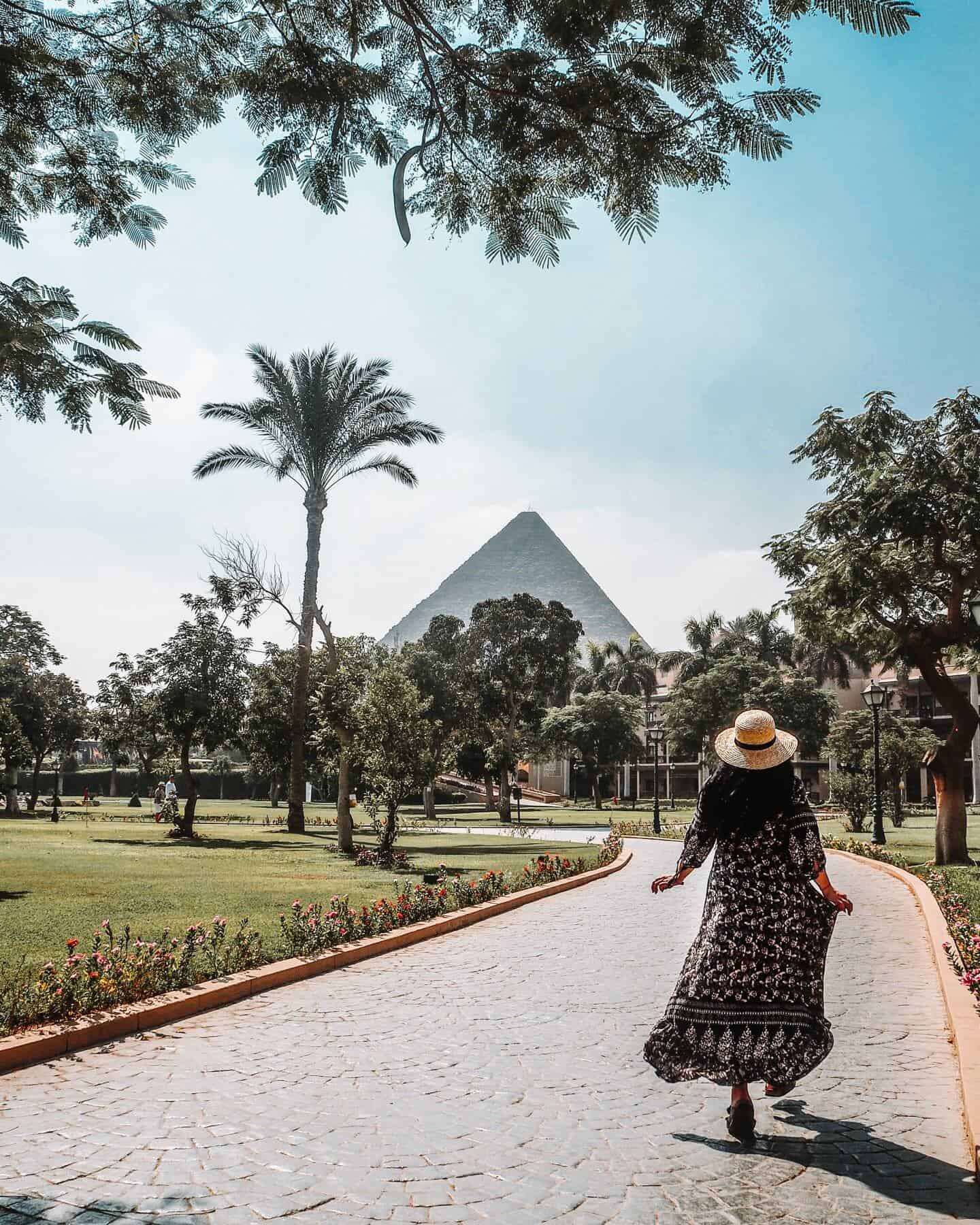 2. The Mena House is an oasis compared to Giza outside
Giza, in a word, is chaos. Beautiful chaos, but chaos all the same!
Even though I personally loved it, it's not for everyone. Imagine horses running wild, camels in the streets, beeping cars, taxi drivers hassling you, people and punters EVERYWHERE, not to mention coach loads of tourists.
A visit to the pyramids should be on everyone's list but it can be hard to take it all in with the craziness of it all.
At the Mena House Hotel, it's like an oasis. Meaning you can take it all in without distractions.
3. The view is like waking up inside a movie set
Waking up to the pyramids from your own private balcony is a thing of dreams!
It's hard to put into words seeing the pyramids for the first time, but being able to see it in my dressing gown while having a cup of coffee in the peaceful morning light was magical.
That's why I would suggest that, although it is slightly pricier, I would book a room with a pyramid view if you can. It's so worth it!
Top tip: Try and get a top-floor room if you can or request it via the hotel service team. That way the pyramids won't be covered with palm trees.
4. Eating breakfast by the pyramids is out of this world!
I think this breakfast spot blows all others truly out of the park!
I mean, when else can you say you had breakfast overlooking the pyramids? It just has to be done.
The breakfast options are vast and what's better is it's an all-you-can-eat, make-your-sides split buffet style!
There's an omelette bar, pancake and waffle station, cereal counter, pastries of all different kinds, fresh fruit and juice, yoghurts, and all the fried foods you could ask for in abundance.
You will truly feel like a King (or Queen Cleopatra) as you dine.
Tip: It's best to either get here early or later in the morning for the pyramid view seats. In the hot off-peak seasons, if you can stand the heat, you'll be fine at any time of day as people hide in the shade!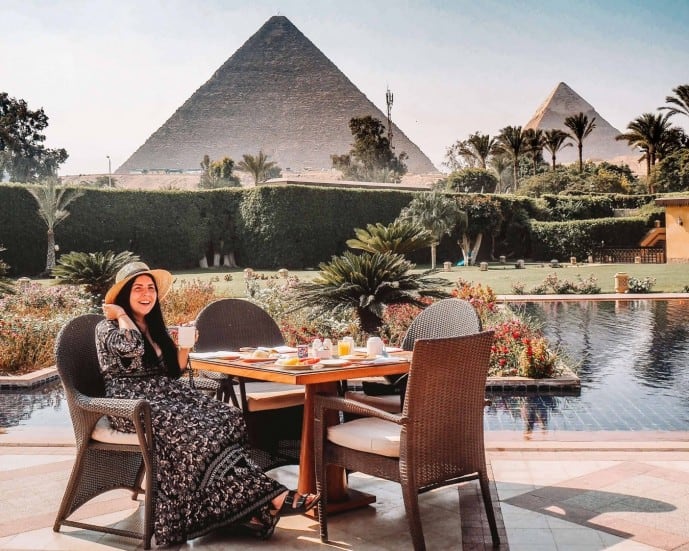 5. The restaurants at the Mena house are high quality
Even if you're not staying here as a guest, the restaurants at the Mena House are worth visiting at lunch or dinner time for the view alone.
In the evening, the silhouettes of the pyramids can still be made out from your table making it a remarkable setting for dinner.
It doesn't come at a cheap price but their local and international menu is top-quality food and in Cairo, that counts for a lot.
They also have a bar that serves up some wonderful potions and concoctions! This is one of the few places in Giza that serves up alcohol, so make the most of it.
Tip: The only thing I will say is that service here can be slow, especially if it's busy or if there is a wedding going on. Make sure you get here earlier than you're hungry to ensure you don't get hangry!
6. It will leave you with memories for a lifetime
I think this stay at the Mena House Hotel Cairo will forever remain in my memory as a special one.
Waking up to the pyramids and staying in the same hotel as my favourite author Agatha Christie was a dream come true.
It's definitely a night I would recommend a splurge on in Egypt as there is nothing quite like this experience. You only get to see the Great Pyramids of Giza for the first time once!
For dates and rates available at the Mena House see here.
I paid for the Mena House with my own pennies and would gladly do so again! All views, photos and opinions are entirely my own.
Read more of my Egypt articles
My perfect 2 week Egypt Itinerary
The perfect Egypt packing list
The most Instagrammable places in Egypt
My guide to the Valley of the Kings
The ultimate 4-day Nile Cruise
Top places to visit in Luxor at night
The perfect guide for Abu Simbel
My survival guide for the pyramids
Why you NEED to visit Alexandria
Top tips for riding a hot air balloon in Luxor
Why you must visit Naguib Mahfouz Cafe in Cairo
Like it? Pin it!