Mermaid Street in Rye is up there as one of the prettiest streets in all of England.
A picture-perfect cobbled lane filled with medieval timber-framed houses, Georgian residences, and oodles of history to boot.
It's one of the most photographed streets in the UK and for good reason. But, beyond snapping photos, you can stop at a historic smuggling tavern and explore literary locations as well.
Here is a complete guide for Mermaid Street Rye, England's prettiest and most photographed street!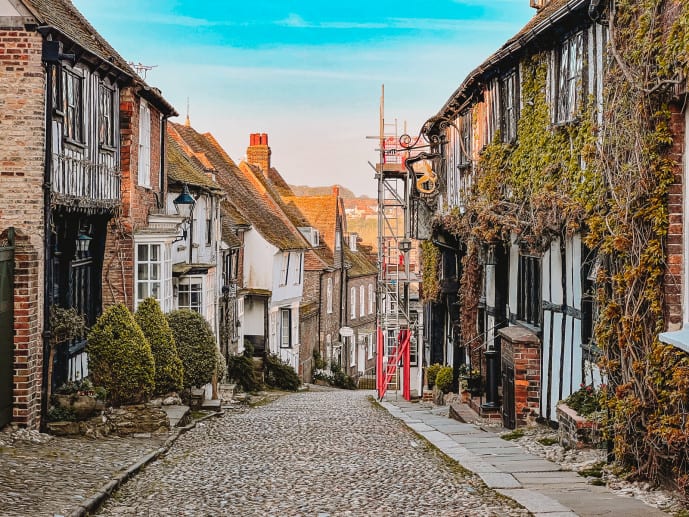 Firstly, why is it called Mermaid Street?
As well as being one of the most picturesque streets in the country, it also has one of the most adorable names.
Mermaid Street conjures up a romantic notion of beautiful sirens swimming and brushing their long locks on the shores of the ocean.
But, remember, before the likes of Hans Christian Anderson's 'Little Mermaid', Mermaids were seen as dangerous for sailors.
They were sirens that honeyed the ears of an unsuspecting seafarer and then dragged them below the depths to their untimely death! So, not as romantic.
Mermaid Street used to be the town's main road and its thought it was called 'Middle Street' before its nautical moniker.
It's believed that this street took its name from The Mermaid Inn which has a history dating back to 1156.
This is when Rye gained membership in the Cinque Ports. These were five historic ports in Essex, Kent, and Sussex.
Mermaid Street history
The Mermaid Inn was built in 1156 and was a medieval alehouse that was popular with sailors who landed in the Port of Rye. This harbour provided ships for the Cinque Ports Fleet.
In the 14th century, the tavern was burned to the ground and so only the cellars remained. It was rebuilt in the 1420s and, at the time, this street was the 'poorer' end of town.
It became a safe haven for Catholic priests during the Reformation in the 1530s with a secret passageway inside. You'll see an oak-panelled wall inscribed with "Syn's Lounge" where people could escape!
Later, The Mermaid Inn was a base of operations for the famous Hawkhurst Gang who would smuggle their contraband into the pub.
They were so confident in avoiding the law that they would sit with loaded pistols at the bar. There is a labyrinth of old smuggler tunnels and escape routes underneath the inn.
Later, it became a club under the ownership of May Aldington, mother of the novelist Richard Aldington. Famous literary names like E.F. Benson (author of Map & Lucia) would visit here.
After World War II, this inn became a hotel and was Grade II listed and briefly featured in Monty Python's 'Yellowbeard'.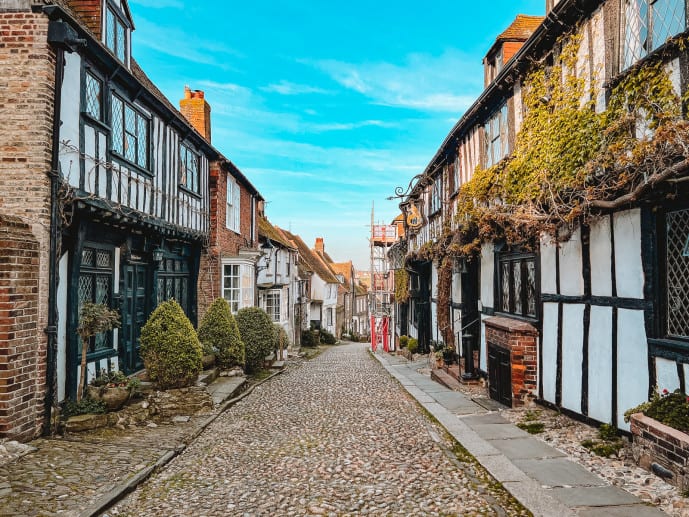 What is Mermaid Street famous for?
Today, Mermaid Street is a picture-perfect cobbled lane filled with half-timber framed houses and Georgian residences.
The whole place is steeped in history and the buildings have been beautifully preserved making it look like you've stepped back in time.
It's one of the most picturesque streets in Rye and, indeed, one of the most photographed streets in the entire country!
It's what is known as an Instagram superstar and you must visit if you find yourself in the South East of England.
How to visit Mermaid Street in Rye
Mermaid Street can be found in the historic town of Rye in East Sussex. This is in 1066 country made famous by the Battle of Hastings.
You can access Rye on a train from Central London or you can drive there within two hours if you fancy a day out.
Mermaid Street can be found near Rye Heritage Centre and St Mary's Church in the centre of the town. You'll find Lamb House and Rye Castle Ypres Tower nearby.
You can start at either end of the street to explore. Note that it's very steep and cobbled so stick to the flagged pathways on both sides to save hurting your feet!
Mermaid Street's address is Mermaid Street, Rye, Sussex, TN31 7EY. Click here for a Google Pin!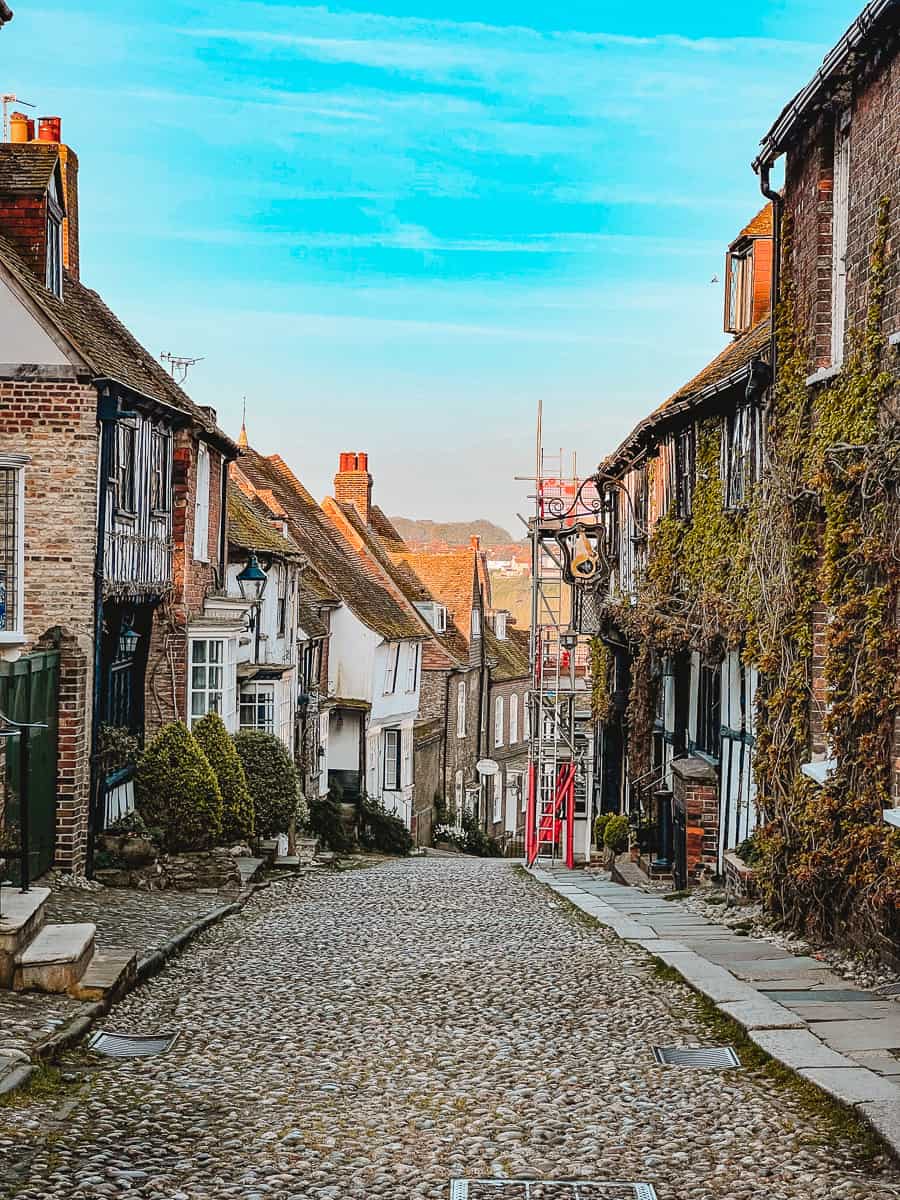 Things to do on Mermaid Street in Rye
1. Admire the gorgeous cobbled lane & timber houses
One of the best views of Mermaid Street can be found at the very top! As you start to descend down the cobbled lane you'll come across a view worthy of a postcard.
You'll see the Mermaid Inn and on either side, gorgeous medieval timber-framed houses.
It's one of the best photography locations in Rye and England so make sure you have your camera ready to capture the view.
2. Visit The Mermaid Inn
The Mermaid Inn has a fascinating history to uncover dating back to 1156. You'll find secret passageways for religious refugees, smuggler's tunnels, literary connections, and even ghosts!
Most Haunted paid a visit here to uncover some of the paranormal activities going on at the pub. In every room at the inn, there have been sightings of resident ghosts.
Lady's in grey sitting by the fireplace, ghostly duels, and vicious smugglers are all said to haunt these hallowed halls.
If you're feeling brave enough you can book a room for the night and see if you can sense any spectres for yourself.
Beyond a hotel, The Mermaid Inn is a popular bar and restaurant in Rye. So, you can pop in for a drink and experience some of the history.
Click here to book your stay at The Mermaid Inn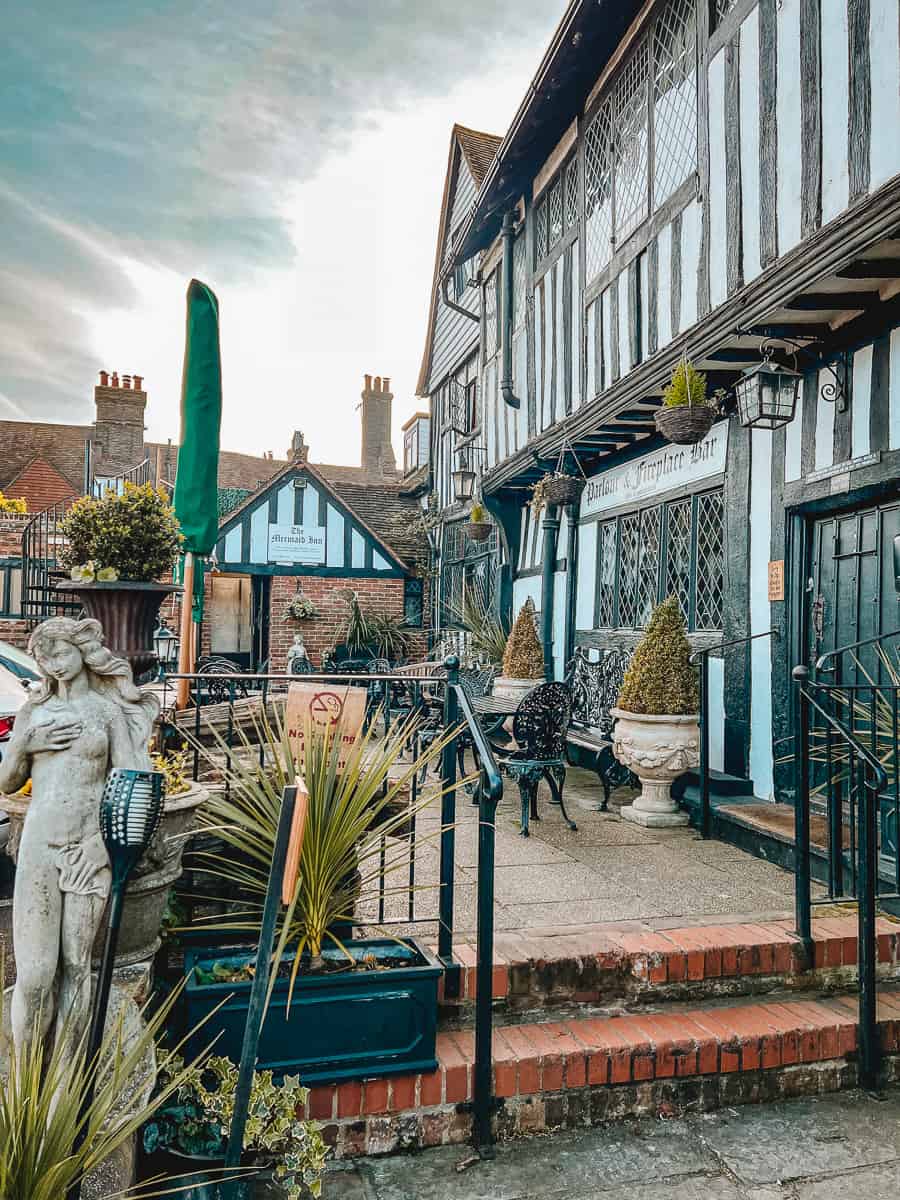 3. Learn about the Hawkhurst gang & smuggler's trail
Smuggling was a huge part of the economy in the UK in the 18th and 19th centuries. It was a wide-scale and dangerous business.
When taxes were on the rise to fund a monarch's wars and working people couldn't afford the levies placed on basic necessities like salt. Smuggling was the only way for many to get by!
Smuggling was completely illegal and meant stealing imported goods and hiding contraband to sell to buyers at a lower price.
Some smuggling gangs were more violent and would even purposely wreck ships on the shores to steal the cargo and kill any witnesses to tell the tale.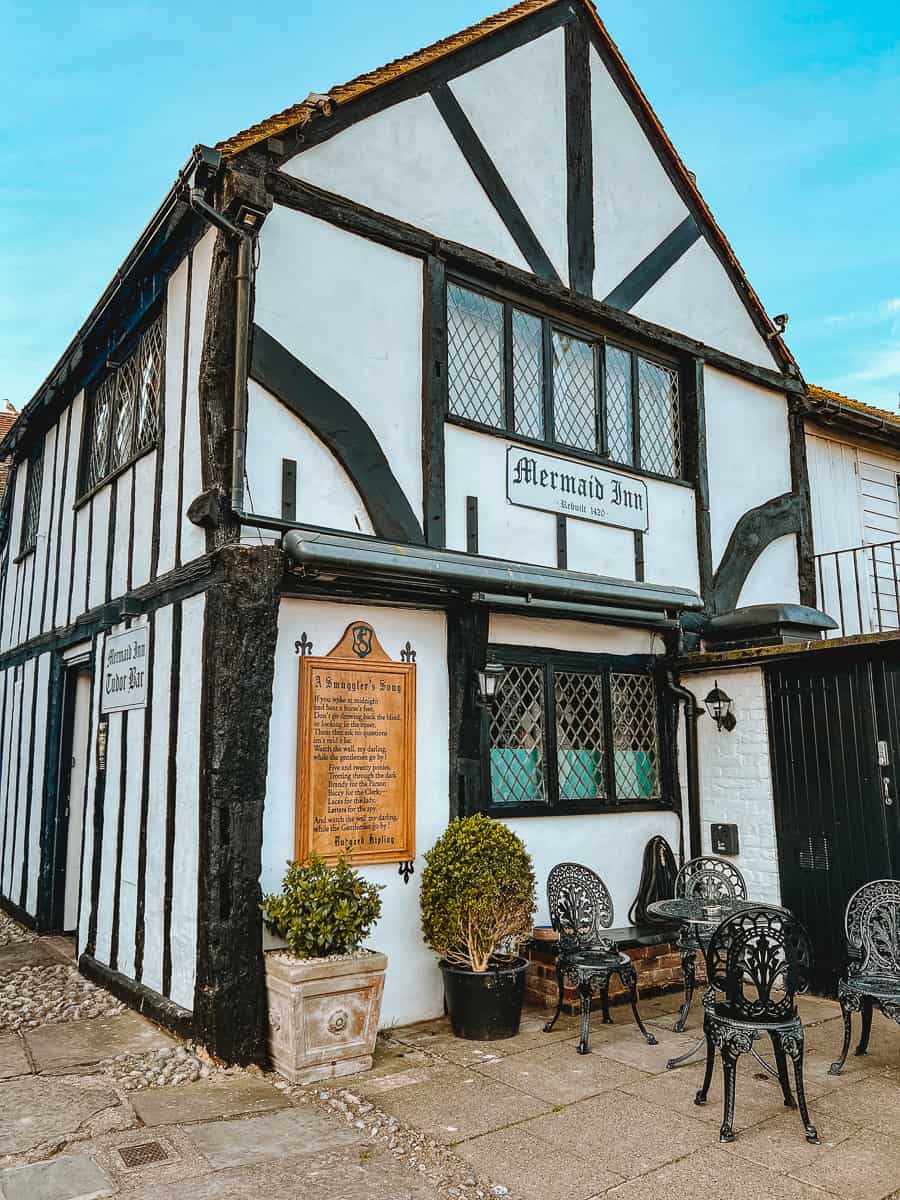 Many coves, harbours, and beaches have tales like this in the UK, and Rye in Sussex is no different. Here, they had the notorious Hawkhurst Gang.
They operated in Rye from 1735 until 1747 and they were reputed to operate from The Mermaid Inn. They would smuggle Brandy here and many would sit around the pub with their weapons on the table!
The Mermaid Inn is now part of the Smuggler's Trail that includes 12 hostels across the Sussex and Kent that have smuggler stories! You'll find the plaque on the front of the hotel.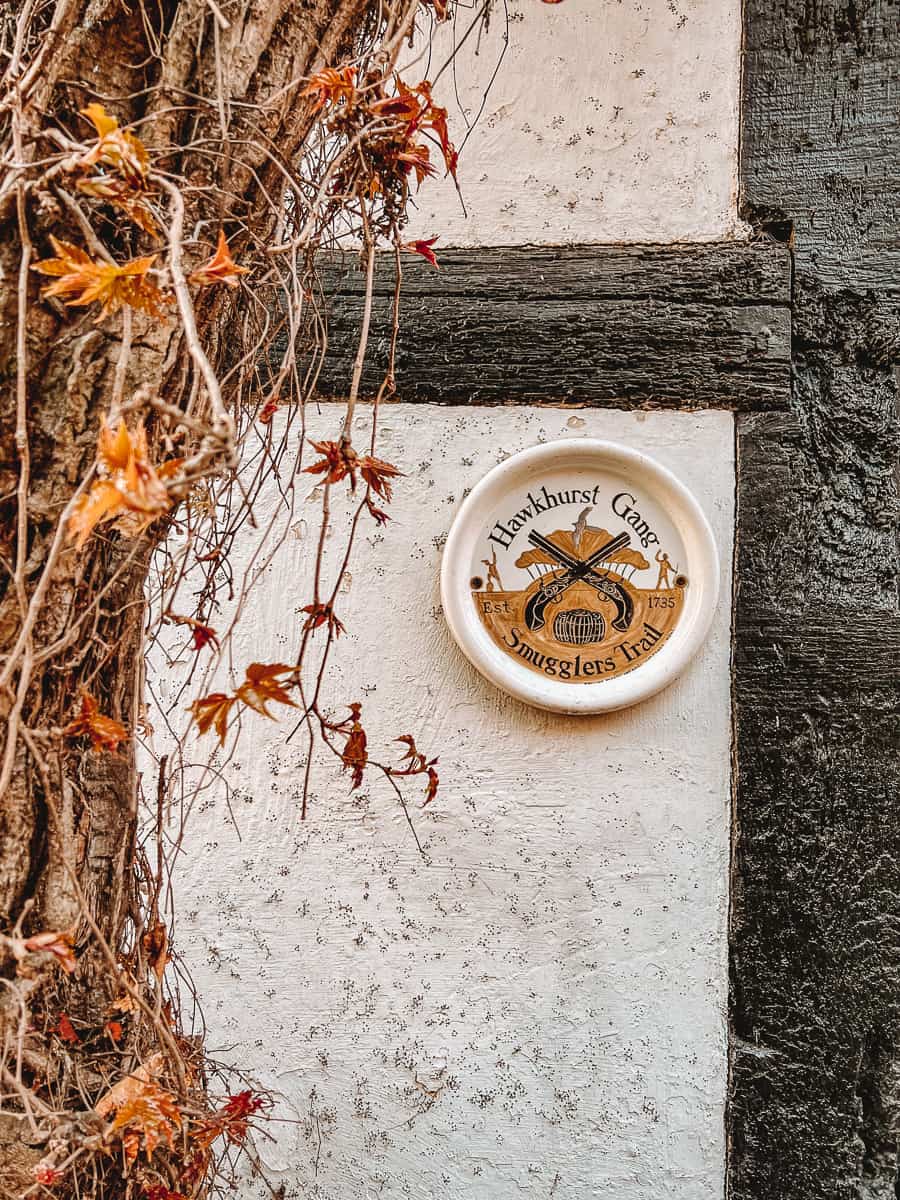 4. Explore National Trust's Lamb House
Just around the corner from the top of Mermaid Street, you'll find the delightful Lamb House on West Street. A Georgian red-brick home that has lots of history to uncover and literary associations too.
Henry James came upon this house by chance on his visit and decided to buy it two years later. Whilst residing here, he wrote his novella 'The Turn of the Screw'.
His friend, E. F. Benson lived here as well and was the author of the Mapp & Lucia novels.
Benson used many locations around Rye for the fictional setting of Tilling. Lamb House became the setting for 'Mallards' which was the home of Miss Mapp.
On your visit, you can explore the old rooms, learn about ghost stories and walk around a delightful walled garden at the back of the house.
Click here for more information on opening times and prices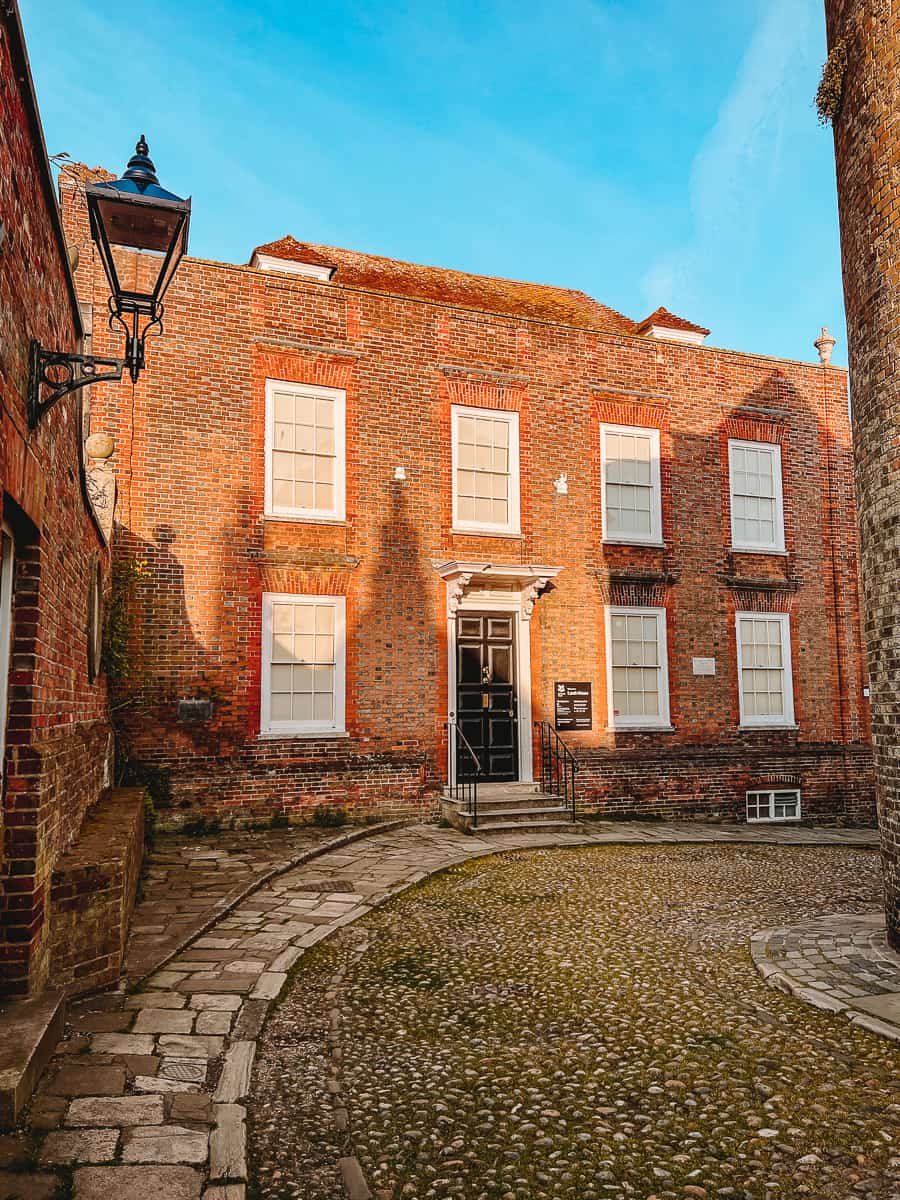 5. See The House With Two Front Doors
There are plenty of interesting houses to discover on Mermaid Street but one of the most curious is The House with Two Front Doors.
As well as being a delightful photography spot, this building was an inspiration for the Mallard's Cottage in Benson's Mapp & Lucia books. The interior was featured as the Mallard's Cottage for the BBC show.
Benson fans will be delighted to discover that you can stay the night and see this place for yourself! It's a Bed & Breakfast with WiFi and access to a garden out the back.
Click here to book your stay at The House with Two Front Doors!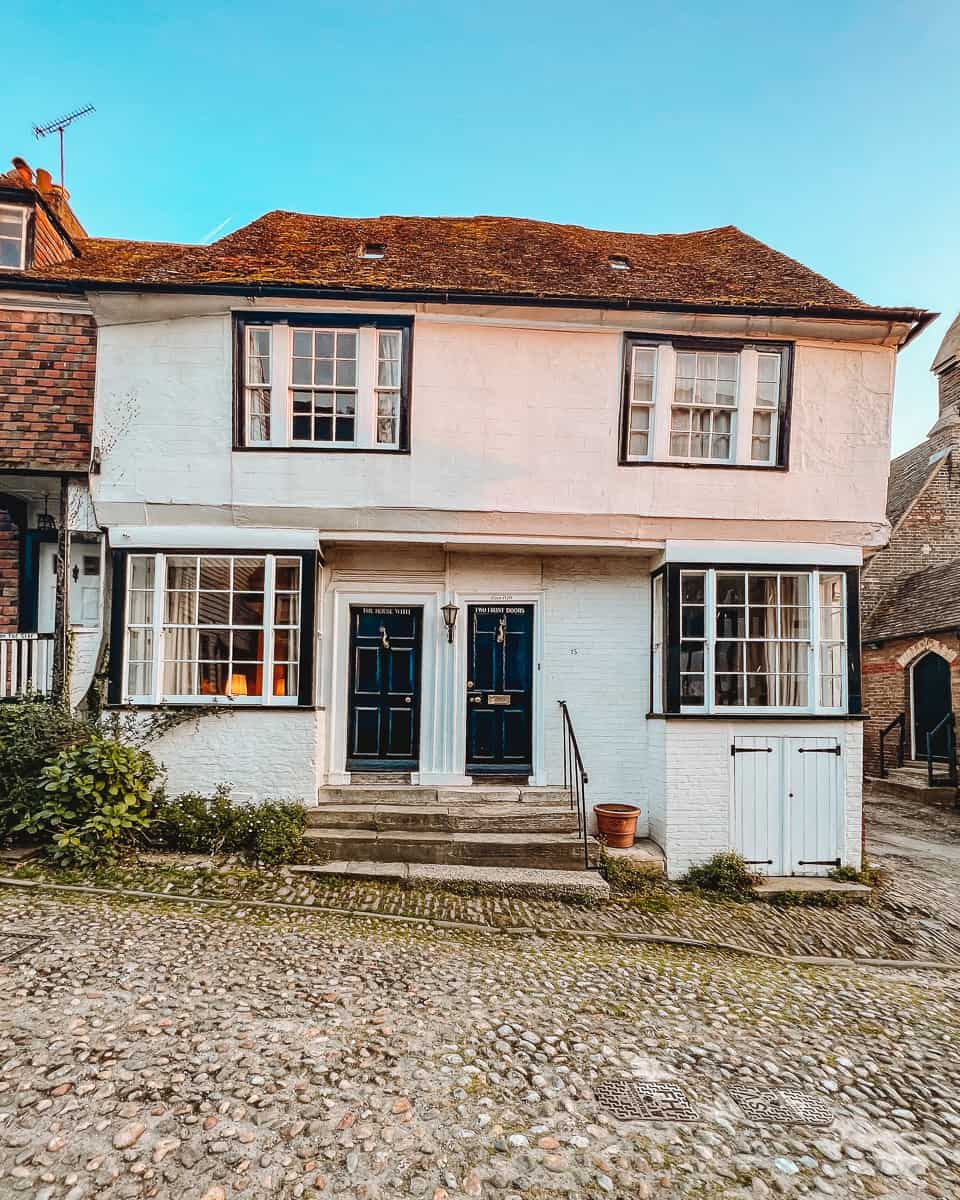 The best time to visit Mermaid Street
Mermaid Street in Rye is a beautiful place to visit at all times of the day and all times of the year. Each season provides something new.
However, I would always recommend visiting Rye in the shoulder seasons of spring or autumn to avoid the larger summer crowds as this little street and the town can be heaving!
If you were after some photos without people in them, I would recommend getting up early to get this place to yourself.
You can visit later in the evening but this still may be quite busy as there is a pub on this street.
Mermaid Street Rye photography tips
As one of the most photographed streets in England, you'll find this is a very popular location. Here are some top tips to get those gorgeous photos;
Time your visit right – You should try to arrive early to get some pictures of Mermaid Street as this place can get very busy throughout the day! To avoid crowds aim for early morning or after sunset. This will also ensure the softest lighting too.
Watch out for the cobbles – The cobbles are quite hard on your feet but there is a flat pathway on either side. If you're setting up a tripod, you may struggle to get it flat and straight on the cobbles. Also, posing is quite awkward!
The best locations – are at the top of Mermaid Street where you can see the Mermaid Inn sign. Also, the bottom of the street provides a nice perspective looking upwards. You may find some nice angles turning the corner towards West Street.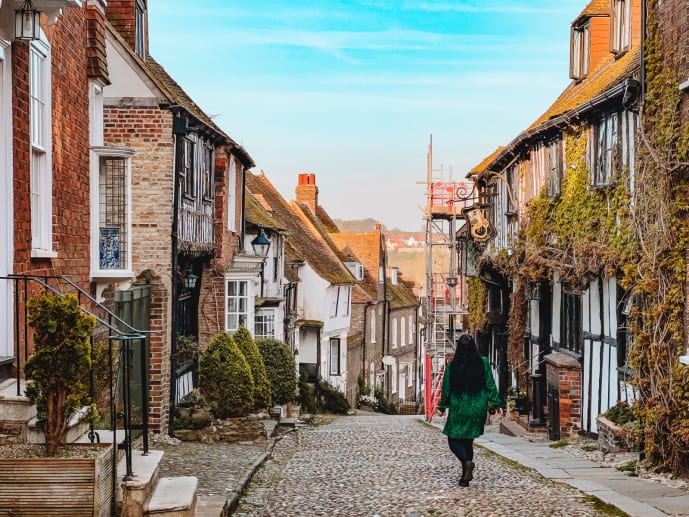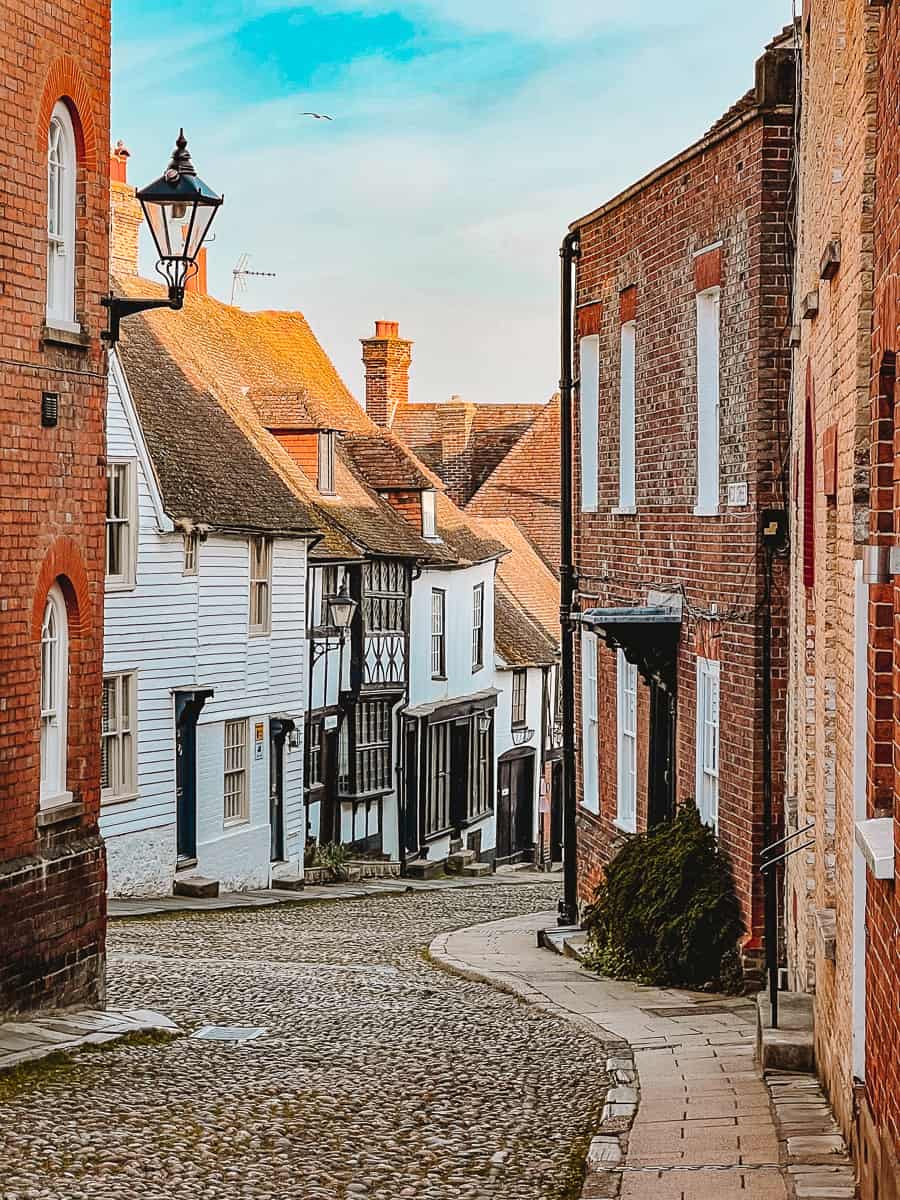 Where to eat on Mermaid Street
There are plenty of places to eat on Mermaid Street if you're looking for a bite to eat;
The Mermaid Inn – this historic hotel also has a very popular restaurant and bar on-site where you can indulge in some pub favourites. They have indoor seating by a cosy fire in winter and an outdoor terrace for when the weather is fine! Click here for a menu.
The Mermaid Street Café – Right at the bottom of Mermaid Street, you'll find this cute little coffee shop on Wish Ward. They serve breakfast, light lunches, coffee, afternoon tea, cakes, and ice cream throughout the day! Click here for more details.
Cobbles Tearoom – Although not technically on Mermaid Street, you'll find this quaint little café tucked off a corner from the Mermaid Inn. This is a popular teashop in Rye with the cutest setting! See here for more details.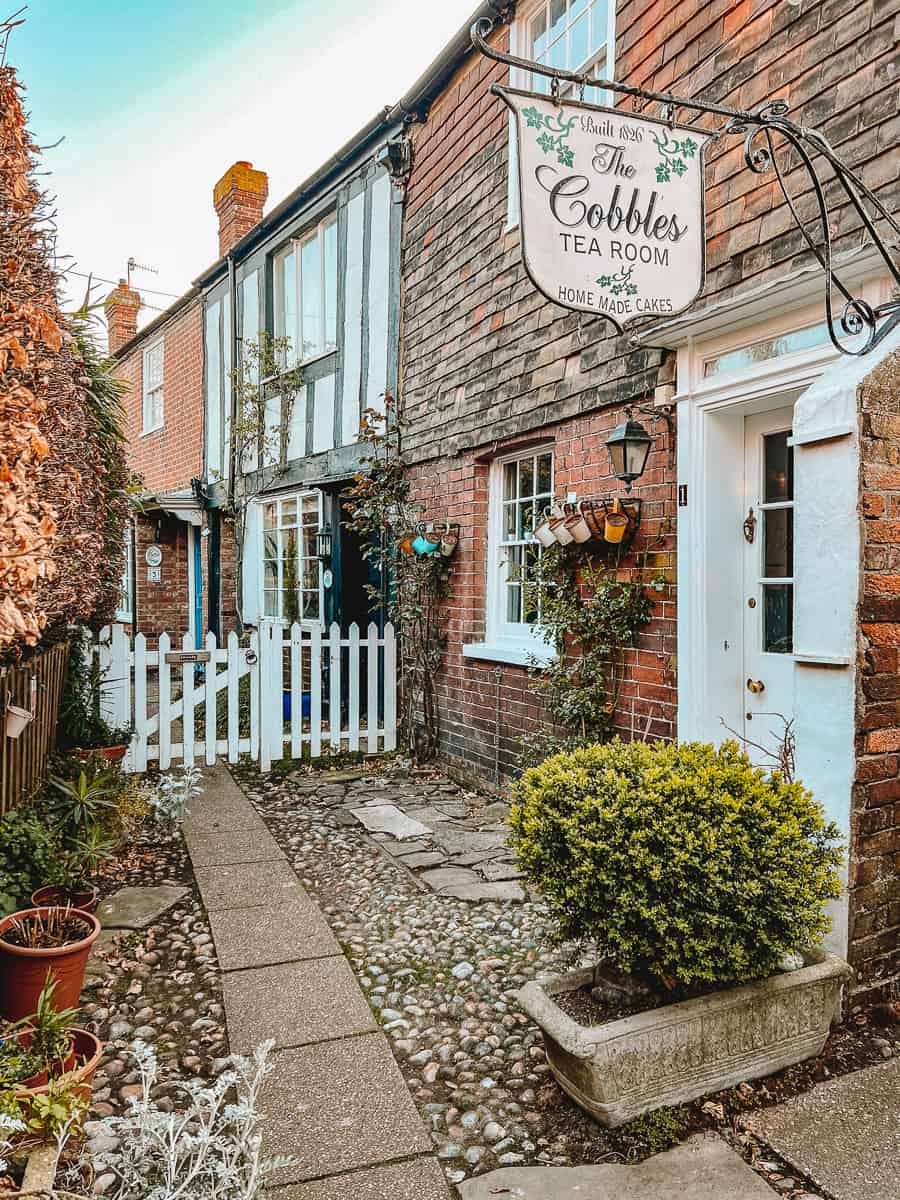 Mermaid Street Parking
Although Mermaid Street does see cars come up and down the lane, there is no parking on the street itself.
You'll find plenty of off-road parking and time-restricted spaces at the bottom of Wish Ward near Rye Heritage Centre if you're visiting early in the day (spaces are free before 8 am and after 6 pm).
If you're looking for paid parking, the nearest would be The Strand Quay Car Park.
Looking for more things to do in Rye?
In my humble opinion, Rye is one of the most beautiful towns in all of England!
Everywhere you look you'll find half timber-framed houses, historic landmarks, endless countryside, and views of the coast.
There is plenty to do here for all interests. You can head to the Rye Castle & Ypres Tower and explore their battlements.
You can admire St Mary's Church and climb to the top of the Bell Tower for some jaw-dropping views of the sea.
Head through the old Land Gate and hunt down the real-life Mapp & Lucia locations. Or, hop into a pub like the Old Bell Inn or the Rye Waterworks.
Once you've explored the town, you can then head over to the Rye Harbour Nature Reserve or Camber Sands for a day on the beach.
Discover 1066 country
1066 country in East Sussex truly has something for everyone in the South East of England.
Of course, the tourism here mainly surrounds The Battle of Hastings of 1066, one of the most important dates in England's past.
This was the year when William the Conqueror of Normandy became king of England and changed our futures forever.
I would recommend visiting Battle Abbey and the Hastings Battlefield while you're here to learn all about this historic event.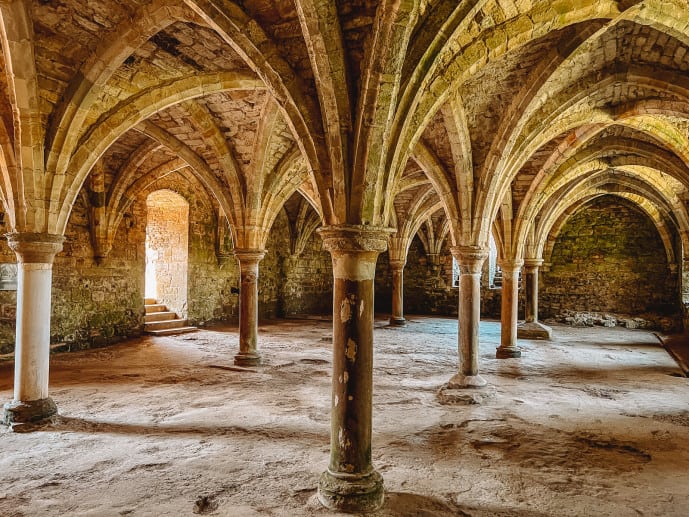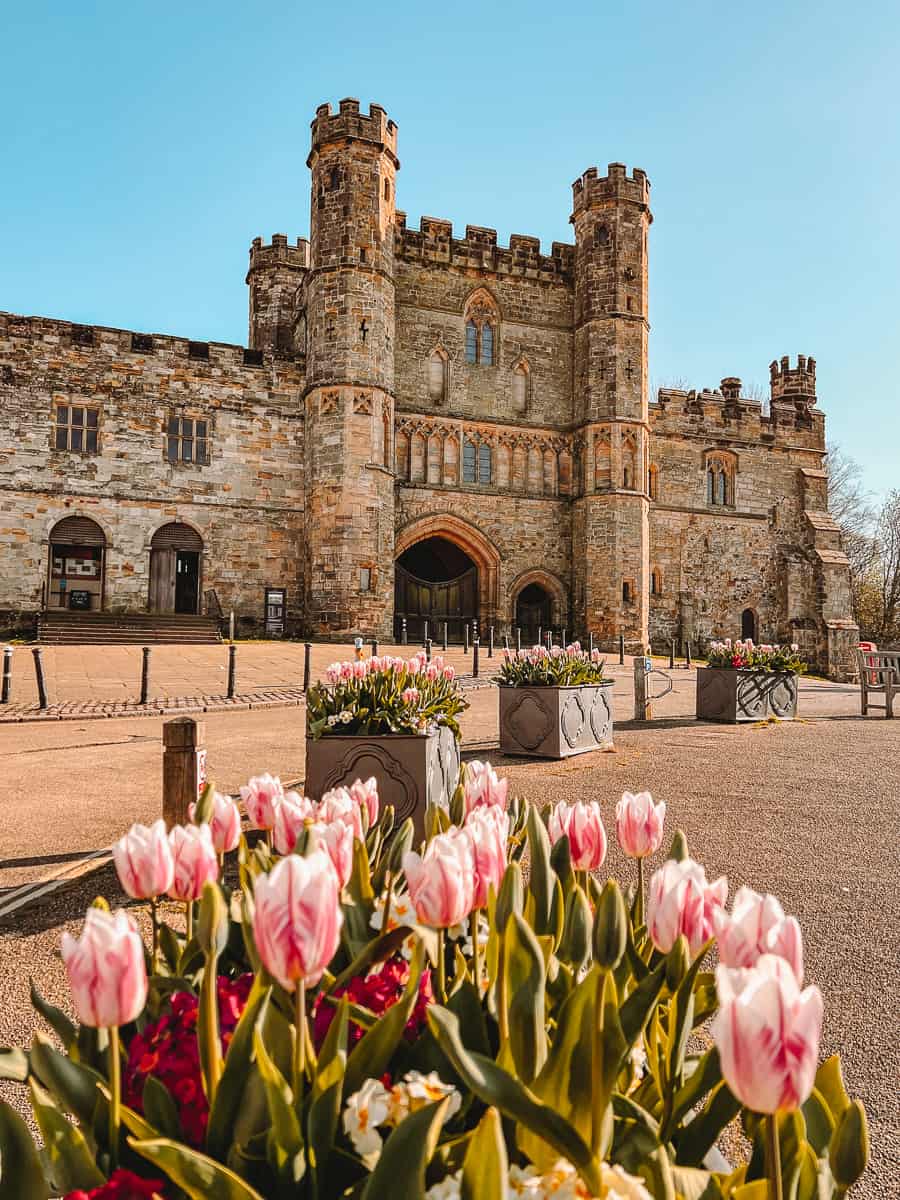 You can also visit Pevensey Castle where the Normans first landed on English shores and end your history tour in Winchelsea.
There are many more castles to see here like Bodiam Castle, Herstmonceux, and Scotney Castle in the wider High Weald AONB.
Or, you can head to more of the coastline by visiting Hastings, Bexhill-on-Sea, or Camber Sands.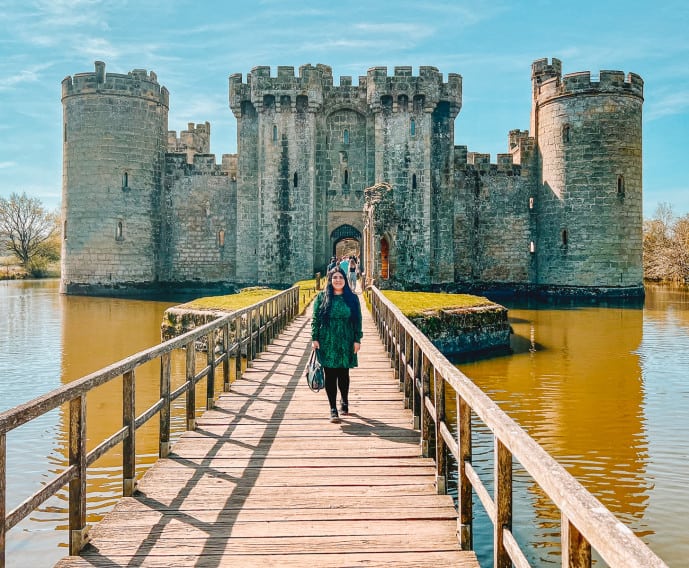 Read more of my articles on the South East of England
A complete guide for Ouse Valley Viaduct
How to spend the perfect day in Brighton
Butchery Lane Canterbury photography location
The mysterious Margate Shell Grotto
Save Mermaid Street Rye for later!