Calling all book lovers, did you know that there is a public library set within a palace in Budapest?
It's a hidden gem called Metropolitan Ervin Szabó Library and it will make you feel like you've stepped back in time to a bygone era.
You can study, read, or remotely work in between the bookshelves of this elaborate book trove with gold walls, sumptuous armchairs, and twinkling chandeliers.
What's even better is that tourists can visit these historic reading rooms for a small fee. It makes a fabulous photography location and comes with free WiFi.
Here is how to visit the Metropolitan Ervin Szabó Library Budapest, a Neo-baroque paradise for bibliophiles.
Introducing Metropolitan Ervin Szabó Library
The Metropolitan Ervin Szabó Library or Fővárosi Szabó Ervin Könyvtár is the largest library network in Budapest.
Although the library is made up of several buildings, the main branch is set in the former Wenckheim Palace built in the 19th century.
The library is named after Ervin Szabó who was a Hungarian social scientist and librarian.
He became director of Budapest's Metropolitan Library in 1911 and later this library was named after him.
This library houses Budapest's largest public collection of books and has the capacity to hold over 1 million volumes in its archives!
Metropolitan Ervin Szabó Library history
Although the Ervin Szabó library network is vast, the main branch is set in a 19th-century Neo-baroque palace.
Originally, this was the Wenckheim Palace which was home to the affluent Wenckheim family.
It was built in 1889 for Count Frigyes Wenckheim, a wealthy land owner and member of parliament, and his wife Krisztina Wenckheim.
There were countless elaborate rooms in their residence including a huge ornate ballroom.
The Wenckheim family were well known for their elaborate soirées and charity events and Emperor Franz Joseph even attended one here.
After Count Wenckheim died, he had no heirs and the city bought the building. It opened as a public library for the people of Budapest in 1931.
The council named it after Ervin Szabó who was a previous director of the library. While working here, Szabó introduced the British public library system to organise the books.
This elaborate space has also been used in many Hollywood movies and TV shows over the years.
Most notably, you'll recognise it in The Phantom of the Opera, the Alienist, Fleming: The Man Who Would Be Bond, Jack Ryan, Spy, Casanova, and Red Sparrow.
Budapest's Palace Library
Today, the Metropolitan Ervin Szabó Library is the most famous library in Budapest and a city treasure.
It's known as Budapest's Palace Library and you certainly do feel like royalty wandering around this elaborate book trove.
It feels like you've been transported back in time and it's the perfect place to visit if you're a book lover.
It's not as well known as other attractions in the city, so it's a bit of a sanctuary without many crowds.
However, it is becoming more popular these days from the likes of Instagram and TikTok. So, I would visit this hidden gem as soon as you can.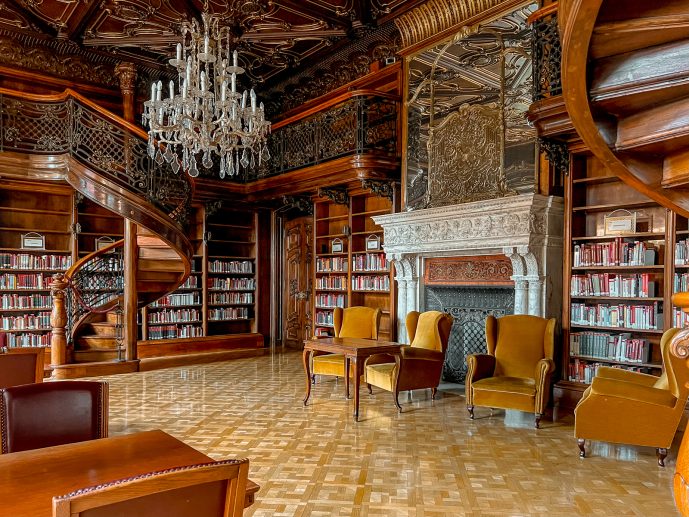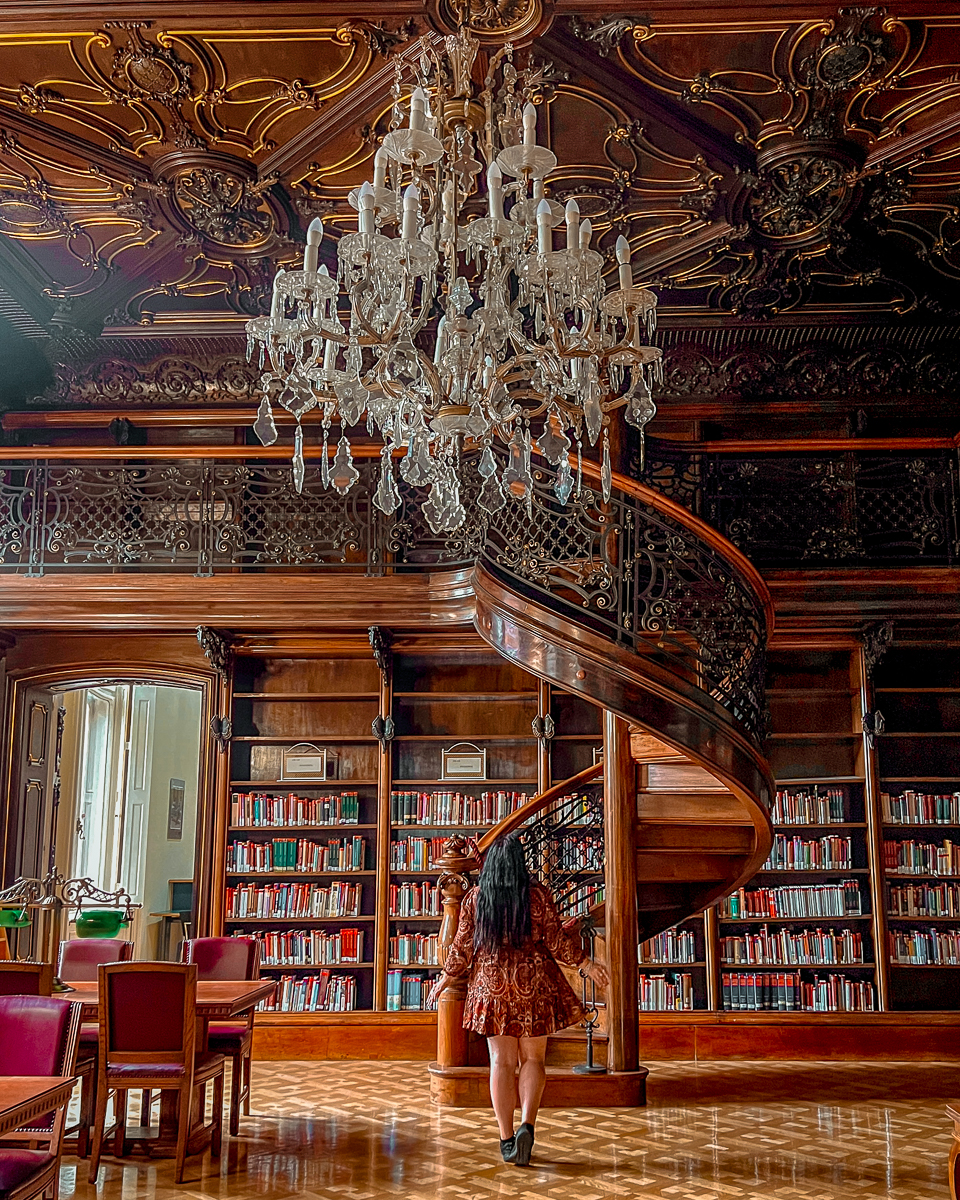 Can you visit the Metropolitan Ervin Szabó Library?
YES, as the Metropolitan Ervin Szabó Library is a public library in Budapest it is open for all to visit.
As far as remote working spaces go, this is one of the best places to study in the city.
The only thing to note is that you will need to be a resident or student in the city in order to become a member.
Luckily, tourists can visit and study in this historic library as well as see the palace rooms. You just need to pay a small daily fee to go inside.
The Metropolitan Ervin Szabó Library is in Budapest's Palace District on Szabó Ervin tér 1.
The nearest metro and tram station is Kálvin tér and then it's just a short walk from there. Alternatively, you could get the bus to Szentkirályi utca that drops you straight outside.
Prefer to find places on your phone? Click here for a Google Pin!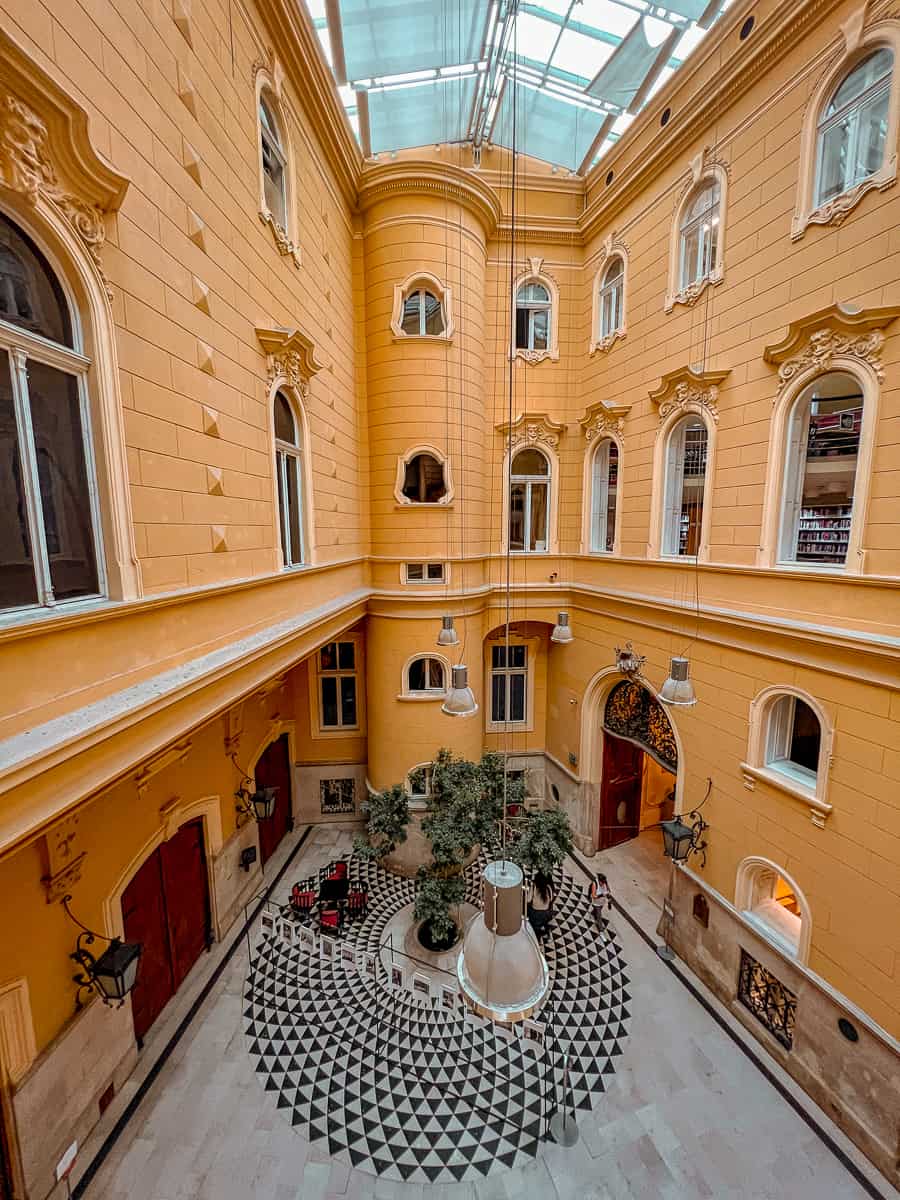 How much does it cost to go to Metropolitan Ervin Szabo Library?
Visiting the library is completely free if you're a library member. You can apply if you're a resident or student studying in Budapest. This may or may not come with a registration fee depending on your age and circumstances.
But, if you're visiting the library as a tourist they do have a small daily charge of 1500 HUF to visit which is around £3.30 / 4 euros / $ 4.25 USD.
This entry fee not only lets you look around the library with the gorgeous historic floor but you also get a WiFi code and your choice of study space. It's great value for money.
So, even if you're traveling, you can use this library to remotely work, study, or simply use the WiFi on your visit.
When you enter the library, most people will be scanning a member card at the turnstiles. However, tourists will be given a paper ticket.
Simply show your ticket to the security guard at the entrance and they'll let you through. The same goes when you're ready to leave.
Exploring the sumptuous rooms
Although most of this expansive library is modern, the fourth floor of the neo-baroque Wenkheim Palace has been beautifully preserved.
You'll walk around a series of sumptuous rooms lit with sparkling chandeliers. There are gold gilded walls, carved wooden bookcases, and elaborate furnishings.
My favourite room had to be the one decorated with dark carved wood which was the old smoking room of the palace. It had a huge fireplace and winding staircases at either end.
There were a series of desks but also some plush comfy chairs by the old fireplace that you could relax on for a while!
As an avid reader, it was the perfect place to read my book. I didn't want to leave.
Studying at the library or using the WiFi
Beyond exploring all the stunning details of this former palace, you're also allowed to study in any of the rooms at the library.
It can be quite hard to choose which room you'd like to study in as they are all so grand. Also, be prepared to share tables.
Once you've chosen your desk, there will be plug sockets for laptops (remember to bring your travel adapter) and you can use your WiFi code to get online.
As a blogger, I remotely work all the time. If this library was on my doorstep, I'd be here every day!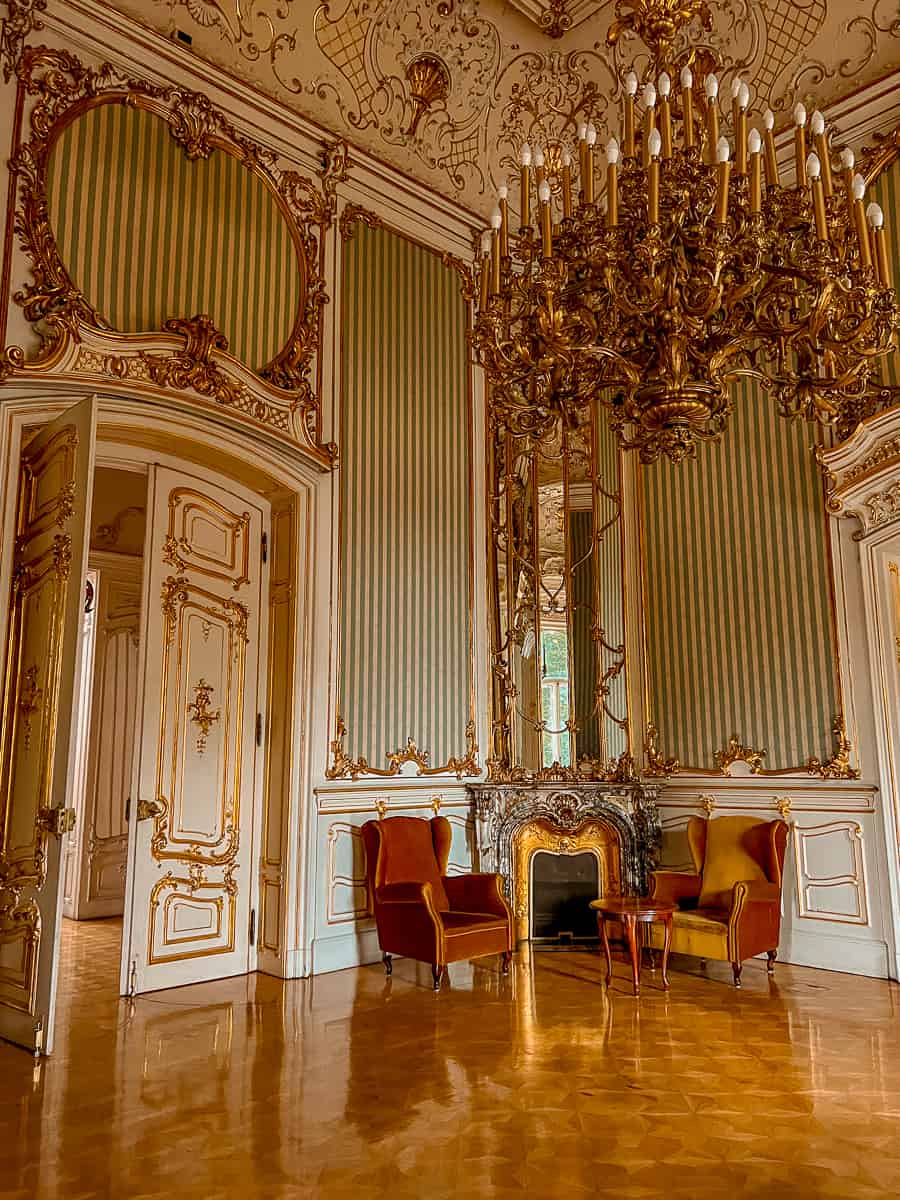 Metropolitan Ervin Szabó Library café
On the bottom floor of the library, there is a small café where you can get a cup of coffee or some light bites.
After my early wake-up call to visit the library as soon as it opened (and a mad dash for photos), I desperately needed some caffeine in my veins. So, this was perfect.
You can't bring your food and drink into the library rooms but the café has plenty of seating and is comfortable enough.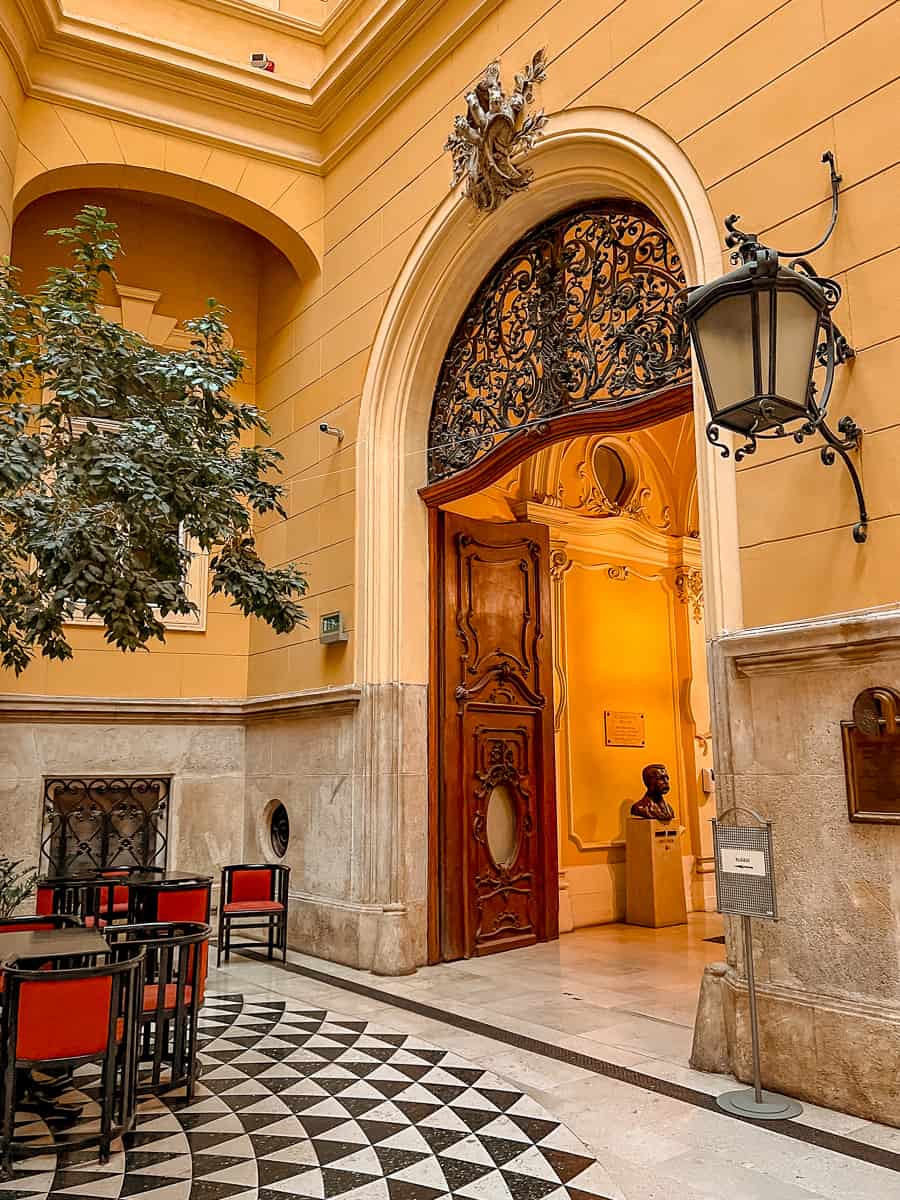 Don't forget to check the other library floors
The fourth floor is the only floor at the library that has sumptuous rooms to study in so many people take a quick look at these and then leave.
But, the library has many floors to explore and I would recommend taking a quick peek at some before you go.
On the bottom floor, with the children's books, they had this great display of dragon sculptures in the central courtyard.
I'm obsessed with fantasy worlds with dragons and wyverns and so loved seeing this here.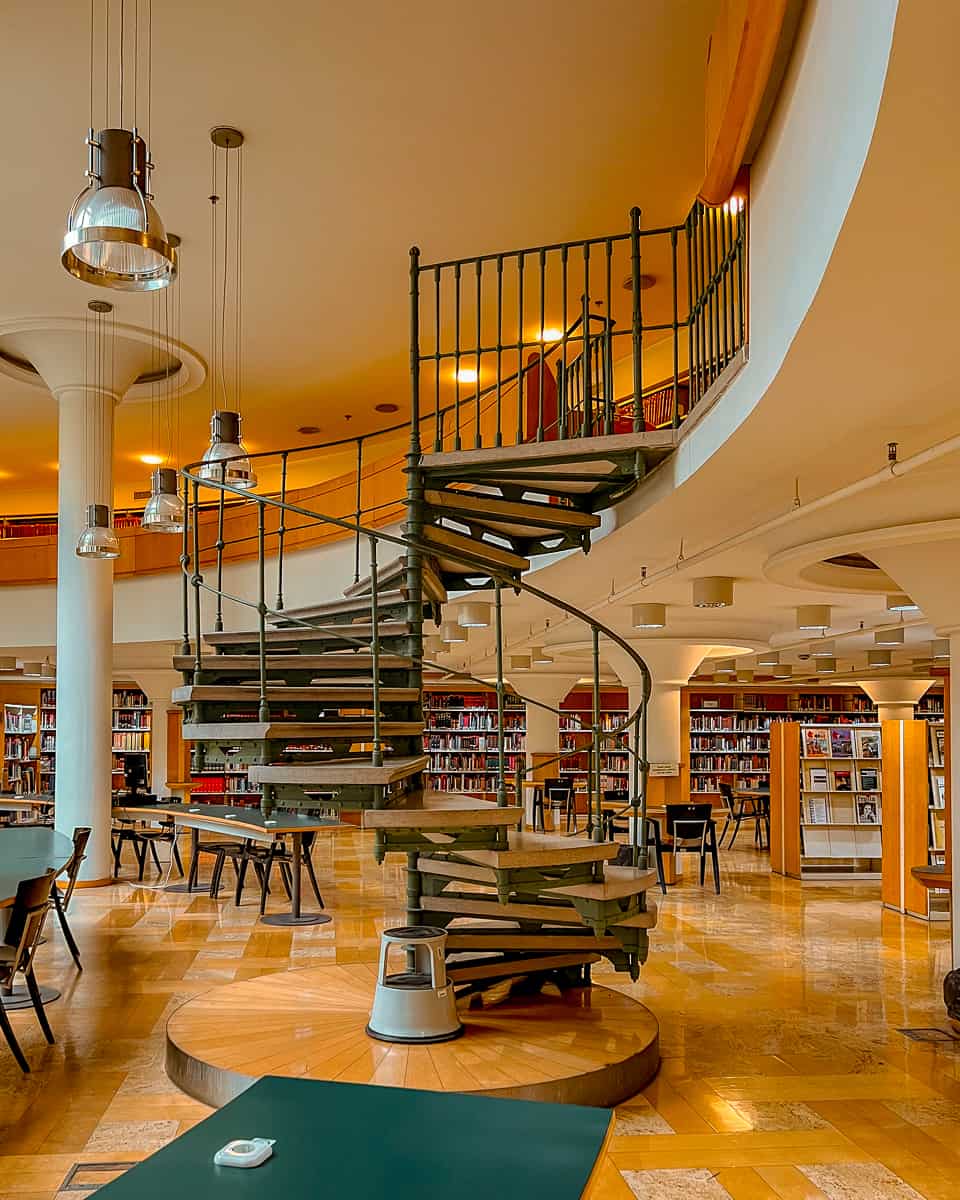 Metropolitan Ervin Szabó Library opening hours
The Metropolitan Ervin Szabó Library is open from 10 am to 8 pm from Monday to Friday. But, on Saturday it's only open from 10 am – 4 pm.
It's good to note that the library is closed on Sundays and may close on special memorial days and public holidays.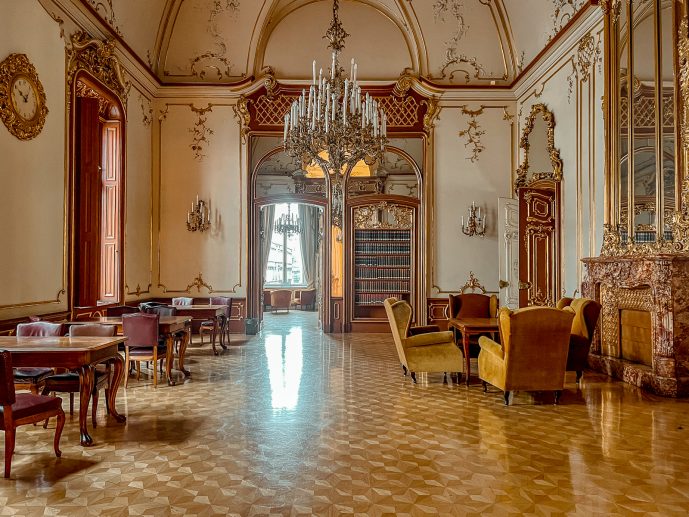 How long do you need to visit the Metropolitan Ervin Szabó Library?
This depends if you want to study there or just look around at the pretty palace rooms.
You could spend hours here studying as your tourist ticket allows you to choose any room here, to sit at any desk and you have a WiFi code included.
But, if you are a tourist and you just wanted to look around I would say you'd need around 30 minutes to an hour for your visit.
There is only one floor of the library (4th floor) that has these grand former palace rooms and you can easily walk around it in a short time.
As it's a working library and not a museum, there are no information displays and most people here will be quietly studying.
Most visitors just take a quick look around the rooms and then move on with their day. But, you're welcome to browse the books and admire each room for as long as you wish!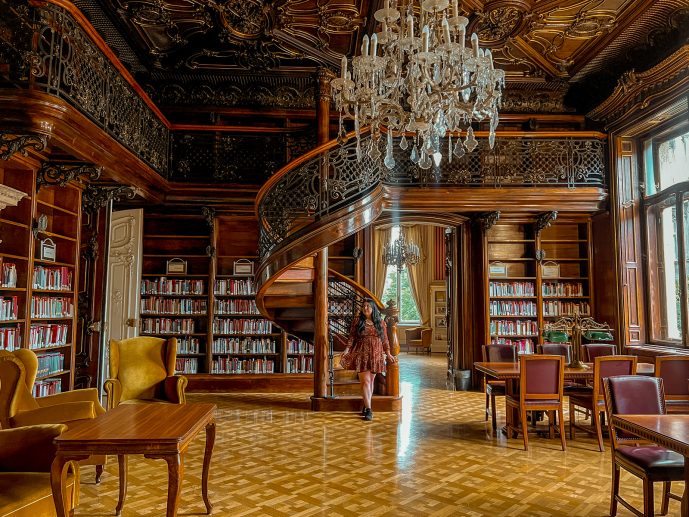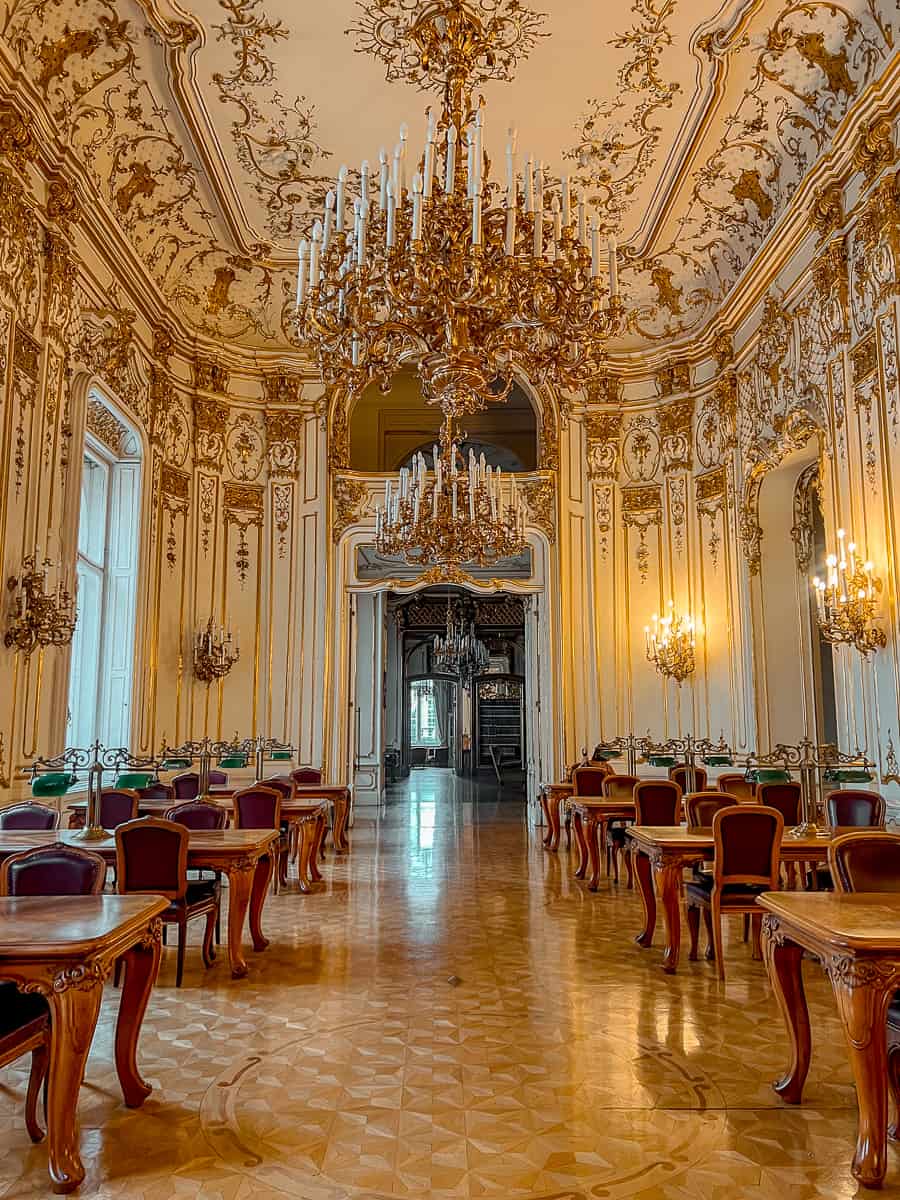 Metropolitan Ervin Szabó Library photography tips
If you wanted to get some photos/videos of the library without many people in it, I would always recommend visiting for opening time at 10 am.
That being said, this library is very popular with locals. When I showed up around 9.45 am there was a huge crowd waiting outside the library for it to open.
When it did finally open everyone was piling in and I was a little worried that the rooms would start filling up as I had to buy my ticket at the desk.
But, I asked at reception what floor the historic rooms were on and got the lift to the 4th floor straight away.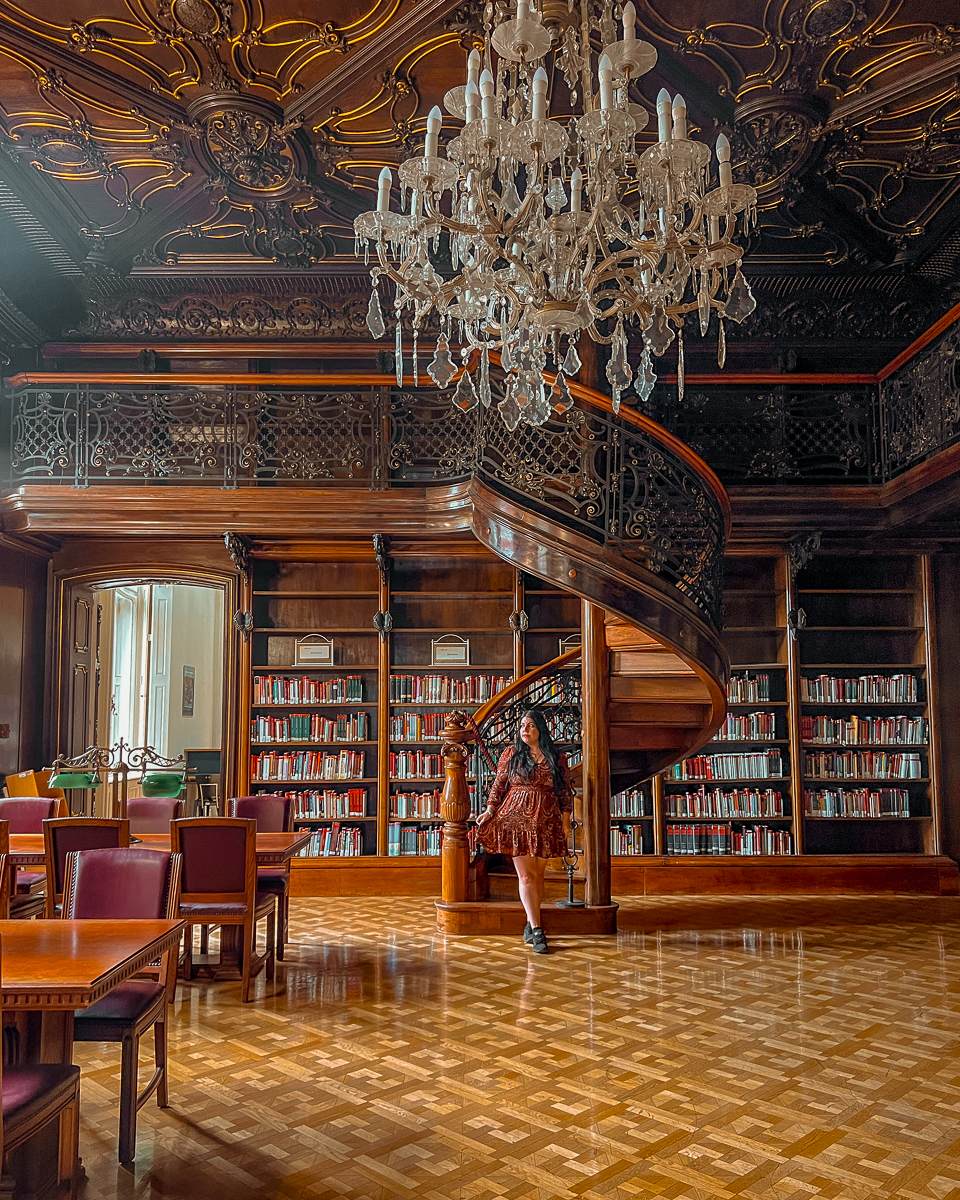 Luckily, I beat the crowds a little bit this way and managed to get some great photos of the rooms empty.
But, by 10.30 am nearly every room was full of people at desks. I mean, I get it, who doesn't want to study in a place as gorgeous as this?!
You could wait until the evening for closing time but it will be quite dark. The rooms are beautifully lit by chandeliers but natural daylight always helps to light the space.
As much as this palace library is stunning, always remember this is a place of study and reading, not a museum.
You should talk in a hushed voice, not disturb those who are working, and respect others etc.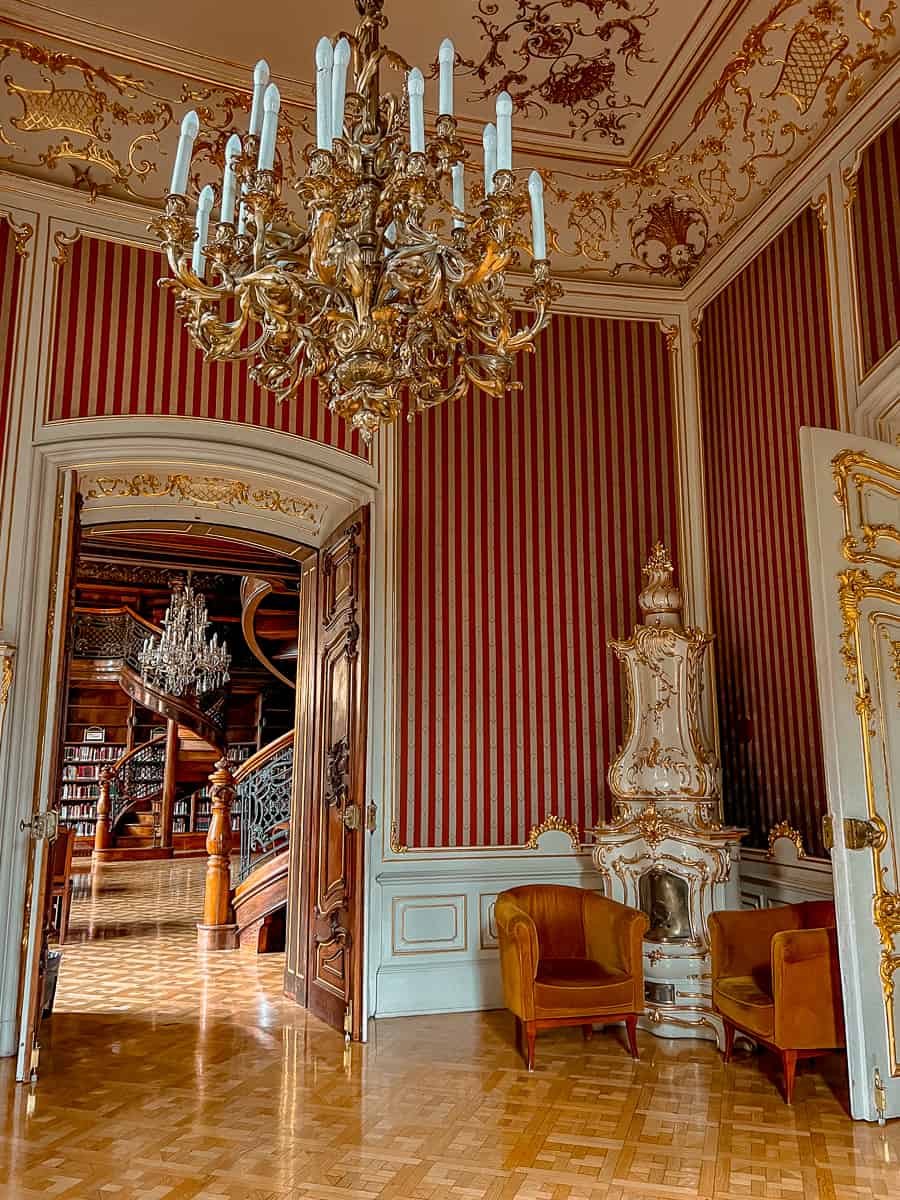 Looking for more things to do in Budapest?
Budapest is one of my favourite cities in Europe and there is so much to see and do here!
One of the most magical places to visit has to be the Fisherman's Bastion which looks like a castle in a fantasy land.
It's best visited at sunrise as you get to visit the towers for free. But, don't expect to be alone. It's one of the most popular locations in the city.
Even at 6 a.m., it was filled with people taking photos and there were multiple professional photoshoots taking place.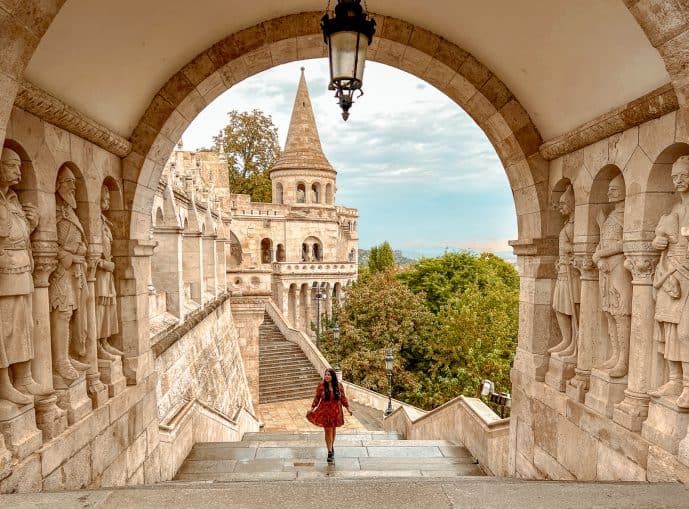 Just nearby, you can visit Buda Castle which has some stunning views over the city, and the incredible Budapest Parliament Building.
This parliament building is one of my favourite buildings in the world! You can see it lit up a night on a Danube river cruise, or simply walk the promenade. You can even take a guided tour!
You can visit one of the famous ruin bars like Simple Kurt, learn about the Rock Church, or visit Gelert Hill and climb up Citadella Fort for sunset.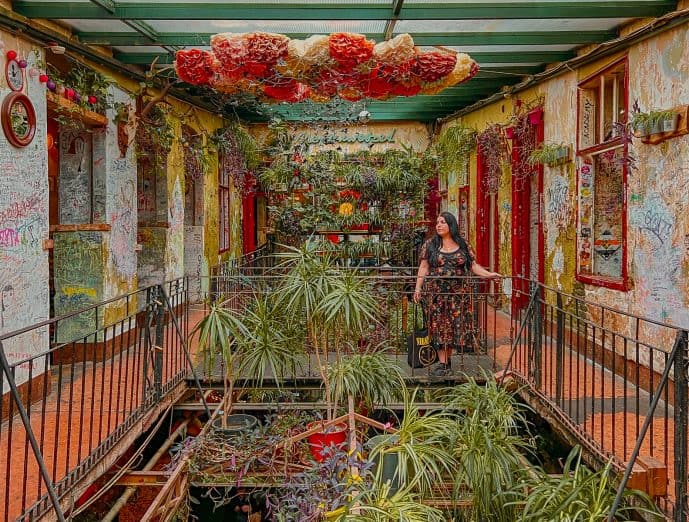 There are so many amazing restaurants in Budapest like TwentySix, Mazel Tov, Paris Court, The Magic, and the incredible New York Café.
And no visit to Budapest would be complete without a visit to the thermal baths here. The most popular are Széchenyi or Gelert Baths, my personal favourite.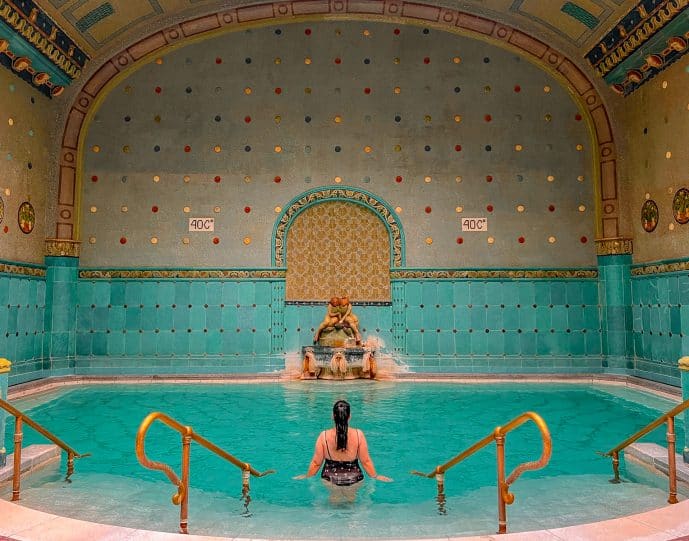 Where to stay in Budapest
When I first visited Budapest, I was a backpacker on a shoestring budget and stayed in a rather dingy hostel.
So, this time I decided to treat myself to something a little more luxurious. I stayed in the Anantara New York Palace Hotel which was stunning!
The main reason why I booked is because you could have breakfast in the Café New York Budapest each morning – the prettiest café in the world.
The rooms were super spacious and comfortable, the service was spectacular, and there was a swimming pool/spa area too. It was a dream and I would go back in a heartbeat.
Click here to book your stay at the Anantara New York Palace Hotel
Metropolitan Ervin Szabó Library FAQs
Is Metropolitan Ervin Szabó Library free to visit? Only if you're a member or resident of Budapest, tourists can enter for a small fee of 1500 HUF (£3.60 / 4 euros / $4 USD).
What is the palace Budapest library? It's on the fourth floor of the Metropolitan Ervin Szabó Library.
Read more of my Budapest guides
New York Café Budapest review – is this the world's most beautiful cafe?
The ultimate Budapest bucket list
Save the Metropolitan Ervin Szabó Library for later!