Did you know that there is some oh-so-adorable Mickey-shaped food at Walt Disney World? As you know, it all started with a mouse and so it's only natural that there are some yummy treats created in his honour!
From Mickey-shaped ice creams, pretzels, waffles and funnel cakes you can get your Mickey Shaped Food to fill at breakfast, lunch or dinner!
Mickey Shaped Food is not cheap at the Disney Parks, but it's literally the definition of TAKE MY MONEY!
Ridiculously photo-worthy, moreish and just so freaking cute; here's the best Mickey Shaped Food at Walt Disney World.
The most amazing Mickey shaped food at Walt Disney World
1. Mickey Shaped Waffles
There's nothing better than waking up at Walt Disney World to a Disney breakfast at the food court and if you're looking for a Mickey-themed one, waffles are the way to go.
You can get a huge Mickey Waffle breakfast with sausage, bacon and golden syrup or they also do mini Mickey waffles that are added to your full breakfast platter!
It's nice and crispy on the outside and fluffy and warm on the inside. I kind of felt bad when I cut into Mickey's face but a bit of syrup did the trick haha.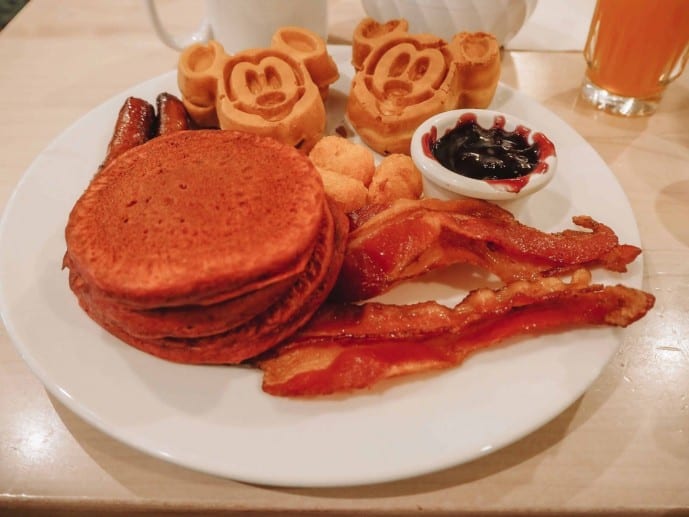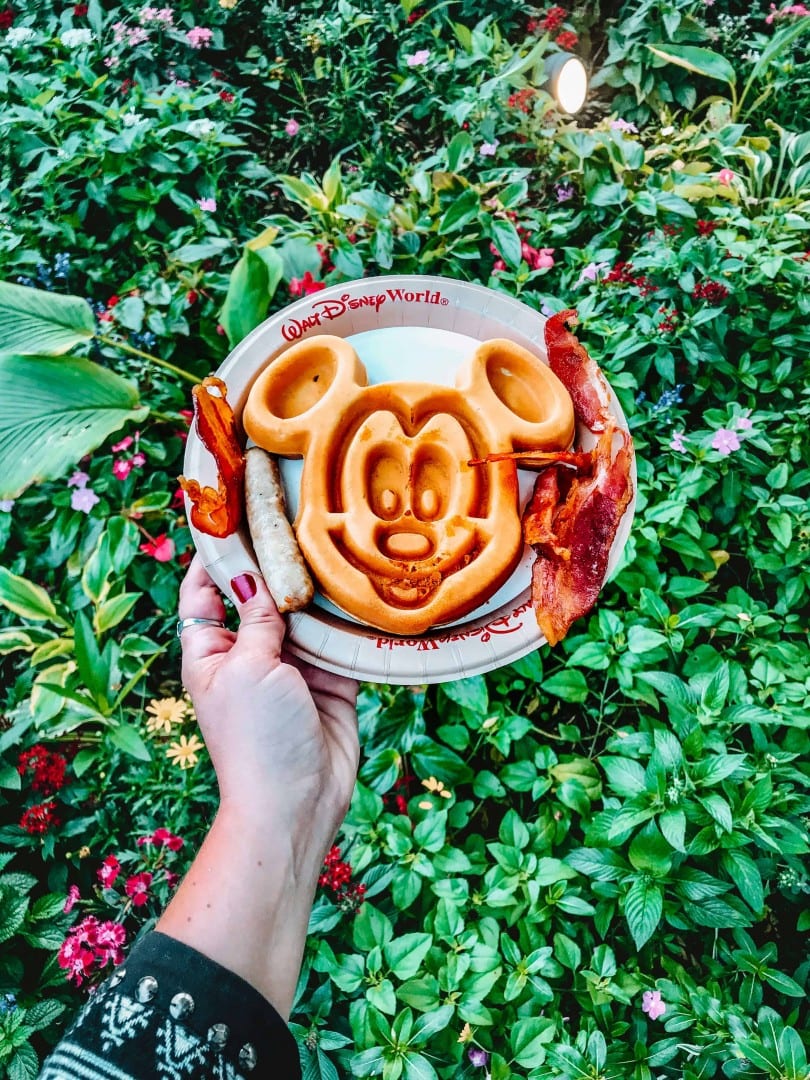 2. Mickey Shaped Ice Cream Sandwich
When it's hot in the Disney Parks, a good remedy for the heat is nice cooling ice cream.
Disney themed ice creams come in all different shapes and sizes nowadays but the Mickey-shaped ice cream sandwich is always a classic provided by Nestle.
It's two chocolate cookies filled with yummy vanilla ice cream. Don't take too many photos or it will melt haha.
3. Mickey Shaped Cookies
How can you have a snack day without cookies? Mickey Shaped Cookies can be found all over the Disney parks and bakeries in different flavours and varieties. Crunchy, Chocolate chip, iced and all Mickey Shaped!
As I was here over the Holidays I loved trying their Disney seasonal cookies. I got this Mickey Christmas Decoration cookie at Starbuck's on Main Street USA.
4. Mickey Ice Cream Bar
I scream, you scream, we all scream for ice cream! When it's getting hot at Walt Disney World we're all screaming for a cold treat.
Another Disney classic is the Walt Disney World Mickey Ice Cream Bar. It's a Mickey-shaped vanilla ice cream coated in the yummiest chocolate!
If here for gram shots, the Mickey Ice Cream Bar is the ultimate foodie shot in front of Cinderella's Castle!
Read more about the best photo places at Disney World here
5. Mickey Shaped Cupcakes
If you have a sweet tooth like me, Disney cupcakes are right up your alley. You can find some incredible creations from all your favourite Disney movies.
But, there's only one Mickey Mouse and there are so many cupcakes with ears on you'll struggle to choose which one.
There are steamboat Mickey cupcakes, classic Mickey cupcakes, sorcerer Mickey, even his doting partner Minnie cupcakes too!
My personal favourite bakery is the Boardwalk Bakery at Disney Boardwalk. It's here I picked up my classic Mickey Oreo cupcake.
Read more about a FREE Disney Day at Disney Boardwalk here
6. Mickey Rice Crispy Treat
These are some of my favourite snacks at Walt Disney World. You can get super sweet rice crispy treats in all different shapes and sizes.
Some are served plain, while others have sprinkles and are dipped in chocolate.
The ultimate Rice Crispy Treat can be found in the Main Street USA Confectionary. It was honestly the size of my head!
7. Mickey Cinnamon Roll
If you're looking for a Mickey breakfast at Magic Kingdom, then head into the Starbuck's.
As well as your much needed caffeine fix before you step into the magic, you can pick up a Mickey Shaped Cinnamon Roll for breakfast too.
You can eat it on Main Street USA with one of the best dining views of Cinderella Castle in Magic Kingdom.
8. Mickey pretzel
If you're not after something sweet a salty Mickey-shaped pretzel may be right up your alley.
The pretzel carts around Disney sell huge Mickey face pretzels that are the perfect savoury treat if you've hit a wall on sugar.
You can eat it plain or dip it in gooey cheese, the choice is yours!
9. Mickey shaped Funnel Cake
As a Brit, I haven't had much funnel cake in my life. But Mickey puts the FUN in the funnel I suppose. Bad joke, but it is a great bite!
If you head around to Liberty Square, you can grab a Mickey Shaped Funnel Cake topped with whipped cream and strawberries. We shared one as a family and ordered another with our snack plan it was so good!
Another bonus is that you can sit with a fabulous view of Cinderella Castle in their seating area too.
10. Mickey Shaped Candy Apples
A candy apple is a must eat foodie item in Walt Disney World. There are so many varieties of Disney candy apples in the stores.
There are Nightmare Before Christmas Apples, Finding Nemo, Monsters Inc, Poison Apples, you get the picture.
But, the classic and original Candy Apple is a Mickey-shaped candy apple.
Whether you want a classic Mickey apple with chocolate, a sorcerer Mickey apple with his signature hat, or a Steam Boat Willie Candy Apple, you can find these dotted over the Disney Parks and Bakeries.
A fun place to watch Disney Candy Apples being made fresh is in the Main Street Confectionary on Main Street USA.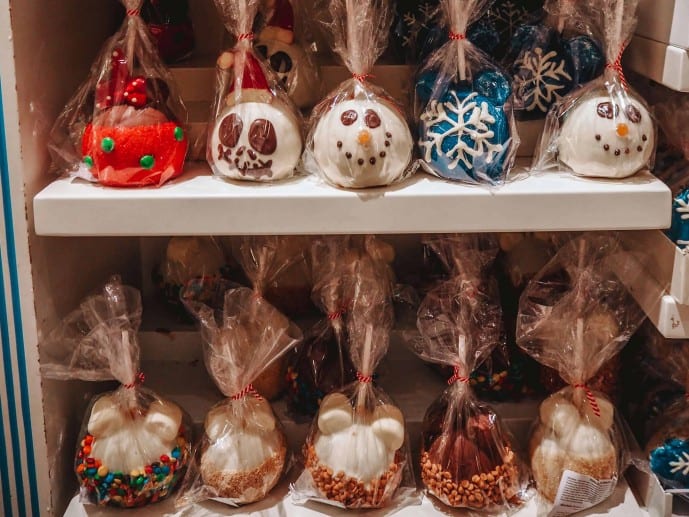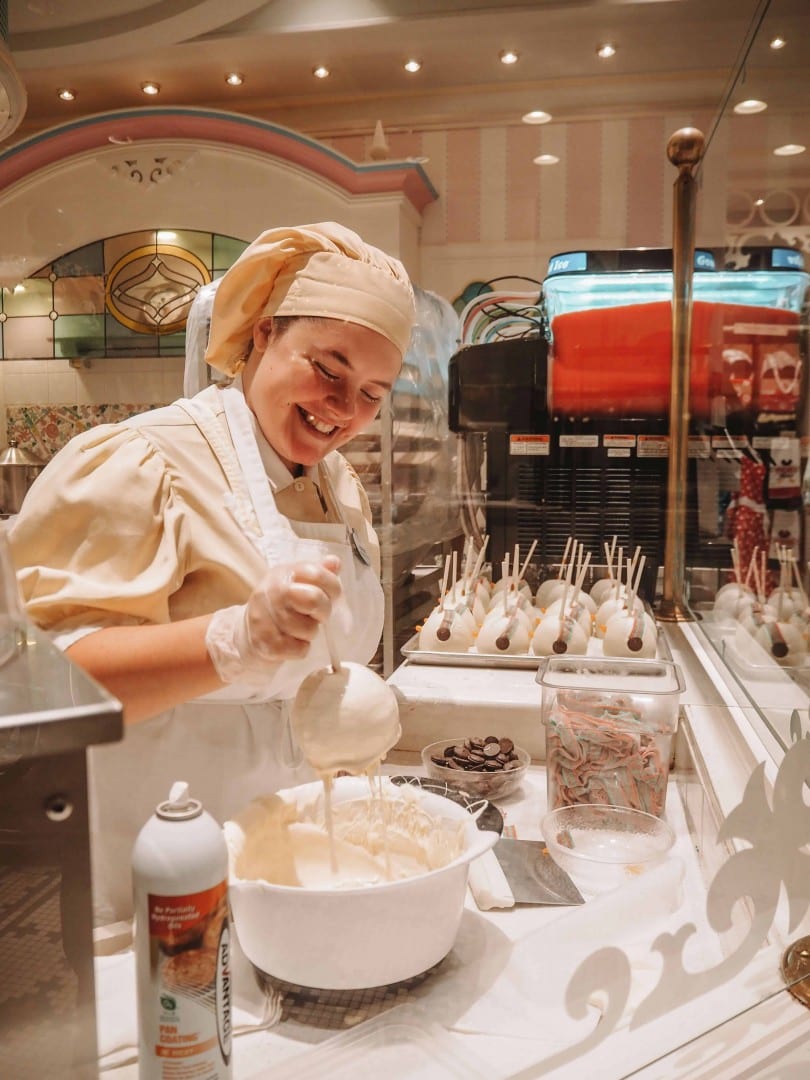 11. Mickey shaped cake pops
Micky Shaped Cake Pops are a fun snack that you can purchase in Walt Disney World. These can be found in many of the Disney bakeries and grocery stores in the Disney Parks, Disney Springs and Resorts.
In terms of value for money, it's not as great as the other snacks at around $4 a pop. But they're very cute, light snacks and provide some Mickey fandom fun!
12. Mickey shaped donut
A new treat at Disney World is the Mickey Shaped Donut with Icing and Sprinkles!
These are just any donut, these are GIANT Mickey-shaped donuts! So big in fact they're served up in a pizza box.
These donuts aren't cheap at $9 apiece but they are so big that they can be shared with the family.
The flavours come in chocolate, vanilla and strawberry. Dig in!
13. Mickey Brownie
Nothing beats a chocolatey, gooey, brownie and it's even better when it's Mickey-shaped right?!
A lot of the Disney Parks have replaced their traditional Disney bakeries with Starbuck's now, which can be disappointing as the treats aren't as good.
But, Boardwalk Bakery still has the classic Disney cake offerings. This is where I found the Mickey Brownies!
They melt in the mouth but are super sweet so maybe worth sharing with a friend.
Read more of my Disney related articles!
The best photo spots in Walt Disney World
The best shows at Walt Disney World
A FREE Day out at Disney Boardwalk
How to find all the secret Disney Walls
A complete Be Our Guest restaurant review
Save these Mickey shaped foods at Walt Disney World for later!