Did you know that one of the best viewpoints and photographed locations in all of the Peak District is one that you can drive to?
That's right, it's called Monsal Head Viewpoint and it provides panoramic views which require very little effort! So, it's my kind of place.
From this viewpoint, you get breathtaking views of Monsal Dale, the Monsal Head Viaduct, and the River Wye below.
It's only a short drive from popular locations like Bakewell and Ashford in the Water and a stop here can be squeezed into the very shortest of Peak District itineraries.
Here's is a complete visitor guide for the Monsal Head viewpoint with how to get here, parking charges, and things to see and do!
What is Monsal Head?
Monsal Head is a historic viewpoint and lookout in the Peak District National Park which sees thousands of tourists visit each year.
Although the hill has been here since time immemorial, this valley became industrialised in the Victorian era due to the Midlands Railway that was opened in 1863.
Monsal Head then became a popular attraction for tourists who would take coaches up here from Monsal Dale station to admire the views.
Today, it's still a popular stop for people who want to see some of the best views in the national park or those who want to experience the popular Monsal Trail.
From here, you get unobstructed birds-eye views of the iconic Monsal Headstone Viaduct below.
The viaduct is the third most visited attraction in the Peak District today but when it was first built it was called a monstrosity if you can believe it!
Monsal Head history
Monsal Dale is a famous and unspoiled valley in Derbyshire. The River Wye that runs through it played an important role in the Industrial Revolution as the water was used to power the cotton mills in Cressbrook and Litton.
The Monsal Head viewpoint came about with the introduction of the Midlands Railway in 1863 which connected London with Manchester.
When this railway was constructed, multiple buildings were built on top of Monsal Head for railway workers and visitors along with the Railway Hotel.
It was popular with Victorian tourists who would make their way up with coach and horses from Monsal Dale station which opened to the public in 1866. They would then stay at the Railway Hotel or just visit to admire the views.
But, in order to build the Monsal Dale station, the Midlands Railway needed to construct the Monsal Headstone Viaduct for the line. Today, it's considered an attractive part of the view but back then it caused a scandal.
John Ruskin who was one of England's best cultural critics gave it a scathing review and condemned the railway;
"There was a rocky valley between Buxton and Bakewell, once upon a time, divine as the Vale of Tempe… You Enterprised a Railroad through the valley – you blasted its rocks away, heaped thousands of tons of shale into its lovely stream. The valley is gone, and the Gods with it; and now, every fool in Buxton can be in Bakewell in half an hour, and every fool in Bakewell at Buxton; which you think a lucrative process of exchange – you Fools everywhere" – John Ruskin, 1871
Regardless the Midlands Railway powered on until 1968 and the buildings here, like Hobb's Cafe Tearoom, served the railway workers until it closed.
The Monsal Headstone Viaduct was protected and became a Grade II listed building in 1970. It is now considered a famous beauty spot by many (sorry John, you've been outnumbered!).
Monsal Head Viewpoint today
Nowadays, even though the railway is not here, Monsal Head Viewpoint is still an extremely popular tourist destination.
The area is also a Site of Special Scientific Interest (SSSI), a Special Area of Conservation (SAC), and part of the Natura 2000 network across Europe!
It provides amazing views over Monsal Dale valley, the Monsal Viaduct, River Wye, and beyond!
It's popular as it's easily accessible to everyone and it's now one of the most photographed locations in all of the Peak District National Park.
As it's so easy to get to, you can expect tourists and coaches to stop here constantly throughout the day.
So, if you did want to visit with fewer crowds, I would recommend early morning or late evening after sunset. Regardless of when you visit, you'll be greeted with unobstructed views all around you!
Where is Monsal Head in the Peak District?
Monsal Head is a viewpoint that lies high above the Monsal Trail and the Monsal Viaduct. It's located in the White Peak area of the national park in the county of Derbyshire.
The Monsal Trail stretches for 8.5 miles and starts from Bakewell going via Chee Dale and ends up at Blackwell Mill.
The viewpoint is only 5 minutes drive from the cute village of Ashford in the Water along the B6465 country roads.
It's also quite close to Bakewell, Buxton, and a short drive from the popular Chatsworth House if you wanted to stop here after your visit.
Follow the Monsal Head postcode DE45 1NJ or click the Google Pin here!
How to get to Monsal Head
The easiest way to reach Monsal Head is to drive as it's high up in a remote location, but you can get here by bus and by walking up here too.
Many people will be travelling from the likes of Bakewell but you can also follow the roads from Tideswell and Miller's Dale by the River Wye.
If you're heading out on the Monsal Trail walk, there will be signs that will direct you to the stairs leading up to Monsal Head!
Or, if you're heading to Monsal Head by bus there is a Bakewell to Monsal Head bus service. It's run by Hulley's of Baslow and they have buses that run back and forth every two hours.
Can you drive to Monsal Head?
YES! The amazing thing about this viewpoint is that you get some of the best views in all of the Peak District National Park but you don't have to walk miles to see them!
The Monsal Head viewpoint is a short drive from Bakewell (10 mins) and Ashford in the Water (5 mins) on the B6465 road.
Once you've parked up in the Monsal Head car park, the viewpoint is less than a minute's walk away from there.
So, you'll be rewarded with breathtaking panoramic views of the Monsal Dale with very little effort!
Monsal Head opening times & prices
The Monsal Head viewpoint and the car park are open 24 hours a day along with the Monsal Trail.
So, you can visit all times of the year whenever you like! It's perfect for those on a tight Peak District itinerary.
The Monsal Head viewpoint is also free to visit, you just have to pay for car parking charges which apply 24 hours a day, 365 days a year!
Monsal Head car park
There are two car parks that have been provided at the Monsal Head viewpoint and there are 'two parts' to the viewpoint.
If you park at the top of the long stay car park behind the Monsal Head hotel, there is a small cordoned-off area on the hill with some benches provided which is perfect for a picnic.
If you park up at the bottom in the short stay car park in front of the Monsal Head Hotel, this is where you will find the facilities and (in my opinion) the best views from Monsal Head.
There are benches on the lower viewpoint and from here you can see the Monsal Viaduct, the River Wye, and the Monsal Dale Valley.
From here, you'll find tearooms, pubs, an ice cream truck, and an information board about the viaduct too. Also, this is where you'll head out on the Monsal Trail walk by heading down the steps to the path below.
Saying that, whichever place you decide to park, the area is quite small and the walking distances here are extremely short. So, you could see all of this area in around 10 minutes if you just wanted to take a quick photo.
Monsal Head car park charges
Both the short stay and long stay Monsal Head car parks are open 24 hours a day and parking charges apply all day. The parking charges are as follows…
From 8am – 6pm
1 hour – £1.50
2 hours – £2.50
3 hours – £3.80
4 hours – £5.00
24 hours – £6.00
From 6pm – 8am
Monsal Head overnight parking charge – £1
So, if you wanted to save some money, I would definitely say to park after 6 pm here!
It's only £1 all night which is perfect if you wanted to visit for sunset photos or grab some dinner from the Stable Bar.
Things to do at Monsal Head Viewpoint
So, what is there to do at Monsal Head viewpoint? Well, beyond the obvious draw of amazing views there are quite a few amenities around here!
From cafés, pubs, a popular ice cream truck, and picnic spots. Here are all the things to do in Monsal Head.
1. Admire the incredible panoramic views of Monsal Dale
The main draw for visiting here is without a doubt the postcard-worthy views you can get from all around this viewpoint. Wherever you stand, you'll get some fabulous panoramas over Monsal Dale.
You're 231 metres above sea level so you can see all over the valley with the River Wye below.
This is also one of the best places to capture photos of the Monsal Headstone Viaduct. You can't see the old railway tracks but you may be able to see people walking over the bridge where the train used run!
There are plenty of benches where you can sit and enjoy the views. It's the perfect place to enjoy the sunset.
Monsal Head photography tips
You can't really take a bad photo of the Monsal Head viewpoint but I would definitely say that the best time to visit would be at sunrise or in the morning time.
The sunsets behind this viewpoint and so the sun will be directly in your camera in the afternoon. So, you may find the lighting is bad before it sets behind the hills.
Even if this place is busy, you can still get amazing photos from the lower viewpoint which will be in front of Hobb's Café Tearoom and over the B-road. You'll see a walking sign pointing to either side of the steps and from here, there are some amazing angles for photos.
I did find that in summer there was lots of stinging nettles, weeds, and foliage which blocked some of the views. I think Autumn would be an incredible time to see this valley in all different shades of ambers and reds!
2. Eat at the Monsal Head Stable Bar
The Monsal Head Stable Bar is a popular pub at Monsal Head that has a cosy seating area indoors and a large pub garden too!
You can either choose to grab a drink and some snacks or a pub meal from their menu of dishes. It's also popular with walkers on the Monsal Trail.
These stables are steeped in history and have been here for over 200 years, way before the railway was built when it used to be a coaching inn. So, you can expect this inn to have lots of character.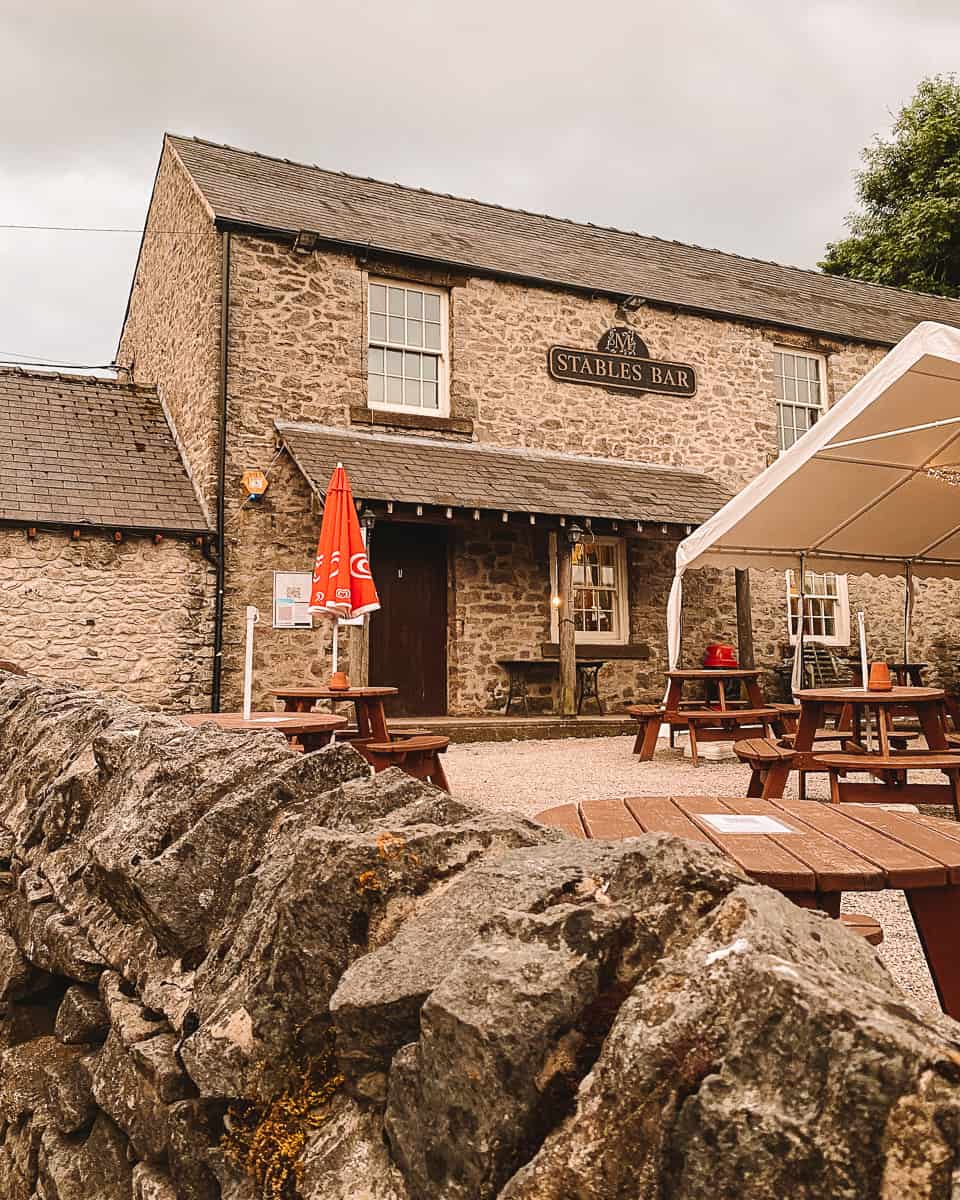 3. Have lunch at Hobb's Café Tearoom or grab a Monsal Head Ice cream
The Hobb's Café tearoom is also a building that has a history since the Victorian era where it used to provide refreshments for the Midlands Railway workers.
Today, it's a popular spot for visitors to grab lunch or coffee with a birds-eye view of the Monsal Dale valley.
They also serve up some scrumptious afternoon tea with homemade scones and light bites throughout the day.
If the weather is fine, why not pick up some ice cream from their Monsal Head Ices truck which is just outside? I loved the cherry Bakewell flavour!
The Hobbs Cafe Monsal Head opening times is from 11am – 4pm on Thursday to Sunday.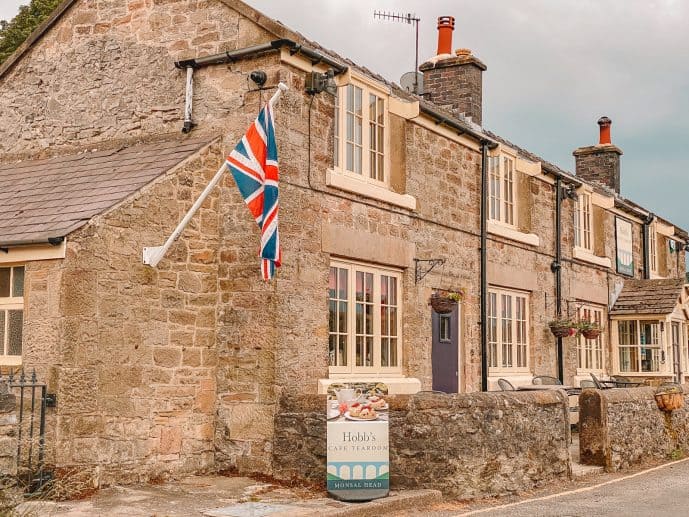 4. Walk down to the Monsal Trail
The Monsal Trail is one of the most popular cycling and walking trails in the Peak District National Park and it's easily accessible from this viewpoint.
It's a traffic-free route that takes you along the former Midland Railway line for 8.5 miles from Blackwell Mill, Chee Dale with the famous stepping stones, and eventually Bakewell.
Once you've finished admiring the views from the top, step forward near the walking sign over the road.
The trail either leads left towards Ashford and Monsal Dale or right towards Upperdale and Monsal Viaduct! Walk down the stairs in either direction to meet the Monsal trail below.
There is plenty of things to see on this exciting walking and cycling trail through the heritage railway line. Click here for more details on the Monsal Trail walking route.
5. Take a drive through Monsal Dale by the River Wye to Miller's Dale
Did you know that this viewpoint is on the B6465 road and from here you can drive down to Little Longstone which is by the River Wye?
So, you could take in the views at Monsal Head, then carry on down the hill towards the valley to see the spectacular views of the Monsal Dale below!
You can also visit Litton, Upper Dale, Water-Cum-Jolly Dale, Cressbrook Dale, and eventually end up at Miller's Dale.
Monsal Head Hotel
If you fancy spending the night in Monsal Head and waking up to spectacular views over the valley each morning, you could opt for a night in the Monsal Head Hotel.
It's owned by the same company that runs the Stable Bar nearby and they have seven boutique rooms on offer for guests.
The Monsal Head Hotel history started when the Midland Railway Line opened in 1863 and this hotel was a Railway Hotel. It was popular with Victorian visitors who would visit for the views.
The Stables Bar used to be used for horses that would carry tourists from the Monsal Dale station up to this viewpoint!
Click here to book a room at the hotel
FAQs about Monsal Head
Are there toilets at Monsal Head? Yes, there are public toilets available at Monsal Head car park. Customer toilets are available for paying customers in the Stable Bar or Hobb's tearoom as well!
How far is Monsal Head from Bakewell? It's a 10 minute drive from Bakewell to Monsal Head viewpoint. Or a one hour and 20 minute walk. The Monsal Trail starts at Bakewell!
How far is Monsal Head to Ashford in the Water? It's a 5 minute drive from Monsal Head to Ashford in the Water or a 90 minute walk. You can walk down from the viewpoint to Ashford and walk along the Monsal Trail and the turn off to Ashford in the water.
Where to next in the Peak District?
Monsal Head is very close to the quaint village of Ashford in the Water with its famous Sheepwash Bridge.
Or, you can head into the pretty town of Bakewell to try the famous Bakewell Pudding or a Bakewell Tart. Both are very different things.
I'd recommend shopping in The Old Original Bakewell Pudding Shop but you may have to queue!
Jane Austen stayed in the Rutland Arms in Bakewell and she visited Chatsworth House nearby which inspired her to write Pemberley in Pride and Prejudice!
You can also head over to the spa town of Buxton with its gorgeous crescent, Pavilion Gardens, and Solomon's Temple.
By then you're very close to Chee Dale Stepping Stones which hug a limestone gorge and take you across the water!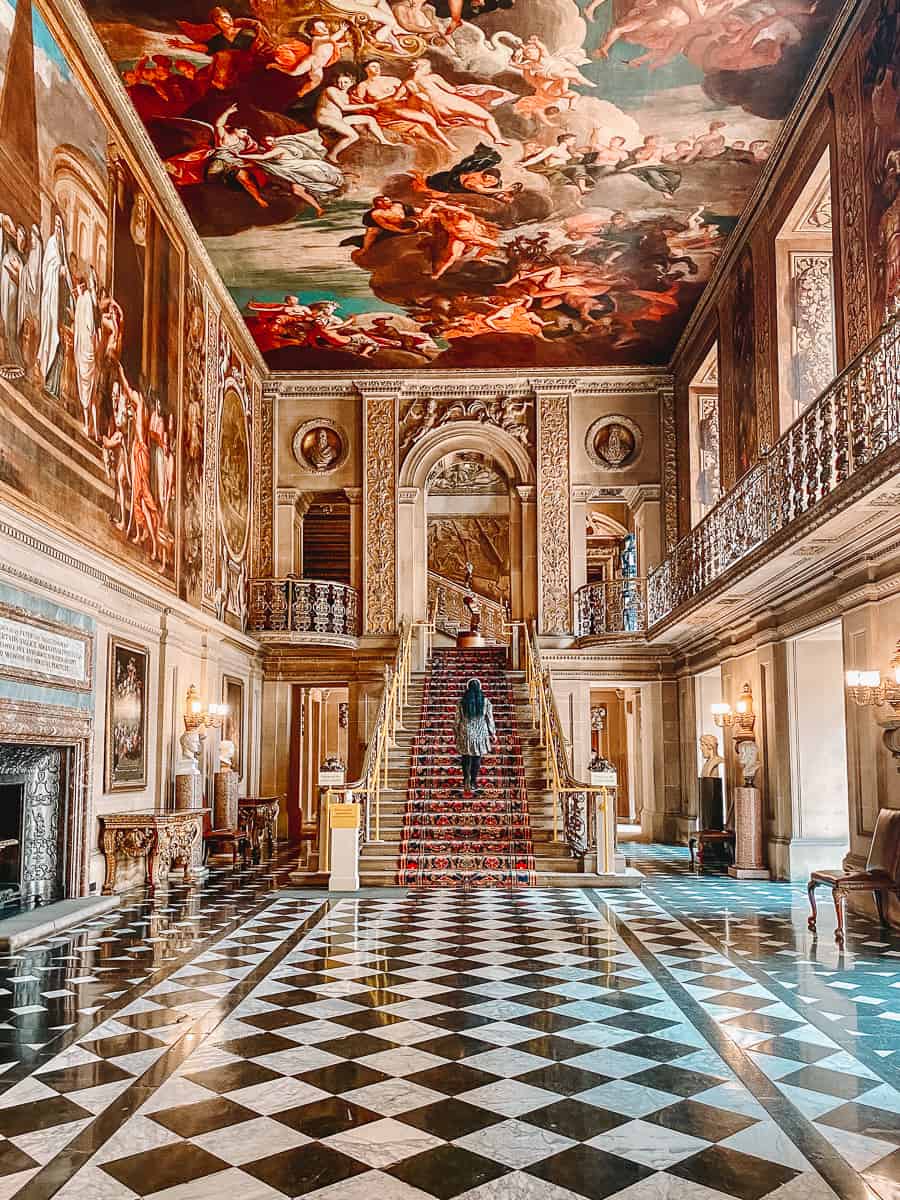 Read more of my Peak District travel guides
How to Visit Mr. Darcy's Pemberley aka Chatsworth House
How to get to Thor's Cave in the Peak District
The best things to do in Milldale
How to get to the incredible Bamford Edge
How to find Robin Hood's Cave in Stanage Edge
A magical easy walk to Lud's Church
A complete guide to Peakshole Water in Castleton
How to visit Little John's Grave in Hathersage
A Harry Potter guide for Hardwick Hall aka Malfoy Manor
How to get to Solomon's Temple in Buxton
How to visit & cross Dovedale Stepping Stones
Best things to do in Ashford in the Water
Chee Dale Stepping Stones walk
Why you must visit Scrivener's Books in Buxton
Things to do in Eyam Plague Village
How to visit Ramshaw Rocks from Pride and Prejudice
Save this Monsal Head Viewpoint visitor guide for later!