The capital of Russia was such a vibrant, colourful, and surprisingly cosmopolitan city.
There is also a wealth of cool and crazy things to do in Moscow.
It not only has the UNESCO World Heritage Sites to offer but some other attractions which will surprise and intrigue you to try.
A lot of my fellow travellers were hesitant to visit as they weren't sure what there was to do there beyond the Red Square, my how wrong they were!
Here's a list of cool and crazy things to do in Moscow
1. Explore the Red Square in Moscow
A must for anyone who visits Moscow.
The red square is spectacular at all times of the day and is home to the famous St. Basil's cathedral.
You can read more about what to expect at The Red Square here. Or, if you want to see it after dark, you can see my experience of the Red Square at night.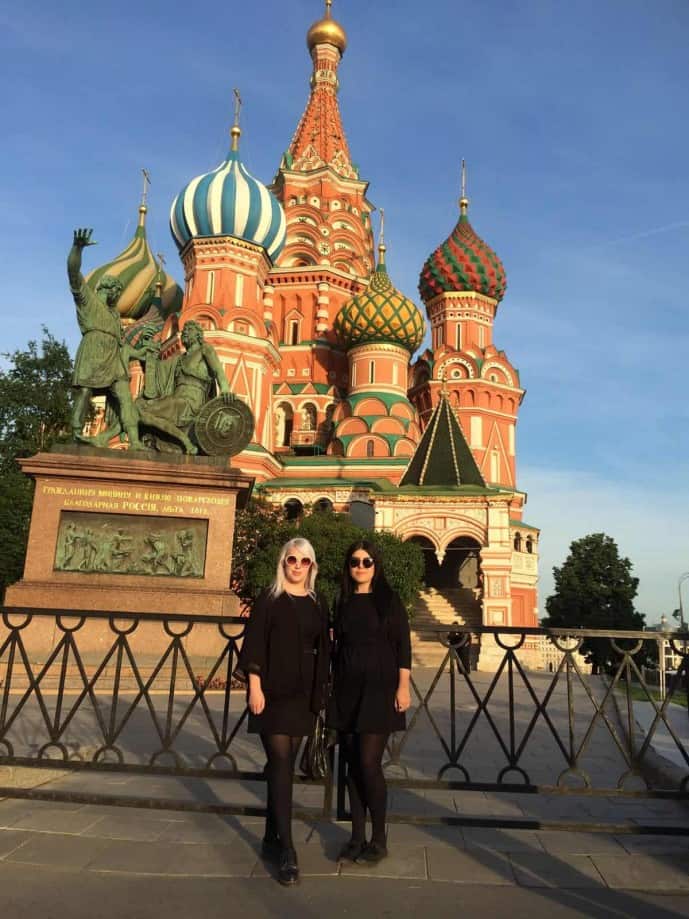 2. Visit the Kremlin Walls
Another must-see is a visit inside the Kremlin.
You can book a tour in advance or on the day by purchasing tickets within the box office in Alexander gardens.
Make sure you get tickets for a tour around the complex and the armoury. This is also an amazing museum that provides some insight into the Tsar's that lived here!
The cathedrals are the highlight of the visit and there is plenty to explore. All have gold tops and are a marvel of Orthodox architecture.
Tip: Be warned that they do get extremely busy so it may be an idea to visit early to beat the tour groups.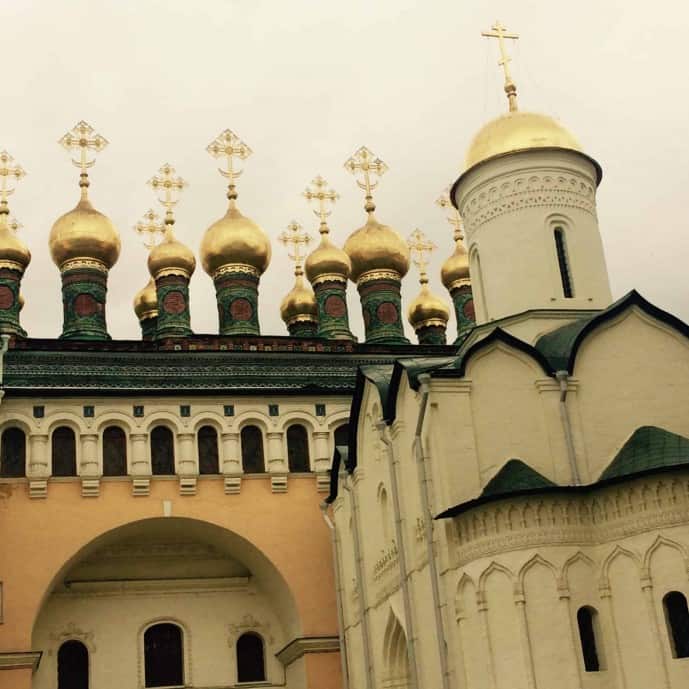 3. Window shop in GUM shopping centre
I say window shop, but if you can afford what's inside – go for it! All the shops are high-end.
GUM is really more of an institution than a shopping centre which can be found in The Red Square.
All the shops surround the main fountain and you can buy one of their famous ice creams. At least, they don't have a designer price tag!
4. Marvel at Cathedral of Christ the Saviour
One of the most beautiful Cathedrals in the city Christ the Saviour is a masterpiece of Russian architecture.
You can get a good view of the cathedral from many parts of the city.
There's no photography allowed inside so I can only tell you how magnificent it was.
I loved visiting here and could never get bored of it!
It is still a working church so make sure you're dressed respectfully and women may be asked to cover their heads.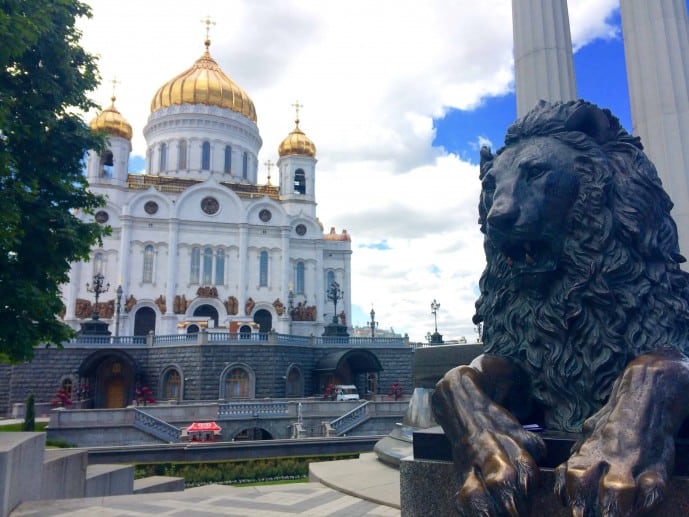 5. Attend a Ballet at the Bolshoi Theatre
Seeing a ballet has been on my bucket list for some time now and where better than to see it than at the best in the world?!
The theatre is so grand and before you have even sat in your seats, you can tell it's going to be an amazing experience.
Sip champagne in the lobby with caviar tarts and then relish in the show.
Make sure you dress to impress!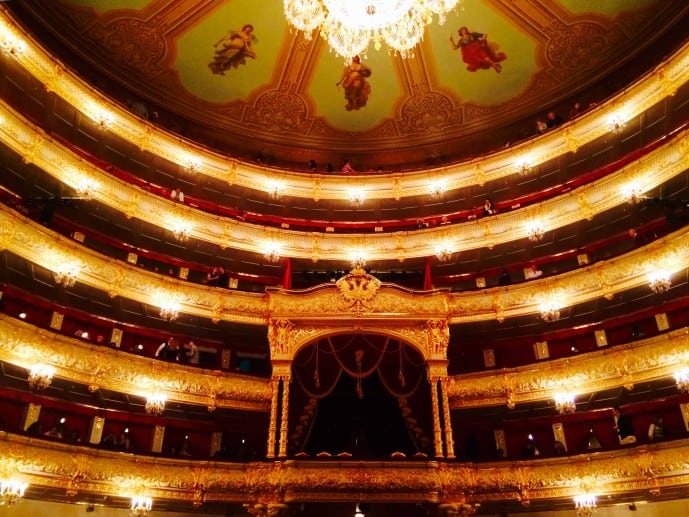 6. Take a boat ride in Moscow
If you get tired and need to give your feet a rest consider taking a boat ride around the city!
The cruises last around an hour and you'll see some amazing sights from a whole different perspective in the water.
Tours are actually really cheap (around £6) and if it's a sunny day there's nothing better!
7. Play soviet arcade games the Museum of Soviet Arcade Machines
Ever since watching 48-hour travel man, I wanted to go and play in the soviet arcade games in Moscow!
It's so much fun trying to figure out what to do and how to play them.
You'll be given a guide of what to do with each game and around 14 tokens with your entrance ticket.
When we visited, we found a flier which got us 50% off so make sure you pick one up if you can find it – it cost around £4.50 to play.
Don't forget to try their soviet cola ARKUN while you're there – it comes from an authentic soviet soda fountain!
Click here to read my complete Soviet Arcade guide
8. Visit the cat circus in Moscow
This is the best of the crazy things to do in Moscow! Not everyone's cup of tea but after hearing so much about it, I had to go and visit.
It isn't exactly 5-star entertainment but it is a bit of a giggle to pass the time.
Performances can be booked online but the website is in Cyrillic so make sure you're not paying for the wrong show! I arranged a booking with my hotel.
It's the only one in the world, so make sure you check out these furry felines while you're here!
9. Try Vodka and Caviar in Moscow
It is most certainly a crime not to try Vodka while you're visiting Russia. But, you'll be excused if you don't want to try it with caviar!
When looking at it, I thought it looked like the most appalling combination. But, it was actually quite pleasant and you can see why the two go together.
If you're looking for a good place to try, make sure you visit the Beluga Caviar bar in GUM. May as well try some fish eggs in style, eh?
10. Dinner at Café Pushkin
This is the number one restaurant in Moscow and for good reason, you will step back in time to Imperial paradise!
Businessmen, tourists, and locals all flock here for the Michelin-style menu and meals.
The cocktails are to die for and I had a Siberian Express – very tasty and extremely alcoholic, hic!
The highlight for me was ordering their ice cream with a basket of domed caramel.
The waiter will then flambé the dish for you in traditional style and you can see it disappear before your eyes to reveal a perfect pyramid of ice cream!
11. Master the Moscow Metro
Moscow has some UH-mazing metro stations to the point where they can even be considered essential to your Itinerary.
It is a little bit of a maze to get around but it's so worth it!
The metro is super cheap at only 50 roubles a ride and you can stay as long as you like!
Read more about Moscow's metro with my top tips here.
12. Haggle for souvenirs at Izmaylovsky Market
This market is the cheapest place to buy all your typical Russian souvenirs.
Matryoshkas dolls, scarves, and extra points for that all-important soviet hat!
Make sure you haggle for a good price and go on the weekend when most of the vendors come out to play.
Finally – get out there and explore!
What I loved about Moscow is that there was a surprise around every corner and it was all so colourful!
Make sure you come out from under the metro and explore a little by foot – you'll be amazed at what you can find :)
Read more of my Russia articles
Tips for securing a Russian tourist visa
How to travel to St Petersberg by train
Top experiences in St Petersberg