The Red Square buildings in Moscow have an incredible history and architectural wonders.
If you're heading to Russia, chances are your main inspiration for a visit was Moscow's infamous Red Square.
I have to admit, on approaching the complex and seeing the St. Basil's Cathedral colourful spires for the first time I was incredibly excited!
When you think of Moscow, your first thoughts are usually grey and soviet-era buildings without a hint of colour or character. However, Red Square is full of life and vibrancy.
As you walk around you will be joined by tourists at all times of day, but you can still get some good snaps with a bit of patience!
Heading to Russia? Click here to see how to secure a VISA! Also, don't forget about travel insurance. Click here to get a FREE quote with World Nomads.
The top 7 Red Square buildings in Moscow
1. St Basil's Cathedral
Without a doubt one of the most famous cathedrals in the whole world, St. Basil's is truly the gem of the square.
With its bright marshmallow-like peaks, intricate but bold architecture and stunning location is it any wonder?
If you're after some good lighting for your selfies try going around sunset. It truly makes the colour of the cathedral come alive and will bring out all its grandeur on offer.
I found that in the morning the lighting was behind the cathedral and so caused some shadow.
It may be busier, but watching the sun setting over the red square is so romantic that you'll hardly notice.
Related post – Why you need to visit the Red Square at night!
2. GUM
GUM is more of an institution than a shopping mall in Moscow where tourists and locals visit to do some (window) shopping!
It has a long history and it's definitely on the more expensive side with designer brands featuring on all levels. It's perfect for a snoop around at any time and especially if it's raining.
Something you definitely will be guaranteed to afford however is the colourful perfectly formed ice creams which are on offer for around 50 roubles each (50p). Every other person you will come across in there will have one in hand and for good reason, it's tasty ice cream!
You can grab one at the fountain or catch the ice-cream cycle riding around the mall.
Don't fancy ice cream? You can also try a popular syrup-based drink in many flavours and hot waffles too.
One of the finer things to enjoy while you're here is a visit to the Beluga Caviar Bar.
Beluga is one of the more popular Vodkas on offer and is widely consumed by locals in Moscow. Distilled in Siberia, Beluga is known to be crisp and clear.
It is positively scandalous not to try the Vodka-Caviar combination and why not try it at its finest?
You will be surrounded by Art-Deco glamour and even see the Beluga fish in their tank as you dine.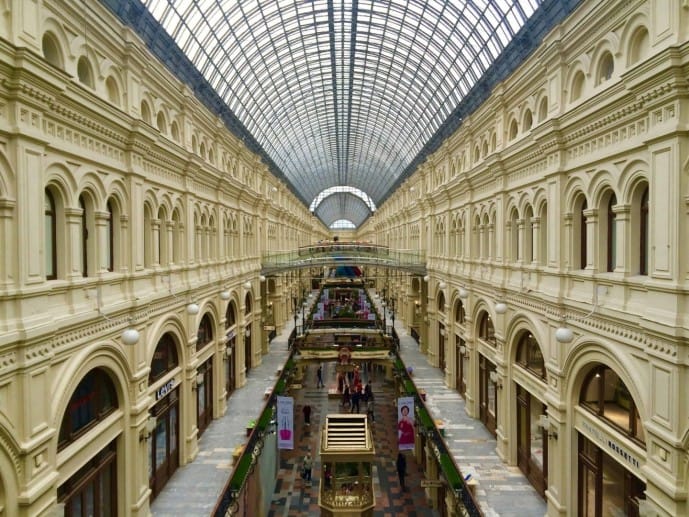 3. State Historical Museum
With the inside promoting Russia's colourful history, the outside of the building complements the square by boasting its rouge colour with white and gold trimmings.
As you walk around you'll notice its presence and stand in awe of its intricate design.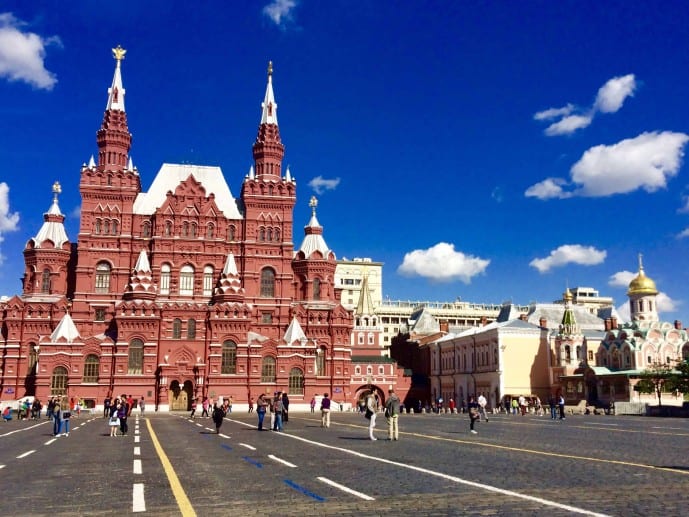 4. Kazan Cathedral
This pretty Orthodox church stands in the northwest corner of The Red square with its gold spires and peachy pink and green pattern.
If you do decide to venture inside the building it is a working church, not a museum and so tourists are reminded to respect the building and its practices.
Photography is not allowed and women may wish to cover their heads.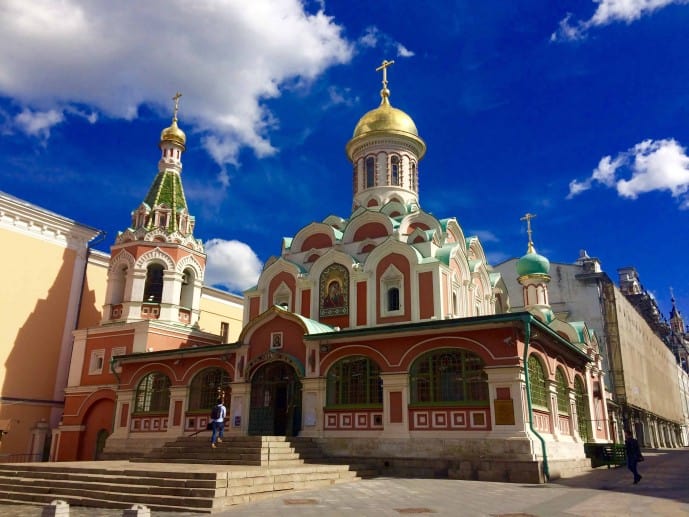 5. Lenin's Mausoleum
The Red Square is home to Lenin's resting place and if you don't know who he is I'll provide a brief history lesson.
Vladimir Lenin was a Russian Communist Revolutionary, Politician and leader of the Soviet Union in the 1920's.
He was widely known for his ruthless pro-communist regimes and for making Russia a one-party Communist state. I'll leave you to have a look for yourself at the finer details.
Even today, he is a widely respected figure in Russian history who commands the utmost respect from its people.
So much so, that he was embalmed not buried or cremated and his body lays in a casket for all future generations to visit.
You can visit the tomb for yourself from 9.30 am but it is closed on Mondays, Fridays and Sundays.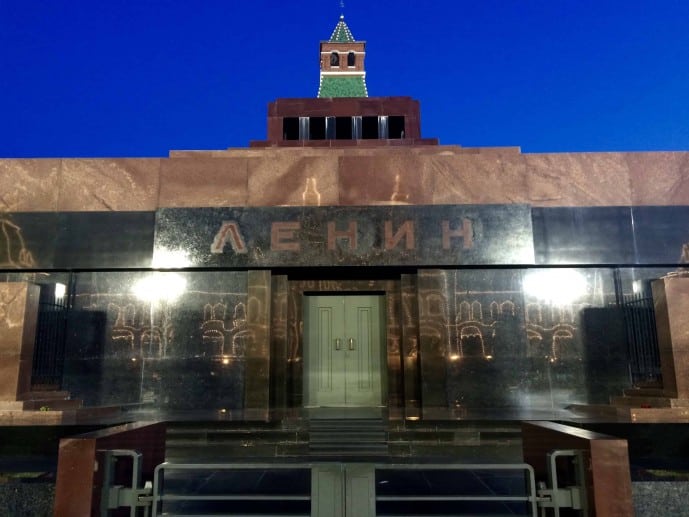 6. The Kremlin Wall
Another thing to spot is the Kremlin wall which runs past the Red Square.
This powerful wall with its many Kremlin Towers (all with their own unique names), was built to protect the Royal family, palaces and cathedrals.
You can buy a ticket to tour inside the Kremlin via the ticket office in the Alexander Gardens on the day or in advance.
The clocktower was one of my favourite features of the square and its spire wears the communist star which shines bright at night. A must see!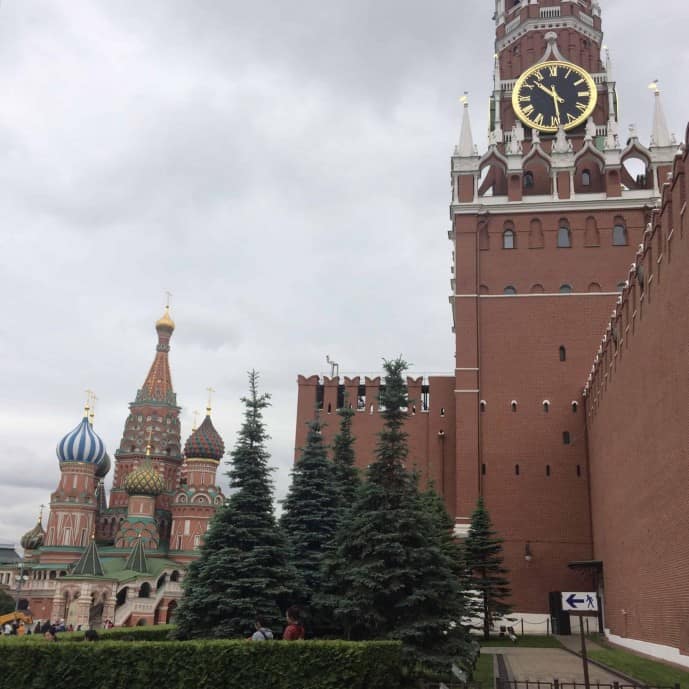 7. Tomb of the Unknown Soldier
Although not technically a building in the Red Square, you can go and visit the Tomb of the Unknown Soldier.
This is a memorial that commemorates all the Soviet soldiers who lost their lives during World War II.
The fire is constantly burning and the Guards keep a watchful eye at all times.
You can watch the changing of the guard 'show' on the hour every hour, but it does get swarmed with tourists in the mornings so get there around quarter to make sure you can see!
Heading to Moscow? Read more of my blog posts!
The very best Moscow experiences
Why you need to visit the Soviet Arcade Museum!
Riding the Sapsan Train from Moscow to St Petersburg
Things to do on a day trip to St Petersburg