Mr. Fogg's Tavern is a lively and eccentric Victorian bar in central London that is inspired by Jules Verne's Around the World in 80 Days.
You'll feel like you've stepped back in time with the hodgepodge of vintage artifacts, union jacks, and portraits on the walls.
The tavern has lots to offer including traditional pub food, exclusive cocktails, and even a weekly Cockney singalong.
Here is why you must visit Mr. Fogg's Tavern in London and my complete review!
The story behind Mr. Fogg's Tavern
If you didn't know the concept behind Mr. Fogg's bars in London, they are all based on Jules Verne's novel Around the World in 80 Days.
The protagonist is Phileas Fogg who embarks on an ambitious journey to win a wager over his fellow Reform Club members and travel around the world in a record-breaking amount of time!
After he succeeded, Phileas decided to open up his home to the public in Mayfair and it became a popular watering hole.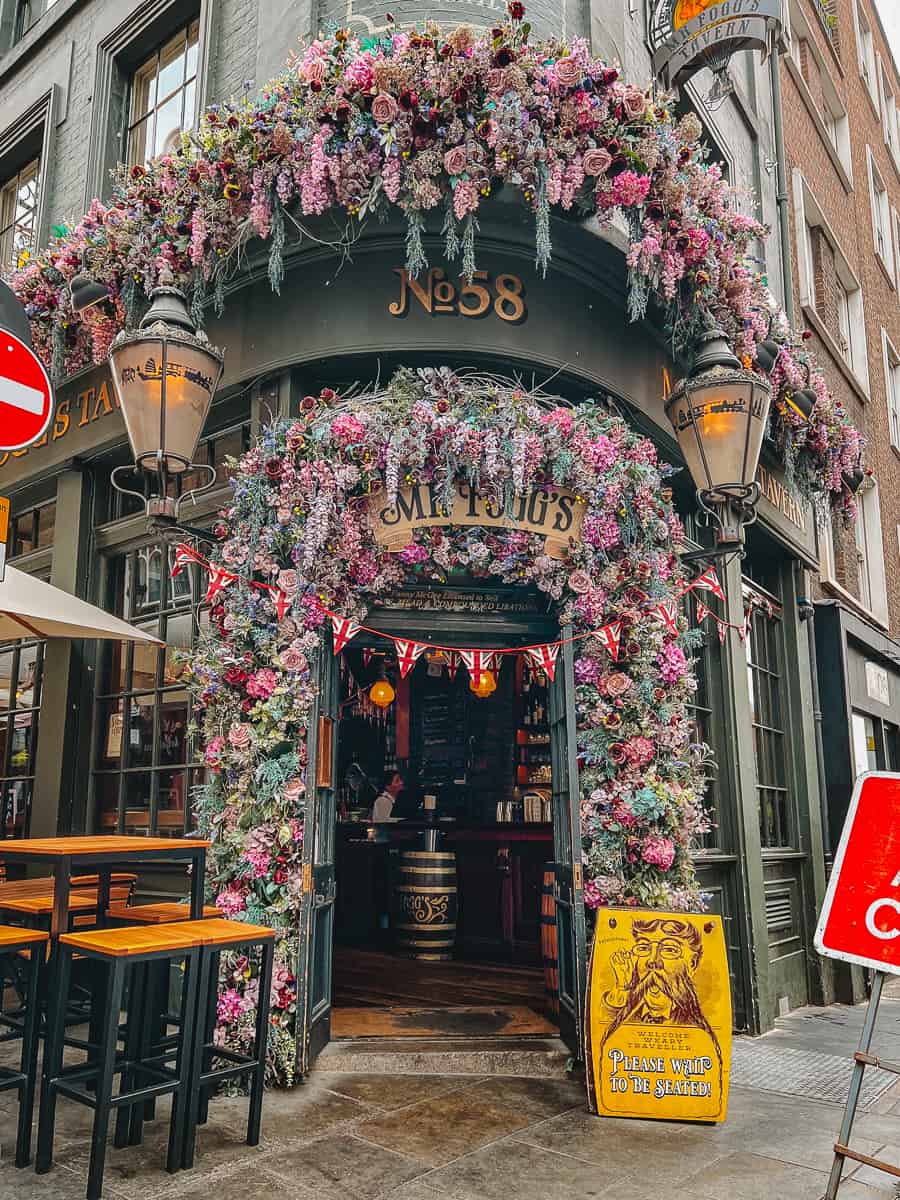 Unfortunately, a while later, Phileas Fogg's Aunt Gertrude sadly passed away and left behind her home in the heart of Theatre Land to Phileas. She was a big fan of the performing arts.
To everyone's surprise, Gertrude also left the ground floor to the housekeeper Fanny McGee and the landlady decided to open up a lively tavern in her memory.
Now, you can enjoy a Victorian knees-up, some pub grub, and compound libations in heart of London!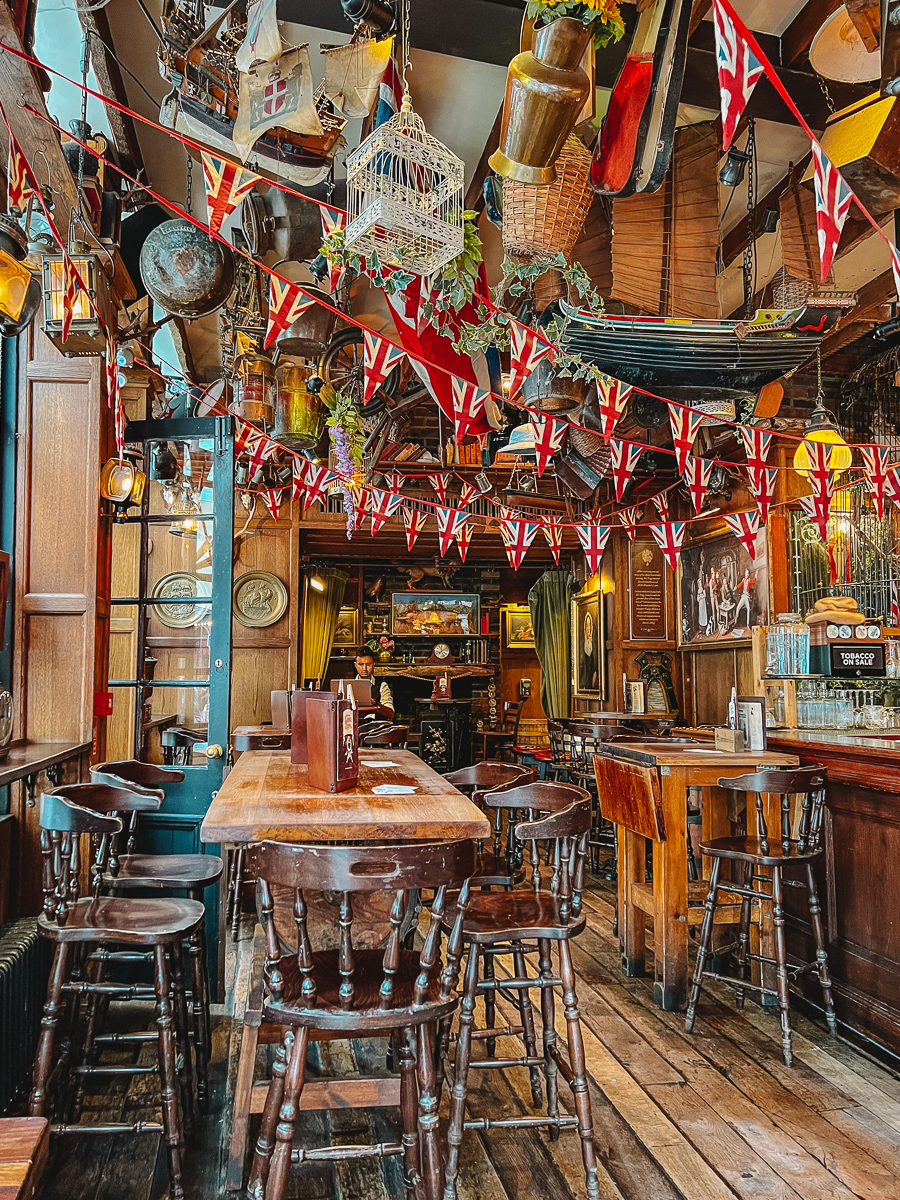 Why visit Mr. Fogg's Tavern in London?
As soon as you enter Mr. Fogg's Tavern you'll feel like you've been transported back to the Victorian era or Dickensian London.
There's Victoriana bric-a-brac on the walls, all the staff are dressed up in period costumes and traditional songs are playing in the background.
You'll instantly soak up the lively atmosphere and feel right at home. It's the perfect place to pass the time away in Covent Garden or before you watch a show in Theatre Land.
Psst. Ladies, don't forget to check out the washroom on the ground floor. It's so pretty!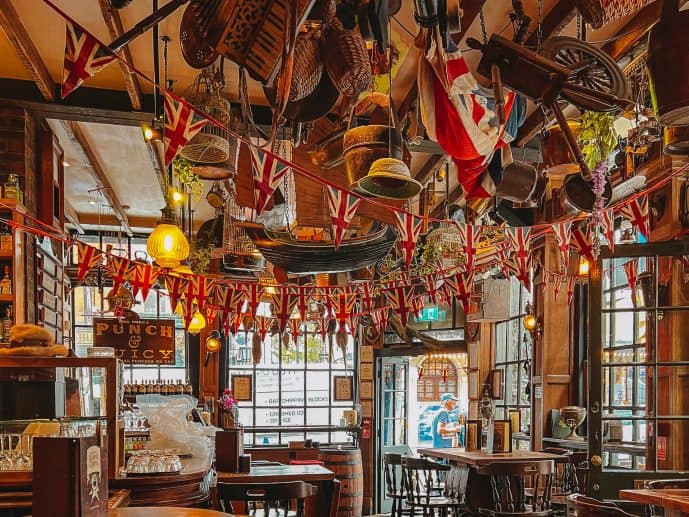 Mr. Fogg's Tavern food
If you fancied booking Mr. Fogg's Tavern for some food then you'll be happy to know that they serve up a lunch menu every weekday from 12 pm – 3 pm.
As part of the menu, they serve up their 'sarnie and chips' special which is a filling sandwich with a side of chunky chips for just £10!
You can choose from mouth-watering fillings such as steak & onion, chicken & avocado, cod & tartare sauce, or grilled vegetables with a side of houmous or sour cream.
I decided to pick the steak & red onion chutney and it was cooked to perfection! With the chunky chips, it was actually really filling and I struggled to finish it all.
If you didn't fancy the lunch special, they also have a traditional menu serving up pub favourites as well.
You'll find small bites, tavern favourites, nibbles, nuts, and cheese as well as puddings to indulge in.
Drinks at Mr. Fogg's Tavern
Although Mr. Fogg's Tavern does offer food, it is traditionally a Victorian bar that serves up alcoholic drinks throughout the week in Theatre Land.
Every bar in Mr. Fogg's collection serves up its own exclusive cocktails and libations and this tavern is no different.
The Landlady Liquor List serves up cocktails like a Whooperup Negroni, Political Pyromancer, House of Tusks, and a Barrel of Laughs.
Or, you can find a selection of fruity Phileas Punches to indulge in and Fogg's Favourites like the Spicy Rupee.
I decided to wash down my sarnie and chips with one of their traditional ales on tap and I loved the fact it came in an old-fashioned beer glass!
Visit for a Cockney Singalong!
The best time to visit Mr. Fogg's Tavern in London would be on Thursday nights when they have their famous Cockney sing-along!
In true Victorian fashion, you can join the talented Mr. Tom Carradine, on the 'Ol Johanna (that's Cockney slang for piano) for a knees up, song and dance.
You'll usually find him at the tavern on Thursday evenings from 8.30 pm so don't miss out.
Although walk-ins are available, this event is very popular so it's best to book a table to guarantee entry!
Mr. Fogg's Tavern reservations
Mr. Fogg's Tavern is a small establishment in Covent Garden and tables are always limited in this Victorian bar.
So, it's best to book a table to guarantee a seat for drinks and food, especially on weekends and in the evenings when shows are on.
You can book tables for drinks at the tavern every day and lunch tables from 12 pm – 3 pm every weekday.
It's good to note that you do have to put your credit card details down when booking a table.
If you're a no-show and you didn't cancel/change your reservation 24 hours before you're due to arrive you'll be incurred a fee of £10 per person.
So, don't do what I did and book a lunch table for the wrong week! Luckily, I showed up the week before the booking for food and so I (very kindly) wasn't charged by the staff. Phew!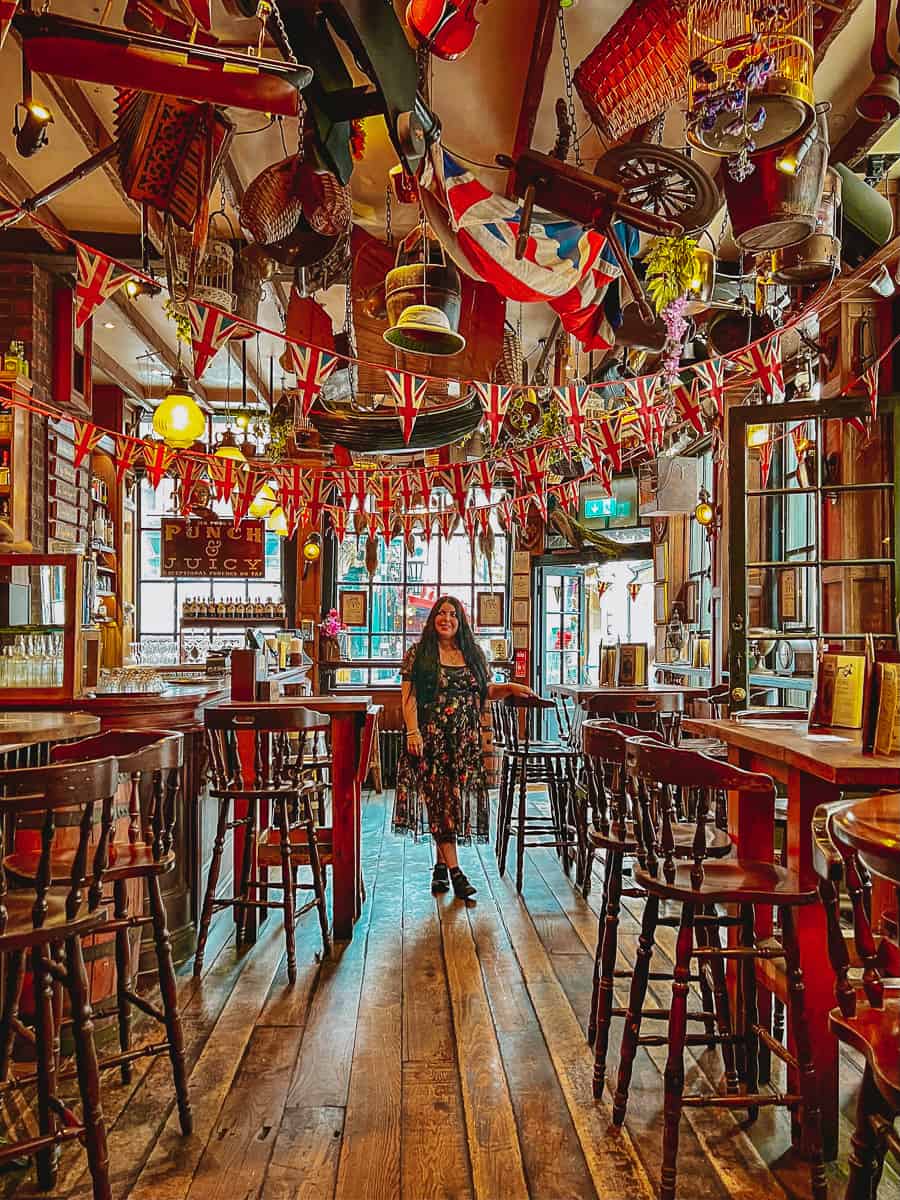 How to get to Mr. Fogg's Tavern in London
Mr. Fogg's Tavern is conveniently located on St Martin's Lane which is in London's West End. It's close to the touristy areas of Covent Garden and Leicester Square.
It's easiest to use a mix of walking and the tube to travel around central London and the nearest tube station is Leicester Square.
Once you leave the station Mr. Fogg's Tavern is just a 3-minute walk away! Alternatively, you can head here from Covent Garden station.
Mr. Fogg's Tavern's address is 58 St Martin's Lane, London WC2N 4EA. Click here for a Google Pin!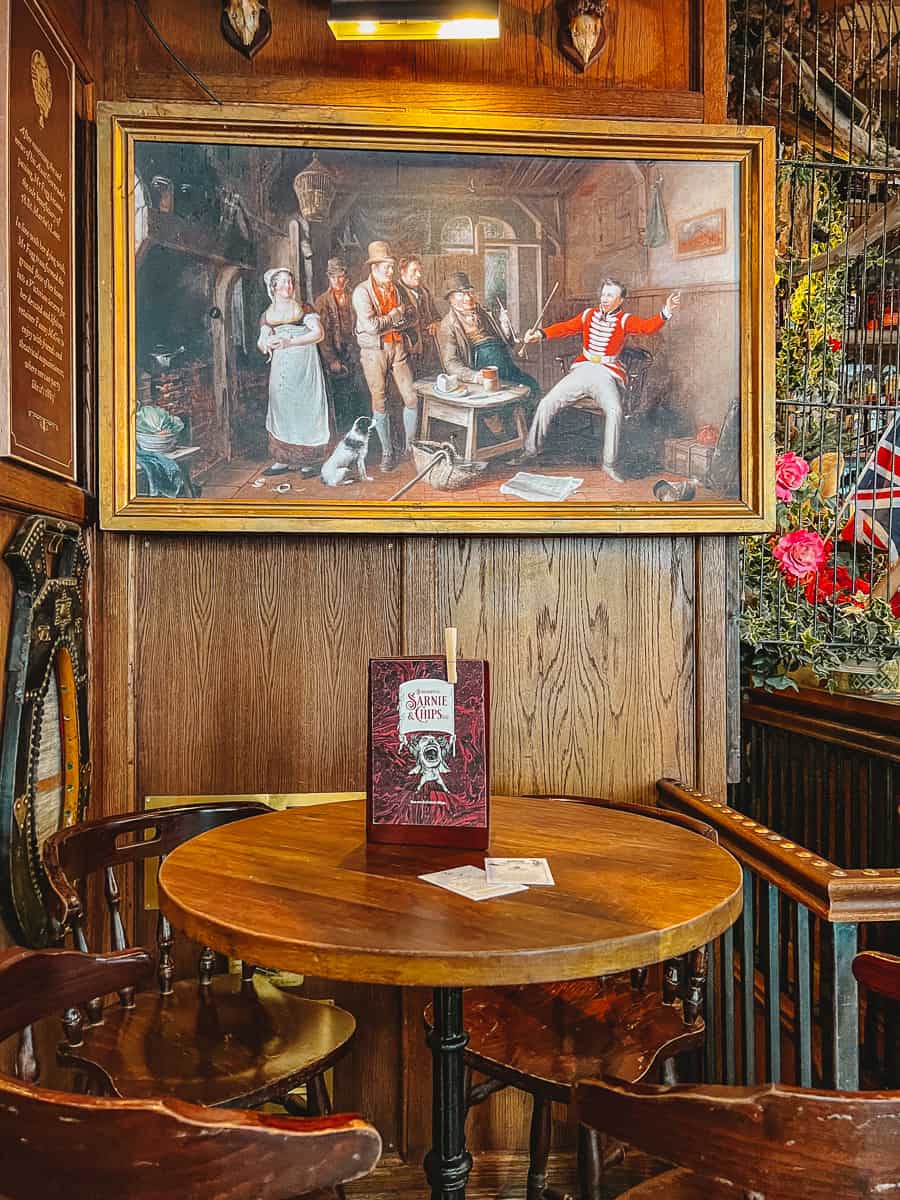 See more of Mr. Fogg's Collection
If you're a fan of Phileas Fogg and wanted to visit more quirky Dickensian-style bars in London, then you'll be happy to know that Mr. Fogg's is an entire chain.
There are Victorian establishments all across the city inspired by Jules Verne's novel Around the World in 80 Days.
All of them have a different story and serve up exclusive offerings of curios, cocktails, food, and fun!
Here are all of Mr. Fogg's London locations;
Mr. Fogg's Gin Parlour in Covent Garden
Mr. Fogg's Society of Exploration in Covent Garden
Mr. Fogg's House of Botanicals in Fitzrovia
Mr. Fogg's Residence in Mayfair
Mr. Fogg's Apothecary in Mayfair
Mr. Fogg's Dockside Drinkery & Distillery on Liverpool Street
Click here to see all Mr. Fogg's establishments and how to book!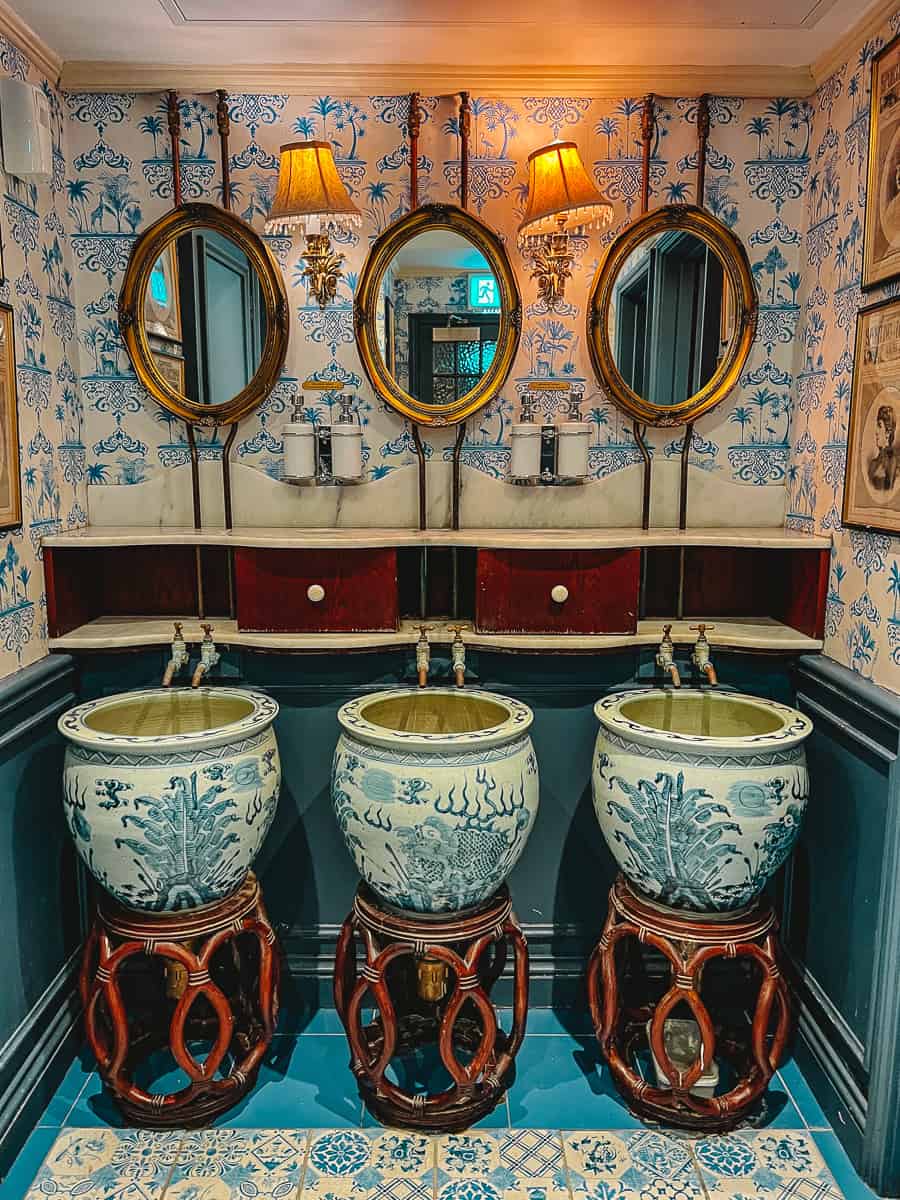 Visit Goodwin's Court nearby
Just outside of Mr. Fogg's Tavern you'll find one of my favourite streets in London which is Goodwin's Court.
It is a special place for Potterheads as this is supposed to be the inspiration for Diagon Alley in the Harry Potter books but I think it looks like Knockturn Alley to me.
This small alley is another place that will transport you back in time with its bay windows and oil lamps!
It used to be called Fisher's Alley in the 17th century and King Charles II's mistress, Nell Gwyn, used to live here.
Click here to read my complete guide on Goodwin's Court!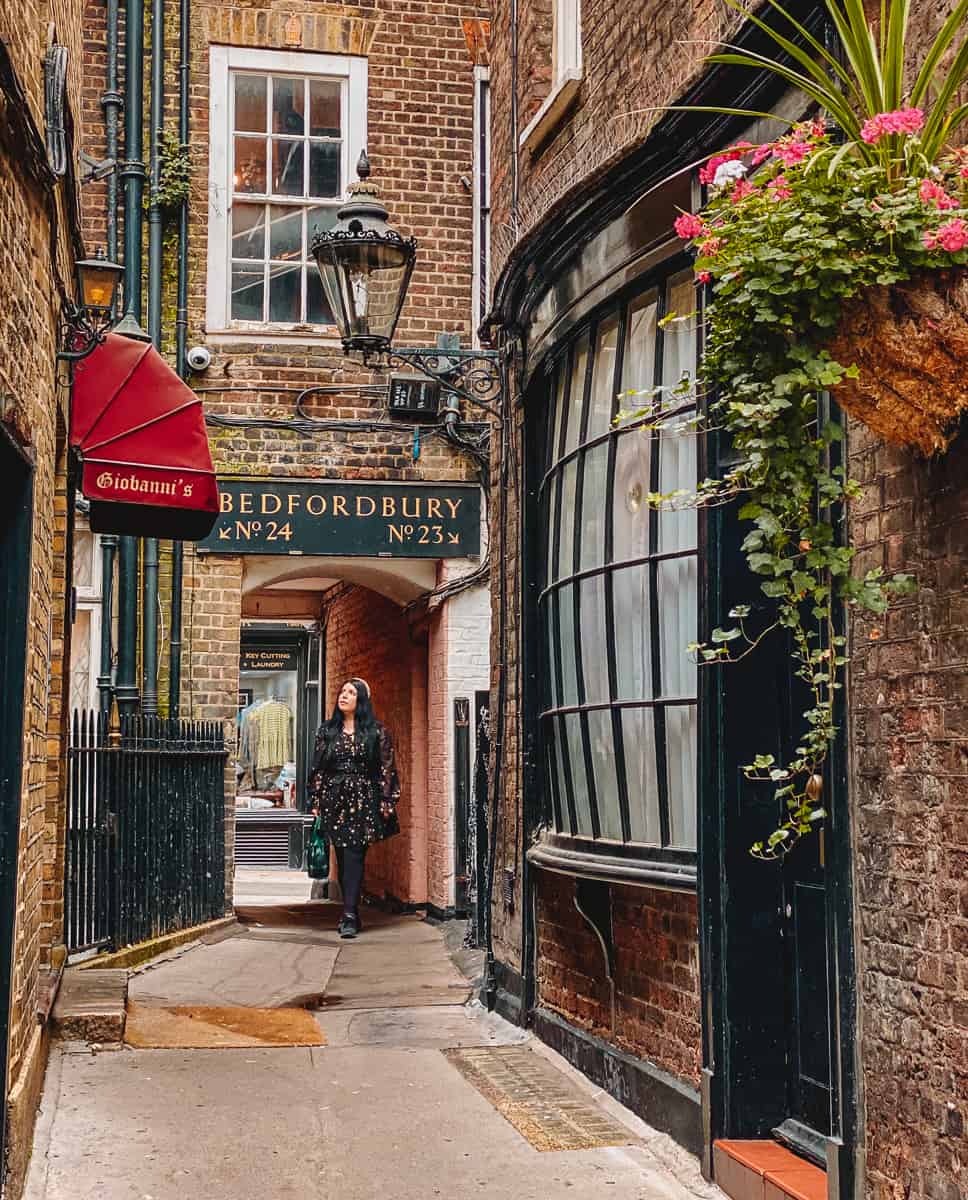 Things to do near Mr. Fogg's Tavern
Aside from Goodwin's Court, you have the incredible Cecil Court nearby which is one of my favorite shopping streets.
You'll find vintage bookstores like Travis & Emery and all sorts of independent boutiques.
You can visit here while you're catching a show on the West End or head to Covent Garden for some shopping. The covered Apple Market is always a vibrant place to visit.
There is also the colourful Neal's Yard which is always open for some health and wellness shopping with its mix of quirky buildings.
Or, visit the Seven Dials market for some mouthwatering food from all around the world. Somewhere Phileas Fogg would approve of.
Save time and book a tour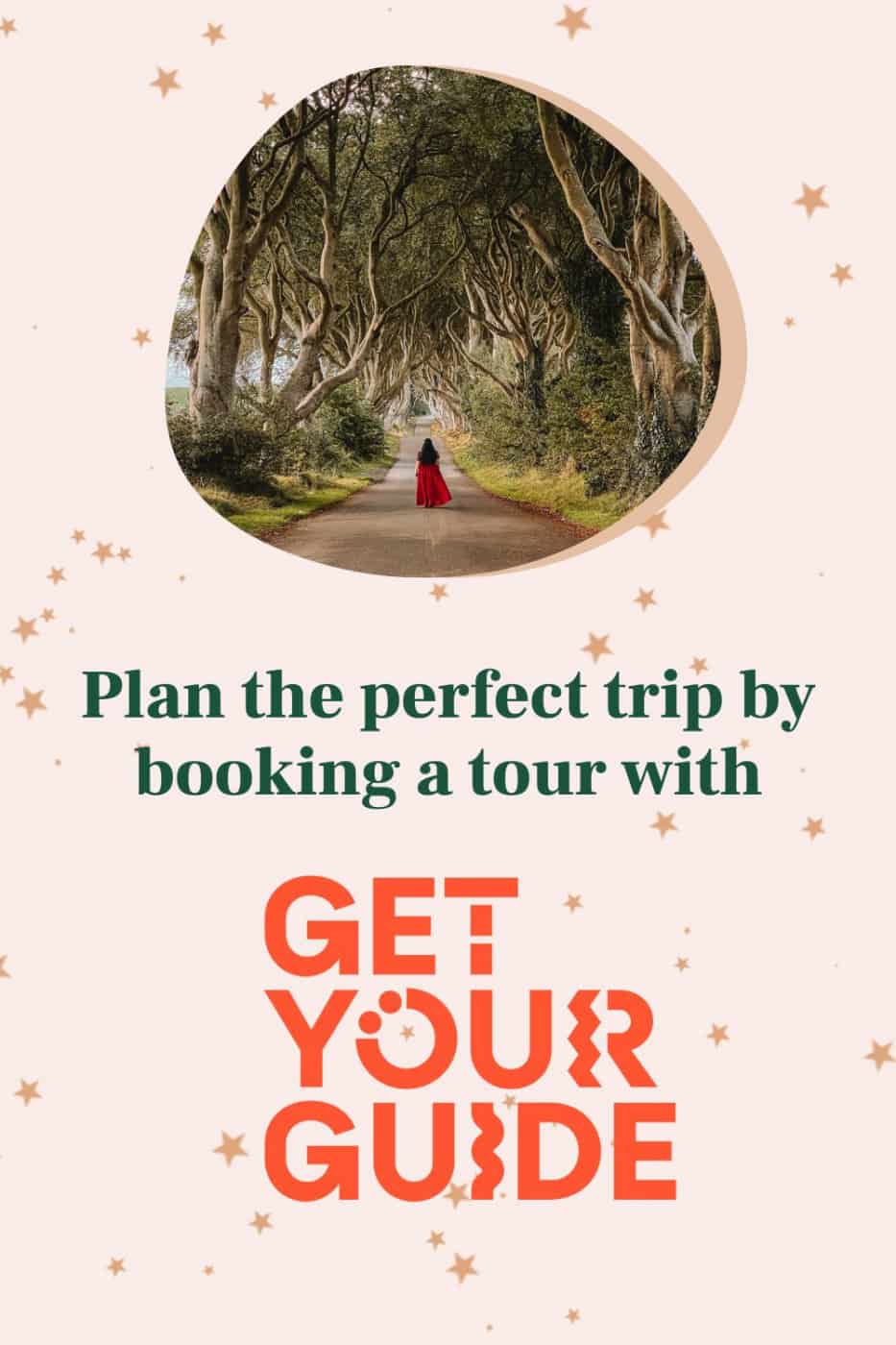 Book tours & tickets for London!
Read more of my London guides
How to visit 221b Baker Street
How to visit Platform 9 3/4s in London
The best London Christmas lights & displays
A complete guide to the Greenwich Foot Tunnel
Why you must visit God's Own Junkyard
The hidden gem of St Dunstan in the East Church Garden
FREE things to do in the London Bridge District
A Harry Potter guide for Leadenhall Market
Magical cocktails at The Cauldron
Why you must visit the Harry Potter Photographic Exhibition
How to visit Harry Potter's 12 Grimmauld Place
Why you must visit the House of MinaLima
Dark Arts at Harry Potter Studios London
The secret Anne Boleyn symbols at Hampton Court Palace
Visiting Hogwarts in the Snow at Harry Potter Studios
How to visit the Hogwarts Divination Stairwell at St Paul's Cathedral
Save this review of Mr. Fogg's Tavern London for later!