Did you know that you can actually stay in Mrs Baird's B&B in Inverness that featured in the Outlander TV series?
That's right! You can really stay where Claire and Frank checked in for their second honeymoon in 1945 Inverness…or Falkland should I say!
The Outlander team picked the picturesque village of Falkland to be Inverness in the 1940s and they chose The Covenanter Hotel to double up as Mrs. Baird's B&B which is in the square.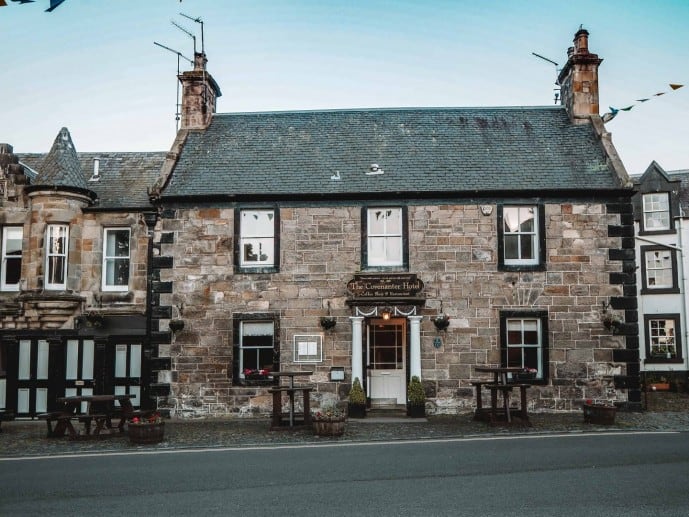 As soon as you drive into Falkland, you'll feel like you've been transported into episode one of Outlander.
The Covenanter Hotel is exactly the same save a different sign and different colour paint..and there won't be any blood splatter either I'm sure you're happy to know.
There's also the Bruce Fountain directly outside which is always a popular spot for fans to take a photo looking up at Claire's window too.
Although the hotel interiors are nothing like the series, staying at The Covenanter Hotel is a must for any Outlander fan visiting Scotland. I had the pleasure of staying here on my travels and absolutely loved it.
Here's a full review of a night at Mrs Baird's B&B!
Where is Mrs Bairds B&B? Is it really in Inverness?
Having been to Inverness on my recent travels in Scotland, I can see why the Outlander team didn't pick the city as a location.
As the capital of the Highlands, it's extremely crowded, with lots of traffic and so many modern buildings you simply couldn't make it look like 1940s Inverness. That's why they chose the quaint village of Falkland.
Falkland has around 20 listed historical buildings in the area, has the traditional Scottish grey stone architecture, and is a relatively sleepy village…well until Outlander was filmed here that is!
Nowadays, the square is full of fans and tour buses all wanting to visit and see the iconic scenes from the first episode.
Mrs Baird's B&B is actually The Covenanter Hotel in Falkland which is around 129 miles out of Inverness, so you couldn't be further from it! But, the good news is that there were hardly any other scenes filmed in Inverness.
Most of them are around the areas of Edinburgh, Glasgow, and Stirling so you can access a lot of them easily from Falkland, if you're on an Outlander tour.
How to reach Falkland village or 1945 Inverness
The pretty village of Falkland is around an hour's drive out of Edinburgh. It's easiest to get here by your own means of transport by car or motorbike. But, there are some public transport options too.
How to reach Falkland by Car: Falkland is located just 40 miles north of Edinburgh and takes around an hour to drive there by car. There are tonnes of free parking spots in the village and you could even park your car in the same spot that Claire and Frank did in the series!
How to reach Falkland by Bus: From Edinburgh the nearest large bus station to Falkland is Glenrothes, so you can catch a Stagecoach bus heading here. The services X59, X54 and X9 run there. From Glenrothes switch service to the 66, 66A, 64 or 36 to reach Falkland. The journey should take just shy of two hours.
How to reach Falkland by train: Falkland doesn't have a train station, but again you can catch a train to Glenrothes from Edinburgh and catch a bus service 66, 66A, 64 or 36 to reach the village of Falkland.
Does The Covenanter Hotel look like Mrs Bairds B&B?
From the outside, YES!
As soon as you drive into Falkland square the whole experience will be spine-tingling if you're an Outlander fan.
The scene looks exactly the same, the buildings, the architecture, the fountain in the square – it's all like it was in the series.
The only thing that's different is some of the shops and street signs that were changed to make it appear like it was in 1945 and then the 60s in seasons 2 & 4.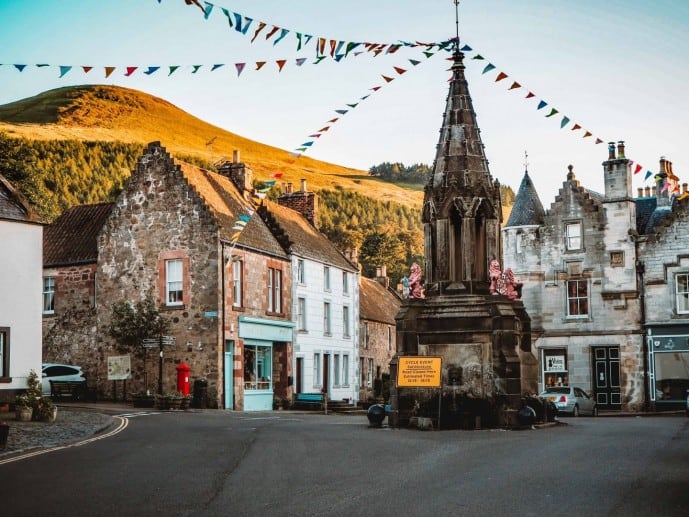 The Covenanter Hotel is also the exact same as Mrs Baird's B&B from the outside with a few minor changes.
The team changed the sign above the door and replaced it with Mrs Baird's B&B hanging sign and repainted it in black and a mustard gold-like colour. There was also the blood added above the door which isn't there.
Inside the hotel, the restaurant and rooms don't look anything like they did in the series. In fact, all of the interiors were filmed in Hunterston House which is an hour outside of Glasgow.
But, there is a window in the exact same place that Claire brushes her hair when the ghost of Jamie is looking up at her by the fountain. A perfect chance for a photo op!
The rooms in Mrs Bairds B&B / The Covenanter Hotel
The rooms inside Mrs Baird's B&B or The Covenanter Hotel are completely modern as you would expect from a Bed and Breakfast in the 21st century.
All the decor, furnishings, and facilities are brand new which may or may not be a blessing for some. Personally, I love boutique hotels and would have also liked the floral wallpaper and vintage decor but I know some like their hotels completely up to date which is cool too.
I stayed in the apartment which is to the side of the hotel which has reams of space for little old me! I had a huge living room which looked out over Falkland square, a kitchen so I could cook if I chose too and a TV.
The bedroom was huge with a double bed and was away from the square so it was nice and quiet. But, as there's hardly any traffic in Falkland, noise pollution is never a problem there.
There was also a lovely modern bathroom and the whole place was very cosy and liveable. I wish I could have stayed another night here but I simply didn't have the time. Next time, I plan to stay for longer and stay in the room Claire and Frank checked into.
Claire and Frank's room at Mrs Bairds B&B
Outlander fans will be super happy to know that you can check into the 'room' that Claire and Frank stayed in on their second honeymoon!
Of course, the interiors aren't the same but the window is in the exact same position looking out onto the square and the Bruce Fountain.
This is the fountain where the ghost of Jamie is looking up at Claire and Frank is looking on at Jamie from behind. Apparently, the mystery of the ghost Jamie will all be revealed in Diana Gabaldon's last novel!
As I checked out early, I didn't get the chance to have a peek in here but next time I would love to stay in this room. Maybe Jamie will appear?
If you want to stay in this room, you will need to book as far as possible in advance. This is the ultimate Outlander fan experience so, as you can imagine, it sells out fast.
The Interiors of Mrs Bairds B&B for the Outlander series
If you were curious as to where they filmed the interiors of Mrs Baird's B&B, it's actually in Hunterston House near Glasgow.
One of the bedrooms here was used to shoot Claire and Frank's bedroom and it does actually have a door leading onto to 'the bathroom' where Claire brushes her hair. But, in Hunterston it's actually a wardrobe haha!
The top of the landing stairs was transformed into a reception area of Mrs Baird's B&B too with the bookshelves behind Mrs Baird and the paint colour being recognisable in the series.
Dinner at Mrs Bairds B&B
If you're staying as a guest in The Covenanter Hotel I would highly recommend staying for dinner in their cosy restaurant.
You will have to order early though with the last orders for food being taken at 7.30 pm. Well, this is the Scottish countryside haha! You need to get your food order in early or you won't eat.
After a long day of Outlander location hunting, I was really looking forward to eating dinner at Mrs Baird's B&B. The restaurant was a gorgeous setting with exposed brick and candles and they had a delicious local and international menu of dishes to choose from with specials.
I decided to go for their roast lamb shank that was served piping hot with roast vegetables, boiled potatoes, and an indulgent red wine sauce. The whole meal was generous and tasted divine! All washed down with a treat of their white zinfandel rosé.
I would highly recommend booking in advance in high season to guarantee a table.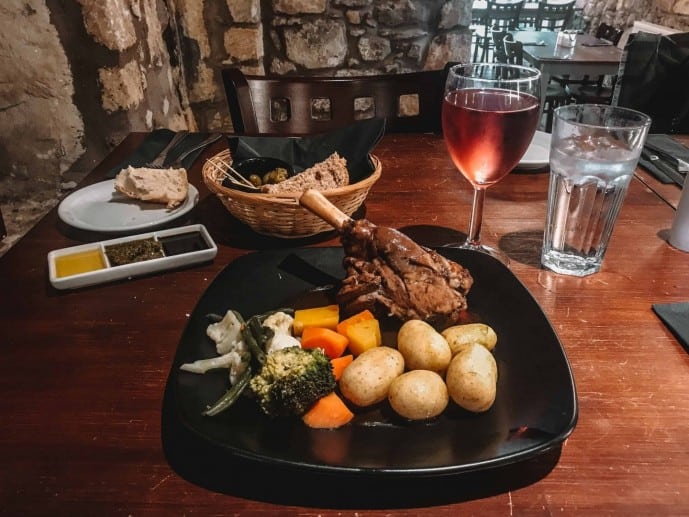 Afternoon tea at Mrs Bairds B&B
If you didn't fancy being a guest for the night at Mrs Baird's B&B but you're stopping here on your Outlander travels, I would highly recommend popping in for a spot of afternoon tea.
The Covenanter Hotel has a cosy tea room for your caffeine fix and some yummy homemade cakes if you have a sweet tooth. I mean, you can't come all this way to Falkland and not pop into Mrs Baird's can you?!
If you're here later in the evening, or even afternoon (I mean, it's 5 o'clock somewhere right?), the Covenanter Hotel also has a comfy wine bar to treat yourself to a drink. In the winter they have a log burner which looked so cosy!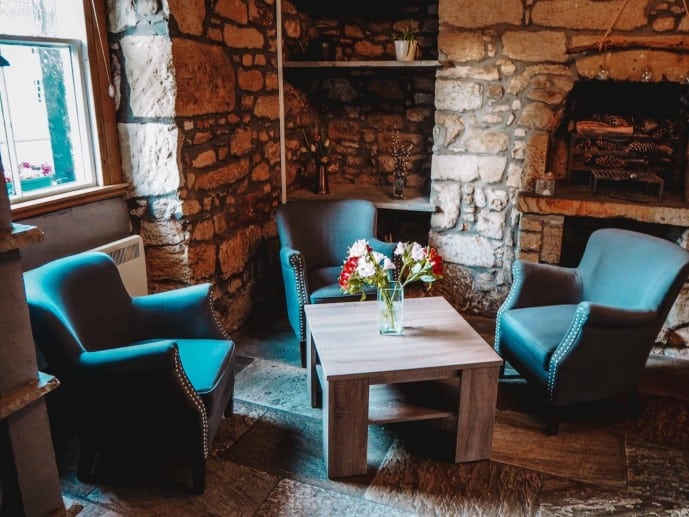 Look out for some Outlander memorabilia at The Covenanter Hotel
What I loved about The Covenanter Hotel in Falkland is that they really embraced the Outlander theme for fans.
If you head to the entrance of the hotel you can spot all the retro bus schedules and tour information for Inverness and some photos from the filming production hanging up. You can even see some rates for Mrs Bairds B&B too!
Head inside to their tea room and you can find some more Outlander memorabilia including signed postcards from Sam and Caitriona, wanted posters for Claire and Jamie with him being 'kilted or nakkid' haha!
They also have an Outlander gift shop where you can buy some knitted souvenirs from a local company 'Sassenach'.
There are so many reasons to pop by The Covenanter Hotel in Falkland for fans!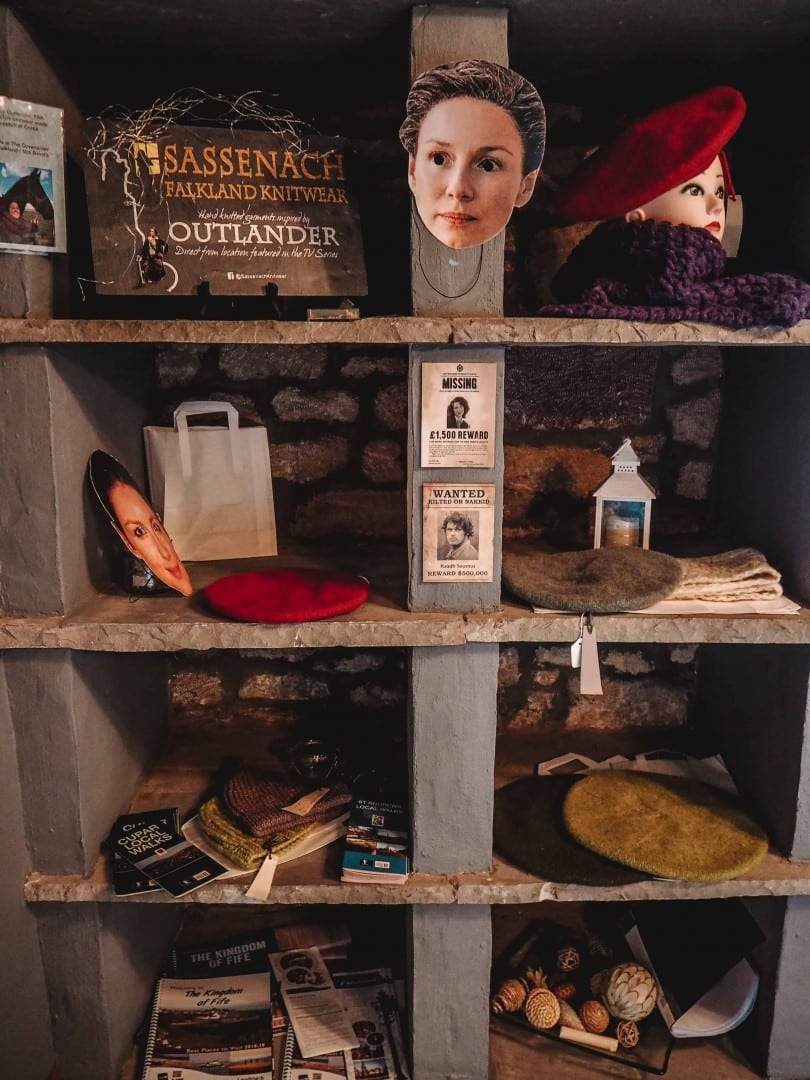 Book your stay at Mrs Bairds B&B
If you're visiting Scotland because of your love of Outlander, then staying at The Covenanter Hotel or Mrs Baird's B&B is really a must!
Click here to book your stay at Mrs Bairds B&B!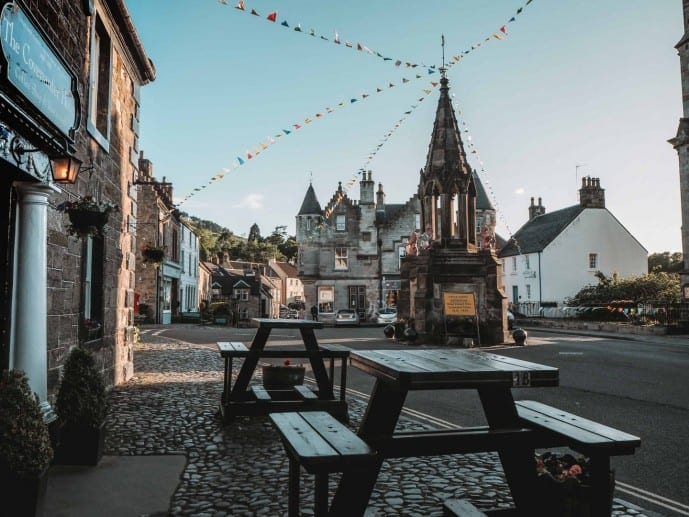 Want to see all the Outlander filming locations in Falkland?
Of course, The Covenanter Hotel wasn't the only filming location that was used in Falkland for Outlander. Parts of the village were used to recreate 1940s Inverness in series 1 & 2, 1745 Inverness in series 2, and 1960s Inverness in series 2 & 4!
You can find yourself at the fountain Jamie stood by looking up at Claire, an 18th-century apothecary, the Inverness county records office looking for traces of Jamie or the street where Black Jack Randall secures lodgings for his sick brother Alex.
I've created a whole list of 8 Outlander filming locations in Falkland that you can read here.
Want to find more Outlander locations nearby?
There are so many Outlander locations in Scotland that you can visit in and around Edinburgh and beyond if you're on the Outlander trail.
In the city of Edinburgh, you can find lots of Outlander locations on the Royal Mile, including Bakehouse Close that was A Malcolm's print shop. There is also another close, Tweeddale Court where Claire and Fergus were reunited too.
Or, you can follow their footsteps to The World's End Tavern where they saved Mr. Willoughby. Why not treat yourself to afternoon tea in the Colonnades? Their Signet Library was transformed into the Governor's mansion in Jamaica! Summerhall off the Royal Mile also featured as Claire's lecture room in Boston!
Read More: An Outlander walking tour of Edinburgh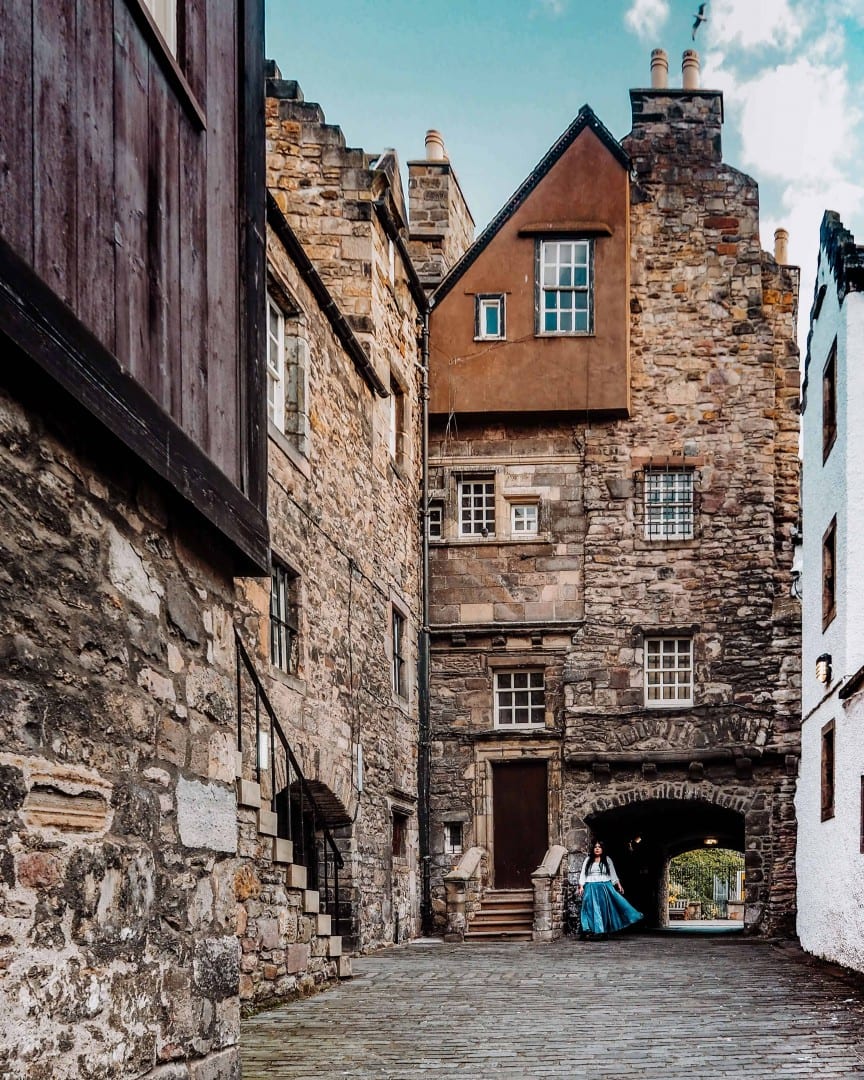 Close by is Glencorse Old Kirk where Jamie and Claire tied the knot.
Ardsmuir Prison can be found at Craigmillar Castle and Roslin Glen Country Park featured in a heart-felt argument in Season one.
Gosford House played Helwater Estate and Preston Mill doubled as Lallybroch Mill.
Lallybroch, the ancestral home of Laird Broch Tuarach, can be found at Midhope Castle. This is on the Hopetoun Estate in South Queensferry where there are over 17 Outlander locations in the house alone, including the Duke of Sandringham's residence, his red room, and Abercorn Church that featured in season 4.
Jamie was flogged at Blackness Castle which played Fort William and Wentworth Prison can be found at Linlithgow Palace.
Bo'ness was where Claire and Frank said goodbye and Culross played the village of Cranesmuir with the Black Kirk nearby.
Doune Castle featured as Clan MacKenzie Castle Leoch, Deanston Distillery is home to Jared's wine warehouse in La Havre and Drummond Castle Gardens featured as the Palace of Versailles grounds.
Heading to Glasgow? Make sure you read my full list of Outlander sites here.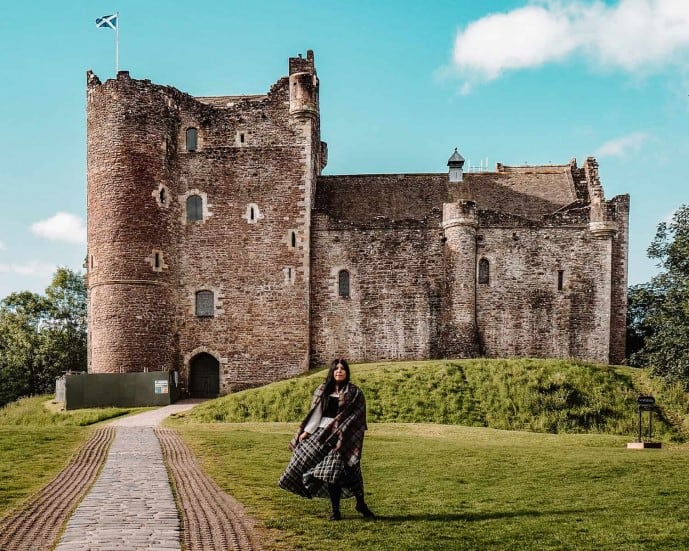 I was not sponsored by The Covenanter Hotel for this review. I just loved my experience as an Outlander fan and wanted to share!
Like it? Pin it!