It has always been a dream of mine to sail down the Nile on a cruise ship. But, having read so many negative reviews, I was struggling with choosing one as I didn't want a bad experience! That was until I found the MS Mayfair Nile Cruise.
By all accounts, the MS Mayfair is a 5* luxury cruise ship. You won't have to sacrifice comfort here.
The freshly decorated cabins are roomy and quality, the staff wait on you hand and foot, there are no hidden charges for the facilities, the food is hygienic and it actually comes at an affordable price unlike some of the other premiere cruise liners in the market.
Whether you're here to find out more details about the MS Mayfair Nile cruise or to decide on whether to book; this ultimate MS Mayfair Nile Cruise review should clear everything up.
So, all aboard the MS Mayfair, let me show you around!
FYI – this post is NOT sponsored by MS Mayfair in any way, I just loved my experience and wanted to share!
Things you need to prepare before you visit Egypt
Don't forget travel insurance for Egypt, it's quite easy to get ill here! I always choose World Nomad's as they have great policies at a competitive price.
Egypt uses the Egyptian Pound (EGP) as currency and I found it easier to get some out at the ATM. 1 British pound = approx. 22 Egyptian pound. Cards are accepted in most hotels but I'd use cash for shopping and attractions.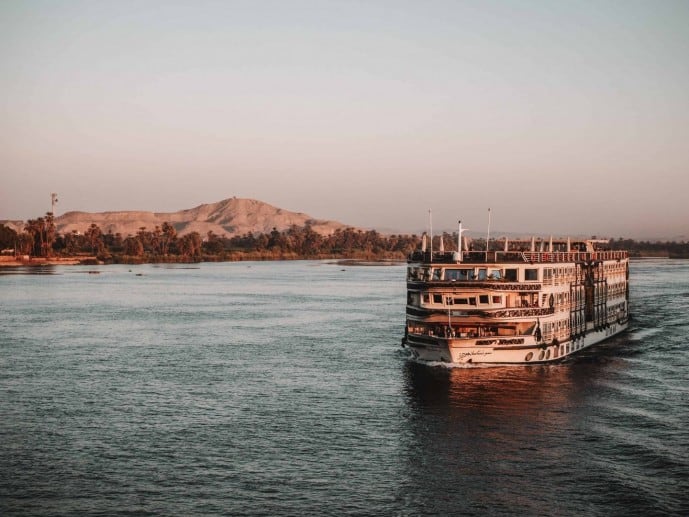 Tips for choosing your perfect Nile Cruise
There are so many types of cruise ships that make their way between Aswan, Luxor and vice versa every week even in off-peak season.
You can go on luxury cruise ships, mid-range, budget and even ride down the Nile on a felucca boat!
But, there are some things you need to know before you book your cruise.
Things to look out for before you book
No cruises run from Cairo. These only run from Luxor to Aswan and vice versa. Most tourists travel down to Luxor or Aswan from Cairo by flight or overnight train.
Always look at what is included in the price onboard – A cruise may seem cheap, but you need to understand what comes with the price. Many cruise ships make their money by charging for drinks, amenities like the pool (!) and WiFi.
This will be your only provider of food for four to seven days straight – Most cruises are full board, so you want to make sure you book in with a hygienic company. The last thing you want is food poisoning to ruin your holiday!
Check if excursions are included – If you book in the cruise company directly, you will most likely not have attraction prices included, a guide or transport in getting there. So, that cheap price, quickly rises up by a few hundred dollars! I would personally book it in with a tour company like Memphis Tours as then all your attractions and transport are included making it far better value.
Cruises don't run every day – the MS Mayfair goes on a Friday from Aswan and then on a Monday from Luxor. So I would make sure you book your cruise first, then work your other travel plans around it.
The train is only four hours between Aswan and Luxor – if you've made a blunder with your plans (like I did) and need to get to Aswan or Luxor for your cruise; no biggie. The train took four hours and it's super cheap. My first class carriage cost £100EGP (£4)
Is it better to start from Aswan or Luxor on a Nile cruise?
I think there is no right or wrong way and this all depends on your travel plans and preference.
Most tourists start from Aswan, the furthest point south, then cruise up north to Luxor, moving onto Hurghada on the coast of the Red Sea.
But, you can always start in Luxor and then end your travels in Aswan. If your primary concern is budget, then the cruise that starts off in Luxor is slightly longer by one day, so it will cost slightly more.
As before, the MS Mayfair Nile cruise runs from Aswan every Friday, then from Luxor every Monday.
They run in the same order, serve the same food and stop at all the same sites. You just may have different nights of entertainment as these change daily.
Another option is a seven-day cruise. Going from Luxor to Aswan and then back to Luxor on the same route stopping at the same sites again. This way you can relax more instead of those early wake-up calls for temple hopping.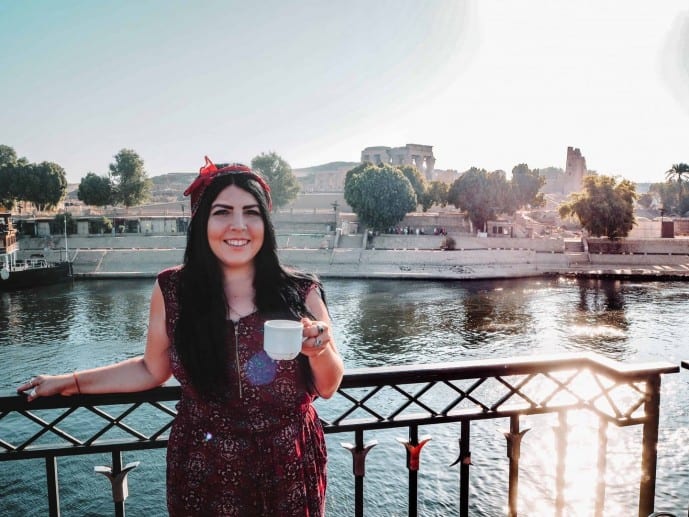 All aboard: the ultimate MS Mayfair Nile Cruise review
As I stepped off my minibus and onto the dock. I was so excited to board and rightly so. As I walked over the plank, I walked through the doors and into the lobby.
I was in Pinterest heaven; the decor was bright, elegant and exquisite. The monochrome floors, huge windows, burgundy red walls…I knew then that this wasn't any ordinary ship! I just stood there, wowed.
The floor manager then greeted and welcomed me personally. He asked me to take a seat on the ruby velvet brocade sofas and handed me a refreshing hot towel to cool off.
Then before I knew it, I had a welcome drink of hibiscus tea in my hand! I had found my happy place.
I checked in and was pleasantly surprised to find my luggage had already been taken to my room!
We walked up the winding staircase and I noticed that no room or floor aboard this cruise ship was dated or shabby. Everything looked brand new and fresh like it had fallen out of a showroom!
I was so impressed by the whole experience for the four days I was there, I wanted to share a detailed review with you and why the MS Mayfair is one of the best choices for your Nile cruise in Egypt.
MS Mayfair deck plan
The MS Mayfair has 5 floors aboard the ship, each floor is roomy and spacious.
The Premium cabins and suites are on the Upper Deck as they have balconies. Standard rooms are on the Main deck and Middle Deck. This deck plan was sourced from Nile River Cruises.
Lower Deck (1) – is where you will be eating each day in the restaurant. It's cool as you can see the Nile while you're eating.
Main Deck (2) – lobby and standard cabins and exit
Middle Deck (3) – standard cabins
Upper deck (4) – Is where the bar, entertainment and premium cabins are located
Sun Deck (5) – is for sightseeing, the pool, hot tub, loungers and bar is located
MS Mayfair Cabins
This was really a big deal breaker for me, a lot of the cabins I saw on other Nile Cruises were so old and neglected!
But, the cabins on board the MS Mayfair looked brand new with bright white paint and elegant touches like old photographs of ancient Egyptian sites.
Each room has a huge window overlooking the Nile letting in lots of light which was perfect.
If you have the cash then the balcony suites are a great option. But, I just couldn't justify the extra couple of hundred dollars.
My room had clean and comfy twin beds that the cabin crew put together for me. The mattresses and pillows were actually comfy and you could almost sink into them!
Then I had a desk with a beauty mirror, two chairs to lounge on, loads of plug points and a flat-screen TV above a chest of drawers.
On top was a kettle with complimentary tea and coffee throughout the day. I'd also have two free bottles of water topped per day in my cabin with room service.
The rooms also had a wardrobe with a safe inside to keep valuables and an ironing board (!).
I love the little touches and it was really sweet to receive a free fruit bowl on entering with a little note to welcome me on board! It really does make all the difference with service.
The bathrooms aboard the MS Mayfair
Let's just say, my worst nightmare would be to have an old and dirty bathroom. Especially for a couple of days on a cruise ship!
On the last backpacker cruise I went on, we had a shared bathroom and were told we could only have a navy shower for 5 minutes each to conserve water.
Well, I was relieved when I saw the absolutely stunning bathroom on the MS Mayfair. It had wooden floors, mirrored walls, a huge beauty mirror and an Art Deco style cabinet. I was in love! There was also really nice smelling toiletries to use with fresh gleaming white towels.
The best part about it was the epic bathtub and shower that I could actually fit in. Having a bubble bath after a long day of sightseeing was an absolute dream.
Dining onboard the MS Mayfair
I couldn't believe I would actually look forward to eating food on a cruise ship, but the Mayfair really had it all in terms of catering.
There weren't many people on board which the crew told me is the case for many cruise ships since tourism is suffering. So, that meant we could have our own table. I, of course, picked a booth ;).
Meals would be a mixture of buffet food and an al la carte menu and you can bet that it was 3 courses if not more if you wanted seconds!
The different types of meal options on the MS Mayfair
The breakfast buffet – a selection of fresh bread and toast, cereal bar, fresh omelette, poached egg and pancake station, waffle bar, yoghurts and a massive selection of fruit. There were also Egyptian options. Unlimited free juice, tea and coffee.
Lunch buffet – a selection of bread, fresh pasta station, fish selection, meats, rice, fries, Egyptian specialities, fresh vegetables, salad options, fresh deserts. Water is free, soft drinks and alcohol at an extra supplement.
Dinner buffet – my favourite. They would have different 'themes' each evening. Eastern theme, Italian, French. I particularly liked the Eastern theme which came with Shwarma grill, kebabs, rice etc. and the deserts were traditional also like Umm Ali. Water is free, soft drinks and alcohol were an extra supplement.
Al La Carte – This really sets the other cruises apart. The al la carte menu's were always nothing but high quality. One night we even had beef wellington! So, how it works is that at lunch the staff will ask you to choose your meals for the evening. One starter (usually a soup or salad), a main course out of 4 choices and a selection of deserts would be available to choose from at a counter.
Afternoon tea and snacks – on the sun deck each afternoon at sunset, we would be served complimentary tea/coffee with some biscuits and cakes. It was super scrummy.
MS Mayfair swimming pool and hot tub on deck
The sundeck on the MS Mayfair was simply incredible. There were ample sun loungers, a refreshing pool to swim in and even hot tubs. All paired with a bar to keep you loaded up with a drink in hand.
The best part was when we were cruising down the Nile and you could lounge in the shade and watch the world and other ships go by. Or, even better, when we pulled up to shore and we were opposite the ancient sites!
The amazing thing is that, aside from the bar, all the amenities were free to use. Including complimentary pool towels.
A lot of cruise ships charge for using the pool and towel hire but aboard the MS Mayfair, they were included in your cabin price.
The bar and evening entertainment on board the MS Mayfair
The bar was a great place to stop in the evening after dinner if you wanted some entertainment or a nightcap before retiring for bed!
On the first evening, we had a welcome drink in the form of free cocktails, both alcoholic and non-alcoholic.
I definitely snapped these up when I looked at the bar menu prices. Alcoholic drinks are not cheap, I'm talking £12GBP for a shot of Gin without tonic. So, when you're offered free alcohol in Egypt, you take the free alcohol in Egypt!
There were a few 'forced fun' moments with the Galibeya parties where all the guests should wear Egyptian style clothes. But, there was also some great entertainment like belly dancing and a Sufi dance which was mesmerising!
Where does the MS Mayfair stop on the Nile Cruise?
The Nile Cruise usually stops at around 4 places on the trip. I'll take you through the itinerary if you were on the MS Mayfair Nile Cruise;
Day 1: Aswan – check-in and spend the day sightseeing in Aswan, Lunch and dinner included. Sail overnight to Kom Ombo.
Day 2: Kom Ombo – wake up in the morning and have breakfast and then explore Kom Ombo temple, have lunch and make your way to Edfu.
Edfu – pull up and take a horse and carriage ride to Edfu temple, then come back to the ship.
Esna – sail onto Esna to travel through Esna Lock, have dinner. Sail overnight to Luxor.
Day 3: Luxor – Wake up to Luxor in the morning have breakfast, explore the West Bank. Lunch and dinner included.
Day 4: Luxor – The next day have breakfast, check out then disembark (last check out at 8.30 am), continue sightseeing on the East Bank. Only breakfast is included on the last day.
The only thing I have to say is it is quite disappointing the amount of time you actually sail down the Nile. I think it was really only one full day. My favourite part was sightseeing along the way so I would have loved an extra day sailing.
MS Mayfair excursions
Day 1: Start off sight seeing in Aswan
Usually, if you're starting in Aswan on the first day, you check in around 11 am on the boat. You're shown to your cabin, given time to organise, freshen up and then have lunch on board.
Then, you're given free time to explore Aswan. If you're like me and have booked with a tour company, you'll then be taken around the sites in the city.
Our group started off at the Unfinished Obelisk, then we went to the Aswan High Dam, then finished off the day with a boat ride to Philae temple. Then we were taken to Tuthmoses perfume palace to buy some perfumes.
If you would like to know more about things to do in Aswan, then see my full blog post about all the things to do in Aswan here.
Day 2: Sail from Aswan to Kom Ombo Temple
I loved waking up to see that the Nile cruise had pulled up opposite the temple. From here, Kom Ombo temple was only a short walk five minute away from the dock!
After breakfast, we then spent around an hour at the temple taking a tour of Kom Ombo with our guide.
Kom Ombo Temple is located around 50 kilometres from Aswan and was built in the Greco-Roman era. It was built in honour Sobek, the crocodile god and Horus the falcon-headed god.
It was dedicated to Sobek as there used to be a huge amount of crocodiles that used to terrorise people in the Nile around this area. So, they believed if they dedicated the temple to the animal, it wouldn't attack them.
As a result, many crocodiles were held captive in the temple and were also mummified once they died. There's a crocodile museum where you can see them that's included in your Kom Ombo ticket price.
Sail and stop at Edfu Temple
Next up is an afternoon of sightseeing at Edfu temple.
This is one of the most impressive due to the fact it has been preserved so well and many of the rooms are still intact to explore. You can even climb up to certain parts of the temple which, for a history geek, was like a dream come true!
The cruise ship will dock up around a few kilometres away from the temple. Most tour groups will grab horses and carriages to get here. If you prefer, you can pay for a taxi or rickshaw (3 wheeler).
On my cruise, the return ride was included but tips were expected for the drivers.
At first, when you enter the temple you are greeted with this epic facade. The temple is dedicated to Horus the falcon-headed god so you'll see lots of statues and carvings to honour him here.
This temple was built in 57BC but throughout the time it had been an ancient settlement and graveyard from as early as 3000BC (remember BC goes backwards).
In its prime, it acted as a cult centre for Horus of Bedhet and inside the rooms, you can find hieroglyphics about how to make offerings like honey and perfume.
There are many anti-chambers, offering halls and even a replica boat which would carry Horus' statue to the Nile on special occasions. The Nile used to flow right up to the temple but over time it now flows further away.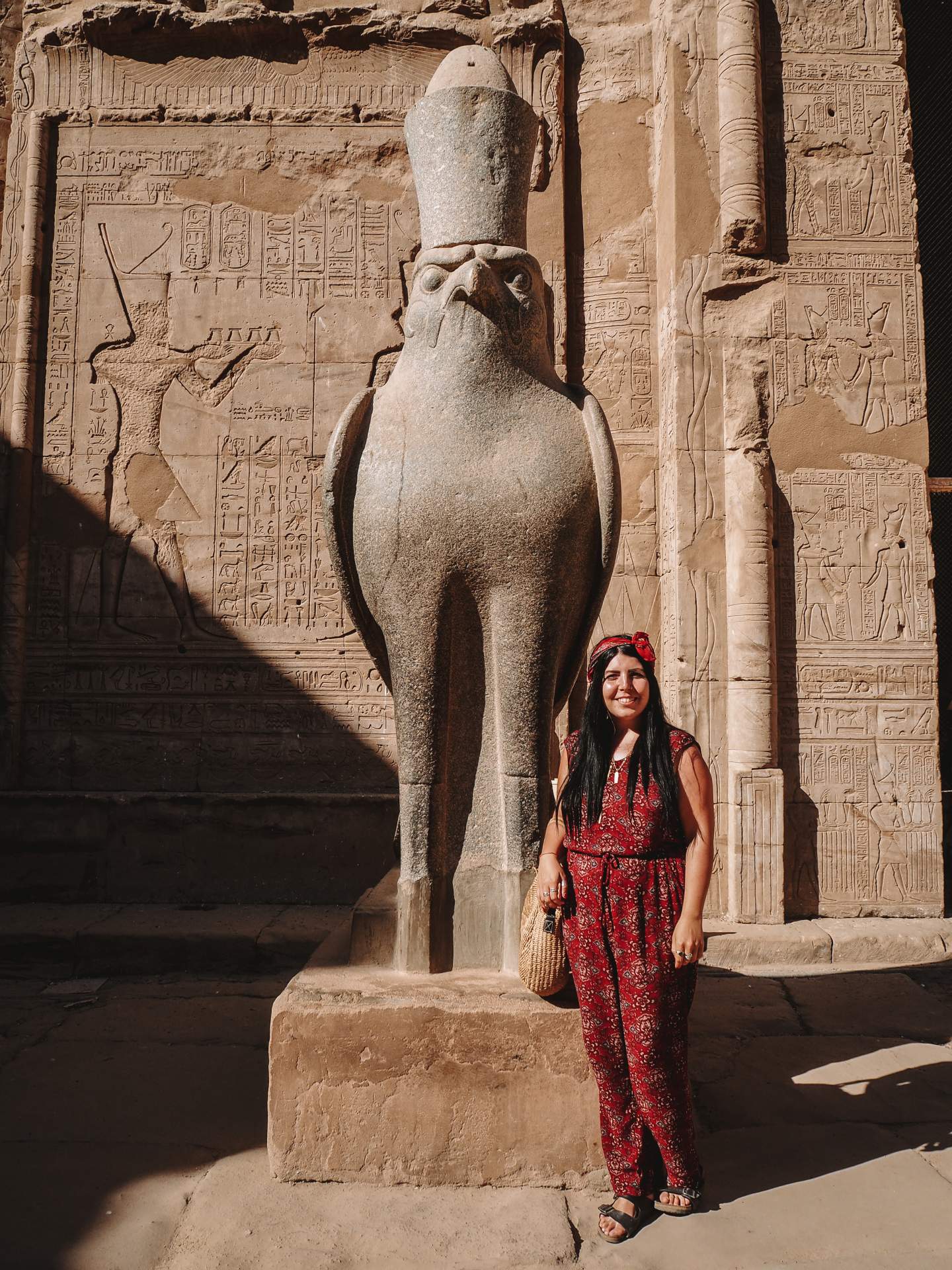 Watch the cruise ship travel through Esna lock
Not a stop in particular, but fans of boats and river locks will love the famous Esna crossing!
To allow the boat to cross through the lock, the boat has to dock into a bay and the water is lowered there in order for the water to clear out. So, while you're having dinner you can actually feel the ship submerging down.
The whole process takes around 2 hours and it's quite interesting to see it all in motion.
Watch out for the traders who get on their rowboats to sell their wares to cruise ships passing by! They will quite literally throw scarves and jewellery at you on board to buy.
Day 3: Explore the West Bank of Luxor
Once you've landed in Luxor, you will have arrived at the world's largest open-air museum. From here, you will be first exploring the West Bank;
The Valley of the Kings – This is a must see in Luxor, the valley of the kings is a famous burial sight which was made famous by Howard Carter with the discovery of Tutankhamun. Here you can see 3 burial chambers with your ticket. You can also buy an extra ticket to see King Tut for yourself. I have a whole post on the best tombs to see in the Valley of the Kings here.
Temple of Hatshepsut – the mortuary temple of Queen Hatshepsut is a marvellous piece of ancient Egyptian architecture. It's famous due to its astronomical alignment and the lasting legacy of ancient Egypt's longest-serving queen.
Day 4: Disembark and explore the East Bank of Luxor
The East bank is closer to where your Nile cruise is docked up and, on our tour, we explored these after we checked out of the ship;
Luxor Temple – an incredible temple which is right in the city centre, this was a five minute walk from our cruise dock. This is a must see and you can even visit to see it lit up it in the night time. For more amazing things to do in Luxor at night see here.
Karnak Temple – a little further afield but far larger and more impressive. This is where the famous 100 meter high pillar apostle hall is located. I have to admit, I saw this alone at sunrise and in a group and much preferred it at alone at sunrise. It's too busy in the day. There is also a sound and light show here in the evening.
Read my ultimate 3 day Luxor itinerary here!
Is WiFi included on board the MS Mayfair?
If you're worried about keeping in contact back home, then don't fret.
The MS Mayfair has free WiFi for passengers on board. But, it only really works in public areas. Luckily, there are super comfy sofas to chill out on while you surf the web!
It's not the fastest, so, skyping can be a challenge! If you did want 24/7 fast Wifi I would opt for buying a data SIM card at the airport for your phone before you board.
Tipping while on board the MS Mayfair Nile Cruise
Instead of tipping each crew member individually per day, tips are usually paid at the end of your cruise when you check out.
You can pay this in cash in either dollars or Egyptian pounds. Or, add it onto your final bill when you pay for your drinks and extras you bought on board.
Crew ship fees are different from porter fees. So, you can pay a tip to the nice guys who help you with your luggage when you get here or before you leave.
As cruise ships aren't as full as they used to be, I gave a little more than expected. These guys do an amazing job and probably made a lot more before tourism went down so dig deep!
How much is a MS Mayfair cruise?
Ah, the all mighty question. Well, all in all, my Nile Cruise cost me around £700 for a single cabin with Memphis Tours. This was the cheapest I could find it.
This does sound like a lot but if you break it down by day;
3 nights/4 days of 5* accommodation
3 buffet, quality meals per day
Afternoon snacks included
Free water at all times
All tourist attraction tickets paid for
All transport paid for
So, per day that works out at £175 a day for all that which I think is a steal! Not to mention that all the stress of organising the transport and tickets is covered. The experience was worth every penny!
A day out at the West Bank independently cost me around £60GBP without lunch if you count up the transport, attractions, water and food so it's good value.
Dates are cheaper in the offseason. To check rates and dates available for the MS Mayfair see here.
Nile Cruise for a solo traveller
As I was travelling solo, I was a little worried that I would have to share my cabin, tables and that people weren't going to be friendly. Or worse, I wasn't going to talk to anyone at all.
But I shouldn't have worried, doing it with a tour group was great as it meant I got to meet loads of new people. Plus, the tour guide Eid was really friendly.
He was a qualified Egyptologist and great to ask questions. He also checked if I was okay as I was alone and took photos for me!
You will pay more as a solo cabin user. I think they usually charge per person that's why. But, I got my own spacious cabin, my own dining table and there was enough space on the ship if I wanted alone time.
Sailing onboard the MS Mayfair is a 5* luxury experience at an affordable cost
The MS Mayfair was such a dream to cruise up the Nile with. From the moment I arrived at the moment, I checked out it was a luxury experience.
In the mornings I woke up to a nutritious breakfast and views to die for. After every sightseeing day, we would receive cold towels and a refreshing drink.
In the afternoons we'd enjoy lunch and then tea and cake. In the evenings there was a delectable dinner and things to entertain you.
All the meals were incredible, the staff waited on you hand and foot, the cabins were high quality and I will cherish the memories of seeing the ancient temples from my cabin onboard forever.
If you're looking for a luxury Nile cruise at an affordable rate, MS Mayfair is at your service! You really won't regret a holiday on the Nile with them, don't miss out.
I was not sponsored by MS Mayfair to write this post. I just had a really good experience and wanted to share! All opinions and photos are my own
Read more of my Egypt articles
My perfect 2 week Egypt Itinerary
The perfect Egypt packing list
The most Instagrammable places in Egypt
My guide to the Valley of the Kings
Top places to visit in Luxor at night
The perfect guide for Abu Simbel
My survival guide for the pyramids
Why you NEED to visit Alexandria
Top tips for riding a hot air balloon in Luxor
Save this MS Mayfair Nile Cruise Review for later!