One of my favourite places that I visited in Ireland was the evocative ancient ruins of Muckross Abbey in County Kerry.
They are tucked away on the Muckross estate near Killarney and date back to the 15th century when it was founded as a Franciscan Friary.
Abbey ruins are not unique in Ireland, but the reason why Muckross Abbey is so special is due to the magical ancient yew tree that grows in the cloister courtyard.
It looks like something from a fairytale or fantasy world. You could be fooled into thinking you've been transported to Tolkien's Middle Earth.
It's very easy to visit in Killarney National Park and it's also a popular stop on the Ring of Kerry road trip.
Here is a complete guide for visiting Muckross Abbey with opening times, prices and what to expect!
Muckross Abbey history
The name Muckross derives from the Irish word 'mucros' meaning 'pig wood'.
Although it stands in ruins today, the abbey was actually a Franciscan Friary that was founded by lord Donal McCarthy Mór around 1445.
The friars here were of the Observantine chapter who were very strict to their vows of chastity. They lived a hard life, without material possessions or luxuries, and were extremely devout.
It was a major burial ground for clan chieftains and even famous Kerry poets. Geoffrey O'Donoghue, Aogán O'Rathaille and Eoghan Ruadh O'Suilleabhain are all buried on the grounds.
Despite it being a major religious institution, it had a turbulent history. During the English Reformation, there were multiple raids and attempts to close it.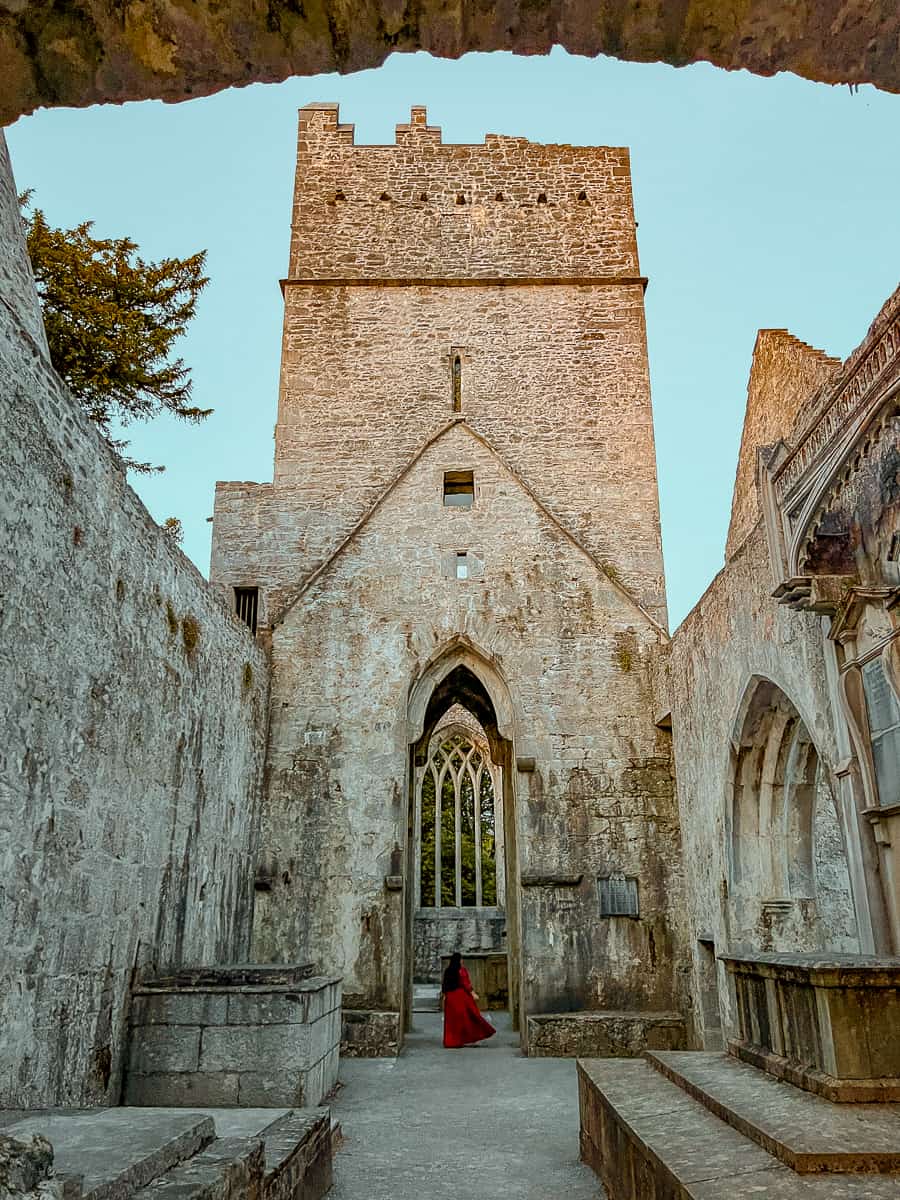 It was severely damaged and rebuilt several times. But, friars still prevailed and continued to live here.
Oliver Cromwell finally persecuted the remaining friars who were there under Lord Ludlow's permission in 1654. The abbey was then abandoned and later burned to the ground leaving it roofless.
Despite this, the friary is still very well preserved with many of the rooms and towers still standing. It sits on two levels with an accessible chancel, cloister courtyard and stairways.
The ancient oak tree that grows in the middle of the cloister quad is thought to be well over 400 years old. Some even say it could be as old as 800 years.
Today, it still lies in ruins but is a tourist attraction in Killarney. It's a popular stop in both Killarney National Park and the Ring of Kerry!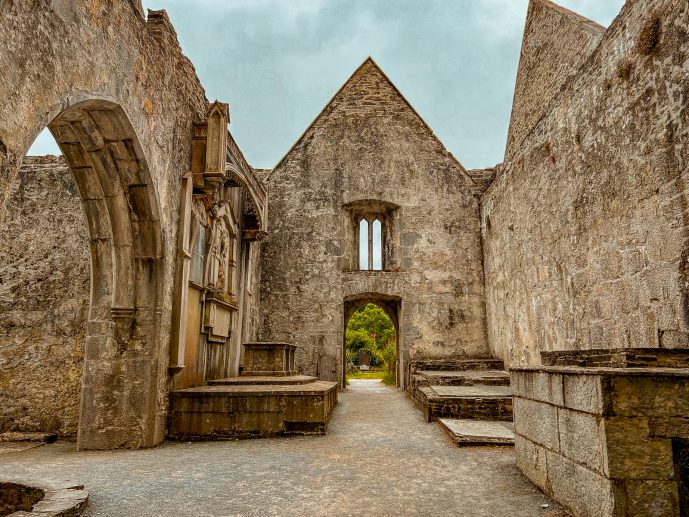 The Rock of Music
There are lots of local legends that surround this atmospheric ruin and one of them is the 'Rock of Music'.
One of the famous ones is that McCarthy Mór had a dream that he would build an abbey called Carraig an Ceól or 'the Rock of the Music'.
McCarthy and his men searched all over the land for the right place similar to his vision but couldn't find anything.
It was only when they were riding through Irrelagh did they hear a girl singing whilst sitting on a rock.
McCarthy Mór then decided to build Irrelagh Abbey by the 'Rock of Music' for the Franciscan Friars.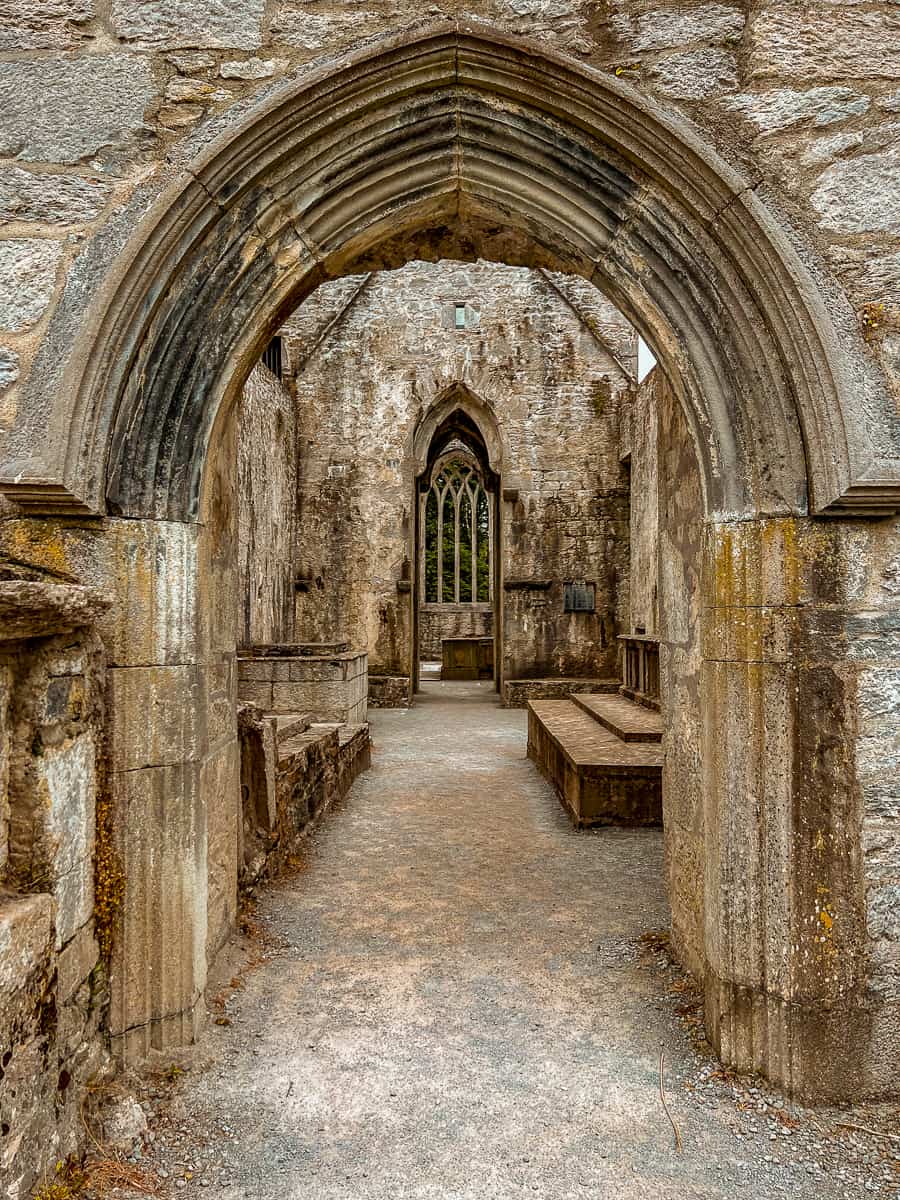 Where is Muckross Abbey in Ireland?
Muckross Abbey can be found near the town of Killarney in County Kerry of Ireland and is located in Killarney National Park.
It's easy to access from the N71 which is the popular Ring of Kerry Road. Many people follow the loop for a road trip around the Iveragh Peninsula.
It's 7.2 kilometres from Killarney, 2 kilometres from Muckross House and 3.5 kilometres from the famous Torc Waterfall.
Muckross Abbey address is Carrigafreaghane, Co. Kerry, Ireland. Click here for a Google Pin!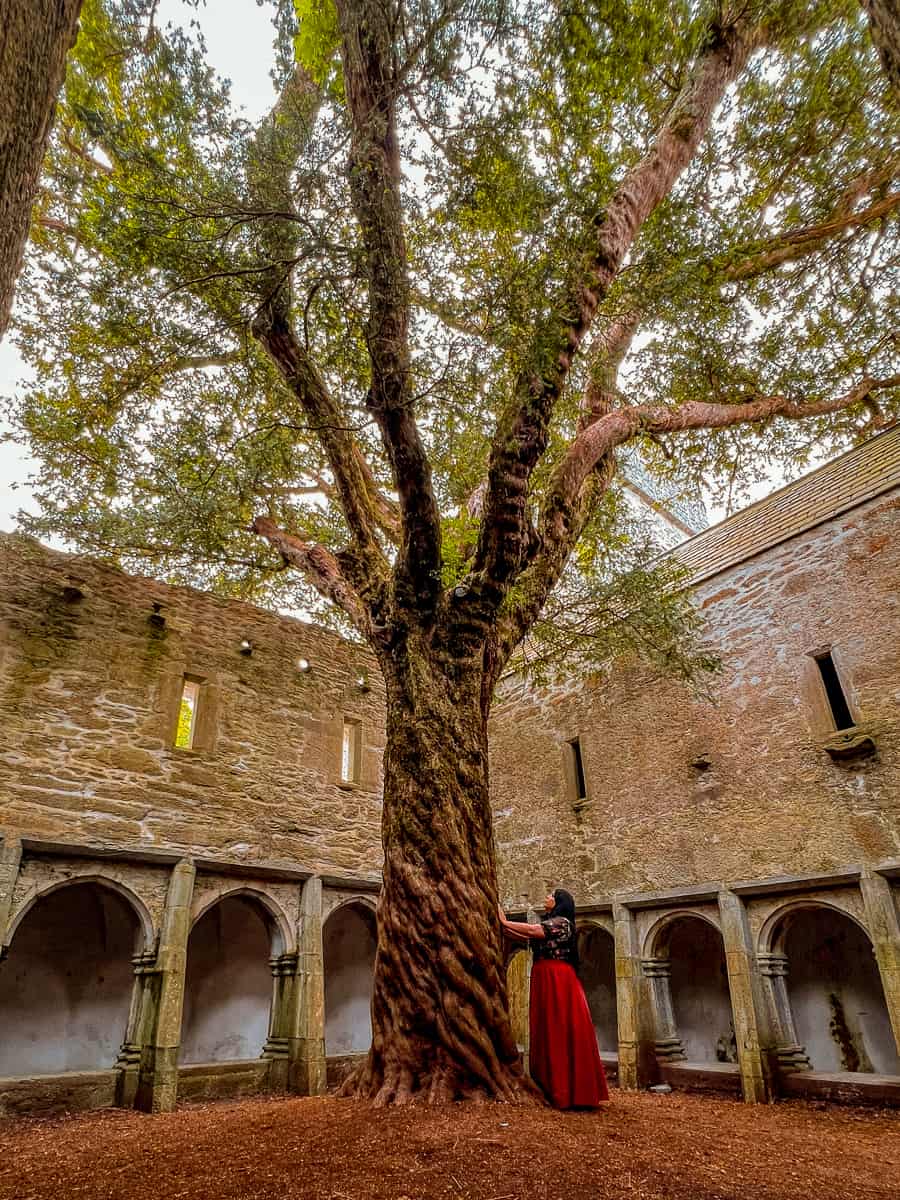 How to visit Muckross Abbey
The easiest way to visit the ruins would be to drive. It's only a 10-minute drive away from Killarney town on the N71 road. So, many people visit as part of a Ring of Kerry road trip.
But, you can also cycle to the abbey or walk to it from Killarney or the nearby Muckross House & Gardens. It's also a stop on the Kerry Way national trail.
If you are driving, there is a dedicated Muckross Abbey car park that you can use to visit the ruins. It's very convenient as it's only a 5-minute walk to the site from there.
Muckross Abbey parking
There is a small parking area that you can use to visit the abbey ruins (click here for a Google pin). You'll see a brown tourist sign pointing towards it on the N71 / Ring of Kerry Road.
The turning for the Muckross Abbey car park is a little before you reach the turning for Muckross House & Gardens if you're driving from Killarney.
Parking here is completely FREE but spaces are limited and they can get full during the day. Especially in the summer, bank holidays or weekends.
I would personally visit early in the morning or later in the evening to guarantee a parking space.
Note: there are several 'jaunting' spaces in this car park for horse and carriage rides. Keep these spaces free for them, they are very strict on it in Killarney. It's their business at the end of the day.
Muckross Abbey walk
From the parking area, you'll need to walk to the abbey for around 550 metres and it will take around 5-10 minutes.
Head through the entry gate adjacent to the car park and walk through the Muckross estate on a wide-open road. Don't forget to say hi to the cows grazing here, they are always curious.
As you walk on this road, you'll see the abbey ruins start to appear through the trees to your right.
Keep walking and then when you enter the forest area, then turn right after you pass the gate. Keep heading through the woodland and eventually, you'll loop around to the left to enter the abbey grounds.
You'll know you've arrived by a huge tree and an old historic wall with an archway. This has an information board about the history of the abbey just outside of it.
Walk through the archway and you'll arrive in the graveyard. Follow the path that loops around and you'll eventually find the main entrance to the abbey ruins.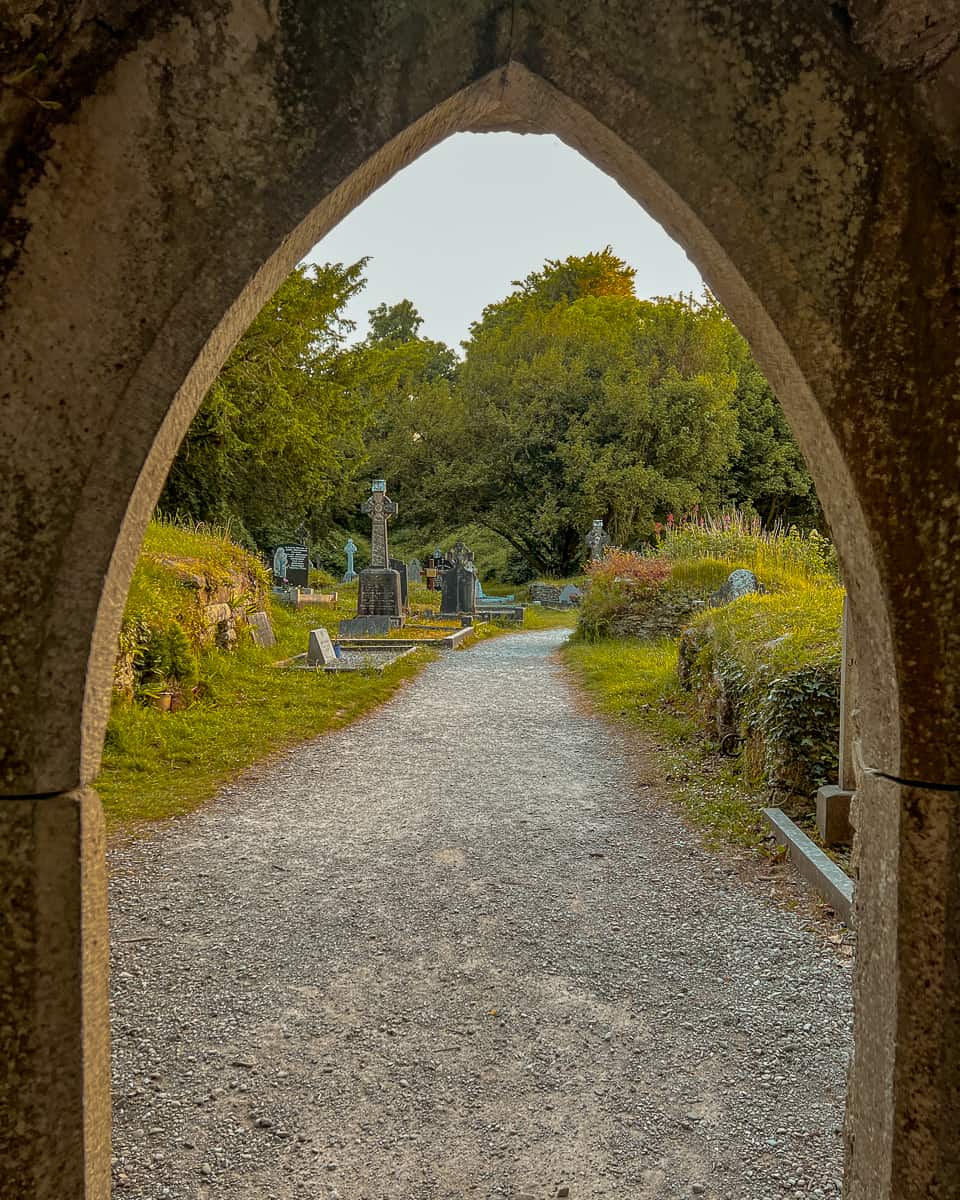 Things to see in Muckross Abbey
So, what is there to see at Muckross Abbey when you arrive? Well, there's surprisingly plenty.
Although it is a roofless ruin today, most of it has been preserved very well and so you can uncover two floors of history.
There is the friary, chancel, tombs, cloisters, a tower, staircases, and the magical ancient yew tree!
Abbey ruins
As soon as you enter the abbey ruins you'll enter the oldest part of the friary which is the nave and chancel. From the bottom floor, you'll see the tall tower.
In the chancel, you'll find window frames, the remains of a piscina and the sacristy. There are several tombs that date back to the 17th century and 18th century with ornate carvings.
You'll also find the refectory where the friars used to eat and the kitchens that also doubled up as a storage rooms.
Plus, there are the remains of the chapter house and the dormitory where they would sleep upstairs.
Abbey cloister courtyard
If you head north towards the middle of the ruins, you'll come across an ancient cloister courtyard.
These cloisters provided a secure outdoor space for the friars within the protected walls and provided a space for reading and reflection.
You can walk around the entire quad and you'll even see an old map of the abbey painted on a tile there.
But, it's what lies in the middle of the courtyard that is truly spectacular and what many want to see.
Magical ancient yew tree
The reason why I wanted to visit Muckross Abbey and fell in love with it was because of the ancient yew tree that grows in the middle of the cloisters.
It's thought to be over 400 years old, so it's very tall and its gnarled trunk appears to be rippling.
You're free to enter the middle of the courtyard and get a closer look at the ancient yew tree.
If you give it a hug, you'll find that it's very warm to the touch and feels like it has an untapped energy.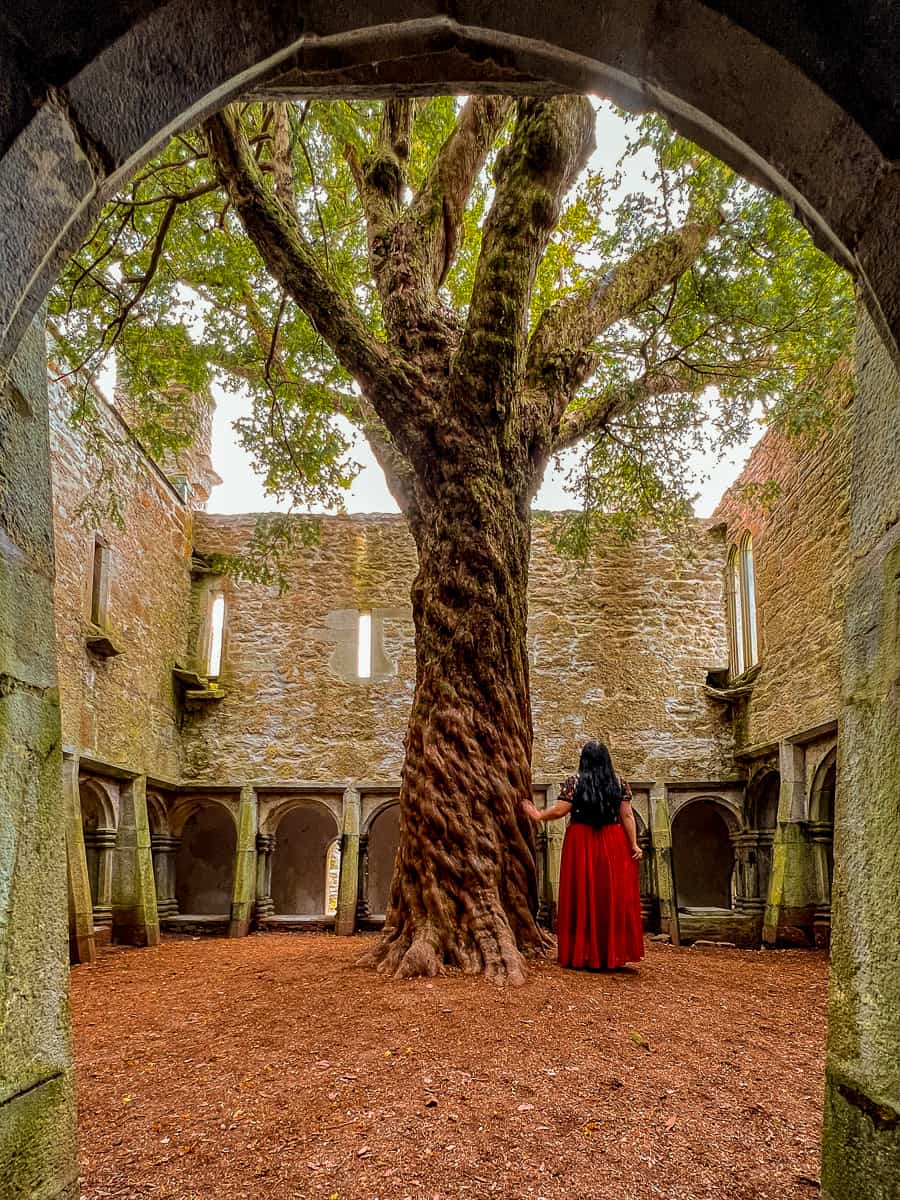 There is a legend that an image of the Virgin Mary is buried beneath this tree and that anyone who damages the yew would die within a year.
It's completely magical and feels like you're in a fairytale. It makes a fabulous photo opportunity too.
You can get a great view into the courtyard below from the upper levels. There's a small room at the bottom of the abbey tower where you can look down below through the 'windows'.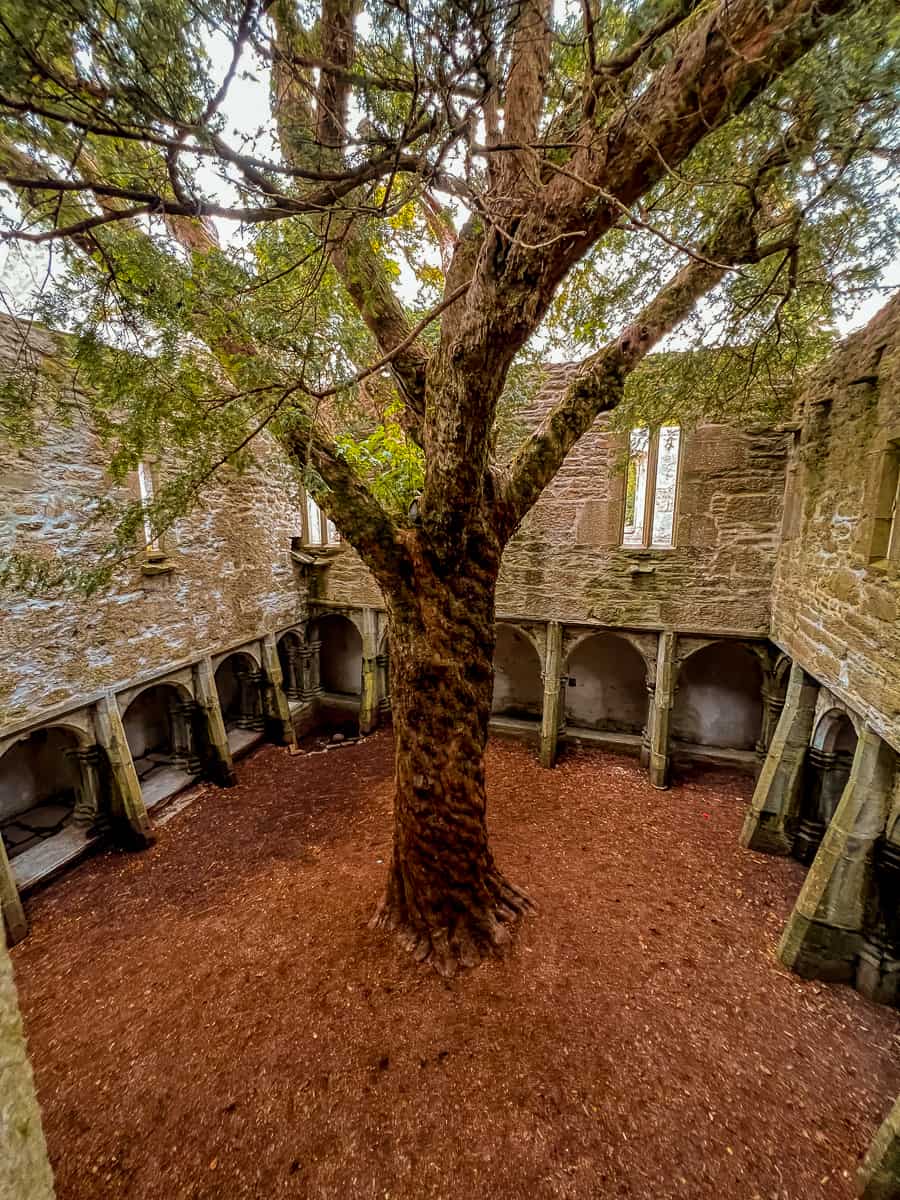 Climb the abbey tower
Although the abbey is roofless, it does have a second floor you can visit. From the cloisters, you can climb up the dark tunneled staircases and arrive at the dormitories.
You can then climb up another set of steps to explore the main abbey tower.
Although you can't climb to the very top of the tower and it's empty, it's still interesting to explore what's left.
Just below the tower, there are some smaller rooms that let you look down at the cloisters and graveyard below.
Explore the graveyard
After you've explored the ancient abbey ruins, you can take a stroll through the graveyard just outside.
There are lots of benches dotted around so you can sit and relax as well. It was very peaceful, especially at sunset.
It was a major burial ground for the McCarthy Mores and the O'Donoghues of the Glens in the 17th and 18th centuries.
You'll find the famous Irish poets O'Donoghue, Ó Rathaille and Ó Súilleabháin buried inside and Piaras Feiritéar in the graveyard.
Muckross Abbey opening times
Muckross Abbey is a ruin that doesn't require an entrance ticket, so it technically doesn't have opening times either.
You could visit these ruins any time you like but I wouldn't recommend visiting in the dark as there is no artificial lighting.
Even during the day, the cloisters and stairways had limited light and I couldn't see that well. So, mind your step on the steep stairs and uneven surfaces.
What is the best time to visit?
In my opinion, the best time to visit Muckross Abbey ruins would be as early in the morning as you can.
This is so you can get a parking space and enjoy having the atmospheric abbey to yourself without the crowds.
Due to its position in Killarney National Park and the Ring of Kerry, this abbey can get very busy and sees lots of visitors every day – even until the later hours!
I was here around 9 / 10 pm at sunset in summer and there were still lots of people exploring the place.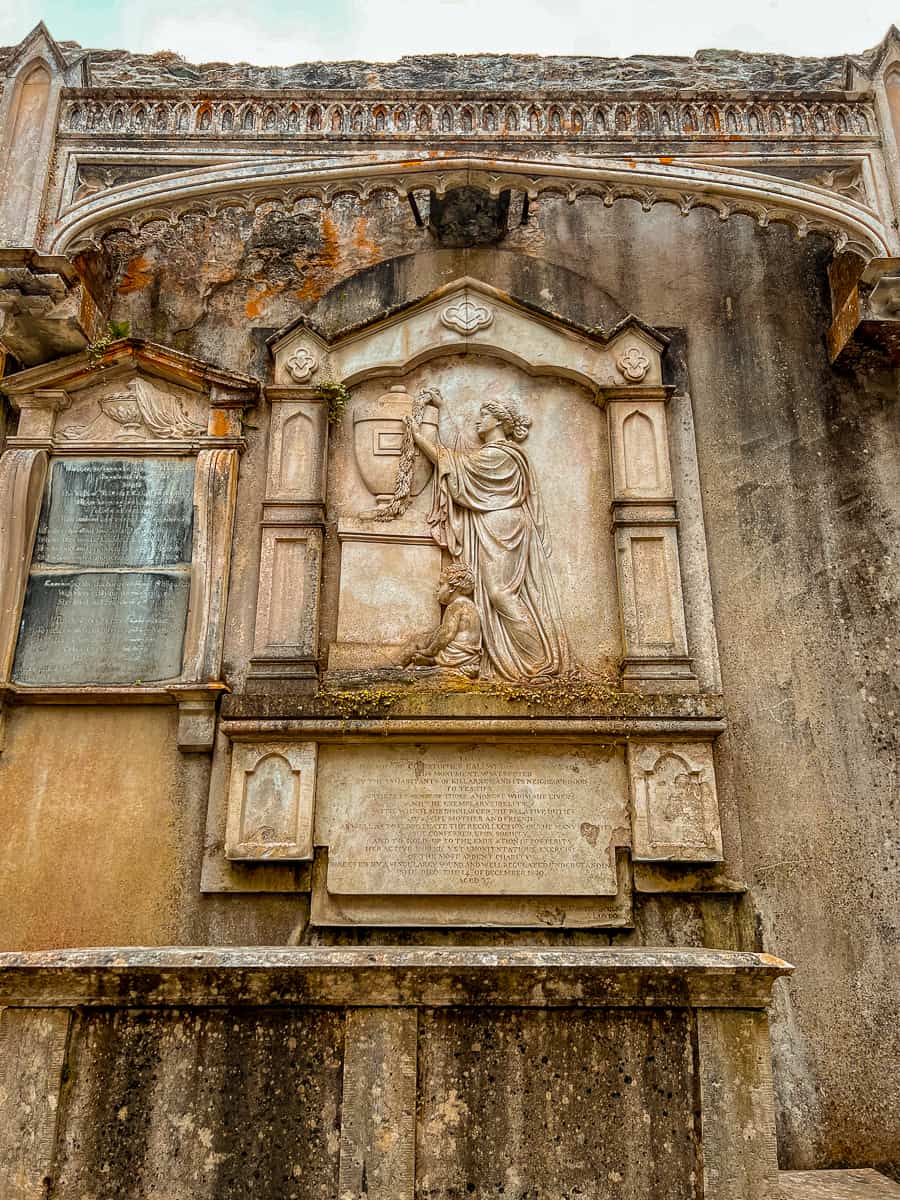 How much does it cost to go to Muckross Abbey?
The amazing thing about Muckross Abbey is that it's completely FREE to visit to the ruins in Killarney National Park.
Even the car parking is free of charge if you manage to grab a space, so it's an incredible budget activity.
I found that most of the attractions in the national park and the Ring of Kerry were free and it blew my mind. This just doesn't happen that often in the South of England.
How long do you need to visit Muckross Abbey?
I would say you will need around 1 hour to visit the abbey ruins to appreciate them fully. You could spend as long as two if you were really keen.
It will take you around 5-10 minutes to walk there each way from the car parking area. Then, there's lots to explore when you get here.
The abbey is like a labyrinth with lots of stairways, cloisters, hidden rooms, towers, and a graveyard. There are lots to see around the grounds too.
Personally, I went twice. Once at sunset (it was too dark for photos really) and once in the early morning. I spent almost two hours here wandering around as it was so fabulous.
I was particularly taken with the magical ancient yew tree in the cloisters. It felt otherworldly and I couldn't get enough.
I'm a big fantasy fan & Romantisy reader and this was just the most magical place!
Is visiting Muckross Abbey worth it?
Yes, yes, a million times yes. Muckross Abbey was one of my favourite places that I visited in all of Ireland.
Not only are the ruins evocative but they also look like something from a fairytale. I've never seen anything like this before.
You could believe you had been transported to a fantasy world when you're looking at the ancient yew tree in the cloister courtyard. It felt like something akin to Tolkien's Middle Earth.
Not to mention, it's a large ruin with many levels and rooms to explore. The very best part is that it doesn't cost a single penny!
Don't skip a visit to Muckross Abbey whilst you're in Ireland, you won't regret it.
Things to do near Muckross Abbey
So, once you've finished exploring Muckross Abbey, where can you head next?
Well, there are plenty of attractions nearby in Killarney National Park and the Ring of Kerry.
Here are some attractions that I would highly recommend;
Muckross House & Gardens
Just nearby, you'll find Muckross House and Gardens which is a spectacular historic attraction.
It was originally built in the Tudor period but had significant improvements made on an expected visit by Queen Victoria.
The Herbert family put all their savings into it expecting a title. But, that never happened due to Prince Albert's death and the family went bankrupt. Later it was bought by Arthur Guinness.
It's a beautiful house and you can visit the beautiful rooms inside including the rooms made for Queen Victoria.
But, if you didn't want to pay, you can visit the spectacular gardens for free. The park has incredible views over the mountains and lakes.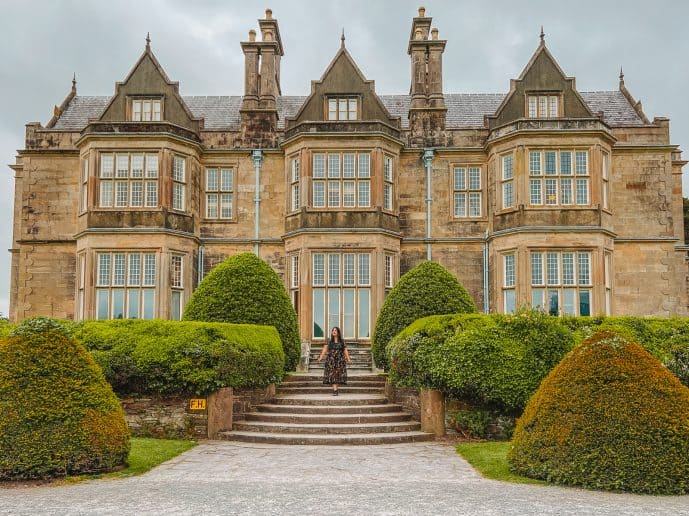 Torc Waterfall
Just a short drive away from Muckross Abbey is the magical Torc Waterfall. It's a 20-metre-high cascade that crashes down into the Owengarriff River.
Torc roughly translates to 'wild boar' in the Irish language. There is a legend that says a man cursed by the Devil to spend his nights as a wild boar used to live in a cave here.
It's a very easy waterfall to access and there is free parking just 200 metres or 5 minutes from the falls.
It gets very busy and the car park is tiny. So, visit early doors to guarantee a parking spot!
Click here to read my complete guide for visiting Torc Waterfall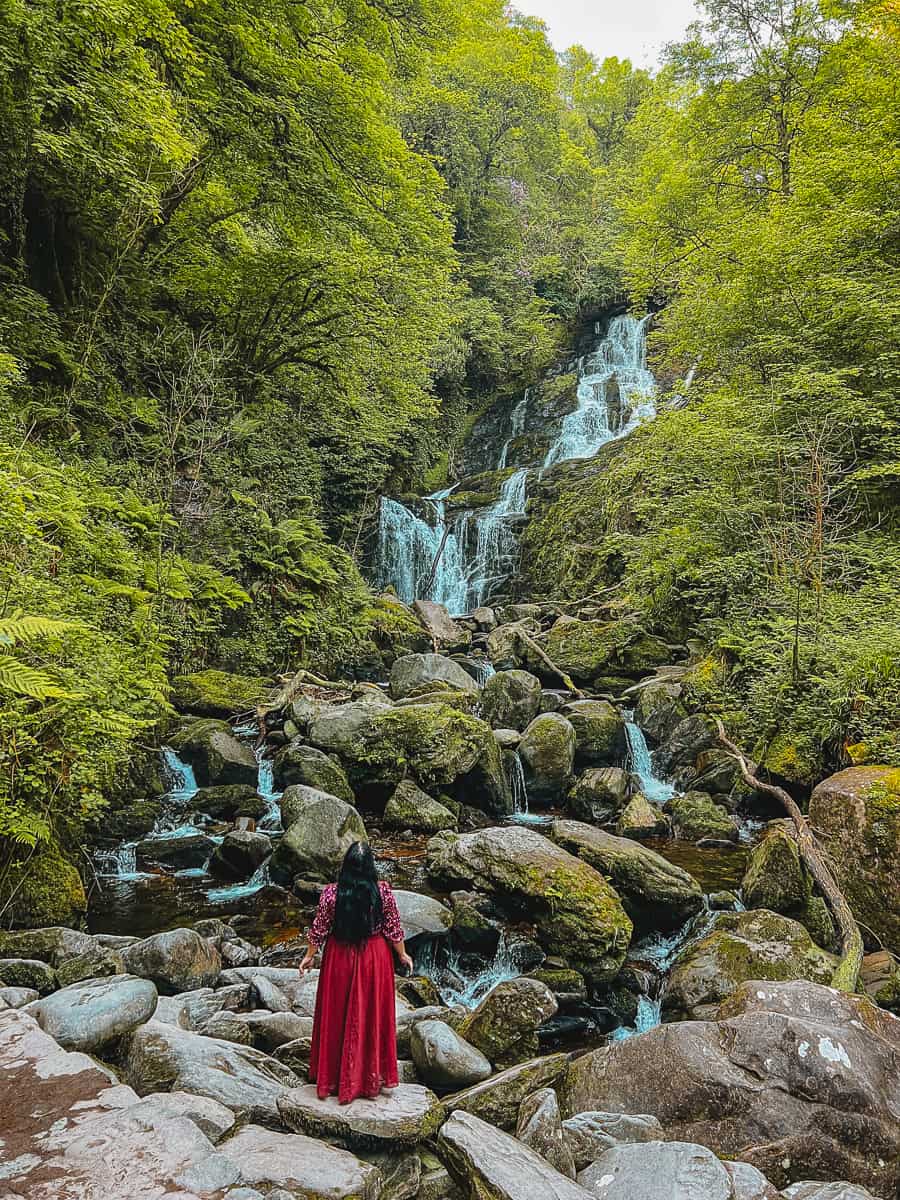 Ross Castle
Ross Castle is another popular attraction in Killarney that sits on an inlet of Lough Leane.
It is believed that the chieftain O'Donoghue Mór built it in the fifteenth century and there is local legend that he still sleeps under the lake.
Every seven years on the 1st of May, he is meant to rise up out of the lake on his white horse!
You can take a tour of the castle for 5 euro but pictures aren't allowed inside. However, you can explore all the outer castle and grounds for free.
This is what I did and it was wonderful first thing in the morning. The water was so still that the castle was reflected in the small lake outside.
Again, there is a free car park but this has limited spaces. So, visiting early morning is best to guarantee a space.
Ladies View
Another one of my favourite stops on the Ring of Kerry was Ladies View which was an incredible viewpoint.
It gets its name from when Queen Victoria made a visit to Killarney. Her ladies commented on how beautiful the view was so it's now forever known as 'Ladies View'.
You can make a stop here and there is limited parking on the roadside. There is a fabulous café opposite that does amazing breakfast, lunch, cake and coffee.
Plus, you can explore the area and take in the magnificent views of the mountains. It's a great photo opportunity.
Where to stay in Killarney
Although I loved visiting Killarney National Park and the Ring of Kerry, I have to admit I didn't like the town of Killarney.
It's basically just one big road filled with traffic with hotels on either side of it. So, it's noisy and hectic. Pure chaos around the clock.
I'm so glad I decided to book The Lake Hotel which sits on Lough Leane for my trip as it was a peaceful retreat.
I stayed in a basic room with a garden view but many of the deluxe rooms have a balcony with a lake view. Click here to book your stay at the Lake Hotel.
Alternatively, you could stay at the luxurious Muckross Park Hotel & Spa which is a 5-star property and can be found opposite the car park. It is just a short walk to the abbey from there.
It's a countryside retreat with deluxe rooms, suites, and restaurants. After a long day of exploring, you can get pampered with a massage.
Click here to book your stay at Muckross Park Hotel & Spa
Muckross Abbey FAQs
How old is the yew tree in Muckross Abbey? It's thought to be over 400 years old although many believe it could be as old as 800 years.
Do you have to pay to enter Killarney National Park? No, you don't need to pay to enter Killarney National Park. It's completely free to explore by car, bike, and on foot.
What is the oldest tree in Killarney National Park? The Ancient Yew Tree in Muckross Abbey. It's 400 years old.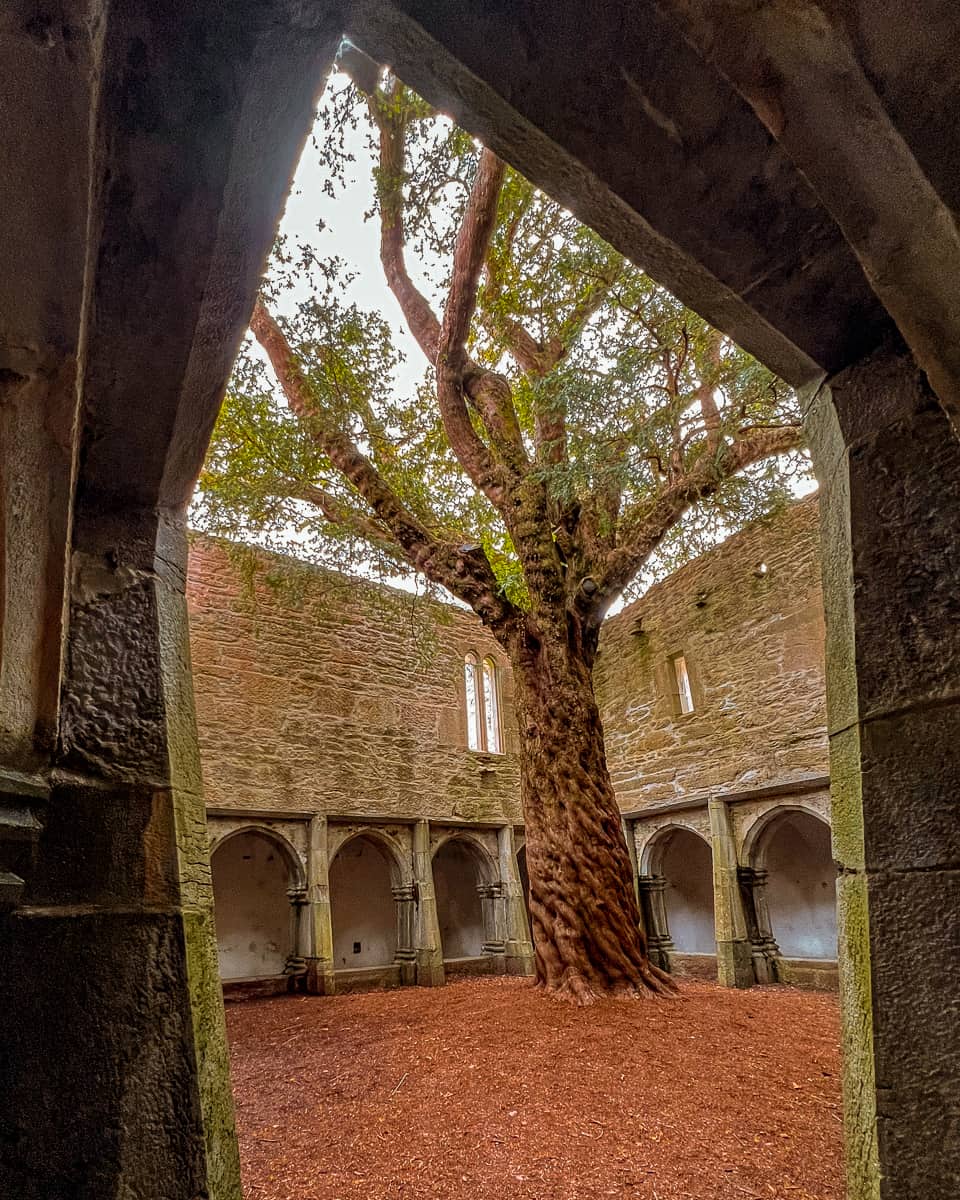 Read more of my Ireland guides
How to visit Powerscourt Waterfall Ireland
How to capture Deck of Cards Cobh
How to find the Umbrella Street Dublin
Marsh's Library – visit the oldest public library in Ireland
Visit Trinity College Long Room Library in Dublin
Visit the Cliffs of Moher Harry Potter Cave
How to visit the Pollnagollum Cave Game of Thrones location
How to find the Umbrella Street Belfast
How to visit Lough Tay aka Guinness Lake
How to find the Ballinastoe Boardwalk in Wicklow
Guinness Storehouse in Dublin review
Save Muckross Abbey for later!