If it's your first time in Mumbai, you may be a little apprehensive to visit. I don't blame you.
Mumbai is truly the spirit of all that is India. It's hot, dirty, crazy, beautiful, relentless and inspiring!
It's the most populated city in the country and there is a massive divide between the ridiculously rich and the downright poor. But, somehow, it works.
Its wild energy is catching and it will make you want to come back for more. But, when you first enter its whirlwind, it can be hard to find your feet.
If this is the first place you land in India, it will definitely knock you for six (if only by the smells and sounds). So, it's good to make sure you know where to head to get a piece of the action!
The city is spread out over a massive area and there are a fair few places which are paramount to ensure you get the most out of your visit.
Here is a first timers guide to help you on your travels in Mumbai.
How to travel to Mumbai in India
Mumbai has a brand spanking new international airport so it is easily reached from all over the globe if you're arriving by plane.
Direct flights fly straight from London Heathrow daily and it's a little cheaper to fly into here than Delhi if you did wish to start your Indian adventure in Bombay.
Domestic flights from Delhi, Bangalore, Chennai, and others fly into Mumbai daily.
By train or bus, it is a great stop after Goa or Kerala before you head up North. You will most likely pull up at the Terminus station and you'll be in for a treat!
Click here for my list of Indian train travel tips
Where to stay in Mumbai
For me, the only place you should consider staying is at the Taj Mahal Palace.
Not only is it right by the Gateway of India but also it's one of the most iconic hotels in the country.
This hotel goes way back in the history books. Being the Taj hotels flagship property, it was originally built by Jamsetji Tata in 1903.
Founder of the world-renowned mammoth Tata group.
He built the place in protest of the fact he couldn't enter the other cities grand hotels such as Watson's due to being Indian. The rest, they say, is history.
Being a 5 star "Heritage Grand" class hotel, it has attracted a wealth of stars through its doors over the years. Queen Elizabeth II, Amitabh Bachchan, Obama, and even John Lennon have all checked in to experience the luxury.
The hotel is split into two halves, the first being the historical Palace Wing. This is where you can stay in their heritage apartments and suites.
The second is their new modern tower wing which has provided more budget options for those wanting to experience 'Tajness' but not at the sacrifice of their bank balance!
The hotel is wall-to-wall perfection and it's no secret that the Taj group cannot be beaten on hotel service! You will not regret staying here.
To read the full review of my stay at the Taj Mahal Palace here.
The top things to do for your first time in Mumbai
Exploring Colaba
Colaba is Mumbai's heritage district and when you pull up, you can definitely see its colonial past seeping through.
The buildings, the cobbled streets, and the Gateway by the harbour all make the perfect setting for sightseeing.
So, I would suggest starting out here. Here's a guide of what to get stuck into…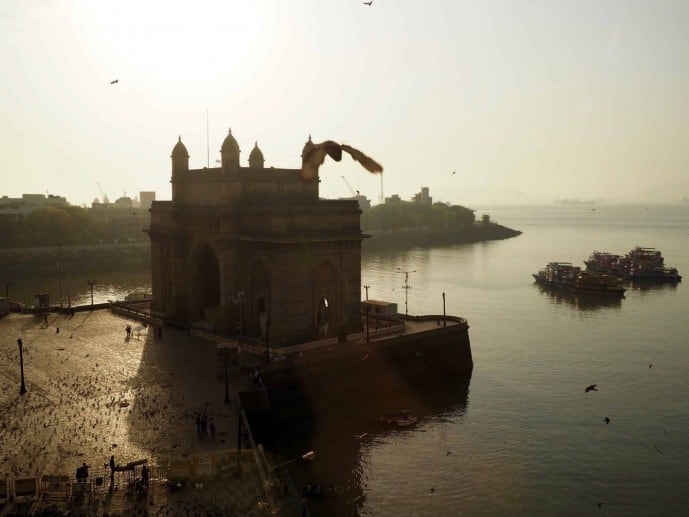 Gateway of India and Front Bay
This was my favourite location in Mumbai! This is where all the old historical buildings are and the tourist action is.
The Gateway is striking and the second most photographed attraction in India.
It's right by the bustling Mumbai harbour and so you'll see seagulls playfully chasing fishing boats pulling into shore.
If you were looking for a boat ride around the harbour, you can go via the tourist boats which run all day.
They take off when the boat is full and not before. One ticket will set you back 80 rupees for an hour-long cruise, it's an extra ten to sit upstairs and enjoy the view.
Although I didn't get around to it, there are daily boat rides to the Elephanta caves which lie around an hour away from the harbour shore.
These ferries are very popular and the queues can be lengthy, so make sure you set off early!
Unfortunately, Mumbai was subject to a series of attacks across the city in 2008 killing over 160 people.
One of the main targets was the Taj Mahal Palace in this area. Although it has nearly been a decade since it happened, the lasting effects are still here in the city. Security is in full force.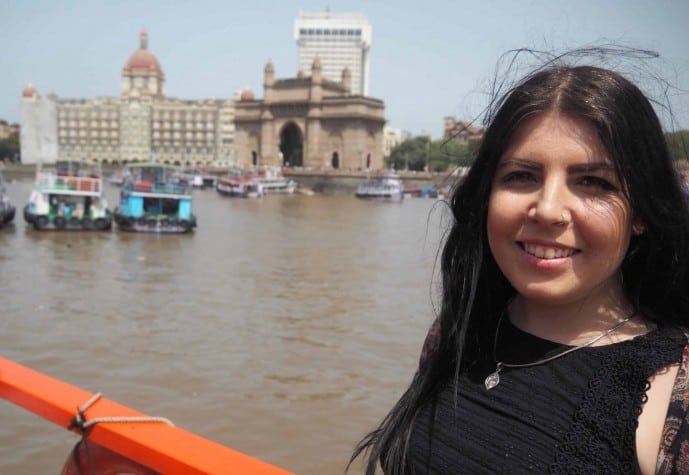 Chhatrapati Shivaji Terminus
This Terminus station could be a tourist attraction in its own right!
It's a UNESCO world heritage site and one grandest train stations built by the British in the 19th century.
Mumbai has some of the most crowded and downright dangerous train journeys in the country.
I've seen a couple of videos of the rush hour on Youtube and, although hilarious, it looks deadly.
Most people come to witness the absolute carnage which comes with boarding a train at rush hour.
If you did fancy experiencing a 'people massage' on the train, opt for first class.
It will still be packed, but not as crowded as the normal carriages. There are also ladies' carriages near the front which will be marked by a ladies face.
Personally, I would forget boarding at rush hour but it's up to you!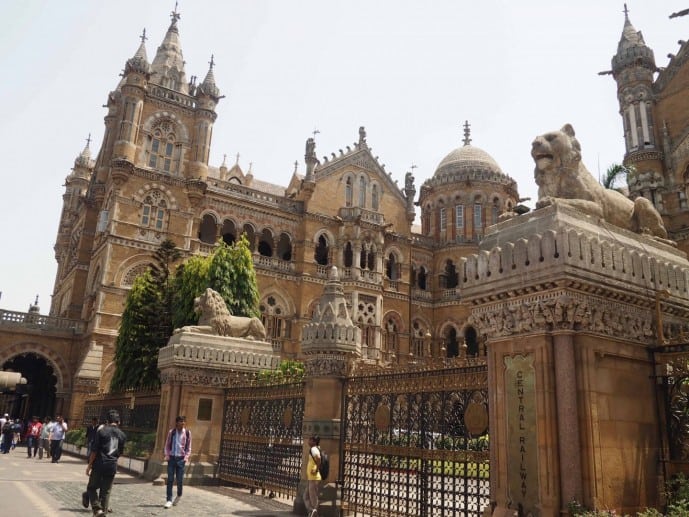 Leopold Cafe
Leopold cafe is a super tourist haunt which people love to hate. It's a busy bustling cafe, full of life, film posters, and beer kegs! You may have to queue for a table but it's so worth it!
The service from the staff here is amazing and it serves up some of the BEST butter chicken I've had in India. Seriously, get the butter chicken.
Punters opt for the cheap pitchers of Kingfisher beer. But, it's also a great place for a cheap but huge meal from their extensive menu.
They serve up all sorts, from Caesar salad, pizza, traditional curries and pasta.
Sadly, this cafe was part of the Mumbai attacks in 2008. But, as a reminder and tribute, they've left the bullets in the walls.
It's also the place that features in the famous novel Shantaram by Gregory David Roberts.
Click here to read my complete guide on the Leopold Cafe with more information
Prince of Wales Museum
Compared to most museums in India, the Prince of Wales museum is actually interesting!
It also has English translations on all the artifacts which is a big help.
For some reason, a lot of museums in India don't have this. So, unless you can read Hindi you'll just have to guess what it is. Or, hire a guide.
They have an awesome natural history section that showcases a tonne of extinct animal taxidermy.
My friend and I had a hilarious time here, we even got to stamp our own ancient Indian coin!
Celebrity spotting in Juhu & the Beach
If it is your first time in Mumbai you may not know that celebrity spotting is a regular occurrence in Mumbai as most of the Bollywood Stars choose to settle here with the big movie studios being in the area.
Film City is a popular attraction and movie tours are available daily for locals and tourists alike.
Here, they will show you all the studios and popular Bollywood filming locations.
You may even get the chance to see some filming!
A lot of westerners are scouted in Mumbai to appear in Bollywood movies, so if it was on your bucket list to be an extra you can do this here.
Rates are around 800 rupees a day and you'll be hanging around a while. But, how cool would that be?
I didn't go on a tour as the only place on my mind that I wanted to check out was the Amitabh Bachchan residence.
I'm a closet fan of his old Bollywood movies and loved his recent appearances in Hollywood.
He's been in the Great Gatsby and Wes Anderson films like the Grand Budapest Hotel.
He has purchased many properties in the area, but the original is located in Juhu and you can easily spot it by the iconic plaque placed outside.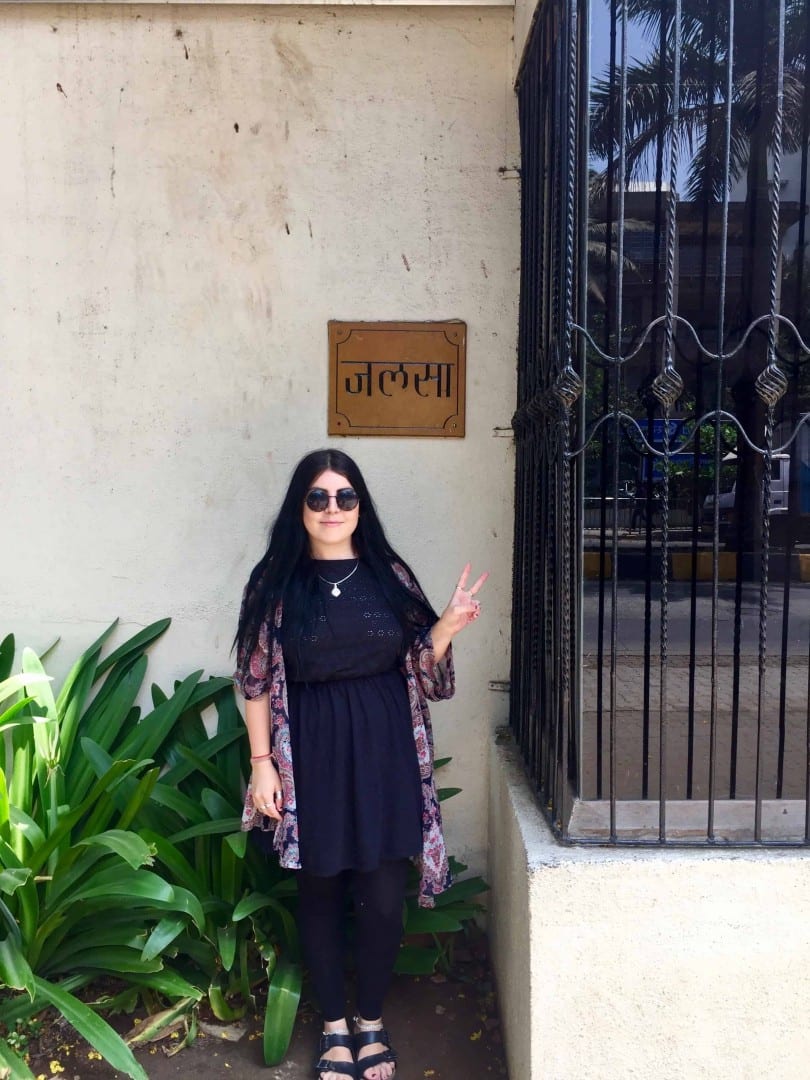 On Sundays, he makes a regular appearance for well-wishers!
Crowds of fans will gather around for hours to wait for him to show. I'll definitely have to come back for that to catch a glimpse.
I met and had a chat with his security guards who were busy keeping watch of the area. I think that's the closest I'll get!
After you've finished stalking, you can relax on Juhu beach. It's a long white sand beach which is rather small, but it's a great place to relax for a while and dip your toes in the sea.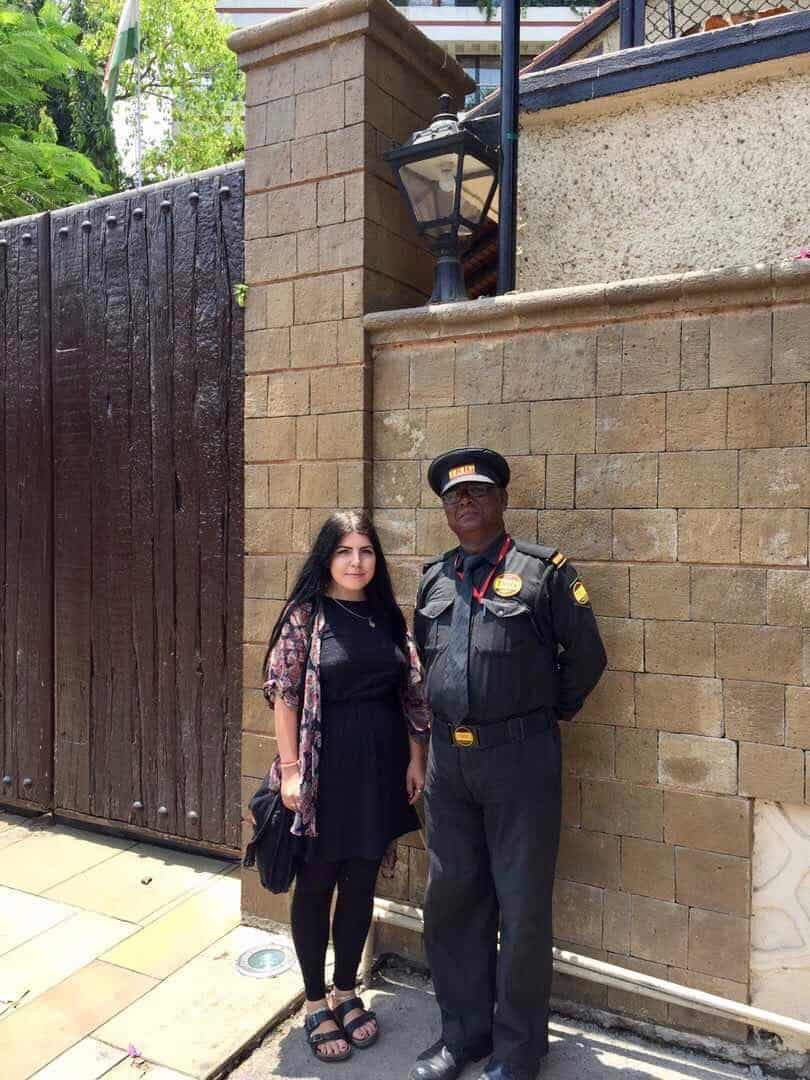 Nightlife in Mumbai: Worli
The nightlife in Mumbai is infamous and there are a good number of swanky bars to choose from in the city.
In India, the sky bar scene is still very new and so it was a great treat to finally find one with an amazing view of the Mumbai skyline.
Aer at Four Seasons in Worli is the perfect place to sip on cocktails at sunset and watch the city come to life with the twinkle of lights.
There is a happy hour on cocktails from 5 – 8pm and an entry charge after 8 pm on weekends but it's worth the cash for those dreamy views!
For reservations, see their official website here.
High Tea at the Taj Mahal Palace Mumbai
If you're like me, you love afternoon tea! There's something about a posh tea and a cake that makes my heart sing!
If you weren't checking into the Taj Mahal Palace for the night, you should definitely stop by for an afternoon of indulgence.
Although the traditional cake tiers aren't on offer, the buffet-style 'all-you-eat' affair is perfect as then you can have what you like when you like.
There are savoury dishes and colourful cakes in all shapes and sizes. Truffles, dainties, and devilish sweets.
The smell of freshly made scones fill the air and you can have them with lashings of cream and jam.
My favourite part had to be the sandwich bar where you could order your finger sarnies from the chef. It was so worth the money at 1800 rupees including taxes.
Make sure you bring your sweet tooth along, you certainly will not leave hungry! To make a reservation at the palace, see here.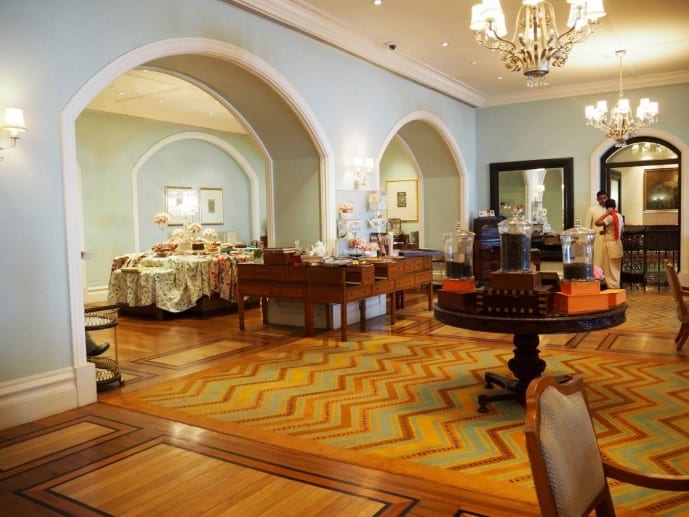 Save this first time in Mumbai travel guide for later
It's almost criminal not to visit Mumbai if you come to India. It embodies all that India is.
It will inspire you, confuse you, insult all your senses and you'll love it all the more!
I've only covered a fraction of the city in this guide and the highlights will be perfect for your first time travelling here.
However, there is so much more of this incredible city to explore.
Make sure you add Mumbai to your never-ending bucket list and get stuck in.
Heading around the south of India? Read more of my articles!
My one week in Kerala Itinerary
Amazing things to see in Alleppey
A guide for the Kerala backwaters
The best Munnar tea plantations
A complete guide for Pondicherry