If I were to imagine my perfect bookshop, it would be one filled to the brim with crime fiction novels and murder mysteries. With just a pinch of horror and the macabre mixed in.
So, as you can imagine, when I stumbled upon the famous Murder and Mayhem Bookshop in Hay-on-Wye, it was like something manifested from my dreams!
With Hay-on-Wye being the World's First Book Town, it can be quite overwhelming knowing what bookshops to visit while you're here.
But, I truly believe it would almost be considered a crime not to step foot inside Murder and Mayhem.
Not only does this fantastic pre-loved bookshop have one of the most amazing collections of page-turners to choose from. It also has some genius displays that set the mood and makes the browsing experience all the more wickedly fun!
Here's a complete guide for visiting, the history, opening times, and what you can expect while you're here.
The tale of how Hay-on-Wye became a book town
Today, Hay-on-Wye has well and truly gained itself a reputation as one best literary locations in the UK.
This small and sleepy town on the English-Welsh border has only 1,500 residents. But, somehow, it's managed to boast over 30 thriving second-hand bookshops!
It's now officially the World's First Book Town and many countries around the globe have followed suit and established their own. But, it's the story of how all this came to pass that's the most interesting thing.
You see, the man who was the founding father of this vibrant independent economy and bibliophile's paradise was Richard Booth. His incredible tale is far from ordinary and it's his actions that made tourism in Hay-on-Wye skyrocket.
After he inherited his Uncle's estate in the 1960s, he opened up the town's first bookshop in The Old Fire Station.
Around this time he realised that many libraries in the USA were closing down and so decided to fly overseas to purchase many of these books. After this visit, he opened around a dozen bookshops in the town.
A decade later, in 1977, Booth was more than dissatisifed with the government and its continued investment in capitalism. Very little was being done to save rural economies.
So, he decided to take a stand and made headline news when he gave himself the title 'King of Hay' and made Hay-on-Wye his own sovereign state.
Although this move was bonkers to many, word soon spread like wildfire and it drew in tourists from the UK and beyond!
Ever since the town has become world-famous and it continues to draw in visitors with its literary theme. This is enhanced by the annual Hay Festival that sees over half a million bookworms descend on the town each year.
If you want to read more about Richard Booth's legacy, see here.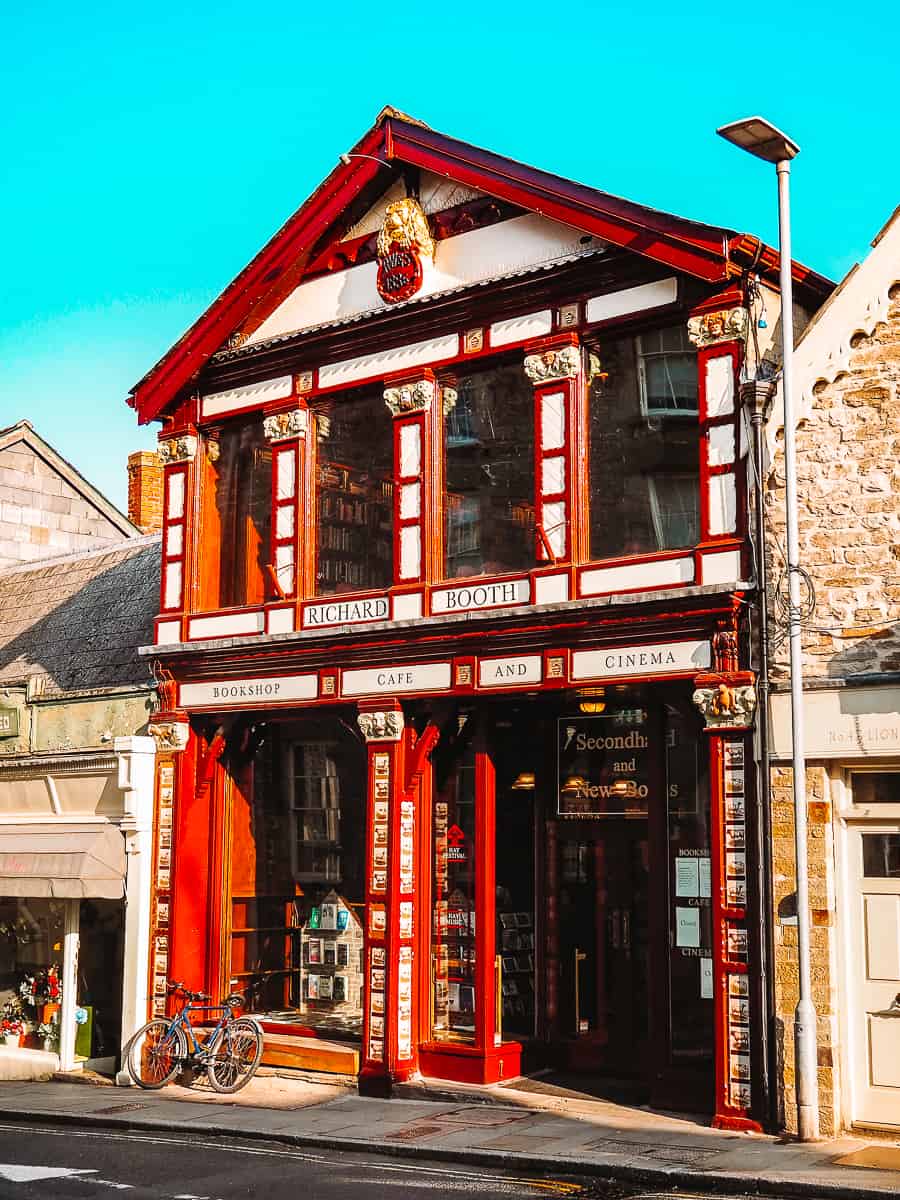 The history of Murder and Mayhem bookshop
It may surprise you to know that Murder and Mayhem is actually part of a group of popular bookshops in the town.
The Addyman group had its humble beginnings with just one small bookshop that opened its doors in 1987.
It was incredibly cosy, located in a tiny corner of the Blue Boar Inn. At that time, they had to cram all of their book stock in a tiny ten-foot room.
In just six short months, the bookshop's popularity soared and they had to move to larger premises! So, they set up shop on Lion Street.
Eventually, around a decade later, the bookshop made so much money they were then able to branch out and buy new properties in the town. This allowed them to create specialised stores in certain niches.
So, Murder and Mayhem was born in 1997 and it was a bookshop that would specialise in crime, mystery, and horror.
The newest addition to the Addyman empire at Hay is the ever-popular Addyman Annexe established in 2002. This specialises in the more 'sexier' artsy subjects and stocks rare books.
Fast forward twenty years later and Murder and Mayhem have never failed to impress visitors of the town. It really is unique and offers something a little different from the norm.
It's a haven for arm-chair sleuths, horror nuts, and lovers of the macabre. It's perfect for curious minds and those that like a little mystery whilst turning their pages.
Explore their incredible world of crime & mystery!
As soon as I even set foot in the shop, I knew I was going to love what was inside. With their delightful facade including a silhouette of the mysterious beast in the Hound of the Baskerville's, it doesn't fail to pique your interest!
Then, if the outside display wasn't enough, I was not prepared for what awaited me inside.
After a friendly interaction with the proprietress and a quick chat about Christie novels, my jaw dropped to the floor when I clocked their incredible displays!
The police tape wrapped around the shelves and a dead body outline on the floor akin to something straight out of a murder crime scene really set the mood. It instantly made me think of the Body in the Library!
As I descended up the staircase, the decor just got better! Bats hanging off the walls, novelists lining the ceilings, mannequins of famous literary characters, and quotes from the classics. It was genius!
This is, without doubt, one of the quirkiest & unique bookshops you will ever have the pleasure of visiting in the UK.
What books do they sell at Murder and Mayhem?
Beyond the incredible decor in this store, of course, the main reason why people visit is to browse and purchase from their impressive collection of books.
Despite its seemingly small size, they really have made amazing use of the space. If you can believe it, it used to be a residential dwelling. But now, every nook and cranny has been crammed with books on the shelves and even on the staircase.
You'll find two floors filled with any sort of crime fiction, mystery novel, or true crime story you can think of!
If you are a fan of Agatha Christie like I am, you'll simply love the enormous archives of her works.
Christie, being one of the best-selling authors of all time, has had her works printed many times over a number of decades. So, you'll find rare hardback editions as well as the usual paperbacks.
Beyond Poirot and Marple cases, who could forget the famous Sherlock Holmes mysteries?
As well as copies from the original Arthur-Conan Doyle Canon, there are other variations sold here including the new heroine detective of Enola Holmes. A refreshingly feminine addition to the series created by Nancy Springer!
No bookshop centered on horror and mystery would be complete without a little bit of Edgar Allan Poe and there is plenty here to sink your teeth into. The Mask of the Red Death did seem rather appropriate about now!
If true crime was your passion, you'll be in your element. You can explore the latest theories on the Manson Murders or find out the untold lives of the female victims of Jack the Ripper.
But, these recommendations are just the tip of the iceberg! There is so much more to explore here, you'll have to see it for yourself.
How to find Murder and Mayhem bookshop in Hay-on-Wye & opening times
If you were interested in visiting (I mean, why wouldn't you?!), you can find this amazing bookshop on Lion Street in Hay-on-Wye.
This is the same street as the other big player bookshops in town like Richard Booth's Bookshop and directly opposite the original Addyman Books. These are also well worth a browse!
I would definitely say the easiest way to access the famous book town would be to drive. Although there are bus connections from the nearby towns of Brecon and Hereford as well.
Parking inside the town is often tight. So, to avoid congestion I would recommend the nearby Oxford Road car park.
Murder and Mayhem opening times are 10.30am – 5.30pm Monday to Saturday. Then, 10.30am – 5pm on Sundays.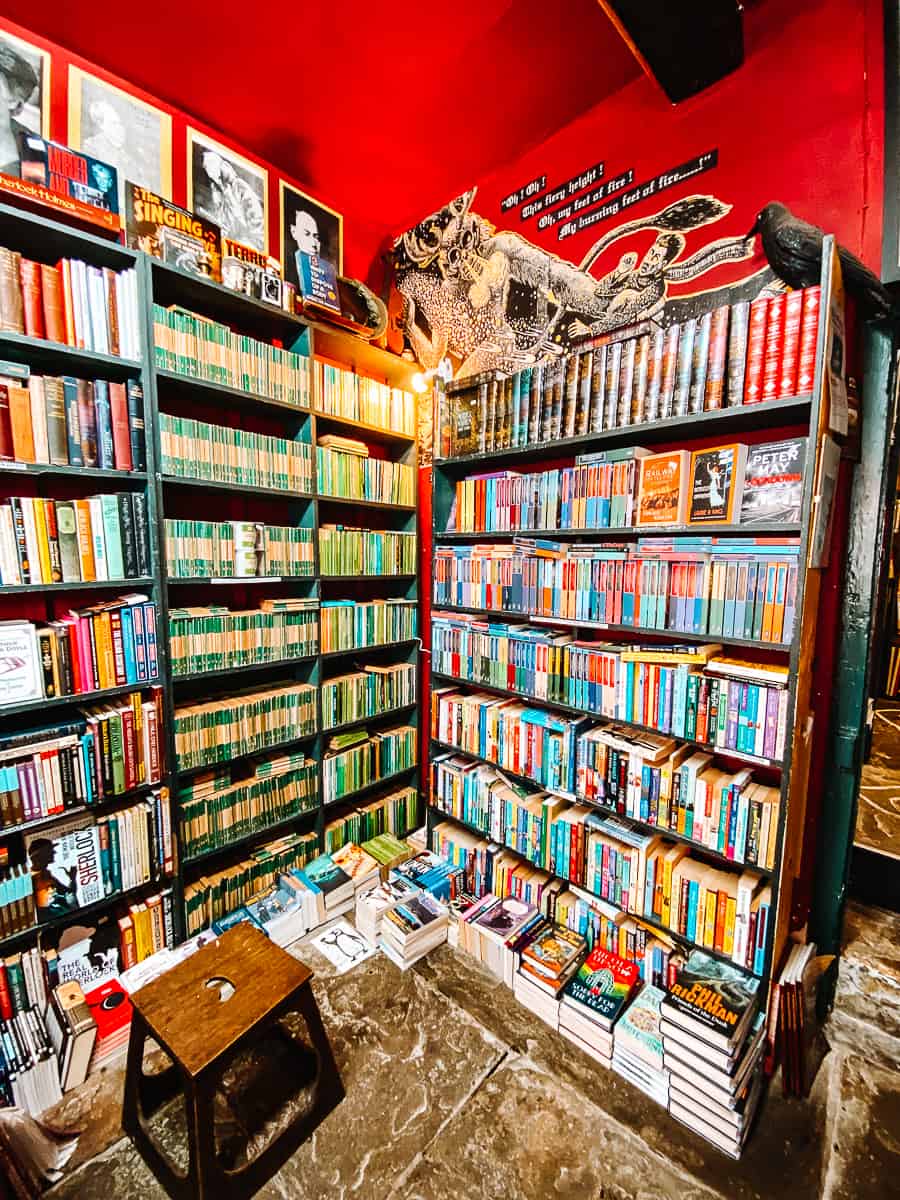 Looking for more amazing bookshops in Hay-on-Wye?
As Hay-on-Wye proudly boasts the title of the World's First Book Town, you're guaranteed to find a bookshop on nearly every street here!
It's a bibliophiles paradise and you can be sure to find a pre-loved bookshop that you'll love. There are so many to choose from and all have their own unique specialities.
First off, you must visit Richard Booth's Bookshop that's just a few metres down from Murder and Mayhem. This one is named after the founding father and self-proclaimed 'King of Hay', Richard Booth.
It's where the tale of Hay-on-Wye first began. But, beyond a first chapter, the bookshop is absolutely stunning. Think vintage wooden decor, shelves filled with books, and comfy seats to turn pages. Make sure you also pop into their cafe and independent cinema too.
Then, you can explore any number of second-hand bookshops in the town. From the Hay Castle Honesty Book Store, this is perfect if you wanted a late-night book haul as it's open 24 hours a day!
There is also The Poetry Bookshop, Hay-on-Wye Booksellers, and even the Cinema bookshop. You're bound to find something to read on your visit.
Click here to read a list of the best bookshops in Hay-on-Wye!
Even more things to do in and around this charming book town
Aside from hunting down books, you can go antique shopping too. Or, if history is more your thing, you could explore the grounds of Hay Castle with their famous honesty bookshop.
There are a few beautiful treasure troves dotted around. Not to mention the many other restaurants, cafés, and traditional pubs like The Blue Boar.
As Hay-on-Wye is situated on the fringes of the Brecon Beacons National Park, you're on the gateway to the countryside. But, you could start with a short riverside walk down to The Warren at Hay. This is a riverside beach on the banks and it's located in such a wonderfully rural setting.
Or beyond is a hike up to Hay Bluff. Just nearby is the famous ancient English Welsh border; Offa's Dyke! This is where King Offa wanted to separate his kingdom of Mercia from Wales in the 8th century.
I was also really wowed by the ruins of Llanthony Priory. It's a monument that has over 900 years of history and is tucked away in the Vales of Ewyas. You'll find the backdrop of the Black Mountains truly spectacular.
Nearby is St Martin's Church of Cwmyoy which has the title of the Crookedest Church in Britain as it leans out more than the Tower of Pisa!
Where to stay in Hay-on-Wye
The Swan at Hay – The Swan at Hay is one of the top rated hotels in the town that is situated in a delightful Georgian building. It's had a recent refurbishment so it's the perfect mix of traditional architecture but with modern conveniences. You'll get great views of the countryside from their boutique rooms plus you have the added benefit of a top-rated restaurant onsite. Click here to book your stay.
The Old Black Lion – This traditional coaching inn has been providing weary travellers with a rest stop since the 17th century and is almost an institution in Hay-on-Wye. It stands on one of the original entry gates of the walled town from the 13th century. A colourful chapter in its history even saw Oliver Cromwell stay here while the Roundheads besieged Hay Castle! Nowadays, it's a comfy traditional inn. Click here to book.
Save this post on Murder and Mayhem bookshop Hay-on-Wye for later!