After returning from a fortnight spent in Switzerland, I am dying to go back!
The mountains, the waterfalls, the scenery, the fondue (in cheese and chocolate varieties) – it was all so beautiful. I was saddened to leave and just wanted to stay there forever!
Everywhere in the Berner Oberland region, home to the magnificent Swiss Alps is effortlessly gorgeous. But, what I loved most of all was the peace and quiet of the little mountain villages that I visited when I was there.
It's such a contrast to the hustle and bustle of city life and I fell head over heels in love with it. One of the places that I am pining to go back to most, however, is Mürren.
A tiny car-free mountain resort, accessible by cable car and placed high up in the mountains.
Mürren has a special place in my heart as it's where I used to spend family holidays since I was a child (which is admittedly a long time ago now!).
This was my fifth visit to Switzerland and I really couldn't imagine staying anywhere else.
I decided to base myself here for the duration of my Swiss travels and I am so happy I did. Keep this complete Mürren travel guide and find out why this is a true hidden gem in Switzerland!
How to travel to Murren in Switzerland
Mürren is a car-free resort so you won't be able to catch a cab or drive here.
The only way to access Murren village is by cable car and train. There are a couple of options in getting here;
Travelling to Murren From Lauterbrunnen
The easiest and most central location to take transport to Murren is from Lauterbrunnen valley.
You will need to catch a cable car from Lauterbrunnen to Grütschalp and then take the BLM train all the way to Mürren.
If you're flying into Zurich or Bern, you will need to catch a few trains to reach here – so prepare for the long journey of connecting trains.
The good news is that the Swiss are famous for their timings and so you shouldn't find many delays.
All transport is connected so when you arrive in Lauterbrunnen a cable car will be waiting for you.
Travel to Murren From Stechelberg
An alternative location is in Stechelberg which is near the end of the Lauterbrunnen valley.
You will catch two cable cars, one arriving at Gimmelwald and the next arriving in Mürren.
The BLM Grütschalp to Mürren Train Journey
This train journey from Grütschalp to Mürren train journey is one of the most beautiful in the world.
The train is a single carriage and although it's been running for 125 years, they haven't changed the design much.
It only lasts for around 10 minutes with one stop in between at Winteregg, but the views you get are on another level.
You can see all over the valley with panoramic views of the mountainous trifecta; the Jungfrau, Mönch and Eiger.
Not only that, but you will see Swiss wildlife, including beautiful Chamois and swiss houses perched on the hills. It is truly incredible.
If you want to take snaps make sure you sit on the left hand of the train going out from Grütschalp and the right hand of the train going back from Mürren.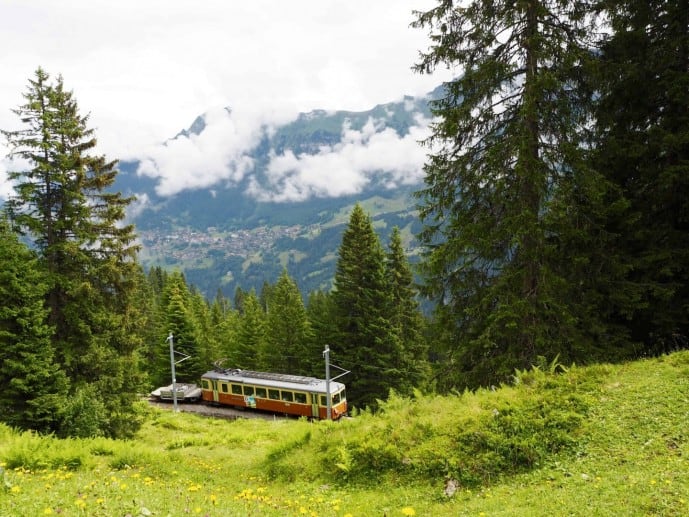 When does the last Grütschalp to Mürren train leave?
If you're staying in Mürren, you will get to experience this marvellous train journey every day but here is a handy tip; The last cable car and train goes from Central Lauterbrunnen at 8.30 pm!
So, if you are planning a long day out, you will need to get the Die Post bus from Lauterbrunnen to Stechelberg and cable cars from there which run till around midnight.
After that, you'll need to walk. So, there isn't much late-night partying if you're staying in Mürren I'm afraid!
Useful travel tips to know before you visit Murren in Switzerland
Useful Phrases in Swiss
In Switzerland they speak four languages due to their neighbours and long history of territorial warfare before becoming independent;
Swiss-German: 63.5%
French: 22.5%
Italian: 8.1%
Romansh: 0.05% And numerous others making up the rest!
For the most part, you're pretty safe if you can speak some German but they do speak English very well in Swiss towns.
Here are some phrases to make sure you don't get caught out;
Hello: Grüezi
Thank you: Dangge/Merci (French)
Cheers!: Broscht!
How Much is this?: Was koschtet das?
Currency in Switzerland
Although Switzerland is part of Europe, they have not taken on the Euro and do not accept them everywhere.
Therefore, you will need to get some Swiss Francs before you arrive or while you're there.
The top things to do in Murren
Even though this is a mountain retreat, it doesn't mean there isn't a wealth of things to get up to against the amazing backdrop of the mountains!
Here are some of the top things to do in Murren, Switzerland.
Visit the Schilthorn Piz Gloria
The Schilthorn is the movie set of the James Bond film 'On Her Majesties Secret Service.'
It is a stunning location for a viewing platform of the mountain range.
Along with jaw-dropping views, you can eat at their 360-degree revolving restaurant.
There are tonnes of 007 Bond references, even in the bathrooms – it's quite amusing.
Click here to read my full post about my visit to the Schilthorn!
Walk from Murren to Winteregg
If you'd rather walk than get the train, then there is the option of a 'Panoramaweg' (Panoramic walk) from Mürren to Winteregg.
Compared to other Alps trails the path is completely flat which makes the effort of walking minimal, meaning you can save your energy to absorb all the amazing views.
You will walk alongside the train track and through the fir trees to Winteregg, a beautiful restaurant in a picturesque location.
You can stop here for a drink and a bite to eat, but it's not cheap – you're paying for the location!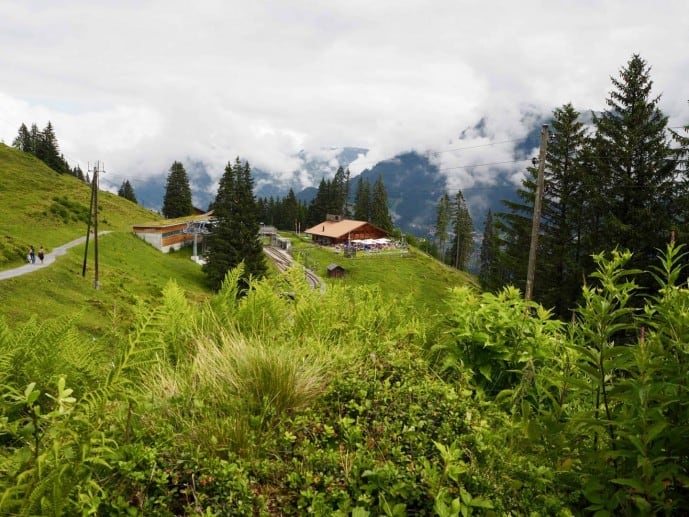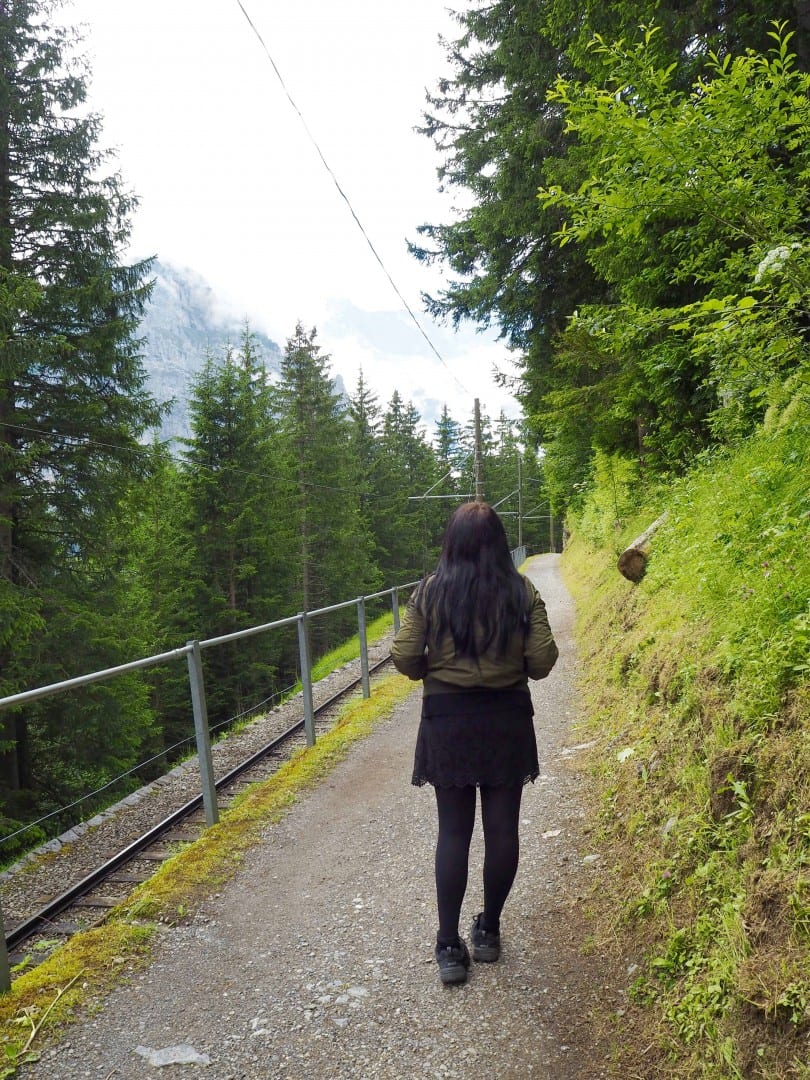 Visit Almendhubel
Another beautiful restaurant with panoramic views is Almendhubel.
Looking like a scene straight out of The Sound of Music it has all sorts of amazing flowers and blossoms against a backdrop of the mountainside.
An excellent choice to spend a lazy afternoon if you wanted to dine here. There are two options in reaching Almendhubel;
Get the Funicular up the hill
Walk up or down!
It all depends on how energetic you're feeling!
It is definitely worth a visit here though, it's so peaceful and quiet – you can just hear the tinkering of cow bells in the distance.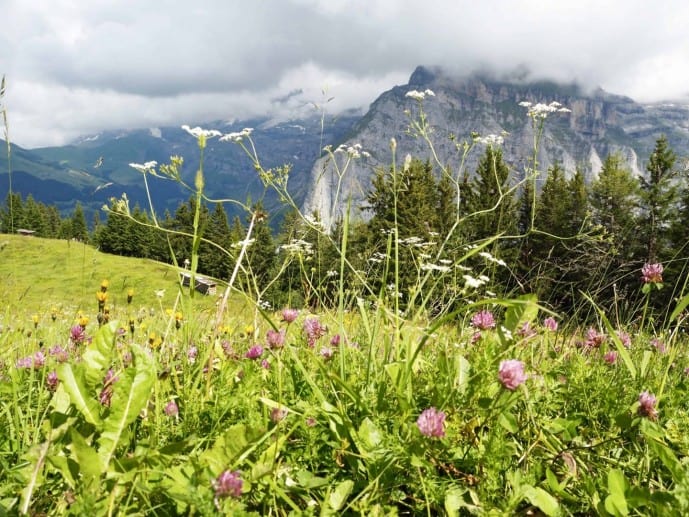 Walk to Gimmelwald
If you're looking for an even quieter village that is out in the sticks, Gimmelwald is it.
A picturesque farm town, in which you can't hear a pin drop.
There are restaurants to have a quick drink and a rather cool Honesty Shop to take a peek in!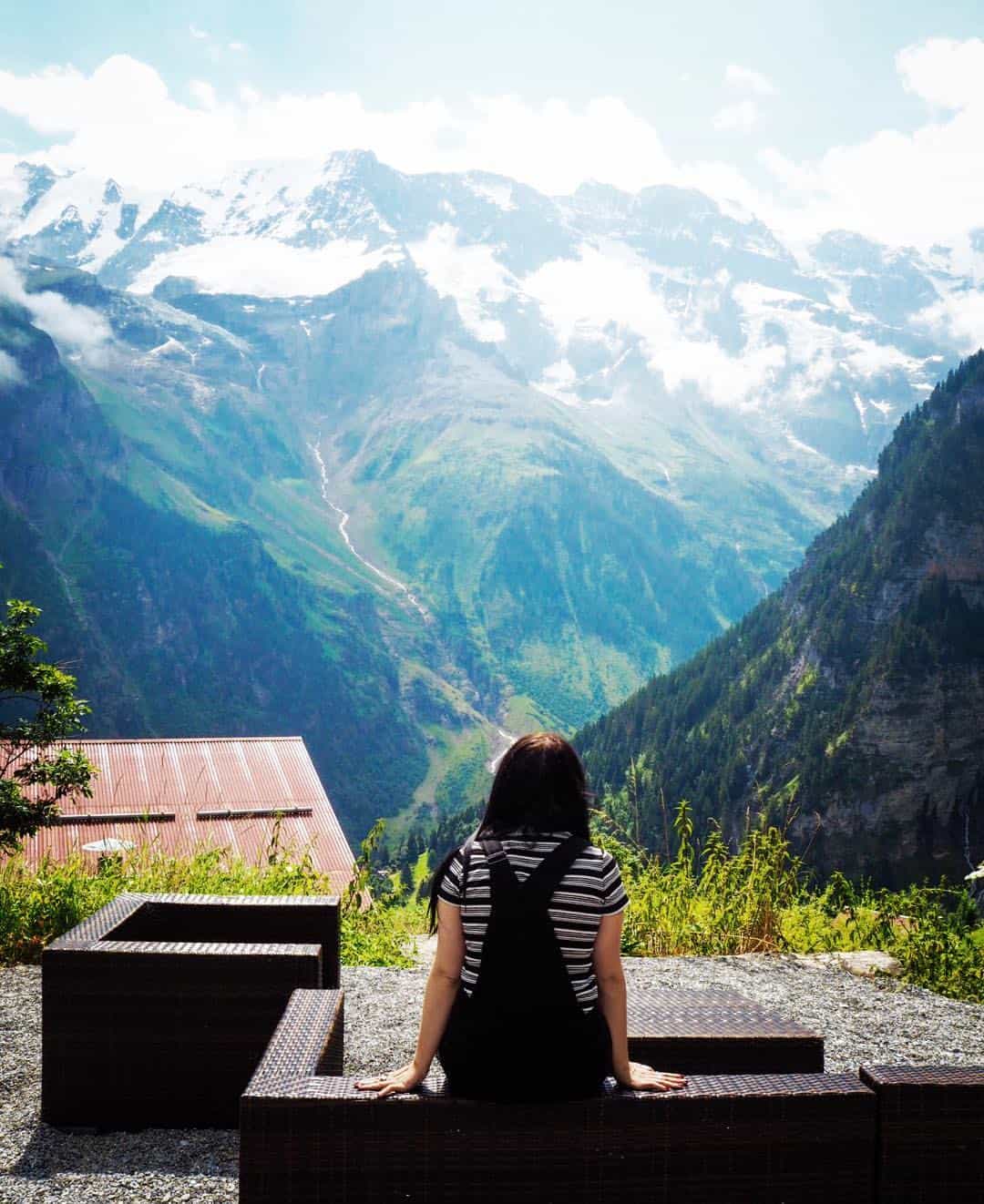 The best restaurants in Murre
Switzerland is notoriously expensive for food (even a Mcdonald's is around £12) so you'll need to budget a fair amount if you want to eat out.
Mürren is no exception when it comes to paying a lot for your food.
The good news is that you'll be in safe hands when it comes to quality, the meat and vegetables are always fresh and locally sourced (and if they aren't, they will always tell you otherwise).
Here are some of the best places to eat in Mürren;
La Grotte
My favourite restaurant in Mürren and, dare I say it, the whole of Switzerland is La Grotte.
Based in the beautifully located Hotel Blumenthal, it has a pretty courtyard to eat in and inside a Grotto of cowbells and other Swiss paraphernalia.
The management who run this place simply cannot be outdone on service and their food is to die for.
I would highly recommend their lamb. The rosemary and mint gravy it's accompanied with are mouth-watering and you can have your options of sides.
In my opinion, the traditional rosti goes extremely well and it is hand served to you by the Waiters. 10/10.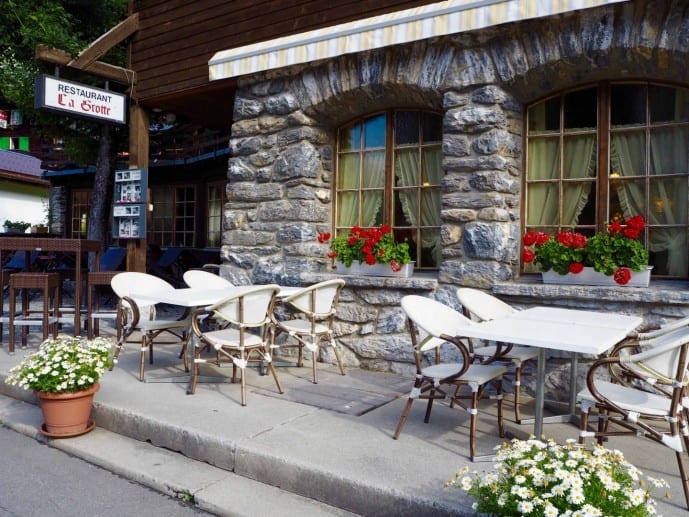 THAMS
Believe it or not, it can be tiring eating so much Swiss food, I mean there's only so many times you can eat rosti and bratwurst you know?
That's where THAMS comes in, a cute family-run Chinese takeaway in the mountains.
Don't think that as you're taking away the price will drop however, it is pretty expensive with a meal and rice costing around £25.
But, it is such a great relief to refresh the palette.
Things you cannot miss in Murren
Sunrises and Sunsets
My favourite times spent were waking up in the morning to see the first of the sun peer its head over the mountains.
The sunsets were even wilder and could turn the mountains a deep shade of red on a clear day. It was magical.
Quaint Houses in Murren
I loved wandering in amongst the houses, chalets, and cottages and seeing what was in store.
There are definitely chateaus with character in Mürren!
So, that's my Mürren travel guide
If you do find yourself in Switzerland, make sure you pop the charming little mountain village of Mürren on your list.
It is such a hidden gem and a welcome retreat from busy modern-day life. No cars, no noise, just pure peace and bliss!
I will always stay here when I visit Switzerland and hope I will be back to visit really soon.
Read more articles about Switzerland!
How to visit the B2 Wine Library Zurich
Heading up to Jungfraujoch – Top of Europe
How to see the Matterhorn in Zermatt
Männlichen to Kleine Scheidegg walking guide
The famous Kapellbrücke Bridge
A Sherlock Holmes guide for Meiringen
The best afternoon tea in Interlaken