When I first told people I was travelling to Myanmar, I got some pretty weird reactions.
When we wanted to add this into our itinerary at the travel office, the lady looked at us like we were from another planet!
"They don't have roads there, do they?"
"I heard a wild elephant came through one of the villages and crushed huts in its wake!"
At this point, I started to second guess myself and wondered whether Myanmar was a good country to visit.
Especially as it was my first country to backpack through, starting out the deep end pretty much seemed to sum it up.
I also was asked a lot of questions about Myanmar on my travels as people were curious.
For those that don't know, Myanmar recently opened its doors to the public for tourism after 50 or so years in 2012 and so it's almost unknown territory for even the most seasoned traveller.
Having now travelled through the country and being a little wiser, I now feel so foolish ever doubting the decision to visit.
Myanmar is a beautifully diverse and untouched country and it hasn't completely been living under a rock when it comes to civilisation! There are roads, that I can assure you!
To put any travellers mind at ease, if you're thinking of visiting the country here are my 5 myths about Myanmar you may hear that simply are not true.
1. There are no roads and getting around with transport isn't easy/safe
Okay, so I can't speak for all the roads across the country but the roads leading to the regular tourist route do exist and you'll be happy to know are in perfect working order!
It may be a little bumpy in parts, but this is pretty much standard across South East Asia.
In my personal opinion, they were worse in Cambodia. If anyone has travelled on the night bus between Sihanoukville and Siem Reap, you'll know what I mean.
Depending on how you like to get around, there are plenty of options for transport.
Buses are the easiest, cheapest, and believe it or not safest way to get around Myanmar.
Your hotel can book you a reputable company if you're taking the night bus across the tourist triangle.
I found that the bus services here were amazing. They provided a neck pillow, blanket, reclining seats, snacks, drinks, and regular breaks!
See more tips for overnight bus travel here
It was so much better than the other night buses that I had taken in other Asian countries so you're in safe hands if you do choose this route.
Trains in Myanmar are a little bit of a different story. They are notoriously slow, bumpy, and dangerous (to the point you have to take out life insurance to ride!).
One traveller told me he was airborne at one point on his 20-hour journey to Yangon. Crazy!
Despite all of this, Myanmar's famous train journey routes are some of the best and most beautiful in the world – so make sure you at least try it out!
Another fun way to get around is to use the local Tuk Tuks. If you don't know what one of these looks like in Myanmar it's a Toyota truck that has been converted to hold benches as seats.
There is a driver and a guy who looks out for people wishing to take a ride. You tell him where you want to go, hop on and pay him your Kyats.
It's much more fun and cheaper than the taxi!
2. There are no ATMs
Myanmar knows the importance of tourists having quick access to their cash to spend, so why wouldn't they have ATMs?!
There are plenty of cash points in the cities and tourist destinations so don't worry about bringing a load of cash with you.
They don't take credit cards in many places and so that is something you will have to consider.
But, you will be able to take out Kyats in abundance while you're there – so don't sweat.
3. They only take US Dollars
Although this used to be the case, more and more places are now only accepting the local currency.
Plus, I found you get a bad exchange rate if you use Dollars over Kyat.
For example, something which would cost you 300 Kyats (around 18p) would cost $1! Although it doesn't seem like much, it makes a big difference if you do this long-term.
You can get out local currency when you arrive in the country.
Make sure you exchange your notes before you leave though, there aren't many places in Thailand or surrounding countries that will take Kyat notes on leaving.
4. They aren't friendly to tourists
This is probably the least true of the whole bunch. Everywhere we went when visiting Myanmar, the locals were so friendly!
"lovely jubbly, BBC!", "Manchester United" was the main greetings we used to get while walking around.
They are so kind and just want to get to know you!
Plus, they absolutely love the new surge of tourist trade so having you there have made their businesses thrive.
The government has issued many signs which say 'Be Kind And Look After Tourists' and I felt so safe.
At one point in Bagan, my electric bike ran out of battery and I was stuck so needed to ring the bike shop.
A local man stopped by and made sure I was okay, ringing the shop for me and speaking to them in Burmese so they knew what the problem was.
I was panicking a little bit and wondering how I was going to get back, so he really saved me!
5. No one speaks English
This is another myth that I disregarded immediately upon entering the country.
Although it is a little lazy of me to hope that they would speak some English, I was delighted to find out I didn't have to put my terrible Burmese skills to the test!
Although I had learned some simple phrases to get by, these weren't going to be enough to order a taxi or let someone know where I wanted to go.
So it was a bit of a lifesaver to know I could speak to them and not have to sign out what I needed to say!
Plenty of Burmese know how to speak fluent English and they speak many other languages.
Menu, signs, and maps are also in Burmese and English too.
You will definitely see it at tourist destinations, which is integral for their trade.
Most likely you will be following the tourist triangle and so you shouldn't have any issues trying to communicate.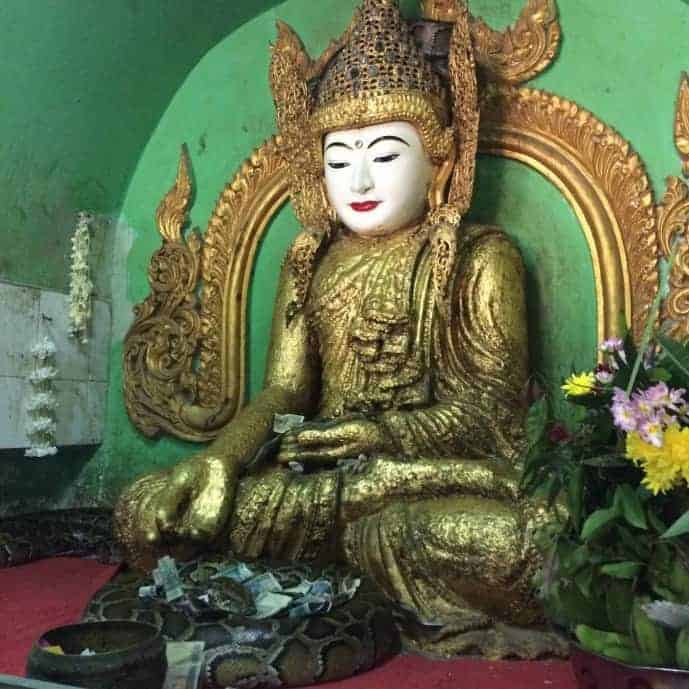 Final Words…
So, there you have it, the 5 most common myths about Myanmar, all false.
As it is a new country to welcome mass tourism to its borders, it is still unknown to travellers – which is why it's so exciting!
You will most likely hear these questions or myths from others if you are planning to travel here, but don't let that put you off visiting this fantastic area of the world!
Read my things to do in Mandalay guide next
Read more on South East Asia
Places to visit in Luang Prabang in Laos
Kuang Si Falls guide, Laos
How much is a Singapore Sling at Raffles
Visiting the Tiger Balm Gardens in Singapore
Visiting 'The Beach' AKA Maya Bay in Thailand