One of my favourite cafés that I visited in Egypt has to be the famous Naguib Mahfouz Cafe in Cairo!
I have to admit, I stumbled upon it completely by accident. But, I found myself returning time and time again! It's a must whilst you're in Old Cairo.
Hidden away in the mysterious labyrinth of Khan el Khalili Bazaar, this amazing historic cafe is a welcome respite from the crowds.
The cafe opened in 1989 and is a tribute to the famous Egyptian writer Naguib Mahfouz who won a Nobel Prize for Literature in 1988.
Today, it's run by the lavish Oberoi Hotels Group but the elegant arabesque surroundings transport you back to the days of Old Cairo.
The smell of Hookah pipes fills the air, the waiters all have Tarboosh hats on and full livery. Old Arabic music plays on the radio and patrons chatter whilst enjoying lemon coolers or indulging in Egyptian hawawshi.
Here's a complete guide to the Naguib Mahfouz Café in Cairo with all the reasons to visit.
Who was Naguib Mahfouz?
Naguib Mahfouz was a famous Egyptian writer that is considered to be one of the first contemporary writers of Arabic Literature along with his contemporary, Taha Hussein.
He was born in Old Cairo in 1911 and centered most of his early works and short stories in the city. Most of his tales, including plays for the stage, explore the themes of existentialism.
Over his lifetime, Mahfouz published 34 novels, 350 short stories, many movie scripts, newspaper articles, and theatrical plays.
He wrote for well over 70 years in his career and went on to win the Nobel Prize for literature in 1988. He was the first Arabic writer ever to do so!
He died in 2006 at 94 years of age. But, he left a lasting legacy with his published body of work that is still being made into Egyptian and foreign films today.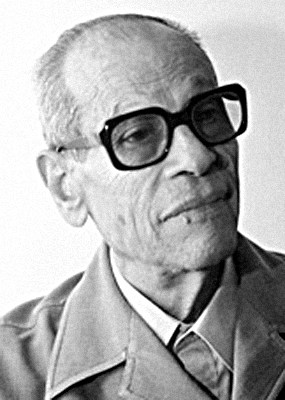 Naguib Mahfouz Cafe history
Apparently, this cafe used to be simply be called Khan el Khalili that sat in the bazaar. As he lived in the area of Old Cairo, Naguib Mahfouz often used to frequent this popular cafe!
However, once Mahfouz went on to win the Nobel Prize for literature in 1988, the Oberoi Hotels Group decided to dedicate their new restaurant and cafe to him.
So, they changed the names to the Khan el Khalili Restaurant and Naguib Mahfouz Cafe. They opened the doors to the public in 1989!
It's definitely fitting as he was born and raised in this part of the city, so Khan el Khalili would have been one of his old haunts.
Inside the cafe, you'll find photos of Naguib Mahfouz on the walls and even some titles of his books ingrained in the wood!
It is hard to believe that this cafe only opened up in the 1980s as it feels like it's trapped in time. You could just imagine it being here in the 1930s with the mirrored decor!
It's one of the many reasons I practically lived here while I was in Cairo.
Why you must visit in Cairo!
Egypt and especially Cairo can be quite overwhelming for first-time tourists to the city.
Khan el Khalili Bazaar is hot, crowded, chaotic, and can feel like a bit of a labyrinth! Not to mention it's easy to get lost in the small laneways and corners.
I seemed to stumble upon the Naguib Mahfouz Cafe at just the right time!
I was more than a little sweaty, had enough of heckling and bartering in the bazaar, and was in desperate need of a sit-down and a pick me up.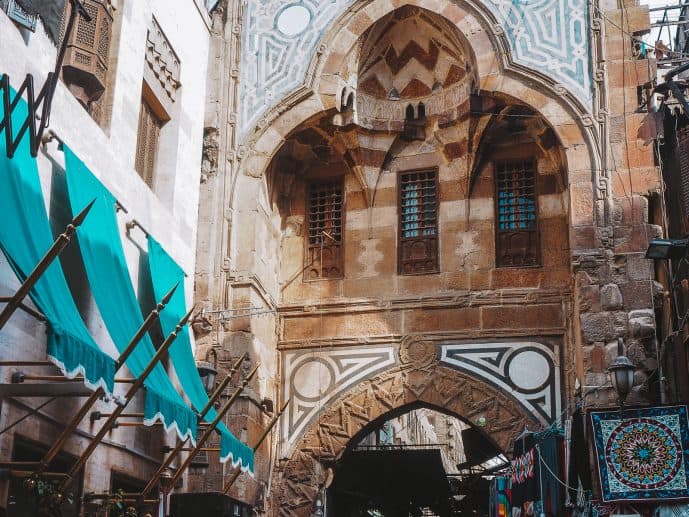 Then, I saw the curtains of the cafe and a man stood at the door in full livery and a tarboosh hat! Curious, I stepped inside to see what was behind those mysterious closed doors.
The cafe completely took my breath away with the decor and the air conditioning that was floating around was the perfect recovery from the market! I knew I just had to rest my feet and order some lunch.
This cafe is perfect for tourists visiting Khan el Khalili Bazaar and provides a much-needed rest stop while exploring. Here, you can try some cooling drinks and traditional Egyptian dishes!
Plus, it's the only place with a clean bathroom for miles in the bazaar FYI. You're welcome.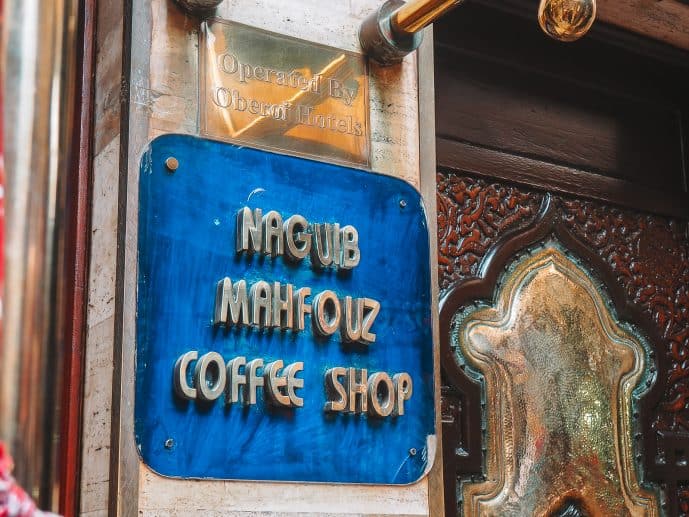 What do they serve at the cafe?
During the day, you'll find that the cafe has some amazingly refreshing juices, coffees, and teas on their menu plus some traditional Egyptian snacks.
It is majorly set up for the tourist market but that doesn't mean the food and setting isn't incredible!
Their juices and coolers are probably the most popular items on their menu which is no surprise considering the heat of Old Cairo.
I had their lemon and mint cooler many times. But, they also had others like Guava, Cantaloupe, Mango, Kiwi, Strawberry, and Carrot.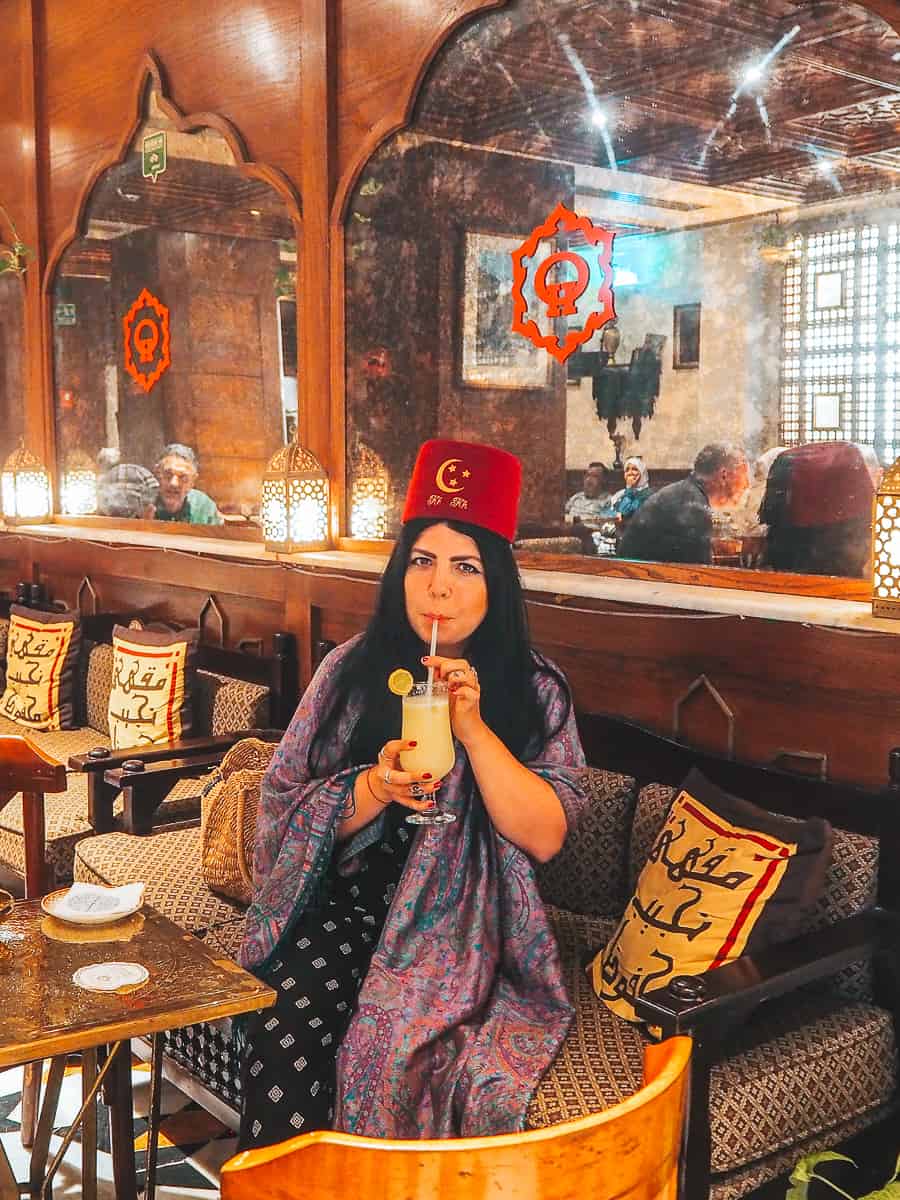 They also have many Arabic coffees, espresso-based drinks, and teas that you can try. Including the famous Egyptian chamomile tea.
Food options are international but they do have some tasty traditional meals to try.
I have to admit, I wasn't 'wowed' by Egyptian food. Let's face it, it's not really known for its culinary delights.
However, a popular favourite served here is their Egyptian Hawawshi which is a stuffed pita or a meat patty. Or, you could try their spiced Baladi sausage sandwiches.
I actually went for the national dish which is Koshari. Popular street food that combines Italian, Indian, and Middle Eastern cuisine! It's served with macaroni, chickpeas, and a spicy sauce. It was delicious.
As alcohol is not widely consumed in Egypt due to religion, you won't find any beer or wines on the menu. But, they do have non-alcoholic cocktails or mocktails!
Hookah pipes at Naguib Mahfouz Cafe
If you wanted to make your visit to the next level, then you could order a Hookah pipe to join you at your table!
You'll probably see many Shisha or Hookah pipes sold in the bazaars that you can take home. But, here, you can try it before you buy.
A Hookah Pipe is a tall standing pipe that is used to smoke flavoured tobacco. Although not as bad as smoking, it's not completely good for you either. So, I'm not going to encourage it!
However, it is still quite a fun and social thing to do and many places across Egypt offer it in cafes.
At the cafe, they have many types of flavoured tobacco to try like apple, strawberry, menthol, and more! You'll find the waiters preparing them at the back of the restaurant.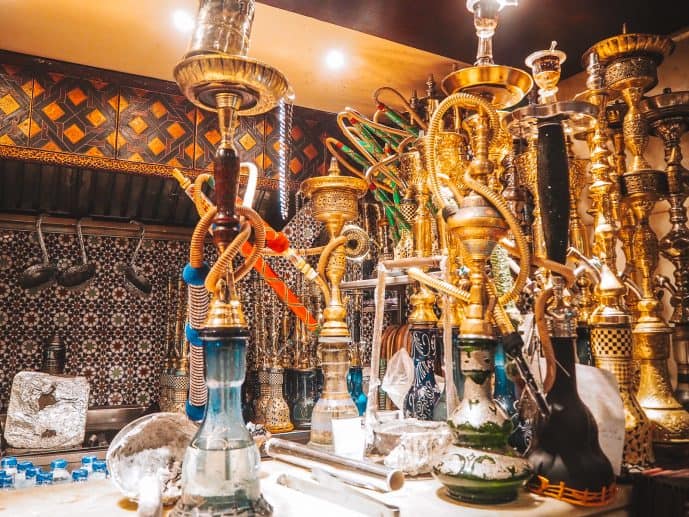 The Khan el Kalilli Restaurant
If you would rather visit the cafe for dinner, then the Khan el Khalili Restaurant is one of the top-rated restaurants in the city.
Also, run by the Oberoi Hotels Group, it sits at the back of the café. You'll find it has the most amazing decor and tables tucked in arabesque coves to enjoy dinner!
The dishes for supper will be a lot more expensive than lunch at the Naguib Mahfouz cafe, but I've heard the food is incredible and well worth booking a table for.
This will be a little more upscale and has starters, mains, and desserts on their a la carte menu. Plus, you'll be treated to live musicians who play traditional tunes for patrons!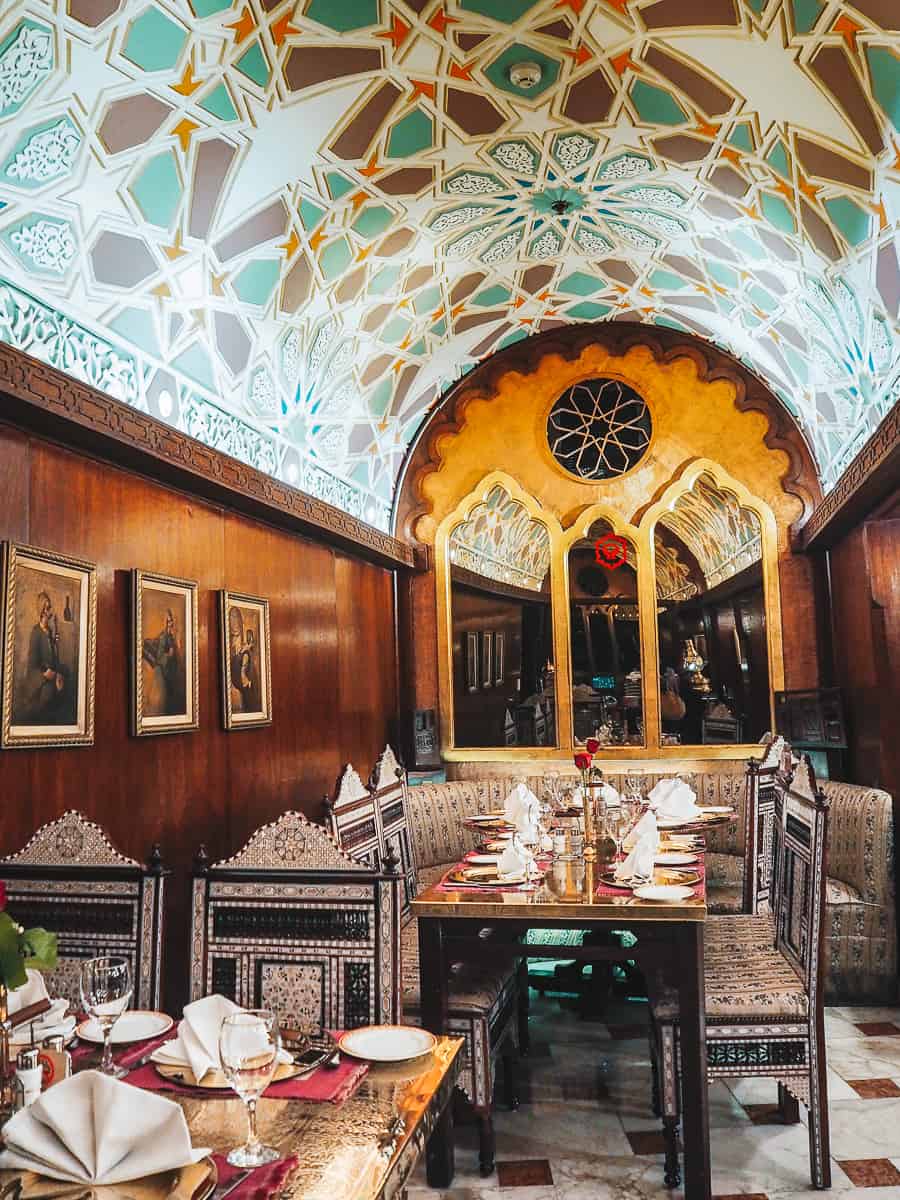 How to find the Naguib Mahfouz Cafe in Khan el Khalili Bazaar
The Khan el Khalili Bazaar is one of the oldest parts of Cairo with the market dating back to 1511. It's said to be one of the oldest in the Middle East!
So, you'll find tiny alleyways overflowing with stalls, boutiques, and people. It can be quite a challenge to try and find anything in this maze.
But, thankfully, the Naguib Mahfouz Cafe is not too far away from one of the main entrances of the bazaar.
It's located on 5, El Badistan Lane in Khan el Khalili which is around 2 miles from the Egyptian Museum.
As the bazaar is car-free, you can get dropped off by a taxi outside near the Qalawun Complex and walkthrough.
Most of the time, I used Uber in Cairo. This is far better than negotiating taxis as you don't get as ripped off.
There is a drop pin for Khan el Khalili Bazaar so the taxi driver will drop you off at a point where you can enter. From here, you can find the cafe.
I always used to ask locals in the bazaar and they were only too happy to give directions. But, don't follow anyone if they offer to show you the way! This could be a scam.
Click here to read my post about using Uber in Egypt with a discount code for your first ride!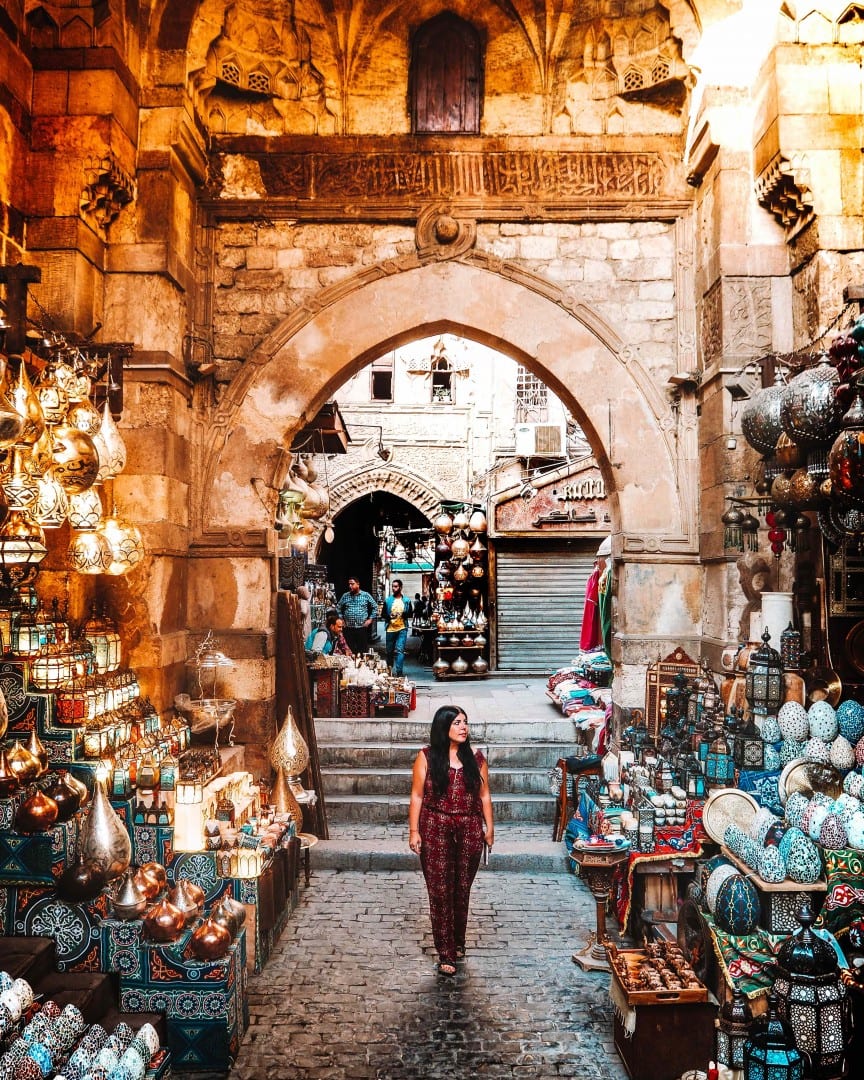 Naguib Mahfouz Cafe opening times
The cafe is open 7 days of the week from 11 am – 2 am! So, there's lots of time to plan a trip here while in the city.
It's the perfect pick me up while exploring the bustling bazaars outside and the air con is just the ticket.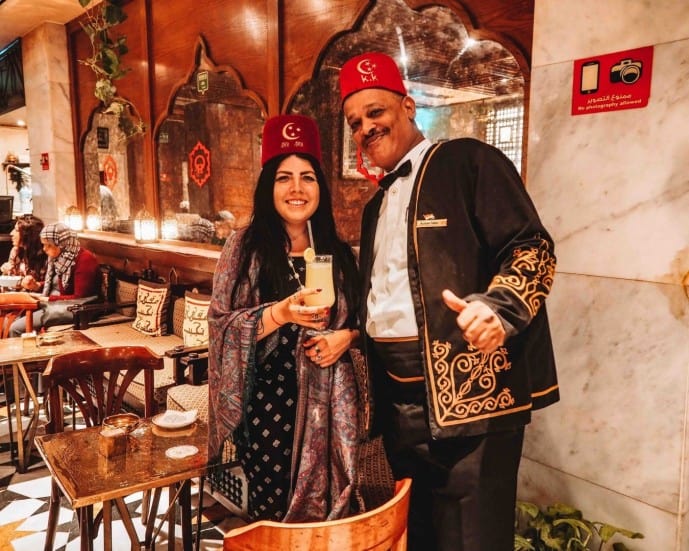 Top tips & things to know before you go!
Smoking – like most of Egypt, smoking is still permitted in restaurants. Luckily, there is good air con inside but it's not possible to completely avoid the cloud of smoke. If it is a concern or if you have asthma, I would be careful. Ask the staff to place you somewhere where there is less smoke or by a fan!
Photography – There are signs everywhere inside about not taking photos. But, for me, the staff didn't seem to mind. In fact, they even asked me if I wanted to take some photos! But, try not to take photos of any other patrons. High rollers and important officials in Cairo come here to eat and they do not like to be captured.
Crowds – The Naguib Mahfouz Cafe does get crowded throughout the day with locals and tourists alike visiting the bazaar. You may have to wait for a table. Also, reserving a table in the Khan el Khalili restaurant is a must.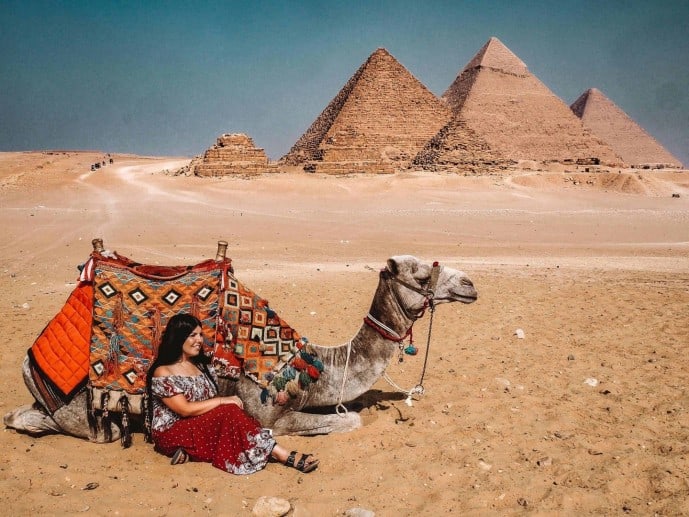 Heading to Egypt? See these posts for inspiration!
My perfect 2 week Egypt Itinerary
The perfect Egypt packing list
The most Instagrammable places in Egypt
My guide to the Valley of the Kings
The ultimate 4-day Nile Cruise
Top places to visit in Luxor at night
The perfect guide for Abu Simbel
My survival guide for the pyramids
Why you NEED to visit Alexandria
Top tips for riding a hot air balloon in Luxor
Save this Naguib Mafhouz Cafe guide for later