One of the best-hidden beaches in Cornwall is the white sand Nanjizal Beach which is home to the magical Song of the Sea Cave.
This cove has a crystal clear lagoon that looks like it could be home to mermaids, selkies, and sirens. It's truly out of this world!
The only downside is that accessing Nanjizal is far from easy. The only way to access the beach is to walk on the rugged coast path and then the access can be a challenge with steep steps and boulders.
But, it's definitely an adventure and one I would recommend doing. I've wanted to visit this beach for years and I'm so glad I finally got to experience it.
Here is how to visit Nanjizal Beach Cornwall and the magical Song of the Sea Cave!
What is Nanjizal Beach?
Nanjizal Beach, also known as Mill's Bay, is a hidden gem cove that can be found in the southwest of Cornwall near Land's End.
Although it used to be Cornwall's best-kept secret, it's definitely popular with walkers on the South West Coast Path.
Regardless, it's a secluded cove with limited access so it sees very few visitors. It's the perfect place to escape the crowds in Cornwall.
You'll find rock formations, caves, waterfalls, and clear water pools. But, the true highlight of this location is a sea chasm called "Zawn Pyg" aka Song of the Sea Cave!
Fun fact, Nanjizal was a filming location for BBC's Doctor Who. They filmed The Smugglers episode here in 1966.
The Song of the Sea Cave
Most people want to visit Nanjizal to find the crystal clear lagoon in front of a natural arch in the cliff or sea cave locally known as "Zawn Pyg".
A "zawn" is a chasm that is found in the cliff and "pyg" roughly means pointed. So, "pointed chasm".
J T Blight visited this cave in 1859 and described Zawn Pyg as a "cave like a bird's beak".
Although it is unknown where the "The Song of the Sea Cave" name came from. It does sound a lot more romantic and magical than the Cornish moniker.
Blight did quote the romantic name in his findings and theorised that the name came from the sounds that the cavern made from the waves and crashing of the sea!
Personally, I much prefer the term 'Song of the Sea Cave' as it sounds so much more mystical. It's one of the reasons I wanted to go.
This pool truly looks like a mermaid or siren lagoon. You could also almost imagine a selkie bathing here or brushing their hair with sea shells!
The sea cave is stunning and has some of the clearest water I've ever seen. A hike to Nanjizal is worth it for this stunning lagoon alone.
A warning BEFORE you head to Nanjizal Beach!
Nanjizal Beach is considered to be in the 'wild west' of Cornwall. So, it's untouched, rugged, and far from pristine.
Although it is a 'white sand beach', the sandy bit is relatively small. Or, it was on my visit! This beach is attractive due to the magical rock formations, clear water lagoons, and caves over sand.
Nanjizal is very remote and can only be accessed by walking a minimum of 30 minutes each way on the South West Coast Path or via a public byway from Polgigga.
It's best to plan your visit at low tide or you won't be able to access anything.
The majority of the cove is filled with wobbly boulders that you have to climb over to access the beach and sea cave. Many are slippery with seaweed. So, sensible shoes or hiking boots are needed.
There are very steep stairs to access the cove, so not very accessible. I would allow a couple of hours for your visit to walk there and explore. Dogs are allowed to join you here all year.
There is no parking, facilities, toilets, lifeguard (there is a ring), or pram access. So, bring all your supplies with you but remember to take your rubbish home.
If you're looking for a pretty white sand beach with easy access, a café, ice cream, and toilets, Nanjizal is not that beach. I would head to the nearby Sennen Cove instead.
But, if you love rugged beaches with quirky rock formations or wild swimming spots, Mill Bay is an adventure you won't forget in a hurry!
Read on to find out how to get to Nanjizal beach & the magical Song of the Sea Cave.
Where is Nanjizal Beach in Cornwall?
Nanjizal Beach can be found on the southwest coast of Cornwall between Land's End and Porthgwarra / Porthcurno.
This is in the St Just area near Polgigga and Trevescan village and the roads are very narrow.
There will be no signs for this beach anywhere as it's hidden away on the South West Coast Path.
But, I have proved some detailed instructions below on how to access this beach via walking from a couple of locations in the area.
How to get to Nanjizal Beach
The only way that you can access Nanjizal Beach is to walk there and it will be a minimum of 30 minutes depending on where you start.
There are three options for accessing Mill Bay. You can either head here from Land's End, Porthgwarra, or Polgigga. Sennen is also an option but it is much further away.
Here is how to visit Nanjizal Beach in Cornwall;
Option 1) walk via the South West Coast Path
There are no signs for Nanjizal Beach anywhere and most people discover this magical place on a hike along the South West Coast Path from Land's End or Porthgwarra.
You can park at either end of the South West Coast Path and head to Nanjizal from there.
From Porthgwarra Cove, the walk will take you roughly 45 minutes to an hour on the South West Coast path. This route can be quite unforgiving and has steep and uneven terrain.
If you were looking for a slightly shorter walk, it may be easier for you to access Nanjizal from Land's End. The walk is roughly 30 minutes from the attraction area.
Whichever way you choose the walk over to Nanjizal on the coastline will provide stunning views over the sea.
Option 2) the quickest way to Nanjizal Beach – parking near Polgigga
Many people recommend parking in Trevescan village which is an option if you wanted to hike through pathways and fields.
But, the quickest way to access Nanjizal Beach is via a public byway on the road towards Porthgwarra near Polgigga.
Although not as pretty a walk as the coast path, it's a lot quicker and has free parking.
There is some off-road parking near the Public Byway entrance and then it's an easy 20-30 minute walk on a farmer's track to Nanjizal Beach.
The postcode is TR19 6JJ and the parking coordinates are 50.053390, -5.670638. But, here is a Google Pin to help you find the parking area!
Park with consideration on the lay-by, there is only limited space. Do NOT block the farmers field entrance as access is needed.
To get here, you'll need to follow the A30 towards Penzance and then keep going on the Penzance Road towards St Buryan and Porthcurno.
Then, take a turn at Polgigga when you see the sign for Porthgwarra. The parking is along this narrow lane with passing places. So, proceed with caution.
Nanjizal Beach parking
There is no direct parking for Nanjizal Beach. You'll need to park up and then walk over to Mill's Bay.
If you're taking the South West Coast Path, there is all-day parking at Porthgwarra Cove (£6.50) and all-day parking at Land's End (£5 before 3 pm, £3 after 3 pm). You can then hike to the beach from either parking area.
If you're heading to Nanjizal Beach via the off-road parking near Polgigga, it's free but spaces are limited. Here is a Google Pin to direct you.
What to expect on the Nanjizal Beach walk
If you're hiking from the off-road parking near Porthgwarra, you'll need to head onto the public byway and keep following this path straight down.
There are hedgerows on either side and it's a small track. This can get very muddy if it has been raining. On the muddiest bits, there are stepping stones and even an old door was placed down on the path.
Once you've reached Bosistow Farmhouse, you'll need to follow the path around to the right of the cottage and then head left when you see the yellow arrow.
Eventually, you'll see a red gate on your right that you'll need to pass through. Make sure to lock it behind you.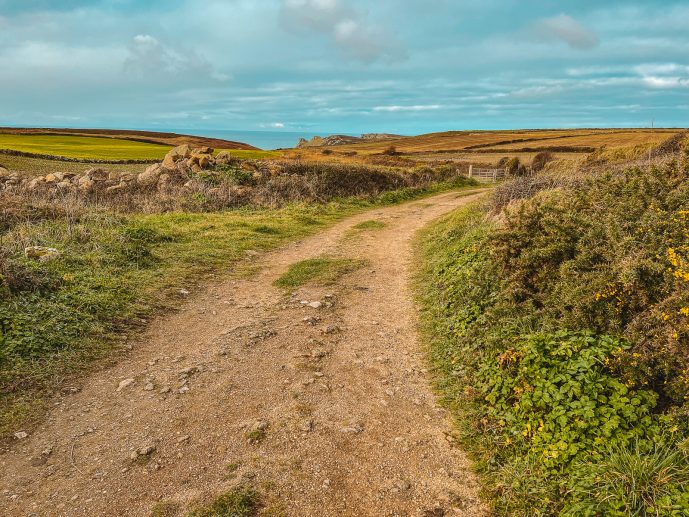 At this point, you should see the coast ahead of you in the distance. Follow this track until you see another gate with a rusty sign that says 'Please Shut Gate – Thank You'.
Head through this gate (obviously close it after you haha), then follow the beaten track down the hill until you reach Nanjizal Beach!
The whole walk should take you around 20-30 minutes or so but allow a bit longer if you're a slow walker like me.
Access to Nanjizal Beach
So, once you've reached Nanjizal Beach, you'll get an amazing view over the coastline from above.
The views from here are stunning and it's well worth a stop if you're on a hike just to see the panorama.
But, if you wanted to climb down to the beach, you'll need to find the steep staircase that will let you onto the cove.
These steps are very steep and so I would be careful if it's raining as they could be slippy. Take your time.
Once you're on the beach via the ladder. You can head right over the wobbly boulders to the sandy beach area with a large sea cave behind it.
Or, you can head left over the wobbly boulders to the Song of the Sea Cave to see the crystal clear waters of the lagoon!
Finding The Song of the Sea Cave
The highlight of Nanjizal Beach, in my humble opinion, is the Song of the Sea Cave that you can access.
It was totally magical with the clearest water I've ever seen. It looked like it could be the home of a mermaid or siren.
With the rock formations and the colour of the coast, you could easily fool yourself into thinking you were abroad. It reminded me a lot of the Wadis in Jordan.
It's easy to see this cave from the bridge above Najizal cove on the coast path. But, if you wanted to head down and see the clear waters you will need to climb over the boulders to access this cave.
Many of these boulders have seaweed on them and these can be very slippery so proceed with caution. Also, prepare for your feet to get a bit wet.
I struggled big time to get here and mainly crawled over on my hands and knees like a gremlin. But, I was proud of myself for doing it!
The water is crystal clear and you could see the ripples of sand underneath. The cave is honestly magical and you can hear the 'song of the sea' echoing through the crack, hence the name.
As it was February it was a bit too cold for a dip, but I'd love to come back in summer to swim in there. It must be so refreshing on a warm day.
Facilities at Nanjizal Beach
There are no facilities at Nanjizal Beach whatsoever. No tearoom, toilets, bins, lifeguards, or parking. Zilch, zero, nada.
It's very much wild and untouched and it's a rare treat in Cornwall that it's been left that way.
Although not as secluded or unknown as it once was, you'll mainly find it empty bar a few hikers.
So, bring everything you need with you for your visit and remember to leave only footprints.
Nanjizal Beach FAQs
How long is the Nanjizal Beach walk? 20-30 minutes from Polgigga, 30 minutes from Lands End, and 45 minutes from Porthgwarra. These are approximate timings. You should allow more or less time depending on your speed.
Can you swim at Nanjizal? Yes, there is a clear lagoon at The Song of the Sea Cave that's perfect for swimming!
Where is the nearest parking to Nanjizal? At Polgigga near Porthgwarra. Alternatively, you can park at Land's End, Sennen, and Porthgwarra and walk there.
How do I get to Nanjizal Beach? The only way is to walk for 30 minutes minimum! You can head there via the South West Coast Path from Porthgwarra or Land's End. Or, 30 minutes from the public byway.
What tide is best for Nanjizal beach? You should definitely head here at low tide so you can access the beach and The Song of the Sea Cave. It's too dangerous at high tide.
Is Nanjizal beach dog friendly? Yes, but be aware that the beach has lots of boulders so older dogs may struggle. There are also no doggy bins so make sure to clean up after your furry friends.
My top tips for Nanjizal Beach
Check tide times before you go – Nanjizal Beach & The Song of the Sea Cave can only be explored at low tide. So, check tide times before you head there.
Wear sensible shoes – This is not a flip-flop kind of beach! You'll need some sensible, ankle-supporting shoes to access the caves and sand.
It's not very accessible – To get here requires a long walk then you'll access the cove via a steep staircase. After that, it's filled with wobbly boulders to traverse over. Not accessibility friendly.
Be careful – I shouldn't have to say it but be careful as you go here. Don't get caught out by the tide, it comes in so quickly. It's also very easy to slip and fall on the rocks. I ended up crawling over on my hands and knees but at least I didn't break something!
Where to visit after Nanjizal Beach
So, once you've explored Nanjizal Beach and The Song of the Sea Cave, where to next?
Well, you're in for a treat on this side of west Cornwall as there are plenty of beautiful attractions in this area.
Here are all the things to do near Nanjizal Beach!
Porthgwarra
If you're hiking on the South West Coast Path towards Porthcurno, you'll pass by the gorgeous hidden cove of Porthgwarra.
This secluded beach is well worth a stop as it has a small sandy cove and clear turquoise waters. Thankfully, the access is a lot easier than Nanjizal via a tunnel!
You can stop by the Porthgwarra Café for a spot of lunch or a coffee throughout the day and enjoy the peace that this magical cove brings.
Fans of Poldark will love to know that this was a filming location when Demelza sees Ross Poldark swimming in the nude!
Click here to read my complete guide on Porthgwarra
Porthcurno & Minack Theatre
Once you've left Porthgwarra, you can head over to Porthcurno beach which is another gorgeous cove on the Cornish Coast and home to a telegram museum.
But, for me, the highlight of this area is the stunning Minack Theatre that has been carved into the cliffs by the sea.
It was founded by Rowena Cade, who made the Minack her life's work. She bought the land for just over £100 and dug the theatre herself with basic tools.
As a previous Performing Arts student, it was always been my dream to perform here. It must be such a unique location!
You can book to watch shows throughout the year but it's also possible to visit the theatre for sightseeing in the daytime.
It's well worth doing and you can get spectacular views over Porthcurno and the rugged coastline.
Click here to read my complete guide on visiting the Minack Theatre
Land's End
If you're heading the other way from Nanjizal Beach towards Land's End and Sennen Cove there are equally stunning places to visit this side of the coast as well.
Land's End is England's most westerly point and there is an incredible tourist attraction here to visit.
Most people visit to get a photo with the Land's End sign but there are cafés, shops, a hotel, and attractions to enjoy.
If you love your legends, this is supposedly home to the Lost Lands of Lyonesse, a Kingdom in the Arthurian Tales! You can learn more in their Arthur's Quest attraction.
Click here for a huge list of things to do at Land's End!
Sennen Cove
If you fancy extending your walk, you could then hike over to Sennen Cove after Land's End.
It's home to a gorgeous stretch of white sandy coastline and you can even learn to surf as there are schools nearby.
Sennen has art galleries, cafés, pubs, and shops. Plus, they have their own legends such as mermaids and The Whooper of Sennen Cove.
I would also recommend visiting the First and Last Inn at Sennen as you can see some old smuggling tunnels.
Click here for a list of things to do at Sennen Cove!
Where to stay near Nanjizal Beach
If you're looking for truly unique and spectacular cottages in Cornwall, then look no further than St Aubyn Estate Cottages.
They have renovated many historic properties on the Cornish coastline and they are perfect for exploring this part of the county.
I stayed at their new property Pendower Cottage which is located in Porthgwarra Cove and overlooked the bay!
Click here to read my review of Pendower Cottage
It was so cosy and had underfloor heating, duo rainfall showers, a log fire burner, a high-tech kitchen, and a comfy king-size bed.
It was the perfect secluded spot and was in touching distance of the South West Coast Path. The perfect place to explore hidden gems like Nanjizal Beach and Gwenapp Head.
Click here to book your stay with St Aubyn Estates Cottages
Read more of my Cornwall articles
How to visit Tregothnan Estate in Cornwall
Things to do in Mousehole Cornwall
How to visit St Michael's Mount in Cornwall
Things to do in Charlestown Cornwall
The Museum of Witchcraft in Boscastle
How to visit the Lost Gardens of Heligan
Things to do at the Jamaica Inn
How to visit Golitha Falls in Cornwall
A complete guide for the Cheesewring Hike
Secrets of the Admiral Benbow Inn
Where is Driftmark filmed in House of the Dragon
How to visit Holywell Bay from House of the Dragon
Magical things to do in Kynance Cove
Save how to visit Nanjizal Beach & Song of the Sea Cave for later!