How many times have you wished that you could find a portal to another world such as Narnia from the Lion, the Witch, and the Wardrobe?
Well, you may just be in luck with the Narnia Door Oxford. You'll find embellishments that look like Mr. Tumnus, the Lion Aslan and there is even a Narnia lamp post nearby.
The features are so similar, it is commonly believed this curious door located in St Mary's Passage inspired C. S. Lewis' Chronicles of Narnia. But, how much of that is true?
Here is how to visit the Narnia Door Oxford and all the magical things to see here.
"It will not go out of my mind that if we pass this post and lantern, either we shall find strange adventures or else some great changes of our fortunes." – Lucy Pevensie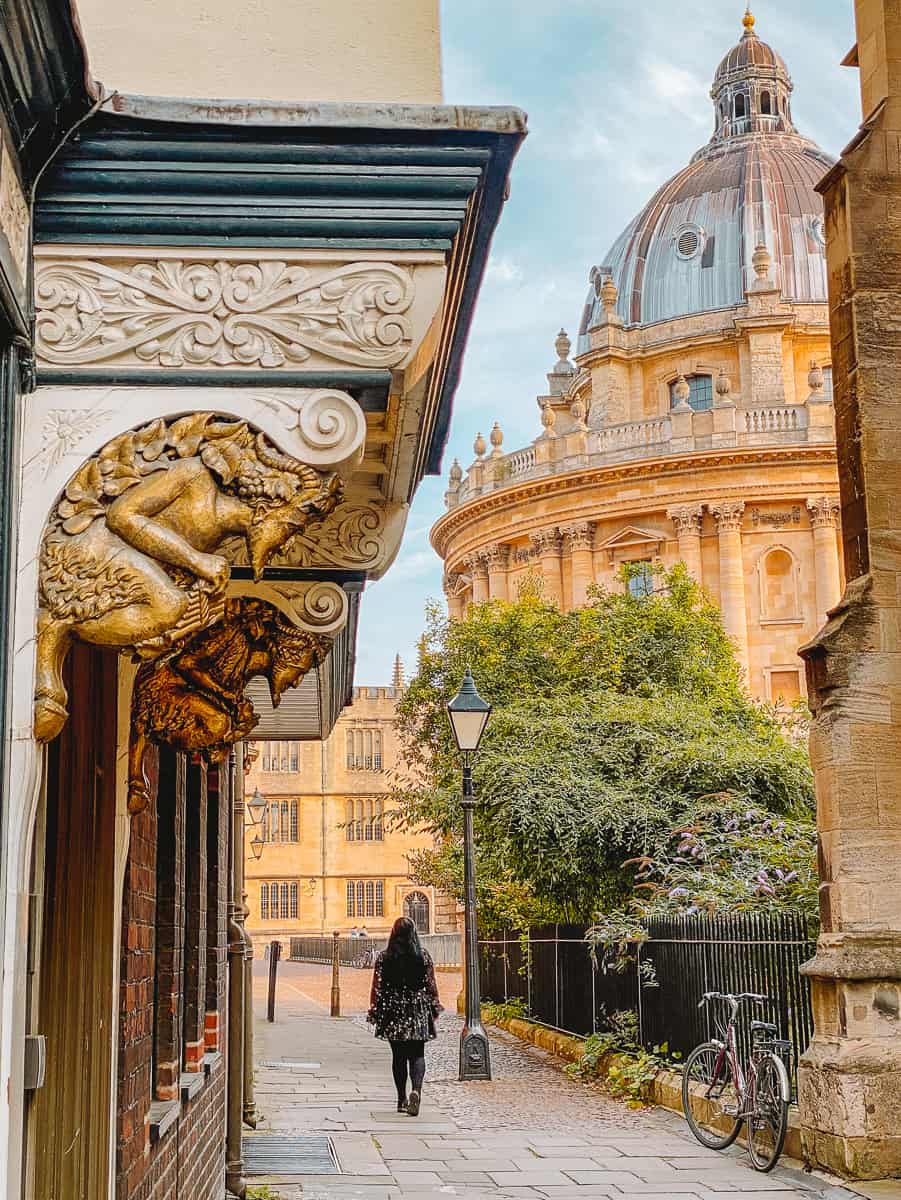 C. S. Lewis and Oxford
C. S. Lewis was born in Belfast in 1898 and arrived at Oxford to study at University College in 1917.
Although his studies were interrupted by the war service, he eventually graduated with a double First in philosophy and history.
He eventually became a fellow at Magdalen College as a tutor of English language and literature and he held the post until 1954.
Whilst here, he became close friends with J. R. R. Tolkien, another fellow, and they formed an informal literary discussion group called 'The Inklings'.
This is where they would meet to discuss fantasy literature and writing in places like The Eagle and Child pub.
It is thought that parts of Oxford inspired C. S. Lewis' 'The Lion, the Witch, and the Wardrobe' and the Chronicles of Narnia.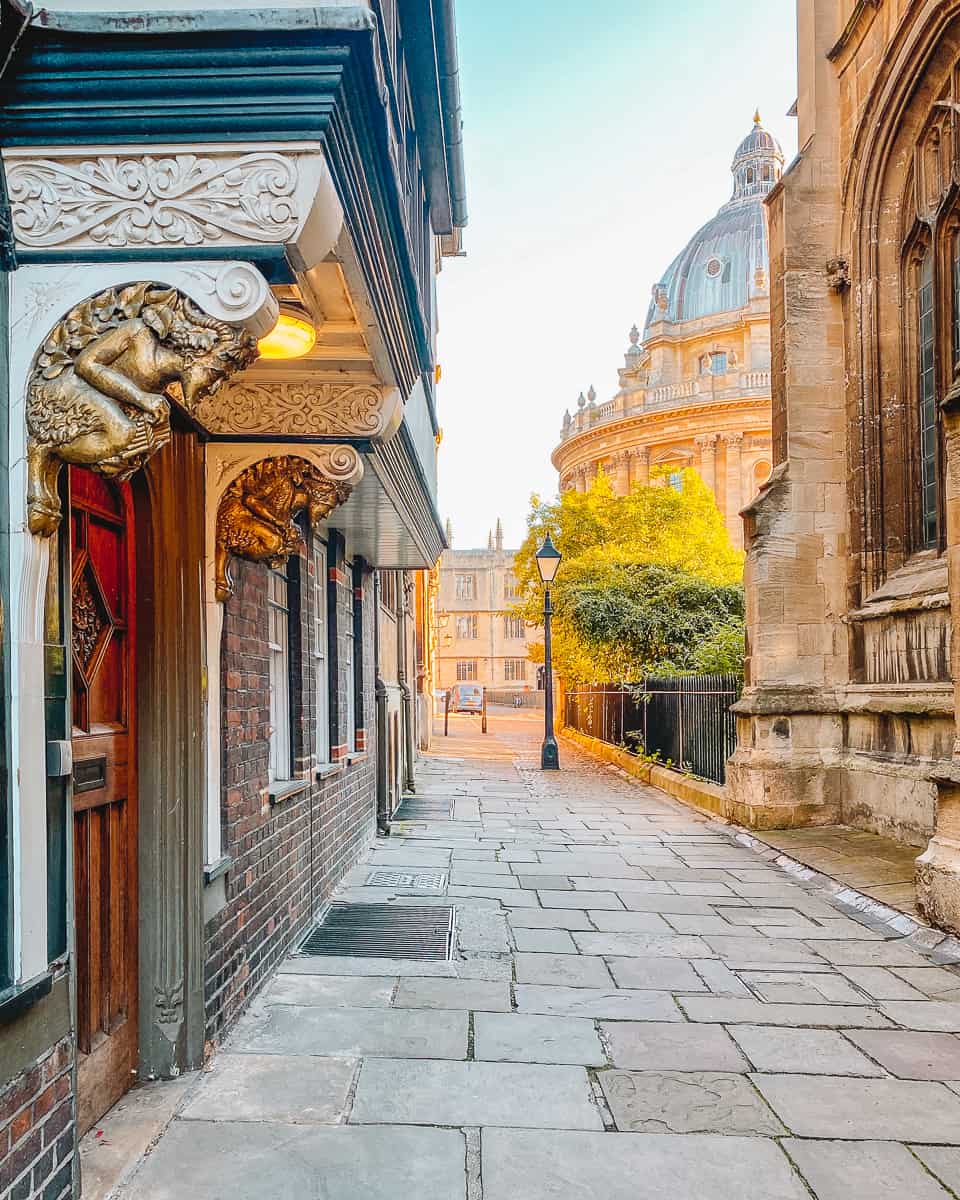 What is the Narnia Door Oxford?
One of those places is nicknamed the Narnia Door Oxford. An embellished wooden door that can be found on St Mary's Passage that looks like a portal to another world.
This door has two gold fawns on either side of it that look like Mr. Tumnus and wooden carvings on the front that look like the Lion Aslan.
Also, just a little further down the road, you can see an old oil lamp post that looks suspiciously like the notable landmark post in Narnia.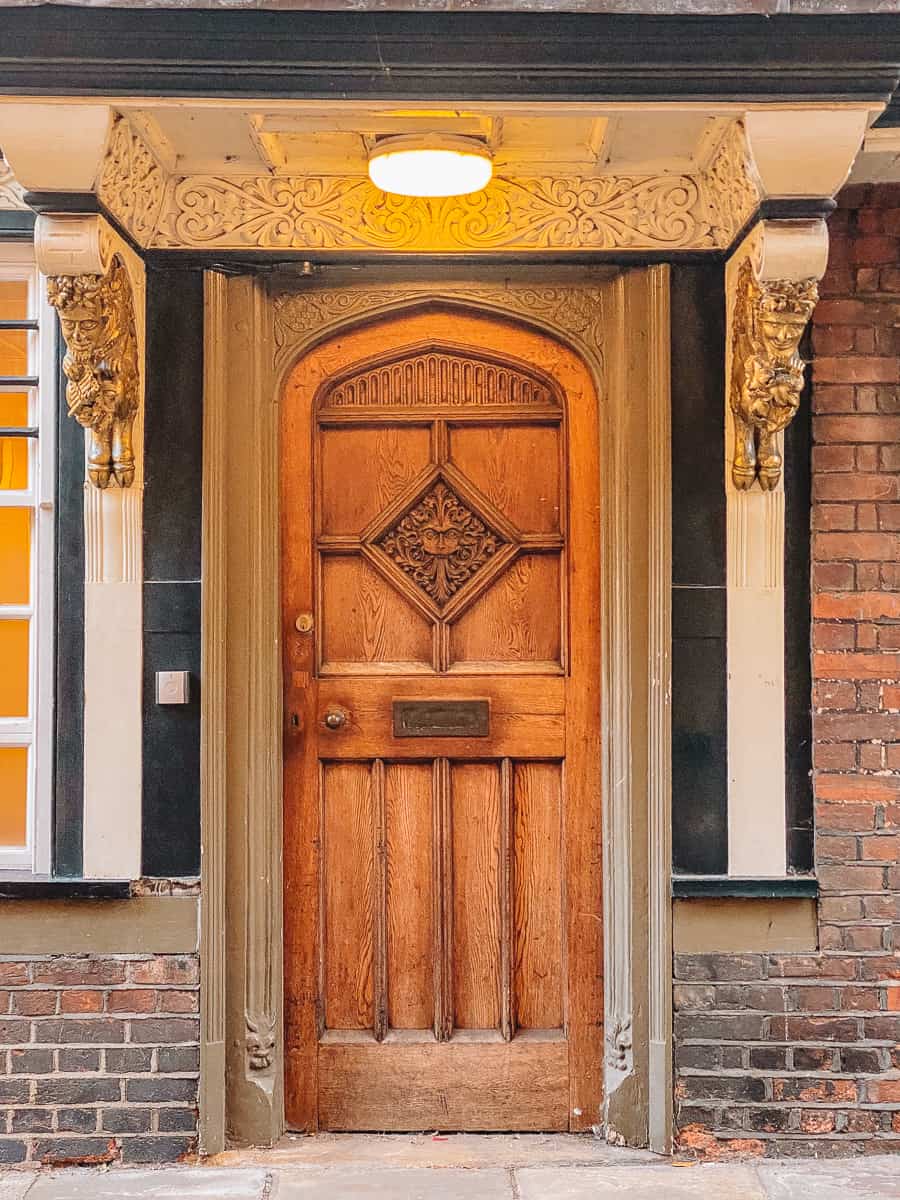 Was this door a Lion, the Witch, and the Wardrobe inspiration?
It would be lovely to say that this door was the one that inspired pieces of Narnia but it is, unfortunately, just a fan theory.
It has never been proven that St Mary's Passage was a C. S. Lewis inspiration for The Chronicles of Narnia.
However, it does seem a bit too much of a coincidence that you have this magical embellished door with suspiciously similar Narnia characters and the famous lamp post in the same area!
Also, the fact that C. S. Lewis was both a student and a tutorial fellow at Oxford meant he spent a lot of time in this city.
It is not too far-fetched to believe he walked by this door many times and imagined them as people and places in his fantasy world.
Finding Narnia in St Mary's Passage
Regardless of whether the Narnia door Oxford and Narnia lamp post are 'real' inspirations, it is still a popular attraction in Oxford.
Tourists visit all the time to take photos of the Narnia Door and pose with the lamp post. Plus, nearly every literary tour of Oxford makes a stop here to discuss it.
There are three distinct things to look out for here.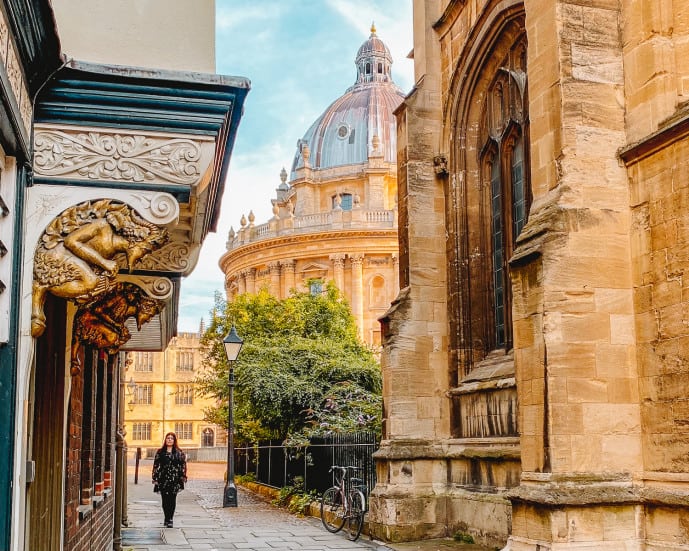 1. Mr. Tumnus
The first thing you'll notice when you walk down St Mary's Passage is the two shiny gold fawns that look exactly like Mr. Tumnus!
They both hang off the embellished doorway and you can get some great photos of them with Radcliffe Camera and lamp post in the backdrop.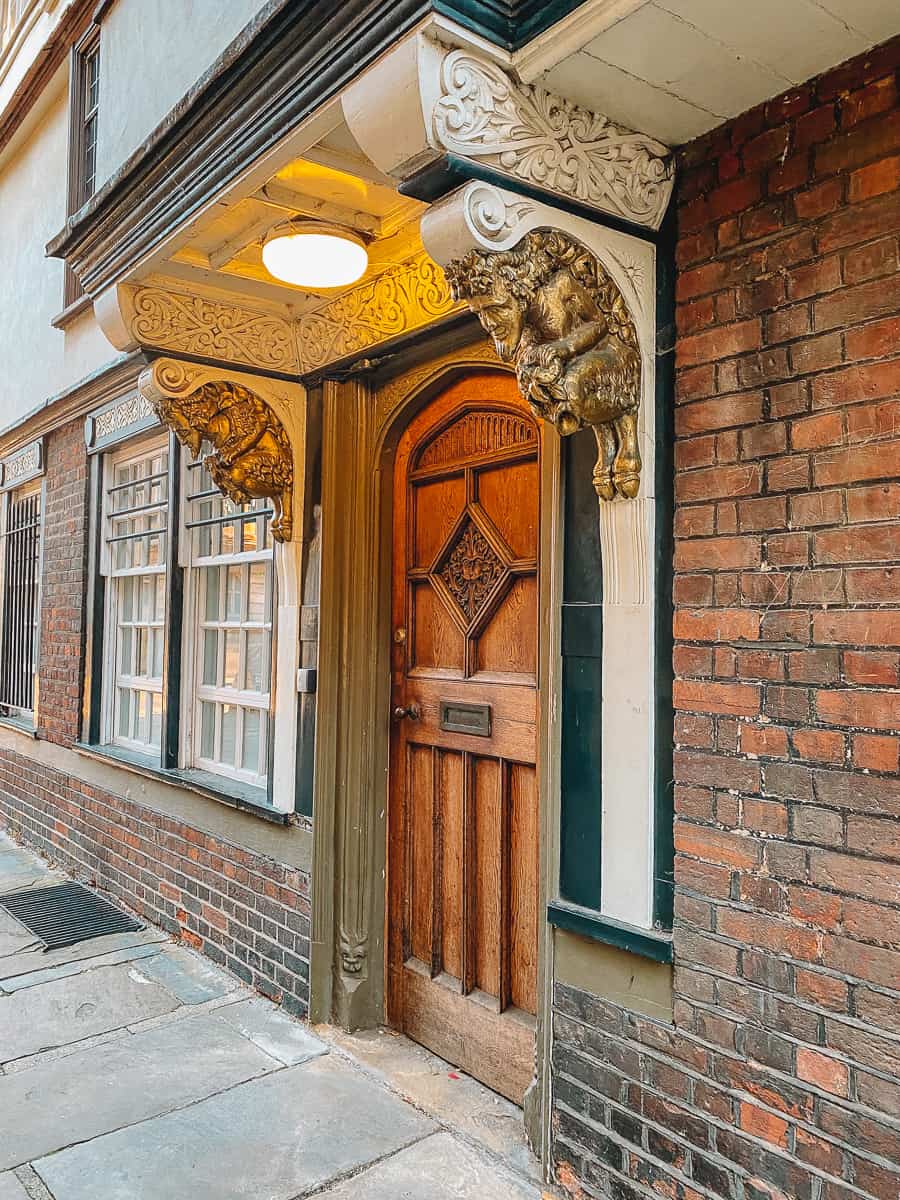 2. The entrance to Narnia & Aslan's Face
Although the official entrance to Narnia can be found in a wardrobe that Digory had built from the wood of a magical Narnian tree. You can just imagine that this very door is a portal to that world too!
If you look closely, you can just about see a pattern in the woodwork that looks like the lion Aslan's face.
3. The Narnia Lamp Post
Does this lamp post look vaguely familiar? It certainly does look like the lamp post in Narnia!
Of course, that lamp post is the one where Lucy Pevensie first meets Mr. Tumnus who tells her that it marks the beginning of Narnia.
It has never been proven if it is this specific lamp post that inspired it, or the ones in Malvern, Durham, and Ireland. All of these places have a connection with C S Lewis.
But, the one in Oxford does feel awfully fitting with the Narnia Door nearby. Don't you think it would look even more magical in the snow?
Fun fact: C. S. Lewis put a lamp-post in The Lion, the Witch, and the Wardrobe because J. R. R. Tolkien claimed that no escapist fantasy would have had one in it!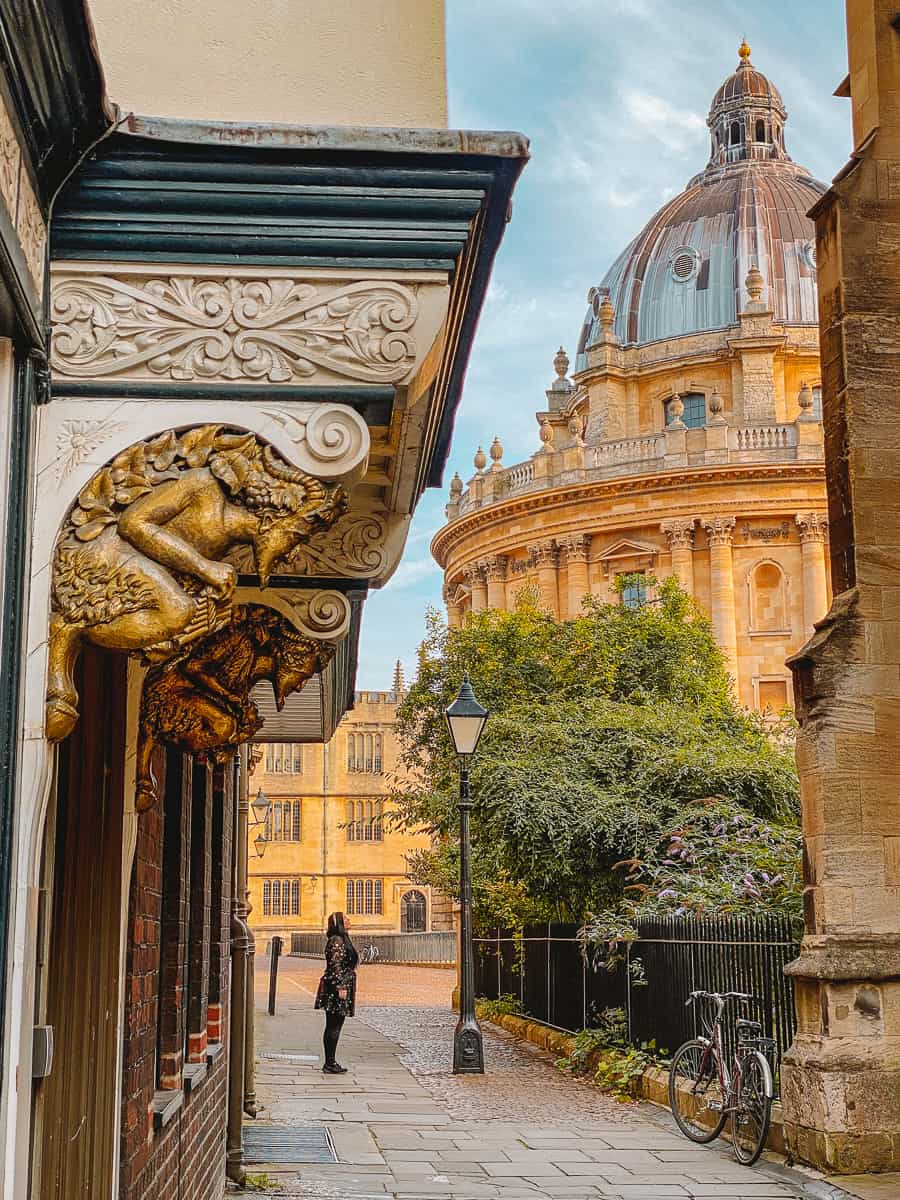 Where is the Narnia Door Oxford?
If you wanted to visit this magical door and Narnia lamp post for yourself, then you only need to wander down the Oxford High Street and make a turn at St Mary's Passage.
It's a tiny lane that is easy to miss if you're not looking out for it. But, it leads you towards the Radcliffe Camera, Brasenose College, and St Mary's Church.
If you do happen to miss it, make your way over to Radcliffe Camera and you'll easily find it from the central courtyard there.
It's easiest to approach the passage on foot and there are plenty of bus services that stop at Oxford High Street.
The Narnia Door address is St Mary's Passage, Oxford, OX1 4BJ. Click here for a Google Pin.
Things to do near St Mary's Passage
After your visit to the Narnia Door, there are many amazing attractions to visit in Oxford. Here are some of the most popular nearby;
Radcliffe Camera – One of the most iconic landmarks in the city of dreaming spires, this magnificent circular building is part of the Bodleian Libraries that serves Oxford University. Even if you don't choose to go inside, you can admire it from the outside in the cobbled courtyard!
St Mary's Church Tower – For some of the best views in all of the city, you must climb to the top of St Mary's Church Tower. You can ascend 127 steps to the viewing platform lined with gargoyles. From here, you'll see a birds-eye view of Radcliffe Camera, The High Street, All Souls College, The Sheldonian Theatre, and more.
Bodleian Library – No visit to Oxford would be complete without a tour of one of the Bodleian Libraries. I would highly recommend the Divinity School which is featured in Harry Potter.
Bridge of Sighs – My favourite landmark in Oxford. Named after the famous bridge in Venice, this skyway connects two buildings in Hertford College. You can find hanging over New College Lane.
Click here to read my complete guide on the Bridge of Sighs!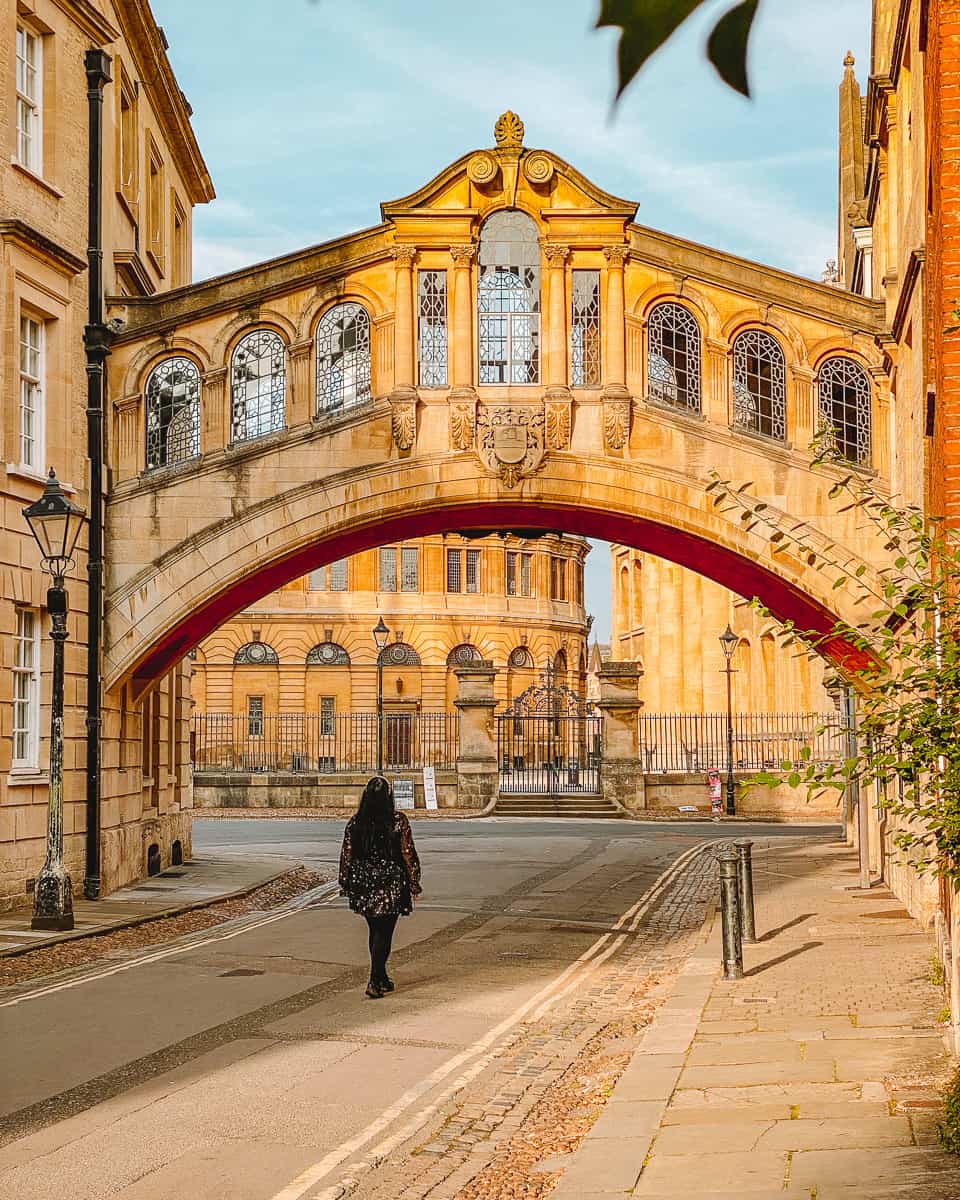 Are you looking for more C. S. Lewis attractions in Oxford?
As C. S. Lewis was both a student and fellow at Oxford, the places you could follow in his footsteps are endless.
But, if you just wanted to see the highlights you must take a look at University College where he studied.
Magdalen College is where he became a Tutorial Fellow. A wander around the cloisters is not to be missed. Here, you can see some of the gargoyles that supposedly inspired characters in Narnia.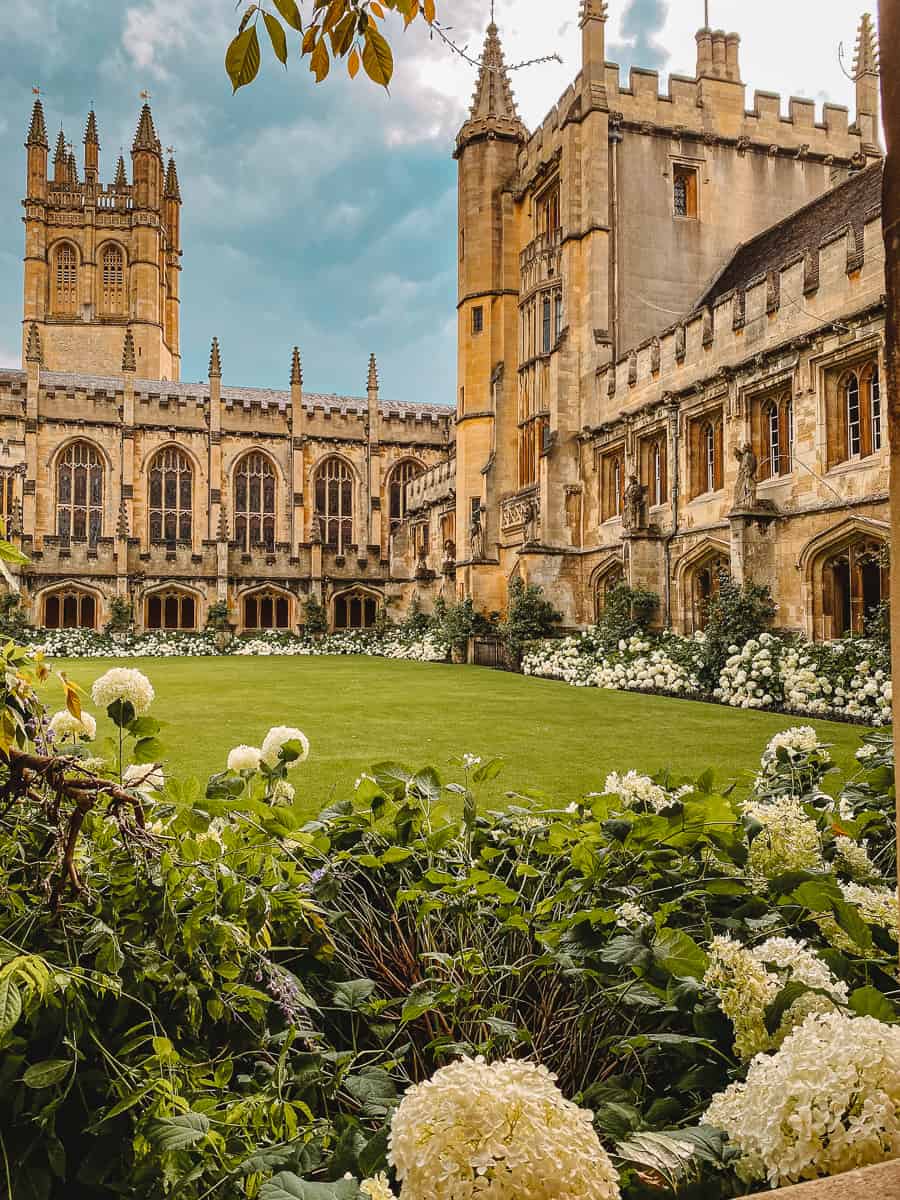 The Eagle and Child was a famous haunt of 'The Inklings', a famous informal literary discussion group that included J. R. R. Tolkien. You can pop in here for a drink or a bite to eat.
Also, you must take a walk along the Cherwell River and the Oxford Botanic Gardens which was a favourite walking route of his.
Read more of my Oxfordshire travel guides
A complete Harry Potter guide for Oxford
Harry Potter guide for New College – Find Draco's Tree!
How to visit the Harry Potter Tree at Blenheim Palace
Downton Abbey filming locations in Bampton
How to visit Highclere Castle for FREE
How to see Badbury Clump bluebells
Top things to do in Faringdon & Folly Tower
Things to do in Uffington White Horse
Save the Narnia Door Oxford for later!