The Neemrana Fort Palace is a stunning property in the village of Neemrana, Rajasthan.
Conveniently located around 2 hours from Delhi, it's the perfect weekend getaway for Delhiites to escape the busy life of the city or a great introduction to your Rajasthani adventure!
This fort palace is the Neemrana hotel group's flagship property, their jewel in the crown.
The group specialise in a series of 'non-hotels' across India meaning they restore historical properties and transform them into awesome places to spend the night.
I'm a big fan of this hotel group and have stayed in two of their properties so far; this one and the Kesroli Hill Fort in Alwar.
It's always been an amazing experience and I plan to stay in more while I'm here.
Being a history lover, the fact I can actually sleep in properties that were built over 500 years ago astounds me. Even more amazing, was the fact you could zipline over the top of it!
Here's a guide and a Neemrana Fort Palace review.
How to reach Neemrana Fort Palace in Rajasthan
Neemrana is located off the Delhi – Jaipur Highway.
So, if you heading here from Delhi (130km), it's not hard to miss.
There's a sign from the highway which points straight to the fort palace. Unfortunately, there are no direct flights or trains which head to Neemrana.
So, the best way to arrive here is by cab or to hire a car and drive down yourself. But, unless you're used to the traffic in India – I would recommend a taxi!
If you did want to make part of the journey by train, you can alight at Rewari junction and get a cab from here – this may reduce some of the cost.
Try Cleartrip for booking your train tickets – it's an easy convenient way to pre-plan your rail travel in India.
For more India train tips read my full guide here
The history of Neemrana Fort Palace
The Neemrana Fort Palace was built in 1454 and much of the original fort is still standing today.
The Neemrana group has done a wonderful job in restoring and extending the property whilst maintaining its heritage. It's now one of the oldest resorts you can check into in India.
Back in 1986, it was a ruin in Alwar and had been that way for almost 40 years.
That's before the founders of the Neemrana group decided to restore it and turn it into a hotel, opening their doors in 1991.
At that time, there were 12 rooms available. Today, the fort palace boasts 55 luxurious rooms spanning 10 floors and all provide beautiful views of the Alwar region.
It has 2 gorgeous pools (and one of those is an adult-only pool – yay!), an amphitheatre, a spa, and India's first zip line.
The fort is a bit of a medieval labyrinth and it's so fun getting lost in and around the numerous alleyways, stairways, and rooftops!
Make sure you reserve some time in your day to explore it. If you aren't checking in for the night, you can still pay to enter for the day or pop in for some lunch.
Even better if you fancied zip-lining with Flying Fox, your ticket includes fort entry (win, win)!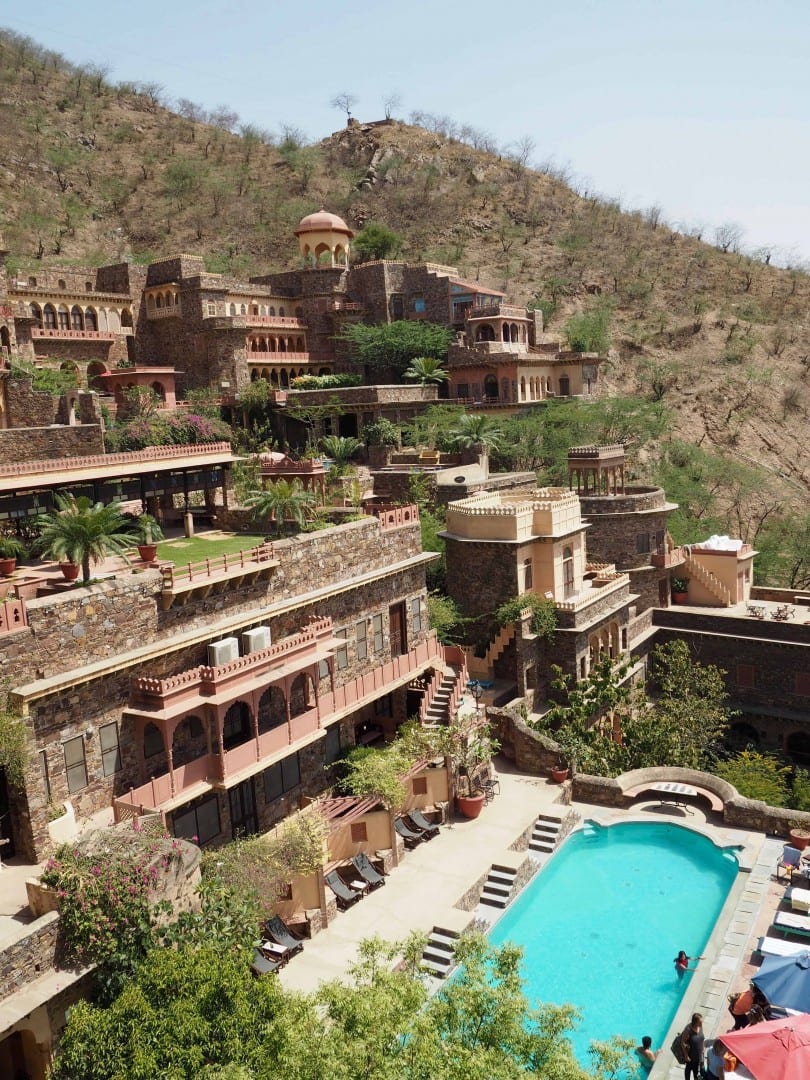 The rooms at Neemrana Fort Palace
When I stay in hotels on my own across India, I love the fact that some provide room rates for single occupancy.
Most of the time, it's exactly the same as a normal double room but with a cheaper price tag!
At the Fort Palace, I stayed in Mrig Mahal. It was the cutest little cubby hole made for one, all beautifully decorated with Rajasthani Heritage in mind.
This room cost around 3,500 rupees per night (£40) which suited me down to the ground.
If you fancy a more spacious and luxurious room, the fort palace provides for every budget.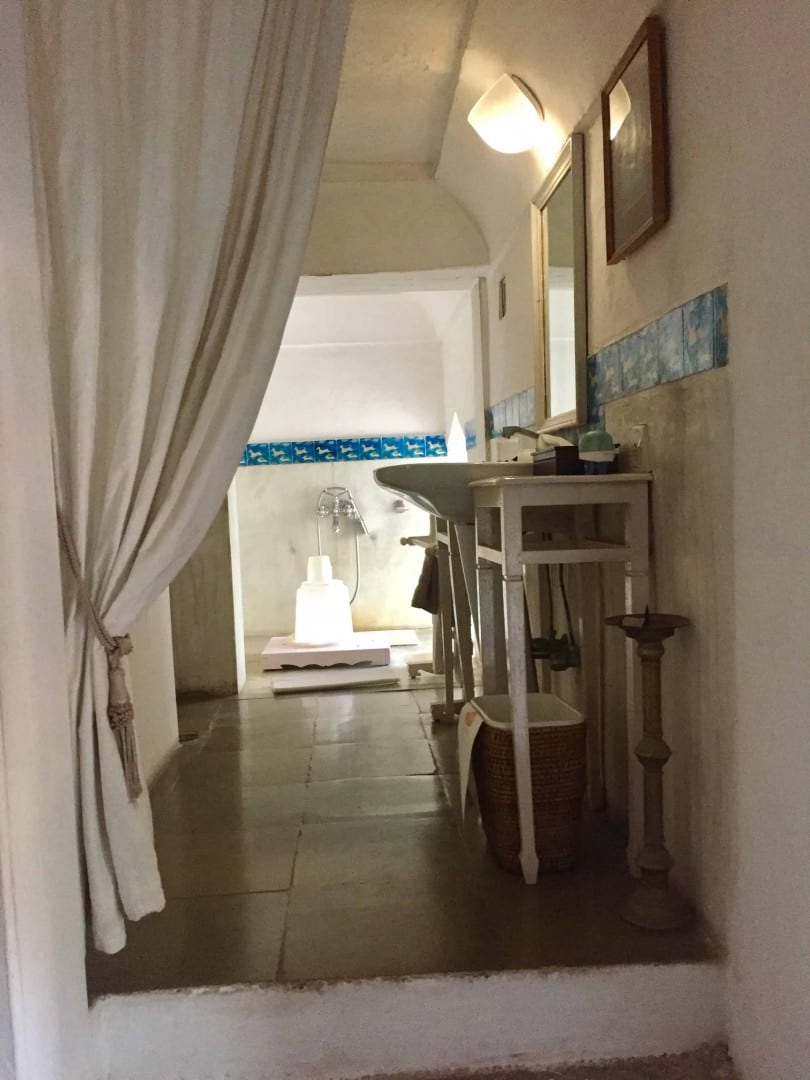 Vintage car rides at Neemrana Fort Palace
There isn't an extensive amount to do in the area surrounding the fort, so the hotel has done the most to provide some activities to get involved in while you're here.
One of these is a vintage car ride around the village of Neemrana.
Your chauffeur will take you on a short bumpy ride in style. The amount of looks you get when you're riding around is quite funny!
But you definitely feel like a bit of a celebrity on your journey.
It costs 1200 rupees for the car ride (£15). I was on my own but in a group, you could split the cost.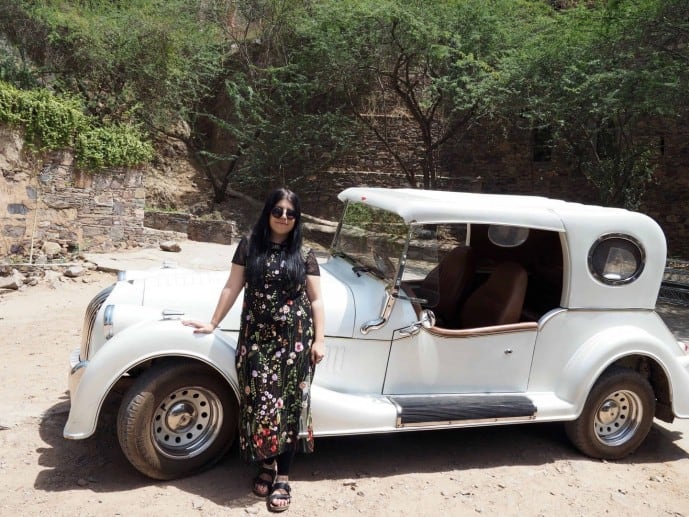 Entertainment at Neemrana Fort Palace and gala
On the weekend the fort palace hosts an evening of entertainment at their beautiful amphitheatre.
These are usually cultural performances, which showcase local performers and their talents.
When I stayed here, there was a Kathak dance performance of Mahadeva which was accompanied by a blend of traditional and modern music.
It was so captivating and I couldn't help but get caught in the story they were telling.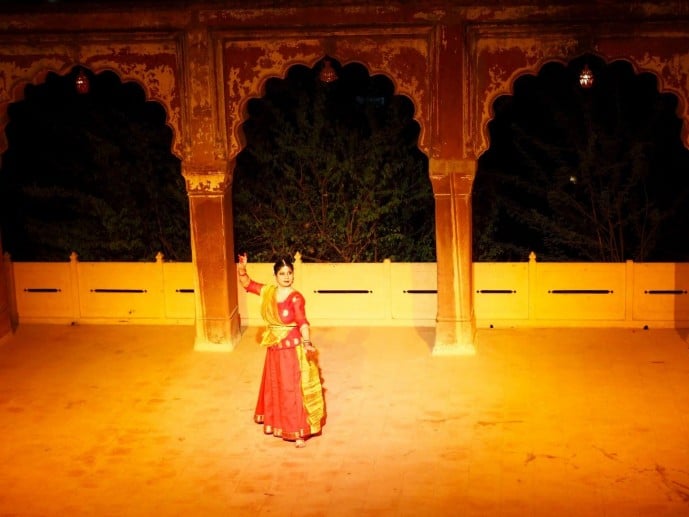 Neemrana Fort Palace dinner gala
After the show, you can eat at their dinner gala which takes place at the top of the fort.
All the tables were set up outside for the guests to eat al fresco. You will be treated to a spectacular buffet of Indian and Western choices.
The setting provides romantic views of the valley under a blanket of stars.
The best part about checking in at this resort for the night is the view of the fort after sunset.
There are hundreds of twinkling fairy lights which shine making a stunning backdrop.
Flying Fox Zip lining at Neemrana Fort Palace
The Flying Fox at Neemrana was India's first-ever zip line. So, it would be foolish not to get involved in the fun.
When I arrived at the fort, I could hear the noise of people flying over the palace, screaming, and laughing and it made me want to get involved too.
If you book your ticket online in advance you get a really good discount of 1350 rupees which is a bargain for a zip line!
What to wear for ziplining at Neemrana
Make sure you have decent trainers and socks with you, I discovered that they wouldn't let you zip with sandals, and had to wear their super trendy loafers.
I have really tiny feet too and as they didn't fit – there was no way I was getting up the hill to the first zip line with them slipping off.
Luckily, my dress straps broke that day so I had to improvise. I know, I'm the absolute definition of fashion;
They were a travesty but necessary if I wanted to do it!
If you have long hair like me you will need to tie it up in a ponytail. Also, I would recommend not wearing a dress like I did or you will look rather funny in that harness.
As you can tell, I was really prepared for the experience…
What to expect when ziplining at Neemrana Fort Palace
The first walk is the hardest one to get to the highest station. It's a steep uphill rocky climb.
I was wearing those awful shoes and it was around 40 degrees in the afternoon which wasn't a great combination.
Luckily, the instructor had the patience of a saint and waited for me as I stumbled up the hill to meet the others in my group (oops, sorry guys).
We went through a safety briefing and they showed us how to stay safe while zipping.
I was a little worried about the language barrier but the instructors spoke perfect English and were there on hand to help throughout the time we spent there.
It really put my mind at ease about health and safety as that was a major concern for me. Now, for the fun part.
There are five zips at Neemrana, and you gradually make you're way back to the fort.
The first zip line was the highest. It was an exhilarating ride that provided great views of the fort, mountains, and the surrounding valley.
You end up at the watchtower which was a great area to explore before you move on.
So far so good, I had made it through the first 2 zip lines without any trouble. Now it was time for the third and longest of the lot.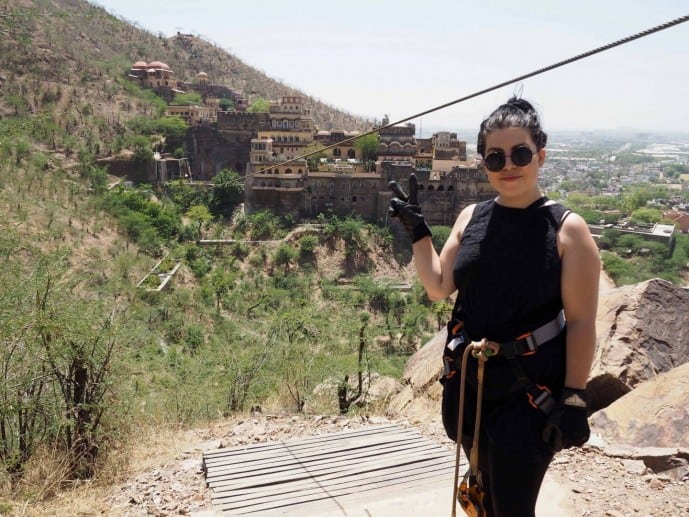 Is Ziplining at Neemrana Fort Palace safe?
YES. The team gives you a full safety briefing and is really vigilant.
In the safety briefing, they told me to bend my knees and keep them as close to my body as possible to go fast enough to make it to the end.
Determined, I curled myself into a tight ball and made my way down the zip line.
I was so near the end but felt myself slowing down. All of a sudden, the pulley came to a stop and I ended up going backward and found myself floating above the valley!
The instructor told me to do a 180-degree turn and start to try and pull myself back.
You honestly don't know your own weight until you have to try and pull yourself along a cable wire to safety!
I was frantically pulling but my arms were weak and I was moving at a snail's pace. The instructor then came to my rescue and managed to pull me back, thank goodness!
It was a great atmosphere in the group and throughout the afternoon, everyone joked around and had fun.
The instructors also made it enjoyable by filming our 'last' messages and everyone zip-lining on their GoPros!
You can buy the footage at the end for 500 rupees but it does include the memory stick which you can reuse.
It was great fun and I would highly recommend it to anyone who visits Neemrana!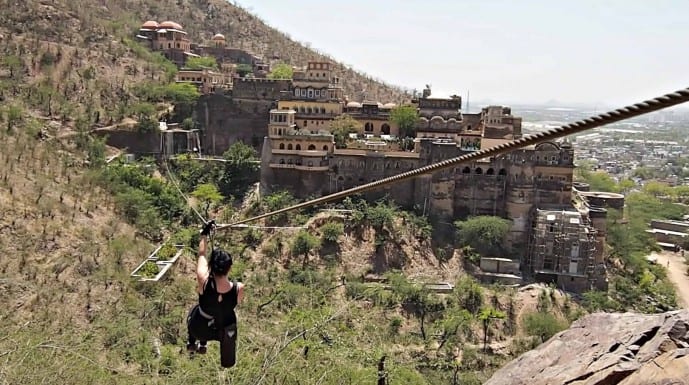 Walking tours of Neemrana in Rajasthan
I was really interested to find out the history of Neemrana. So, I decided to go on the camel tour which was provided by the Neemrana Fort Palace.
This took me around the village and ended up at the stepwell.
Here, I met Balwant Soni who provides entertaining and informative heritage walking tours of Neemrana.
Not only did he tell me about the history of the village, but he also told me about the Indian culture and festivals which were happening.
This provided some great context which was invaluable to me. Also, he takes some gorgeous souvenir photos.
How to book a Neemrana walking tour
If you did want a heritage walking tour in Neemrana, you can book via Balwant's Facebook page.
His family also owns a beautiful jewellery shop near the palace which sells quality silver and precious stone pieces made in Rajasthan.
They also own the cutest dog; make sure you pop in for some chai!
Don't miss visiting Neemrana Fort Palace in Rajasthan!
In my opinion, Neemrana Fort Palace is a definitely bucket list item for anyone who plans to visit India.
It's a stunning heritage property that allows you to step back in time to spend the night.
A perfect mix of relaxation and adventure, there is something for everyone. Make sure you add the Neemrana Fort Palace to your Indian itinerary!
Heading around Rajasthan? Check out these posts!
My complete guide to the Pink City of Jaipur
A photography guide for Jaipur
My top travel tips for Jaisalmer
A camel safari in the Thar desert
Why Bundi has to be on your bucket list
Top places to visit in Bikaner
Visiting the rat temple in India