Are you wondering whether you can visit Neuschwanstein Castle in winter? The short answer is, yes you can. But, there are many things to consider if you do.
I visited Bavaria in March for my birthday and it was utterly magical. The entire place looked like a fairytale and an enchanting winter wonderland!
There are many reasons why visiting this legendary castle is better in the off-season. The main ones are that you'll enter a snow-capped paradise and it's a lot quieter.
But, there are also some downsides like freezing temperatures, icy conditions, and some things being closed at this time of year.
Here is a complete guide for visiting Neuschwanstein Castle in winter with my top tips!
Introducing Neuschwanstein Castle
Neuschwanstein Castle is a legendary fortress in Bavaria that has captured millions of hearts since it was constructed.
It was built by 'Mad' King Ludwig II, also known as the Swan King, Night King, and Fairytale King due to his enchanting castles.
Neuschwanstein translates to New Swan Stone and the construction was heavily inspired by the tale of the Swan Knight, Lohengrin.
Ludwig was obsessed with legends, fairytales, astronomy, and medieval kings of old. He idolised absolute monarchs like Henry VIII and Louis XIV.
This castle was built as a medieval mountain retreat and an escape from his stressful court life in Munich.
But, it was also in honour of Richard Wagner who he greatly admired with his opera Lohengrin. He later became a patron for his work and paid off his debts.
King Ludwig funded the castle out of his own fortunes but his advisors were concerned about his spending. So, they had him diagnosed as insane without examination and then deposed.
His life was tragically cut short a day later under suspicious circumstances which are still widely debated today.
This meant that the castle was never fully finished but it has since opened to the public as a museum.
This storybook castle has inspired many famous figures including Walt Disney. He used this castle as the inspiration for Sleeping Beauty's Castle.
Today, Neuschwanstein Castle is the most famous castle in the entire world and is consistently voted as the most beautiful too.
Over 1.3 million people visit every year and most of these will be in the summer season.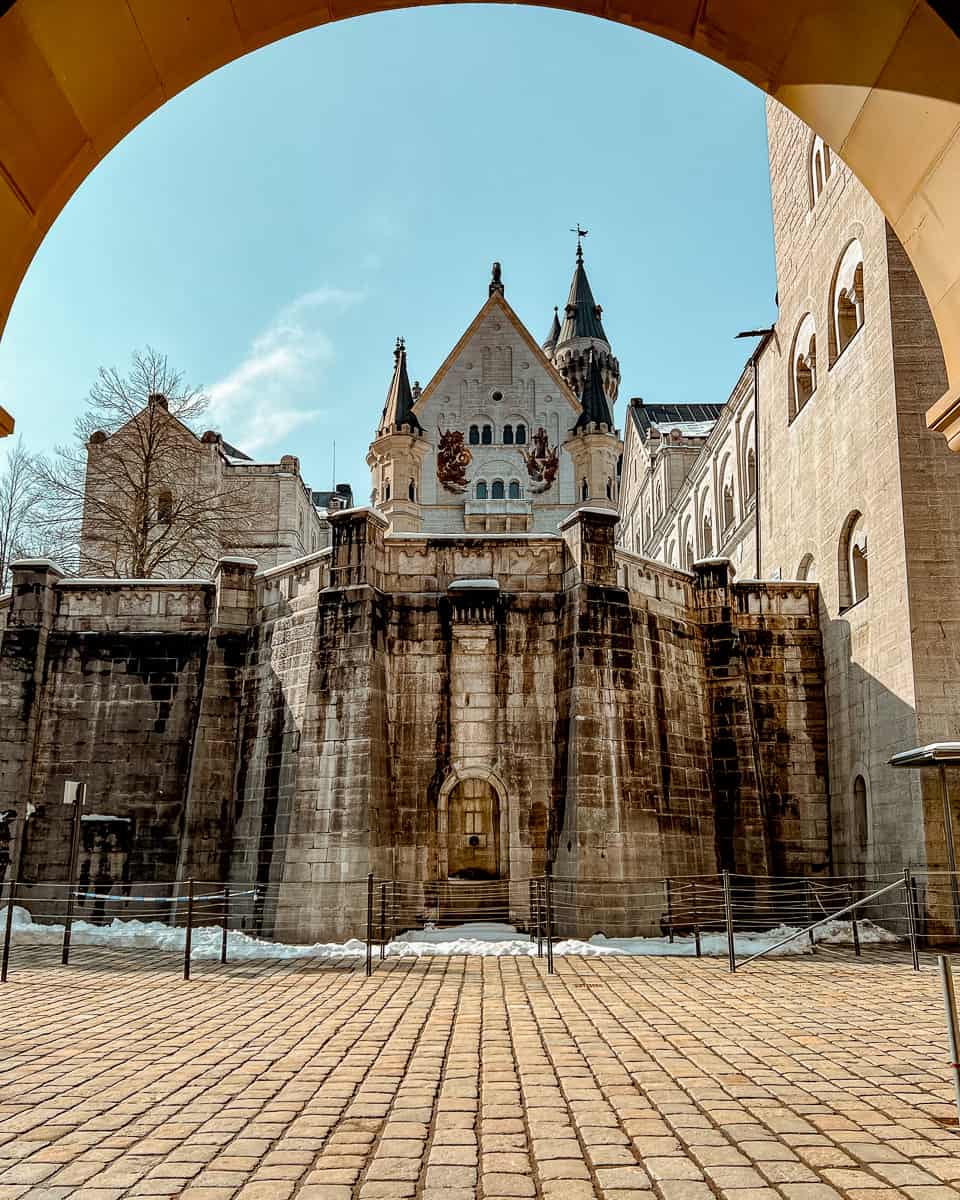 Can you visit Neuschwanstein Castle in winter?
Yes, you can visit Neuschwanstein Castle in winter as it stays open for guided tours all year.
The only dates that it closes are the 24th, 25th, and 31st of December and the 1st of January.
Even if you don't choose to go inside the castle on a guided tour, the grounds surrounding the castle are free to explore and an attraction in itself.
Up here, you can get spectacular views of Schwangau, Alpsee Lake, and the Pollat Gorge.
You also may be lucky enough to capture panoramic views of Sleeping Beauty's Castle from Queen Mary's Bridge in the snow.
Related – Is it worth going inside Neuschwanstein Castle?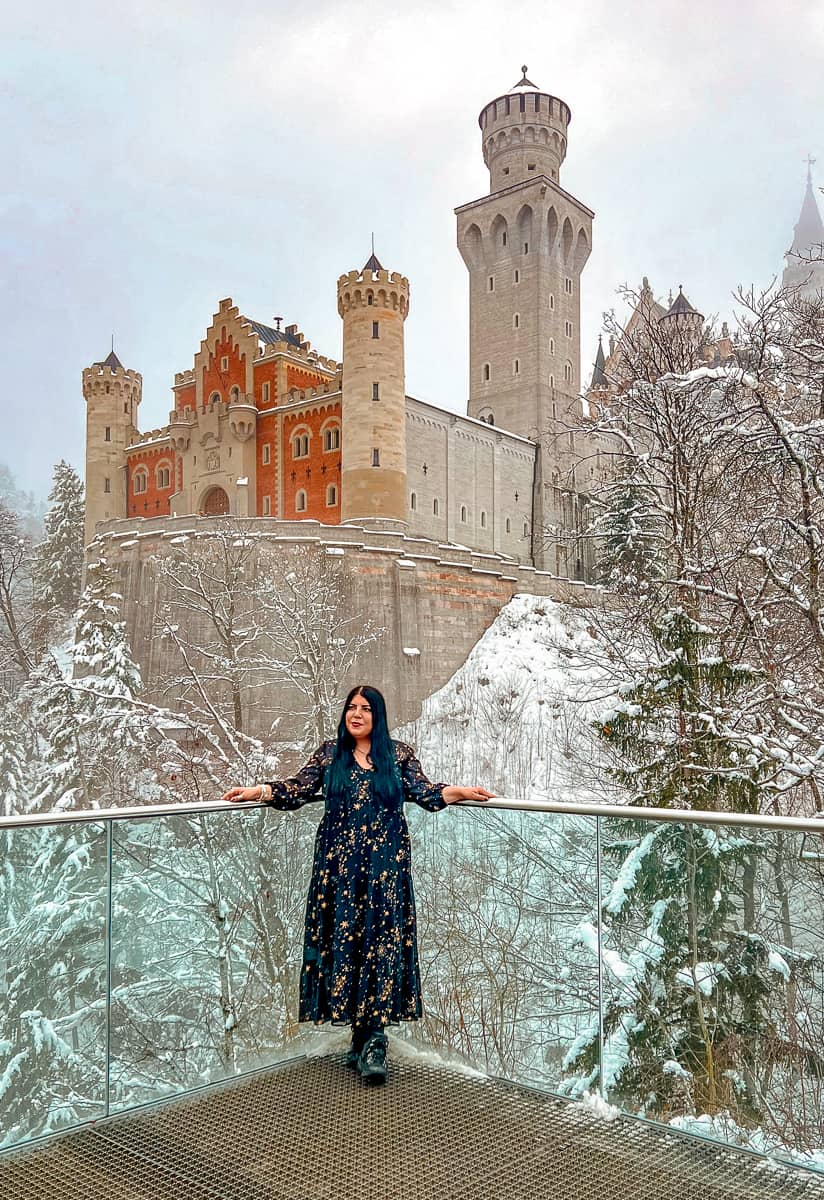 Why visit Neuschwanstein Castle in winter?
Although you can most definitely visit Neuschwanstein Castle in winter, many people wonder if it is worth doing.
It's a fair question as it will be freezing and icy plus many of the walking trails are closed off due to heavy snowfall.
However, my answer would always be yes. It is definitely worth visiting Neuschwanstein in the off-season!
Not only does this entire area of Bavaria transform into a magical snow-capped paradise. It's also so much quieter and less hectic.
Here are all the amazing reasons why you should visit Neuschwanstein Castle in winter!
1. It's a winter wonderland!
Seeing Neuschwanstein Castle in the snow is a magical experience and the entire place feels like a winter wonderland.
Schwangau (Swan District) and more specifically Hohenshwangau (High District of the Swan) is the village surrounding the keep. It is located in a mountain valley on the fringes of the Alps.
So, there are lots of snow-capped mountain peaks, icicle waterfalls, dusted trees, and frozen lakes.
2. There will be fewer crowds
Neuschwanstein Castle sees around a million visitors each year and the majority of these visit in the summertime.
In fact, over 6,000 people can visit this castle each day in the months of June, July, and August.
This is because there is the best chance of good weather, great visibility and it will be a lot warmer. But, it means it will be ridiculously crowded.
Although it is very cold, the winter season between November and April has a fraction of these crowds. So, you can enjoy visiting the castle and viewpoints in peace.
3. All the castles and museums are open
A great thing is that all of the main attractions around Hohenschwangau are still open in wintertime.
These are Neuschwanstein Castle, Hohenschwangau Castle, and the Museum of Bavarian Kings.
However, the Marienbrücke Bridge, Pöllat Gorge, and some of the walking trails can close due to icy conditions.
You can always check online to see what will be open or closed on the day of your visit.
Neuschwanstein Castle and Hohenschwangau Castle can only be visited by booking a guided tour.
It is recommended to book tickets for these attractions a few days in advance online via the official website.
Alternatively, you can buy tickets on the day at the ticket centre. But it's limited and on a first come first served basis. There is no guarantee that tours will be available on the day.
Related post – Is visiting Hohenschwangau Castle worth it?
4. The walk up to Neuschwanstein Castle is spectacular
Something many people don't realise when visiting Neuschwanstein Castle is that you have to walk up a big hill to get there. You cannot drive up to the castle.
It's only 1.5 kilometres but it is a steep climb that will take you around 30-45 minutes one way to reach the entrance of the castle.
You should always factor in your travel time to the castle when booking tickets. If you miss your guided tour time, there is no guarantee they will let you onto another one.
In winter, walking can sometimes be your only option. But, the good news is that the walk is straightforward and beautiful.
All the trees are snowy, there are frozen waterfalls and icicles, and you can see the towers of Neuschwanstein Castle from below.
It took forever to get to the castle as I was taking so many photos of the views!
5. Carriage rides in the snow
The shuttle bus to Neuschwanstein Castle in winter usually does not run due to the icy road conditions.
But, don't fret. Carriage rides may still be running in winter that can take you on a romantic journey up the hill to the castle in the snow!
It's good to note that these carriage rides don't take you the entire way to the entrance of the castle. You will still have a 10-minute walk uphill to get there but it does save a lot of the journey.
The carriage rides are on a first-come, first-served basis outside Hotel Müller in Hohenschwangau.
There will usually be a hefty queue and there is no schedule. Carriages arrive when they arrive and only once they are full do they go. So, leave plenty of time before your tour.
Neuschwanstein Castle carriage prices are 8 euros to go up and then only 4 to come back down. Money is taken in cash only with the driver so have some coins with you!
6. The views from Ludwig's Balcony are exquisite
You may be surprised to learn that you can't take any photos inside Neuschwanstein Castle. It's a shame but true. You can only take pictures of the kitchens and cafe near the gift shop.
However, at the end of your tour, you will be able to visit Ludwig's balcony with famous panoramic views over Schwangau and the mountain valley below. Photos here are allowed.
In winter, these mountains will be snow-capped and it makes a beautiful photo spot. This is one of the main reasons I recommend going inside the castle for a tour of these views.
You will see Hohenschwangau Castle, Marienbrücke Bridge, and Pollat Gorge from here. I felt like Princess Aurora in Sleeping Beauty's Castle!
As it was winter, there were no crowds. So, I had this balcony pretty much to myself. In summer, there can be a queue.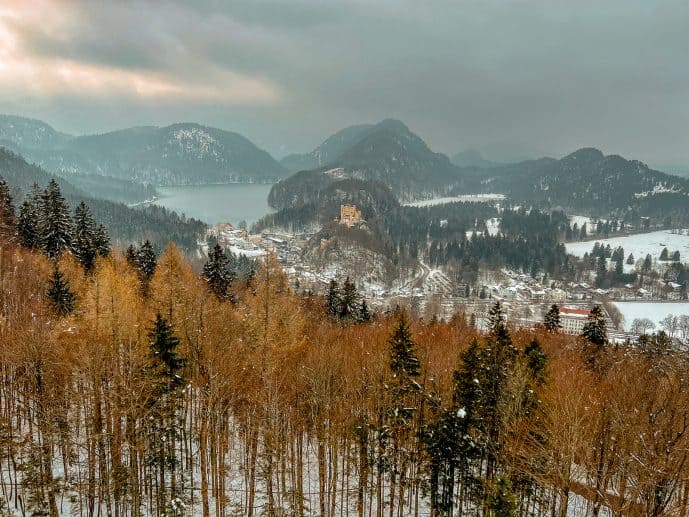 7. Hot Gluhwein & cocoa breaks
Is there anything better than enjoying a cup of mulled wine in the cold? Even better when you're overlooking a fairytale castle!
At the top of Neuschwanstein Castle by the viewing platform and lockers, you will find a gift shop that sells really cute souvenirs like magnets, postcards, and keyrings.
But, they also have hot drinks like coffee, tea, hot chocolate, and spiced Gluhwein. Just like in the Christmas markets, you can purchase your wine in a souvenir mug to take home.
There was a deal on my visit where you could buy mulled wine in a souvenir mug and get a biscuit for 6 euros. It was such a bargain. You can then sip it whilst overlooking this enchanting view.
8. Quarkballs / Quarkbällchen
This comforting Bavarian winter snack is a reason to visit Neuschwanstein Castle in winter all on its own.
Quarkbällchen are balls of Quark Cheese that look like donut holes and are fried and then dipped in sugar. They are so delicious and a perfect snack to warm up.
Although the walk up to the castle can be tough in the snow, there is a food stall that sells cones of these moreish treats to order! It's like a reward.
Make sure to have a couple of euros cash prepared to pay. You will not regret a thing.
9. Schloss Bräustüberl Hohenschwangau
If you're craving comfort food when visiting Neuschwanstein Castle in winter I would recommend popping into Schloss Bräustüberl Hohenschwangau.
It's a beautiful tavern next to the Museum of the Bavarian Kings and has some amazing traditional dishes on the menu.
They have pork with dumplings, steaming bowls of stew, beef cuts, vegetarian options, and some delectable warm desserts as well.
Their Konig Ludwig Weissbier is brewed locally and is served by the stein or there is Gluhwein on offer as well.
The inside of this restaurant is not only cosy but stunning with vaulted arches, floral displays, and old oil lamps. You can also see portraits of Bavarian royalty on the walls.
I ate here a few times on my trip and the service was not only prompt but excellent. They take both cash and card payments.
10. Book a winter retreat at AMERON Hotel & Spa
If you would prefer, you can choose to stay in Schwangau village for the night and wake up to the enchanting views of Neuschwanstein Castle.
AMERON Resort & Spa Alpsee is located right in the centre and is a luxury resort that makes a magical retreat in the winter season.
My cosy room had the perfect view of Hohenschwangau Castle from my window and it was so special waking up here each day.
I was treated to complimentary champagne on my birthday breakfast and they had a gorgeous gastronomy restaurant with delectable food in the evening.
The best part is their spa area where they have a heated swimming pool overlooking the mountains and lake!
Click here to book your stay at AMERON Hotel
Is it worth visiting Neuschwanstein Castle in winter?
YES, it's definitely worth visiting Neuschwanstein Castle in winter as the entire place feels like a winter fairytale.
I'm a huge fan of Narnia, Harry Potter, and Disney and this place felt surreal.
Ultimately it's a trade-off. Visiting in winter is magical and will mean far fewer crowds but some things are closed off like the Marienbrücke Bridge.
I wouldn't hesitate to visit Neuschwanstein Castle in winter again. But, there are lots of things I learned on my visit which I would factor in for next time.
My top tips for visiting Neuschwanstein Castle in winter
Although there are lots of benefits to visiting Neuschwanstein Castle in winter, there are also lots of downsides and things to consider.
The main thing is that the Marienbrücke Bridge may close so you won't get to see that iconic fairytale view.
But, you also need to factor in the weather, walking up to the castle, and exploring in the snow.
Check the weather forecast before you go
It can be very easy to assume that if the weather is sunny in Munich, the weather at Neuschwanstein Castle will be sunny too.
But, there is 123 kilometres distance between the two places and the mountainous region around Schwangau has its own microclimate.
When I left Munich it was sunny with blue skies but by the time I arrived in Füssen two hours later, it was snowing and shrouded in so much mist I couldn't see the mountains.
If you can be flexible with the dates of your Neuschwanstein Castle day trip, I would opt to visit on a clearer day.
It will be freezing… wrap up warm
This may seem pretty obvious but it will be freezing in Schwangau. It's a mountain valley and the temperatures plummet in this area compared to Munich.
So, make sure to wrap up warm for your visit. My top tip would be to wear lots of layers as opposed to one big coat.
You'll need warm socks, walking boots with traction, a vest if you have it, a top/dress, leggings, a wooly hat, gloves, a scarf, a cardigan/jumper, and your coat. Bonus points for thermal underwear.
It's best to be too warm and then strip layers off than be shivering and miserable the entire time that you're here!
Getting up to Neuschwanstein Castle in winter can be challenging
In the summer months, there are a whole host of ways that you can get up to Neuschwanstein Castle like shuttle buses.
But in winter your options are limited and walking there may be the only way.
Although they do scrape the road, it can still be quite a slippery walk up and down the hill. So, I would make sure to wear ankle-supporting shoes and consider poles for the slush.
The Marienbrücke Bridge may be closed
The only thing that I feel sucks about visiting Neuschwanstein Castle in winter is that the Marienbrücke Bridge does tend to close if there is heavy snow and ice.
This means that you may not be able to see the iconic view of Sleeping Beauty's Castle in the distance.
This isn't always the case in winter, it really depends on the weather and the amount of snow on the paths.
Before, you used to be able to walk over to the bridge even if you couldn't cross it. Now, they block off the entire path leading to the bridge from the castle to keep visitors safe.
If crossing Queen Mary's Bridge is important to you. I would keep checking the website for when the Marienbrücke Bridge will be open.
But, to guarantee it, you're better off visiting in spring, summer, or autumn.
Note: Remember that this area is still private property of the Dukes of Bavaria. You will be breaking the law by trespassing if you ignore closure signs and sneak around the gorge.
Pollat Gorge & walking trails may close
It won't just be the Marienbrücke Bridge that closes off either, many of the walking trails around Neuschwanstein Castle will be closed too.
There are usually some lovely walks you can take in this area like the Pöllat Gorge and waterfalls which are very popular.
But, the pathways can sometimes be treacherous with ice and so they are shut off to the public.
The ground can be very slippy
The roads and paths in the main areas around Hohenschwangau and Neuschwanstein Castle get regularly scraped in the wintertime.
So, it won't be too snowy on the paths and you shouldn't have much trouble walking around the main attractions.
That being said, the floor can still be a bit slippy due to the ice. So, I would have a pair of walking shoes or snow boots with a good grip to explore.
If you want to walk around Alpsee Lake or anywhere else beyond this area, the ground will be very snowy with packed ice. Mind your step as it's easy to fall.
Schwangau can get foggy
Let's be real. Not every day looks like a winter wonderland with a clear blue sky and snow-capped peaks.
Sometimes you will arrive and you won't even be able to see Neuschwanstein Castle from the village as it's shrouded in mist.
This is what happened to me when I first arrived. I still went up to the viewing platform though. It was an eerie vibe and it reminded me of Twilight.
But, it's best to wait for a clear day to visit so you can see the spectacular views of the mountains in the valley.
I based myself in Hohenschwangau over a couple of days. Although it was forecast for clear sunny skies, I actually had a mix of mist, rain, clouds, snowfall, and some (rare) blue skies!
You'll need more time to visit Neuschwanstein Castle in winter
You will need around 2-3 hours to explore Neuschwanstein Castle, especially if you book a guided tour to visit inside.
That's not including the walk to Marienbrücke Bridge. If you plan to do this, I would leave 3-4 hours.
If you want to visit both Hohenschwangau Castle and Neuschwanstein Castle in one day you will need at least 2.5 hours in between visits.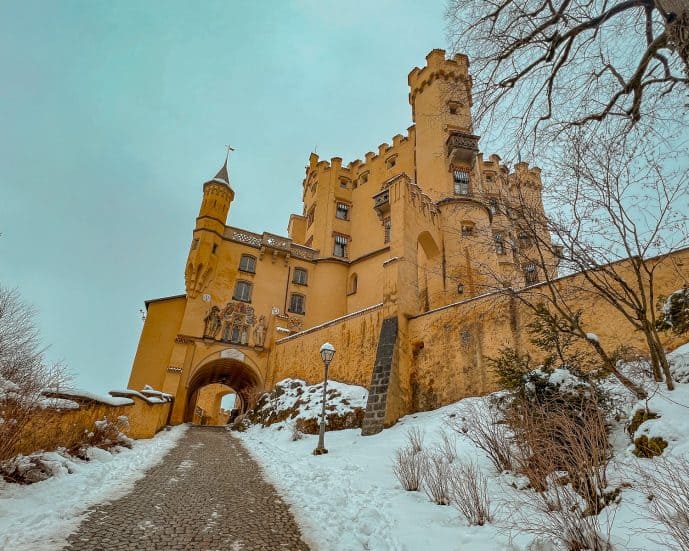 There is the Museum of the Bavarian Kings, village shops and the walks around Alpsee Lake to consider too.
You will need to eat and relax at some point. There is a Neuschwanstein Castle cafe at the end of the tour as well as the Schloss Bräustüberl in the village.
Personally, I would plan an entire day to explore Neuschwanstein Castle in winter. As buses and carriages may not be running there is lots of walking required to visit the attractions.
Watch out for melting snow
This is a weird one but on my visit in early March, there were mini snow avalanches that were happening all over the place.
From personal experience, it hurts if you're unlucky enough to cross paths with one.
On my carriage ride up, huge balls of snow would fall on our carriage roof from the trees. On my walk down the hill, snow fell from the branches and smacked me right on the head.
When I was visiting both Hohenschwangau Castle and Neuschwanstein Castle, huge sections of snow would be melting and falling off the rooftops.
All you'd here is a huge SMACK on the ground. The staff usually put cones around the worst parts. But, watch out or you'll get a brain freeze!
Bring cash with you…or suffer Euronet
In Germany, cash is still very much king and you will need some when visiting Hohenschwangau.
You can buy your Neuschwanstein Castle tickets at the information centre by card but gift shops, some food stalls, and carriage rides only take cash.
If you happen to forget or run out, there is a cash point in the village near the ticket centre. But, be warned that this is a Euronet ATM.
Their exchange rates are extortionate and border on daylight robbery. Always check conversion rates online before you withdraw your money.
Don't forget Füssen, Tegelberg & Linderhof Palace
It's easy to forget that this area isn't just the attractions around Neuschwanstein Castle.
If you have time, I would highly recommend exploring the colourful town of Füssen before you make your way back to Munich.
It's often overlooked which is a shame as it's so charming. There are some wonderful views over the river and cute cafes, boutiques, and restaurants there.
A couple of kilometres from the castle, you can take Tegelberg Cable Car up into the mountains.
Most people visit for skiing but you can simply visit for the cafe and panoramic views. Or, you can take the cable car to go hiking in summer and autumn.
There is also Schwangau's Church of St Colomon which looks like a dream with the snowcapped peaks in the backdrop.
If you're driving, Linderhof Palace is only 44 kilometres by car which is approximately a one-hour drive through the valley.
It's another incredible castle built by King Ludwig II. It is magnificent with lots of opulent rooms to explore. There is also an extensive formal gardens and parkland.
There isn't a bus service but there are guided tours from Munich that can take you to both Neuschwanstein Castle and Linderhof Palace in one day (see below).
Travelling to Neuschwanstein Castle in Winter
There are many ways that you can travel to Neuschwanstein Castle in winter.
If you're exploring Germany's Romantic Road by car, you can drive to Schwangau from Munich in around 90 minutes from the city centre.
The journey is approximately 123 kilometres (76 miles) but it can sometimes be a tough journey in the snow.
Always make sure your vehicle or rental car is prepared for snowy/icy conditions.
Munich to Neuschwanstein Castle by train
If you would rather not drive, it's easy to visit Neuschwanstein Castle by train from Munich in winter.
Daily train services run from Munich to Füssen all year. The journey takes around 2 hours and the price is roughly 25 euros one way.
You can book tickets online yourself via Deutsche Bahn's website and they also have a handy app. Or, you can buy tickets on the day at the self-service machines.
Although it's a long train journey, the bonus is that the views are utterly gorgeous. The countryside and valley started to become snowcapped and it felt like I was riding the Polar Express.
Once you land in Füssen, you will need to switch to a local bus running to Hohenschwangau at the train station.
The bus journey takes around 10 minutes. But, if you're in a hurry there will be taxis waiting at the station too.
Füssen station has a great luggage locker service if you need to store backpacks or suitcases for your visit to Neuschwanstein Castle. But, make sure to bring some coins/notes for the machine.
Why not take a tour of Neuschwanstein Castle in Winter?
If you would rather not organise travel yourself to Neuschwanstein Castle in winter, then you can take a guided tour.
Munich to Neuschwanstein Castle tours still run in the winter season. Most of the time the bus will drop you there and you have 'free time' in the village to explore the area as you choose.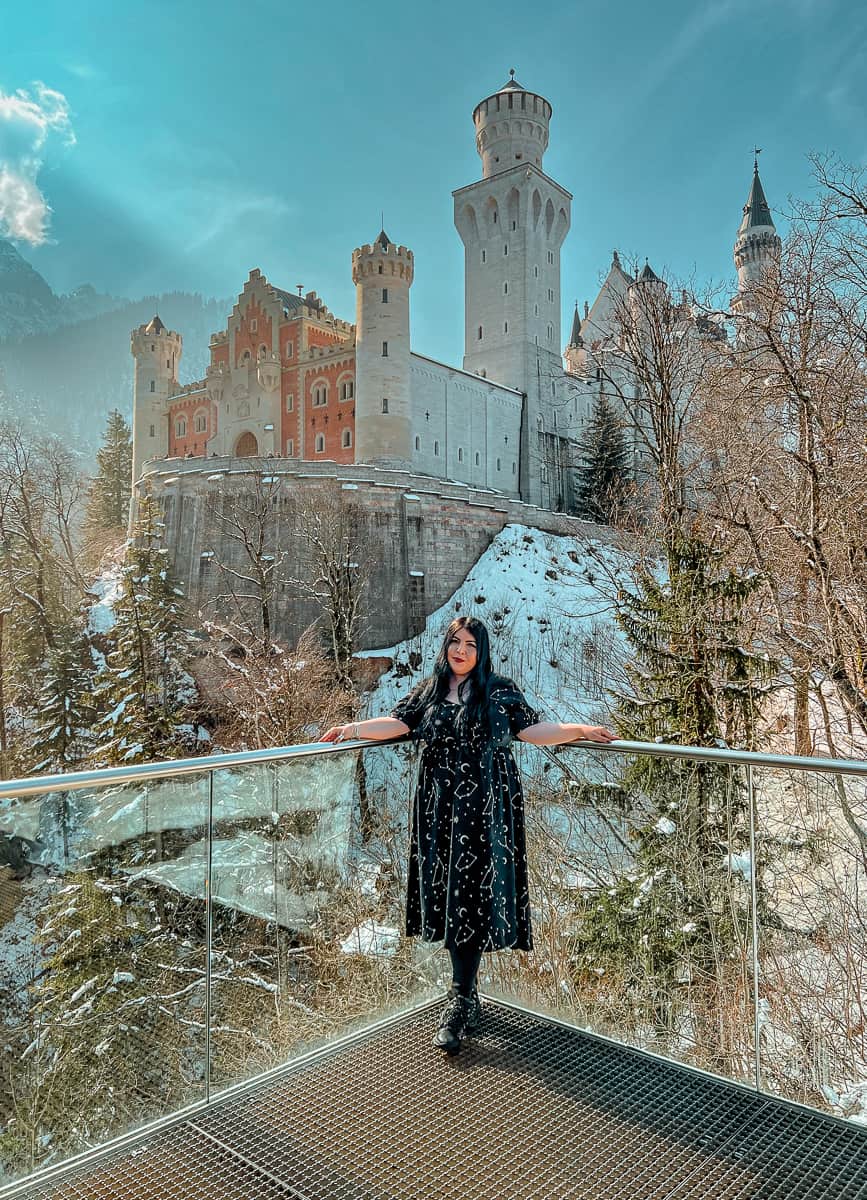 Neuschwanstein Castle in winter FAQs
Is there snow in Neuschwanstein in December? Yes, there is snowfall around Neuschwanstein. The entire place is like a winter wonderland!
Is Neuschwanstein Castle open in winter? YES, the castle is open all year save the 24th, 25th, 31st December and 1st January. Visiting is by guided tour only.
Is there a bus to Neuschwanstein Castle from Munich in winter? There is a Flixbus service that runs from Munich to Füssen/Neuschwanstein Castle and back in the spring and summer and is cheaper than the train. But, it doesn't run in winter, unfortunately.
Read more of my Germany travel guides
How to visit the magical Munich Law Library
How to visit the hidden gem Justizpalast Munich
The baroque hidden gem of Asamkirche
Discover Nymphenburg Palace in Munich
Magical Plönlein in Rothenburg ob der Tauber
How to visit Wiblingen Abbey Library
Save visiting Neuschwanstein Castle in winter for later!