My favourite hotel at Euro Disney has to be Newport Bay Disneyland Paris which sits on the edge of the majestic Lake Disney.
It's a gorgeous nautical-themed property that is set in an elegant 1920s Cape Code mansion and decorated in a New England style. So, it feels like you've stepped back in time.
They have plenty of boutique rooms, maritime restaurants, a gift shop, character meets, and even a gym, sauna, and swimming pool.
As part of their offers, they have Newport Bay Compass Club level and this is what I treated myself to on my stay.
It's not the cheapest upgrade so in this detailed review, I'll also let you know if it's worth the extra splurge.
Here is my honest Newport Bay Disneyland Paris review and if the Newport Bay Compass Club is worth it.
What is Newport Bay Hotel Disneyland Paris?
Newport Bay Hotel in Disneyland Paris is one of the premium hotels that are on offer at the resort that is 4 stars.
It's a huge property that is set in a New England mansion on the shores of Lake Disney near Disney Village.
It has over 1000 rooms on offer, two restaurants, a bar, a club lounge, a boutique, gym facilities and even an outdoor pool.
It's the perfect place to sleep whilst enjoying the parks and you'll be close to the magic during your stay.
Until the Disneyland Hotel re-opens, Newport Bay is currently the second most expensive property at Euro Disney. The first is the Art of Marvel Hotel.
But, in my opinion, I prefer it at Newport Bay Club due to its historical 1920s theme. I'm a huge history nerd and this hotel felt like a step back in time.
It's spectacularly beautiful with lots of elegant nautical features and it's really cosy.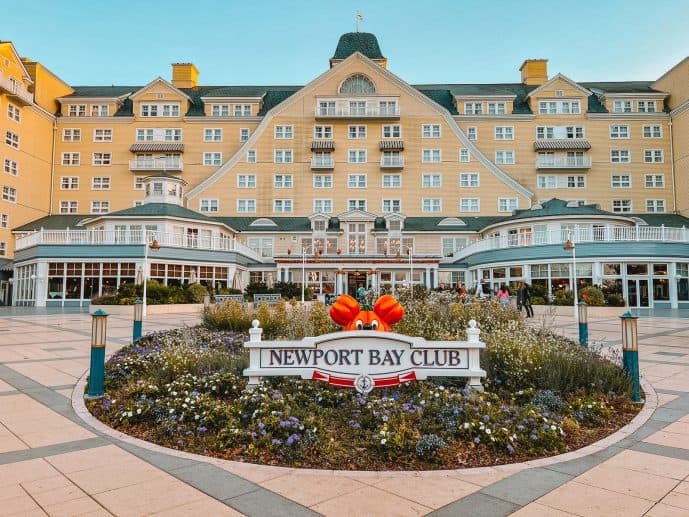 What are the rooms like at Newport Bay Disneyland Paris?
Just like the property, you'll find all the rooms at Newport Bay Disneyland Paris to be nautically themed.
You'll find anchor-shaped bed frames, maritime pillows, and decor that looks like it's been taken from the Captain's Quarters of a ship.
The rooms are very spacious and elegant and some of them have incredible views over Lake Disney.
As I had a Compass Club-level room and mine was more like a suite. It was huge for little old me. I had a dining room, a double bathroom with a hot tub, a lounge area, a desk area, and a huge double bed!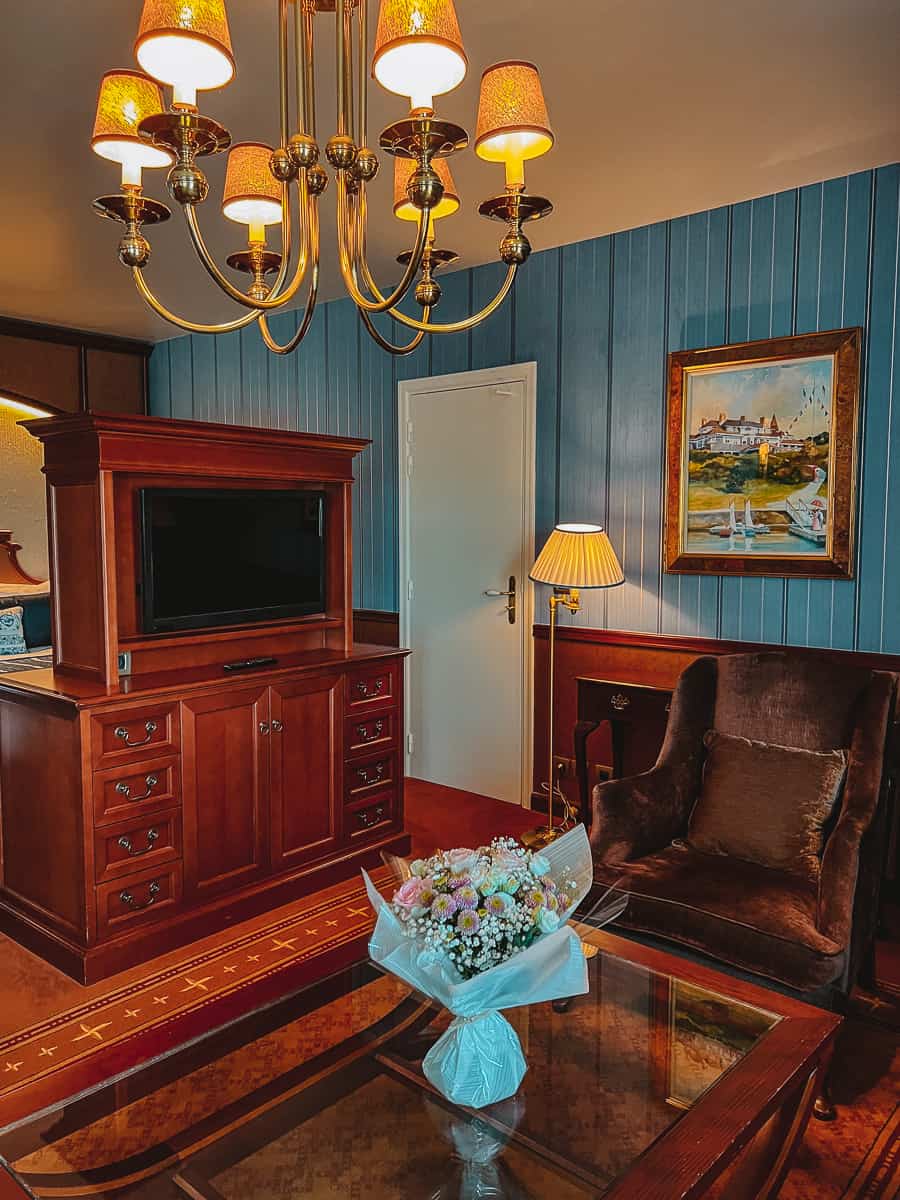 My room was placed in the very centre of Newport Bay Hotel facing Lake Disney. So, from my room, I could see the Art of Marvel Hotel, PanoraMagique, and even the Lighthouse on the shore.
Some rooms enjoy a view of the top of Sleeping Beauty's Castle and, if you're lucky, you can even see the fireworks in the evening!
If you book a package deal through Disneyland Paris, you will get a room, breakfast, and park hopper tickets for the Disneyland Park and Disney Studios park for the duration of your stay.
One of the perks of booking a package deal at Disney Hotels is that you don't have to register your park dates to enter the park. You do have to do this if you buy undated tickets separately.
What is there to do at Disney's Newport Bay Club?
So, beyond crashing in your bed after a long day walking around the Disneyland Paris parks, there are also plenty of things to do at Newport Bay Disneyland Paris.
It's a huge resort with lots of amenities on offer. So, you'll never be bored whilst staying here.
Here are all the things to do at Newport Bay Hotel in Disneyland Paris.
1. Explore this elegant & nautical New England mansion
As soon as you approach Newport Bay Hotel over Lake Disney you will be in awe of this property.
As it's set in a Cape Code mansion, the building is really impressive with its structure being reflected in the water.
Once you step inside Newport Bay Club, the interiors here will take your breath away. It's all very elegant and fancy with plush nautical carpets, sparking chandeliers, and vintage artwork.
It's all so stunning and it's worth having a look around this labyrinth of a hotel to see what you'll find.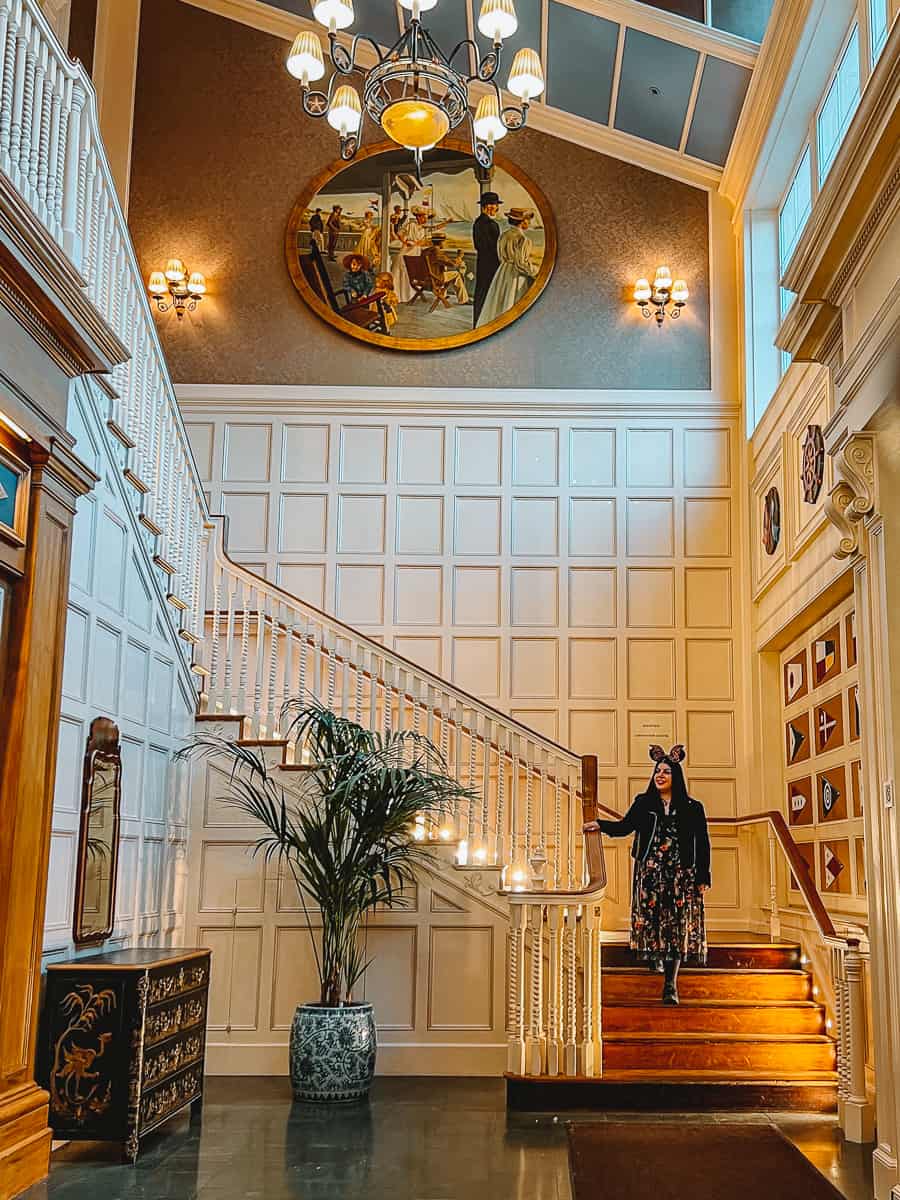 2. Dine at Newport Bay restaurants and bars
Disneyland Paris Newport Bay Hotel has a couple of restaurants to choose from if you wished to eat on-site.
The first is their Cape Cod restaurant which is where you'll have breakfast in the mornings. You will have to book an allocated breakfast slot as there are so many people in the hotel.
After breakfast, Cape Cod has a lunch and dinner menu which is an all-you-can-eat buffet!
If you'd rather have a fine dining experience, I would recommend booking their Yacht Club restaurant. They serve sophisticated dishes inspired by New England and the Mediterranean.
Or, why not relax in their Captain's Quarter Bar? It doesn't require a reservation and they serve up all sorts of drinks.
If you've booked Newport Bay Compass Club level, you enjoy breakfast in their private Compass Club Lounge and you don't have to pre-book a breakfast slot. More on that below…
3. Shop in the Newport Bay Boutique
Like all of the Disney Hotels at Euro Disney, Newport Bay Hotel has its very own shop that is located onsite.
It's called the Bay Boutique and has a statue of Mickey Mouse steering a ship in the very centre of the shop.
You'll find all sorts of souvenirs to purchase here like Mickey Ears, t-shirts, pens, pins, and Mickey-shaped snacks.
They even have some exclusive souvenirs and Pandora products as well as the Disney PhotoPass Service.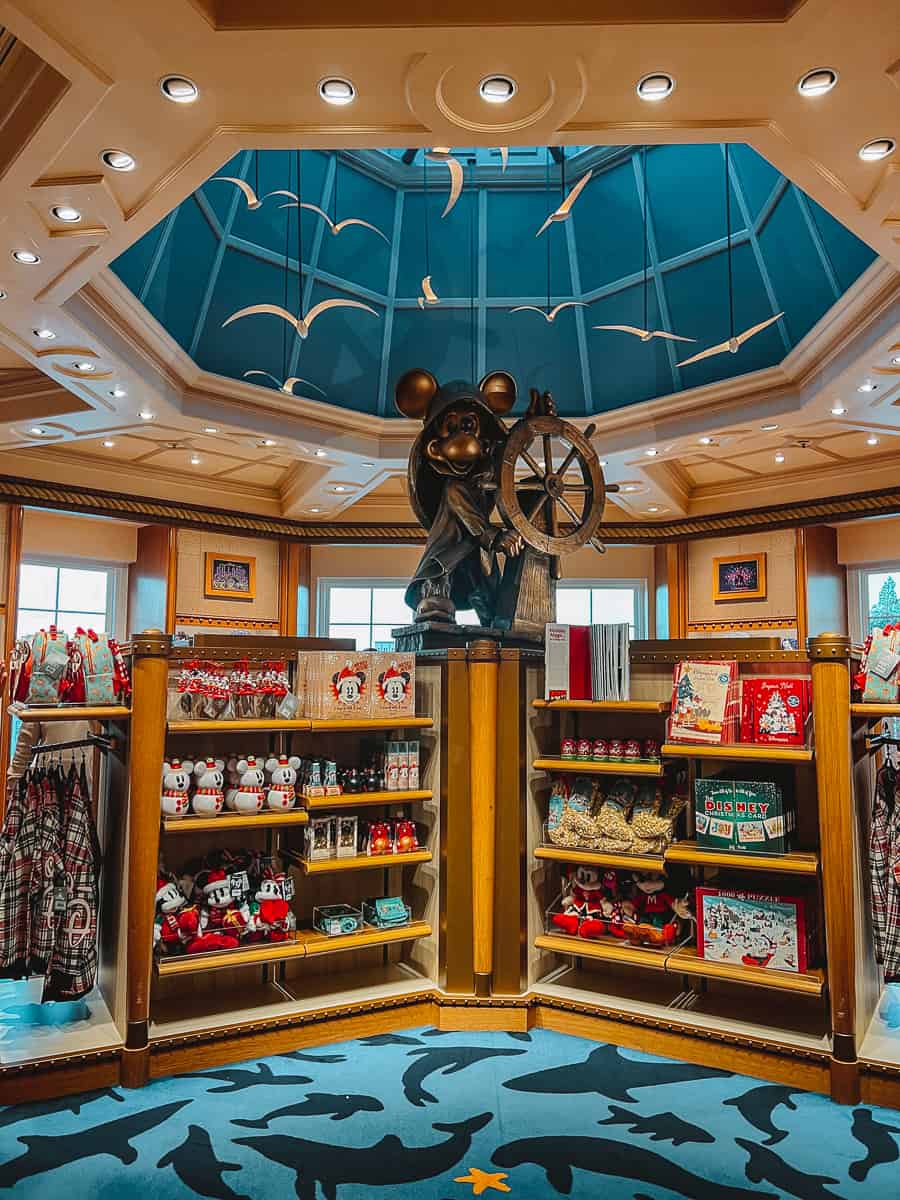 4. Newport Bay pool & sauna
If you fancy chilling out from the parks or wanted to get in some exercise, the Newport Bay Hotel has the Nantucket Pool.
It's both a heated outdoor and indoor pool which you can find on the bottom floor of the hotel.
The outdoor pool does close over the winter season but the indoor pool stays open all year. There is also a gym and sauna facilities too.
5. Newport Bay Hotel character meet and greets
What I love about Disney Hotels is that you can find some exclusive character meet and greets during your stay and Newport Bay Hotel is no different.
You can find Mickey and Minnie in the lobby at certain times of the day who are here to give you a hug or sign your Autograph Book.
They are dressed up in a nautical theme and the great part about seeing them here is they don't always have a huge queue.
Most of the time, the Meet Mickey Mouse Pavilion at Disneyland Park has a 60-minute queue. So, it's a great time saver if you get to meet him here with Minnie.
Unfortunately, I didn't get to meet Mickey at the hotel this time round. But, I'd like to go back and make sure I do.
6. Take in the views of Lake Disney & Disney Village
The view from my room at Newport Bay Hotel was absolutely stunning as I was on the Compass Club Level.
My room was almost central to Lake Disney and so I could honestly see for miles around the resort.
You'll probably walk past Lake Disney on the walk to the parks every day. But, it's definitely worth taking a stroll around the entire lake if you have time.
You can see the Art of Marvel Hotel, The Lighthouse, and lots of hidden gems dotted around.
Other features included in Newport Bay Disneyland Paris
So, there are plenty more features to the Newport Bay Hotel that you would expect from a four-star resort at Disney.
You'll have air conditioning in the rooms, free WiFi, and free parking during your stay. This is usually 30 euro a day in the parks so it's a huge saving.
There is also a shuttle bus service to the parks every day and a luggage service where the staff will pick up your suitcases for you from the rooms.
All guests can enjoy Extra Magic Time which gives you an extra hour in the parks before the regular guests arrive.
You can also take advantage of the Disney Shopping Delivery Service. This is where they send the souvenirs you buy from the park shops straight to your hotel room. This is a huge help if you didn't want to carry them around all day.
Kids can also enjoy the complimentary Little Captain's Corner. There is Room Service and Dry Cleaning services at an extra charge.
But, one of the best offerings onsite in my opinion is the Newport Bay Compass Club!
What is the Disney Newport Bay Compass Club?
Newport Bay Hotel is a beautiful resort on its own with many exciting features but the Compass Club is truly another level.
It's a premium Disney experience where you can enjoy a better room, exclusive check-in, and access to their Compass Club lounge.
You'll feel like a VIP as you'll have convenient access to your room and lots of little perks that don't come with a normal room rate.
This is what I treated myself to at Disneyland Paris during my stay and I loved every moment.
What's included in the Newport Bay Compass Club?
So, the Newport Bay Compass Club Level has lots of benefits that make it worth upgrading.
Here are just a few of the perks for splurging the extra cash;
Compass Club private reception and check-in
Depending on when you arrive at Newport Bay Hotel you can sometimes find huge queues to check-in.
If you arrive on the Eurostar or at a busy time, you could be queuing for nearly an hour to check-in to your room. This isn't great after a long travel day to get there.
With Newport Bay Compass Club there is a private reception where you can relax and take a seat whilst waiting to check-in. There is hardly ever a wait.
The team is super friendly and the check-in just felt very personalised. It's a lovely warm welcome and the best way to start a magical Disney vacation.
Better access to rooms
Newport Bay Hotel is a huge resort with 1097 rooms on the property. Sometimes, the walk to your room from the lobby can take a very long time.
This can be so tiring after you've spent the day at the parks and just want to crash and sleep!
With the Newport Bay Compass Club, all the rooms are within easy access of the lobby via elevator. It took me 5 minutes from the reception to my room.
Better quality rooms and spectacular views
All of the Compass Club Level rooms at Newport Bay have been upgraded and are more elegant than the normal rooms.
You'll find the Club Level Rooms are more spacious and you may even be upgraded to a Club or Presidential Suite.
You'll also find that many of the rooms have an unobstructed view over Lake Disney.
Disneyland Paris Newport Bay Compass Club Lounge
One of the best parts of upgrading to Newport Bay Compass Club is the Compass Club Lounge.
This is a beautiful room that looks like you're onboard a cruise ship and is filled with velvet chairs and elegant decor. It even has a window to the stars on the ceiling!
It's exclusively reserved for Compass Club guests and so this is where you'll be enjoying breakfast each morning. You don't have to reserve a slot.
The Cape Cod restaurant at Newport Bay can sometimes be very busy and even hectic and loud in the mornings.
But, the Compass Club Lounge is quiet and a step away from all that so you can enjoy a leisurely breakfast.
The breakfast buffet was huge and had lots of delicious food on offer. There were hot drinks, juices, and water. Plus, you had continental options like fruit, yoghurt, pastries, cereals, and muffins.
There were also hot breakfast options like scrambled eggs, bacon, and sausage. Plus, pancakes and waffles.
I was a little disappointed as I couldn't see any Mickey Waffles on offer. This is one of my favourite things to have at Disney Parks.
But, I asked a staff member and he brought me some over, especially from the Cape Cod buffet! It was so lovely of him.
The lounge is also open throughout the day where you can treat yourself to complimentary drinks, newspapers, and snacks.
They even have an afternoon tea service that you can enjoy daily.
Newport Bay Compass Club afternoon tea
One of the best parts of booking the Newport Bay Compass Club is their afternoon tea service.
This is complimentary for Compass Club guests and you can treat yourself to hot drinks, soft drinks, and a range of sweet treats.
You'll find lots of little cakes, dainty pastries, fruit, and cake pops on offer that you can indulge in with drinks of your choice.
It takes place between 3.30 pm / 4 pm and 5 pm / 6 pm depending on the season so check with the concierge team for exact times.
It's the perfect little break at the hotel during a busy park day. You can then head back out in the evening for the fireworks.
It's good to note that even if you don't make it in time for their afternoon tea, you can still have complimentary drinks served here throughout the day. This includes coffee, tea, and soft drinks.
Easy Check-out and luggage transfer
Checking out of Compass Club is just as seamless as checking in and requires minimum effort.
As part of your perks, you can leave your luggage in the hotel room and the staff will transfer it for you to their luggage holding area.
Then, once you're finished at the parks simply walk to the luggage kiosk and collect your belongings. It's as simple as that.
Alternatively, you can have it transferred to the Chessy train station as part of the Disney Express Service.
I had no queues for check out at Newport Bay. Once again, the staff in the Compass Club reception were so friendly and provided expert service.
Is the Compass Club at Newport Bay worth it?
Personally, I thought that upgrading to the Newport Bay Compass Club level was well worth the extra money.
It just made the entire experience seamless and there were lots of perks that made it worth every penny.
From the private check-in that saved time, exclusive character meets, the club lounge to enjoy a peaceful breakfast, free afternoon tea and drinks, and the gorgeous suite it was all so perfect. It made my Disney holiday that much more magical.
I would highly recommend upgrading to the Compass Club during your stay. It's worth fiddling around with dates on their website to see when you can get the best price.
If you look around January – March in the off-peak season there are sometimes really good value packages and offers!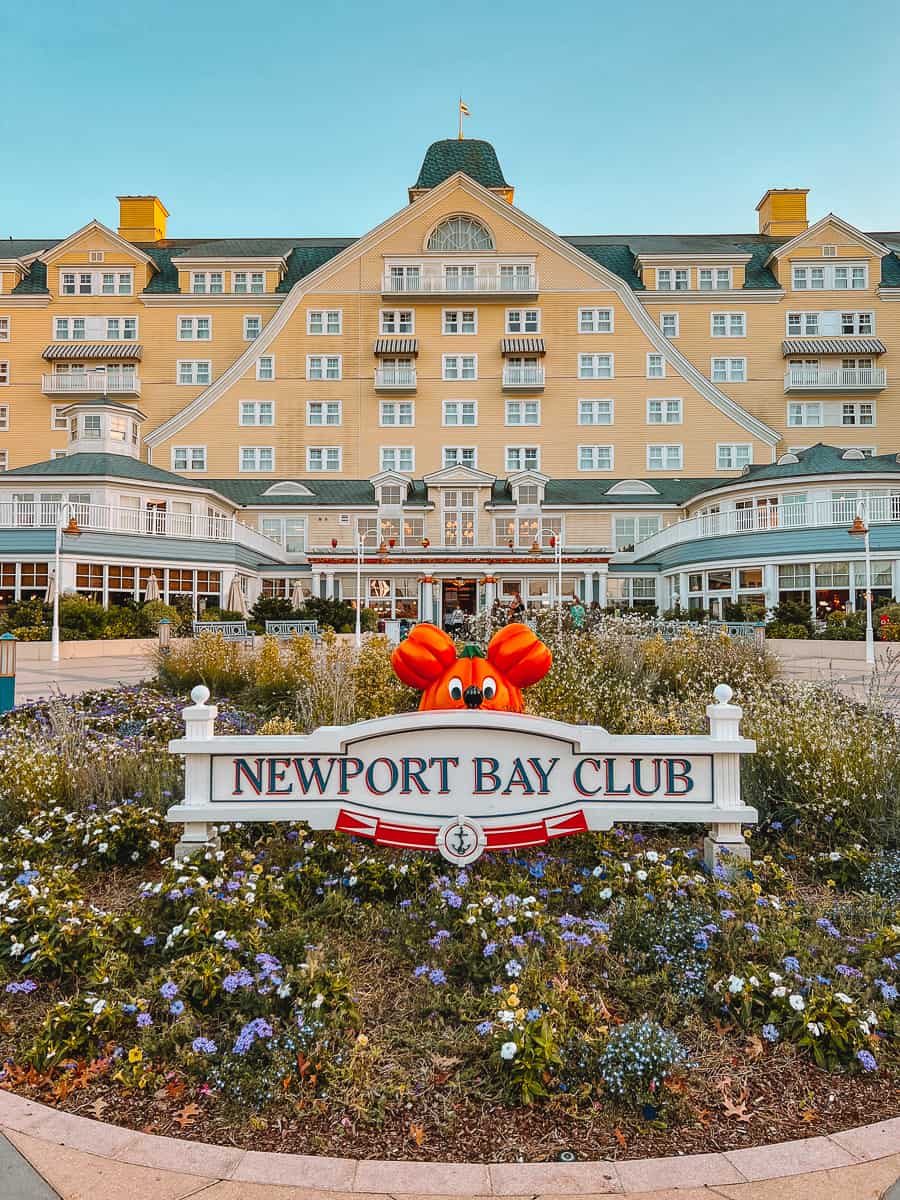 How to get to Newport Bay Disneyland Paris
Newport Bay Disneyland Paris is a 15-minute walk from Chessy train station near the entrance of the Disney Parks.
You can either walk there around Lake Disney or take one of the complimentary shuttle services from the bus station.
If you're arriving by plane, Disney has a Magic Shuttle from Orly and Charles-de-Gaulle airports that will take you straight to Newport Bay Hotel.
You can also access the hotel by car. There is complimentary parking for all guests.
Newport Bay Hotel's address is Av. Robert Schuman, 77700 Coupvray, France. Click here for a Google Pin!
What are the check-in and check-out times at Newport Bay Disneyland Paris?
You can check into the Newport Bay Club from 3 pm and they will let you know when your room is ready on the day.
If you're using the Disney Express Service, you can drop your luggage off at the Chessy Train station and then enjoy the parks.
Once your room is ready you'll receive a text/email. Simply head over to Newport Bay Hotel and complete your check-in! It's all very seamless.
Check-out time is anytime before 11 am, late check-outs may be possible on request.
You can then leave your luggage at the hotel whilst you enjoy the parks before you collect them later to head home.
Or, if you're using the Disney Express Service you can have your luggage transported to the Chessy train station.
How far is the walk from Newport Bay Hotel to the Disneyland Paris parks?
The one thing that can be tiring about staying at Newport Bay Hotel is that it's a 15-minute walk to the Disney Parks.
This is one of the furthest properties away from the park entrance at Disney Village and Lake Disney.
Admittedly, it's not an overly long walk on flat pathways. But, once you've had a long day in the parks it can be a little frustrating as you just want to get back and sleep.
Newport Bay is a huge property too so if you're staying in a room far away from the lobby reception, it's another tiring stretch.
It's especially annoying if they close off the closer walkways around the lake and you have to walk the entire way around it like I did on my last visit. They sometimes do this if they are improving the pathways.
To avoid this walk there are complimentary shuttle bus services available should you need them to the Euro Disney Parks and back.
Disneyland Newport Bay Club FAQs
Does Disney Newport Bay Club have an airport shuttle? Yep, you can book the Magic Shuttle daily from either Paris Orly Airport or Charles de Gaulle Airport to Newport Bay Hotel.
What time is breakfast at Newport Bay? From 7 am – 11 am.
How many rooms does Newport Bay have? 1097!
Are towels provided at Newport Bay Hotel? Yes, plus cute Mickey head-shaped toiletries too!
Does Disneyland Paris Newport Bay have air con? Yes! It's very good and keeps the room cool.
Book your tickets for Disneyland Paris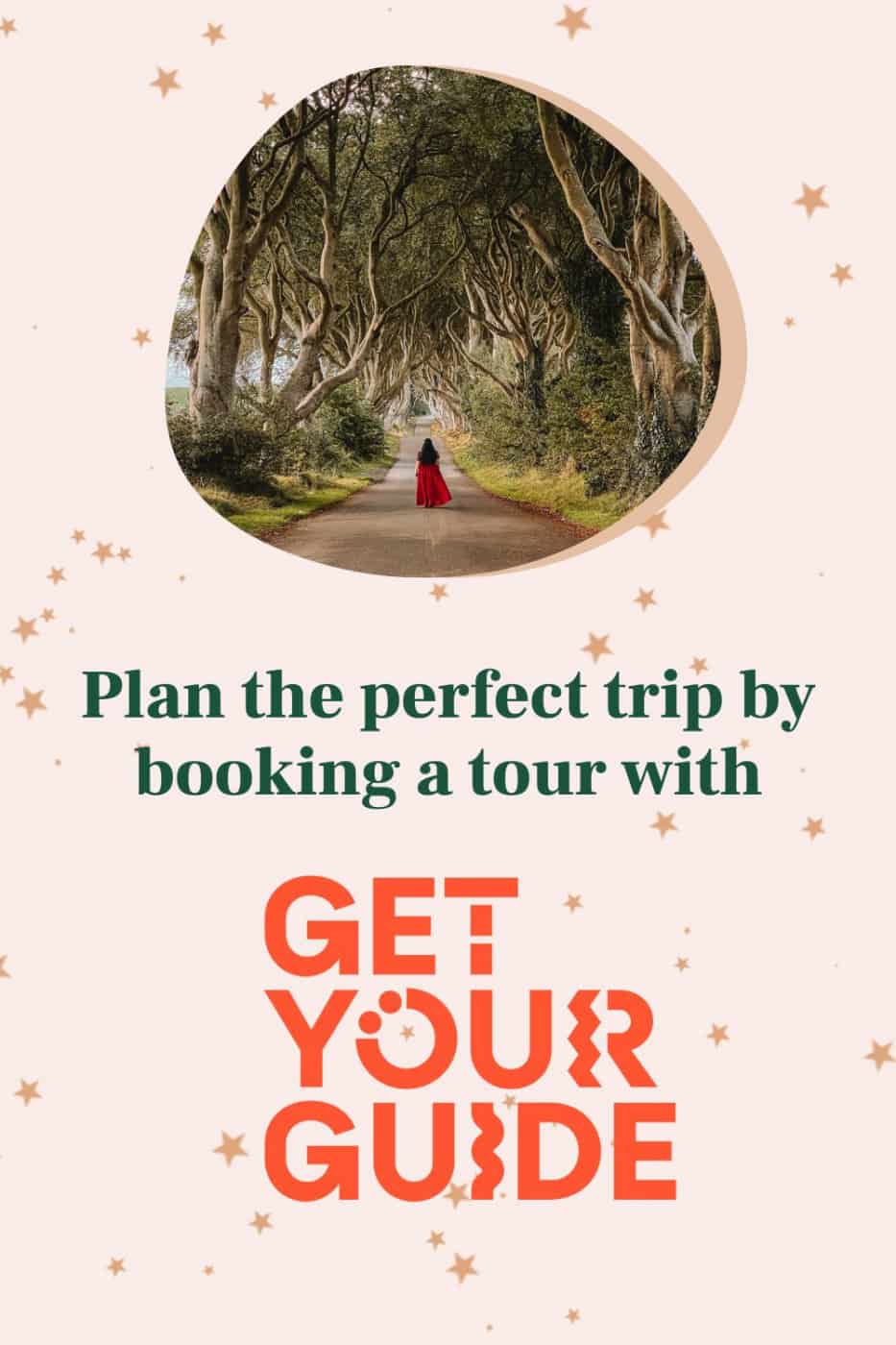 Pre-book tickets to Disneyland Paris!
Read more of my Disneyland Paris articles
55+ Disneyland Paris secrets and hidden gems to discover
50+ Instagrammable places at Disneyland Paris
25+ Things to do in Disney Village Paris
Walt's An American Restaurant Review
Captain Jack's Disneyland Paris review
Pizzeria Bella Notte Review – Lady & The Tramp restaurant
Don't miss the Disneyland Paris Dragon under the castle
My Honest Bistrot Chez Remy restaurant review
Toad Hall Restaurant Review at Disneyland Paris
Is Auberge de Cendrillon Princess Dining worth the price?
Save this Newport Bay Disneyland Paris Review for later!