Did you know that there is a chance to walk through a colourful tulip field in the UK?
The Norfolk Tulip Fields is an annual event where Norfolk Hospice and Belmont Nurseries open up their flower field to the public to raise money for charity.
I've been wanting to visit a tulip field for years and so I was so happy that I finally got the chance.
It felt like a dream walking through all these flowers. They were a blanket of all different colours and went on as far as the eye could see.
Here is how to visit the Norfolk Tulip Fields near King's Lynn and attend the Tulips for Tapping festival.
Norfolk Tulips are now closed for 2023. Make sure to check for updates on the 2024 Tulips for Tapping events.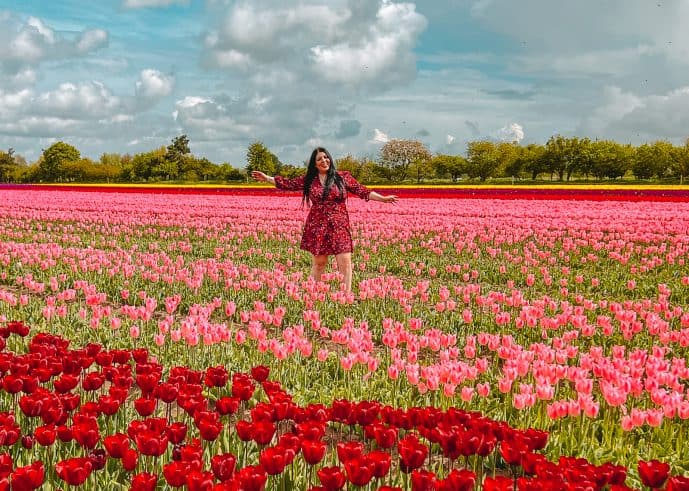 What are Norfolk Tulip Fields?
The Norfolk Tulip Fields is a huge flower field that opens up for the public to visit each year as part of the Tulips for Tapping event.
The Norfolk Hospice Tapping House and tulip farmer Mark Eves of Belmont Nurseries open the field to raise money for charity each year.
It's a rare opportunity to walk in a tulip field in the UK, in fact, this is the only place in the country that you can do it.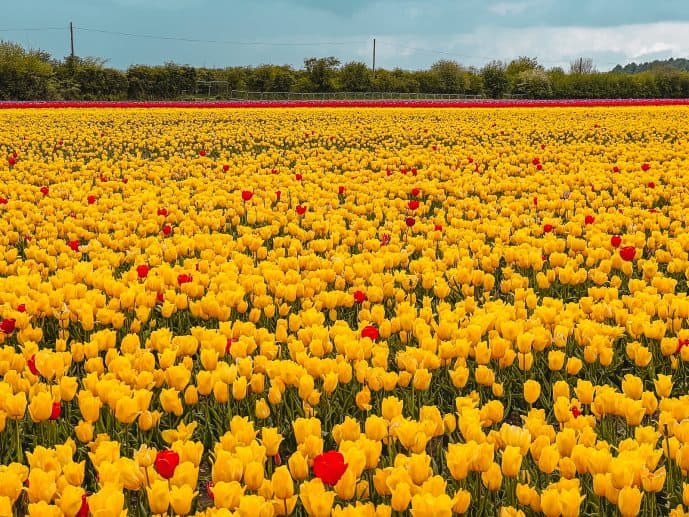 It's a little slice of the Netherlands in Norfolk and it makes a great day out for all ages.
The tulips will blossom fully in late April to early May and this is when they will open field. But, you'll have to be quick to see them.
The Norfolk tulip garden only opens for around two weeks a year before these beautiful flowers are cropped and shipped off around the world.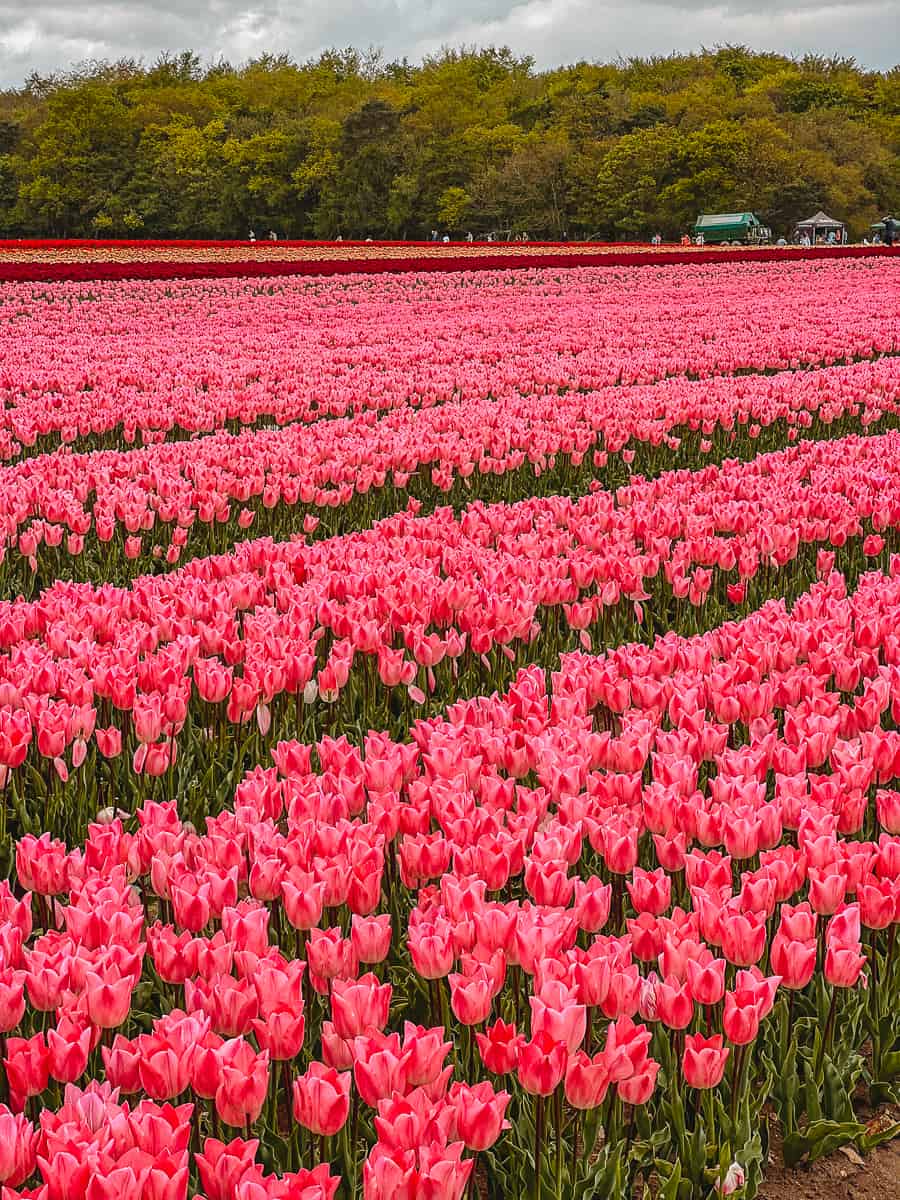 How much does it cost to visit Norfolk Tulip Fields?
The tickets for Norfolk Tulip Fields only cost £5 per adult and £3 per child (under 5s go free). This is such a bargain for the rare opportunity to walk through a colourful tulip field in the UK.
What's even better is that the money from the ticket sales goes to the Norfolk Hospice charity. They provide free care and comfort to residents of West Norfolk nearing the end of their lives.
So, not only do you get to enjoy a colourful flower field but you're supporting a worthy cause!
This year, they are set to raise £100,000 which is such a help to the crucial care that they can provide to patients.
How to purchase Norfolk Tulip Fields tickets
The only way that you can purchase tickets for the Norfolk Tulip Fields is on the Norfolk Hospice website.
Tickets are usually released two weeks before the tulip fields open and the dates change each year depending on the progress of the tulip crop.
Once the date for the ticket release has been announced, I would mark that date in your calendar to book tickets on the day they come on sale.
Tickets usually sell out on the day they are released!
I actually had the website open at bang on 10 am the moment the tickets went on sale to purchase mine.
Luckily, I didn't find there was a queue at that time. But, if there is a high demand you may be waiting a while.
Time slots are for 45 minutes per party (but you're not restricted to this). The first time slot of the day is usually at 10 am and the last entry will be around 3.15 pm.
Where in Norfolk are the tulip fields & how to visit
The Norfolk Tulip Fields are located near the harbour town of King's Lynn in Norfolk.
This is around an hour's drive from Norwich, 90 minutes drive from Cambridge or a two-hour train ride from central London.
The tulips are very close to the Sandringham Estate which you can access off the A148 road. As you approach you'll see the blue 'Tulips for Tapping' signs you can follow on West Newton Road.
If you're arriving by public transport, it's easiest to take a taxi from King's Lynn station to the tulip fields. There are no direct buses and public transport is very infrequent in this area.
Norfolk Tulips parking
There is plenty of free parking available when you reach the tulip fields and it's included in the price of your ticket.
As you approach, a volunteer will direct you to a parking space. The parking is close to the tulip field but there is a disabled parking area a lot closer should you need it.
Just be aware that the ground will be uneven so drive with caution. Also, if it's raining the field is likely to get quite muddy. On my visit, we had a freak storm and I saw a car get stuck.
Things to do at Norfolk Tulip Fields
So, once you arrive at the tulip fields in Norfolk – what is there to do here?
Well, beyond the obvious draw of exploring the blanket of colourful tulips, they have some other things to do like flower shopping, fundraisers, food vans and ice cream.
Here are all the magical things to do in Norfolk Tulip Fields.
1. Explore the colourful Tulips
When I first arrived at the Norfolk tulips my jaw dropped. I couldn't believe what I was seeing as there were tulips as far as the eye could see.
I knew it was a tulip field but I wasn't expecting it to be that vast! It was like a blanket in all different colours.
You'll find lines of pinks, reds, purples and yellow tulips and some multi-coloured ones too. It was an absolute dream. My favourites were the pink tulips and there were thousands.
You can walk down the many aisles of tulips and inspect them up close. You could spend hours wandering around and looking at them.
2. Plan a Norfolk Tulips Fields photoshoot
Although many people simply enjoy seeing the flowers and walking through them, you cannot deny that it's a fabulous opportunity for some photos/videos.
Many people wear pretty dresses, bring sun hats and props and have family photoshoots together or take photos for social media in the field.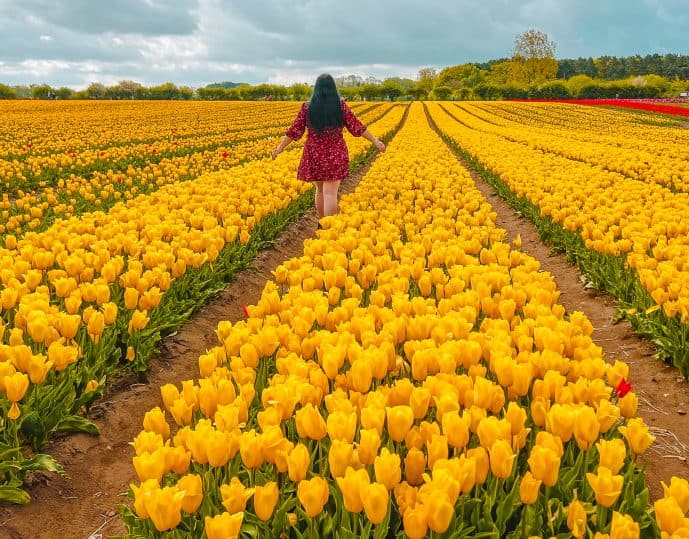 I would highly recommend you do the same as it's quite a rare opportunity to walk through a tulip field in the UK.
There are plenty of tulip colours to choose from here for your photos and a white dress goes perfectly with all of them (just be mindful it can rain).
On my visit, we had a mixture of sun and dramatic stormy skies which I loved! It made such a difference to the photos. I love moody and dark heartless skies.
Top tip: if you wanted to take photos without too many people in the background I would book the first time slot of the day as the tulips fields do get quite crowded! As the flowers are low to the ground it's hard to block people out.
3. Grab some lunch from the food stands
If you need a pick-me-up or you feel a bit peckish on the day, the Norfolk Tulip Fields have some food vans to choose from.
They had a coffee van that sold hot and cold drinks with some chairs outside if you needed refreshments.
Or, they had some great food vans to have some dinner. The Thai cuisine food van looked delicious and sold all sorts of yummy meals like Pad Thai.
4. Try a Reesey's ice cream
As it's heading into spring, you may want to try the refreshing ice cream at the tulip fields on a sunny day. Reesey's Ice Cream & Desserts are the best choice.
Their frozen treats go beyond a 99 Mr Whippy. They have all sorts of artisan ice creams including a glittery Mermaid's Cone and Sweetosaurus.
I decided to try their 'Head in the Clouds' which was delicious ice cream in a tub with sauce, sprinkles and candy floss on top. It was so pretty.
Unfortunately, it started to heavily rain just minutes after I purchased the ice cream so I had to scoff the candy floss down before it disintegrated. But, it was still utterly delicious!
5. Buy a bunch of tulips & support Norfolk Hospice
You are not allowed to pick the tulips in the field and you should always be mindful to protect the flowers as this is a working crop and ultimately a farmer's business.
But, there is the opportunity to buy bunches of tulips in the Norfolk Hospice stand at the start of the field.
Here, they have lots of flower bunches and other items on sale that help raise money for charity throughout the Tulips for Tapping event.
As a bonus, the tulip bouquets make such a gorgeous prop for your photos in the flower field.
Are the Norfolk Tulip Fields worth visiting?
100% YES! It's such a unique opportunity to walk in a tulip field in this country, it's a little piece of the Netherlands in Norfolk.
Although we have lots of tulips in gardens across the UK, you won't find another opportunity to visit a tulip field this large.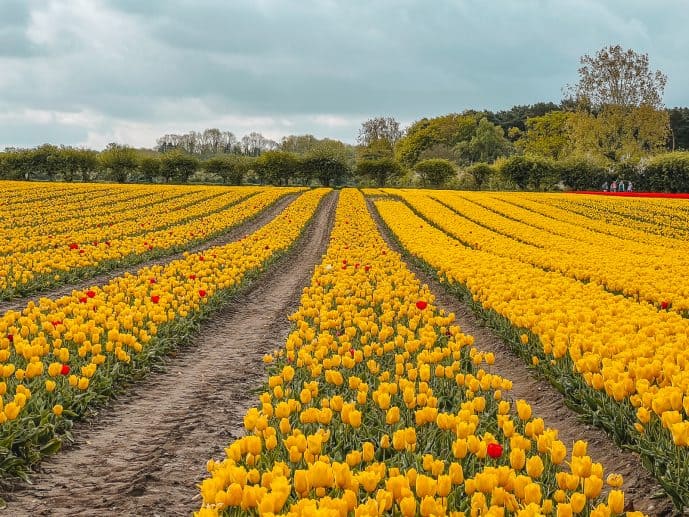 It makes an amazing, wholesome day out to admire this colourful blanket of flowers and you get some great photos in the process.
The best part is that ticket donations contribute to an amazing cause with Norfolk Hospice. So, make sure to mark the Tulips for Tapping dates in your calendar.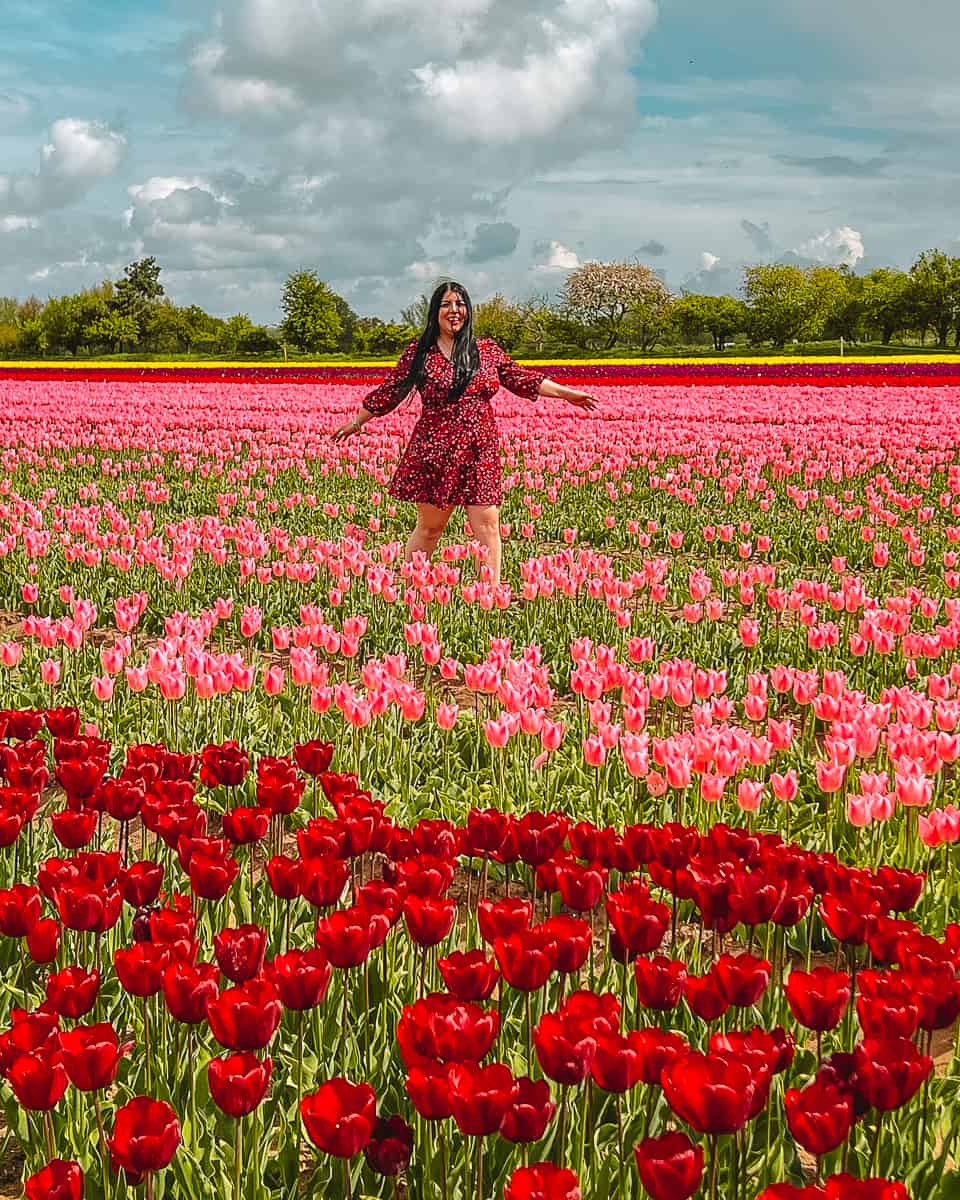 My top tips for visiting Norfolk Tulip Fields
Wear sensible shoes – the Norfolk Tulip Fields is a flower crop on a working farm. So, although every effort has been made for visitors, the ground is still uneven with lots of soil and debris around. I would wear a pair of wellies, boots, trainers or walking shoes. Heels may be a challenge.
Book the first slot of the day – the tulip fields get very busy. If you want photographs of the field without too many people in them, I would book the very first slot of the day. Drones are also not allowed.
Wear sun protection…or bring a brolly – The site is very exposed with little shelter. The field opens in April/May which is a rainy season in the UK. Make sure to bring sun protection and a hat! If it rains be prepared with layers and a brolly.
Bring hand-sanitiser – there is no running water in the fields. Pack a bottle of water or your hand sanitiser!
Pack a picnic – There are light snacks to buy at the food vans but if you wanted to have lunch at the site I would pack a picnic. There are lots of hay bales to relax and eat on.
There are toilets – Although it's a remote site there are (very clean) port-a-loo toilets near the entrance. Use them before you enter the fields!
No smoking – for obvious reasons smoking and vaping is not allowed in the field.
The site is not dog friendly – Dogs are not allowed at the tulips fields to protect the crop.
Be careful of the flowers – The same goes for humans! Make sure to protect the flowers by only entering the tulips in the gaps in between. Don't pick them or intentionally trample on them. There are bunches of tulips sold at the entrance that support Norfolk Hospice.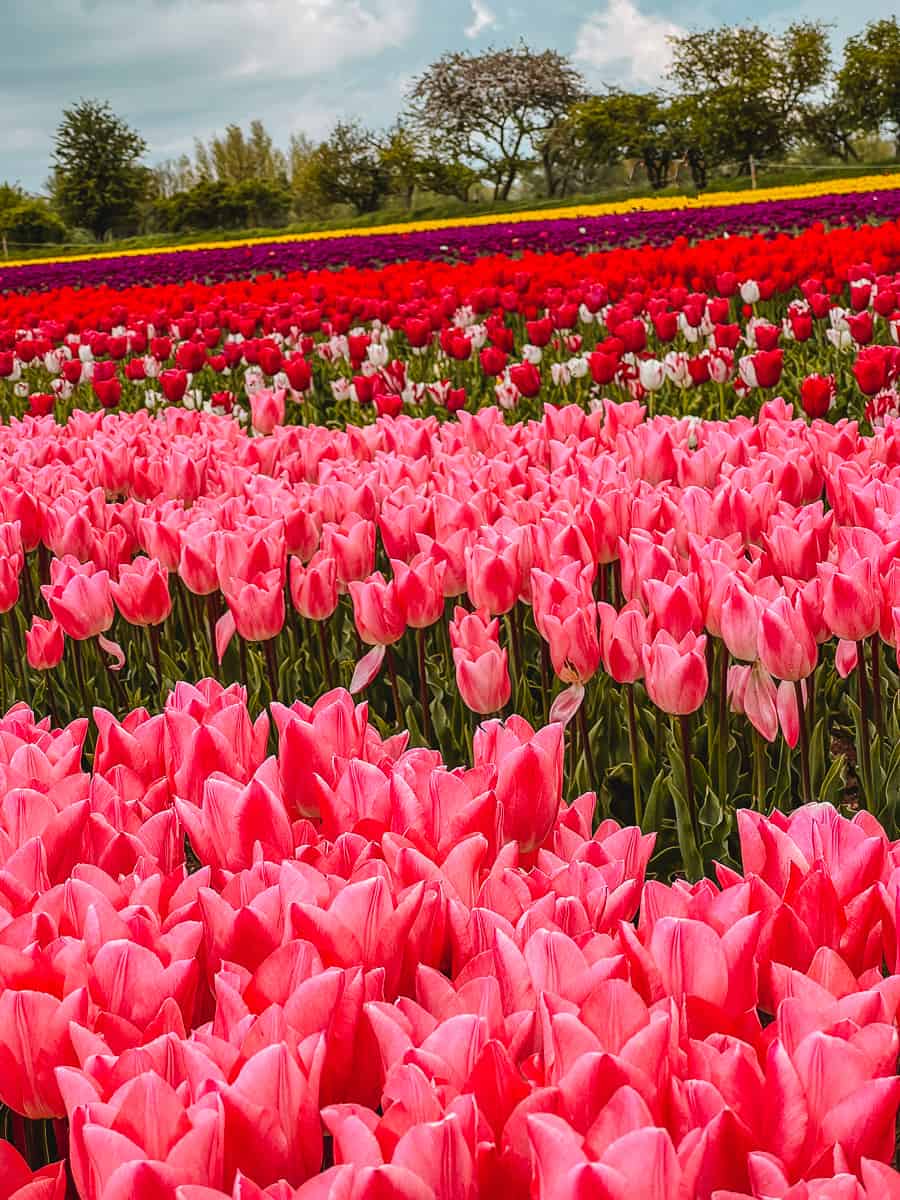 Where to stay near Norfolk Tulips
If you're travelling from afar there are plenty of accommodation choices that are nearby the Norfolk Tulip Fields.
The closest would be Ffolkes Arms Hotel which is a Bed & Breakfast set in a 300-year-old coaching inn. It's just a 5-minute drive to the tulip field.
Also, you could stay in Linden Bed & Breakfast which is an upscale B&B set in Hillington Village.
But, the most popular choice would be the hotel options in the big town of King's Lynn. There is the Kings Lynn Knights Hotel & Spa which is very luxurious.
But, there are also budget options like the Dragonfly Hotel, Premier Inn and Travelodge too. They are only a 20-minute drive away from the Norfolk Tulips.
Looking for things to do nearby?
Norfolk Tulips are situated in East Anglia of England and there are lots of things to do after your visit on a day out.
You could visit the nearby Sandringham Estate which is regularly used by the Royal Family. They have a huge stately home and royal parkland to explore.
I would definitely recommend checking out the harbour town of King's Lynn. You can visit the King's Lynn Minster, Lynn Museum or the Customs House on the harbour.
Norwich is also a beautiful city and their cathedral will feel like you're in Hogwarts from Harry Potter. Elm Hill is especially quaint with its cobbled streets and colourful houses.
Or, you can head to the Norfolk Coast and explore more of the seafront with the iconic windmills. My favourite places areas are Wells-next-the-Sea, Cley-next-the-Sea and Cromer!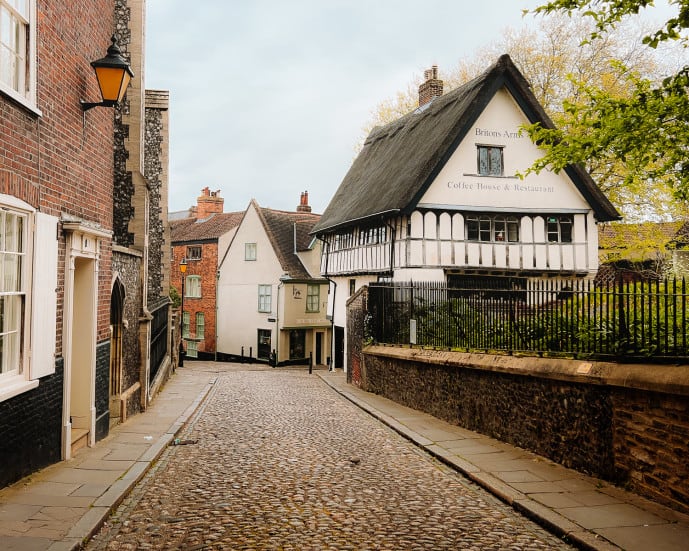 Read more of my East Anglia guides
Save how to visit Norfolk Tulip Fields for later!