This is the ultimate North East India bucket list!
North East India was probably one of the most amazing experiences I had on my travels through India.
As I travelled through each state, it wasn't just like going from region to region.
It felt like a different country in every single one. A country of new experiences, people to meet, cultures to learn about and the most jaw dropping scenery.
I felt that when I first went travelling in North East, I didn't know how or where to plan my trip and I mostly relied on locals recommendations.
This was a great way to do it but I feel if I had planned a little better, I would have made better use of my time.
So, to help others out I compiled my big fat North East India bucket list so that you can plan your trip around these things to do.
I can guarantee, if you tick all of these off, you've got the best out of North East for sure.
So, without further ado, let me welcome you to the ultimate North East India bucket list with the top things to do in North East India!
1. Visit the Kamakhya temple in Guwahati
Guwahati is the gateway to North East India and you'll most likely be starting your North East Indian adventures here. Well, if you only do one thing, make sure it's a visit to the world-famous Kamakhya temple.
This is nicknamed the gateway to spirituality and a major pilgrimage site for Hindu's.
You can queue to enter the inner sanctum and be greeted by the most spectacular views of the whole city. Be warned goats are sacrificed here.
For more information see my guide: 5 important things to know before your visit to Khamakhya Temple!
2. Take a ride on the Brahmaputra river
The Brahmaputra river is one of the largest rivers in India and it is one of the holiest too.
Why not start or end your trip with a cruise on Guwahati's shores?
From the docks, you can catch a beautiful sunset cruise on the Brahmaputra at a really reasonable cost.
The views will take you on a round trip where you can see the local ferries, islands and life that happens on the river.
My personal recommendation would be the award-winning Alfresco Grand River Cruises.
You can read my full review of my experience on board Alfresco Grand here!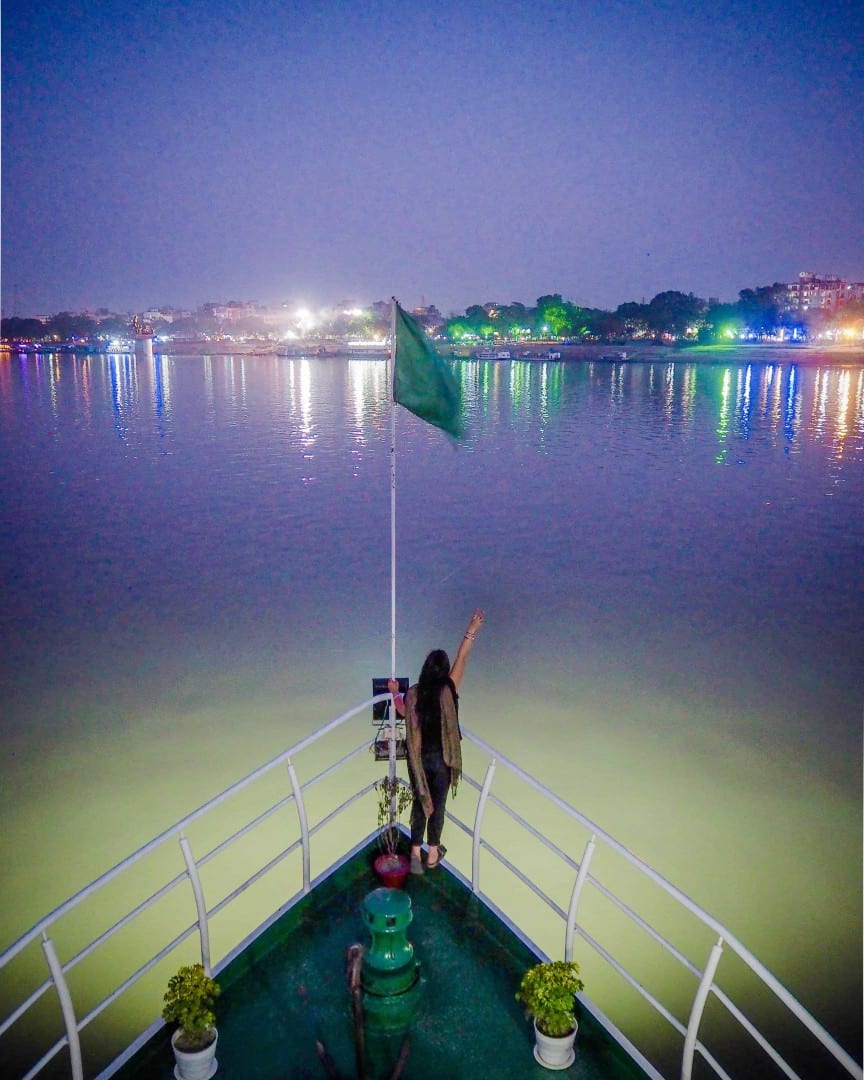 3. Try an Assamese Thali
Thali is a famous dish across all of India but trying an Assamese thali just has to be done. Similar to the bay of Bengal, you'll find fish on the menu as your non-veg option.
If you're unfamiliar with what a Thali is, it's essentially a large plate with a huge pile of rice in the middle.
Around the outside, you'll find little pots of curry, chutneys and even dessert. Sometimes, you'll even receive chapatis too!
Despite the size, this is a budget food option throughout North East. These can set you back anything from a whopping 60 rupees (£1) to 150 rupees (£1.70).
4. Ride in a Sumo Jeep
If you're going to be travelling North East India, you'll have to get introduced to the sumo jeep pretty quickly. In most places, these are the only way to get around.
How it works is that the jeep is shared by 10 people. So, hop in and wait for it to fill up before you set off. In some situations, you'll need to book these through sumo booking counters and in advance to make sure you get a seat.
My top tips for these would be to sit in the front and if you're the first one in the jeep, bring distractions!
For more useful North East India transport tips, see my helpful guide for North East India Transport here.
5. Visit the Double Decker Root Bridges of Nongriat
The Double Decker Root Bridges are world-famous and this is a must-stop in the state of Meghalaya. The trek here will take you a while as it's 3000 steps each way, but it's totally worth it for the views you'll get.
You'll be heading down to the local village of Nongriat and, if you have the time, I would recommend staying down there too! That way, you can see more of the natural wonders there like the Rainbow Falls.
These bridges are living as they are completely made of roots. So, there's no need to rebuild as they just naturally grow and strengthen over time!
If you would like a Root Bridge trekking guide of how to reach them and what to expect, see here.
6. Explore the natural wonder of Meghalaya
On that note, Meghalaya has many treks and trails to take in their natural paradise.
You can pass clear jasmine lakes, gorgeous cliffs, look out to the plains of Bangladesh, chase waterfalls and embrace the emerald lands of Cherrapunjee.
For more wanderlust and inspo for Meghalaya, see my photo essay here!
7. Chase waterfalls in Cherrapunjee
Cherrapunjee is officially known as the wettest place on planet Earth because it sees the highest percentage of rainfall in the world. That's why it's nicknamed the abode of clouds.
In the monsoon season from May to July there will be an abundance of waterfalls to see but you will experience nothing but rain. In peak season they are still beautiful though. If you only see one waterfall in Cherrapunjee let the Kalikai falls be it!
For more information on what else to see in Cherrapunjee, see here!
8. Visit the clear waters of Dawki
If you want to see the clear water lake then you will need to head near the border of Bangladesh to Dawki. The boats look like they're floating on air the water is so clear.
To get here from Charrapunjee you will need to get a sharing car or private taxi which isn't cheap but the views are so worth it!
9. Explore the famous bustling bazaars of Shillong
Once you've come back down from the heavenly paradise that is Cherrapunjee, you should head to the city of Shillong.
Although not as pretty as Sohra, it makes up for it in the life that runs through it.
Make sure you head into the bustling Bazaars and grab some local handicrafts, interesting fruits and all sorts of other bargains.
For a shopping guide to Shillong click here!
10. See the Cherry Blossoms in the Scotland of the East
In the middle of November, it's blossom season in the city of Shillong.
So, make sure you stick around town when this happens. All the roads and trees will be full of pink blossoms which are effortlessly picturesque.
11. Spot one-horned rhino's in Kaziranga National Park
The state of Assam is full of National Parks that the one-horned rhino call home but Kaziranga National Park trumps all of them boasting the largest population on Earth.
You can take an elephant or jeep safari here through the various park zones in the hope of seeing one. It's not guaranteed, but there's a better chance at Kaziranga.
See my full guide for taking a Kaziranga National Park Safari here!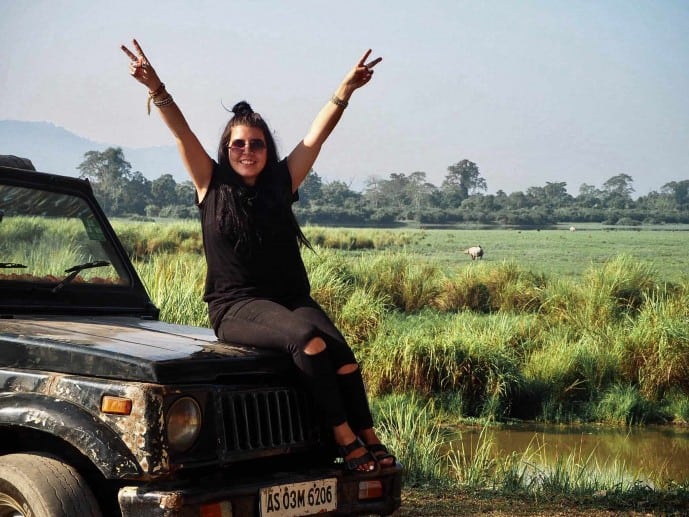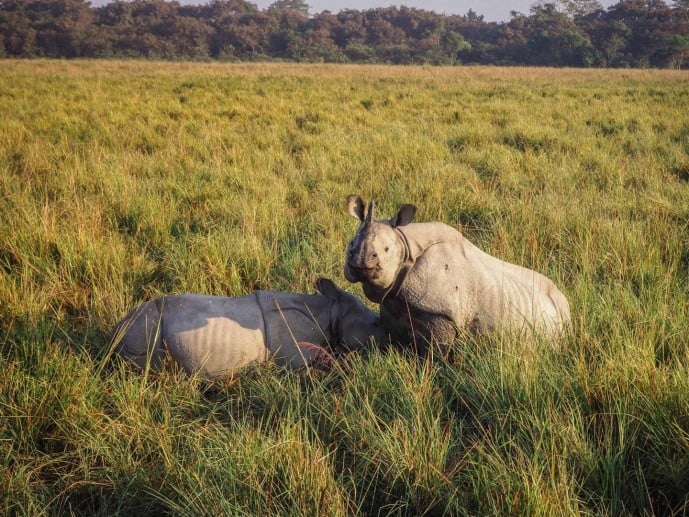 12. Visit a tea field in Assam
Assam has India's biggest tea export and you can see why as you travel through the state, there are tea fields for days!
You don't need to pay to visit one and there aren't really any 'famous' ones to note. But, it's definitely a staple when in the region.
Don't forget to try Assamese tea while you're here, straight from the source!
For more Assam travel inspiration, see my guide here!
13. Catch the ferry from Jorhat to Majuli Island
Majuli Island is another stop you cannot miss and not just because it's effortlessly gorgeous.
You need to visit now as may not be here in 15 to 20 years time. The island is eroding rapidly due to the strong floods which happen each year.
To get to the world's largest river island, you will need to get the ferry from Jorhat. For a full guide, including a full list of times and prices, see here!
14. Explore the famous Majuli Island Satra's
If you don't visit the Satra's of Majuli, your visit didn't happen.
These Satra's are anything from temples, to art and theatre houses and mask-making workshops. You have to experience them in Assam's capital of culture.
You can visit the unique Hindu monasteries, watch plays and listen to music. Best to hire a guide to show you around, it's a huge island.
For a full guide to Majuli Island, see here!
15. Stay in a Assamese bamboo hut
Bamboo can be seen and found everywhere in North East. People drink out of bamboo cups, eat bamboo shoot, building boats and bridges all from bamboo.
It's a great use of the resources around them. One of the most impressive things for tourists is the wealth of bamboo resorts and hotels that are available to stay in.
One of my favourites was La Maison D'Anande on Majuli Island. It was the first guest house ever made for tourists. To check available dates and rates, see here.
16. Meet the Naga tribes at Hornbill Festival
Hornbill Festival is a popular tourist festival in the state of Nagaland that takes place from 1-10 December each year. It's a must-see event and should be on any traveller's calendar.
This festival is there to celebrate the 17 major tribes of Nagaland. You can watch shows, drink rice beer and learn all about Naga tribal culture.
For a full guide about Hornbill Festival see here!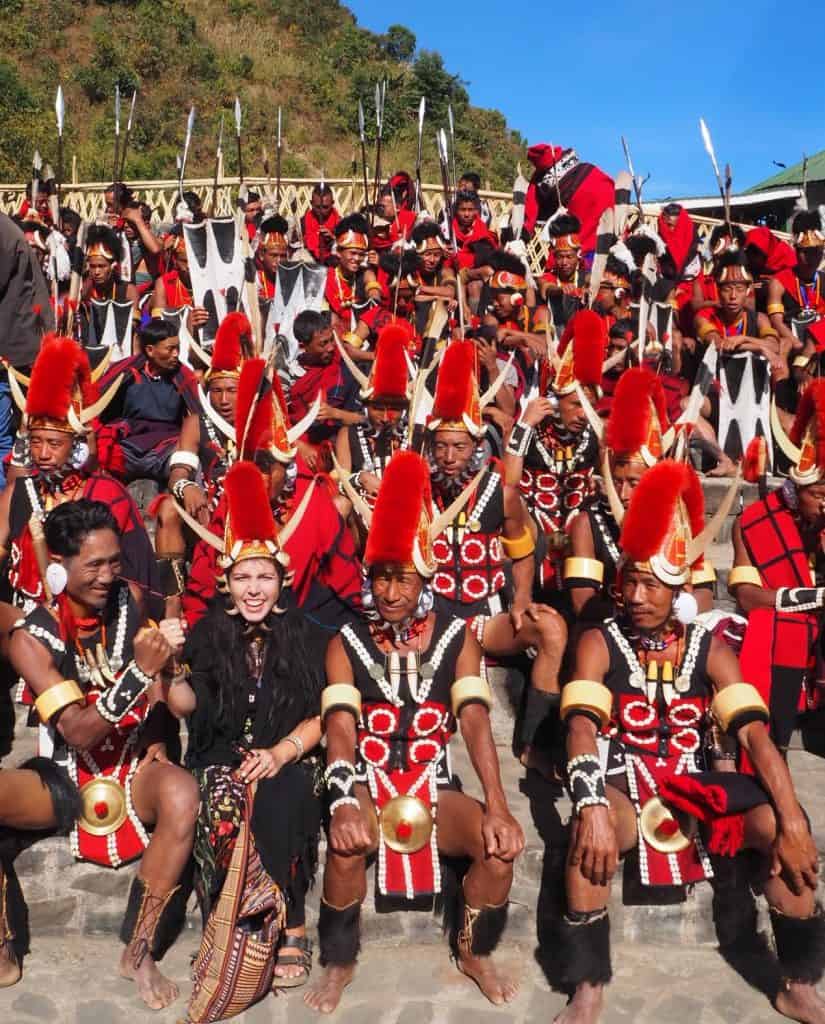 17. Take a bus in Nagaland
Haha an odd one to put on a bucket list, right? But one that I think everyone should experience.
The roads are some of the worst I've ever travelled on. It's an adventure to say the least so those looking for a good travel story, hop on and enjoy the bumpy journey!
8. Meet the last surviving head hunters of Longwa
Although I learned a lot about Naga tribes in Hornbill Festival, there was one group of people that I had yet to see; the last surviving ex-head hunters of Mon.
Covered in face and body tattoos these guys used to take the heads off of their enemies in battle. But, they're not fierce anymore. Most have converted to Christianity and are around 90 melting their memories away with Opium.
You should definitely go to see them now before it's too late, they won't be here much longer. So, get your bum up to Longwa.
I've put together 11 fail-safe tips to meet the Headhunters in Nagaland here!
19. Meet the tribal king of Longwa in his opium den
So, Longwa was probably the most interesting town I've ever visited.
You have head hunters who wear skulls to represent heads chopped off, Christian hymns filling the air and to top it off a Chief tribal king who smokes opium all day in his Angh (longhouse).
All tourists are required to meet the King and come with an offering which is usually money for opium. Don't expect anything grandeur about the experience, but it will be an experience all the same.
For some more essential Longwa travel tips, see here!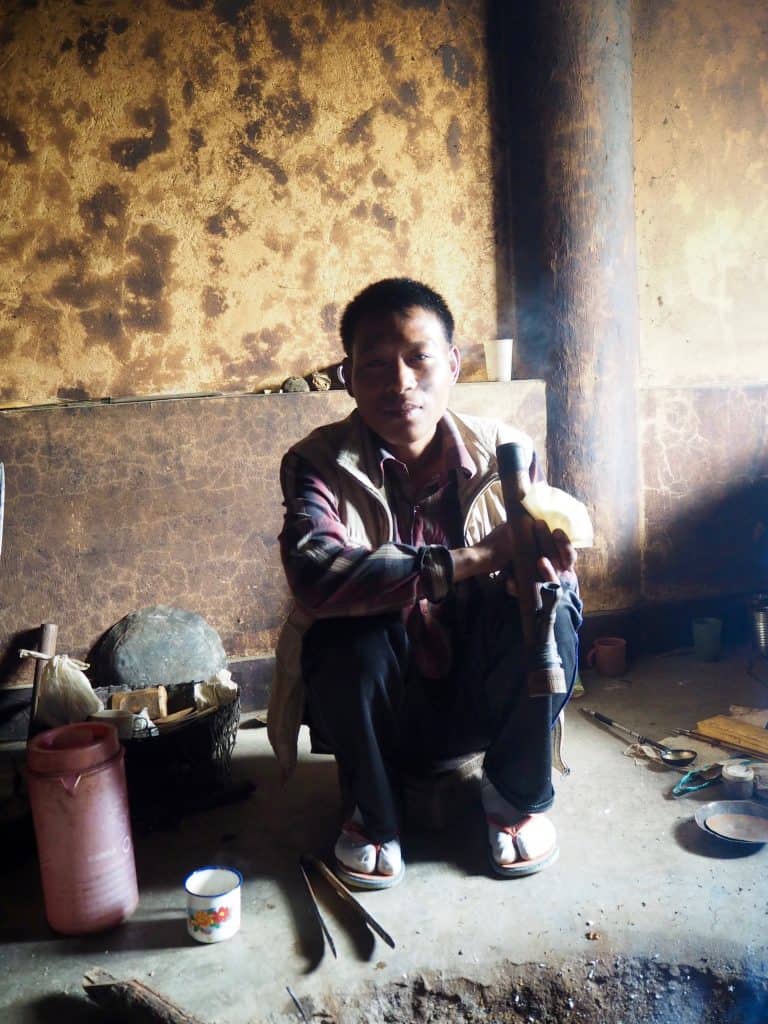 20. Cross over the border into Myanmar
Longwa is also interesting as half of the village is in India and half is in Myanmar.
So, you can step over two countries at once which is pretty cool.
If you do happen to stroll around this pretty village, make sure you head up to the border point. You won't regret it as the views are incredible.
For more things to do in Longwa, see my essential traveller guide here!
21 . Try pork with bamboo shoot
Pork is mostly banned in mainland India due to religious reasons but there is no sign of that in North East!
A popular dish that is pretty much served all over is pork with bamboo shoot. You must give it a try. Also Pork Chow was really popular.
22. Visit the Himalayan village of Bomdilla
Bomdilla is usually the starting point of any Arunachal Pradesh adventure and a good stop off point.
the Himalayan town is high up in the hill and can only be accessed by private car or Sumo Jeep.
You'll find Buddhist monasteries and beautiful market places to explore here.
23. Explore Dirang, India's heaven on Earth
Dirang was my little slice of paradise, it was such a pretty part of the world. It was so quiet and rural, like walking through a living history museum.
Be sure to walk around to check out the oldest monastery in Arunachal Pradesh, the Dirang Chu river and the Dirang Dzong. Or, head up to a new attraction 108 Mane and down to Sangti Valley!
I'll let the pictures speak for themselves. If you would like to read more about Dirang, see here for a travel guide.
I stayed at some amazing new cottages that opened up. Click here to read my full review of Dirang Boutique Cottages!
24. Try Lal Chai
You may have tried chai in India but have you heard of Lal Chai?
As I'm lactose intolerant I felt so happy I could finally enjoy the chai from the street stalls. Lal Chai translates to red tea and it basically is tea that doesn't have milk in it.
Make sure you sample some when you're in North East.
25. Attempt the mighty Sela Pass on the way to Tawang
To head on over to Tawang, you'll need to journey over the Sela Pass which is 13,500 ft high in the Himalayas.
It's not as easy as it looks, it actually took me two attempts due to heavy snow. There was nothing more to do than to turn back.
But, make sure you take a look around when you finally reach the top! It's stunning.
26. Cross the Chaksam bridge in Tawang
This was an awesome hidden gem in Tawang. You'll need to get a private hire or your own transport to visit, a sumo will drive straight past!
But, it's so worth the extra to get a peek at the only bamboo bridge like this in India.
It's called Chaksam Bridge and it was built in the 14th Century. Sure, it looks like it will fall apart but it's as strong now as it was then. You have to see it to believe it!
For more information on places to stop on the way to Tawang see here.
27. Try the mouth watering Momo's
Have you heard of Momo's? They're steamed dumplings and can be found all over North East India. They are a must try.
You can find them in veg and non-veg options in all different flavours, even chocolate! I tried to make them while in Arunachal Pradesh but failed miserably. Maybe you'll have more luck.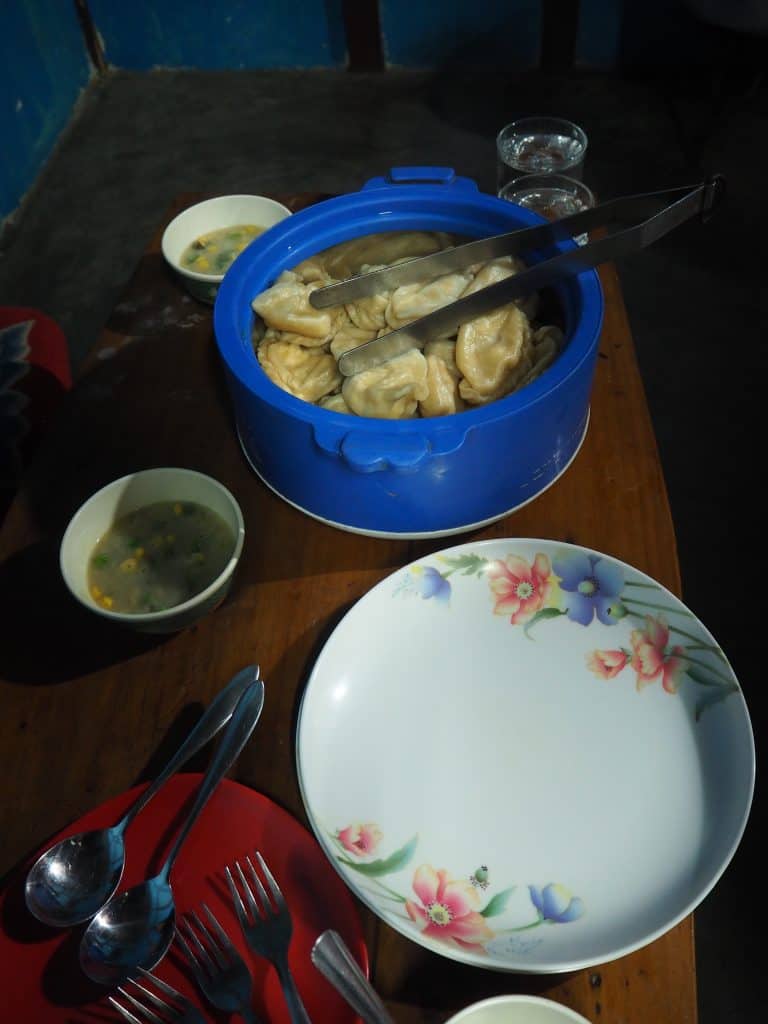 28. Discover the magic of Tawang Monastery
Tawang is full of Buddhist monasteries and temples but if you're stuck for time, make the main monastery a priority stop.
It's the biggest monastery outside of Lhasa in Tibet (which isn't running), making it the biggest active monastery in the world.
It was built to house over 600 monks, so it's like a small citadel within Tawang itself. Here, they have the main temple, kitchens, classrooms, smaller temples, a library and more to explore. Don't miss it!
To read more on what to see in Tawang, click here!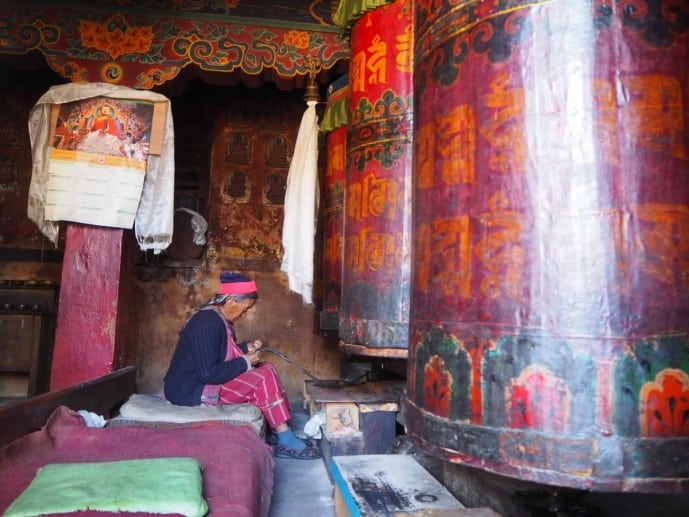 29. Listen to the monk's of Arunachal pray at Dawn
Across Arunachal Pradesh one of my favourite things to do was wake up before sunrise, head to the temples and listen to the praying and chanting of the Buddhist monks at dawn.
It was freezing, my feet were numb and you could see the breath from everyone in there but it was a magical experience. The sun was just rising and making a refraction in the halls. It was serenity.
Make sure you experience it at least once to see what I mean.
For some more Arunachal Pradesh travel inspiration, see here!
30. Witness the most amazing sunsets in Tawang
Being in the Himalayas, you can either get a great sunrise or a bad one. Because sometimes the sun is over the mountains before the sky turns the most amazing shades of colour! But, in Tawang, the sunset's were to die for.
We were heading back from the nunnery when I saw this incredible scene by the army base.
A whole view of Tawang, the peaks of the mountains and the monastery in the distance. A picture just had to be done! Make sure you stick around for the sundowner.
31. Try yak butter tea
Yak butter tea does what it says on the tin I'm afraid. It's a hot drink made of yak butter, tea leaves, water, salt and sugar. It's a popular drink in Tawang and it will be offered to you a lot by the locals. I felt so bad but I couldn't stand it! So, I'd try and force it down me as much as I could if it was offered.
I'd say for this bucket list, it's a must try. You may really like it!
I met a Nomad Shepherdess Brokpa on my travels and tried to help with churning her yak butter. It was not easy. Apparently, she has to churn it 1000 times per kilo! I don't envy her.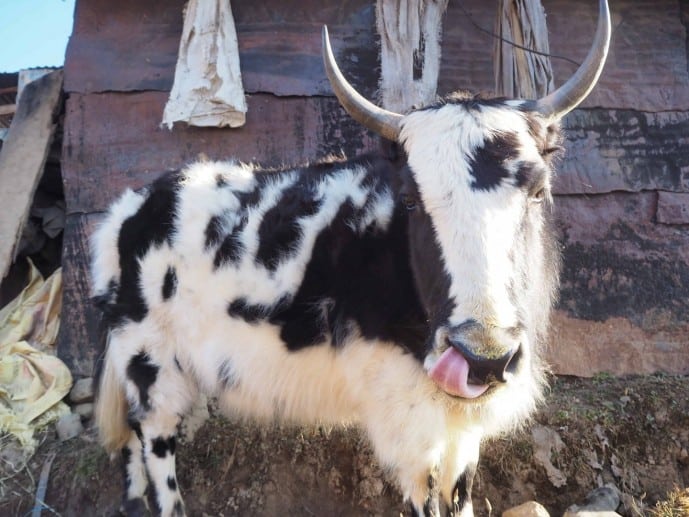 32. Be mesmerised by the temples of Arunachal Pradesh
I couldn't believe what was behind the temple doors in Arunachal Pradesh.
They looked beautiful from the outside but when you got inside, it was an array of colour and mesmerising patterns.
The good thing about Tawang is that there are plenty to choose from.
My personal recommendations would be the Tawang Monastery, Ugyenling Monastery, Thukje Choeling nunnery and Thegtse Sang-ngag Choekhorling Monastery.
33. Meet the fluffy yaks in the mountains
Possibly my favourite thing to do is meet yaks. I love yaks and luckily for me, there were so many of them on the road to Tawang.
In all different colours, shapes and fluffiness! In peak season, it was also snowing so they really looked stunning up against the frosty backgrounds.
They were more scared of me than I was of them. I just wanted to stroke them but they kept running away. Boo :(
34. Fall in love with every state, person and place in North East!
So, that concludes my North East India bucket list!
You will honestly fall in love with North East India. It will be like journeying through 6 countries in one.
The people, the food, the scenery, the culture and the experiences will take your breath away.
Remember that this is only my bucket list and there are many more places to explore including the Eagles Nest in Arunachal Pradesh for bird watching, Loktak lake in Manipur, Temple hopping in Sikkim, meeting the Apatani tribe in Zero valley and countless other amazing bucket list-worthy items to tick off.
Final words…
If you're beginning to plan your trip or looking for more things to do in North East India. make sure you read my North East India archives here.
The guide books are pretty useless so I would recommend reading travel blogs like mine and others for your information.
Or, if you're more comfortable, book through a tour guide like Holiday Scout who can provide you with details.
If you're not planning a trip to North East India yet, then I would change that and start booking your ticket! It will be mind blowing and one of your best trips to date.
Save these things to do in North East India for later!