If you're looking for a magical waterfall to visit in Arunachal Pradesh, then I would recommend the magnificent Nuranang Falls in the Tawang District.
Also known as Jang Falls and Bong Bong Falls, this giant cascade is guaranteed to wow you with its beauty!
I have had the pleasure of visiting these falls twice now in as many years and every time it takes my breath away.
But, there are definitely some things you should know before you visit. Such as what to expect on the hike and when to keep your distance.
Here's a complete guide for Nuranang Falls near Tawang with the legends, how to visit, and my top tips!
What is Nuranang Falls?
The Nuranang Waterfall is a 100-foot cascade in the Tawang District of Arunachal Pradesh in North East India.
It is by far one of the most beautiful waterfalls in the state, but hardly anyone knows about it. It's the very definition of a hidden gem!
The reason why it also has the name Jang Falls is you'll find this waterfall near the town of Jang on the Tawang road.
The waterfall originates from the Nuranang River, over the slopes of the mighty Sela Pass, which is a tributary of the Tawang River.
The Legend of Nuranang Falls
So, why is it called Nuranang Falls and where does it get its name? Well, according to popular legend the falls are named after a Monpa girl called Nura.
Nura helped a soldier named Jaswant Singh Rawat in the 1962 Sino-Indian War to avoid capture by Chinese Forces.
So, as an ode to her bravery, the locals named the waterfalls 'Nuranang' after her!
What movie was filmed at Nuranang Falls?
It may surprise you to know that this secret spot tucked away in Arunachal Pradesh has been featured in the likes of Bollywood too!
The song 'Tanhai, Tanhai, Tanhai' from the movie 'Koyla' was filmed here and at Sangetser Lake in 1997.
This movie starred Madhuri Dixit and was the first EVER Bollywood movie featuring the state of Arunachal Pradesh.
Also, the song 'Mitha Mitha' from the Assamese movie 'Hiya Diya Niya' was filmed here in the year 2000.
Where is Nuranang Waterfall in Arunachal Pradesh and how to get there?
The Nuranang falls are located around 40 kilometres from Tawang near the town of Jang in Arunachal Pradesh. It is around 6,000 feet above sea level!
So, in order to visit, you will need to have transport available to you.
If you're heading up to Tawang on a road trip, I would highly recommend adding this waterfall as a pit stop. It's a great way to break up the journey.
But, if you're thinking of doing some sightseeing around Tawang, it is possible to hire a driver/taxi from Tawang to visit the falls.
You can read more places for Tawang and Sela Pass sightseeing in my post here.
Due to the mountain roads in the area, you will be paying a lot more for taxi hire than you would pay in mainland India! I'd say you'll pay at least 3,000 rupees for a day trip around Tawang.
So, I'd recommend planning a few stops on your journey like the ancient Chaksam Bridge which is close by.
Alternatively, you could book a tour of Arunachal Pradesh that includes all the sightseeing on the way.
I visited the Nuranang Falls with Holiday Scout on my first visit. You can read my full review here.
What to expect on the hike down to the waterfall
Once you arrive at Jang Falls, you'll be parking up by the Hydel Plant that sits by the waterfall. This is an important energy source for local villages in the area!
After you have found a parking space, you'll find a series of steep steps that lead all the way down to the falls.
Although the walk down is relatively easy, I will warn you that there are parts of the walk that are quite risky.
On my second visit to the falls, there was a big cavern in between the steps on the hill.
Apparently, due to the heavy rainfall in the area, the stepping stones that were there to cross over just broke. They washed away with the running stream!
So, it was quite a mission to climb over the big gap in order to reach the waterfall. It was such a challenge for me, my driver had to help me over as I kept slipping!
Once we got over the cavern, the walk was really easy from there! But, it's important to keep in mind if you want to visit.
There may, or may not, be a complete set of stairs to access the falls.
Exploring the area and approaching Nuranang waterfall
Although the walk down to the falls can be a bit challenging. It's all worth it when you finally reach the bottom of the cascade!
As this location is easily missed by travellers to the region, it's the perfect secluded spot to relax. You'll hardly find another soul there.
Once you're down to the bottom, you're completely free to explore the area. You can go near the falls and feel the spray of the water on your face!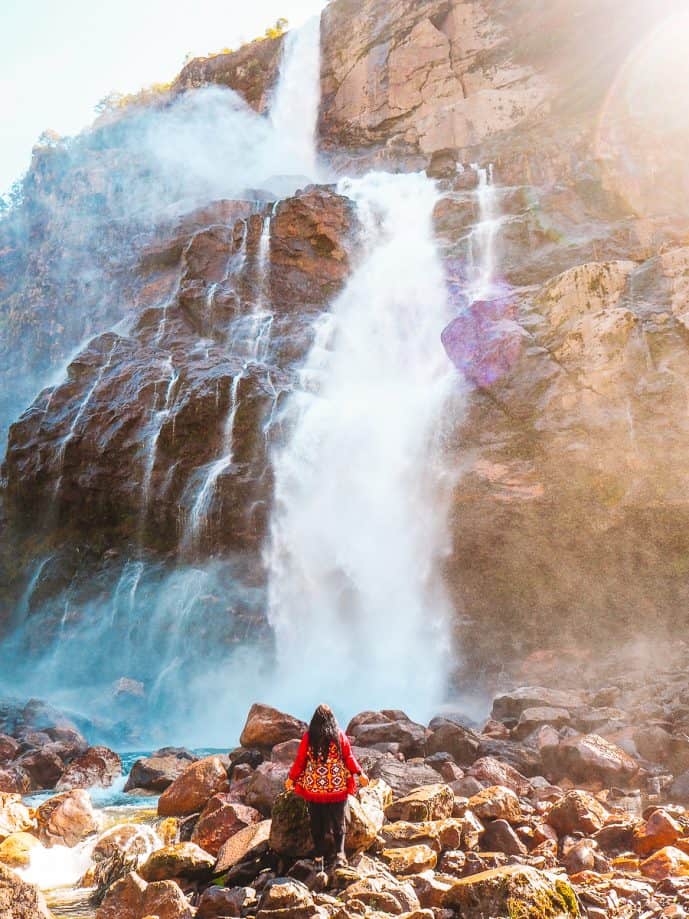 Also, the areas around the falls by the river are super pretty. It's the perfect place to bring a picnic as the views are spectacular.
You may also see some furry mountain monkeys while you're here too. They can be a little pesky but adorable from afar.
It's definitely one of the most Instagrammable photo locations in Tawang, so get your camera at the ready!
Top tips for visiting
Depending on what season you visit will depend on the water flow of the falls. During Monsoon season the falls will be really heavy. In the winter season, the cascade will be a lot smaller.
During monsoon season the Nuranang River has a tendency to overflow. It may not be safe to approach the falls then!
There have been many accidents at Nuranang Falls on the hike down due to the heavy rains. I've seen the chaos myself. People have been known to fall in the river and just get carried off. So, always take caution as you explore and use common sense. Don't approach the falls if the river is overflowing!
This also goes for the areas around the falls. There are a lot of uneven jagged rocks to scramble over. Take care!
There are no toilets or facilities at the falls at all. There was a toilet but it is not clean and filled with rubbish now.
Opening times and prices
The Nuranang Falls do not have opening times as it's not a manned attraction. But, it's definitely best to visit in reasonable daylight.
I would personally leave around 30 minutes to an hour for your visit. This leaves time to hike down to the falls, explore the area, get some photos and then hike back.
There are no parking charges at the Hydel Plant and Jang Falls are also completely FREE to visit as well. This makes it a great budget activity!
Looking for more places to stop on the road to Tawang?
If you're planning a road trip to Tawang via the Sela Pass then you're in for an exciting ride. It's one of the most picturesque road trips in Arunachal Pradesh!
The only downside is it does take a LONG time to get there over the mountain roads and the drive can be quite tiresome.
It's important to schedule some stops and break up the journey. The good news is there are plenty of places where you can stop off for sightseeing.
You could stop at the Sela Pass Welcome Gate, the many chai stalls along the way, the Tawang War Memorial, and the ancient Chaksam Bridge.
Click here to read my complete guide with more places to stop on the road from Sela Pass to Tawang!
Do I need a permit to enter Arunachal Pradesh?
YES! In order to visit any area of the state of Arunachal Pradesh, you will need a permit. All tourists (both domestic and foreign) will need one.
You CANNOT enter the state without one. Get caught and you'll be deported. Always have plenty of printed copies of your permit as there are multiple security checks along the roads here.
Domestic Indian tourists (ILP)
You will need to purchase an ILP (Inner Line Permit). This is valid for 15 days and costs 100 rupees.
This permit will allow you to travel across Arunachal Pradesh in the 12 tourism circuits. You have a lot more freedom here than foreign tourists with this permit (i.e. Bumla Pass).
You can purchase this online here or offline at the border or in a travel agency in Guwahati. You will need a passport photo and identity proof.
Foreign tourists (PAP)
Foreigners will need to purchase a PAP (Protected Area Permit) to enter the state.
This permit is a little more restricted than the domestic permit and will allow you to travel on certain tourist routes.
It costs around $50USD and will allow you to enter Arunachal Pradesh for one month only.
You can only purchase this at a tour operator of Arunachal Pradesh (like Holiday Scout) or at the Visa office in Guwahati. You will need a passport photo, visa, flight ticket, and passport ID. It will take around 2-5 days to process.
Read more of my articles on Arunachal Pradesh
Top places to visit in Arunachal Pradesh
My complete Tawang Travel Guide
Amazing Photos of Tawang to inspire you
A complete guide for 108 Mane / Mandala Top
Sangti Valley – a hidden gem in Arunachal Pradesh
Why you need to stay in Dirang Boutique Cottages
Even more North East India inspiration
Top things to do in North East India
A complete travel guide for Guwahati
How to find the double decker root bridges in Meghalaya
A complete guide for Hornbill Festival
A complete Kaziranga Safari guide
My top North East India travel tips
Save this Nuranang Falls guide for later!