One of my favourite attractions in the capital of Bavaria is the Nymphenburg Palace Munich.
It's a grand Baroque residence that acted as a summer retreat for the Bavarian Royal Family and Wittelsbach rulers.
The palace was built to celebrate the birth of Max Emanuel and it's named after the Nymph Flora in Roman mythology.
Today, it's open to the public and you will feel like royalty on your visit. The entire place looks like something plucked from the pages of a fairytale.
You can admire the opulent staterooms, explore the museums and stroll around the 200 acres of formal parkland with its own set of miniature castles.
Here are all the things to do at Nymphenburg Palace and how to visit in Munich.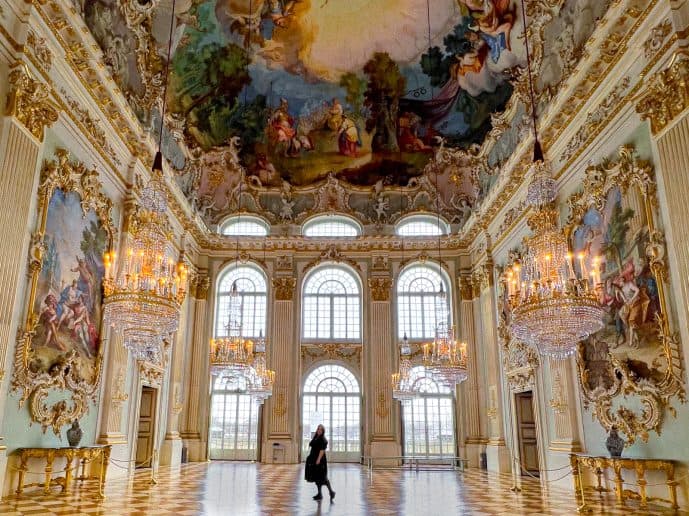 Why is it called Nymphenburg Palace?
Nymphenburg Palace does look like something out of a fantasy realm and Schloss Nymphenburg is called the 'Castle of Nymphs'.
In Greek & Roman mythology, nymphs are feminine divine spirits often associated with nature, water, and fertility.
In the palace park, you will see extensive waterways and fountains that tell the story of the nymph Flora who became a goddess.
She is a fertility goddess associated with the seasons of spring and summer. Hence, Schloss Nymphenburg.
It was built as a summer residence for the Bavarian Royal Family as a celebration of their long-awaited heir Max Emanuel born in 1662.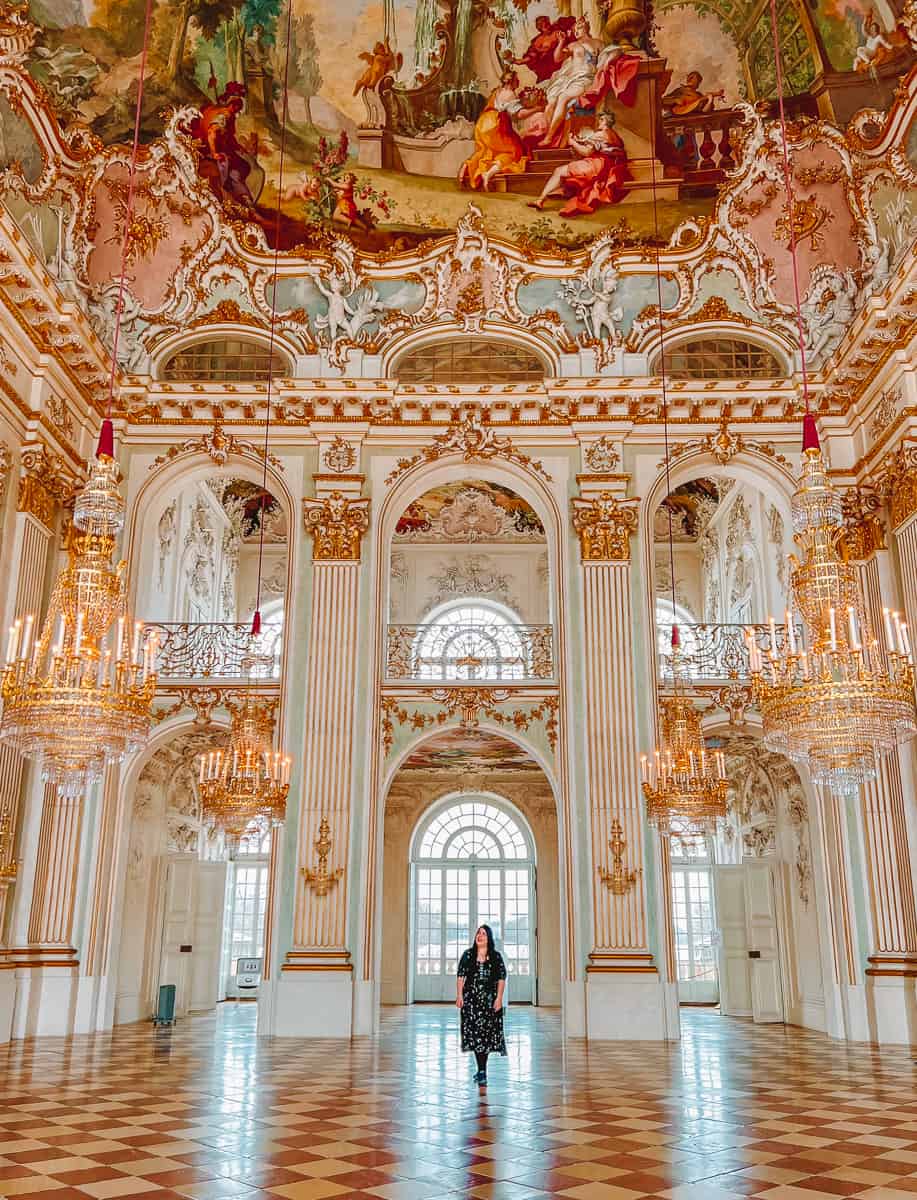 Nymphenburg Palace history
Elector Ferdinand Maria gifted the castle to his wife Henriette Adelaide after she gave birth to their heir Max Emanuel.
The construction started in 1664 and it was completed in 1679. It was designed as a grand Baroque palace.
By the time Max Emanuel came of age and became Elector himself, he made multiple extensions to the residence.
It's thanks to him that the palace has its current size with its pavilions and opulent rooms like the Great Hall.
As a favourite residence of the Wittelsbach rulers, many added their own additions to the estate over time.
Karl Albrecht created Amelianburg, Maximilian III Joseph founded the Nymphenburg Porcelain factory, and Lugwig I added the Gallery of Beauties.
King Ludwig II of Bavaria was born here in the Queen's Chamber on 25 August 1845.
It is still owned by the Duke of Bavaria today but is open to the public and functions as a museum.
The park is the second-largest green space in Munich and is enjoyed by locals and tourists alike.
How to visit Nymphenburg Palace from Munich
Although Nymphenburg is a popular attraction in Munich, it's good to note that this palace is 3 miles out of the city centre to the west.
So, although walking is an option, it's best to make use of public transport to travel over there.
The journey will take around 30 – 45 minutes and then it's a short walk to the palace.
If you are using the Munich S-Bahn trams, you can take a train to 'Laim' and then a bus to Schloss Nymphenburg.
Or, you can use the U-Bahn underground 'Rotkreuzplatz' and then a tram to 'Schloss Nymphenburg'.
Alternatively, you can book a taxi to the palace. Uber, FreeNow, and Bolt all work in the city.
Click here for a Google Pin to start planning your journey
Things to do in Nymphenburg Palace
Nymphenburg Palace is one of the top attractions in Munich today and for good reason. It's a huge royal estate with lots to do.
As well as feeling like royalty touring the palace, there is a collection of quirky museums, a huge park to explore, the Nymphenburg Park Palaces, a gift shop, and cafés.
Here are all the magical things to do at Nymphenburg Palace, a fairytale summer residence of the Wittelsbach rulers.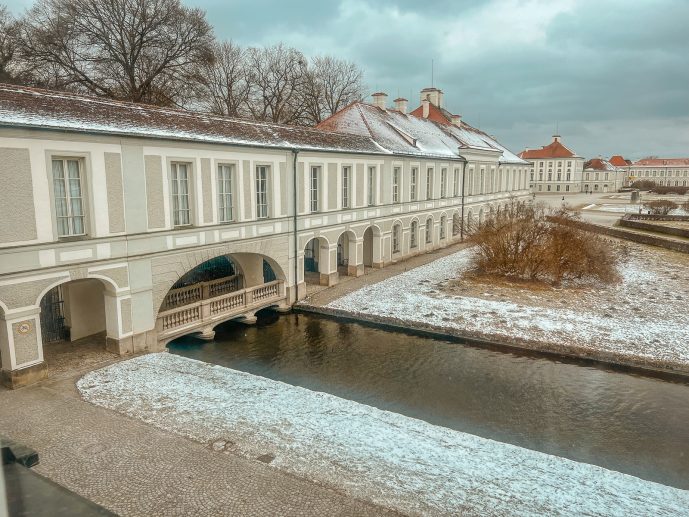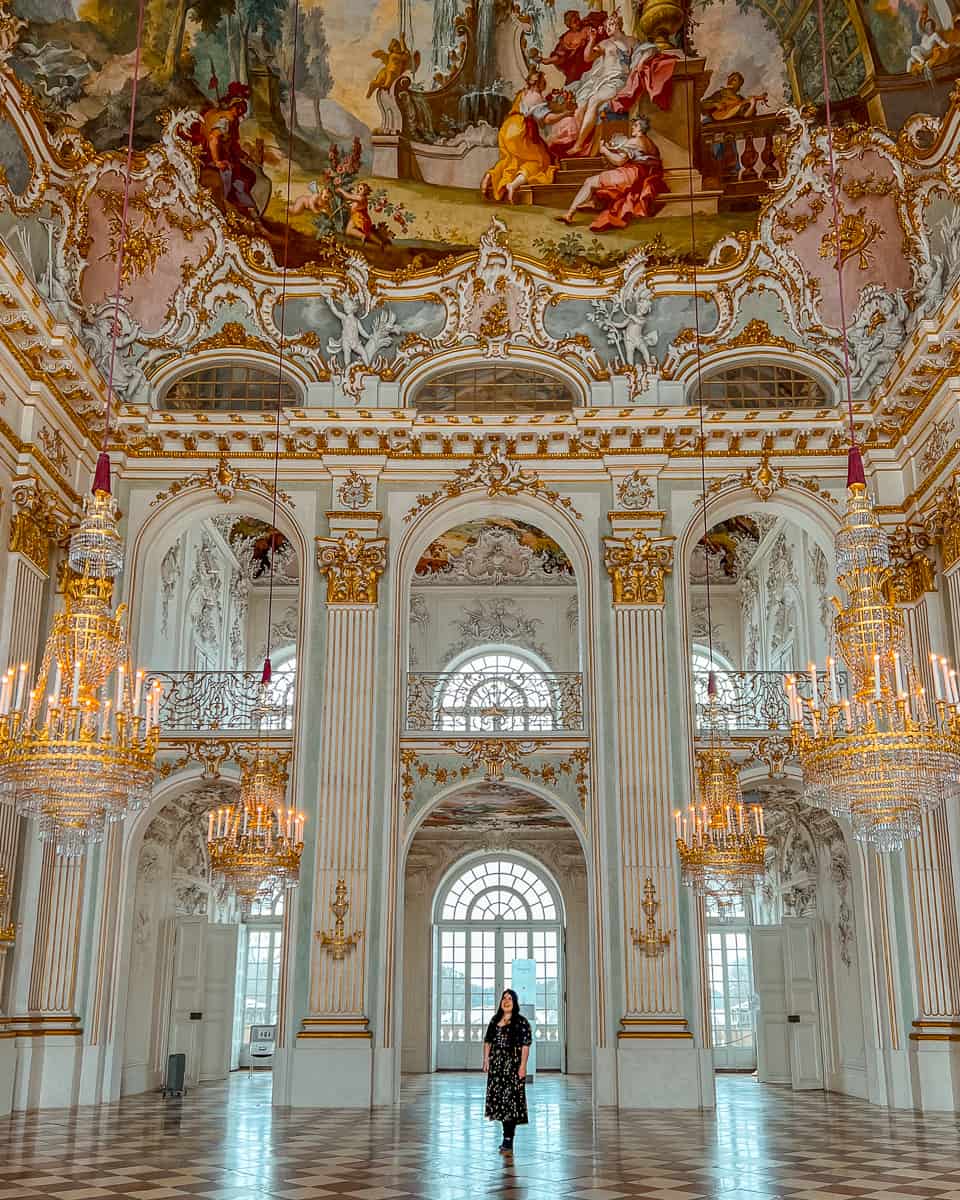 1. Admire the opulent Grand Hall
If I'm going to be completely honest, this extravagant room was the reason why I wanted to visit Schloss Nymphenburg. It's definitely a princess moment.
Steinerner Saal or Stone Hall is a huge room that takes up three floors of the palace. It's bright and lit by a series of grand arched windows and chandeliers.
The Nymphenburg Grand Hall has colourful paintings of the Olympus Heavens with a homage to Flora on the ceiling as well as a tiled floor and gold gilded walls.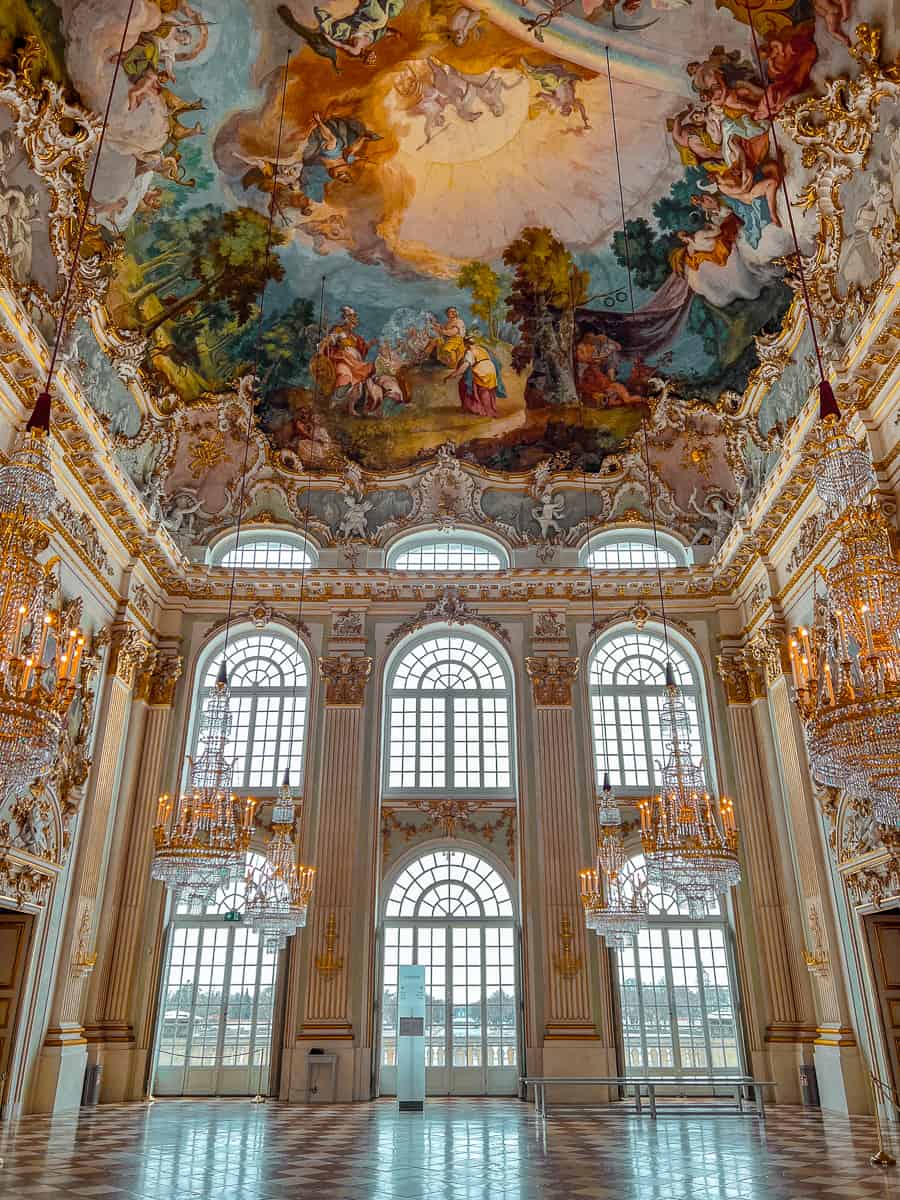 It was built to make a grand impression on visitors who visited the summer palace and it certainly achieves that. I was in awe of this sumptuous room!
Could you imagine attending a ball here? Or, having tea or a banquet in the middle? It would be a dream.
If you wanted to see this room without too many crowds, I would be the first inside or one of the last ones out. I visited as soon as they opened and was able to enjoy this room alone for a while.
2. Gallery of Beauties / Schönheitengalerie
The Gallery of Beauties at Nymphenburg Palace is one of the most famous rooms in the residence but is also the most controversial.
King Ludwig I was a lover of art and beautiful things so he commissioned the artist Joseph Karl Stieler to paint a series of beautiful women.
He requested not only ladies at the Bavarian court but from all classes of society. 36 portraits were made between 1827 and 1850.
They include Helene Sedlmayr 'Beauty of Munich', the actress Charlotte von Hagn and his daughter Princess Alexandra of Bavaria.
Another is of Lola Montez, or Eliza Gilbert, who was Ludwig's Irish mistress. When he made her the Countess of Landsfeld it caused a revolution and Ludwig was forced to abdicate.
It was originally made for the Festival Hall Building (Festsaalbau) of Munich Residenz but now lies in the palace.
3. Queen's Bedchamber
There are plenty of other staterooms you can access on your palace tour like the study, antechambers, waiting rooms, and galleries.
But, the most famous room has to be the Queen's Bedchamber which was the birthplace of King Ludwig II. The most famous Bavarian King and creator of fairytale castles.
The chamber was originally made for Queen Caroline. But, in 1842, the crown prince Maximillian II took up residence here with his wife Marie of Prussia.
King Ludwig II was born on the 25th of August 1845 which was the name day of St Ludwig.
He was named after his grandfather Ludwig I who was also born on the 25th of August (isn't that wild?!) and was christened in the Stone Hall.
You can see the busts of Ludwig and his brother Otto on the writing desk in the corner.
4. Martstall Museum – Museum of Carriages and Sleighs
I did not expect to love the Martstall Museum as much as I did. But, it's honestly such a fabulous museum.
The Museum of Carriages and Sleighs is set in the court 'Riding Stables' which is in the Cavaliers' Building to the south of the palace.
It used to house Karl Albrecht's most prized horses in summer but now has an opulent collection of over 40 gold carriages and ornate sleighs that were used by the Wittelsbachs.
Highlights include the Coronation Coach of Emperor Karl VII as well as state vehicles belonging to King Ludwig II.
You can also find the elaborate decorations that the horses used to wear as well as historic riding equipment.
I loved the cute portrait gallery of all the horses in there too. My favourite painting was of Cosa-Rara stealing apples from a palace tea table.
The grey-dappled mare was King Ludwig II's favourite horse. After she died a model was created to immortalise her and it's in the museum.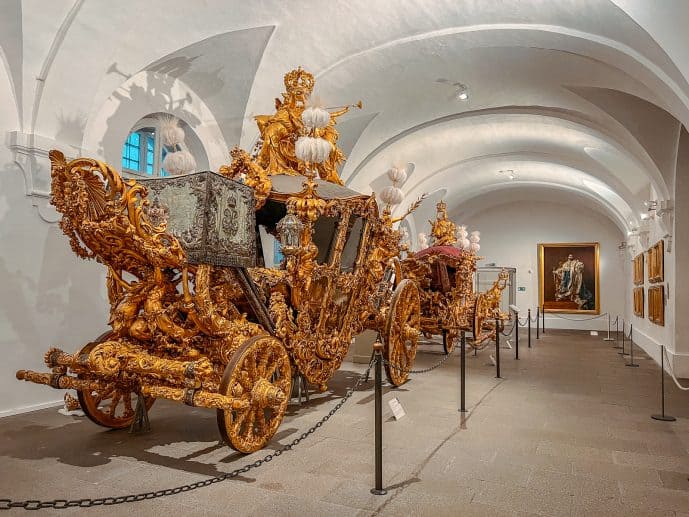 5. Nymphenburg Porcelain Museum
Another part of the museum is the Porcelain Museum which houses a unique collection of Nymphenburg Porcelain amongst other artifacts.
In 1747, Max III founded the royal porcelain factory and in 1761 production moved to the Cavelier House at Nymphenburg Palace and it's still there today.
Many of the original models were made by Franz Anton Bustelli and his fine works graced the court dinner tables.
King Ludwig I took an interest in porcelain art and later founded the Royal Bavarian Art Institute in 1827.
There are over 1000 exhibits of Nymphenburg Porcelain showcased here as well as elaborate rooms with porcelain on display.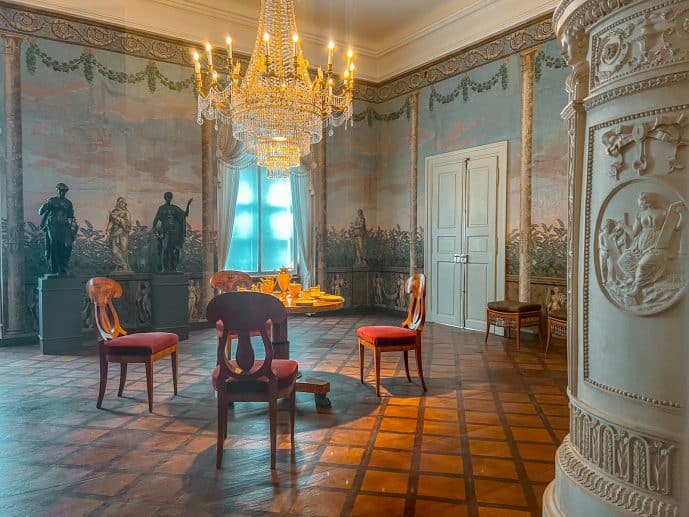 6. Nymphenburg Park / Nympenburger Schlosspark
After you have explored the palace and museums, you still have lots left to see in Nymphenburg Park.
It's over 200 acres of formal gardens that take inspiration from the grounds of the Palace of Versailles. It is the second-largest green space in Munich.
There's a Grand Canal, Badenburg Lake, Kleiner See, and other cascading fountains and waterways. You can head around on foot or by bicycle.
There are lots of pavilions and statues from Greek and Roman mythology here and the park follows the story of the Nymph Flora, who this palace was named after.
The entire place feels like you're walking through a fairytale and there are even smaller castles to find that are dotted around.
7. Nymphenburg Park Palaces
As part of your visit to the park, you can make your way around the series of Nymphenburg Park Palaces built here.
Badenburg is an enchanting Baroque bathhouse that was based on the Roman traditions of bathing. It's decorated with images of Nymphs and Naiads.
It not only has elaborate bathing rooms with a heating room to warm the water. It also has an opulent ballroom, kitchen, and other rooms too.
Pagodenburg is a royal tea house that was built in 1719. When the royal family played "Mailspiel", a game similar to golf, they would relax here and have tea afterward.
The main hall is decorated in blue and white and has influences of Indian and Chinese styles. Inside, you can visit the elaborate Chinese Drawing Room and Boudoir.
8. See the Pink Palace – Amalienburg
My favourite Nymphenburg Park Palace had to be the Pink Palace of Amalienburg.
It was built by Karl Albrecht as a pleasure palace and hunting lodge for his wife Maria Amalia in 1734. She was the daughter of Emperor Joseph I.
Although the outside is painted a gorgeous pink, the interior rooms are a riot of colourful Rococo architecture and design.
You can visit the Hall of Mirrors, Bedroom Salon, Hunting Room, and the Pheasant Room amongst many more. All have a unique style and it's pure luxury.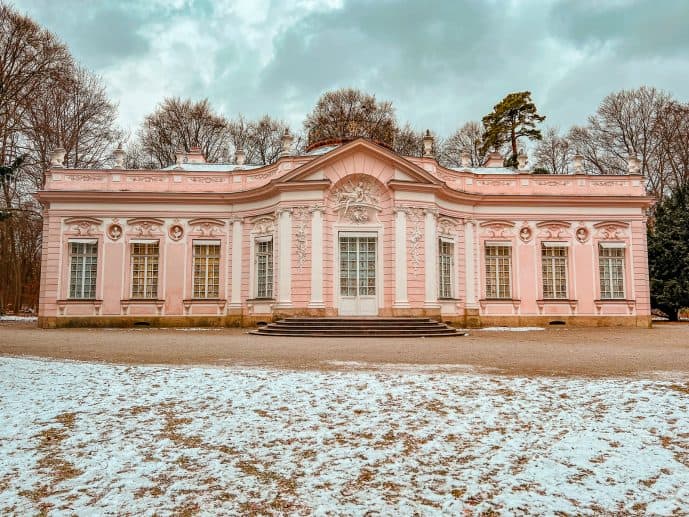 9. Magdalenenklause Grotto Chapel & Temple of Apollo
Another highlight is the Grotto Chapel of Magdalenenklause. It was built between 1725 and 1728.
It was inspired by the living quarters of a hermitage and has the Chapel of St. Mary Magdalene.
Beyond the palaces, there are also other highlights to see in the Nymphenburg Park like the Temple of Apollo.
Apollotempel sits on a peninsula of Lake Badenburg and has a series of 10 Corinthian columns. It was designed by Leo von Klenze and built 1862 – 1865.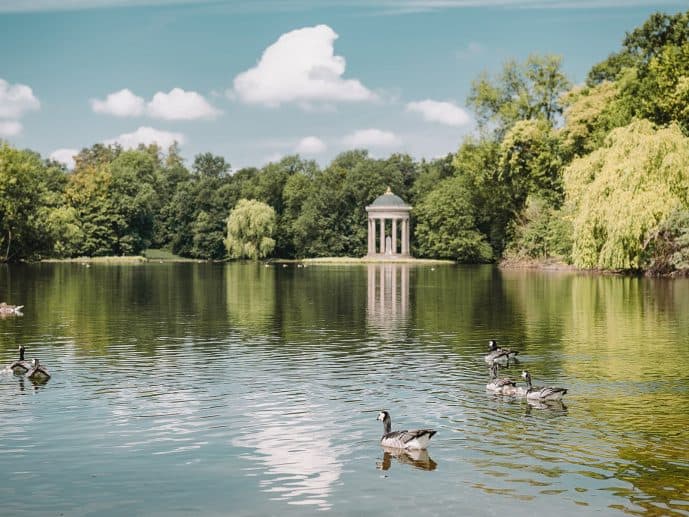 10. See swans in the lake
Something I loved on my visit was seeing the elegant swans that swim around the front of the palace on the lake.
Swans are often associated with royalty and are a famous icon of the Bavarian Royal Family.
Germany's most famous castle, Neuschwanstein Castle means "New Swan Stone" castle and was built by King Ludwig II. He was born at this palace and is known as "The Swan King".
The inspiration for his castle was based on the legend of the Swan Knight brought to life by Wagner's Lohengrin opera. So, it seemed very fitting that they make a home here.
In the summer months, the palace runs Gondola Rides on the lake just like the Wittelsbachs used to enjoy. So, you can feel like royalty with views of this enchanting palace in the backdrop.
11. Have tea at the Palm House
Schlosscafé im Palmenhaus is one of the many cafés that are dotted around Nymphenburg and is a great place to relax.
You'll dine in a beautiful crystal palace setting that is lined with botanicals and palm trees.
They offer breakfast, lunch, coffee, and a selection of mouthwatering cakes. They have some signatures like King Ludwig's Torte.
Note that the café is closed from Monday – Wednesday, even in the high season.
Is Nymphenburg Palace free?
Something I was really surprised about was the fact that Nymphenburg Palace is actually free to visit. Well, the park surrounding it is anyway and it's popular with locals and tourists alike.
You only need to pay to enter the inside of Schloss Nymphenburg, museums like the Martstall Museum and the Nymphenburg Park Palaces.
In the summer months, Nmyphenburg Park makes a fabulous budget activity in Munich.
But, I would always recommend going inside Schloss Nymphenburg if you can as the interiors are truly spectacular.
It's truly a fairytale location and it was one of my favourite palaces I visited in Munich.
Nymphenburg Palace opening times & ticket prices
Nymphenburg Palace is open to visit all year round. From April – October, the palace is open from 9 am to 6 pm, and from October – March it's open from 10 am to 4 pm.
'Complete tickets' are 15 euros in the high season and 12 euros in the low season. This allows you into the palace, museums, and park palaces. You can book tickets online.
But, note that some of the palace will be closed in winter, the park palaces will close and a lot of the park statues will all be covered.
You can buy tickets separately for the Schloss or Martstall Museum. Or, you can select a 'Parkburgen ticket' that just allows you inside the Nymphenburg Park Palaces.
It's good to note that Nymphenburg Park is free to visit and you don't need to book tickets to see that.
The park opens from 6 am – 8 pm in April – October and 6.30 am – 9 pm in May – September.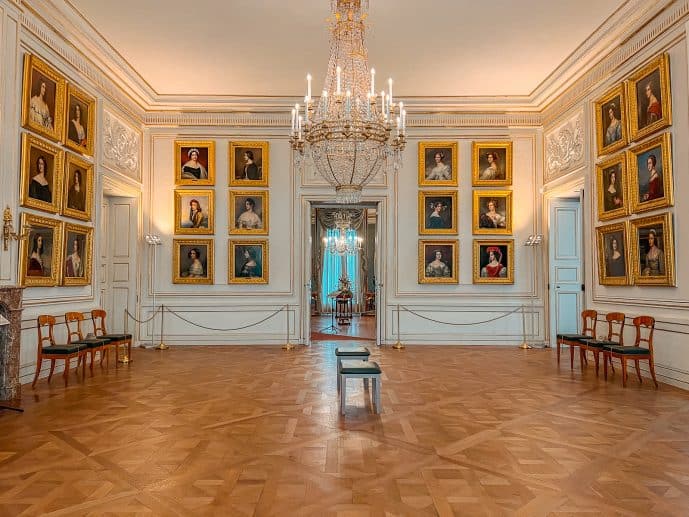 How much time is needed for Nymphenburg Palace?
I would recommend at least 2-4 hours to tour Nymphenburg Palace as there is so much to see.
There are lots of staterooms, museums, and acres of parkland to explore. You really don't want to rush through this enchanting estate.
You could easily spend a day in the Nymphenburg area if you wanted to as there is the Nymphenburg Botanic Gardens nearby.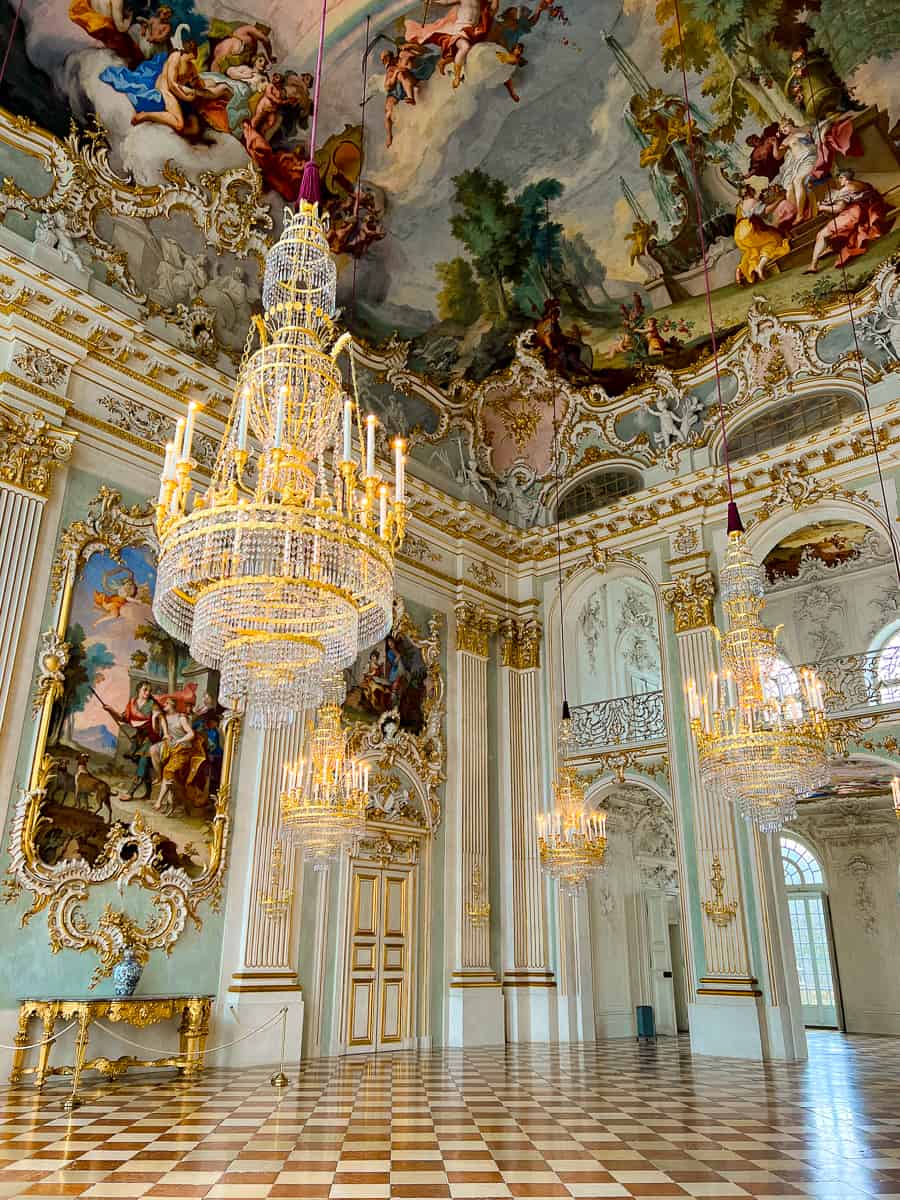 My top tips for visiting
Book tickets online – Unlike Residenz, you can book your tickets to Schloss Nymphenburg online. I would recommend doing this, especially in the summer.
Don't bring a backpack – Backpacks are frowned upon in most Munich museums. If you do have one you will need to store it in a locker during your tour.
Photos and videos are allowed – photography is allowed but don't use flash. Tripods and selfie sticks are not allowed inside the palace.
Wear comfy shoes – there is so much walking that you will do around Nymphenburg Palace as it's a huge estate. Wear a pair of comfortable shoes.
Is visiting Nymphenburg Palace worth visiting?
Yes, Schloss Nymphenburg is one of the best attractions in Munich that I would highly recommend visiting.
Seeing the Stone Hall with its sparkling chandeliers and ceiling mural was like a dream come true. It felt like you were a Princess in a Disney movie!
Although it is traditionally a summer palace, I went in winter when it was snowing and it was still so beautiful. Albeit absolutely freezing and very icy.
Walking around the palace and seeing all the opulent rooms and Baroque architecture will take your breath away.
The extensive parkland, waterways, and museums are the cherry on top. Don't skip Nymphenburg Palace in Munich.
Looking for more things to do in Munich?
Munich is the capital of Bavaria and is filled with incredible historic buildings, streets, and palaces to explore!
After you're finished at Nymphenburg Palace, there are plenty more attractions in the city to enjoy.
Marienplatz is the main square and from here you can see the Old Town Hall (Altes Rathaus) and New Town Hall (Neues Rathaus).
Altstadt (Old Town) has many beautiful buildings like Asamkirche, a Baroque chapel dedicated to St. Johann Nepomuk.
The New Town Hall looks like it was built in the middle ages but it was actually only constructed in the 19th century.
It's home to the magical Munich Law Library that looks like something from Beauty and the Beast or Harry Potter!
You can climb up to St Peter's Church tower to get incredible views over the main square or Marienplatz. But, be aware that there is no lift and you'll be climbing just over 300 steps.
Residenz is another museum that is a must-visit in the city. It was the former royal palace of the Wittelsbach monarchs of Bavaria.
It has hundreds of rooms but the most famous is the Antiquarium which was a former ballroom!
Or, you can visit the Justizpalast which is an epic photography spot. It's a law courthouse but the public can enter and the architecture is mindblowing.
Why not take a rest in one of the Munich beer halls? Hofbräuhaus München is the oldest and most popular and serves up beer by the litre, pork, and potato dumplings to the sounds of traditional Bavarian music.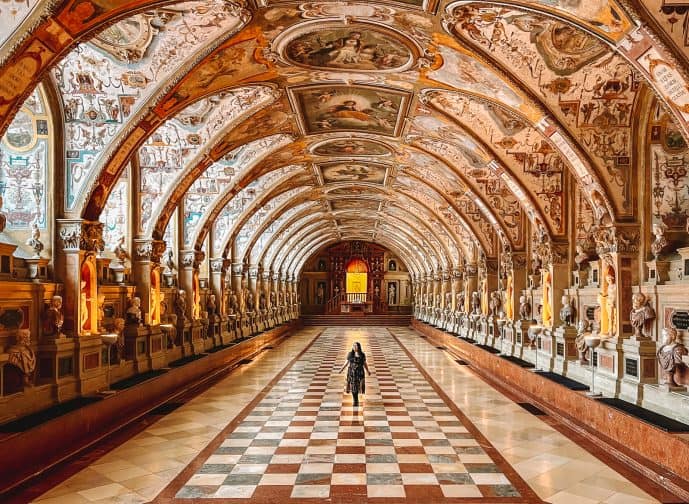 Nymphenburg Palace FAQs
Can you go into Nymphenburg Palace? Yes, although it is a huge park, you can go inside the palace and I would recommend it as it's like a storybook.
Who lives at Nymphenburg Palace? It's now open to the public as a museum but is also a home for the Duke of Bavaria, Franz Wittelsbach.
Why is Nymphenburg Palace famous? This extravagant Baroque residence was popular with Bavarian rulers as a summer palace. It was constantly added to overtime and is now one of the most famous palaces in Munich.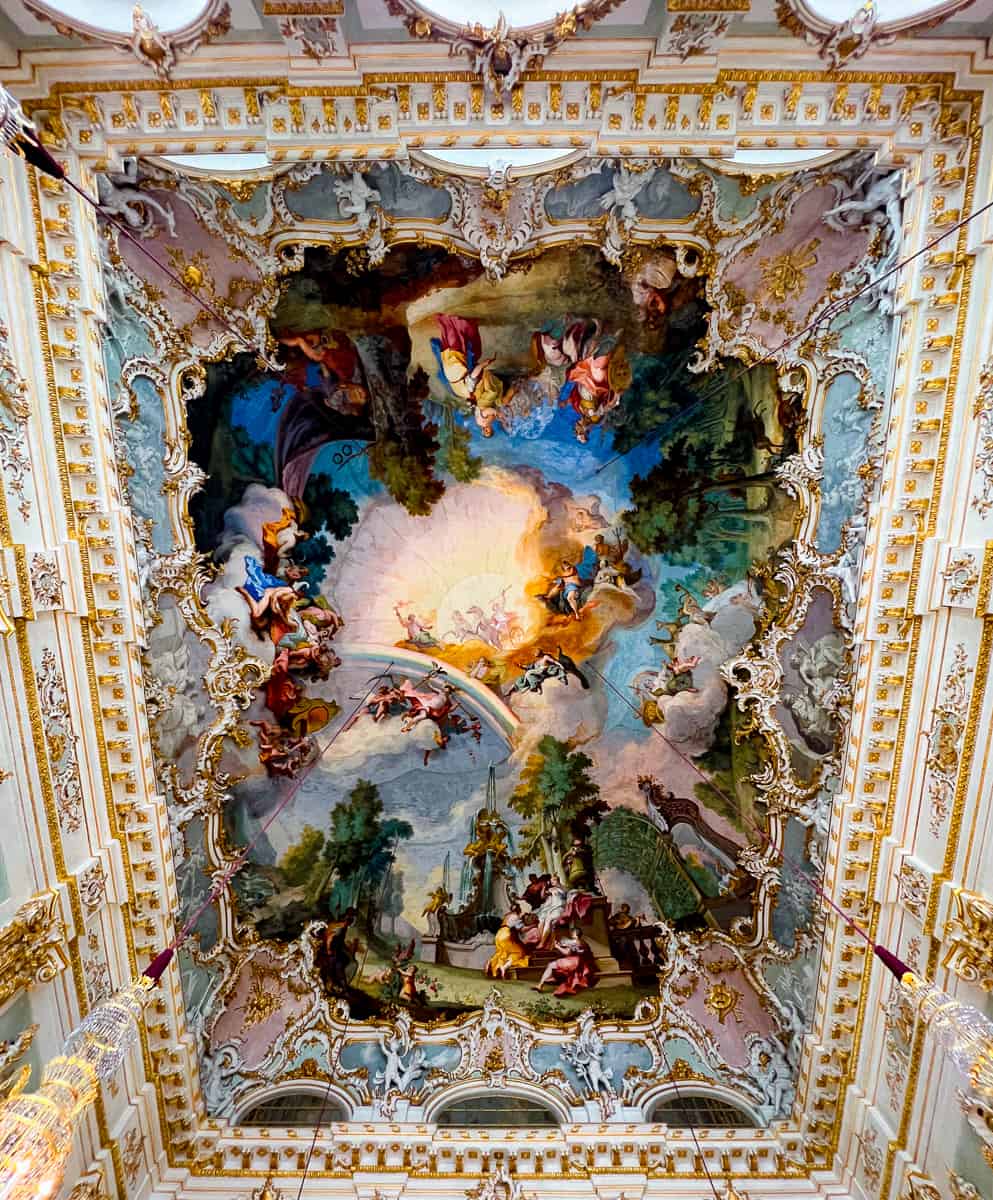 Read more of my Germany travel guides
How to visit Wiblingen Abbey Library
A guide to the Plönlein in Rothenburg ob der Tauber
is visiting Neuschwanstein Castle in winter worth it?
Is Hohenschwangau Castle worth visiting?
Is it worth going inside Neuschwanstein Castle?
Save Nymphenburg Palace for later!