If you're looking for some gorgeous Instagram-worthy places in Edinburgh, then you must put the Old Stockbridge Market Arch on your photography list!
This ancient facade was the entrance to the old Stockbridge Market that used to run here in the 19th century.
Although the market is no longer running today, this historic monument has had a resurgence as a popular photography location.
This is due to its gorgeous traditional stone appearance and overhanging oil lamp. It's like a portal taking you back through time!
Finding this archway can be a little complicated as it's not actually anywhere near the new 'Stockbridge Market' pins on any online maps.
So, in this post, I'll give you some detailed instructions on how to find it while you're in Edinburgh!
Old Stockbridge Market history
The Stockbridge district is now an extremely affluent neighbourhood in Edinburgh. You'll find all sorts of art galleries, expensive flats, and boutiques that line the streets.
But, in the 19th century, it was on the northern outskirts of the city centre and was completely different.
Stockbridge gained its name from the planks of timber that used to form a bridge to cross over the Water of Leith.
In 1825, Archibald Scott was commissioned to construct a market hall building that would house several market stalls.
As part of this structure, he built an entranceway with an oil lamp to light the way between St Stephen's and Hamilton Place.
As the archway suggests, the market used to sell 'Butcher Meat, Fruits, Fish and Poultry'. Almost like open-air abattoir.
So, you can just imagine the sounds and smells back in those days!
It's for that reason that the market closed its doors in 1906 after running for 75 years. There were too many complaints from residents about the noise and foul smells.
Unfortunately, any evidence of that once great building has now been destroyed. It's only this gorgeous archway that still remains.
It's now Category B listed which means it's a protected monument.
Stockbridge Market today
Although The Old Stockbridge Market no longer exists. You can still find a new Stockbridge Farmers Market that takes place in the neighbourhood on Sundays.
However, you may be surprised to know that this ancient archway is nowhere near that food market!
When I was on my early morning mission to take photos of the city, I made the mistake of following the 'Stockbridge Market' pin on Google Maps.
I arrived at that location and I knew instantly I was in the wrong place.
There was nothing resembling this archway at all. I must have walked around in so many circles to try and locate it.
In the end, I asked a local for directions and they kindly pointed me to the right location!
I'm so glad I did as it's tucked away on a street corner and slightly hard to find.
So, to help you out, I'll give you some directions below.
How to find the Original Stockbridge Market Arch photography location in Edinburgh
The Old Stockbridge Market Archway can be found on St Stephen's Place in the Stockbridge neighbourhood of Edinburgh.
If you were to walk under the archway and follow the pathway, it would lead you to Hamilton Place.
The easiest way to access this archway would be by walking there.
If you're planning a visit to other photography locations like Circus Lane. This is just nearby and can be easily accessed on foot within a few minutes.
You'll need to first head down St Stephen's Road. Then, you'll see a small side street called St Stephen's Place.
So, keep an eye out as you're walking down. It's easy to get distracted by all the amazing art galleries and shops!
You can easily get a bus to Stockbridge as well from wherever you are in the city. There is a bus stop on Hamilton Place or Kerr Street. From both of those stops, it's a two-minute walk.
If you're planning on driving here early morning, there are double yellows up and down this street.
But, you can manage to find some off-road parking close by. Most of Edinburgh's parking lay-bys are free before 8 am and again after 6 pm.
If you didn't fancy walking and wanted to get a taxi, there is always Uber.
Here's a map below of the location. Click on the image to be taken to the Google pin!
Old Stockbridge Arch opening times
The great thing about this photography location is that it's actually open 24 hours a day. It's also completely free to visit!
So, you can pop by anytime to take photos. This is perfect for photographers that want that soft, early morning light.
What is the best time to visit the Old Stockbridge Market Arch for photos?
If you would like to get some photos without people in them, I would always recommend getting up early.
Edinburgh is an extremely busy city, especially in summer or around the Fringe Festival in August.
So, it's always best to arrive as early as possible to not be disappointed. Or, you could be waiting a while!
I got to this location around 7 am in June and found it was nice and quiet at that time.
It was a good job really as I needed to set up my tripod on the road to get these photos by myself.
My top photography tips
It's hard to get a bad photo of this place. The archway is stunning and makes a fantastic capture.
But, here are some handy photography tips;
I'd say if you're visiting for photos you could be done in around five minutes. Unless you want to set up a tripod etc. So, you'll need 10-15 minutes tops to snap up your photos. That's why I recommend adding on some locations like Dean Village or Circus Lane to your walking photography tour.
Remember, that as well as a photo location this is a residential estate and shopping area.
There are cars that come down St Stephen's road. But, as you're off a side street that has double yellows there's not much risk of cars being parked here!
This is a regular commuter route and walking route in the city. So, if you want photos alone, get here early.
If you want to stand out against the dark stone backdrop, wear something bright in contrast! I personally find yellow, white or red are great colours for this.
Looking for more Instagrammable places in Edinburgh?
The Old Stockbridge Market Arch is just the tip of the iceberg when it comes to gorgeous photography locations in Edinburgh.
It's one of my favourite cities to photograph and you'll find inspiration on every street corner.
You have the Royal Mile with its many courtyards and wynds. The gorgeous Dean Village and quaint streets like Circus Lane.
There are also marvellous viewpoints like Calton Hill and many historic castles to get lost in!
So, I have created a whole list of Instagram-worthy locations in Edinburgh for you to check out. This also includes some bonus restaurant locations too.
Click here to read the ultimate list of photography locations in Edinburgh!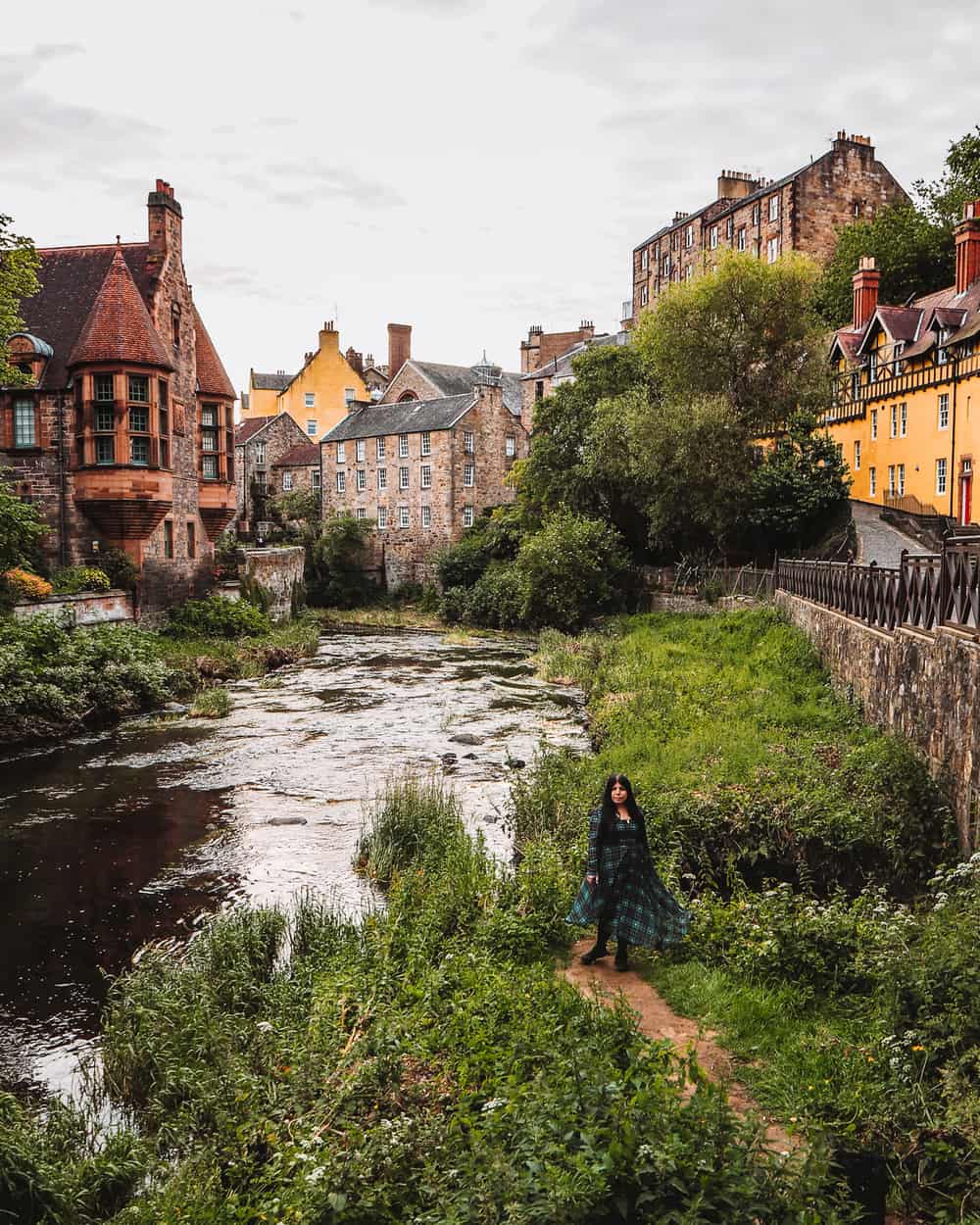 Read more of my Edinburgh guides
The ultimate list of experiences in Edinburgh
Harry Potter locations in Edinburgh
The best viewpoint in Edinburgh
A complete list of Outlander film sites in Edinburgh
Why you must visit Bakehouse Close
A complete guide for the Vennel
Secrets of Queen Mary's Bath House
The hidden gem of Tweeddale Court
Why Craigmillar Castle has to be on your list
The mystery of the Burke and Hare Coffin Dolls
Afternoon Tea? The Colonnades & The Balmoral are the best!
Scottish National Portrait Gallery review
Discover Liberton Kirk in Autumn
Topping & Company Booksellers Edinburgh review
Lady Stair's Close & The Writers' Museum in Edinburgh
Save this Old Stockbridge Market Arch post for later!