I always said, if I ever made it to Egypt, I would book in all the historical hotels from the golden age of Egyptology and the Old Winter Palace Luxor was top of that list.
A famous landmark, the Old Winter Palace is the last one standing of two original high-end hotels for tourism in its heyday.
Opening its doors in 1907, worldwide explorers and wealthy tourists would take residence here to explore the ancient temples and get the latest news about excavations taking place.
Now a Sofitel, the Old Winter Palace is a 5* luxury resort that stands proud on the East Bank of the Nile. Still firmly sticking to its roots, when you walk through the doors of the Winter Palace it's like stepping back in time to a bygone era.
The sparkling chandeliers, sumptuous red carpets, sweeping staircases, large verandas, and original french shutters will take your breath away.
Staying here certainly makes a statement and the past speaks through the walls to you. Here are the reasons why it's the perfect hotel for history lovers!
For dates and rates available at the Winter Palace see here
How to reach Luxor in Egypt
By Flight
If you're heading here from Cairo, the easiest way to get here is to fly. Egyptair runs affordable internal flights throughout the country with a really generous luggage allowance of 23KG!
So much more than the UK's strict policies. This flight will take one hour and takes a lot of the stress out of booking public transport. I always use Skyscanner for flight bookings to get the best deals.
By Bus
Overnight buses are an even cheaper option and are quite a good service. I would recommend GoBus which has an app that you can book your journey online.
There are many different options including luxury buses that have a TV and refreshments on board!
I got quite a few of their shorter services in Egypt and found it to be reliable, safe and clean. Click here to read my full GoBus review.
By Train
Alternatively, a more budget option is the get the overnight tourist train.
This takes around 12 hours and leaves from the Giza train station in the evening around 5 pm/9.30 pm, arriving in Luxor around 4 am/7 am in the morning. The deluxe is recommended and even has a historical lounge car!
For more information, see the Man in Seat 61, my go-to website about train journey's in the world.
By Nile cruise
If you will be ending your Nile cruise in Luxor from Aswan, this will be the ideal place to stop over before you head off elsewhere in Egypt. I went with Mayfair Cruises via Memphis Tours and it was incredible!
Read my full MS Mayfair Nile Cruise review with even more details
How to reach the Old Winter Palace Luxor
You really can't miss the Winter Palace in Luxor. It stands proud bang slap in the middle of the Corniche on the East Bank of the Nile. It's near where all the cruise ships pull into port and it's only a ten-minute walk to Luxor Temple.
Once you've arrived at the airport or the train station, it's time for the games to begin! Unfortunately, there's no Uber in Luxor yet. So, you'll need to get tough and haggle for a taxi if you haven't organised a hotel transfer.
The Sofitel Old Winter Palace Luxor is around 10 kilometres away from Luxor international airport, around a 15-minute journey by car. So, you shouldn't pay any more than £100-£150EGP (£4-6) for a local cab to the Winter Palace.
Compared to Cairo, there isn't as much traffic and so it's a nice smooth journey. But, just make sure that the agreed price promise is held at the end when you arrive at the Palace doors.
Now that stress is over with. You'll be greeted by a Winter Palace porter who will open the car door for you and assist you with your bags. Prepare for your luxurious stay…
8 reasons to stay at the Old Winter Palace Luxor
1. The Old Winter Palace Luxor history is vast and has had many famous residents
Although the Sofitel's official website said that this hotel opened in 1886, the Egyptian Gazette reports it's opened its doors in 1907 with a celebratory lunch at Valley of the Kings.
1922 is what put Luxor on the map with the famous discovery of King Tutankhamun's tomb at Valley of the Kings by Howard Carter. Lord Carnavorn, a patron of Howard Carter and regular at the Old Winter Palace Luxor, announced the discovery to an audience from its very steps!
Howard Carter was rumoured to walk the palace grounds often and meet lords, ladies, and officials in the palace.
Ever since, the Winter Palace has welcomed royalty, government officials, movie stars, and celebrities through its doors. Famous figures such as Agatha Christie stayed here to inspire her famous book Death on the Nile.
I was surprised that more films haven't been shot here considering its fame. But, it was used as a filming location in the 2004 version of Death on the Nile starring David Suchet as Poirot.
2. The rooms are old fashioned with a modern twist and epic views of the Nile and West Bank
What I loved about these rooms is that they were boutique with a lot of the original palace furnishings.
The scarlet brocade, headboard, and blackout curtains were stunning against the ivory walls.
There are 92 guest rooms, 85 being regular rooms and seven are suites. The royal suite is right at the front and provides a jaw-dropping view!
It costs thousands to stay there. My room on the top floor was a fraction of the price and was almost right next to it.
Each room has a seating area with a dining table, a television, and original French shutters which open up to a magnificent view from your private balcony. Some of the rooms have a garden view and some have an epic view of the Nile and the West Bank.
I would highly recommend securing a Nile view room so you can enjoy spying on all the comings and goings on the Corniche each day.
It's a perfect view of the West Bank and you can watch the air balloons rise each morning.
Or, enjoy ending the day with a sunset from your balcony. Paired with a complimentary tea or coffee in traditional Winter Palace cups.
I was obsessed with all the details, even the robes had the winter palace sewn into the fabric!
3. The lobby and hotel at the Old Winter Palace Luxor is like going back in time
When you walk through the Winter Palace doors it's like you've travelled back in time.
The luxurious red carpets, the tarboosh hats hanging near the drawing-room, the sparkling chandeliers, and the traditional furniture. It hasn't changed one bit.
The hotel has many pictures and portraits of famous residents and when the hotel first opened. You can even buy some of the traditional plates and silverware!
You will not believe your eyes as you walk around you'll feel like royalty.
4. The gardens and swimming pool are like an oasis from Luxor city
After a long hot day temple-hopping in Luxor, it's a must to take a refreshing dip in the pool!
Here, you can enjoy a shaded seat to read or drink a cocktail from the pool bar. There are complimentary towels available for guests. You just need to show your key and sign a register to get one.
The gardens are also worth a wander. They're laden with palm trees, fountains, and flowers everywhere. It's a complete oasis from the chaos of the city outside.
5. The breakfast buffet at the Winter Palace Luxor is a luxury affair
When I booked in at the Old Winter Palace Luxor, I had no idea what a lavish experience it would be. The breakfast room is full of wicker chairs and huge windows that let in lots of light. Here, you can take a seat by the window with views of the Nile.
The staff will greet you and ask for your room number, then proceed to seat you and place a napkin on your lap. Then, you'll be asked if you want tea or coffee. Tea comes in a traditional teapot and coffee in a cafetiere!
You can help yourself to fresh omlettes made at their egg station. Pancakes and waffles, pastries, fruit, yoghurt, juice, and all the cereals you could think of!
They even had a Sofitel lite range which included lots of health shots and superfoods if that's your thing. Personally, I went for everything I could get my paws on hehe! It was divine.
6. Dining at the Winter Palace is far from the ordinary
Before I got here, my taxi driver warned me of the expensive food prices and the quality not being good. So, I decided to try it out for myself.
Royal Bar
When I first arrived in Luxor late at night, the only place open was their 'Royal Bar' for a nightcap and snack menu. But, it was actually my favourite meal I had there.
I ordered a glass of rosé and a Croque Monsieur which came with lashings of fries! I kid you not, their ketchup came in these cute mini jam jars. It was delicious and I had it twice during my stay.
The price was around £120EGP (£5) and the wine was the same price. Drinking in Egypt isn't cheap but it's worth it!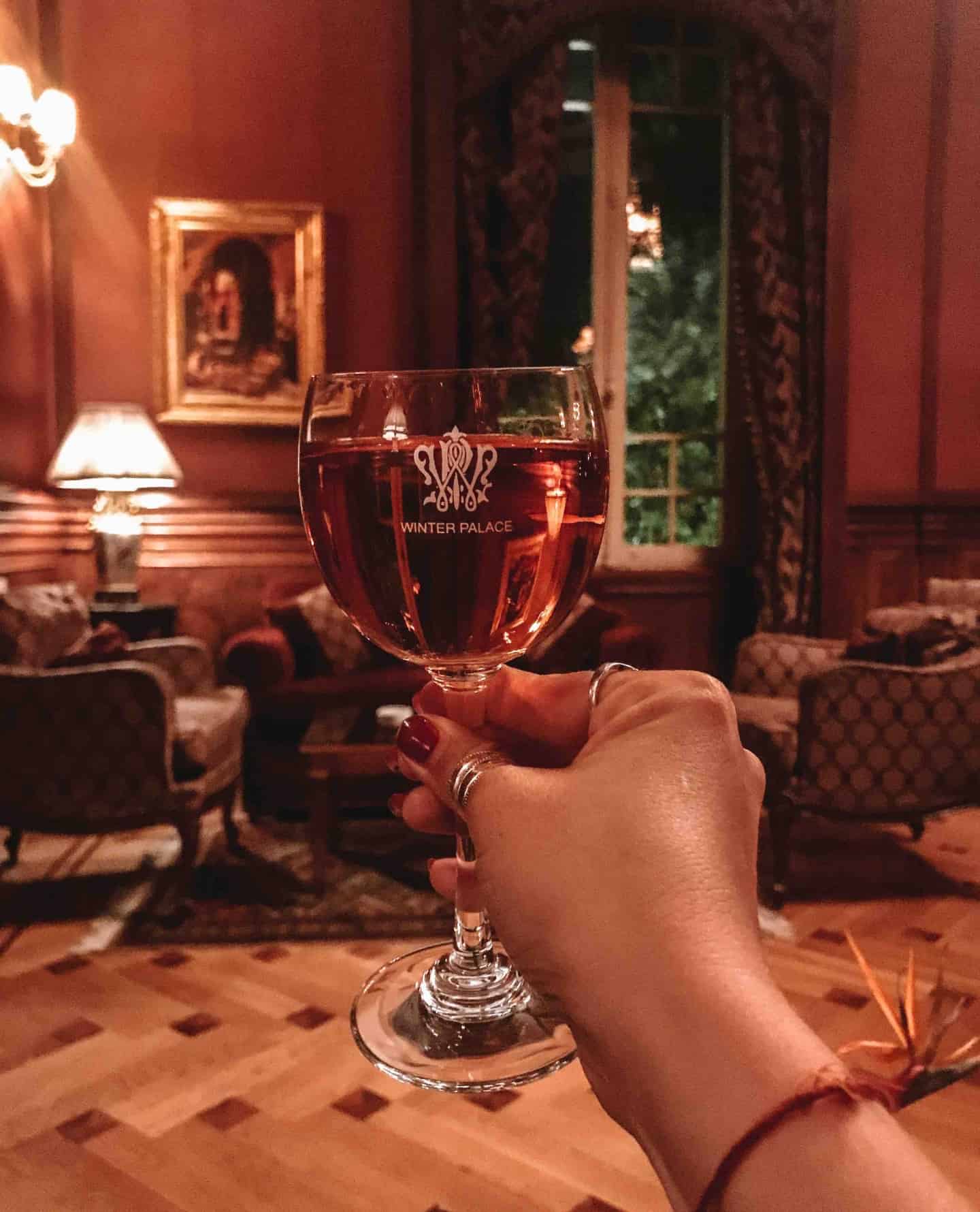 La Corniche
On one of the evenings, I decided to try their BBQ at La Corniche. It's a popular place to eat at the palace.
It's a huge buffet which is prepared and served in their gardens. A musician plays traditional Egyptian music and there's shisha to set the atmosphere too.
The BBQ meat is served on its own gold griddle, super fancy. This is so you can let the meat cook on the hot plate. You can then help yourself to a fresh salad, vegetables, bread, potatoes, and rice etc.
To finish, you can indulge in their dessert buffet. This is filled with western and traditional Egyptian sweets like Umm Ali which is a must-try.
The price for the buffet was £550EGP (£25) without tax or service. I thought it was worth the money. Booking is recommended.
If you get bored of the cuisine at the Winter Palace or fancy something more budget-friendly, try Sofra. It's only a ten-minute walk away, has wonderful service, and serves tasty traditional Egyptian cuisine.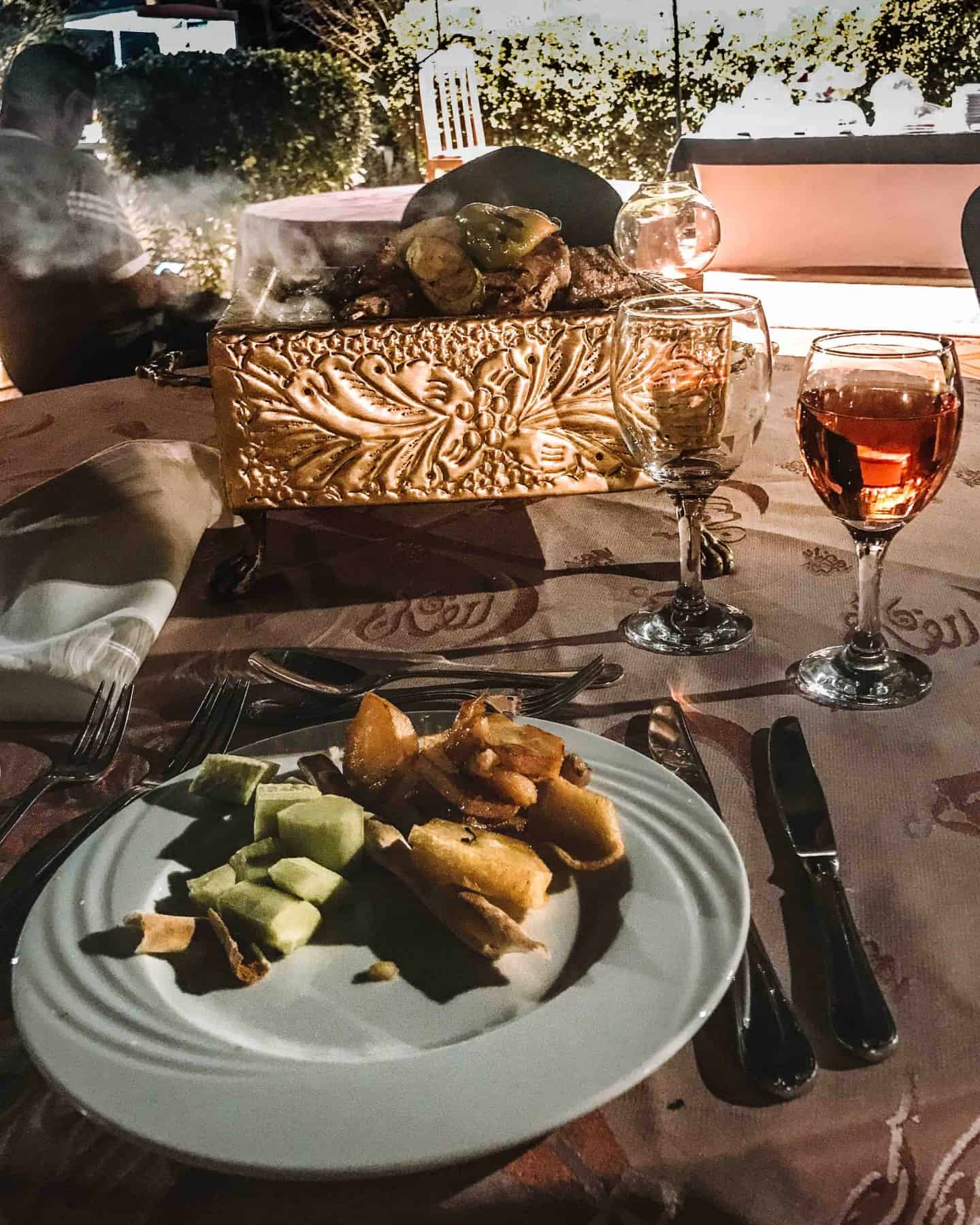 7. The staff here really care about their service
The staff really blew me away at the Winter Palace. When I arrived I received a note which welcomed me personally.
Then, I fell extremely sick while I was here and had caught a nasty chest infection. My carriage driver brought me to a pharmacy to get me medicine. This meant that on one of the days, I had to lock myself away in my room to recover.
The staff were at hand to bring lemon and honey tea and checked in on me to see if I was okay. It was so kind and I will always remember that kindness.
Travelling on your own and getting sick is always scary so I really appreciated someone looking out for me.
Bit out of your budget? Try the Pavillion Winter Luxor – it's a cheaper modern Sofitel property on the same grounds
Old fashioned hotels aren't for everyone and it is quite pricey compared to other 5* hotels in the area.
But, if you did fancy staying near the palace the Pavillion Winter is a great alternative. You're still on the Winter Palace grounds, can eat in the palace restaurants, and use the same pool. But, the hotel is completely different.
Rooms and bathrooms are modern and all provide a fabulous garden view. The breakfast is included and served in their own restaurant Le Bougainvilleas but it's a fraction of the price.
I stayed here after my Nile cruise and found it fabulous! For dates and rates available at the Pavillion Winter see here.
Top things to do in Luxor and day trips to take
Luxor is like an open-air museum. There is so much history to take in that's all around you. You'll find temples, tombs, ancient statues, museums. You name it, it's here.
If you're not here on a group tour, there are plenty of attractions you can visit in the city with the highlights being Luxor Temple and Karnak Temple.
I would also recommend hiring a car for half a day to go further afield to the West Bank. Here you can visit the mortuary temple of Hatshepsut, the Valley of the Kings including King Tutankhamuns' tomb, Madinat Habu, and the Colossi of Memnon.
An extra special trip would be to take a hot air balloon over the West Bank for sunrise, click here to read my top safety tips!
There are also plenty of things to see in Luxor at night, see here for 8 magical things to do.
Staying at the Old Winter Palace Luxor was an experience I will never forget. I felt like royalty during my stay and sleeping here made my trip to Luxor unforgettable. The sunset over the Nile each evening from my balcony will always remain a fond memory that I'll cherish.
To reserve your stay at the Winter Palace click here
Read more of my Egypt articles
My perfect 2 week Egypt Itinerary
The perfect Egypt packing list
The most Instagrammable places in Egypt
The ultimate 4-day Nile Cruise
The perfect guide for Abu Simbel
My survival guide for the pyramids