Ever since my first backpacking trip a few years ago, I have used Osprey.
To begin with, when I was browsing for my first 'traveller' backpack online, I was hitting the price: low to high option on amazon and eBay (I know) looking for the cheapest one I could.
My thinking was that if I got a cheap one I would be saving more money for my 6-month trip.
But, after doing a lot of research online, I decided to make an investment with the Osprey Farpoint 40 backpack.
Just 40 litres to pack my home in. It was pricey at £100 (less on Amazon) but so worth the cost.
Here's my complete Osprey Farpoint 40 backpack review.
When you're travelling your backpack is going to be your lifeline and home on your back for the next 1-12 months or more!
What use would it be if the straps broke, it wasn't durable or your things fell out?
You need a high-quality backpack and the Osprey brand provides that with every backpack in their line.
I'm not sponsored at all but I just love their products. When I was on my 6 month trip around South East Asia, Australia and New Zealand my backpack took a serious beating.
It was loaded on buses, boats, planes, and Tuk-Tuks, subjected to an unholy amount of stuff being shoved inside by me and still came out in one piece.
But, the ultimate reason why I particularly love the Farpoint range is that it comes in different frame sizes.
Small to medium and medium to large! As I'm hobbit size having a massive turtle shell, an 80-litre backpack would drown me.
It would be too uncomfortable and I'd probably fall backwards, so having a small frame backpack was a huge relief.
Make sure you read this full Osprey Farpoint 40 backpack review before you buy.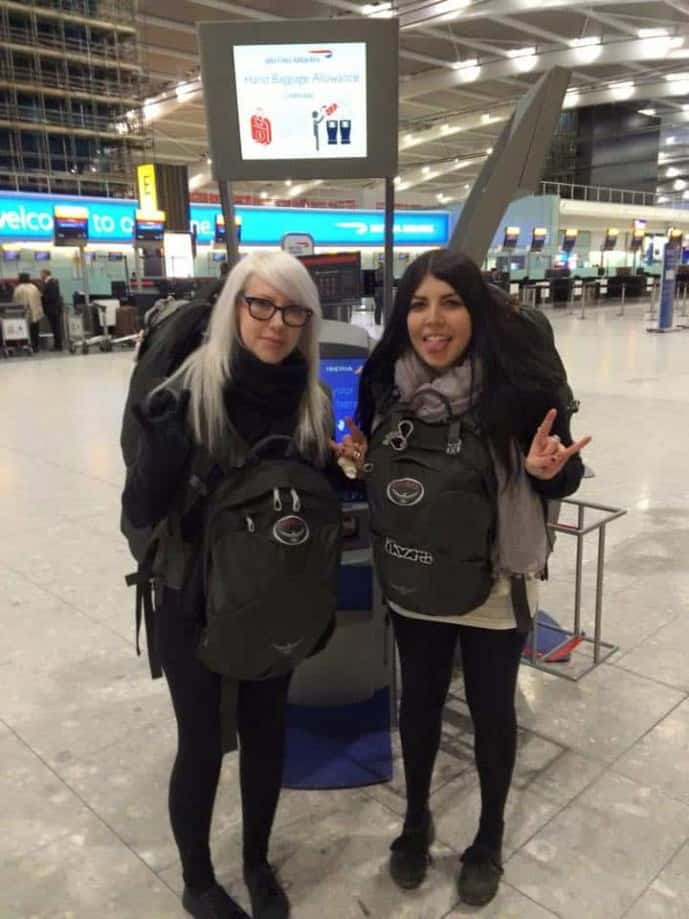 11 reasons why Osprey Farpoint 40 backpack review is great for petite girls!
1. It opens like a suitcase
I kept seeing so many backpackers struggling to find their stuff in a top-loading backpack.
Or, they would have to literally throw everything out and painfully organise the pile of stuff so that they could stay sane with it.
But, this backpack has a front-facing zip so it feels just like carrying a suitcase – but on your back of course!
When you open the bag you can easily see where everything is to grab stuff out.
Of course, it still takes some organising (I personally use packing cubes to separate things) but it's far easier than a top load.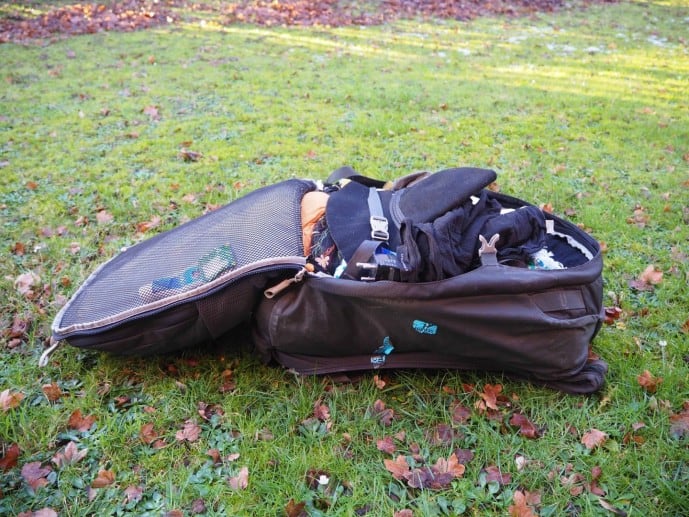 2. It's high quality material
If you're budget travelling or flashpacking, you will still be shoving your bag on any number of public transport.
Planes, trains, automobiles and the weather – you never know what your backpack will be subjected to.
Also, although you will start out with a light pack, you will pick up souvenirs on the way, clothes and any number of things that you may need to shove inside and stretch the pack within an inch of its life.
This backpack has strong, weatherproof material which helps to keep the bag in one piece, even if you bash it about!
3. Lockable zips
Perfect for safety, the Osprey Farpoint 40 backpack has lockable zips which means you can have peace of mind that someone isn't going to rummage through your backpack.
A lot of the time in cheaper hostels lockers aren't available so it's a comfort to know your bag is locked and your valuables are safe.
This is also a great feature for leaving your backpack on public transport as you never know if your bag is safe in the hold.
I've heard of little kids being sent in to steal things!
4. Compression straps inside and out
Compression straps will become your best friend with a backpack! You'll be amazed at how much more stuff you can fit in after you've compressed it all down.
This bag has compression straps inside and also on the outside once you've zipped it up!
I usually strap a blanket to the front of mine and put a waterproof cover over the top. But, the compression straps on the outside are a great bonus if you're planning on taking it on a plane as hand luggage.
However, if you're looking for what NOT to pack in your backpack you can see my guide here.
5. Small/medium frame size – great if you're short!
Again, if you're a shorty like me, a big backpack may not be the best idea.
It will seem okay in the shop and for the first day or two but give it a month and you'll be sick of it and want to swap it for a suitcase!
The technology of the smaller frame means that you won't feel as uncomfortable with the bag on your back.
I can walk really comfortably with this backpack and it hasn't (touch wood) causes any strains or back problems.
6. Adjustable straps and waistbelt
Another lifeline is the waist belt! Most of the time, I tighten my waist belt as tight as I can to let the backpack fall on my hips rather than my shoulders.
That way it takes the weight off and you can carry everything for a lot longer.
It's amazing and you can feel the difference and pain on your shoulders as soon as you undo the waist belt!
Although it was uncool in school to have a 'happy camper' backpack with your straps up high, with a heavy backpack it's a must and it will be way uncooler to have an injured back.
Having straps higher means you can carry a big weight safely and not strain your spine.
7. Cabin luggage size
This backpack is 40 litres and is cabin size on a majority of airlines. That's if you don't pack too much into it (remember, compression straps!).
Airlines now are particularly strict and require you to measure the size at the airport, so make sure you don't load too high!
This could save you hundreds of pounds on air travel. Always check with your airline for cabin bag size requirements.
8. Flap to zip over straps for plane journeys
To save your straps from getting caught or tangled on luggage belts in airports, you can unfold and zip over a special flap that is 'hidden' at the bottom of your pack.
You simply unfold the flap, clip the straps together and zip it over your straps!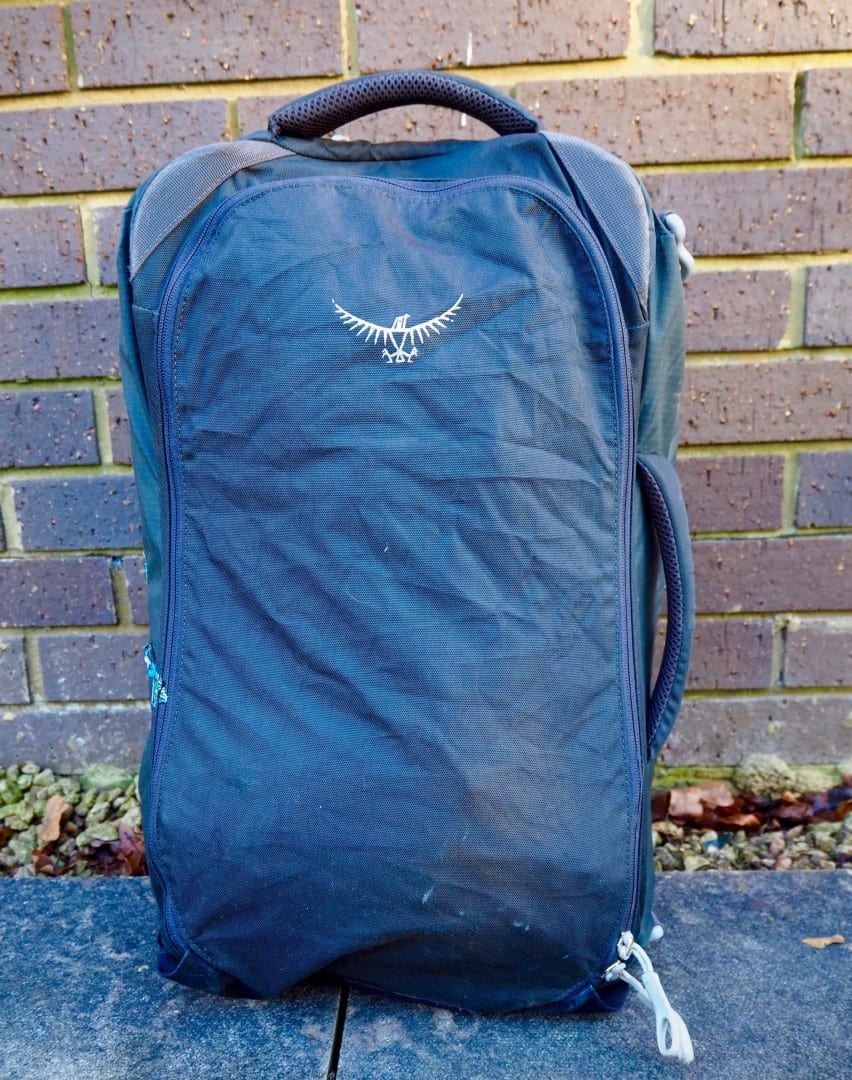 9. You can fit more in than you think
It's 40 litres, yes, but there is so much room for activities! There are two compartments.
One is the big compartment at the back for clothes and large items in your luggage.
The second has a laptop compartment and pockets to keep paperwork and important documents zipped up!
There is also a little pocket at the top and a mesh zip compartment that you can organise stuff into as well. I always think it's a great help to 'get to know your backpack' before you pack!
That way you know how to organise everything and get an idea of where your things could go.
Space is everything when you're travelling with a backpack.
10. What are the cons?
When I was thinking of what I didn't like about this backpack I was a little stuck.
Apart from the fact it is a backpack (I would rather have a nice suitcase but in India, it's not ideal), there isn't much.
It would be nice if it came with a rain cover attached underneath so I didn't lose it or have to buy my own.
Or, a water bottle holder at the side would be nice but not really necessary. It's an all-around good egg. It's a smart colour, practical and durable.
11. Osprey is a reliable brand
Osprey has and always will be a reliable brand in my opinion. Their bags are durable, of amazing quality and at a (semi) affordable cost.
It pays to have a good quality backpack when you're carrying your home on your back and you're going to be putting it through hell!
So, I would personally highly recommend this one to anyone who's heading out backpacking and to all my fellow short girls out there. Happy travels!