Described as "probably the most elegant viaduct in Britain", the Ouse Valley Viaduct is an architectural marvel that can be found in West Sussex.
Built as a main crossing for the London-Brighton railway line in the 19th century, this viaduct still carries over 100 trains a day.
But, for most who visit, it's what lies beneath this viaduct that is of interest. Through the tunnelled archways, you'll discover a mind-altering optical illusion that looks like infinity.
This red-bricked Victorian structure is now an Instagram superstar and you must visit this magical photography location in the South East of England.
Here is a complete guide on how to visit the Ouse Valley Viaduct and capture those picture-perfect photos!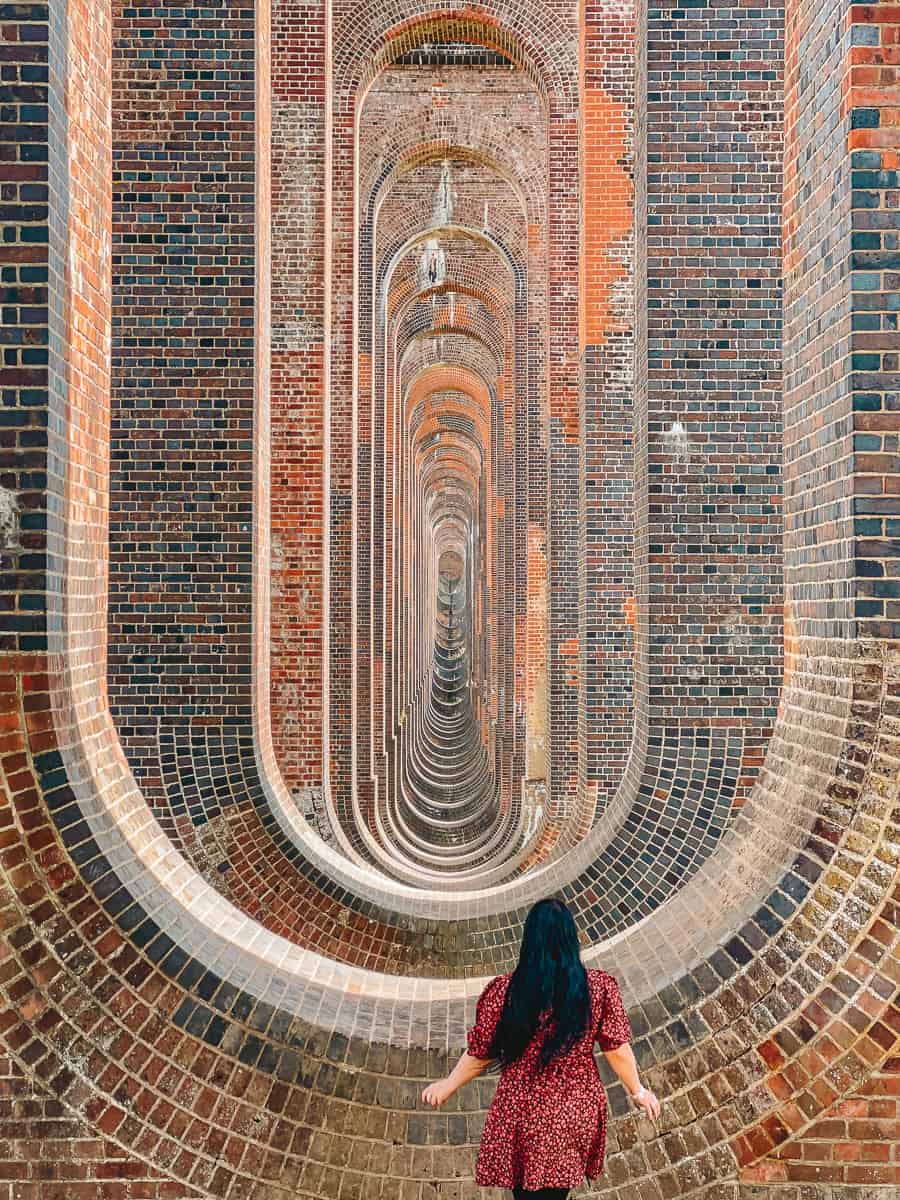 Ouse Valley Viaduct history
Also known as Balcombe Viaduct, this train crossing started construction in 1839 to provide a railway line from London to Brighton.
It was designed by the principal engineer John Urpeth Rastrick and, despite its sheer size over the Ouse River swales, it was made into an elegant structure of red bricks and tunnels.
Many of the materials were shipped along the English Channel from the Netherlands and Normandy.
It contained 37 identical tunnels supported by jack arches that created the infinite optical illusion underneath.
Despite its initial success on opening in 1842, it had a bit of a problematic future due to its continued use.
The structure had to be restored in 1890 and many times since then due to decay. Eventually, it became recognised as Grade II listed meaning it is now protected for many years to come.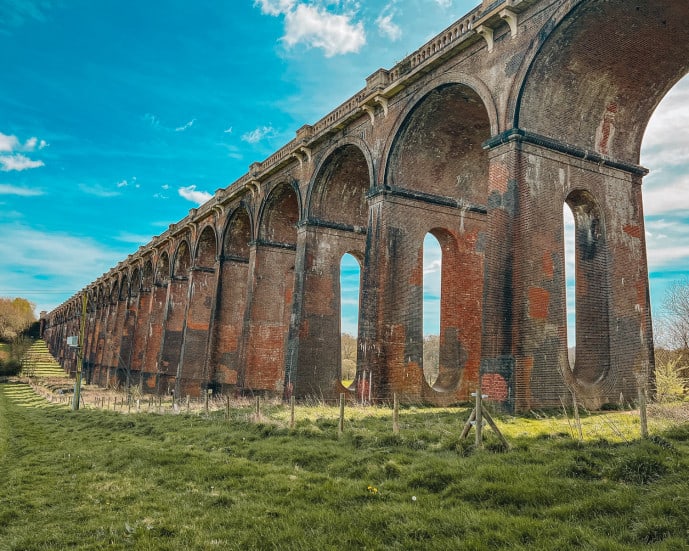 Ouse Valley Viaduct facts
It's estimated that 11 million red bricks were used to build the Ouse Valley Viaduct. Most of these came from the Netherlands.
It cost around £38,500 to build which is around £3.6 million in today's money
The name of the viaduct comes from the River Ouse of West & East Sussex. There are five rivers called Ouse in England. Ouse is the Celtic word for water.
The Ouse Valley Viaduct is still used today as a train crossing on the London-Brighton Railway Line – there are 100 trains per day that cross over this bridge
There are 37 arches that form part of this viaduct and it's 450 metres long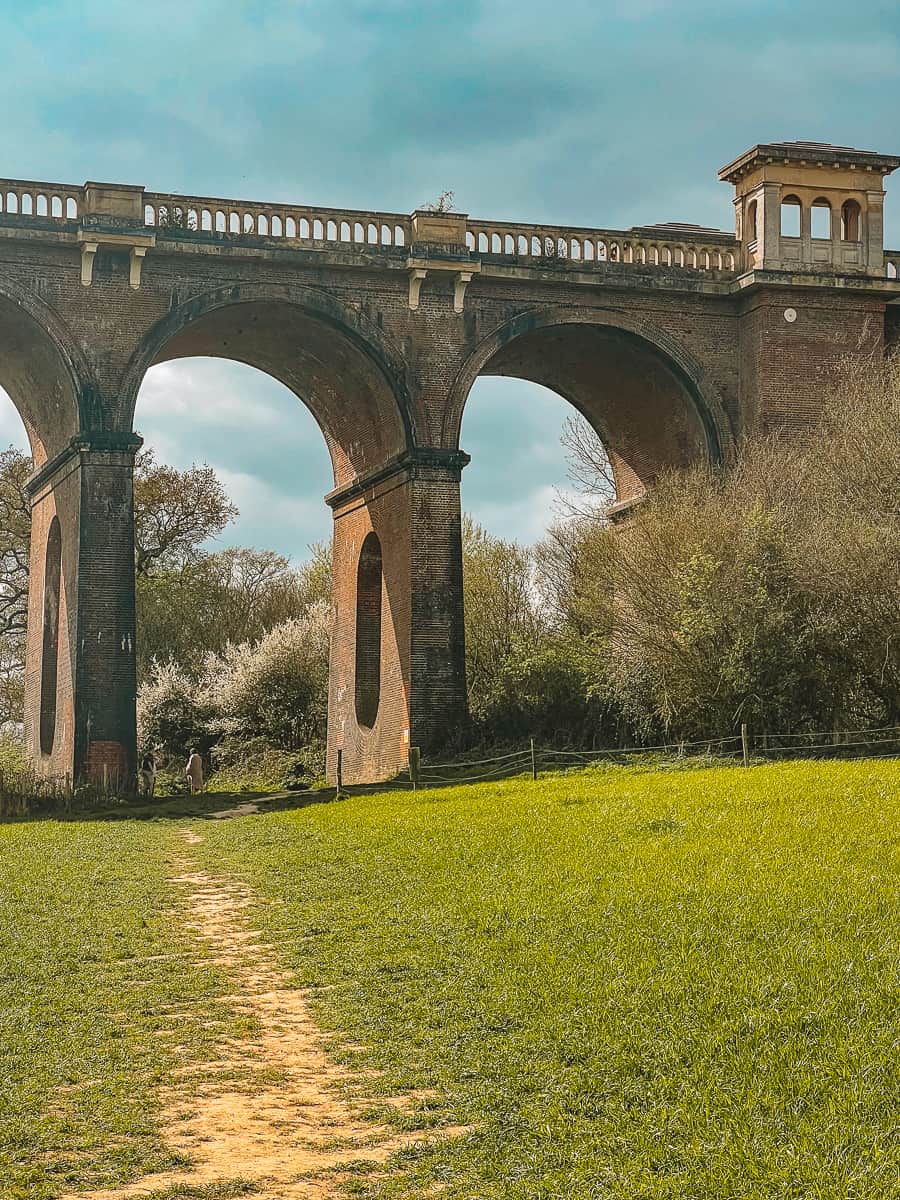 Where is Ouse Valley Viaduct in Sussex?
This incredible viaduct can be found on a 90-minute drive from Central London and 35 minutes from Brighton (dependent on traffic).
It can be found in a remote field between Balcombe and Haywards Heath in West Sussex.
It makes an amazing pitstop on the way down to the South East coast or you can make a day of it with some walks found in this area.
Ouse Valley Viaduct postcode is RH17 6QP. Click here for a Google Pin!
How to visit Ouse Valley Viaduct
By Car: It's in a bit a remote location in the West Sussex countryside so the best way to visit would be to arrive by car. The easiest way to access the viaduct would be to drive along Broad Hill Lane and then stop at the parking spot.
By Train: Of course, being a train crossing there is the option to alight at Balcombe train station and walk over here too. It's a 45-minute walk from the station to the viaduct on country lanes/fields, you'll also pass Ardingly Reservoir.
Once you approach the viaduct along Broad Hill Lane, you'll be walking through an access gate towards the viaduct through a farmer's private field. Follow the public footpath.
Ouse Valley Viaduct parking
There is a limited amount of parking space on Broad Hill Lane that you can use to park up for the viaduct just outside the access gate (see Google pin above).
Once you're through the gate, you can cross through the field to the bottom of the viaduct in less than five minutes.
Always remember to park with consideration and keep in mind that it is a national speed limit road. These spaces are limited to a couple of cars.
If there is no space, park up in the Ardingly Reservoir car park (free) and make the short walk over to the viaduct from there. It will take you around 30 minutes.
Ouse Valley Viaduct opening times
The Ouse Valley Viaduct is open 24 hours a day, every day of the year, so you can visit this bridge any time that you like!
I would definitely say it's best to visit during daylight hours though as you won't be able to see much at night time.
The best time to visit Balcombe Viaduct & top tips
Now that the Balcombe Viaduct has become a bit of an Instagram superstar, you'll be amazed how busy this remote viaduct in West Sussex can get. Especially on a sunny day.
The best time to visit would be early in the morning or later in the afternoon around sunset to get some great photos and avoid the crowds.
I'd also try to visit during the week rather than at weekends if you can! It is a popular walking spot and people stop for picnics – if you can believe it.
You'll be walking through a private field so make sure to follow any rules posted on the gate. Stick to the public footpath to avoid any further footfall damage to the farmer's land.
Top tip: bring some good shoes if the weather has been wet! You'll be walking through a field with the Ouse river nearby and pathways to the viaduct can get swampy.
Things to do in Ouse Valley Viaduct
So, what is there to do at the Balcombe Viaduct when you get here? Well, there is actually quite a lot.
Whether you choose to make a quick pitstop for a photo or extend your trip with a walk. Here are all the things to do in Ouse Valley Viaduct.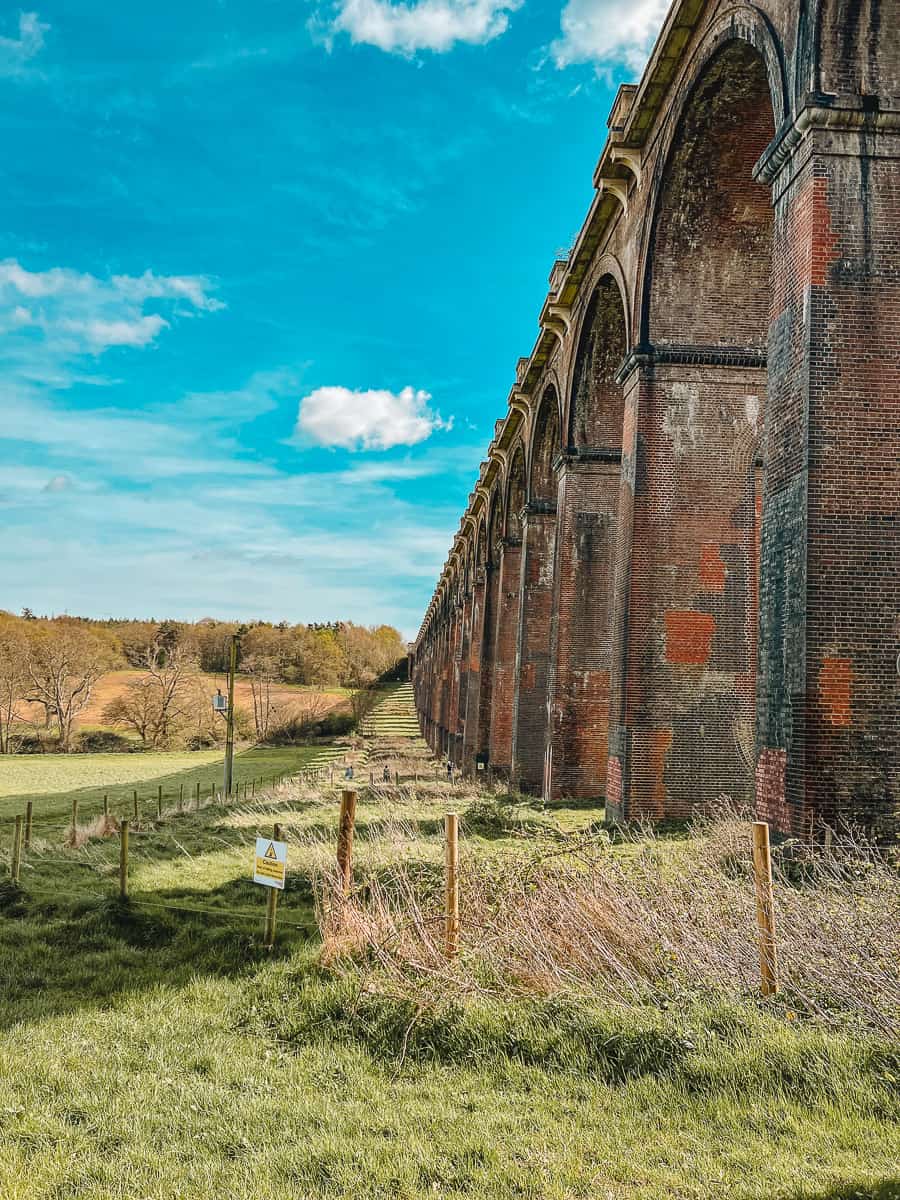 1. Watch the trains go over the bridge
If you're a trainspotter, you'll be glad to know that you won't have to wait long to see a train cross over this viaduct!
It's still used as a mainline crossing today and every train that makes its way from London to Brighton.
It's amazing to see them from the field on your way to the viaduct but even more surreal to feel them cross over when you're underneath the bridge! The whole thing shakes.
Note: There is no way to get to the top of the bridge from the bottom of the viaduct and you can't as it wouldn't be safe.
2. See the infinity optical illusion
The Balcombe Viaduct has 37 arched tunnels underneath the red-brick bridge that are supported by jack arches.
Although they are equal in size, they are not symmetrical as the bridge was built on marshy farmland straddling the Ouse River.
The varying heights of each tunnel arch create a trick of the eye, almost like an optical illusion.
It's an incredible sight to behold and you could look at it for hours! Why not head down the pathway alongside the viaduct to see the illusion from different angles?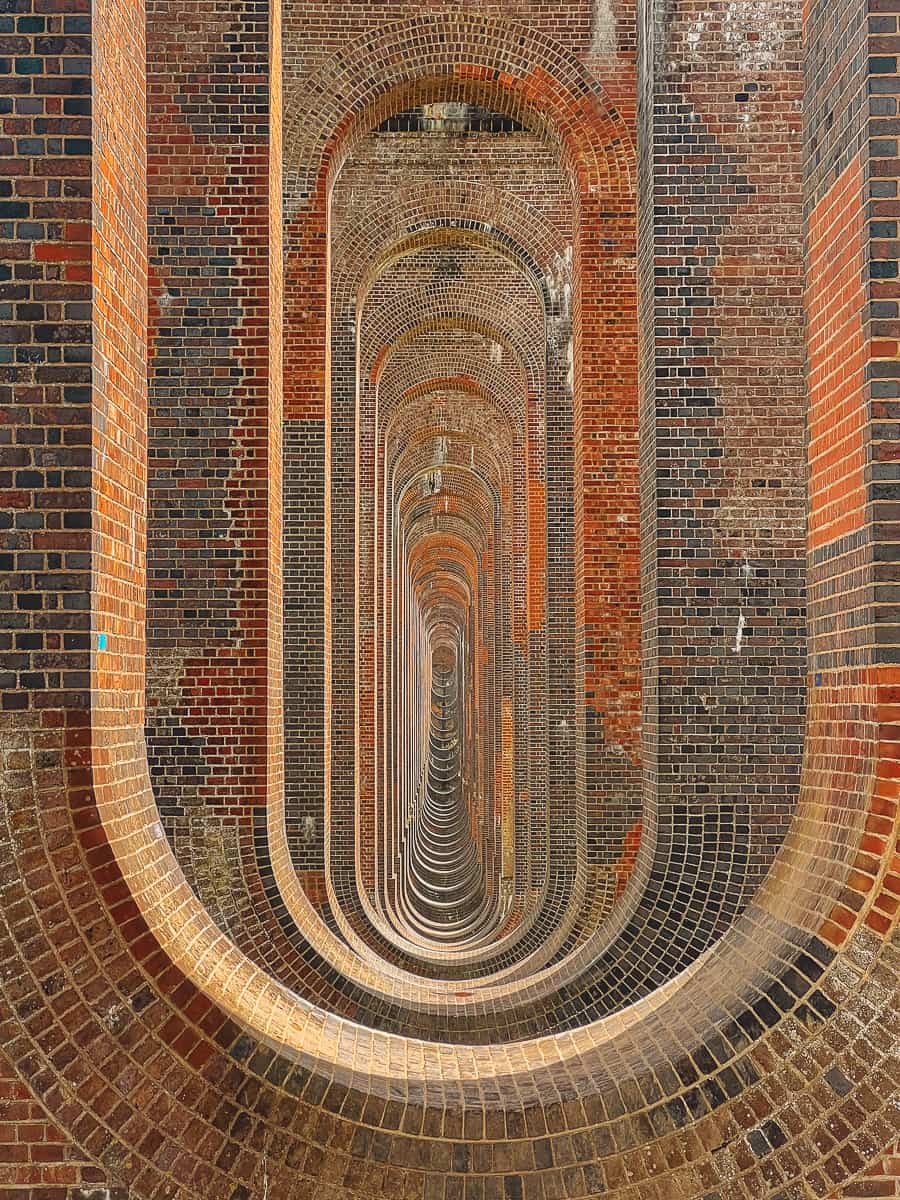 3. Head out on an Ouse Valley Viaduct walk
There are lots of short and longer walks that you can take in the West Sussex countryside. It's the perfect way to extend your trip and make the most of it.
The routes completely depend on how much time you have and how energetic you feel!
Ardingly Reservoir to Ouse Valley Viaduct walk – This is a short walk from the reservoir car park to the viaduct. It's 2.2 kilometres and will take you around 30 minutes each way.
Ardingly Reservoir circular – Starts at Balcombe Station, heads past the Ardingly Reservoir, past the viaduct and back to the station. It's around 12 kilometres.
The Ardingly Amble – Walk from Balcombe Station to Hayward Heath and pass the reservoir on the way. This is a 13-kilometre walk.
4. Take the perfect photo
More often than not, people visit the Ouse Valley Viaduct to take a picture-perfect photo of the optical illusion inside of it!
If you stand on one of the archways in the tunnel, you can capture yourself inside the structural marvel and what seems like a pathway to infinity.
It does make an incredible photo opportunity, so make sure you bring your camera to capture you and your friends in the tunnel.
Ouse Valley Viaduct photography tips
Be mindful of the lighting – when I arrived in the afternoon, the light was shining through the lens so it created a flare! The best lighting is early morning or around sunset.
If you wanted to avoid some of the crowds, I would get here very early morning or later in the afternoon during the week – you'll be amazed at how busy this viaduct can get
The best view can be found right at the beginning under the first tunnel as you approach, but you can head down to the other gaps in the viaduct
If you wanted a picture of you and the tunnel, I would bring a friend who can jump on the viaduct archways at the same time as you to capture you inside the optical illusion!
Flying of drones is forbidden in and around Ouse Valley Viaduct
Looking for more places to visit in South East of England?
The South East of England is filled with amazing places to visit! Click here to read more of my travel guides:
How to spend the perfect day in Brighton
A complete guide for Mermaid Street in Rye
Butchery Lane Canterbury photography location
The mysterious Margate Shell Grotto
Save this Ouse Valley Viaduct guide for later!