If you're like me and you're obsessed with the romantic time travel books and TV series of Outlander, then you have to visit some of the amazing Edinburgh Outlander filming locations!
From historic closes to castles, palaces, libraries, and lecture halls. There are so many filming locations you'll be spoiled for choice.
As well as some Outlander filming locations in Edinburgh city centre, there are a number of locations around Edinburgh that make a fantastic day trip for fans too.
So, I've included every single one of them here.
I've visited all of the below locations personally, I think there is maybe one that was closed off to the public and I had no luck contacting.
So, you can read more about each of them in my detailed Edinburgh Outlander location guides. Every guide has opening times, a location map, prices, where it was featured in the series, and top photo and travel tips.
Spoilers warning: if you haven't watched all of the series yet, some of my location descriptions below may contain spoilers!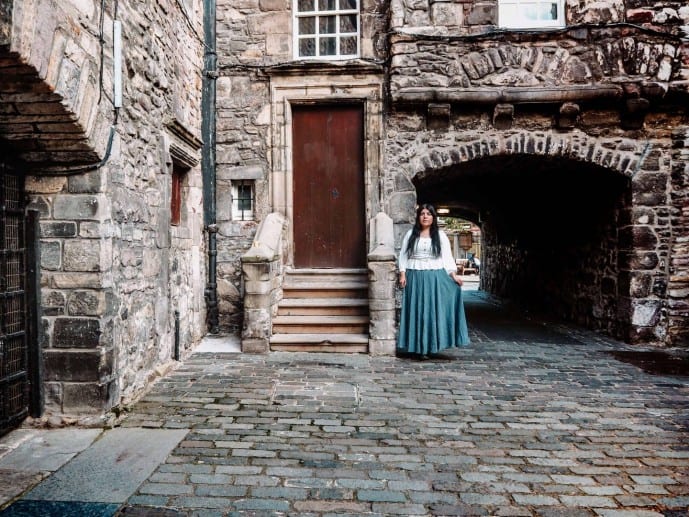 Where was Outlander filmed in Edinburgh?
Most of the Outlander book and TV series locations set in Edinburgh can be found on the Royal Mile. But, a select few a further afield that I will explain more about below.
You'll find locations mentioned in the novels Outlander, Dragon Fly in Amber and Voyager and film locations from Outlander Season 3.
The great thing about Outlander is that many of the locations that are meant to be set in France, America and even Jamaica, are filmed right here in Scotland. So, you don't need an international flight ticket to see them all.
As well as much of the series being shot on location, there are many interior scenes that were shot in their studios in Wardpark Studios in Cumbernauld near Glasgow too. Unfortunately, this is shut off to the public.
How to get around Edinburgh
Many of the Outlander locations in this list you can easily access on foot.
For example, if you start off at the top of the Royal Mile by Edinburgh Castle, you can easily make your way downwards towards the Palace of Holyrood House and tick off pretty much all of them on the way.
But, if you do require a way to get around, Edinburgh has Uber and local City Cabs.
Also, if you'd rather go a little greener the city has a wealth of public tram and bus routes that cover the royal mile and some of the locations below. Use Traveline Scotland to plan your journey.
The best train station to arrive into would be Edinburgh Waverley. From there, the Royal Mile is a short walk away (if a little steep!).
There is also an Edinburgh city hop on and hop off bus which will allow you to see many of the main sites too.
Money saving tips for Outlander locations
Many of the locations, especially in Edinburgh, are completely FREE to visit. But, if you don't have your own car, it may require you to use transport to reach.
Many of the castles in this list are owned by the Historic Environments for Scotland. So, it may be worth buying an Explorer Pass for your visit here that can save you a lot of money.
Some of the locations are owned by the National Trust for Scotland who are a charity. They're not always the cheapest locations for a day out but they do family tickets, combos and memberships too.
The best Outlander locations in Edinburgh
1. The Upper Signet Library / The Colonnades
If you've ever wondered how you could visit the Governor's Mansion in Jamaica in series 3, you only need look into the Signet Library in the Royal Mile!
That's right, none of the Outlander scenes set in Jamaica are actually filmed there. They are in fact shot in Scotland and South Africa.
The Upper Signet Library was transformed into the Governor, or Lord John Grey's, home in Jamaica where Claire and Jamie attend a party. There were powdered wigs, champagne and lashings of ginger ale too.
There is also a room here that was used as his office, but that is strictly under wraps.
I was able to visit the Upper Library on a media visit but normally this is strictly closed off for staff members.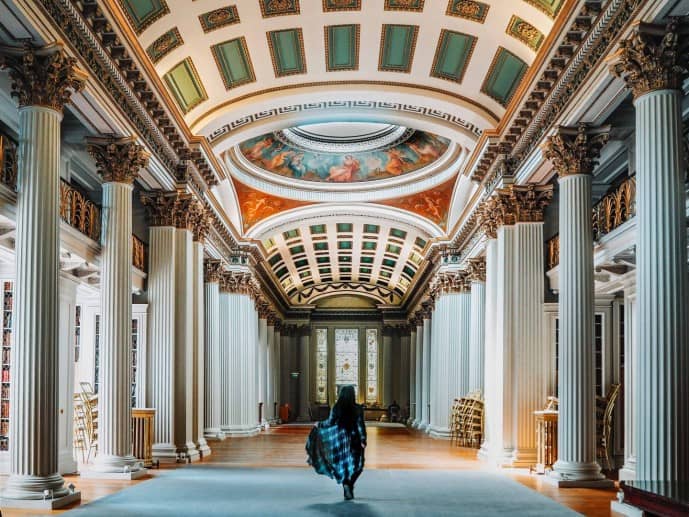 However, you can enter the Colonnades downstairs for one of the best afternoon teas in Edinburgh. It looks almost exactly the same.
I loved my time here sipping on ginger ale and even got to sit in amongst old books of the Signet from the 18th century!
Fun Fact: Ned Gowan, the Lawyer to the MacKenzie's, was a member of the Signet in the books!
Click here to read my review of the lavish afternoon tea at the Colonnades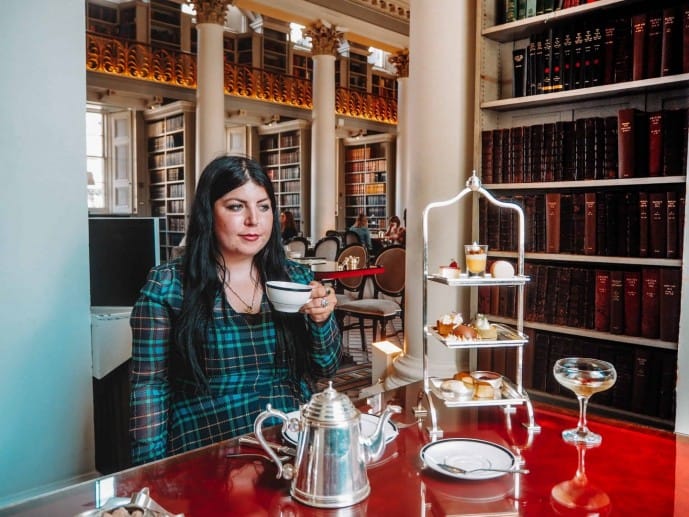 2. Old Tolbooth Jail
Dragonfly in Amber reference
The Old Tolbooth used to be an infamous prison that was part of St Giles Cathedral years ago.
Although the jail is no longer here, you can visit the spot on the Royal Mile and see the markers of where it once stood.
It also used to be a collection toll, where merchants would have to pay for their wares.
Here, the administration would create rules and regulations of trade and an old bell would ring out on the market day. Before the Scottish Parliament, the court of sessions was held here.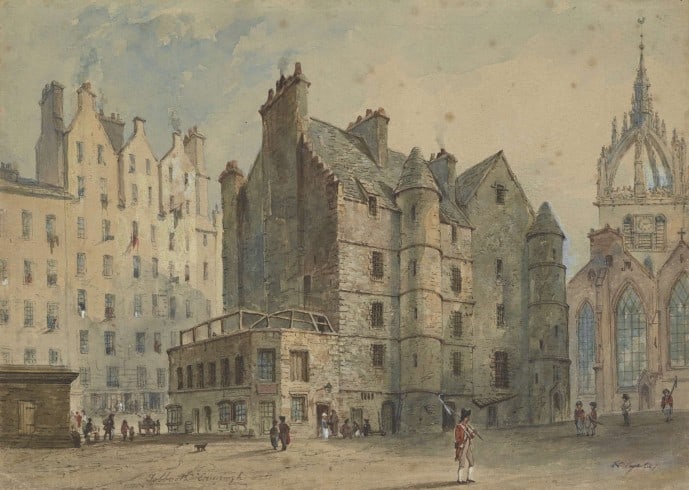 The conditions in the Old Tolbooth Jail were so grim, that people would call it the Thieves Hole (another Outlander reference).
Famous prisoners include the Highwayman Dean Brodie; an aristocrat by day and thief by night. You can learn more about him in Brodie's Tavern.
In Dragonfly in Amber, Claire delivers medical supplies and blankets for the men of Lallybroch who have been imprisoned at the Tolbooth Jail.
This is not to be confused with the Canongate Tolbooth & Tolbooth Wynd further down.
3. Tweeddale Court
A little further down the Royal Mile is the secretly hidden Tweeddale Court.
As you head towards the Children's Museum, you'll see an ornate entrance for Tweeddale Court and the words written on the pavement at your feet.
Don't be shy, just make your way through the tunnel and into the courtyard. Here is where you will find another Outlander location.
In Outlander series 3, this small courtyard was transformed into a bustling 18th-century marketplace.
It's here that Claire is finally reunited with Fergus and she discovers he lost a hand to the redcoats!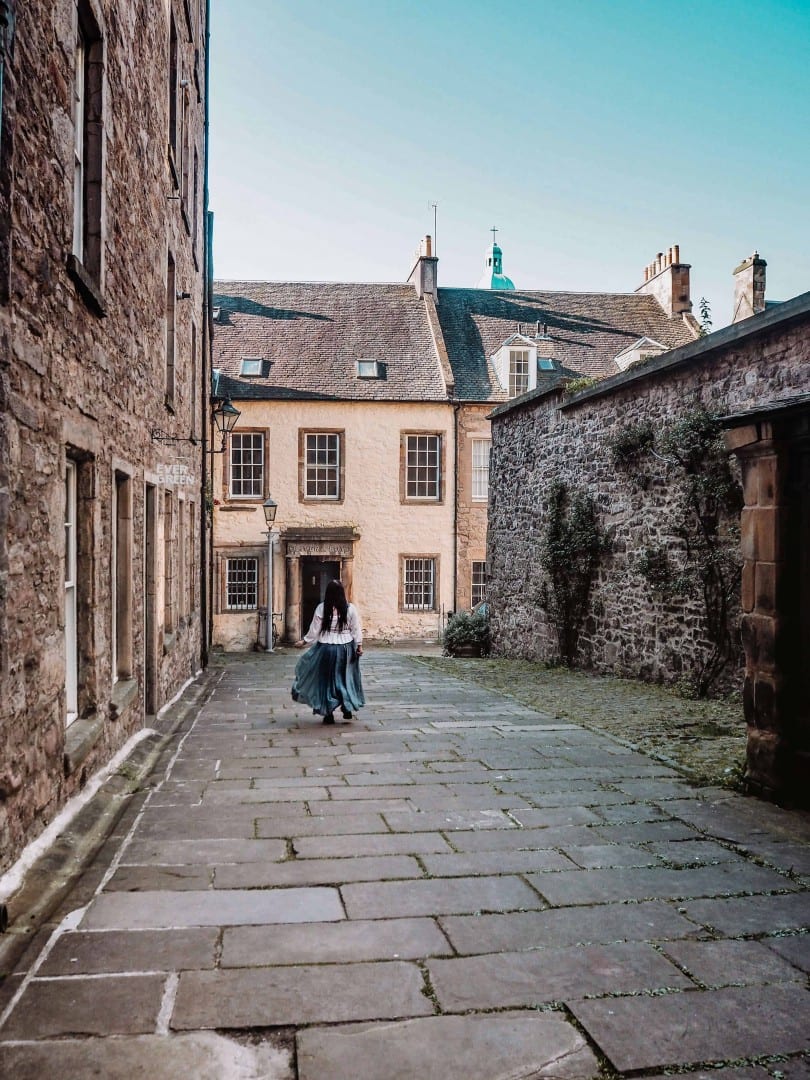 A funny fact about this courtyard is that it houses Edinburgh's smallest listed building; a Sudan chair house.
It was also the location of the bloody murder of William Begbie, who was stabbed in cold blood for cash. They never found the killer and supposedly Begbie's ghost still haunts the area.
Read my complete guide for Tweeddale Court here
4. World's End Pub
Outlander series 3 film location and Voyager reference
This one is a wee bit of a lie I'm afraid, the World's End on the Royal Mile wasn't actually the film location in Outlander series 3.
Although they did mention the World's End, the pub they filmed in wasn't the real thing. This is where we first meet Mr. Willoughby and him brawling inside the tavern.
However, it is a Voyager reference and you can actually go inside the famous World's End Pub to eat while you're here.
Supposedly, this was Dougal MacKenzie's favourite watering hole.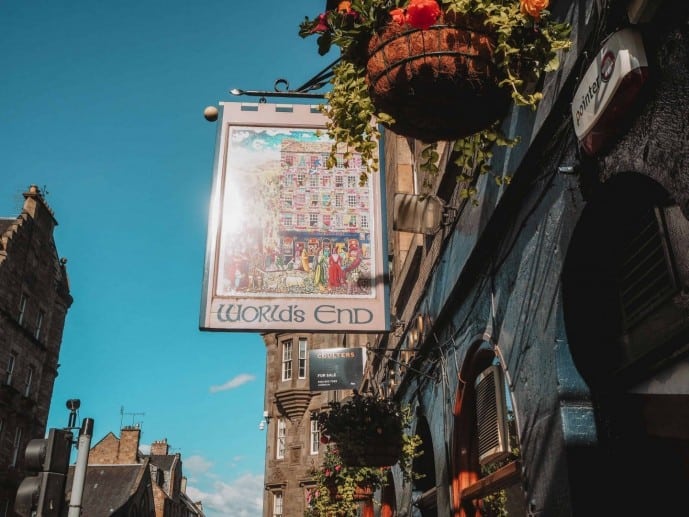 Years ago, the region of Edinburgh only went from the Castle to Canon Gate.
After the Battle of Flodden, which was the bloodiest battle in British history, Edinburgh built a wall around the city to protect itself.
A gate called Netherbrow Port stood in between Canongate and Edinburgh. "Nether" meaning furthest and "Brow" meaning gateway.
Many residents couldn't afford to leave the city by paying the expensive toll and it was referred to as the "end of the world" as they knew it here. Hence the name of this pub.
It's well worth a visit while you're in the city but be prepared for long wait times. I would suggest heading in early to wait for a table. Reservations aren't possible.
Also, note that opposite is The White Horse Tavern where Claire pulls up in her carriage in Voyager.
Click here to read my Worlds End pub guide and review!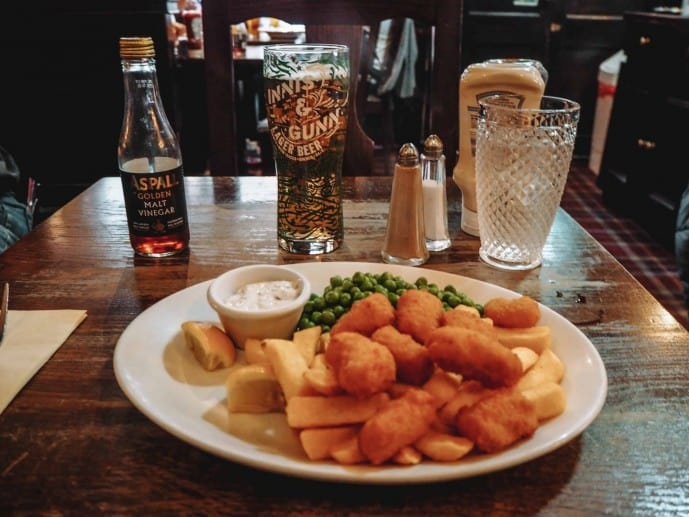 5. Bakehouse Close / Carfax Close
Outlander series 3 location, Voyager reference
This is fast becoming a favourite for Outlander fans and, if you only have time for one location, let this be it!
Who can forget the iconic scene where Claire is reunited with Jamie?! Bakehouse Close acted as Carfax Close which features in Voyager and Outlander Series 3.
It's the location of A. Malcolm's Print Shop, where Claire and Jamie finally meet again after twenty years.
The team chose this location as it's the finest example of a historic court in Edinburgh. But, I'm going to have to tell you, the print shop doesn't exist *sob*.
However, you can walk through the tunnel just like Claire does and even walk right up the same set of stairs. You'll just meet a dead-end is all rather than Jamie but it's a fantastic photo opportunity!
Another Outlander scene shot here were exteriors of Madame Jeanne's Brothel using the exterior building of Edinburgh World Heritage based in Archeson House.
Archeson House used to be home to a real brothel called the Cock and Strumpet, and you can still find the Cock over the Trumpet sigil above the doorway.
Click here to read my Outlander guide for Bakehouse Close & how to find it!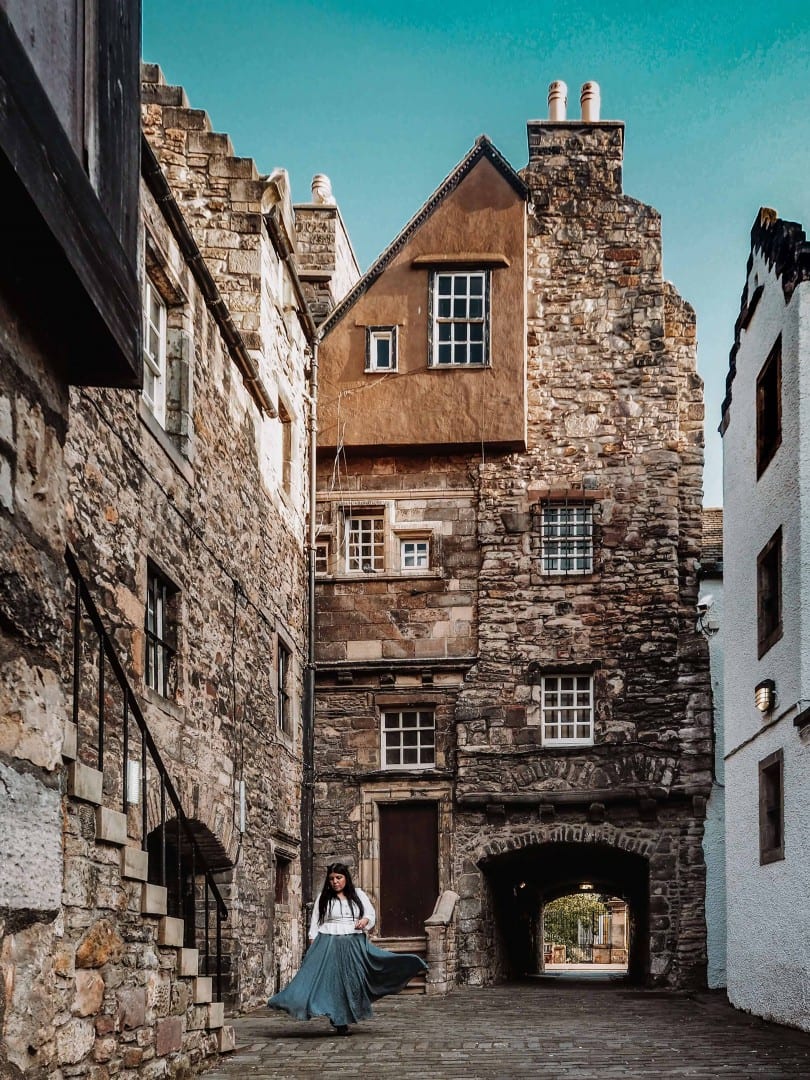 6. Canongate Kirk or Kirk of the Canongate
Dragonfly in Amber reference
Almost opposite Bakehouse Close, you'll find Canongate Kirk which is a little church with a fascinating history.
The Canongate used to be a completely separate burgh until it was absorbed by Edinburgh in the mid-19th century.
The church was founded In 1688. Previously to this, the citizens of Canongate would use the Holyrood Abbey on the grounds of Holyrood House.
But, James VII ordered for Holyrood Abbey to be made into a Chapel for the Order of the Thistle. Therefore a new church had to be built for the locals.
The Kirk of the Canongate was designed and built by Master Mason James Smith and opened in 1691. The church is Dutch in style and has had many developments and reconstructions made even until this day.
In Dragonfly in Amber, Colum Mackenzie meets Claire and Jamie to speak away from the Palace of Holyrood House.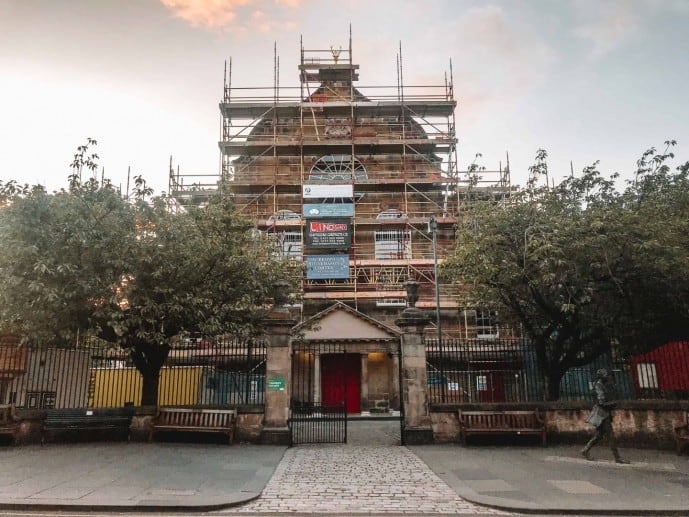 7. Palace of Holyrood House
Dragonfly in Amber reference
Holyrood Palace in the Canongate was where Claire and Jamie live in Edinburgh with Bonnie Prince Charlie for five weeks in Dragonfly In Amber.
During Charles Stuart's campaign, he stormed through the city and took control of the capital which happened in real life too.
It's here that Claire and Jamie infiltrate the high seat of the Jacobite rebellion, attending lavish parties in the galleries and try to stop the doomed cause.
Again, in Voyager, Claire visits Canongate and shivers at the memory of their stay in Holyrood House.
Today, the Palace of Holyroodhouse is Her Majesty the Queen's official residence in Scotland.
You can pay a visit at the bottom of the Royal Mile and explore stunning state rooms, the ruins of Holyrood Abbey and the royal gardens.
Historically, Holyrood Palace was the official residence of Scottish monarchs and was the home Mary Queen of Scots during her short and turbulent reign.
I would allow a couple of hours here as there is so much to see and learn!
8. Summerhall
Outlander series 3 film location
During series 3 of Outlander, we see Claire living her life without Jamie in the 1960s.
She moves with Frank to Boston and it's here she finally studies to become a qualified surgeon.
On her first day of medical school, we see Claire enter a lecture hall and it's here she meets Joe Abernathy.
They are both minorities in the class so they instantly become friends. Later, they both become partners in a medical firm together.
This scene was shot at Summerhall, which used to be the Royal (Dick) Veterinary College which was part of the University of Edinburgh.
Today, it's been transformed into an art space and gallery which hosts exhibitions throughout the year.
It's also a major venue for the Edinburgh Fringe Festival and wins countless awards for its performances.
You can visit Summerhall for FREE but you may need to request in advance to visit the lecture hall.
Click here to read my Outlander guide for Summerhall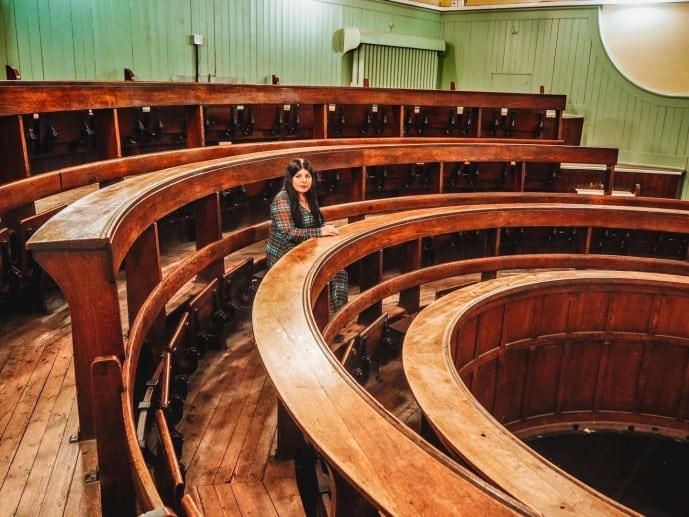 9. Craigmillar Castle / Ardsmuir Prison
Outlander series 3 film location
If you love castles but hate the thought of crowds, why not visit Craigmillar Castle as opposed to Edinburgh Castle?
It's located around 2 miles from there and sees far fewer visitors, you'll pretty much have it to yourself!
It's also known as Ardsmuir Prison to Outlander fans!
In series 3 when Jamie has been captured after Culloden, he is held prisoner in Ardsmuir along with the other Jacobite Highlanders at the behest of Lord John Grey.
The other prisoners call Jamie Mac Dubh, and he often meets with Grey to discuss terms.
A cool fact about this place is it used to be the favourite residence of Scottish Royalty!
Mary Queen of Scots slept here and it was supposedly the place where she plotted the murder of her husband David Rizzio.
It's almost a fairytale with the two dramatic yew trees at the entrance gate.
Click here to read my Outlander guide for Craigmillar Castle aka Ardsmuir Prison!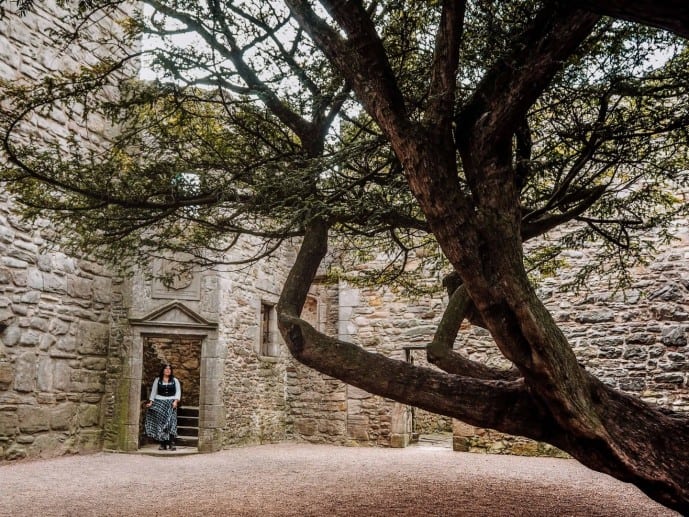 Where to buy Outlander merchandise/souvenirs in Edinburgh
The MacKenzie tartan shawl that you can see me wearing in some of the photos below was purchased from the National Trust for Scotland shop on the Royal Mile.
If you head into Gladstones' Land museum, one of the oldest houses on the Royal Mile, you can pop into their awesome shop that has an Outlander section.
Inside you can buy MacKenzie and Fraser Tartan shawls and scarves. They're not cheap (around £130/$170), but they handmade made by the same Tartan designers in the Outlander series and all proceeds go to charity.
You can also get the woollen cowl and gloves that Claire wears in the series, limited edition pottery, Outlander inspired jewellery, the novels, notebooks and so much more.
It's well worth popping in and getting a few bits for your Outlander inspired photos!
Outlander walking tours of Edinburgh
I have a complete guide to all the Royal Mile locations that you can look at here, this gives you a self-guided walking itinerary of the city.
But, if you'd rather go around the city with an informative guide, there is an Outlander walking tour you can book here.
Your informative guides dressed up in 18th-century costume will take you on an Outlander themed tour of the city.
They will explain all the references from the novels, historical facts and film locations as you go!
Outlander locations around Edinburgh
So, that's all the Outlander locations in Edinburgh city centre.
But, did you know that there are plenty of Outlander locations around Edinburgh that you can visit outside of the city centre too?
They make fantastic day trips from Edinburgh and some, like Lallybroch (it really DOES exist!), you can't miss if you're a fan.
The best time to visit Edinburgh for an Outlander film tour is from April-September, that way all of the castles and locations will be accessible.
During the winter season (October – March) many are closed off or have limited opening hours.
If you're here for a few days, it's easier to group a couple together.
So on day 1, you could cover the Outlander trail of Hopetoun House, Lallybroch, Blackness Castle, Bo'ness and Linlithgow Palace.
Then you could cover Culross and Doune Castle on day 2. Aberdour Castle, Dysart Harbour and Falkland on day 3… etc.
10. Glencorse Old Kirk / Outlander wedding location
Outlander series 1 film location
If you ever wondered where Claire and Jamie tied the knot in the series, the Outlander wedding location is Glencorse Old Kirk just outside of Edinburgh.
This fairytale wedding venue near Roslin was transformed into a poor and run-down church for the series! This was to keep it in like with the narrative in the book.
When you walk inside, it won't look exactly like the church used in the wedding scenes. But, it will bring you back to that important moment where Claire and Jamie's adventures first began!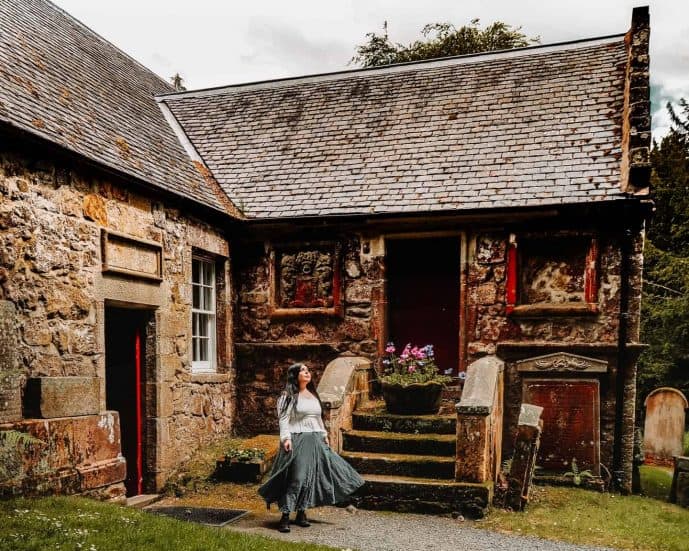 Tours of the church can be arranged in advance with Glencorse House and cost £10 per person.
Feel free to re-enact the wedding scenes here, some even bring Jamie cutouts to walk down the aisle!
What's better is that you can even get married in this church yourself. The owner showed me many photos from Outlander inspired weddings that looked like a dream.
Click here to read my Outlander guide for Glencorse Old Kirk!
11. Roslin Glen Country Park
Outlander series 1 film location
Just a mile down the road from Glencorse House is Roslin Glen Country Park.
This is a FREE area to visit and is home to another Outlander location used in series 1.
After Claire has been rescued from Fort William by Jamie, they run off on their horses and eventually pull up to water the horses.
It's then that Jamie scolds Claire for running away, they argue and Jamie famously says 'you're ripping my guts out Claire!'. Eventually, both are forgiven.
The spot where they pull over is where the old gunpowder mill ruins are located in the park. It's not easy to locate from the main car park, I tried twice. My Outlander guide below includes a handy map!
Click here to read my Outlander guide for Roslin Glen & how to find the mills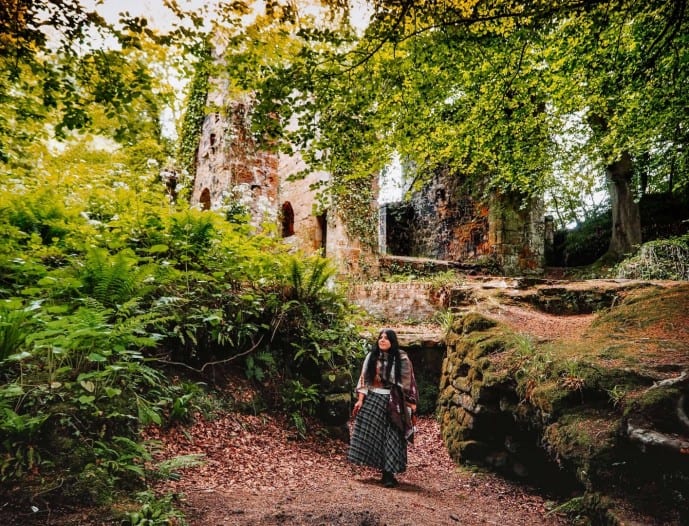 12. Preston Mill and Phantassie Doocot / Lallybroch Mill
Outlander series 1 film location
There are some smouldering scenes throughout the series that feature Jamie and one of those is the scene at Lallybroch Mill.
Jamie goes to investigate why the mill is broken and jumps into the river to try and fix it.
Unfortunately, the red coats ride on their horses passed the mill, so Jamie hides. He then takes his shirt off as a distraction as to why the mill was broken.
This mill that starred in the series can be found at Preston Mill and Phantassie Doocot in East Lothian. It's an authentic 18th-century mill that still runs today! It almost looks like something out of Harry Potter.
When you visit, you can go on a tour of mill and learn how farmers used to work the mill all those years ago producing oats and grain for porridge and bannocks.
Unfortunately, spotting a red-haired Highlander is not guaranteed.
While you're here, check out the museum that has some behind the scenes and signed photos from the Outlander film crew.
Fun fact: that room was also used in the Witch Trial at Cranesmuir church!
Click here to read my Outlander guide for Preston Mill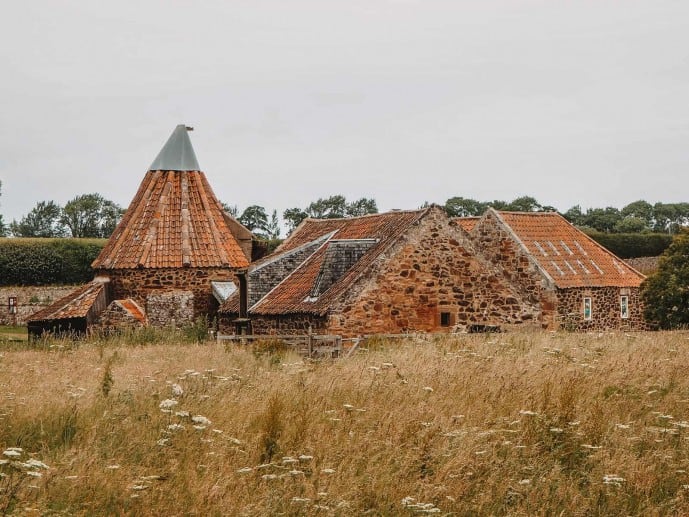 13. Gosford House / Helwater Estate
Outlander series 2 & 3 film location
In series 3, we do get to see some amazing houses and one of those is Gosford House. It actually featured in 2 series of Outlander.
Firstly, we saw Gosford House feature as the Royal Stables of Versaille in Paris, where Jamie and Claire attend the party.
Then it featured as both the exterior of Helwater Estate for the Dunsany family. This is where Jamie works after being released from Ardsmuir Prison.
Finally, we see the interior of Gosford House as the Ellesmere Estate. This is where Jamie saves Willy from being killed by the Earl.
Unfortunately, entry to the house is restricted to certain open days throughout the year and photography is banned inside (I was given permission on request).
You can however buy a walking permit to stroll the grounds.
Click here to read my Outlander guide for Gosford House
14. Midhope Castle / Lallybroch
Outlander series 1, 2, 3 & 4 film location
Did you even go on an Outlander tour of Scotland if you didn't visit Lallybroch? This is a must-visit for any fan and I would say something you should make a top priority.
Lallybroch is the ancestral home of Lord Broch Turach, and we see it featured many times in all 4 of the series.
The film location of Lallybroch is located on the Hopetoun Estate at Midhope Castle. It is an abandoned castle on a residential farm, but they open it up seasonally for visitors.
The castle will look more like the derelict version that Claire visits in the 1960s compared the amazing 18th-century one. But, it is still worth visiting.
Stroll down towards the castle, walk under the famous archway or sit on the steps like Jenny and Claire. It's the ultimate fan moment. Also, you can find the Dun Bonnet cave nearby!
Click here to read my comprehensive guide for visiting Lallybroch or Broch Turach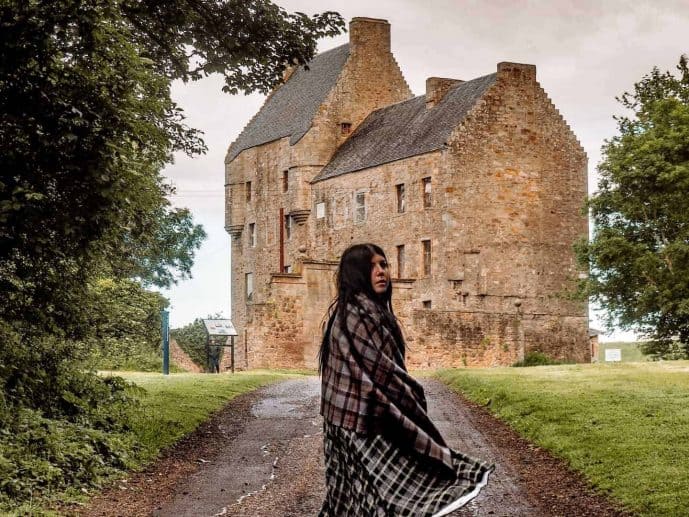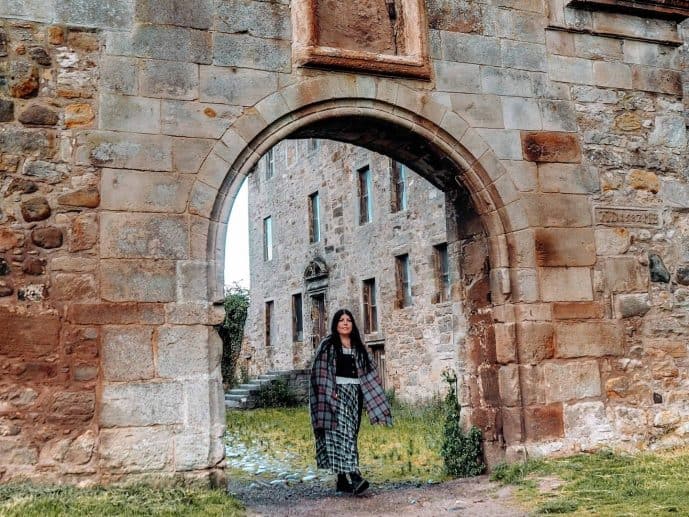 15. Hopetoun House
Outlander series 1, 2, 3 film location
After you have visited Lallybroch, why not visit Hopetoun House on the same estate?
Hopetoun House is a magnificent stately home near Queensferry in the Edinburgh area. It has been used countless times during the series and refitted to suit different locations.
In fact, there are over 15 film locations alone in the house and grounds which makes it an incredible day trip for fans!
You can walk through the famous Duke of Sandringham's Red Room, Jamie and Claire's apartment in Paris or Mary Hawkin's Bedroom inside the house.
Or around the ground see where the Duke of Sandringham had a duel, the entrance to Maison Elise in Paris and the grounds at Helwater Estate!
There is honestly so much to do here for fans, make sure you pick up a special Outlander map they have made for those wanting to look.
If you're feeling peckish, grab a tea and cake from their Stables café. Or, treat yourself to a delicious lunch.
Click here to see my complete list of Outlander filming locations at Hopetoun House & Estate
16. Abercorn Church
Outlander series 4 film location
There is one more location around the Hopetoun Estate that Outlander fans may be interested in.
Abercorn Church sits in the adorable hamlet of Abercorn and the name is Cumbric meaning "mouth of the Cornie Burn".
It was selected as the location in series 4 where Frank is buried in Boston.
In 'Down the Rabbit Hole' episode 7, we see Bree talking to Frank's grave after his car crash.
We know a church has stood on this site since the 7th century when Saint Bede the Venerable, noted that Abercorn monastery was home to the Bishop Trumwine, the only bishop of Northumbrian Picts.
You can still find crosses from Northumbria and Viking stones today.
The current church dates back to the 12th century but is now a 'Titular See' or 'dead diocese' meaning it's no longer used for worship.
Click here to read my Outlander guide for Abercorn Church
17. Blackness Castle / Fort William
Outlander series 1 & 2 film location
Blackness Castle dramatically located on the rocky banks of the Firth of Forth has the nickname of the ship that never sailed due to its shape!
It's also the location of Fort William in Outlander where Jamie was flayed and Claire is captured by Black Jack Randall!
Here you can see the rocky courtyard where Jamie was given his punishment and where Claire and Jamie jump off the castle for safety. But, don't expect to see a pillory in the castle!
It was also featured in series 2 in the 1960s, where Bree and Roger visit from Inverness. You can visit the gate that the two walk through together.
Fun fact: the Outlander production team used latex composite to cover up cannon holes in the castle to make the scenes more historically accurate!
Beyond an Outlander location, this castle has oodles of history, from connections to Mary Queen of Scots, Oliver Cromwell, Charles II, Covenanters, and WWI, there is so much to learn.
Click here to read my Outlander guide for Blackness Castle and all the filming locations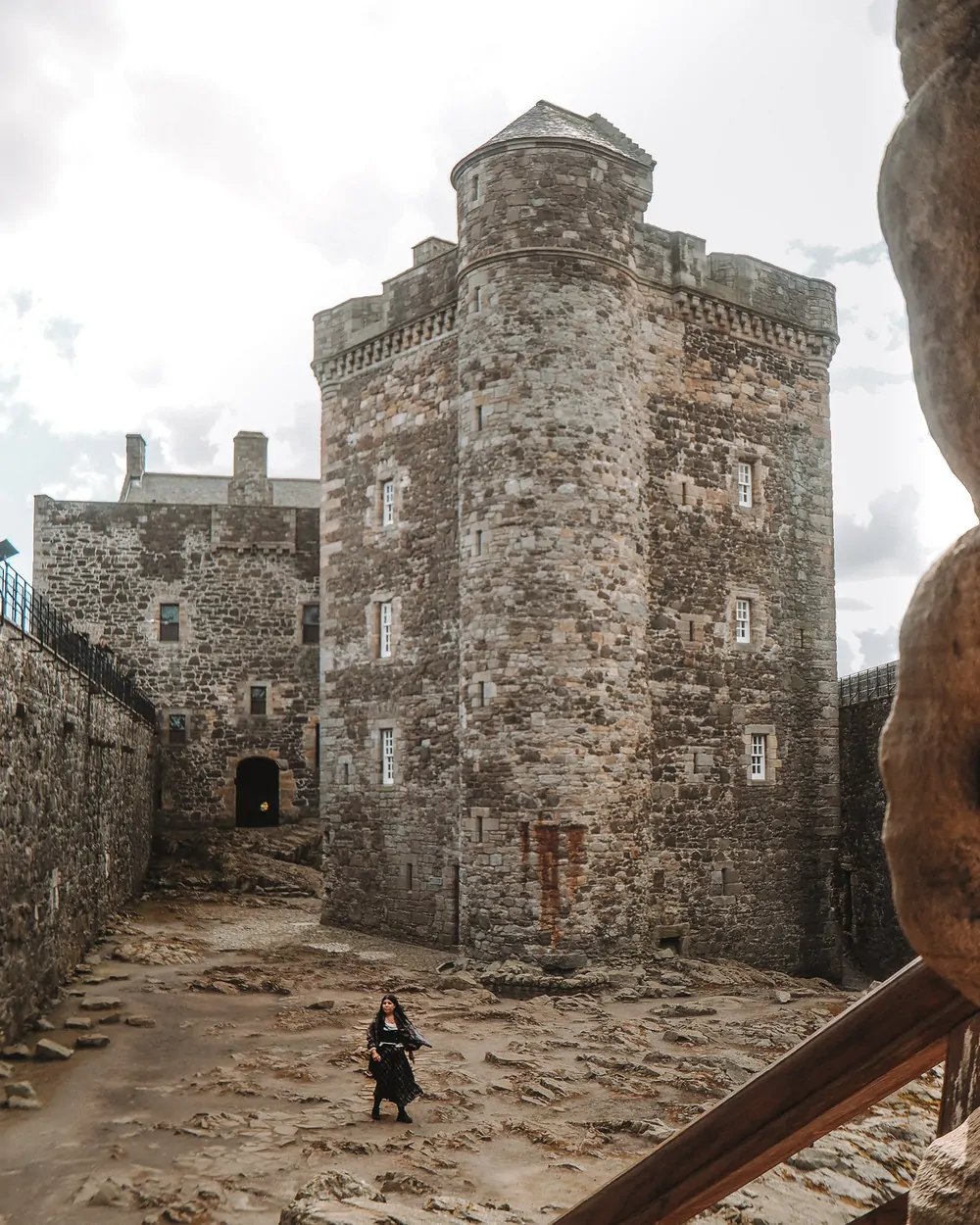 18. Linlithgow Palace / Wentworth Prison
Outlander series 1 film location
Linlithgow Palace is another famous castle in Scotland due to the fact that it was the birthplace of Mary Queen of Scots.
Outlander fans, however, will recognise this location as Wentworth Prison where Jamie is tortured and raped by Black Jack Randall.
Inside you can visit the labyrinth of rooms, prison cells and spiralled staircases. But, only a select few featured in the series.
The scenes where we see Claire asking the prisoners if they have seen Jamie, her walking down the spiralled staircase and the entrance way of the castle are all there to see.
But, the cell that Jamie is kept in and where the cows run through the prison cells were filmed in a studio.
Click here to read my Outlander guide for Linlithgow Palace
19. Culross / Cranesmuir
Outlander series 1, 2 & 4 film location
Ah, Culross! My absolute favourite village in all of Scotland. Every corner of this historic area is as pretty as a postcard.
Outlander fans will be interested to know that many of the scenes shot here played a part as Cranesmuir and Castle Leoch.
You can visit Mercat Cross which is where we can find the pillory outside of Geillis' House.
You can also visit the Study Building where Geillis lives, walk up Tanhouse Brae and walk down Wee Causeway to find Laoghaire's house in series 4.
In series 2, many of the rooms inside Culross Palace were filmed and the outside where Claire pulls a tooth. Plus, you'll recognise the herb garden where Claire and Geillis meet in series 1.
Beyond an Outlander location, there are so many things to see and do here that makes it a fabulous day trip from Edinburgh.
Click here to read my Outlander guide for Culross and my Outlander guide for Culross Palace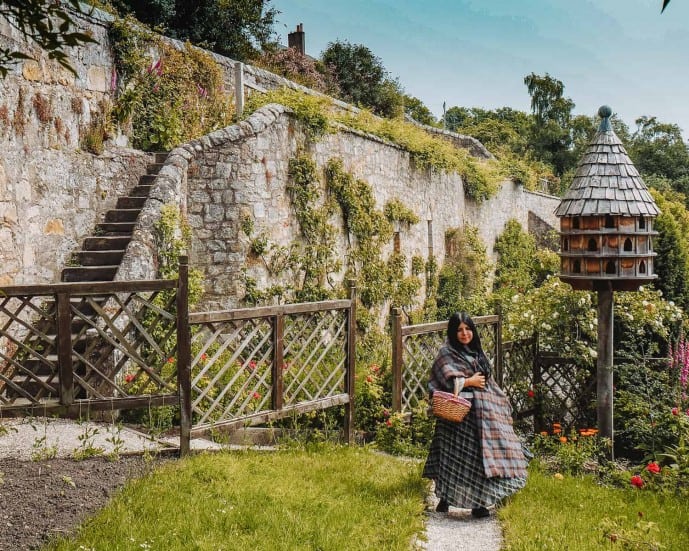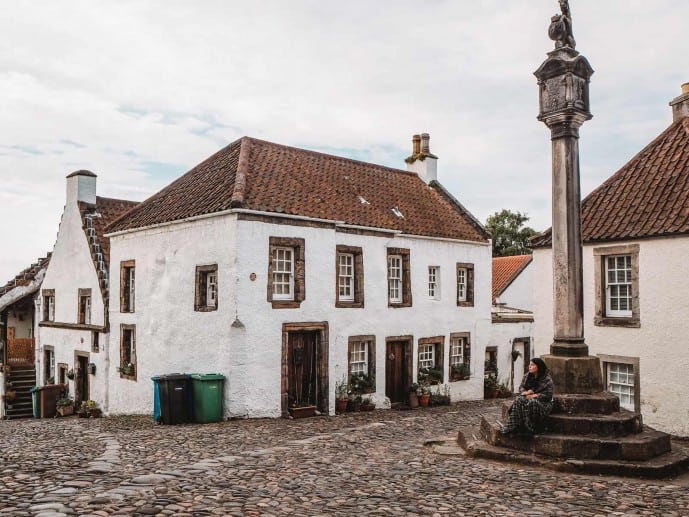 20. Culross West Kirk / Black Kirk
Outlander series 1 film location
Another location for Outlander fans just a mile out of Culross is the West Kirk. This quaint ruined church played the part of the Black Kirk in series 1.
It's where Claire and Jamie visit to see what is making the boys in the village sick. The MacKenzie's believe it is demons. But, Claire finds out that it is due to them eating Lily of the Valley.
This location is a little remote and it's easier to walk there. I drove and my car almost got stuck in the country laneways!
Once you're here, the location looks exactly the same as the series and you can even pose exactly like Claire in the series.
Click here to read my Outlander guide for the West Kirk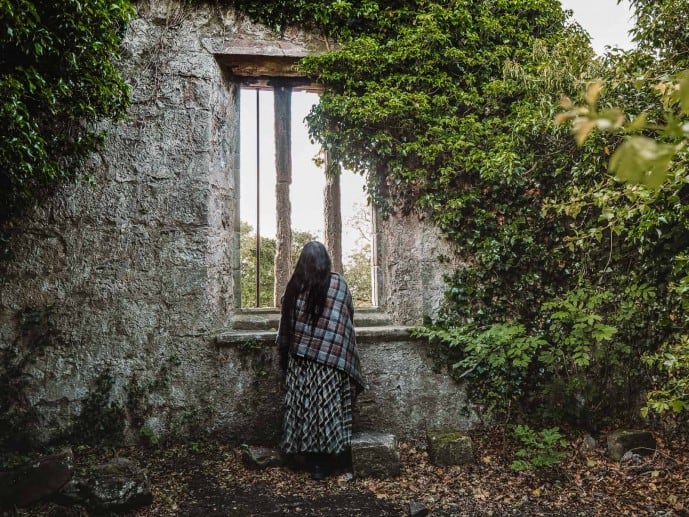 21. Falkland Village / Inverness
Outlander series 1, 2, 3 & 4 film location
This is the one Outlander location that really gave me the chills. That's because it looks exactly the same as the Inverness featured in the iconic first episode.
Falkland Village was chosen as Inverness due to the fact that it had the quaint feel of a city in the 1940s. Inverness nowadays is very busy and modern.
Here you can visit the Bruce Fountain where Jamie looks up at Claire and fans will rejoice when they find out you can even stay in that exact same room at Mrs Baird's B&B! I stayed here myself and you can read my full review.
As well as those two favourite locations there are many more you can see here including in the market square and the side streets too. It's been used in all 4 seasons to date.
Click here for my Outlander guide for Falkland with all the filming locations
22. Bo'ness & Kinneil Railway
Outlander series 1 film location
In series 1, we see Claire saying goodbye to Frank during WWII as she makes her way to the front line.
They both walk through the station where there is a steam train and Claire boards the carriage.
The Outlander team chose Bo'ness and Kinneil Railway Station as it looked historically accurate for the time.
You may be excited to know that you can visit this location for yourself and even board a steam train here.
I had a little bit of luck and (pretty much) crashed a party going on – oops!
Usually, on weekends, they have their red and white hauling nicknamed 'Jam and Custard' trains on the tracks.
But, on the day I visited, I got to see and go inside the exact steam train they use in the series!
The locomotive Morayshire hauling in teak wood from the 1930s which are only out for special occasions! Safe to say I was completely made up.
Click here for my Outlander guide for the Bo'ness and Kinneil Railway
23. Deanston Distillery
Outlander series 2 film location
If you're making a trip over to Doune Castle to see Castle Leoch, make sure you add on a trip around Deanston Distillery while you're here. It's close by and you can learn where the 'Water of Life' or Scottish whisky is made!
As a bonus, Outlander fans can visit another location from series 2.
Deanston Distillery played the part of Jamie's cousin Jared's warehouse in Le Havre port.
When they land in Le Havre, Claire spots some sailors being brought into the warehouse and she chases after them. She finds out they have smallpox much to the disgust of Comte St Germain.
During your tour, ask your guide to point out the Outlander storage warehouse.
Although the one you'll see isn't the exact room filmed, it is identical to the one used next door.
As well as your tour, you can sample some of their fine malt whiskies, buy whisky fudge in their shop and have some lunch in their Bothy diner.
Click here to read my Outlander guide for Deanston Distillery
24. Doune Castle / Castle Leoch
Outlander series 1 film location
Doune Castle was on the list as one of the top Outlander locations I wanted to visit in Scotland.
It featured in the series as Castle Leoch, the seat of the Clan MacKenzie.
Much of the castle was used in series 1 including the grounds outside, the inner courtyard, the rooftop and some of the rooms too.
But, many of the interior rooms like the Grand Hall and Claire's medical room were filmed in a studio.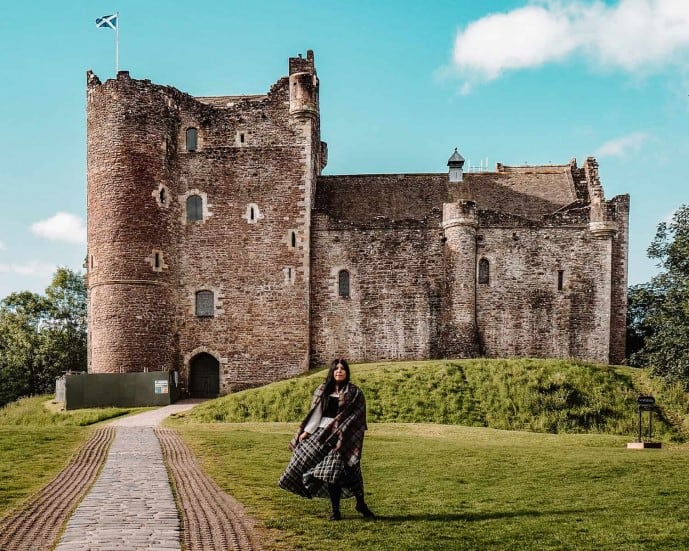 Make sure you pick up an audio guide where Sam Heughan himself will give you an Outlander tour. As well as explaining the locations, he'll give you some behind the scenes gossip and how he learned Gaelic!
Doune Castle is also the location of Monty Python's the Holy Grail and featured as Winterfell in Game of Thrones.
It's like a temple for film fans. Prepare for crowds all day, every day.
If you want to avoid queues for parking and entering the castle, get here earlier than opening time.
Another top tip is that the grounds around Doune Castle are open before and after opening hours.
It's the perfect time for photography and clear shots. During the day, it's hopeless to even try.
Click here to read my Outlander guide for Doune Castle aka Castle Leoch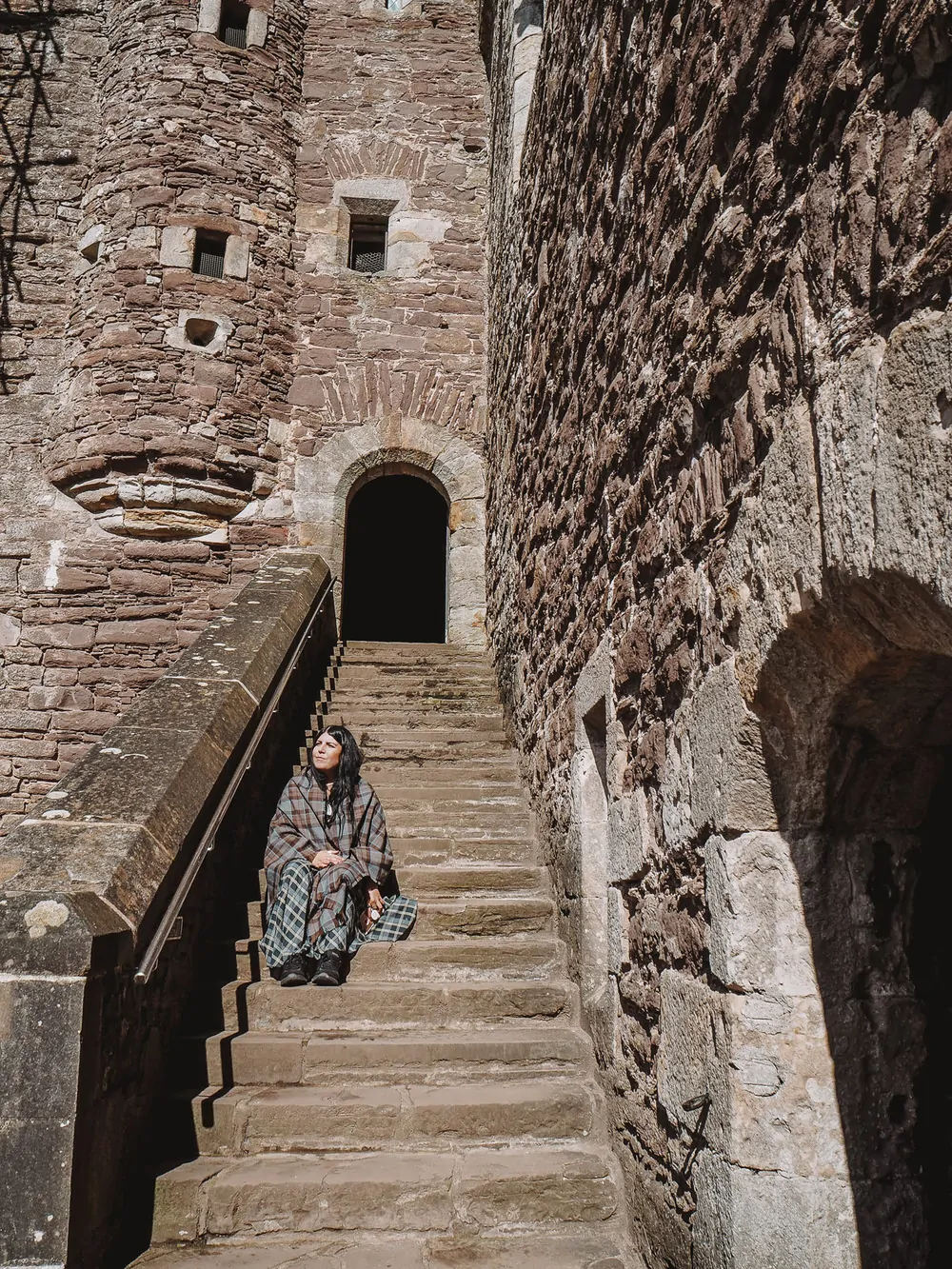 25. Aberdour Castle / The Abbey of Ste. Anne de Beaupré
Outlander series 1 film location
Once Jamie has been rescued from Wentworth Prison, Claire, Murtagh, Rupert, Willie and Angus bring him to an Abbey to heal.
In the novel, this is called The Abbey of Ste. Anne de Beaupré but in the series, it doesn't have a name really.
In the abbey, Claire fixes Jamie's mangled hand. But, Jamie is so vexed by what happened to him at Wentworth he wants to end his life. Eventually, Claire makes him come round and they plan their escape to Paris.
You can visit this exact Abbey at the historic Aberdour Castle. Locations are outside the castle, the stables area and the long hall inside.
Beyond an Outlander location, this castle has an extensive history all the way back to the 1200s. It was a major garrison of troops during the Jacobite Rebellion.
You can see the ruins plus the reconstructed areas and a Doocot too.
Click here to read my Outlander guide for Aberdour Castle with all filming locations!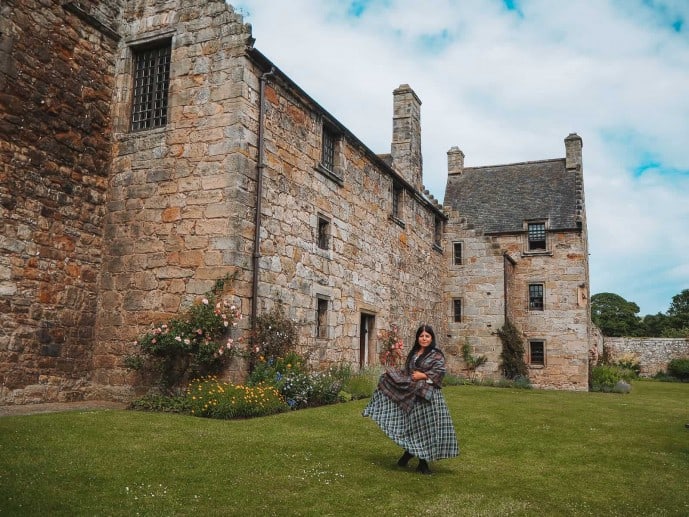 26. Callendar House / Duke of Sandringham's Kitchen
Outlander series 2 film location
Callendar House is a FREE museum set in a historic French style Chateau in Falkirk.
Many famous characters in history have connections here including Mary Queen of Scots and Bonnie Prince Charlie who stayed here on his way to Culloden.
The chateau we see today was built in 1877, but the kitchens inside are from the 18th century.
That's why the production team chose this room to play the Duke of Sandringham's kitchen at Bellhurst Manor in series 2.
Outlander fans will love visiting the kitchens as you can not only visit the film location but also learn what life was like in an 18th-century kitchen too.
There is an old open fire, the staff are really knowledgable and they even make old recipes you can sample – including some from the Outlander Kitchen Cook Book!
Inside the house, there is a small gift shop selling official Outlander and inspired souvenirs. Don't miss a visit.
Click here to read my Outlander guide for Callendar House with filming locations & activities
27. Dunmore Park Ruins / WWII Hospital
Outlander series 1 film location
In the very beginning of Outlander, we see Claire in a makeshift war hospital in World War II.
She is attending to a patient and then is told that the war is over! Everyone is cheering and drinking champagne.
This hospital is located in Dunmore Park but is an abandoned ruin of a great house that once stood there. Many ghost hunters visit here thinking it's haunted but I don't believe that.
It's actually quite a secret location and you'll need to offline directions to find it.
The house isn't easily found via Google Maps (there is a pin, but directions don't seem to work when you actually try to get it to guide you).
The easiest way is to park up and visit the quirky Dunmore Pineapple, a worthwhile attraction in itself. Then walk through the door in the wall at the back of the park and find it that way.
Warning: As it's an abandoned house there has been no thought to health and safety and so much of the structure is dangerous.
Wear good shoes and watch for glass and debris. Don't visit at night without a torch. Just be careful as you explore and don't take any risks.
Click here to read my Outlander guide for Dunmore Park House ruins
28. The Reaper / The Cristabel
Boat featured in series 1 & 2
When Jamie, Claire and Murtagh leave Scotland in 'To Ransom a Man's Soul', they all board the Cristabel and sail out to Paris.
The historic boat that they sailed on is called The Reaper and makes berth in The Historic Fisheries Museum in Anstruther.
Tours can be made of the boat in advance and on request. But, if you want to sail out in it you may be disappointed. It only really makes an appearance at special festivals and occasions.
Unfortunately, on my visit, the ship was under renovations until a day after I left, *sigh*. Next time!
29. Dysart Harbour / Le Havre
Outlander series 2 film location
In series 2, Jamie, Claire, and Murtagh arrive into the historic port of La Havre in France. But, don't worry, you won't need to travel to Paris to see it for yourself.
It's actually located in Dysart Harbour in Fife!
It's a grade II listed area and, unfortunately, won't look anything like it did in the series. Most of the buildings that were featured in La Havre were added in with clever CGI.
Along with barrels, ropes and 18th-century props to set the scene. I still think it is worth a visit for fans though as the area is extremely pretty and you can walk by the sea.
There's lot's of free parking and a lovely lighthouse museum and café you can visit.
Click here to read my Outlander guide for Dysart Harbour
30. Balgonie Castle
Outlander series 1 film location
This was the only location in this entire list that I couldn't visit! Sure, I could have stalked from the outside but I didn't see the point if I couldn't go inside. That's where they filmed after all..
Although once it was a popular wedding venue, since then it has been closed off to the public and you cannot contact them either!
I tried phoning and emailing many times… In Outlander, this castle featured in series 1 as McRannoch's Home.
This is where Claire convinces McRannoch to save Jamie by sparing some of his men.
It's also where they come up with the idea to let loose Highland Cattle to raid Wentworth Prison.
It is impossible to visit this castle at the moment but things may change in future. You may have more luck than me.
31. Drummond Castle Gardens
Outlander series 2 film location
This gardens is out on a bit of a limb, but you could easily visit here first then make your way back passed Doune Castle on a day out.
Drummond Castle Gardens featured as the gardens of Versailles in Outlander series 2. It's also the location where Claire and Jamie realise Randall is alive and Jamie challenges him to a duel.
Walking around these gardens, you really will feel like you're in King Louis' court!
You can't go inside the castle but the gardens are extensive with many walks around the area.
They are the finest examples of a historic manicured gardens in Scotland, so even if you aren't much of a fan they're still gorgeous and worth a visit.
Click here to read my Outlander guide for Drummond Castle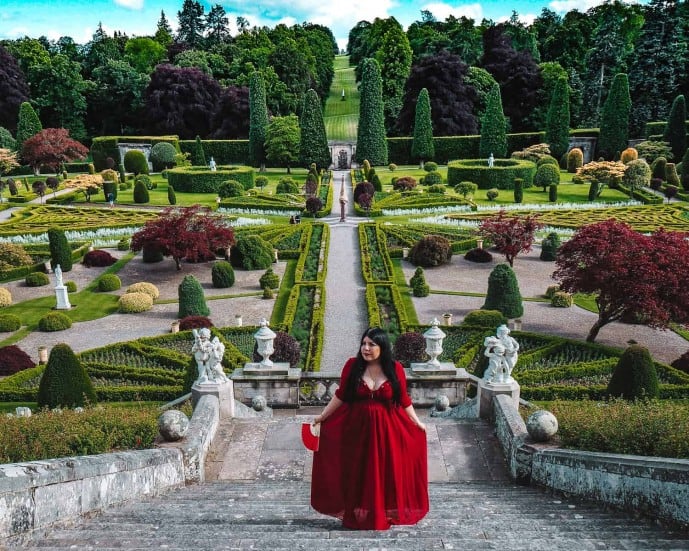 Where to stay in Edinburgh
There are a wealth of places to stay in Edinburgh as a base for your Outlander adventures.
If you're looking on the luxury end you can stay at the Balmoral, The Malmaison Edinburgh, The Waldorf Astoria
Mid-range you have the Haymarket Hub Hotel, The Cairn Hotel and Old Waverley Hotel
For budget, there is the Grosvenor Hotel, Thistle Hotel and Brooks Hotel
The best hostels are CoDe Hostel, Castle Rock and Kick-Ass Grass Market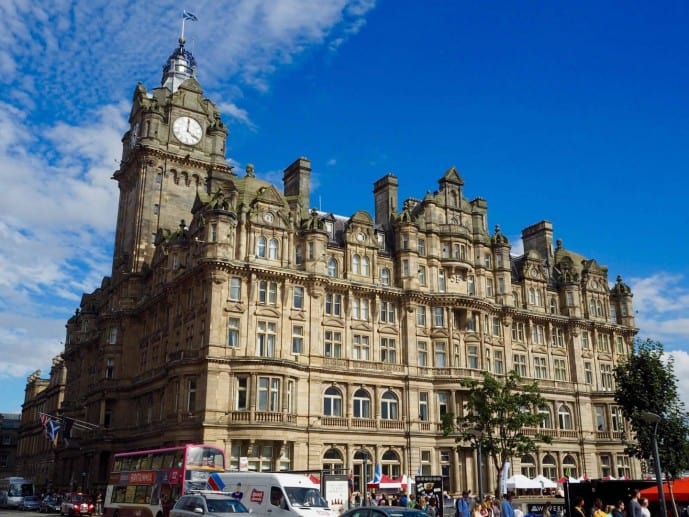 Outlander locations in Glasgow
Although there are so many Outlander locations in Edinburgh you may be happy to know that Glasgow has even more in and around the area!
You can see where Claire, and Frank were married, where Frank works at Harvard University and even Claire, and Franks house in Boston.
It's definitely worth basing yourself in this city for some more Outlander adventures. I've got some informative articles about these locations below.
Click here to read my ultimate list of Outlander locations in Glasgow!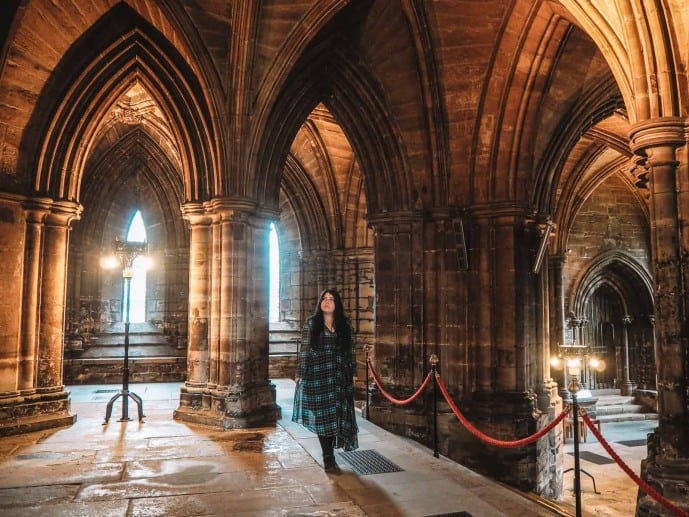 Read my Glasgow articles about Outlander:
Where Claire and Frank were married
How to visit Harvard University aka University of Glasgow
Where Claire pushes Bree in her Pram
The location of Jamie and Black Jack Randall's duel
Where Claire and Frank live in Boston
The location of L'Hopitale Des Ange in series 2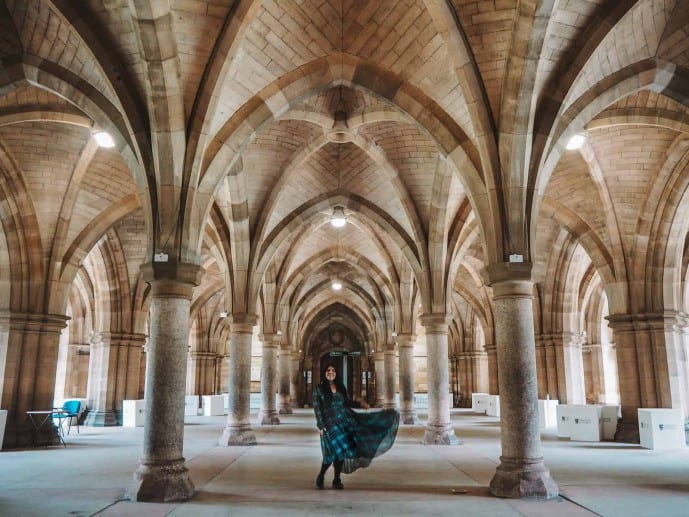 Looking for even more Outlander locations in Scotland?
I went to nearly all of the Outlander locations that were filmed in Scotland and I wrote some detailed guides about them too.
You can visit the real Craigh Na Dun near Inverness, the battlefield of Culloden, the Liar's Spring, the location where they held the witch trial in series 1 and so many more.
Click here to read my complete list of over 90+ Outlander filming locations in Scotland
Some of my favourite locations and articles:
The inspiration for Craigh Na Dun?
Why Culloden is no place for selfies (but you should visit)
How to find the Outlander Witness Trees from Fraser's Ridge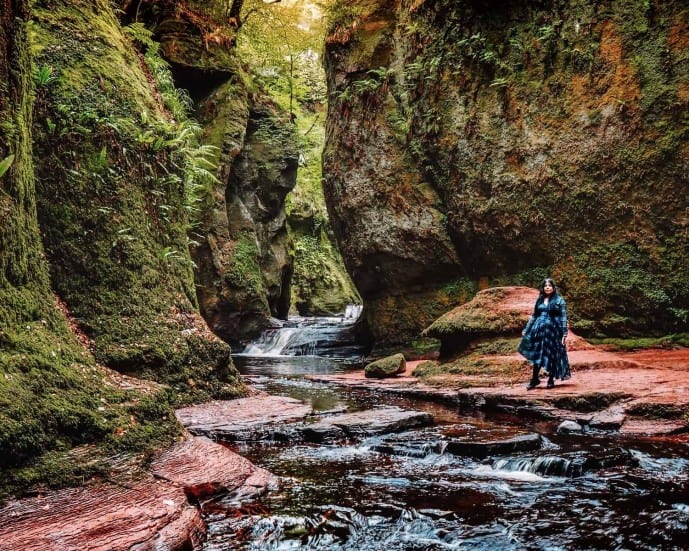 Does Craigh Na Dun really exist?
This is always a popular question and I'm sorry to be the one to tell you but no, it doesn't exist!
There are many prehistoric stone circles in Scotland that are similar though, including Clava Cairns which is supposedly the inspiration for it!
The most famous and the one that looks most similar is the Callanish Stones on the Isle of Lewis in the Outer Hebrides.
But, don't despair, if you wanted to visit the exact location where they filmed Craigh Na Dun, you can!
Although the stones won't be there, the mound where the stones were will be. Including the exact same trees and the backdrop of the loch.
The location is Kinloch Rannoch in Perthshire and it is a little remote. So, you do need your own transport to reach it.
It's also private property, but the owners kindly let fans park up and visit. Follow the rules and respect the owner's wishes!
Click here to read how to visit Craigh Na Dun in real life!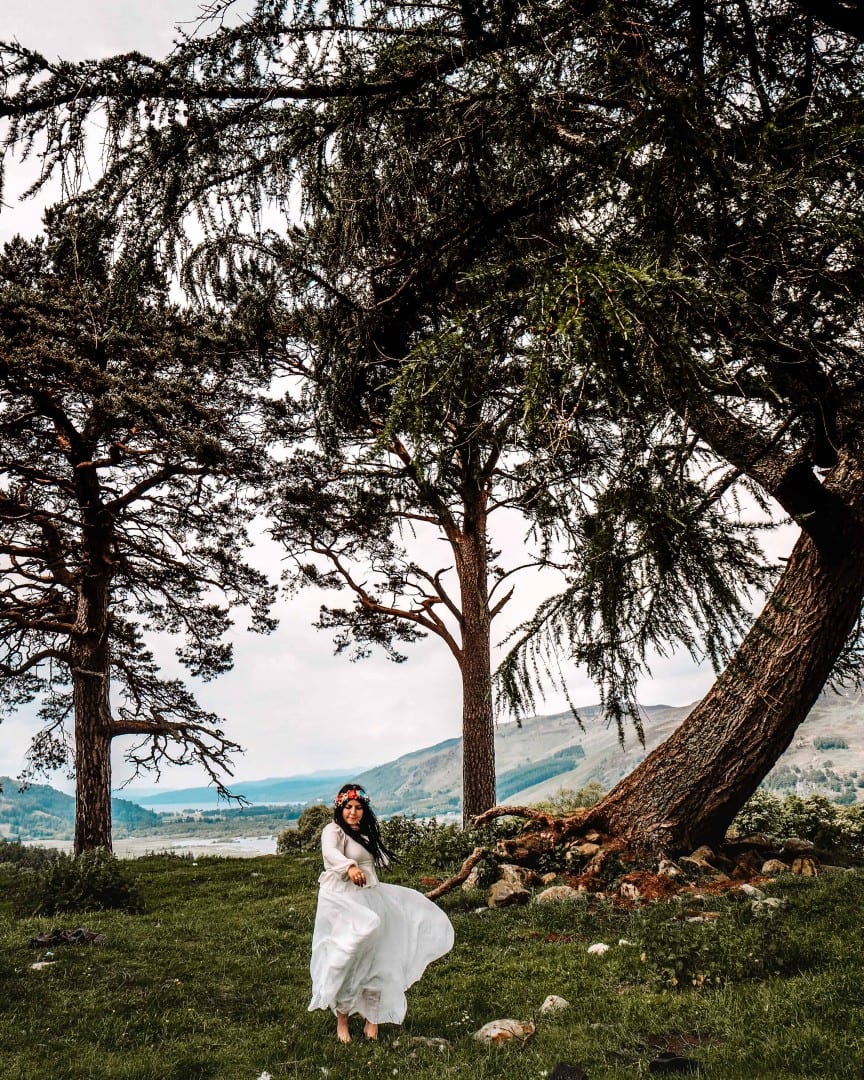 Read more articles about Edinburgh
As well as Outlander locations, Edinburgh is a fantastic city to visit in Scotland.
Not only is it extremely photogenic but there are some must-do experiences here that you can't miss if it's your first visit.
From castles to courtyards, viewpoints, whisky experiences and Haggis, it has it all.
See my articles on Edinburgh below;
My big FAT bucket list of things to do
Harry Potter locations in Edinburgh
A photography guide to Edinburgh – find the most Instagrammable places
The best viewpoint in the whole of Edinburgh!
The prettiest street in Edinburgh
The best viewpoint of the castle
Visit a fairytale village located inside the city!
Scottish National Portrait Gallery review
Save these Edinburgh Outlander filming locations for later!
Disclaimer: my Outlander pilgrimage would not have been possible without my sponsors. Thank you to the National Trust for Scotland, Historic Environments Scotland, Glencorse Old Kirk, Gosford House, Summerhall, Deanston Distillery, Hopetoun House, and the Upper Signet Library for your kind assistance and sponsoring my visits. Although I was a guest, all photos and opinions are my own.