Okay muggles and magical folk, did you know that there are some Oxford Harry Potter filming locations you can visit?
The production team used colleges, cloisters and libraries in this historic city for five of the Harry Potter movies.
So, if you have ever wanted to feel like you've been transported straight into Hogwarts, then you must make a visit to the City of Dreaming Spires in England.
Here are the most magical Oxford Harry Potter filming locations & attractions you must visit!
Was Harry Potter filmed in Oxford?
YES, Harry Potter was filmed in Oxford and you can visit some of the filming locations for yourself.
You'll find all sorts of magical locations that were used in the following Harry Potter movies;
Harry Potter and the Philosopher's Stone (2001)
Harry Potter and the Chamber of Secrets (2002)
Harry Potter and the Prisoner of Azkaban (2004)
Harry Potter and the Goblet of Fire (2005)
Harry Potter and the Half-Blood Prince (2009)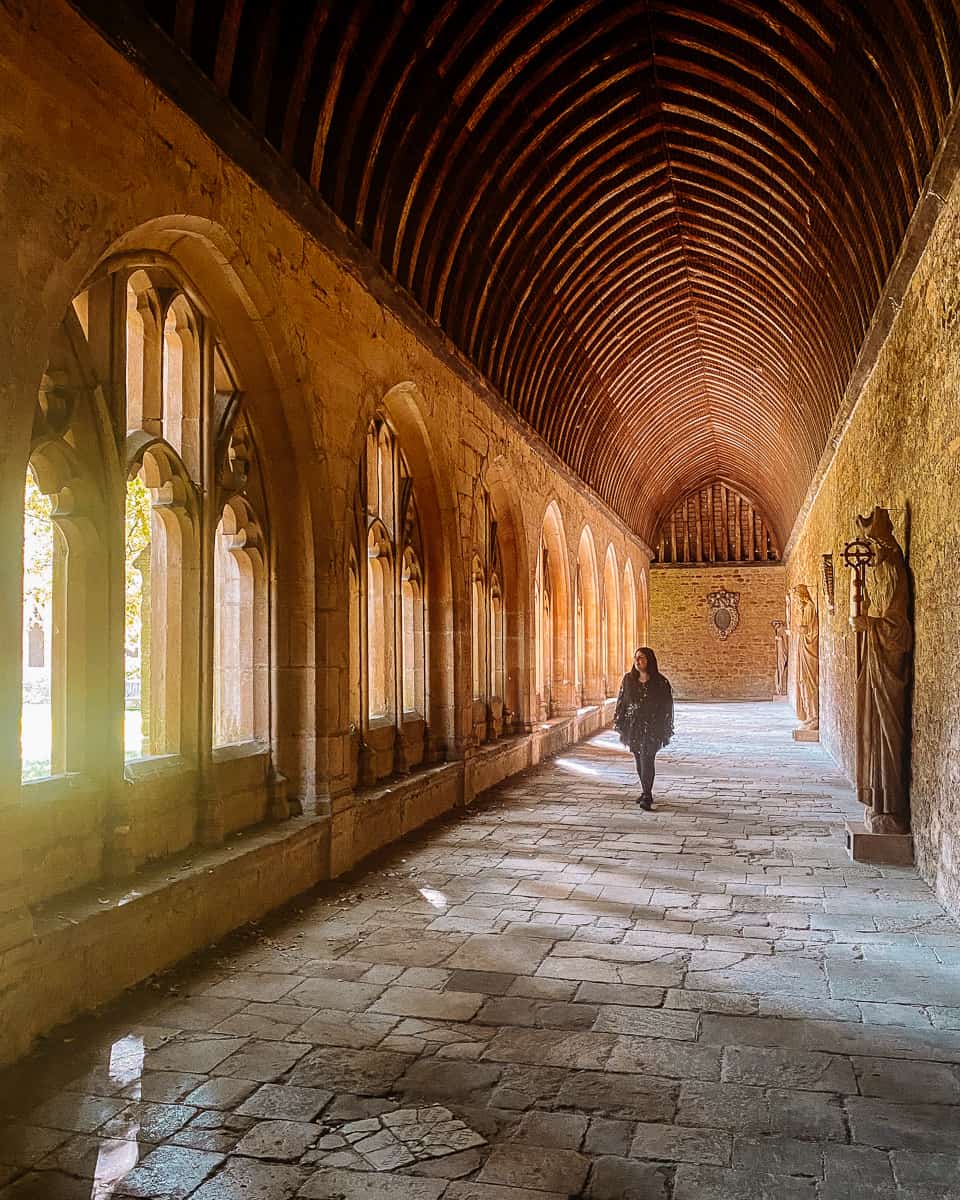 Harry Potter Oxford tours
All of these locations below can be seen on a self-guided Harry Potter tour of Oxford. You don't specifically need to book a guided tour to see them.
But, if you would rather be shown the magic by an expert guide, you may want to book one of the below official Harry Potter Oxford tours;
Magical Oxford Harry Potter locations you must visit
So, here are the best Oxford Harry Potter filming locations and places that you can visit in this ancient university city.
It's a great range of cloisters, courtyards, colleges, and libraries that will transport you straight into the Wizarding World.
It's important to check each location before you visit to ensure that they will be open and have tours available to the public that day.
They are working academic buildings and are sometimes closed off to the public. Here are the best Oxford Harry Potter locations!
New College Oxford
New College is going to be first on this magical list. Despite the name 'New College', this university is actually one of the oldest and largest in the entire city founded in the 14th-century.
It was used as the backdrop for Hogwarts and we see New College featured many times during Harry Potter and the Goblet of Fire.
1. New College cloisters and courtyard
We get our first look at New College during the build-up to the Triwizard Tournament. If you remember, Harry goes to seek out Cedric Diggory to warn him that the first task involves dragons!
Harry doesn't have many friends during these scenes, lots of students have 'Potter Stinks' badges made and even Ron has fallen out with him.
All these scenes take place inside the New College cloisters and within the central courtyard.
Beyond a Harry Potter location, New College is a wonderful university to visit in Oxford. As one of the largest, there is a lot to see and do. Tours run daily and cost £8 an adult to look inside during the summer.
In the off-season Oct-March, they sometimes allow visitors to look for free at certain times of day. Click here for the latest visitor information.
Click here to read my complete Harry Potter guide for New College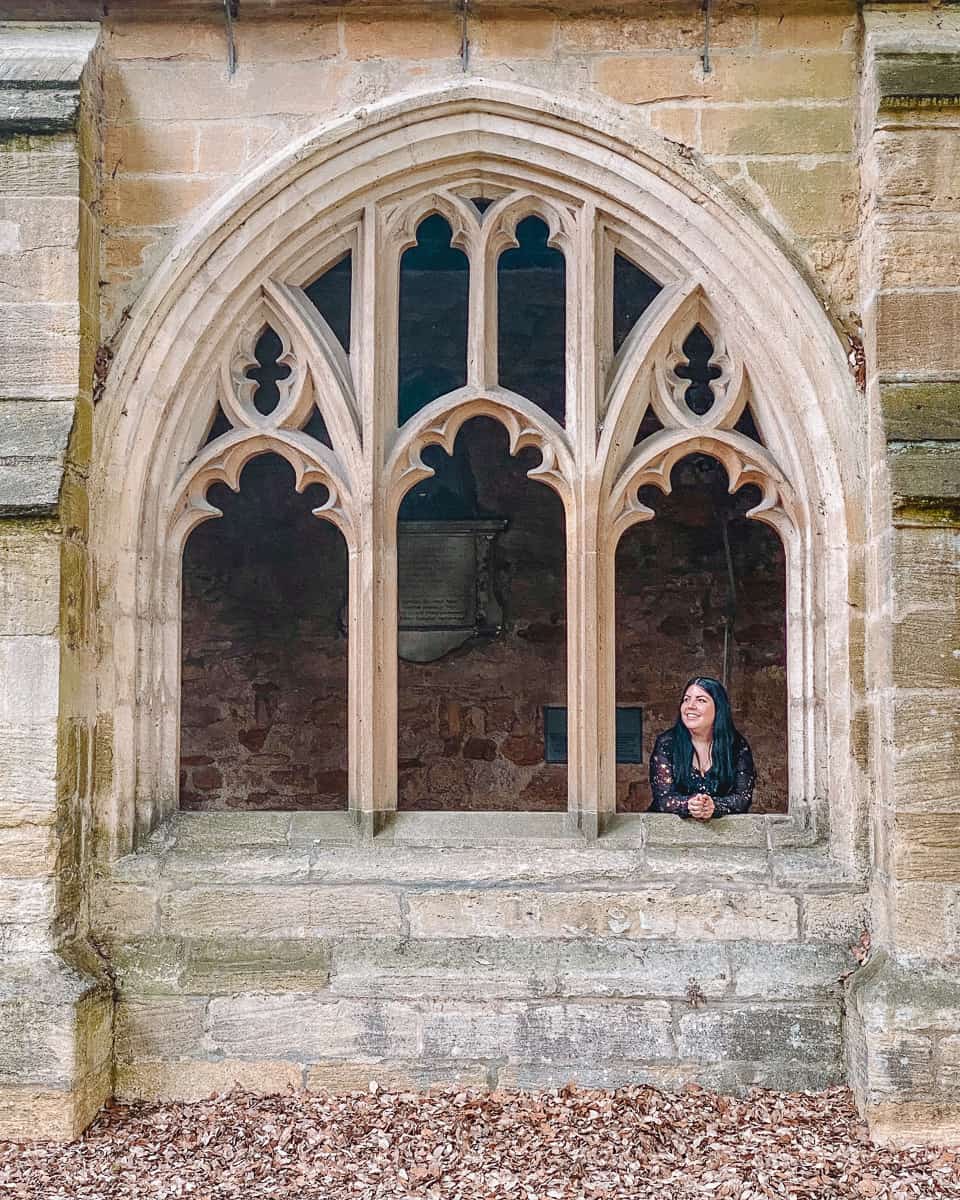 2. The New College Tree
Another famous Oxford Harry Potter filming location is the great oak tree that sits in the middle of the New College cloister courtyard.
If you remember in Harry Potter and the Goblet of Fire, Draco sits in this tree teasing Harry Potter about the fact that he thinks he won't last five minutes in the Triwizard Tournament. So, Harry calls him pathetic and Draco is just about to take out his wand to retaliate.
In response, Mad-Eye Moody uses transfiguration to turn Draco into a white ferret! This is one of my all time favourite Harry Potter moments.
This tree is included in a visit to New College as part of your tour. You can't climb on the tree as Draco did but it's a great photo opportunity and many Potterheads recreate the scenes.
Click here to see when Draco got turned into a ferret at New College aka Hogwarts
Bodleian Library Harry Potter filming locations
Another Oxford Harry Potter filming location is the Bodleian Library complex. It's one of the largest libraries in Britain second only to the British Library.
It's a service that has been supporting the University of Oxford for the past 400 years and they have millions of books (yes, over 13 million) and nearly every publication you can ever think of!
There are two key Bodleian Library Harry Potter filming locations. These are the Divinity School and the Duke Humphrey's Library.
3. Divinity School at the Bodleian Library
The Divinity School was one of my favourite Oxford Harry Potter locations as the elaborate ceiling will take your breath away.
It was built during the medieval era during the 15th-century and used to be where lectures and exams were held. Now it is only used for events, student ceremonies, and tours.
This incredible room was used as the Hogwarts Hospital Wing during Harry Potter and the Philosopher's Stone. Do you remember when Dumbledore eats an earwax Every Flavour Bean?
It's also the Hospital Wing during Harry Potter and the Chamber of Secrets when many of the students are petrified including Hermione Granger. And again, it appears during the Prisoner of Azkaban when Harry wakes up after defeating the Dementors.
You'll also see poor Ron here at the Divinity School during Half-Blood Prince. He drinks poison that was meant for Dumbledore. Harry quickly saves his life with some Bezoar he got from Slughorn.
By far my favourite scene from the Divinity School has to be when the students are practicing their dances for the Yule Ball. Ron will never live down dancing with Professor McGonagall!
You can book a self-guided visit to the Divinity School for £2.50 per person and it's open daily. You just need to prebook your timeslot to guarantee entry.
4. Duke Humphrey's Library
One of the most popular libraries to study at in the Bodleian is Duke Humphrey's library.
It's the oldest reading room in the building, dating back to 1447, that has many rare texts. They used to be chained to the bookcases years ago!
In Harry Potter and the Philosopher's Stone, we see Harry moving about here under his invisibility cloak to visit the Hogwarts Library restricted section.
Unfortunately, photography of this part of the library is strictly prohibited. But, it's still well worth seeing a part of the Hogwarts Library with your own eyes!
If you wanted to visit Duke Humphrey's Library make sure to book a guided tour of the Bodleian Library.
These tours can be booked for 30 minutes, 60 minutes or 90 minutes. The longer the tour the more buildings you get to see in the complex.
I feel the 30-minute tour is enough for Harry Potter fans as this covers both the Divinity School and Duke Humphrey's library.
30-minute guided tours run daily and cost £9 per adult. Click here to book a tour of the Bodleian Library
Christ Church Harry Potter filming locations
Lastly, we're going to visit Christ Church. If there is one place that people associate with Harry Potter in Oxford it's this magnificent building!
Founded in 1546 by Henry VIII, it is often known as Aedes Christi or 'The House'. Its home to Christ Church Cathedral and was the 13th college to be built in Oxford.
Many notable alumni have graduated from here including 13 Prime Ministers, William Gladstone, and John Locke.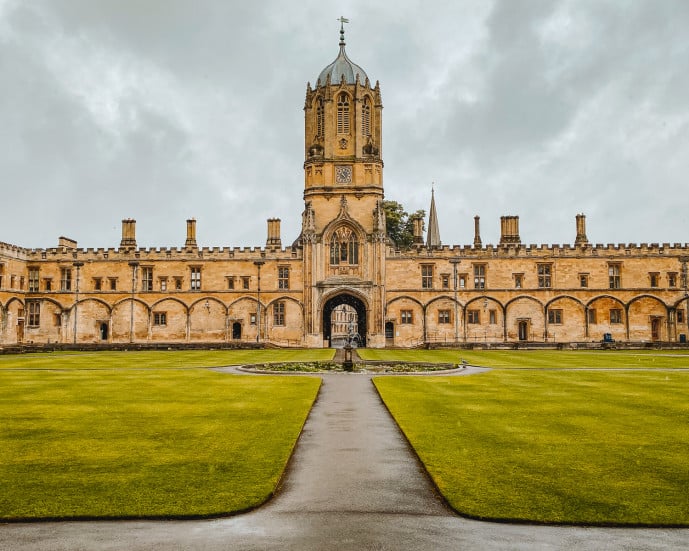 There are lots of literary locations such as Alice's Window and the Firedogs that were an inspiration for Lewis Carroll's Alice in Wonderland. He was a mathematics tutor at Christ Church under his birth name Charles Dodgson!
As well as featuring in Harry Potter, you'll recognise parts of the complex in The Golden Compass, X-Men: First Class, and Inspector Morse.
A visit to Christ Church can be expensive at £16 an adult but in my opinion, it is well worth it if you're a Harry Potter fan as it looks (and feels) like Hogwarts! You must book a tour in advance.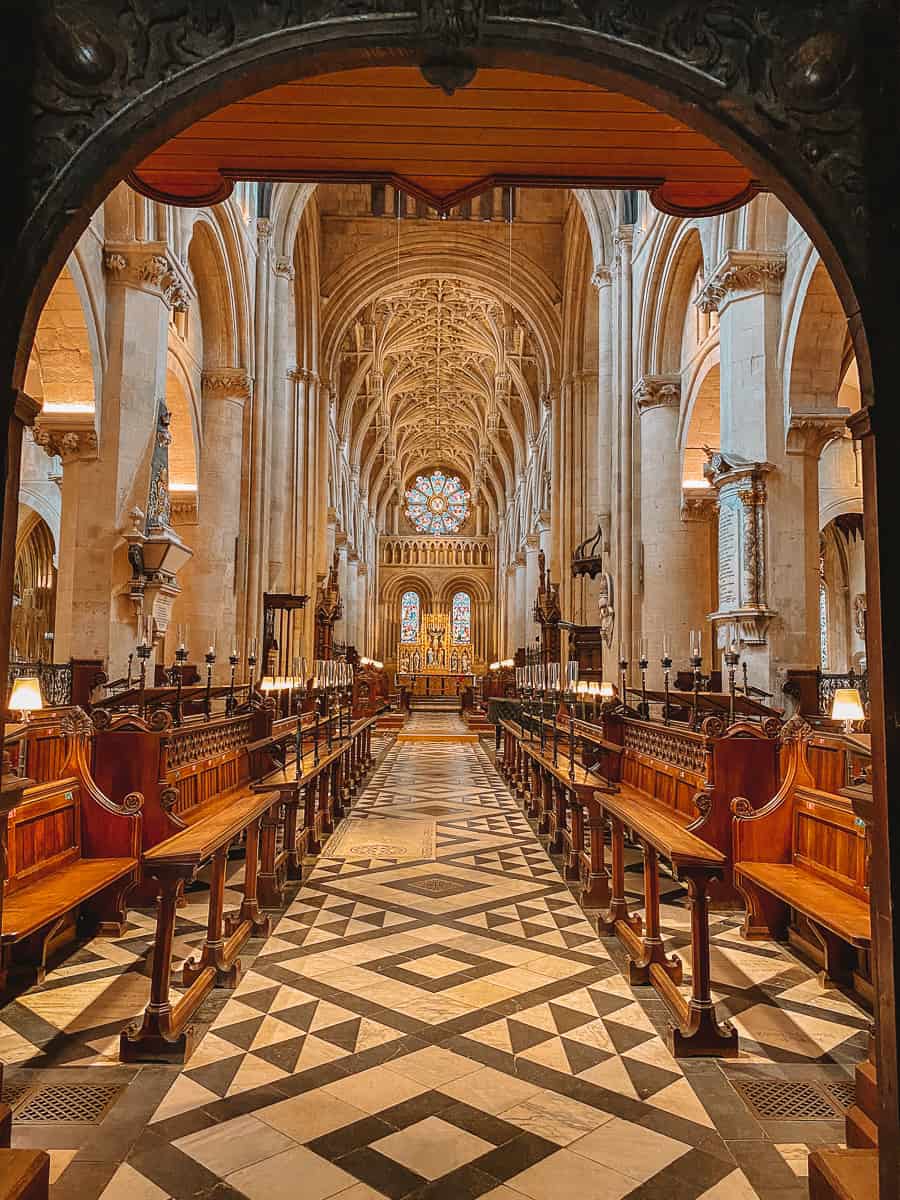 5. Bodley Staircase at Christ Church
The first Harry Potter filming location you'll visit at Christ Church is the Bodley Staircase that leads you to the Dining Hall.
The vaulted architecture and the lamp posts inside are breathtaking and you'll be captivated by this room with views of the Bodley Tower.
We first see this magnificent staircase in Harry Potter and the Philosopher's Stone. This is when the baby-faced students first arrive at Hogwarts and meet Professor McGonagall to be sorted into their Houses! Whenever I think of this scene I think of poor Neville and his toad Trevor.
In the Chamber of Secrets we briefly see this again when Harry and Ron arrive at Hogwarts in the Ford Anglia.
Watch when the students first arrive at Hogwarts
6. Christ Church Dining Hall
Although not a filming location, the Christ Church Dining Hall was the inspiration for Hogwarts Great Hall in the movies!
They based their set at Leavesden studios on this very room and you can visit this set as part of a Warner Brothers Studio Tour in London.
Just like Christ Church dining hall, you'll see the long wooden tables, vaulted ceilings, and portraits of important people. Pity there are no floating candles on the ceiling though!
It acts as a canteen for the students at Christ Church and they are lucky enough to eat in this hall every single day.
In the evenings, they have 'informal' and 'formal' hall. The formal requires dressing up in a gown like Hogwarts robes. Also, just like in Hogwarts only tutorial fellows sit at the High Table.
Watch when we first see the scenes of Hogwarts Great Hall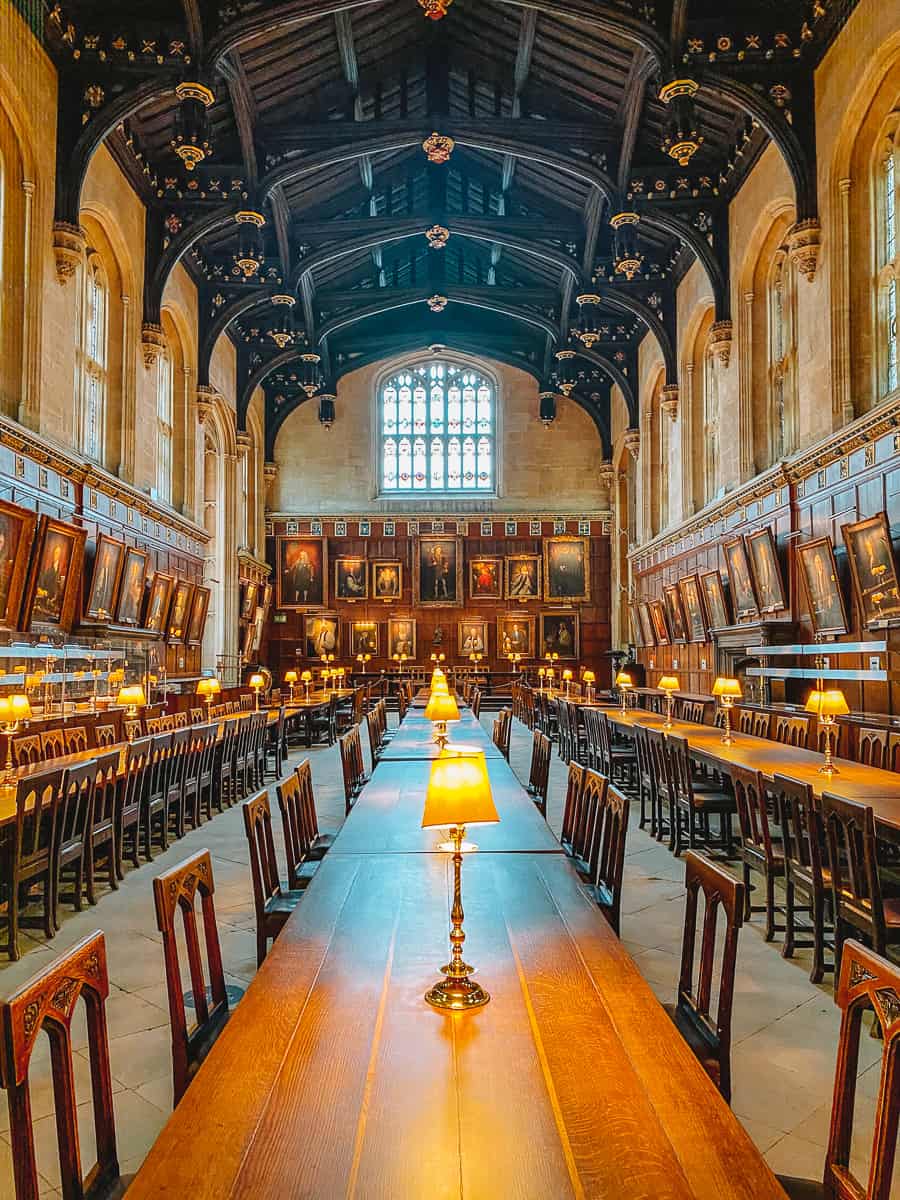 7. Christ Church cloisters
A little-known Oxford Harry Potter filming location is the Christ Church cloisters which can be found at the very end of your tour.
We briefly see these cloisters in the first movie, Harry Potter and the Philosopher's Stone when Hermione has found a trophy cabinet.
She shows it to Harry as his father, James Potter, was an excellent Quidditch player! It cheers Harry up a little bit and it is quite touching.
Bonus Oxford Harry Potter locations
As well the 'official' Harry Potter Oxford filming locations, there are plenty of bonus locations that have Harry Potter connections in the city.
From shops, quidditch, museums, and taverns – make sure to plan time to visit these bonus magical locations on your tour.
8. Harry Potter shops in Oxford
If you were looking for some magical souvenirs to remember your visit, you must pop inside some of the Harry Potter shops in Oxford. These are located on Broad Street and Cornmarket.
Here are some of the best ones to look out for;
The Shop of Secrets – One of my favourite Harry Potter shops is the Shop of Secrets on Broad Street. It looks like something from Diagon Alley inside! There are some incredible souvenirs, including rare collector items too.
House of Wonders – Look out for the magical House of Wonders on Cornmarket. It looks inspired by Borgin & Burkes. You'll find plenty of clothes, souvenirs, and sweeties within their cloisters.
Flaggs – Flaggs is an icon of Broad Street and they stock a huge range of Oxford souvenirs as well as Harry Potter items.
Watsons of Oxford – Sporting lots of mannequins with huge Hedwig heads, you'll find plenty of Harry Potter collectibles and souvenirs inside!
9. Watch a Quidditch Match
One of the bonus Harry Potter things to do in Oxford has to be to watch a game of Quidditch. You read that right, did you know that there is an Oxford Universities Quidditch Club?!
The game of Quidditch is a real-life sport (often called muggle Quidditch) that came to life in 2005 in the United States. It was inspired by the game in Harry Potter.
Of course, they don't fly around on broomsticks, but they do hold them between their legs and throw a Quaffle all the same.
Just like in the Wizarding World there are chasers, keepers, beaters and keepers but they stay on ground level. There's even a snitch!
Click here to see when the next match is going to take place!
10. The Turf Tavern
The Turf Tavern is not an Oxford Harry Potter filming location but was a location where the actors and crew would visit for a drink or dinner after filming.
It's only a short walk away from New College, so it makes sense that they would visit here.
As a historic pub, it has been a favourite haunt of many famous people over time like Thomas Hardy, Ernest Hemingway, Stephen Hawkin, C S Lewis, and Elizabeth Taylor!
You can find it via a hidden alley (similar to Diagon Alley) near the Bridge of Sighs. It's the perfect place to hide away with a pint or a meal on your visit.
11. The Natural History Museum
Although not a filming location for the movies, you must make a visit to the Oxford Natural History Museum while you're here.
The production team spent a lot of time admiring the various relics and artifacts inside to make props and sets for the movies!
Connected to this is the Pitts Rivers Museum which is filled with interesting objects from around the world.
You'll find some incredible things here like a taxidermy Dodo that inspired Alice in Wonderland and there even used to be shrunken heads that inspired designs for Dre Head from the Knight Bus.
It is set in a delightful Gothic building, has over 7 million objects inside, and sees over 750,000 visitors every single year.
It's completely FREE to visit and well worth stopping by. See here for more information with the latest opening times.
12. The Eagle and Child pub
Again, not a filming location but this is a famous literary location in Oxford.
The Eagle and Child pub is famous for being a meeting place of 'the Inklings', an informal literary discussion group that included J. R. R. Tolkien (author of The Hobbit and Lord of the Rings) and C. S. Lewis (The Lion, the Witch, and the Wardrobe)!
J. K. Rowling purposely made her pen name similar to theirs so it has a tiny Harry Potter connection.
It's well worth popping inside to see some memorabilia as well as grabbing a pint or a bite to eat!
Take a magical day trip to Blenheim Palace
Although not technically in Oxford, a great day trip from the city is a visit to Blenheim Palace which is the birthplace of Winston Churchill!
On the enormous grounds, they have a tree that featured in a flashback of Snape's Worst Memory during Harry Potter and the Order of the Phoenix.
It's now known as the Harry Potter Tree and you can even visit this location for FREE on the Blenheim Estate via their permissive pathways.
It's well worth a visit for Potterheads and you can pull up a book and relax a while next to Hogwarts Lake.
Click here to read my complete guide on how to visit the Harry Potter Tree at Blenheim
Practical tips for visiting
Wear a decent pair of shoes – It's a long tour and some of Oxford has cobbled floors!
Plan your trip in advance – Many of the colleges have specific opening times and some require you to pre-book your visit. Plan at least a day for your tour to allow enough time.
Photography – All of the locations above allow you to take photos inside apart from Duke Humphrey's library. If you wanted to skip it, just take a Divinity School tour instead.
Budget enough money – All of the filming locations require an entrance fee. Christ Church will be the most expensive at £16 a ticket.
Be respectful – Be mindful that the colleges and academic buildings on this list are working institutions and students may be with you on your visit.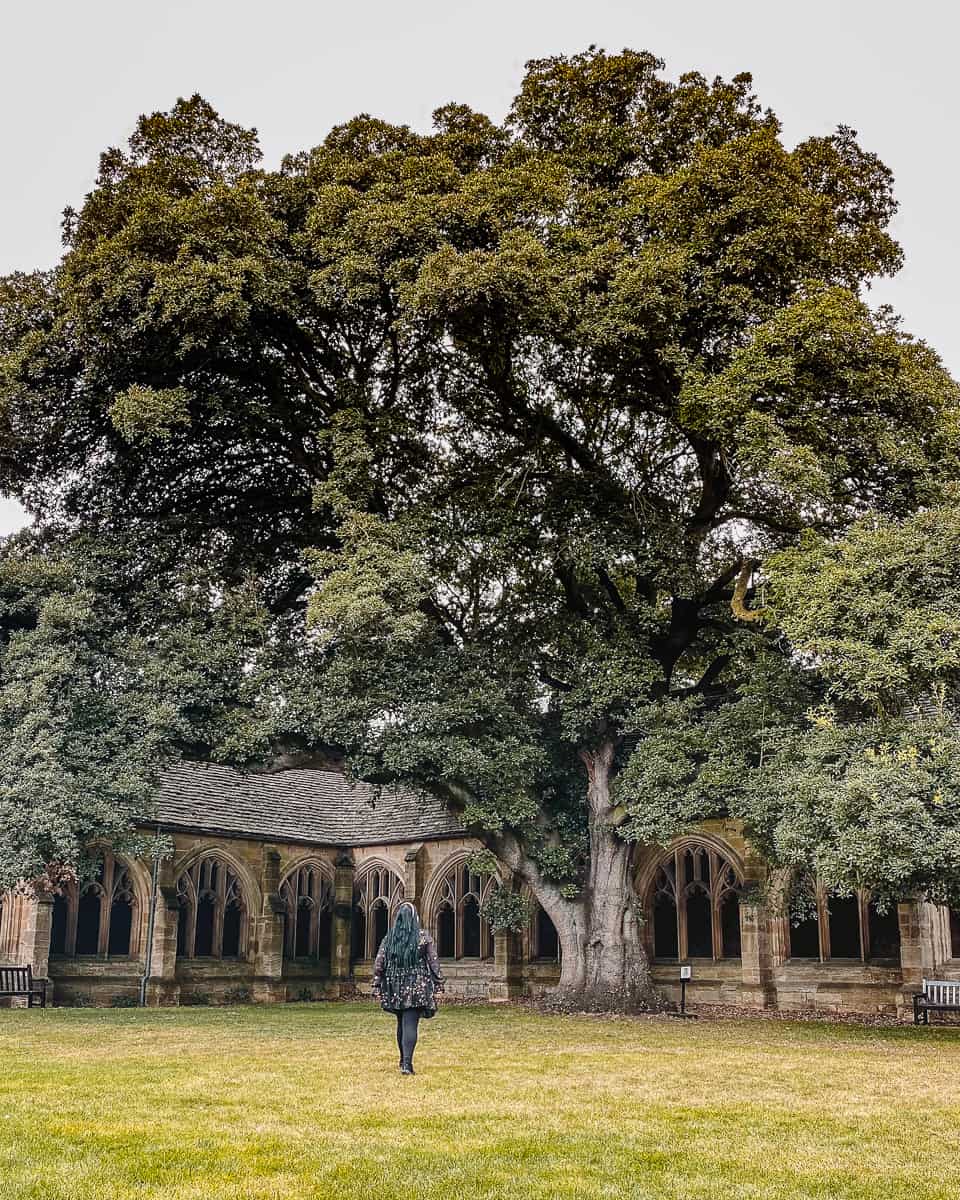 Non-Harry Potter things to do in Oxford
If we're being honest, the whole city of Oxford looks like Hogwarts and the Wizarding World and is filled with amazing Dark Academia buildings you can visit.
You must make a stop at the Bridge of Sighs and the Sheldonian Theatre near New College.
Also, one of the best viewpoints of the iconic Radcliffe Camera can be found from the top of St Mary's Church Tower.
If you wanted to see more literary locations in Oxford then you must visit the Narnia Door in St Mary's Passage this was supposedly an inspiration for C. S. Lewis and his Chronicles of Narnia.
There are also many locations associated with Lewis Carroll, the author of Alice in Wonderland. The original Alice's Shop can be found on St Aldate's opposite Christ Church visitor entrance.
The Oxford Botanical Gardens is a beautiful place to visit in the summer. You can go punting on River Cherwell or you can stop by Magdalen College to take a tour of their wonderful cloisters.
How to visit Oxford in England
Oxford is located in the county of Oxfordshire in the South West of England.
It's around a 60-minute train journey or a 90-minute drive out of Central London so it makes the perfect place to plan a day trip.
There is also the Oxford Tube which is a popular London to Oxford coach service that runs daily.
If you can, I would plan more than a day to see the City of Dreaming Spires as there is so much to see and do here!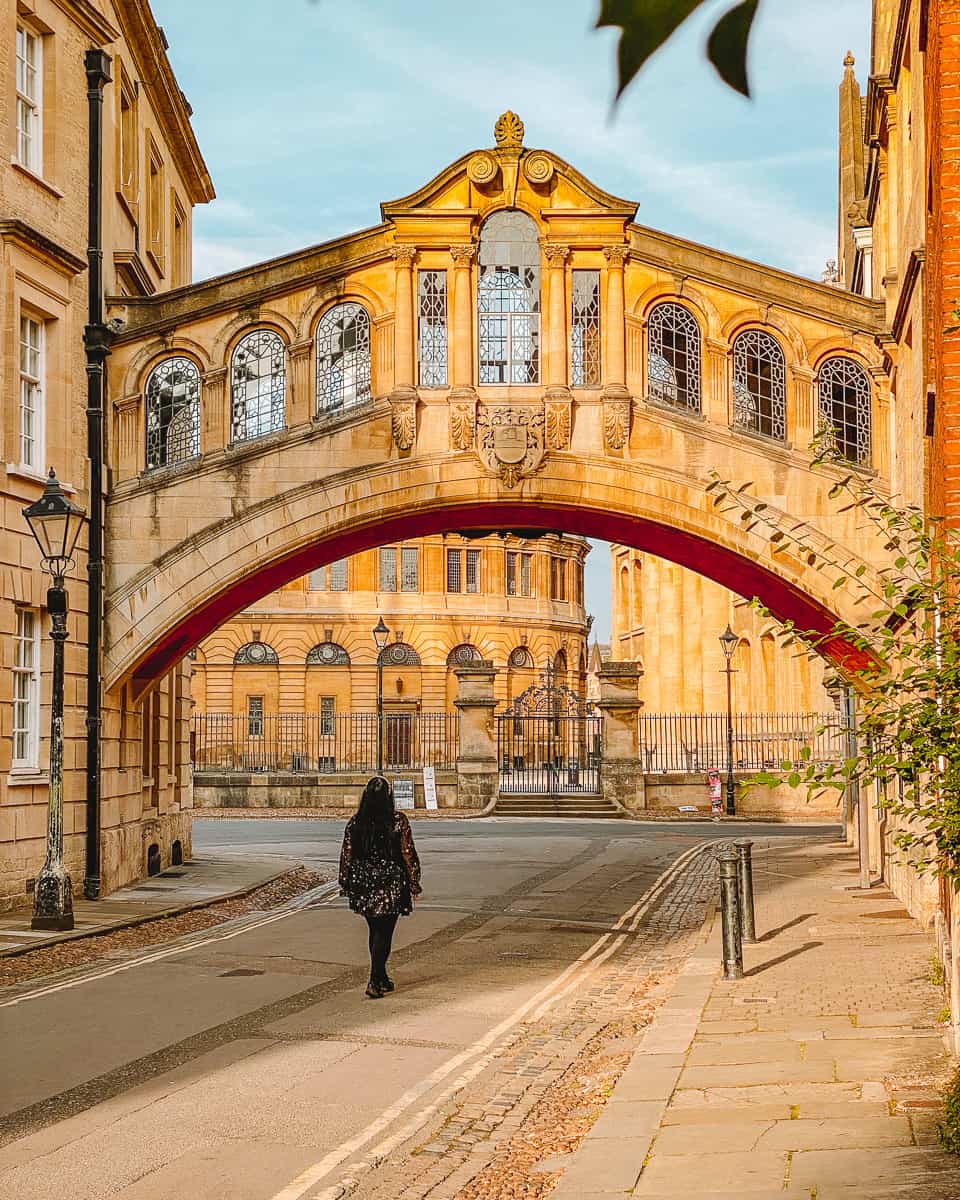 Read more of my Harry Potter travel guides
How to ride the real life Hogwarts Express in Scotland
How to visit Platform 9 3/4s in London
Harry Potter locations in Edinburgh
All the Harry Potter filming locations in Scotland
A complete Leadenhall Market Harry Potter guide
How to visit the real Godric's Hollow in Lavenham
Visit the Deathly Hallows filming location at Malham Cove
How to visit Hogsmeade Station in real life
How to spend a night in Hagrid's Hut
A complete Forbidden Forest Experience review
Harry Potter locations in Lacock
Harry Potter filming locations in Alnwick Castle
Where to find Harry Potter in York
How to find the Harry Potter Tree at Blenheim Palace
The Shop That Must Not Be Named Review
How to find Dobby's Grave in Wales
Harry Potter filming locations in Gloucester Cathedral
How to see the Hogwarts Express in Scotland
How to visit Dumbledore's Grave in Scotland
Visiting Malfoy Manor in Real life!
Where to find Tom Riddle's grave in Edinburgh
Visiting the Quidditch Town of Tutshill Tornados
Harry Potter locations in Exeter along with Gandy Street and the Room of Requirement
Virginia Water – the Other Hogwarts Lake
Instagram locations at the Wizarding World of Harry Potter
How to visit Hagrid's Hut in Scotland
How to visit the Harry Potter Waterfall in Scotland
Harry Potter filming locations at Durham Cathedral
Save these Harry Potter Oxford locations for later