If you're a woman planning a trip and need a detailed, culturally appropriate, packing list for Egypt – this will be it!
A lot of the packing lists I read before my travels were about safety with female travel and not the important items I needed to pack in my suitcase (although don't worry, I will go through safety too!).
So, I decided to create one of my own and let you guys in on everything that I packed for Egypt and what I wouldn't pack again so you don't have to.
Recently in October, I went to Egypt for a total of 5 weeks, completely solo. I didn't opt for a tour, or a guide, I was on my own. So, I knew I needed to be savvy with my luggage and be wary of what I wore to be culturally sensitive.
So, I'll go through the following with you in this packing guide:
Things to know and you need before you go including an understanding of the culture
If Egypt is safe to travel for a woman
Clothes, shoes, toiletries, electronics and medical things to pack
Other items to consider
What not to pack for Egypt
Okay, so let's get this packing list for Egypt on the road. Yalla Habibi!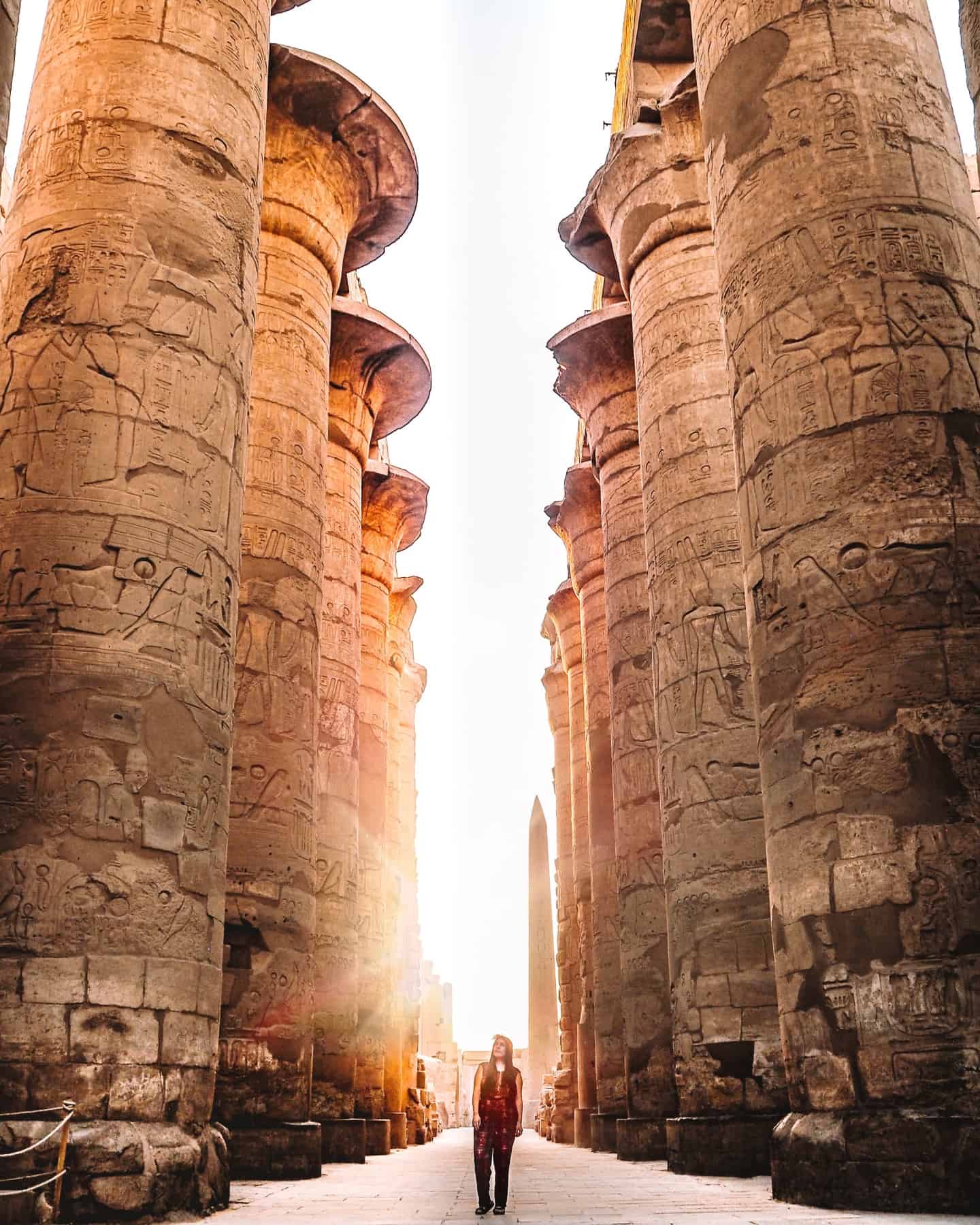 Climate in Egypt, seasons and the different regions
It's probably obvious, but Egypt is a desert country. That means the climate will be dry, sandy and hot!
I started my travels in Egypt at the beginning of October and it was scorching in the day but nice and cool in the evenings. By mid-November, it was warm in the day (around 20 degrees celsius, I'm talking warm for a Brit!) and then freezing at night. So, come prepared!
There are two seasons in Egypt:
Hot Summer: May – October the temperatures will be unbearable, especially near Aswan in the south. Most tour groups will visit temples latest 5 am to beat the heat. But, you'll still need to cover up, so bring lots of light cotton clothing.
Mild Winter: November – April the temperatures drop significantly and it's pleasantly warm. These are also the most popular months of travel, so expect lots of tourists. Bring a warm jacket as evening temperatures are really cold. I regretted not bringing one.
Popular tourist places in Egypt and the climate for them:
The North
Alexandria – A business hub and famous port based on the coast of Egypt, this is a windy city! So, expect to be blown away. The temperatures are much cooler here, especially in winter, so bring some warm clothing.
The Centre
Cairo – Overly polluted and Egypt's bustling capital city. Although it's cooler in the north, the heat seems so much hotter here and almost muggy. By November, it was very cold in the evenings, so bring a jacket!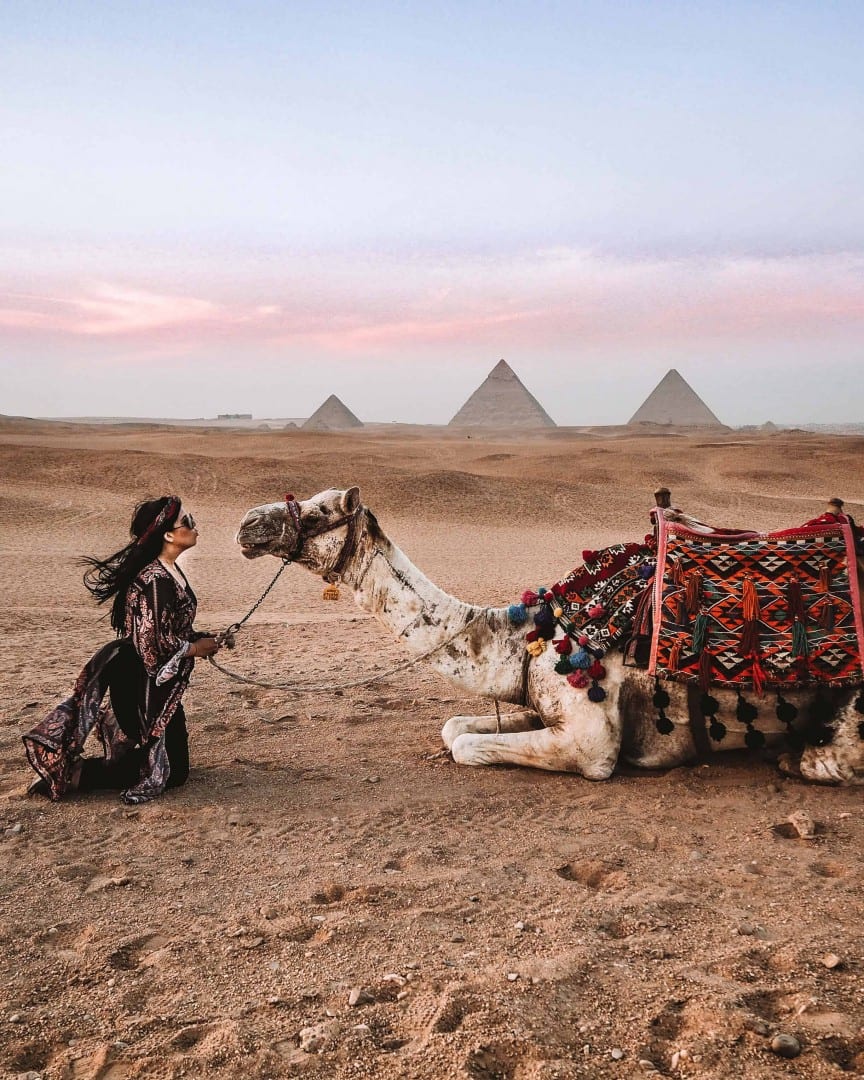 The South East
Aswan – as you head further south to Nubia, things start to heat up. Aswan is close to the border of Sudan. But the breeze from the Nile and High Dam is refreshing. Temple hopping with the crowds can be sweltering, but luckily most provide shade.
Abu Simbel – the furthest south you'll probably go. It's a three or four hour stretch from Aswan along a desert road. Most tourists go by air conditioned bus or car. You'll be roasting at the temple however!
Luxor – Still hot, especially on the West bank. I felt like I was cooking at the Valley of the kings and the temple of Hatshepsut! Karnak and Luxor temples aren't so bad due to shade on the East side. A cooling falucca ride on the Nile is a must.
Hurghada – a resort town on the coast of the stunningly blue Red Sea. Great as a treat after all that sight seeing. The breeze here is amazing and so you can tolerate the heat a lot more. Unlike the rest of Egypt, the dress code is quite relaxed.
The Far East
Sinai Peninsula (Sharm El Sheikh/Dahab) – Lot's of security this way due to political turmoil, but is for the most part safe if you want to head to the tourist areas. I was stopped 8 times on my way down by bus for checks. But, the views are so worth it when you're here! Similar to Hurghada; it's a beautiful breeze, cocktails and palm trees! Again, dress code here is quite relaxed and in the resorts, anything goes.
The West
Bahariya Oasis, West Desert, Siwa – Not somewhere you'd attempt without a guide, the West desert is an incredible part of Egypt to explore and one I'd urge you to see if you have more time. As it's in the open, it's blistering hot in the day and freezing at night in Winter. sand storms are common, so come prepared!
Essential things to know and prepare before you visit Egypt
Visa process – You will need a VISA for Egypt. This can be acquired beforehand or at the border for $25USD for single trip. I've written out a lengthy post about how to get a VISA for UK citizens here, but it applies for most countries on Visa2Egypt.
Get Travel Insurance – In Egypt it's very easy to get sick (I got a severe chest infection) and I was so happy I was covered or it would have been costly. I always choose World Nomad's as they have good offers and policies.
Islamic culture – Over 90% of the Egyptian population practice Islam, making it a conservative country. Women should cover up their shoulders and knees where possible and men should avoid wearing shorts.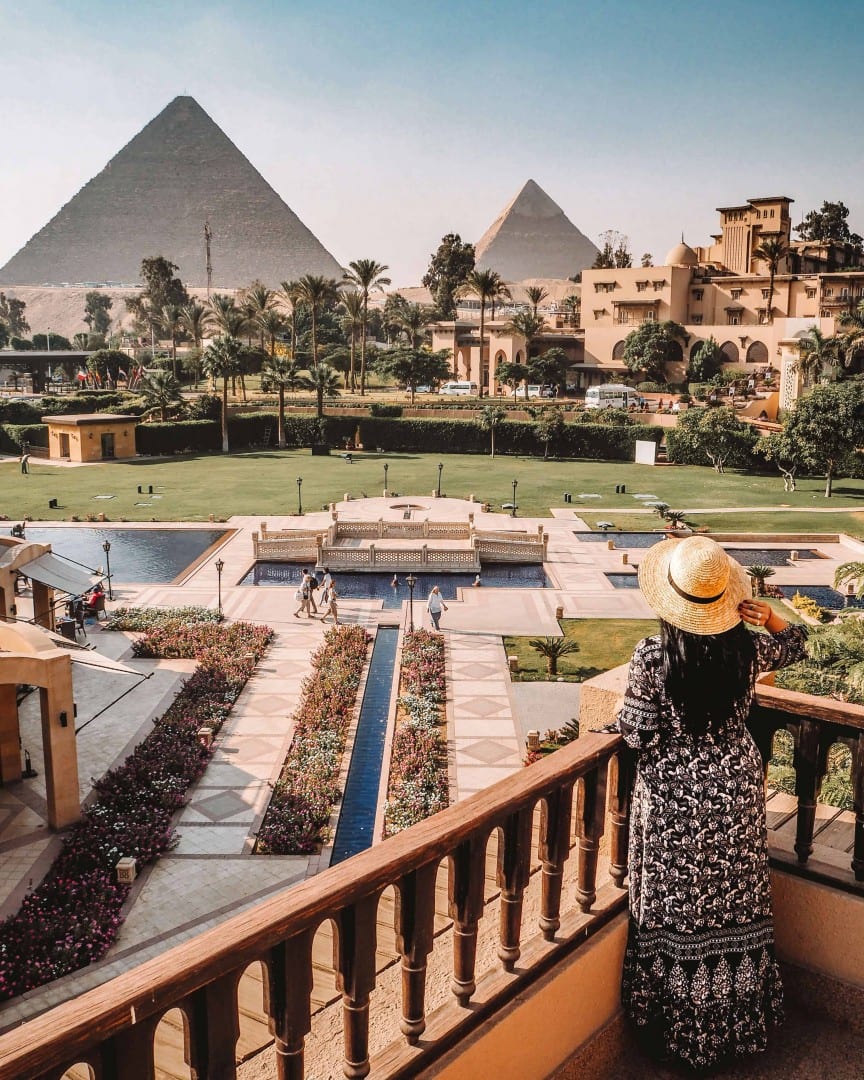 Tour companies – You will be a minority in Egypt if you're not travelling in a tour group. But I recommend companies like Memphis Tours who customise tours for you. I went with them for four days on my Nile cruise and it made sure all my activities were included, it can be costly otherwise.
Currency – Egypt uses the Egyptian Pound. As a Brit this would constantly confuse and shock me, especially when they told me it cost £180 to get into the pyramids! Don't worry one British pound equals around £22 Egyptian pounds.
Tips – when budgeting for Egypt, always include lot's of tip money. People expect a tip for everything here! For using the loo, for cleaning your hotel room, for helping with your cases, serving your food and even offering to take your photo! Sometimes I had no idea what I was tipping for lol. I'd also tip just for people to go away and leave me alone. Keep lots of small notes handy.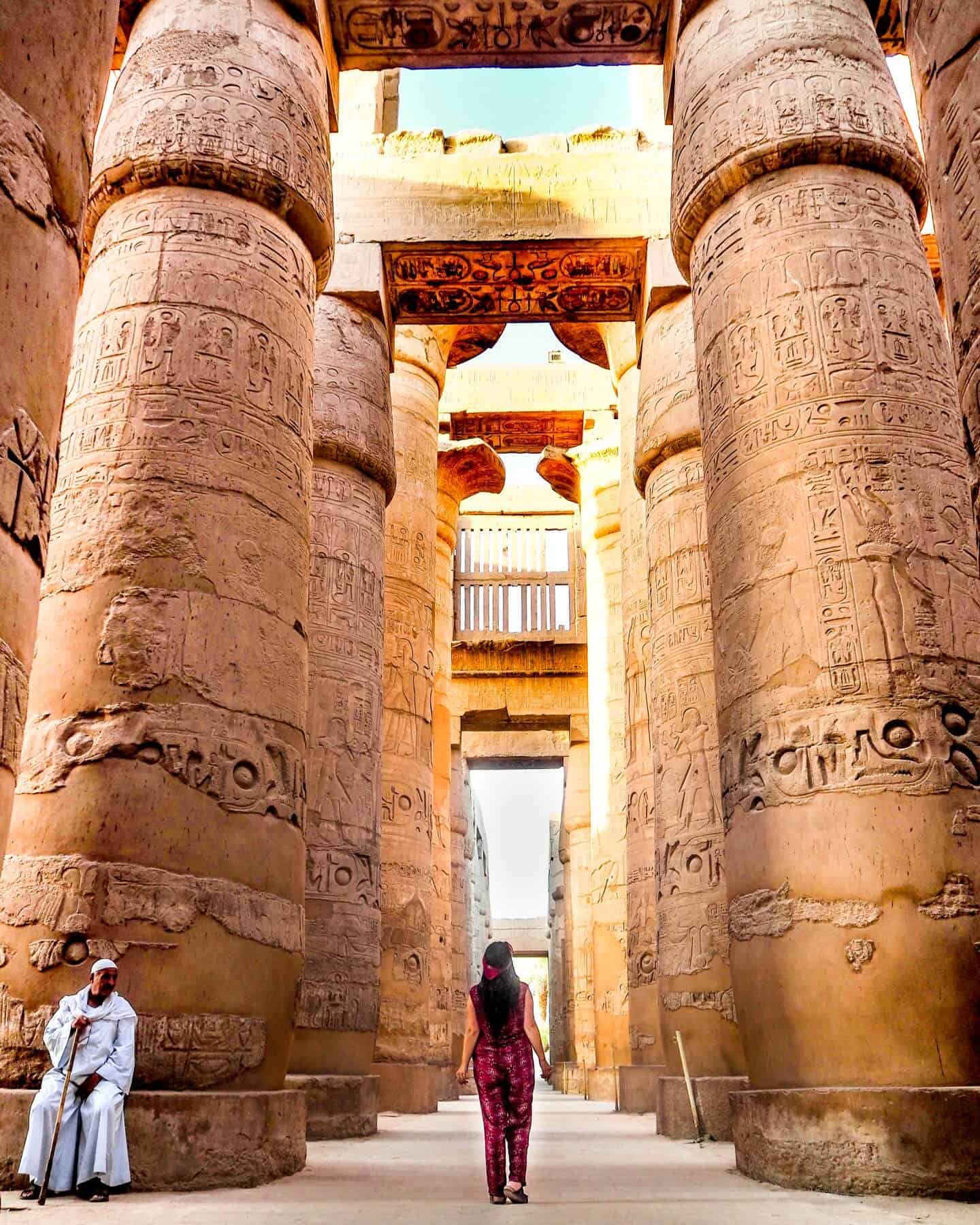 Frequently asked questions
Is it safe for women to travel to Egypt? I think the term safe can mean different things to different people. One person could find it safe and another could find it difficult. But, for the most part, YES! Egypt is safe for women to travel. But, expect a lot of hassle and catcalling.
Do I have to cover my head or wear a local dress? No. The people of Egypt are well aware that not all people travelling are Muslim, so you don't have to cover your head. But being culturally sensitive by covering up is expected and respectful.
Is it better to go solo/as a couple or on a tour? There are pros and cons to both. I personally wanted to go solo to experience it for myself. I also wanted to take photos which meant beating the crowds. Travelling by yourself could prove more expensive due to arranging your own transport, but tours mean you're on their schedule and you could feel rushed. So, you need to decide based on your preferences.
Personally, I went solo the whole time apart from about four days when I went with Mayfair Cruises and Memphis Tours for my Nile cruise. Arranging a Nile cruise through a tour company was cheaper and made sure all my sightseeing and transport was included.
You can just go on the train between Luxor and Aswan (First Class is about £4!) and there are stops for Kom Ombo and Edfu temples but cruising down the Nile was a dream of mine!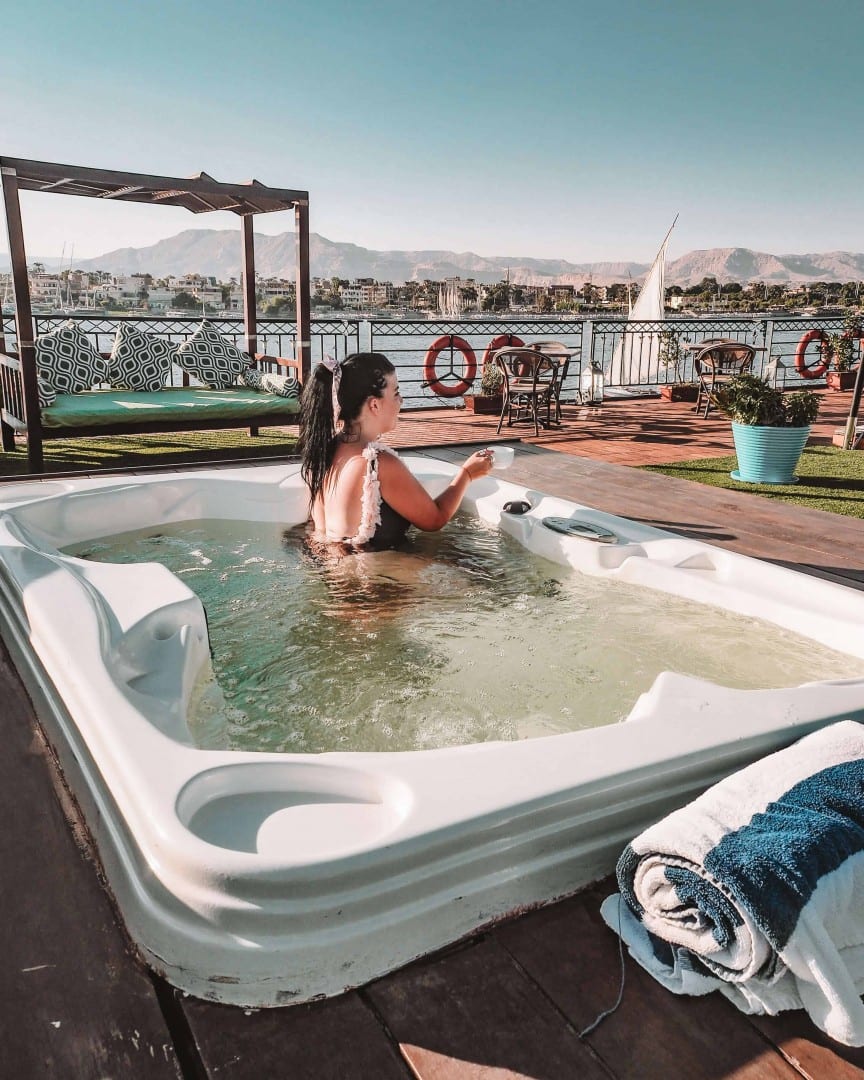 Essential items for Egypt – Don't leave without packing these
Suncream – Even the most sunkissed of us will suffer from the sun here. I always take Riemann factor 50. It's waterproof and lasts forever (10 hours). This suncream also comes in hand luggage size (100ml)
Hat and Sunglasses – Very important. The sun can be blinding most days, especially in the desert. These are some of my favourites:
Imodium – You never know! Food poisoning is the most common sickness tourists get in Egypt.
Scarf – A pashmina is an ultimate weapon in case of sand storms or if you need to cover your shoulders, enter mosques etc.
Adaptor – The Power sockets are type C and F. Type C is two round pins and type F has Earth clips. The standard voltage is 220 V and the standard frequency is 50 Hz. This global adapter is perfect.
US Dollars – I didn't personally find it necessary but you can use these to buy a Visa at the border if you didn't acquire one beforehand. You can pay in Egyptian Pounds all over but they also take USD.
Hand Sanitiser – Egypt is not the cleanest of places, hand sanitiser is a must to ensure you stop yourself from getting sick. Also handy when toilets don't have soap (which is most of the time in public loos).
What luggage to use for Egypt
This depends, Egypt is not necessarily somewhere I would class a 'backpacking country' (unless you're heading on elsewhere of course).
It's perfectly fine to just bring a suitcase. You won't really need to lug it around much and most hotels, taxis and even the train stations will have people on hand to help you in the hope of a 'Bucksheesh' (tip). A tip is always expected by the way, so keep hold of your five, ten and twenty EGP notes!
Backpack of choice – I used to take my Osprey Farpoint 40 Backpack with me on my travels if I was heading out long term. I don't as much now. But, this is by far the best backpack I've used. I'm petite so I need a small frame and the small/medium size is perfect! I love it so much I wrote a post about it here.
Luggage of choice – I used to just buy cheap luggage until my suitcase broke while I was travelling! Lesson learned; always invest in a good suitcase with a warranty. Recently, I splurged on a Samsonite which I'm in love with! It has a ten year, worldwide warranty so I can get it fixed wherever I am in the world.
Whether I'm travelling in a suitcase or backpack, I always use packing cubes to keep everything organised. eBags are my favourite brand and have never let me down.
I also packed a daypack by Osprey as my carry on and a pretty over the shoulder bag for evenings out or dinners.
What clothes to pack for Egypt
As Egypt is a hot, conservative country, you'll need lots of light and breathable clothing that can cover you up. Here are some packing suggestions based on what I took;
4 t-shirts – made of cotton, with sleeves and without these can be paired with a maxi skirt or trousers
4 jumpsuits – Jumpsuits were my ultimate conservative country weapon. Conservative but come in loads of colours!
3 maxi dresses – if they're sleeveless bring shawls to cover, if low cleavage bring safety pins!
1 short dress – I wore this on it's own Hurghada/Sharm El Shiekh but paired with leggings if not.
2 kominos – these are like shawls to wear over strappy dresses or tops.
2 pairs of trousers – Make sure these are breathable, in winter a lot of people wear jeans but these are heavy and take up space!
2 pairs of leggings – I love to use these under short dresses to cover up my legs
14 pairs of knickers – lol I know, but I hate washing so often so I brought at lot
A couple of bralettes – I hate wearing wired bras, especially in heat. I bought some from Urban Outfitters.
3 pairs of socks – I brought trainers but only wore them once the whole time so a waste of space lol. But a top tip is to tuck these into your shoes to save space.
1 nightie and 2 pairs of pyjamas – lol, I love my PJs haha. Even when travelling, so for me it's a must. Hey, I was travelling for 6 weeks!
2 swimsuits – For hotel pools, the hot tub on the cruise and the resorts in Hurghada.
2 pashminas – I like to have a choice. One colourful, one black! These are a lifesaver.
1 cardigan/jacket – I brought one light cardigan with me to Egypt, what was I thinking?! I regretted it instantly with the cool breezes in the evening. I'd suggest packing a light fleece for winter months.
1 dirty clothes bag – to separate things needing a wash.

What shoes to wear in Egypt
Some people will suggest closed-toe shoes, but I was fine in my Birkenstocks the whole time. They're comfy, breathable and I'd rather have dirty sandy feet over being sweaty and get blisters!
That being said, the floors in Egypt are really dirty, so if you would freak out about having dirty feet all day I'd go for light breathable trainers or closed-toe shoes.
Make sure these are comfy and easy to walk in, a lot of temples are thousands of years old and have stood the test of time. So, they have uneven surfaces.
Comfortable sandals – I always wear Birkenstocks when I travel. I just find them so comfy! They're perfect for hot countries as they breathe but also have a thick sole around them to help protect your feet from dirt. They're also stylish and go with any outfit.
Sports sandals – When I first went backpacking I brought a pair of Teva's. These are washable and are secured on your feet with velcro straps. These are great sports sandals for travelling and have made a comeback with being fashionable!
Close toe shoes – If you're going to go with this option there's plenty of choice. I hate the look of close toe sandals (sorry guys!). The Dr. Martens ones are pretty cool, pity they'll take a decade to break in. Alternatively, Sketchers are a great choice, they're super comfy and breathable.
What toiletries and beauty products to bring for Egypt
Your makeup – I always bring mine, plus my Double Wear foundation has SPF in it. But, I have to admit having waterproof mascara and eyeliner helps with the heat. You don't want to be Alice Cooper!
Lip balm – it's so dry and it's easy to become dehydrated. I always like Burt's Bees.
Hand Sanitiser – A must. You really don't know what you're touching!
Tissues – For toilet situations, your brow etc.
Tampons or Diva cup – Tampons are not widely sold here, so stock up. Bathrooms are quite dirty, so the diva cup may be a bit risky.
Toothbrush – I love my new Oral-B electronic toothbrush. It's rose gold and has a nifty travel case. But I also have these Eco friendly Bamboo brushes.
Toothpaste and Mouthwash – All the big brands can be found here too if you run out!
Suncream – It's expensive in Egypt and you don't want to be scammed. Buy some before.
Aftersun – it's so easy to burn here!
Deodrant – you will not believe how much you sweat here! One word; dripping!
Moisturiser – your skin can get so easily dry from the climate.
Shampoo & conditioner – most hotels provide them but my hair is fussy. Also conditioner is a lifesaver for the dry heat.
Shaver – I love Venus' snap travel size one, it comes with a nifty case for travel!
Hair ties – Nice to let that neck breath
Brush – I love a detangler like Tangle Teezer, perfect travel size and great for keeping your mane at bay.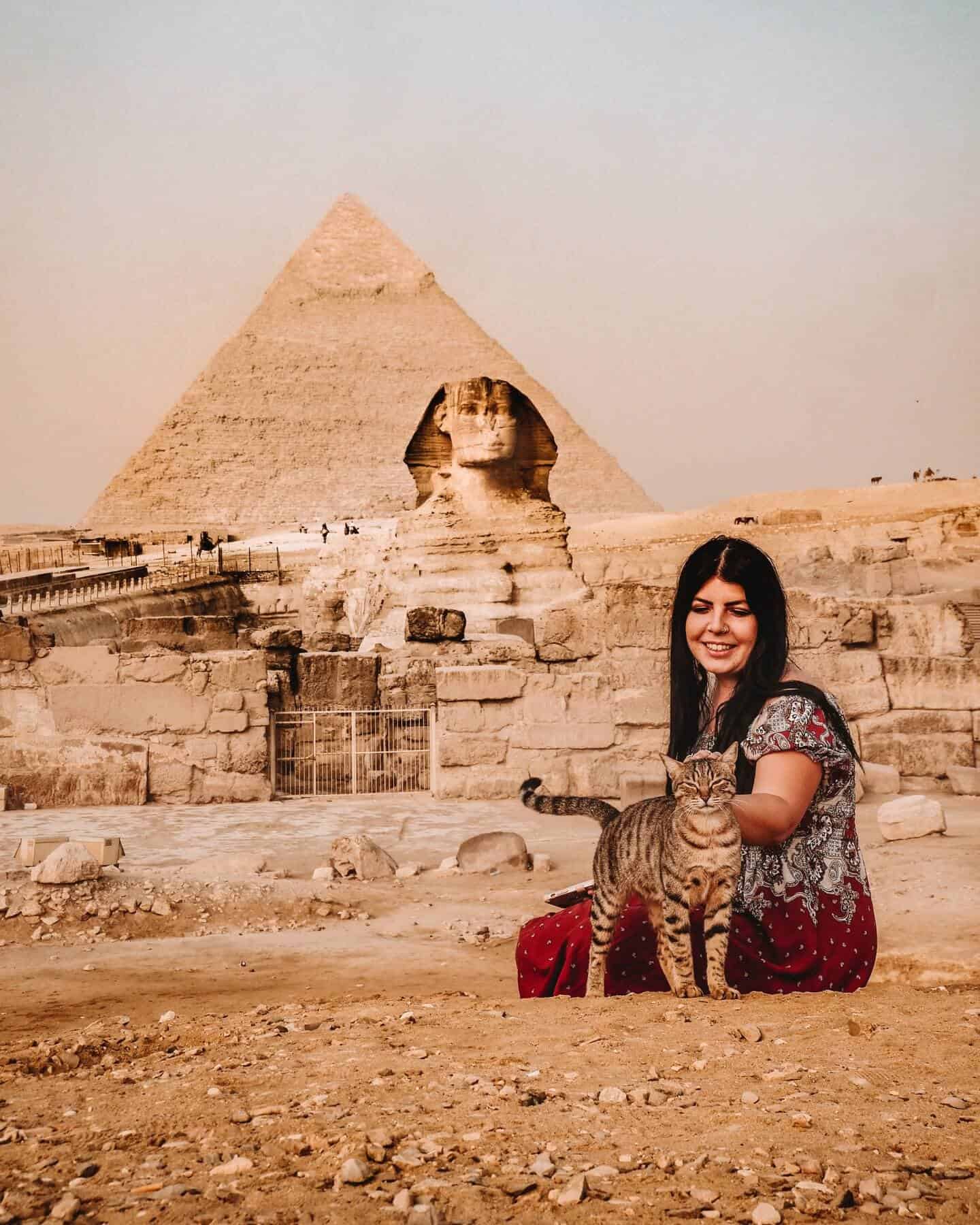 What should be in your medical kit for Egypt
I'll only be touching on over the counter, non-prescription meds you can bring with you for your 'first aid kit' here. Of course, there are numerous pharmacies over Egypt, but it's always worth bringing some of your own just in case.
Always have a doctors note from your GP for bringing prescribed medications into Egypt, check before you go as some have restrictions (i.e. Methadone) which could mean you face jail time.
Imodium – vital to have on hand in case of any unfortunate events!
Paracetamol/Ibuprofen – These are fine, but codeine is not. Always check with your GP first.
Cough sweets – I always bring these on every trip now. In Egypt I had a terrible chest infection and coughed a lot due to the sand and dryness everywhere.
Plasters – For blisters, or for any cuts. It can be dirty and you don't want them to become infected.
Mosquito repellent – I was bitten A LOT in Egypt. Not just by mosquitos. Sandflies, ants and even a camel I rode had fleas! Bring mosquito spray or patches or bands and apply daily.
DO NOT forget travel insurance for Egypt
I always choose World Nomad's as their standard plans cover most adventure activities (i.e. Camel rides)
Don't forget your electronics
Camera – Pics or it didn't happen!
iPhone with an Otterbox case for complete phone protection
Power bank – My Anker powerbank can do up to four phone charges!
iPod – Perfect for travelling long distances
Headphones – I always go for over ear instead of in ear.
Adaptor – this global adapter works wonders and works in Egypt!
Other items to consider
A Mummy Liner – perfect for when travelling on the cheap, in hostels or on trains. Bed bugs are real guys! This makes me feel a little cleaner.
Sleeping Mask – Perfect for overnight travel and hostel situations.
Ear Plugs – Most of the cities (especially Cairo/Giza) arenoisy.These are perfect and healthy for your ears.
TSA Luggage Locks – These aren't always necessary but as I carry a lot of expensive electronics it gave me peace of mind. I keep one on my daypack.
Trtl Travel Pillow – Perfect for the plane journey, train travel and long bus journey's. Weighs nothing and packs up small. This is my favourite travel pillow and I wrote a post about it here.
Microfibre towel – Most hotels will have towels but if you're backpacking in budget places, I'd get one of these over a bulky fluffy towel!
What not to pack for Egypt
Shorts – If you're only heading to Hurghada/Sharm El Sheikh take them. But, I wouldn't for the rest of Egypt. Over the knee capri's are fine however
Short skirts/ dresses – will attract unwanted attention. Alternatively, pair these up with a shawl, scarf, or leggings
Jeans – In summer it's fatal. In winter these could be okay but they're always so bulky.
A hairdryer – The air is as hot as a hairdryer and most hotels have them!
Your drone – If you have one. They're illegal in Egypt, will be confiscated at security and if you're caught comes with a hefty fine. Although I did see one flying at a wedding in the Mena House in Cairo lol.
So, that ends the ultimate women's packing list for Egypt!
Well done if you made it this far!
Now, depending on what type of traveller you are, you may think that it's far too much or not enough. That's cool, tailor it to the length of your trip and bring what you're comfortable with.
Egypt is one of the most fascinating countries I've ever visited in my life and was happy I came prepared for all eventualities. You just never know when you may need something.
Make sure you get organised for your trip – it will be one wild ride!
So, over to you. Have I missed anything? What are the most important things you like to pack on your trips? Let me know in the comment below.
Read more of my Egypt articles
My perfect 2 week Egypt Itinerary
The most Instagrammable places in Egypt
My guide to the Valley of the Kings
The ultimate 4-day Nile Cruise
Top places to visit in Luxor at night
The perfect guide for Abu Simbel
My survival guide for the pyramids
Why you NEED to visit Alexandria
Top tips for riding a hot air balloon in Luxor
Like it? Pin it!