Did you know that one of the most beautiful buildings you can visit in Vienna is not only a hidden gem but also completely free?
It's called the Palace of Justice Vienna or Wien Justizpalast and it's an opulent courthouse that's located near Rathaus and the Museum Quarter.
Although you do have to go through security checks to visit, it's well worth the effort as the architecture in this beautiful building will leave you breathless.
Here is how to visit one of the best free things to do in Vienna; Justizpalast Wien!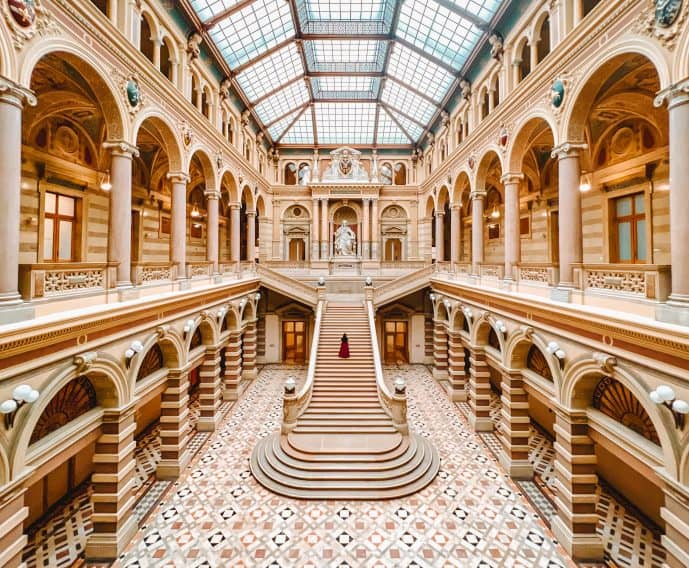 Palace of Justice Vienna history
Justizpalast Vienna was built by Alexander Wielemans von Monteforte in the late 19th century for the city after the old fortifications had been dismantled.
It opened in 1881 and Emperor Franz Josef himself attended the inauguration. He was greatly impressed by the architecture and congratulated Monteforte on his achievement.
You can find the foundation stone on the bottom floor of the palace that commemorates this moment.
Unfortunately, this pristine palace wouldn't stay this way for long and it was a target during the Austrian July Revolt of 1927.
The left-wing socialist group, 'Republikanischer Schutzbund', held a demonstration in Schattendorf on the same day that the right-wing military group 'Front Fighters Association of German Austria' held a meeting there.
Both groups eventually met at the train station and a fight broke out. But, it turned ugly and during the crossfire, a war veteran and an eight-year-old boy were killed.
The three front fighters who killed them were arrested and tried here at the Justizpalast in Vienna. But, they pleaded self-defence (?!) and were quickly acquitted without any consequences.
This sparked violent protests and riots across the city. Several rioters managed to enter the Palace of Justice, destroying furniture and important files. Eventually, it escalated and they set the building on fire.
Although firefighters reached the scene in good time, they were attacked for trying to put the fires out and their hoses were cut. So, the blaze spread, and the building was entirely engulfed in flames.
The palace had to be restored in 1929 and took three years to rebuild. It was constructed in the historic style by two architects Heinrich Reid and Alfred Keller.
It has had several renovations made over time but today remains the supreme courthouse for Vienna where legal proceedings take place.
Despite it being a government building, it is open to the public to visit without a guided tour.
How to visit Justizpalast Vienna
One of the best parts about the Vienna Justizpalast is it's completely FREE to visit. It's also a great way to escape the endless crowds as it's a bit of a hidden gem.
You will find Justizpalast in the Innere Stadt (first district) and it's near Rathaus, Parlament, Hofburg Palace, and Maria-Theresien-Platz.
Vienna is easy to explore on foot but you can also use public transport to arrive here.
The nearest Underground station is Volkstheater on U3 (orange). Or, you can use tram 46 to alight at Schmerlingplatz.
Just be aware that, although visiting is free, you will be security checked before going inside. More on this below…
Justizpalast Vienna address is Schmerlingplatz. Click here for a Google Pin!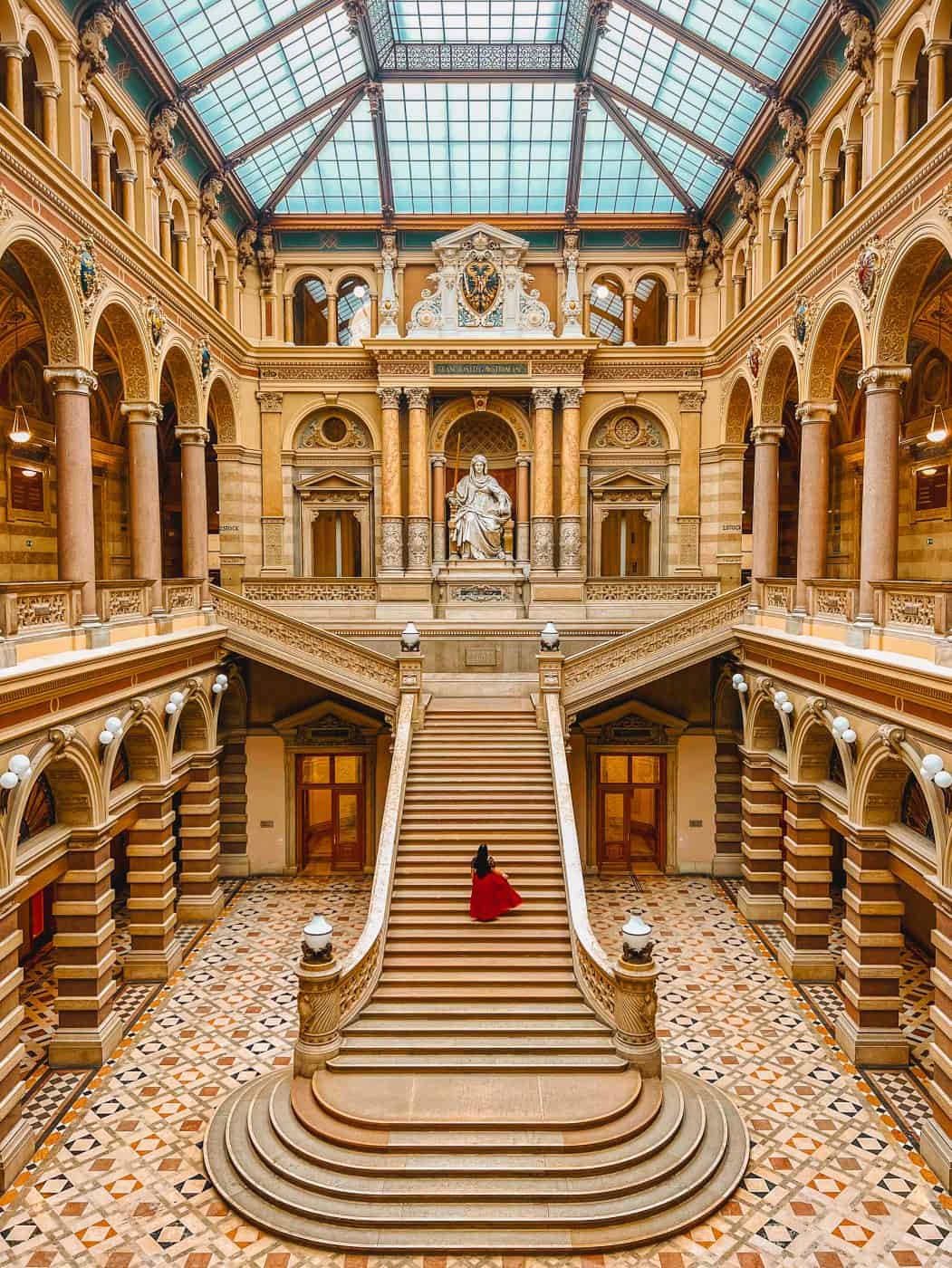 Justizpalast Vienna security checks
As I have been to the Justizpalast in Munich, I was prepared for the fact that I would be security checked to go inside.
But, I have to admit that the Vienna Palace of Justice does things a little differently.
Don't get me wrong, the security guard was so friendly and kind. He was smiling as he checked through my bag for anything unsavoury and then took my tripod for safekeeping while I was inside.
But, the next thing I knew I was asked to stand inside a Willy Wonka-style glass tube!
As I am claustrophobic, I was a little dubious about stepping inside anyway. But, whilst I was in the tube all I kept thinking was what if I had something on me that would set the alarms off?
Would the tube shut down? Would chocolate start filling the tube? Would I be whisked away like Augustus Gloop to be with the Oompa-Loompas in the chocolate factory forevermore?
Anyway, 30 long painful spiralling seconds later I was free of the tube and allowed inside the building. Phew…
Note: you have to stand in the tube both on the way in and out of the building to leave. It's a little weird but I guess it's better than being rub-down searched.
Exploring the Vienna Justizpalast
As soon as I stepped inside the Justizpalast I was blown away by the sheer size of the great hall.
If you look up the steps you can see a statue of Lady Justice looking down on you. She's holding a sword that is to serve as a reminder that justice is swift and final.
The skylight on the ceiling bathed the room in a beautiful light and really made the marble columns and tiled floors pop.
It's one of those rooms that has such a weight that you feel like you have to whisper when you're inside.
Although it's intimidating at first. As far as I am aware, you're allowed free reign to explore the building in the corridors and hallways. You're just not allowed to go inside any of the rooms.
So, it was really fun to be able to explore and capture all the amazing details hidden away in the architecture.
If you take the stairs to the upper floor, you'll find these fabulous vaulted ceilings with marble columns and intricate paintings.
Plus, on the bottom floor, there were many plaques commemorating the building and significant events.
Justiz-Café on the top floor
So, I didn't have time to visit this but there is a staff canteen that you can relax in on the top floor of the building!
It's called the Justiz-Café and it's available for both staff and members of the public to visit.
As it's on the top floor you can enjoy wonderful views from their rooftop terrace. You can see Rathaus and many other famous landmarks whilst sipping on a discounted coffee.
Justizpalast photography
So, lots of people like to visit the Palace of Justice Vienna for photography and it is an incredible photography location. Everywhere you look has this perfect Wes Anderson vibe.
In my personal opinion, the best viewpoints of this wonderful courthouse would be from the upper floors. That way you can look down at the staircase and Lady Justice.
Just remember not to capture any of the staff. It is a place of work for them and I'm sure they won't appreciate being on your Reels or TikTok's.
Palace of Justice Vienna opening times
As the Justizpalast is a government building, you can only visit from Mondays to Fridays. You can visit anytime from 7.30 am – 3.30 pm.
I would personally visit earlier rather than later to avoid crowds. Although it's an early wake-up call at least there is a stylish café on the top floor to get a caffeine fix.
My top tips for visiting Vienna's Palace of Justice
You will be security checked – your bag will be checked and you will pass through a rather intense security check to go inside. It may be obvious but don't bring anything to the Palace of Justice that would prevent going inside.
Visit early – as Justizpalast is a place of work, I would visit as soon as they open at 7.30 a.m. for the best chance of capturing this building without people.
Tripods are not allowed – the security guard took my tripod for safekeeping whilst I was visiting. Luckily, there was a lovely couple also taking photos who helped me get these gorgeous photos.
Remember this is a courthouse – as I was here, several police officers were escorting a man under arrest upstairs. A humble reminder that this is a building of legal proceedings not just a pretty Instagram location. So, make sure to remember where you are and don't do anything that would be considered disrespectful while visiting.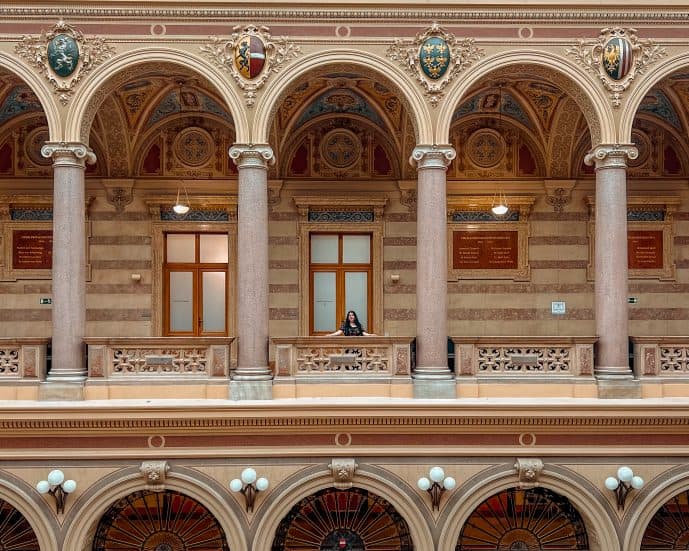 Where to next in Vienna?
After you've finished marvelling at the incredible Palace of Justice Vienna, there are plenty more attractions that you can visit nearby in the city.
Here are some of my top recommendations;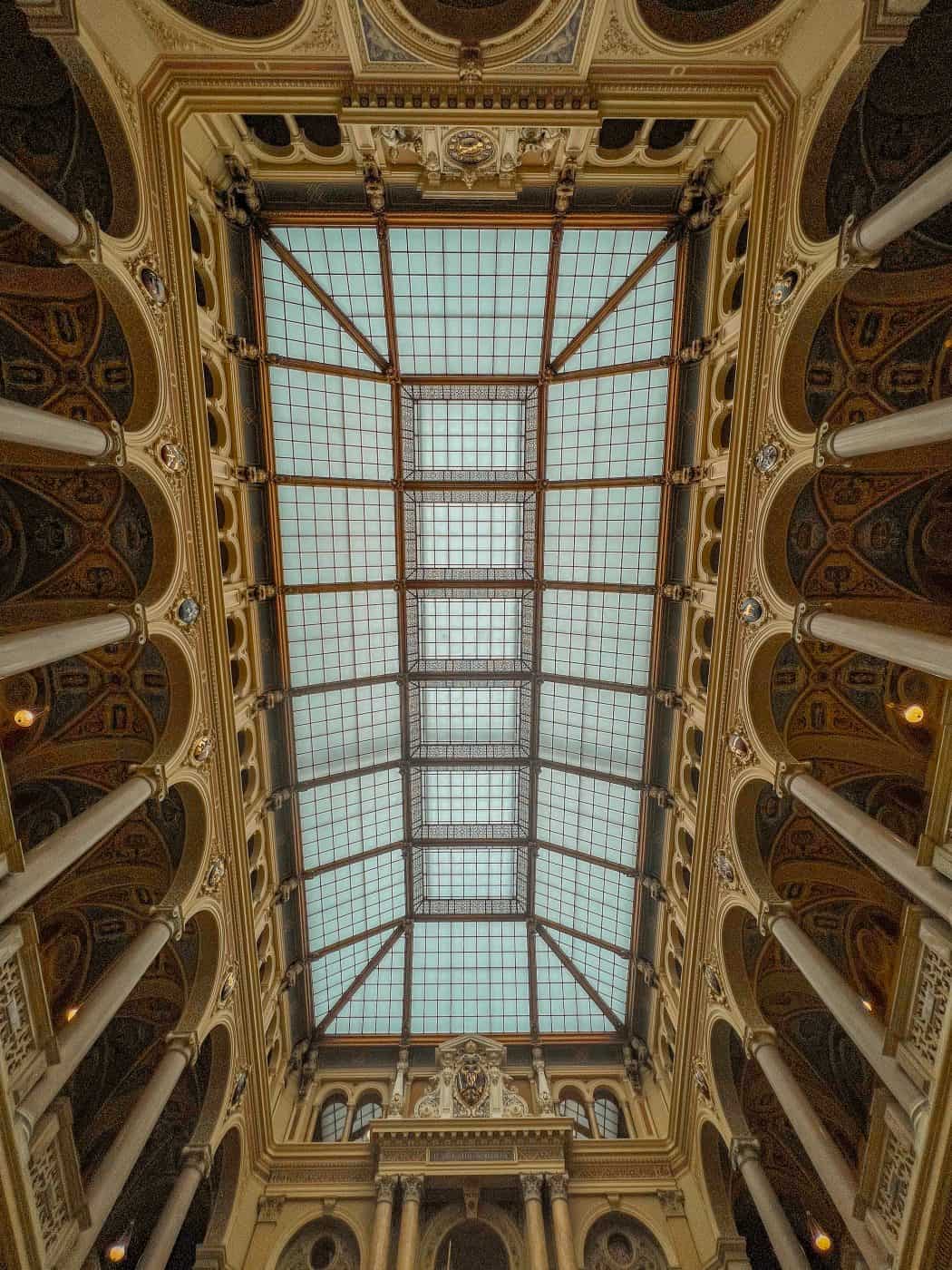 Parlament – Vienna Parliament Building
I guess you can't really have a courthouse without a parliament building and Vienna's house of parliament is spectacular.
It was constructed in 1874 to house the two main chambers of the Imperial Court for both the Austrian and Austro-Hungarian Empire.
It was built in a Greek Revival style and looks like an ancient temple that belongs on Mount Olympus.
In front, you will find a statue of Athena, the Goddess of Wisdom, on the Pallas Athena fountain.
At her feet are four statues that represent the four main rivers of the Austo-Hungarian Empire; the Danube, Inn, Elbe, and Vltava.
Admiring this building from the outside is an attraction in itself but you can actually book a free tour to take a look inside. These are held from Monday – Friday and in many different languages.
You can book tours of the Wien Parlament online and it's recommended to do so in advance.
Rathaus
Vienna's Parliament building is surrounded by greenery and I would recommend heading over to the Rathaus aka Vienna City Hall.
The huge Neo-Gothic building dominates the city skyline and, at one point in 1892, it was the tallest building in the world.
Nearly all the main city events take place in Rathausplatz such as concerts, film festivals, open-air cinema and the all-important Vienna Christmas Markets.
If you fancy going inside the building you can take a free guided tour on Monday, Wednesday, and Friday at 1 p.m. but these are only held in German.
You will need to meet a representative outside for a 'counting card' at 8 a.m to register. A maximum of 50 people can attend per day and you cannot reserve online.
Maria-Theresien-Platz
Maria-Theresien-Platz is right next to the Justizpalast and is within the Wien museum's quarter.
There are many historic buildings here that used to be Habsburg Palaces that have now been converted into attractions.
The main ones are the Natural History Museum and the Kunsthistoriches Museum. I visited both and personally, I preferred the latter.
It had some beautiful exhibits from ancient Greek, Roman, and Egyptian history plus some inspiring art galleries.
One of my favourite parts was the fact that they have a stunning café on the first floor. It's a great place to take a break from the displays with a delicious coffee.
Beyond the informative exhibits, the architecture of these buildings is worth visiting for alone. Your jaw will drop at the marble columns, vaulted ceilings, and sheer opulence.
Unlike other cities in Europe, Vienna museums are not free and don't have free open days. Most of the main attractions have hefty price tags and they all quickly add up.
I would personally consider purchasing a Vienna pass which will save you some serious money.
Hofburg Palace
If would make sure you visit the Hofburg Palace in Vienna. It's one of the largest palaces in Europe and used to be home to the Habsburg Dynasty.
As opposed to the palace being one big museum, it's actually split up and contains many separate attractions.
You could visit the Sisi Museum, the Spanish Riding School, and The Imperial Treasury.
There is also the very impressive National Library of Austria which was one of my favourite places I visited. It can get quite busy so I would visit for opening time or closing time to enjoy a quieter visit.
Even if you don't visit the museums, you can still visit the outer courtyards and grounds for free (open 24 hours) and they are definitely worth checking out as the architecture is spectacular.
Read more of my Austria travel guides
Is Café Central Vienna worth visiting?
Magical Austrian National Library in Vienna
How to visit Admont Abbey Library
Café Sacher Vienna review – trying the famous Original Sachertorte
Save how to visit the Palace of Justice Vienna for later!