Palau de la Musica Catalana in Barcelona is considered to be one of the most beautiful concert halls in the world.
It was constructed in the Modernist Catalan style by Lluis Domenech I Montaner and became a driving force of the Catalan cultural movement in its strive for identity and independence from Spain.
It has since gained UNESCO World Heritage Status and it's a must-visit attraction in Barcelona.
This music hall has been on my bucket list for years and I was so happy I got to visit. The details are breathtaking and there is so much to see on a tour.
Here is why & how to visit Palau de la Música Catalana Barcelona including the highlights and my top tips!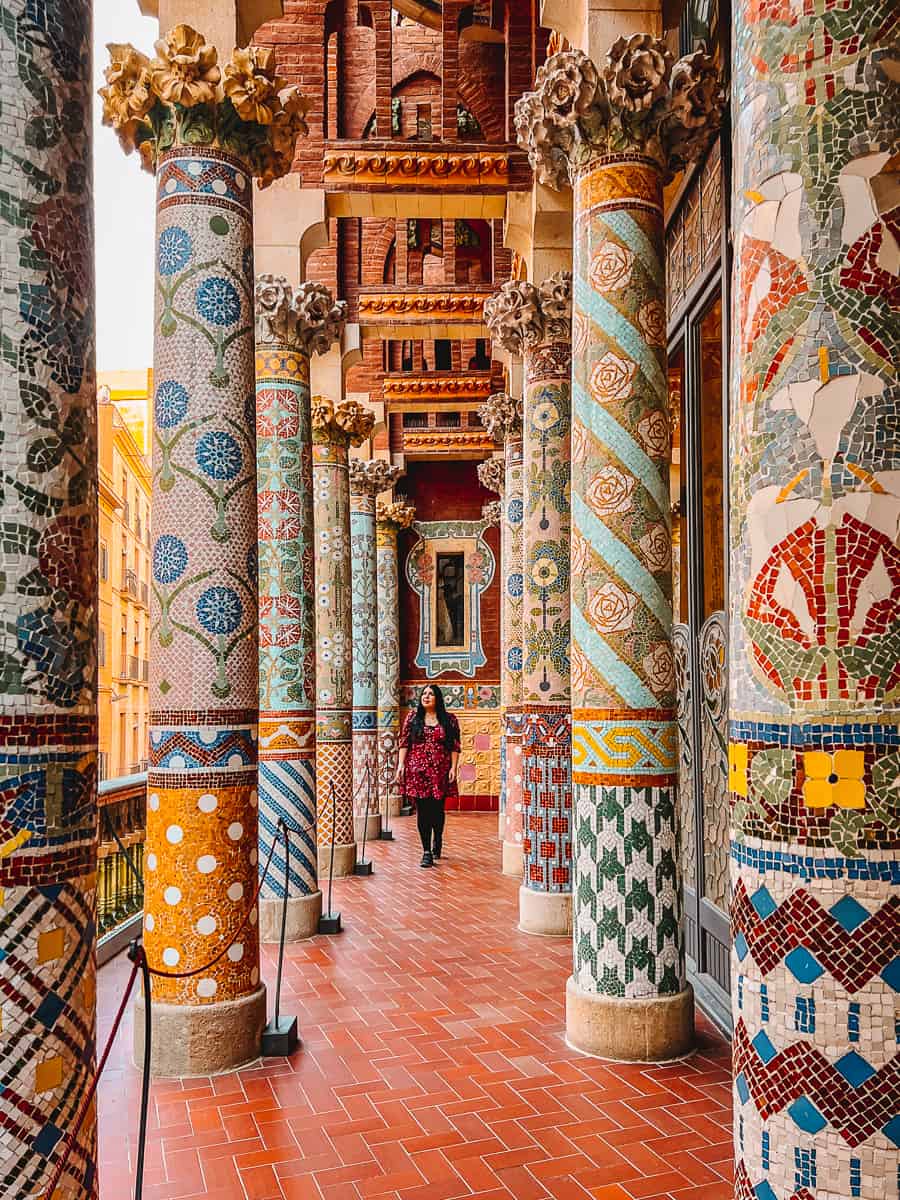 Palau de la Música Catalana history
The Palau de la Musica Catalana was built between 1905 and 1908 by the modernist architect Lluis Domenech I Montaner.
He designed it as a home for the Orfeó Català, a Barcelona choral society which was founded in 1891 by Lluís Millet and Amadeu Vives.
The funding for the building was by public subscription by the people of Barcelona and it was constructed in the affluent Sant Pere district.
Designed like a music box in Catalan Art Nouveau, the building is the perfect blend of sculptures, mosaic tiles, stained glass and ironwork.
It's often referred to as the most beautiful concert hall in the world and in 1997 it was awarded a UNESCO World Heritage Status.
This choral society and concert hall was a big part of establishing the Catalan cultural identity and independence. Catalan Modernism was a movement to separate the region from the rest of Spain.
The Palau de la Musica is also the only concert venue to be listed as a UNESCO World Heritage Site.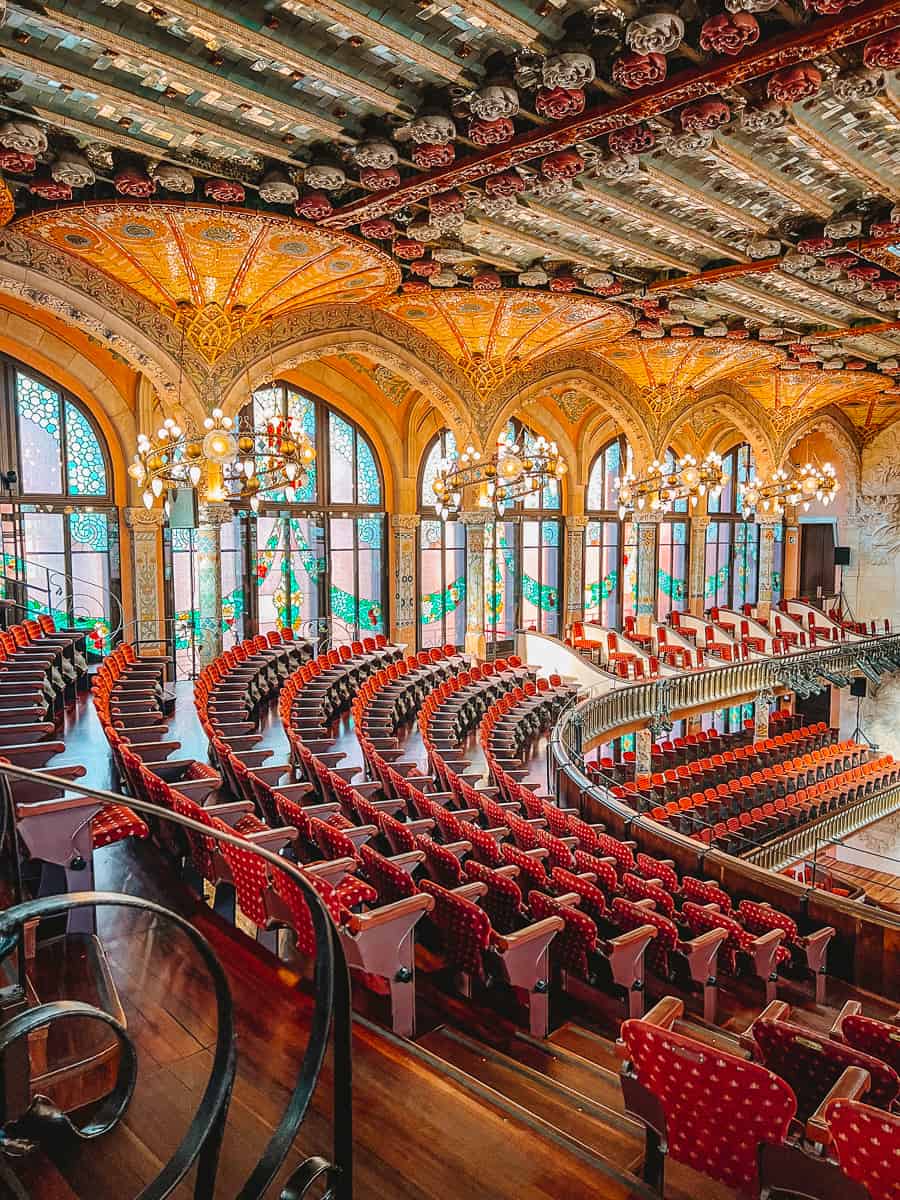 Can you visit Palau de la Música Catalana?
Yes, if you were a fan of gorgeous architecture and wanted to visit the Palau de la Musica Catalana in Barcelona you can do so as it's open to the public.
As well as eating in their restaurants and watching performances in the concert auditorium you can explore this incredible building on a guided tour during the day.
You can either visit with a tour guide or book a self-guided ticket with the option of a downloadable audio guide!
Visiting the Palau de la Música Catalana is something I would highly recommend doing in Barcelona as the architecture is breathtaking.
You can also get some amazing photo opportunities here too in the auditorium and on the terrace balcony.
Things to see in Palau de la Música Catalana
Personally, I booked a self-guided tour of the Palau de la Musica and I loved having the freedom to go at my own pace.
This way you can spend as much time as you want admiring intricate details and taking lots of photos!
Here are all the things you can see inside Palau de la Música Catalana on a tour.
1. Palau Foyer & Café Palau
As soon as you enter the Palau de la Música Catalana, you will be impressed by the architecture in the Palau Foyer.
Even if you didn't want to go on a guided tour, you can step inside the building to have a look around on this level for free.
You'll find vaulted ceilings, chandeliers, brickwork and tiled patterns. I loved that the stained glass windows had lots of flowers.
It feels like you're surrounded by nature as a big part of Catalan Modernism was to bring the outside elements inside!
On this floor, you can also enter the Café Palau. This is a great place to have coffee, wine or some tapas throughout the day. Or, treat yourself to some pre-theatre dining!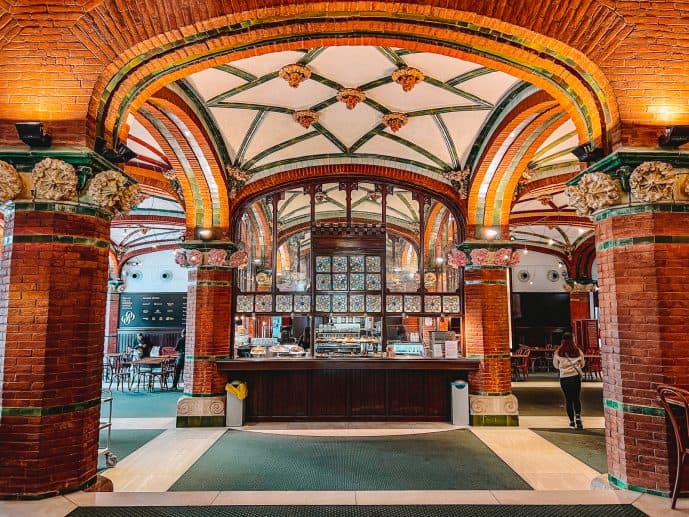 2. Grand Staircase
To start your tour, or to watch a show, you'll head up the Lluís Millet Grand Staircase which is an attractive feature in itself.
The entire thing is made of ornately carved marble and you'll find lots of vintage lamps that light the way.
Don't forget to look up at the sparking tiled ceiling. Again, you'll find colourful stained glass windows reflecting colourful flowers and nature.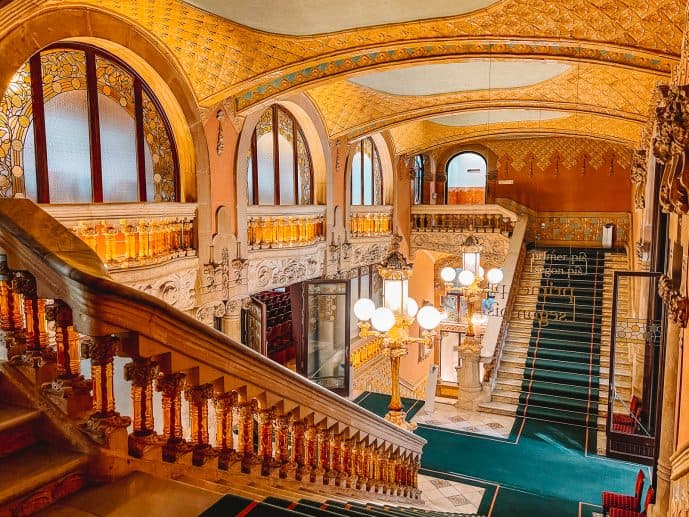 3. Lluís Millet Hall
Once you reach the first floor, you'll arrive at the Lluis Millet Hall which is a waiting area for the audience before they enter the concert hall.
Lluis Millet was a famous Catalonian composer and one of the co-founders of the Orfeó Catala, that's why this room is dedicated to him.
It's a huge space with a sweeping marble floor and stained glass windows lining the walls. Each window has colourful patterns of flowers and roses.
There are over 2000 roses factored into the building. The rose is a symbol of St George, the Patron Saint of Catalonia.
There is a famous Catalonian legend where he slays a dragon and lots of buildings tell this story in Barcelona. The most famous is Casa Batllo aka the 'House of Bones'.
You'll notice a large Catalan modernist chandelier in the centre and some bronze busts of famous and important people who have contributed to the Palau de la Musica.
4. Lluís Millet Balcony
One of the highlights of a tour around the Palau de la Música Catalana is the Lluis Millet Balcony or the terrace.
This is probably one of the places you have seen on Instagram and is a popular photography location in Barcelona.
The terrace has a series of double colonnades, covered in mosaic tiles in a rainbow of colours! Each one is differently designed with flowers and patterns.
This balcony does tend to get very crowded so if you want to take photos here I would book a tour on the first slot of the day!
5. The Concert Auditorium / Sala de Concerts
On the second floor, you will enter the beating heart of the Musical Palace called the Concert Auditorium or Sala de Concerts.
This is the most impressive room of the tour and you'll soon see why people call this the most beautiful concert hall in the world!
There are three floors to this impressive room and it can seat over 2,000 spectators. From the uppermost floor, you get a great perspective of the entire theatre and stage.
You'll find gorgeous vaulted ceilings, stained glass windows, the flag of St George and vintage lamps that light the space.
Palau de la Música Catalana is the only auditorium in Europe lit entirely by natural light during the day!
The entire room is lit by stained glass windows and a giant skylight which was formed into an inverted dome and designed by Antoni Rigalt.
All of the colours eventually centre into a red/orange/yellow pattern to represent the sun with an angel chorus surrounding it.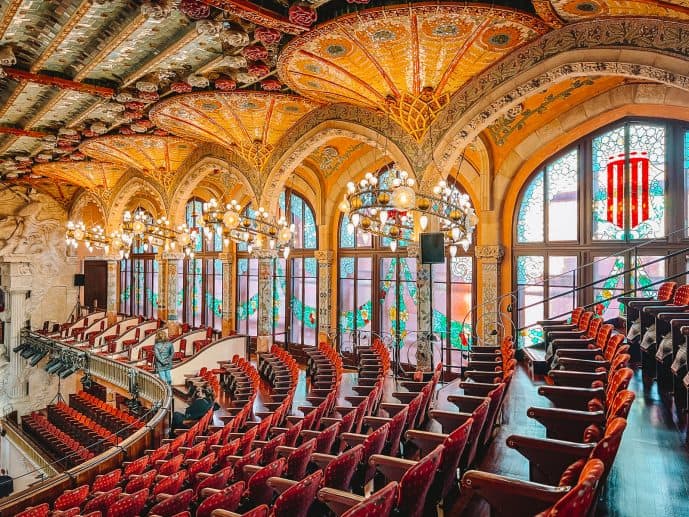 You'll notice Pegasus horses flying towards the audience. Plus, look out for a statue of Beethoven.
Above him, you'll see a hoard of Valkyrie riding horses in a gust of wind. This scene was inspired by Wagner's famous opera 'Die Walküre'!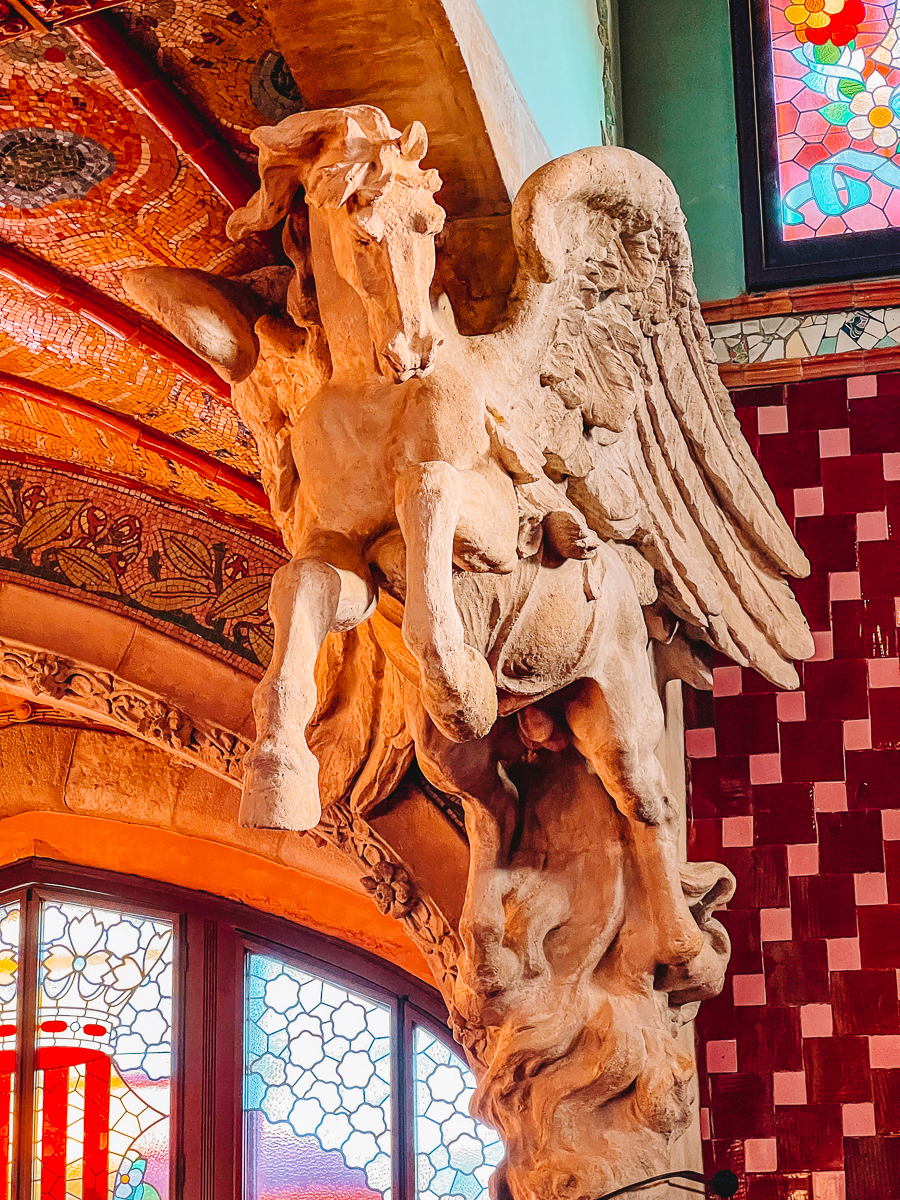 At the very back of the hall, you'll see The Grand Organ which was custom designed in 1906 by a German company called Walcker in Ludwigsburg. It has since been electrified.
There are also several stage muses found around the stage like the group of women singing the Catalan song "Les flors de maig".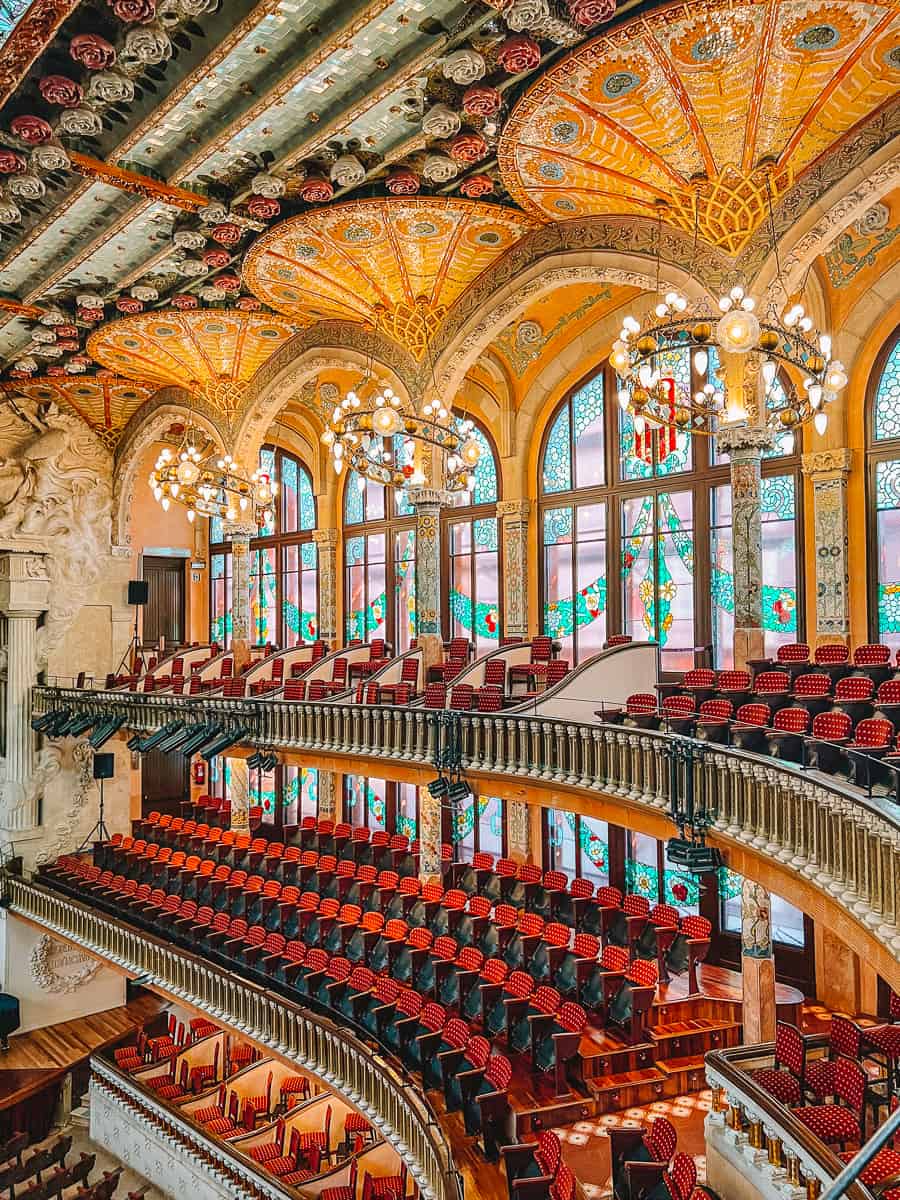 6. First-floor stage
Before you leave, don't forget to visit the bottom floor of the Palau de la Musica. Here, you can get a better view of the stage and its many muses.
On my visit, they were setting up for a performance, so we got to hear some music being played in the hall.
The acoustics here are immaculate and it sounded incredible even with just one instrument. I can't imagine how amazing a whole orchestra sounds in here!
If you have the time and the budget I would recommend booking a show.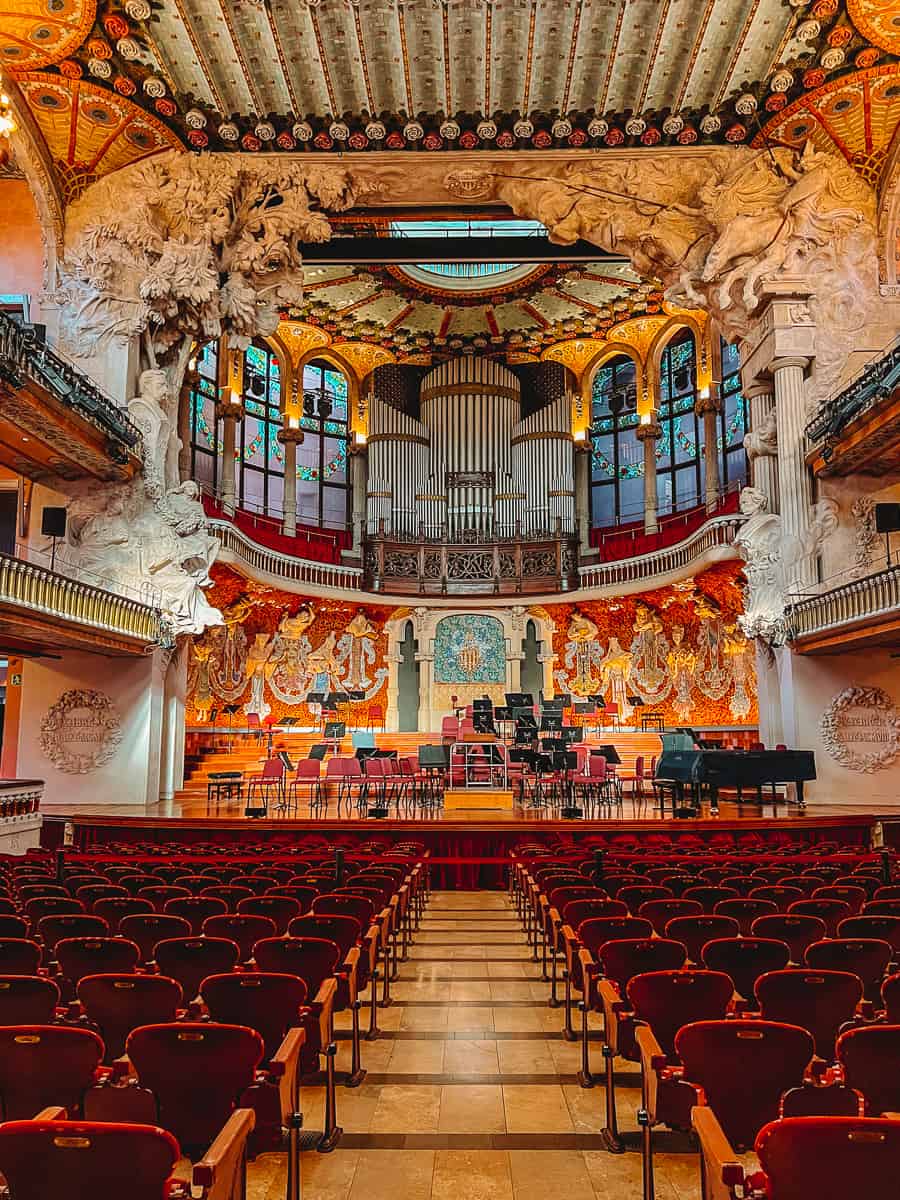 7. Palau Facade
Even admiring the outside of this gorgeous building is worth doing if you're on a budget!
The Palau Facade has many intricate details from when it was first built as well as modern features and sculptures.
It's located on a narrow street in the Gothic Quarter but the architecture has been designed to open up the space with archways and pillars.
You can see the Lluís Millet Balcony with the colourful tiles colonnades from the ground level.
There are also colourful mosaics of the Orfeó Català and statues like St George, the Patron Saint of Catalonia.
How to find Palau de la Música Catalana in Barcelona
The great thing about visiting Barcelona's Palau de la Musica is that it is centrally located in the city and you can walk to it very easily.
You will find it on a short walk from the Gothic Quarter of Barcelona. It will take roughly 6 minutes from Barcelona Cathedral.
Alternatively, it's around a 7-minute walk from Plaça de Catalunya near the very top of La Rambla.
If you were using the Barcelona Metro, the closest station would be Urquinaona. It's then a 3-minute walk to the theatre.
I would recommend a Hola Barcelona Card which gets you free public transport around the city!
Once you go inside, show security your tickets and queue in the foyer for your tour slot to begin.
Click here for a Google Pin to help you find Palau de la Música Catalana
Palau de la Música Catalana opening times & ticket prices
If you wanted to book self-guided tours of the Palau de la Musica Catalana, you can do this daily in Barcelona.
Tours run from 9 am – 3.30 pm and you can book a time slot in 30-minute intervals. Tickets are 16 euros an adult
If you were planning on visiting for photography, I would recommend visiting on a weekday and on the first slot of the day as the terrace and theatre can get very busy.
Guided tours run in different languages (Catalan, Spanish, French, English and Italian) a few times a day. These are 20 euros.
There is the option to book combined tickets to another UNESCO site called Sant Pau Recinte Modernista, an old Art Nouveau hospital.
This was one of my favourite attractions in Barcelona and was also designed by Lluís Domènech i Montaner.
Watch a performance at the Palau de la Música!
If you really wanted to experience Barcelona's Palau de la Música at its finest then you should book a ticket to watch a performance here.
Musical events take place throughout the year and it would be a fabulous opportunity to watch a musical show in this beautiful theatre and experience the acoustics!
You can take a look at their programme of events here and book tickets online for the shows. It's very easy to do.
My top tips for visiting Palau de la Música Catalana
Book tickets in advance – If you wanted to visit on a self-guided tour, I would book your tickets in advance. Timeslots do tend to sell out. There are guided tours available as well.
Book an early slot for a quieter visit – Try to visit on a weekday and be the first to visit in the morning if you can. The balcony and theatre do get very busy.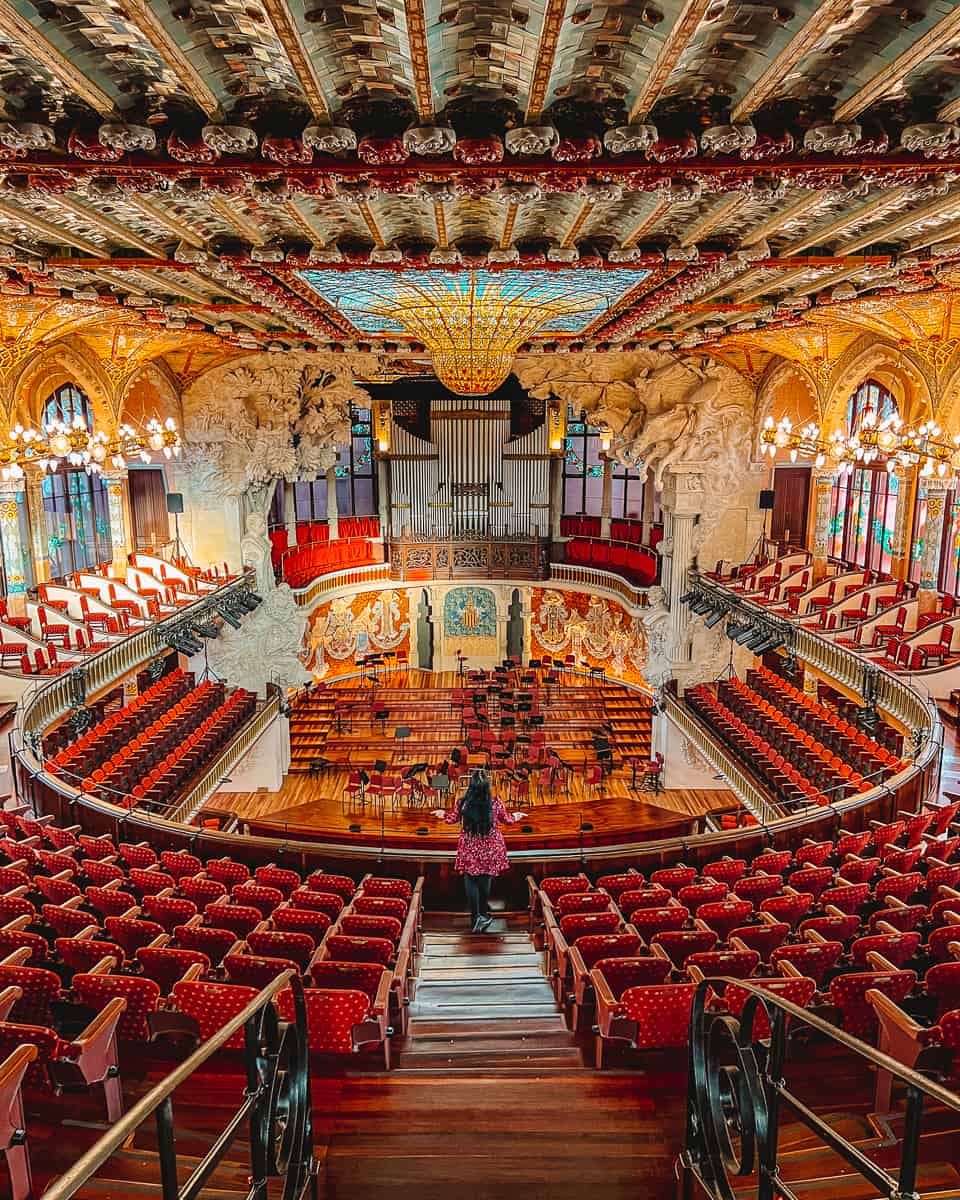 You will need around an hour – The tour lasts for around an hour but you can go at your own pace. If you're visiting self-guided you can spend as much time here as you like!
There is an audio guide on your phone – The Palau de la Musica will email you a link to your audio guide as part of your ticket. You can then use it on your phone with an activation code on the day. Remember to bring AirPods/headphones with you.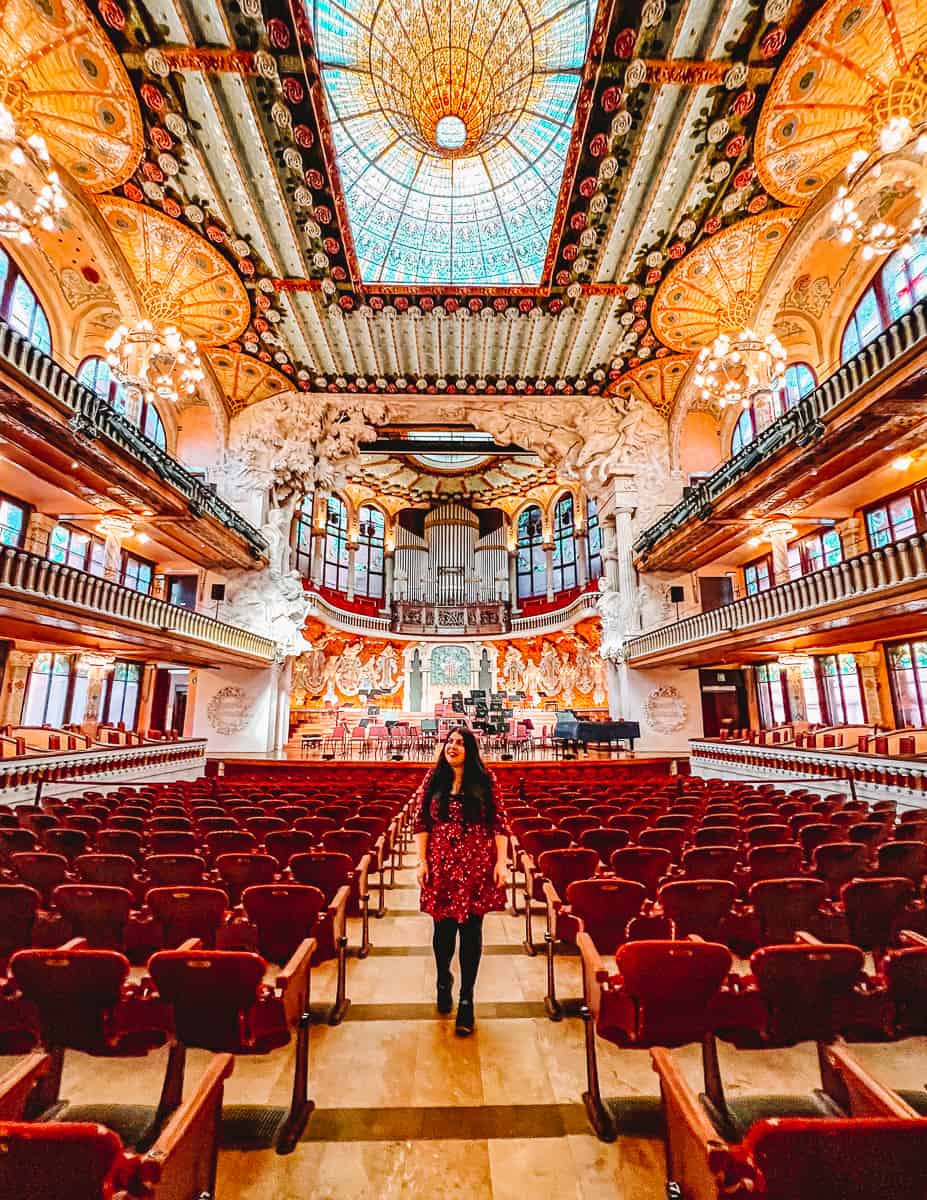 Visit the Sant Pau Recinte Modernista next
Did you know you can book a combined ticket to see another UNESCO World Heritage Site nearby?
The Sant Pau Recinte Modernista is an Art Nouveau hidden gem in Barcelona that used to be an old hospital in the city centre. It overlooks the Sagrada Familia on Avenue de Gaudi.
The architecture here looks like something from a fantasy world and you can visit the many beautiful wards, tiled pavilions and green spaces.
It isn't as busy as other UNESCO sites and you will be amazed at what this place has to offer!
Click here to read my guide on how to visit Sant Pau Recinte Modernista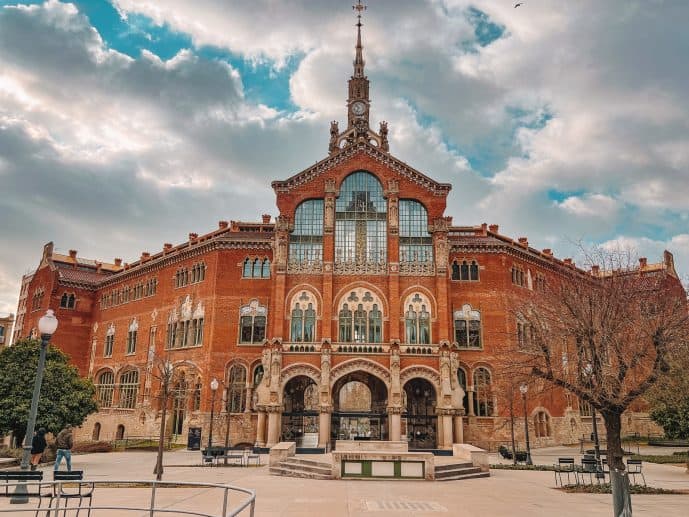 Looking for more amazing architecture in Barcelona?
If you're a fan of architecture, you're going to love the different Gaudi sites you can visit in Barcelona.
One of my favourite buildings is the Sagrada Familia, the largest unfinished Catholic Church in the world! It's almost finished but even now it's wonderful to see inside.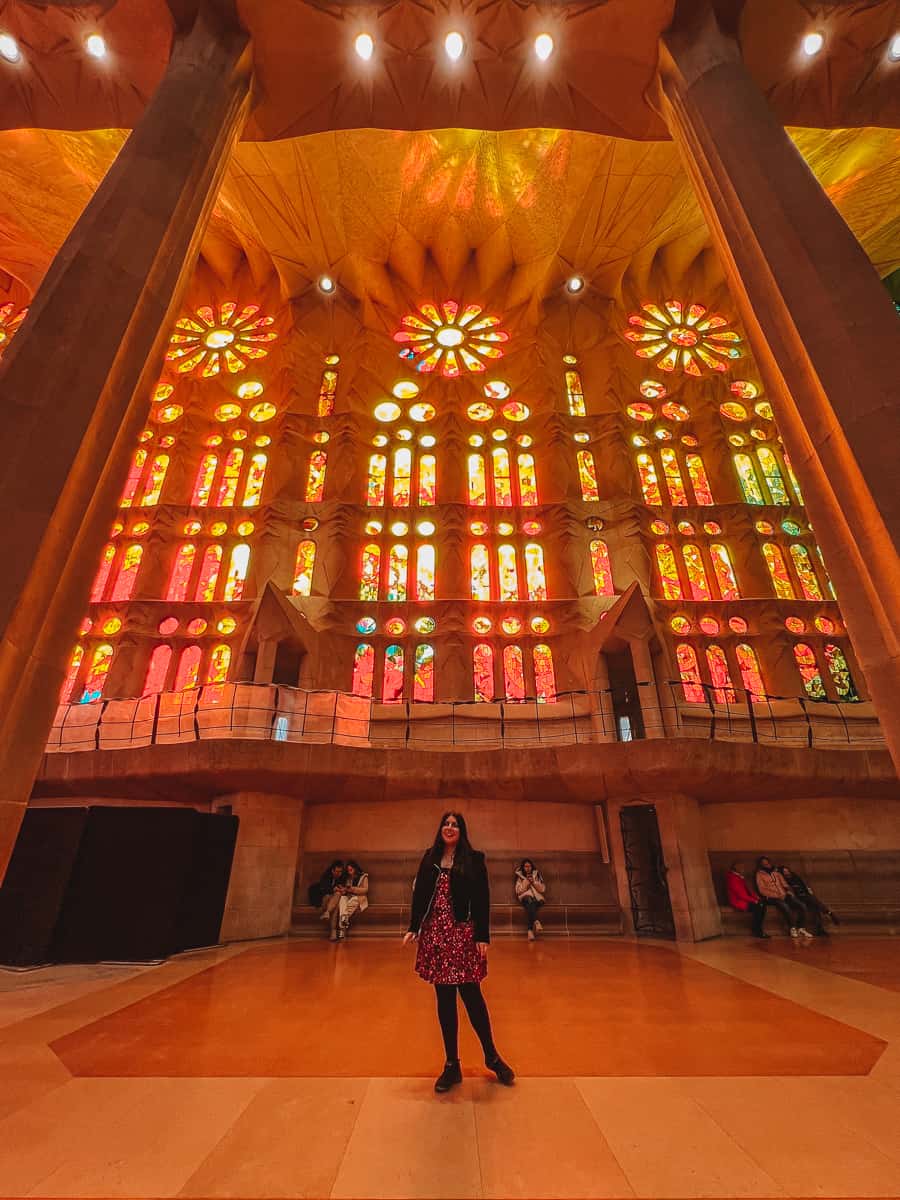 You can get lost in the many spires, colourful stained glass windows and ornate architecture. Or, climb some of the towers.
Casa Batllo is another one of Gaudi's masterpieces that will blow you away. Based on the Catalan legend of St George slaying the dragon, it's a colourful house that is nicknamed the House of Bones.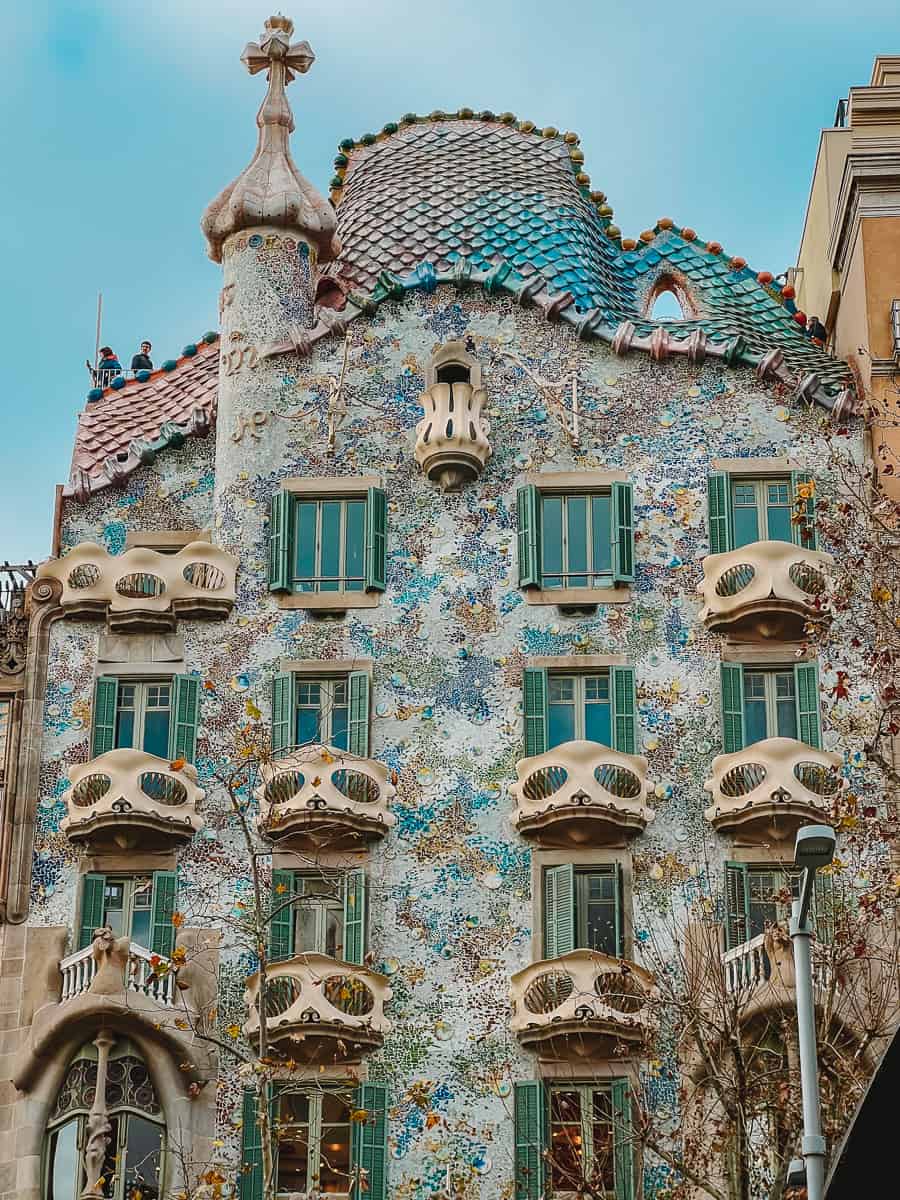 Casa Mila or Le Pedrera was one of Gaudi's least favourite sites by the Catalan Bourgeoisie but now is experiencing a renaissance in recent years.
Its undulating front houses many apartments and a museum you can explore.
I would recommend their 'sunrise tour' to beat the crowds and see the warrior rooftop in peace. Or, visit at night time to see a light show.
Casa Vicens was one of Gaudi's first projects and is a colourful modernist building that houses many intricate rooms and exhibitions about Gaudi's early years.
Finally, you can't leave Barcelona without visiting Park Güell. It's a hot mess with tourists but I would recommend visiting early to see the Serpentine balconies, Hypostyle Room and El Drac!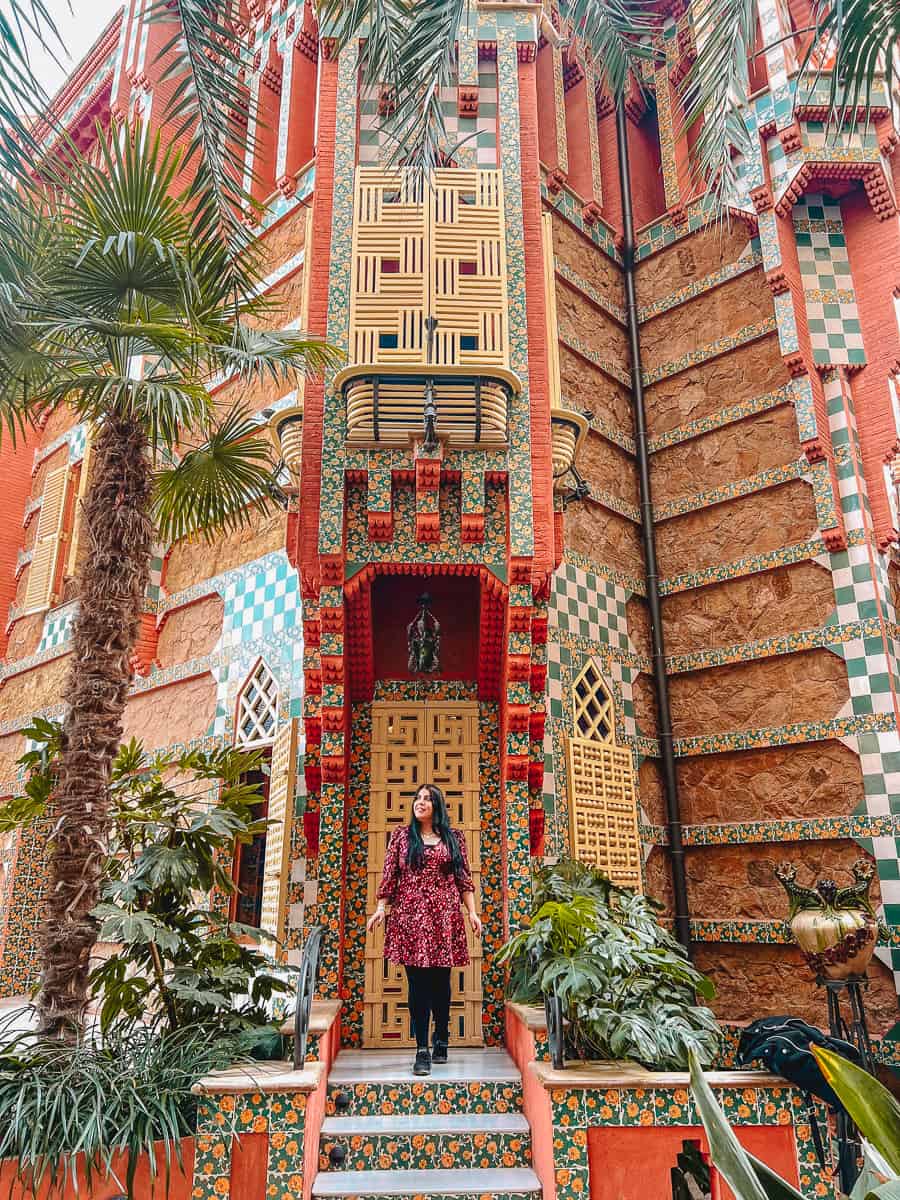 Where to stay in Barcelona
On my visit, I stayed in the magical Sercotel Rosellón which was located right beside the Sagrada Familia and had one of the best views of the city.
Not only do most of the rooms face the Sagrada but they have an incredible rooftop terrace where you can sip a drink and enjoy tapas with this breathtaking view as well.
The rooms were very clean and comfortable and it was close to most of the city centre attractions.
Also, the metro was just a minute's walk away which links you with the rest of Barcelona!
Click here to book your stay at Sercotel Rosellón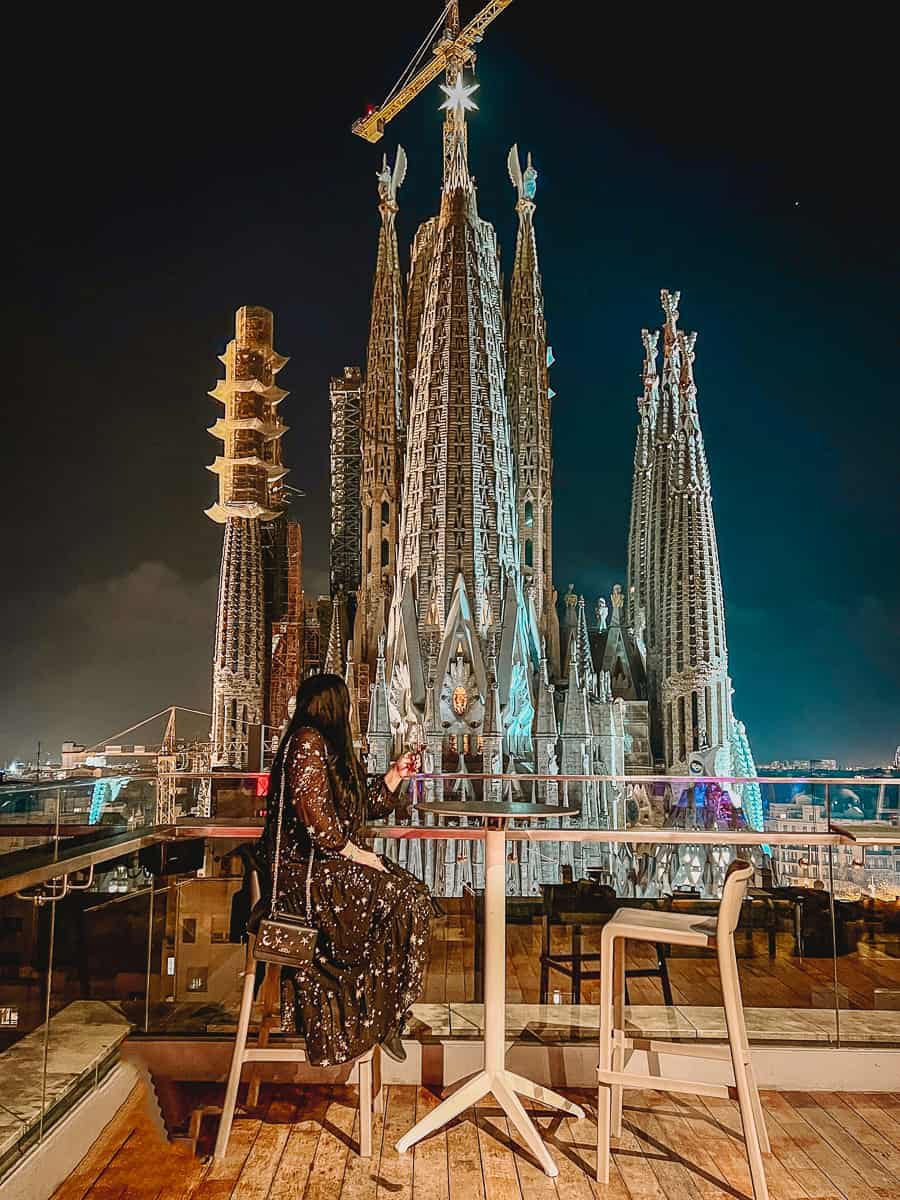 Save time and book a tour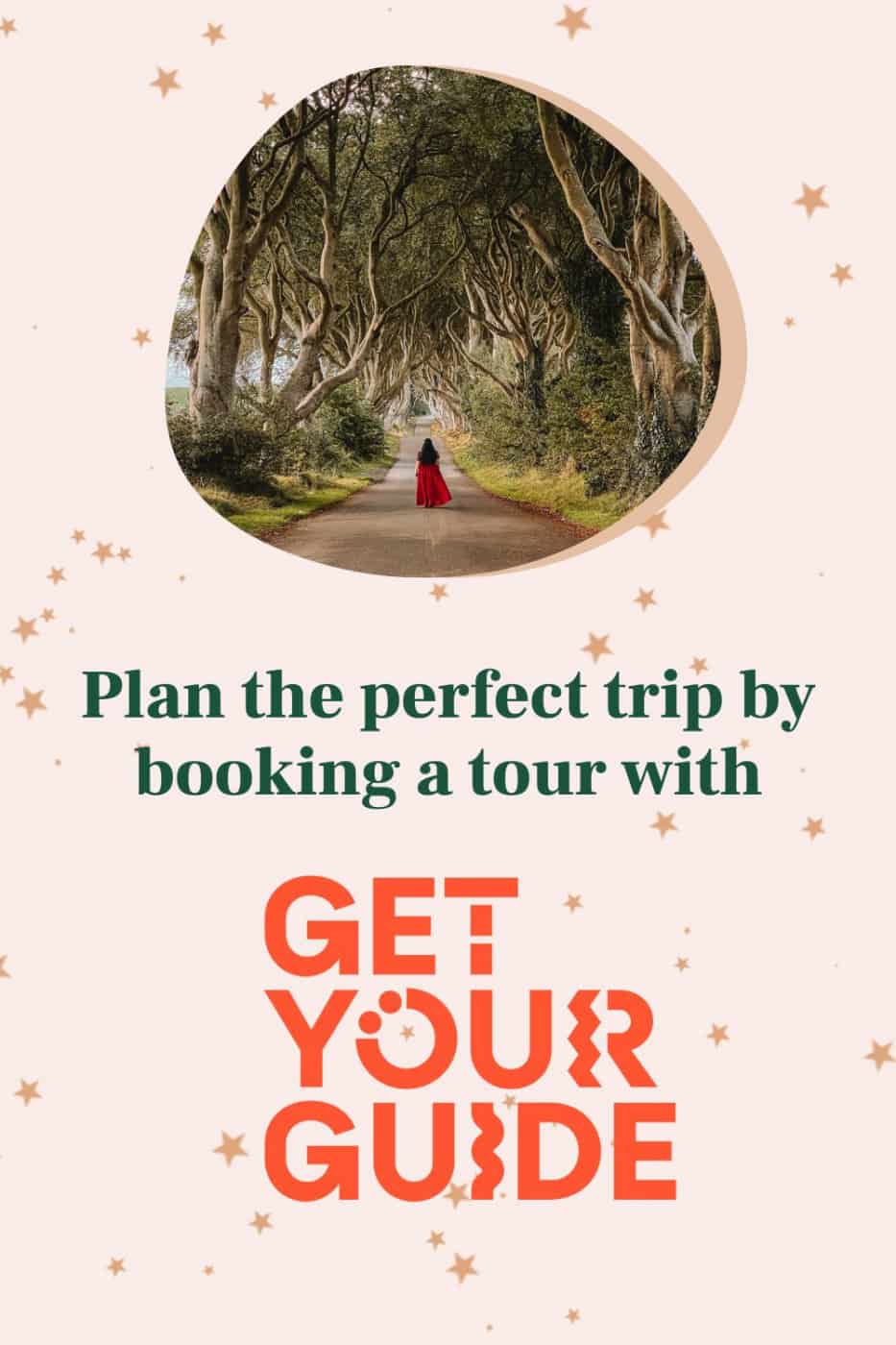 Book tours & tickets for Barcelona!
Read more of my Barcelona travel guides
30+ Instagrammable Places in Barcelona
How to visit the Fairy Bar in Barcelona
Cascada Monumental – discover Gaudi's fountain
How to find the Kiss of Freedom
Secrets of Pont el Bisbe bridge in the Gothic Quarter
How to visit the Barcelona Bunkers del Carmel
Save how to visit Palau de la Música Catalana Barcelona for later!