Panna Meena Ka Kund is a little bit of a hidden gem in Jaipur and most tourists miss it as they make a beeline to the famous Amber Fort.
However, this remote stepwell is well worth putting on your itinerary while in the Pink City of Rajasthan.
It was built over 400 years ago and will take your breath away with its dazzling architecture and labyrinth-esque illusion of stairs!
Most people will know this stepwell from seeing those famous photos on social media. However, in 2023, there are some strict rules on photography and some restrictions to be aware of.
Here is a complete guide on how to visit Panna Meena Ka Kund or the Jaipur Stepwell with the history and some honest tips for getting those incredible pictures!
What is a Kund or Baoli (Baori) in India?
A Kund or Baoli in North India is a stepwell. Also called a water temple, this usually involves a series of steps that lead down to a well.
Stepwells have different names around the country. In Delhi stepwells will commonly have the name Baoli from the Hindi language and the name Kund will be from the Rajasthani language. In Gujarat, or Gujurati language, these are called Vavs.
Most of the stepwells in Rajasthan were built in medieval times around the 15th and 16th centuries.
There are thought to be around 2000 ancient stepwells in India that have survived through the ages! Approximately 100 of these can be found in Rajasthan.
Most of these have now been protected and maintained by the Archaeological Survey of India (ASI) including the Jaipur stepwell.
Read more – The Haunted Agrasen Ki Baoli stepwell in Delhi!
Panna Meena Ka Kund history
It is thought that this stepwell was built some time in the 16th-century to collect the monsoon rains. This was when Amer was still the Rajput Kachwaha capital before it was moved to Jaipur.
The incredible Amer Fort towers over this stepwell and this would have been where Mughal Royalty resided in the city.
Although this stepwell is rather remote now, back then, it would have had a large community requiring a water source.
The dry landscape in Rajasthan often meant that there were many water shortages in the city. So, to provide a solution, this stepwell was built to collect water and acted as a reservoir for Amer.
Although there are no historical records, it is commonly believed to be designed by a Brahmin and was developed by skilled workers.
But, the lack of records means that many stories have surrounded this place over the years. Some legends say that the stepwell was built by a eunuch Panna Miah, who was a courtesan of Maharaja Jai Singh. Another is that the Meena King, Panna Meena built this in the 10th century!
Regardless of how it began, the water source was something that everyone needed and this Kund would have brought people together!
This is where locals would meet to chat, seek shade from the heat, collect water to wash clothes and bathe. It was almost like a modern-day community hall.
In recent years, the stepwell is far more remote due to most of the population moving to Jaipur. Plus, the modern day convenience of plumbing means that it's no longer required!
It has commonly used as a lido and diving area by boys in the village during the Monsoon season.
Nowadays, it's an extremely popular tourist attraction and photography location! However, it is now forbidden to climb down the stepwell and security guards keep a watchful eye.
Did you know? The Bollywood Movie 'Jai Vikraanta' was filmed at Panna Meena Ka Kund?! Hence why it has become so popular amongst domestic tourists!
Why you need to visit this incredible Jaipur Stepwell!
Many people miss this hidden stepwell when they visit Jaipur as they make a beeline for the impressive Amer Fort nearby.
Even I have made this mistake in the past. In fact, it took me a few months of living here and seeing it all over my social media to even make a visit!
Although it is not as impressive in size as the Chand Baori that has 3,500 steps, the symmetrical architecture of this remote stepwell is still worth adding to your Jaipur itinerary.
I'll be honest, there isn't a wealth of things to do when you get here but the architecture is breathtaking. You'll find hundreds of zig-zag steps built like a labyrinth. Plus, you can learn a few things about Rajasthan history!
Most tourists come here to take some of those incredible photos of the stepwell. But, there are a few things you should know about that before you visit.
Read more – How to visit the Adalaj Stepwell in Gujarat
The new Panna Meena Ka Kund photography rules
Most of the Instagram photos I see of influencers visiting Panna Meena Ka Kund are those of people walking down and around the stepwell.
Although these do make great photos, unfortunately in 2023, that isn't possible anymore!
Due to far too many accidents and in order to protect the monument, there have been security guards put in place in the area. This is to stop people walking down the stepwell.
Yes, I know, it is a shame! Yes, the security officers do take bribes at quiet times for you head on down there while they turn a blind eye. But, that doesn't mean you should!
When I got here, the security guard saw me taking photos and approached me. He asked for 300 rupees (!) so that I could climb down. He just told me I had to wait a while for a quiet moment.
But, I ended up refusing the offer. Not because of the cost but because I've never felt comfortable supporting corruption.
I'm not going to act all 'holier than thou' on this stuff as I have paid people for things like this in India in the past. However, it never sits right with me.
You can still sit at the top of the stepwell to get some great photos of you here. However, the security guards may still shout at you even then. Just make sure you don't put your feet on the steps themselves.
Also, it's a great thing that there aren't hundreds of tourists running around on the stepwell so you can get some clear shots.
I also have to say that I was really surprised by the black marks on the steps. I guess it's another Instagram vs. Reality moment. I was told that these marks are leftover from the monsoon rains.
What is the best time to visit
As for the best time to visit the stepwell, I'd say it's a good time to get here as early as possible.
That way you can avoid the crowds and heat. Plus, you get that nice soft lighting on the steps. By the time I got here in the afternoon, the lighting was far too harsh and it was boiling!
Rajasthan is always better to visit in the winter season (Oct – Feb) when the temperatures are a lot cooler. I've visited in summer around May when it was 45 degrees and it was horrendous. But, the Monsoon isn't so bad, if a little muggy.
During the monsoon season is also when the stepwell fills up with water. I'm not sure if it's possible anymore to swim in here but it used to be extremely popular. In winter, the stepwell remains really dry.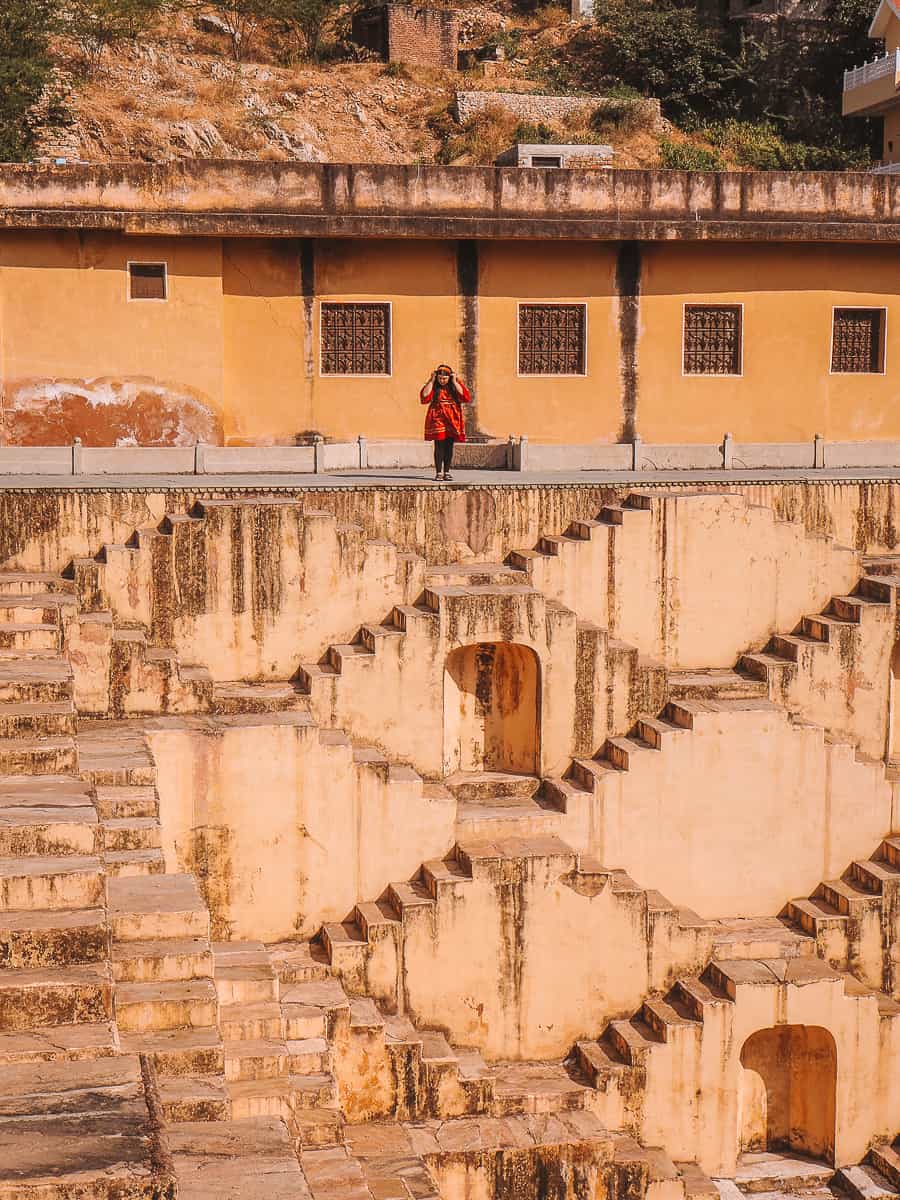 What to expect on your visit
My visit to Panna Meena Ka Kund was in December. So, the tourist season was in full swing at this time.
I didn't fancy getting up early and I decided to visit in the afternoon time along with a few other attractions in Amer.
Although it is quite a remote stepwell underneath the Amer Fort, I was really surprised at how many tourists and tour groups were here!
Due to the vigilant security guards who were rather passionate about their role in protecting the stepwell, you'll find it's not very peaceful. They blow whistles and shout at most people when it's busy to avoid them climbing down.
You'll see that most of the tourists gather on the top taking photos. But, as before, you can still get some nice shots of you sat up here too.
It's a square stepwell that almost appears like an illusion with the maze of steps! It's over 200 feet deep and there is thought to be over 1800 steps leading down to the well.
Apparently, there is a local myth that says you can never walk down and walk back up the same way again. Also, that you can't light a match down here. I guess, we will never know now that it's forbidden.
Related post – The incredible Dada Harir stepwell in Ahmedabad
Where is Panna Meena Ka Kund in Jaipur?
This Kund is a bit of a hidden gem. Although it's often advertised as an attraction in Jaipur, it's actually nearer to Amer which is a city a little further away.
The stepwell is located around 10 kilometres from Jaipur. You can find it in a remote location on the Jaipur – Amer highway. It's near the famous Anokhi Museum.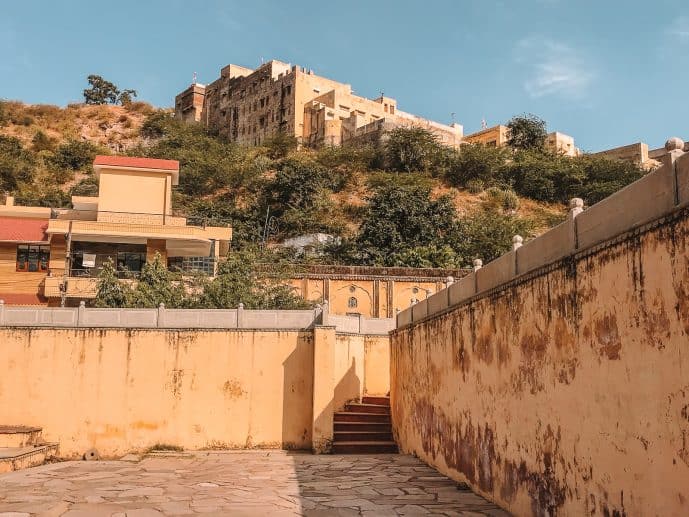 How to visit Jaipur Stepwell
There are a couple of ways that you can reach the stepwell from both Jaipur and Amer;
On Foot – You can easily walk here after a visit to the Amber Fort. It's around 1 kilometre away. It will be around a 20-minute stroll back towards Jaipur on the Amer Road. You can turn off at the Ambikeshwar Mahadev Temple. Or, ask a local for directions if you get lost!
Uber – If you don't want a hot sweaty walk, I would always recommend taking Uber in India instead of negotiating for Tuk-Tuks or drivers. It ends up being cheaper that way and you don't get as ripped off! You can expect to pay around 180 – 200 rupees one way to the stepwell from Jaipur.
I have a whole post on how to use Indian Uber here with some safety tips and a discount for your first ride.
Tour / Car – Alternatively, you could hire a driver on a day rate to take you around many of the highlight attractions in the city! The standard price for 8 hours is usually around 1800-200 rupees (plus a tip). As this place is usually left off itineraries, make sure you put in a request to stop here!
Bus – This would be the last option I'd suggest but I have to admit that the Jaipur – Amer bus service is really clean and efficient. It cost me around 15 rupees to get here the first time I visited. It drops you off right outside the fort. Then, just walk back towards the stepwell.
Panna Meena Ka Kund entry fee & opening times
The Jaipur Stepwell is completely FREE to visit and it's open from sunrise until sunset or 6 am – 7 pm daily!
What you should see next
So, once you've finished your visit, what is there to do next? Well, Amer used to be the old Rajput capital and so, it still has lots of historic attractions to visit!
Here are some ideas for places to visit in Amer next;
Laxmi Narayan Bahari Ji Temple
You may notice an interesting ancient temple that seems to look over the stepwell. This is locally known as the Bahari Ji Ka Mandir Temple.
It was built during the reign of Mirza Raja Jai Singh I in the 17th-century. He was known for making his mark in the town of Amer with architectural monuments.
The temple used to be an active place of worship and had icons of Lakshmi Narayan. However, today, it is currently out of use.
You can climb up the steps and explore the impressive sanctum that has been left behind. Also completely free.
Ambikeshwar Temple
If you wanted to visit more of an active Hindu Temple you can visit the nearby Ambikeshwar Temple. According to legend, this is where Amber Town gets its name!
The temple is dedicated to Lord Shiva and is thought to have been built over 5,000 years ago by the King Ambika who was a Meena King. These were the original citizens of Amer.
A legend goes that the King owned one cow and the cow would only ever be able to provide milk at a specific location in the forest. So, one day the king decided to dig in that area.
He found a statue of Lord Shiva buried underground and then decided to build this temple!
Anokhi Museum of Hand Printing & Anokhi Café
Anokhi is a recognisable brand here in India and they do sell some beautiful clothing. I always used to pop by their store in the Leela Mall in Delhi!.
The company was founded in the 1970s and make their prints using traditional methods of Rajasthani hand blocks and wood cut techniques.
The owners work closely with the villagers surrounding Amer and wider Rajasthan to provide employment for women.
You can visit the Anokhi Museum in Jaipur to see how the printing works and buy some products for yourself.
It's located in a gorgeous Haveli with one of the top rated cafés in the city onsite. Perfect for a pick me up!
The museum is open Tuesday – Saturday : 10.30 am – 5 pm and Sunday 11 am – 4.30 pm.
Amber Fort
Amber Fort or Amer Fort is the main reason why tourists travel out here from the Pink City!
It's easy to see why as this fort is one of the most impressive in all of Rajasthan.
It was built by Kuchwaha Rajputs from the 11th to the 18th centuries as a royal residence and remained so until the capital changed to Jaipur.
It stands high on a clifftop so, in order to reach it, you'll need to walk or organise some transport.
You can easily approach the fort by car, or on foot, or use the government jeep service.
I would urge you not to use the elephants to get to the top! Their treatment by the mahouts is disgusting.
Once you get to the top you'll be greeted with the most amazing views of Amer and Jaipur! Plus you can wander around its many gates, gardens and even a hall of mirrors.
No visit to Jaipur is complete with out it. Don't miss out!
Looking for more things to do in Jaipur? Read my related articles!
Where to stay in Jaipur
There are lot's of places for every range of budget to stay in Jaipur.
Here are some that I have stayed in or visited myself and would recommend.
Celebrity Status: Jaipur Marriott Jaipur, ITC Rajputana
A little less cash to spare: Umaid Bawan Heritage Haveli
Cheap digs: Zostel Jaipur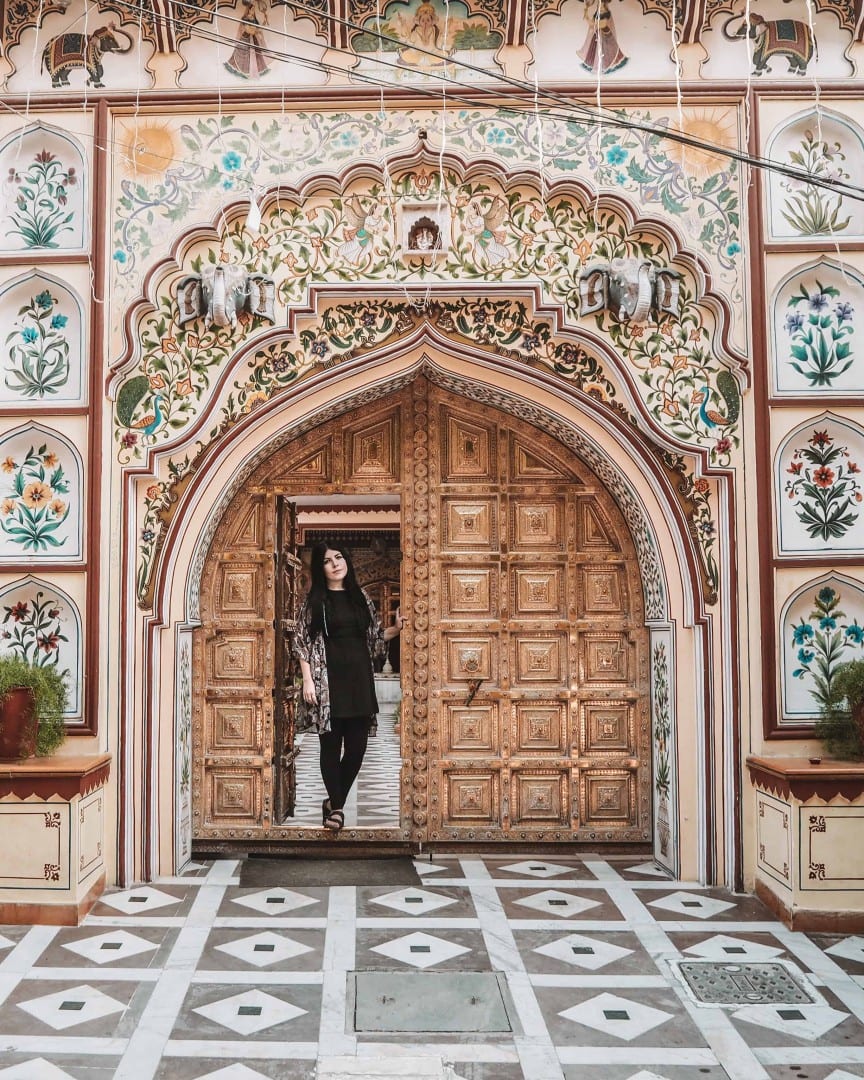 Read more of my articles on Rajasthan
My top travel tips for Jaisalmer
A camel safari in the Thar desert
Why Bundi has to be on your bucket list
Top places to visit in Bikaner
Visiting the rat temple in India
Save this Panna Meena Ka Kund Jaipur Stepwell guide for later!