Barely 25 inches wide at its narrowest, Parliament Street Exeter is a place you can easily miss on the bustling Exeter High Street.
You may be surprised that, as a place crowded with hundreds of people each day, only a fraction of curious visitors notice this tiny street tucked in between a Greggs Bakery and Patisserie Valerie.
Awarded with its very own plaque, Parliament Street in Exeter is believed to be the narrowest street in the world!
But, how much of this is true and how did such a minuscule street come to be in the first place?
Here's a complete guide for Parliament Street Exeter, with the history, how to find it and if this really is the narrowest street in the world!
Parliament Street Exeter history
This tiny street that leads from Exeter High Street to Waterbeer Street has remained relatively unchanged since the 14th-century.
Back then, it was known as Small Lane and the medieval residents used to empty their chamber pots in this enclosed alleyway. So, as you can imagine, the stench must have been horrific.
In fact, it got so bad that in 1740 the council requested that the residents locked their doors at either end of the street so that people would stop dumping their refuse here!
The name Small Lane eventually changed to Parliament Street at some point during the 17th – 19th centuries. But, it still remains a mystery as to why and when this happened.
Many claim that it was a bit of a joke in reference to the power that Oliver Cromwell and the Parliamentarians had during the English Civil War.
The other is that the name changed due to the 1832 Parliamentary Reform Act. The initial rejection of this bill in parliament saw riots throughout the country including Exeter.
Regardless, although the name of the street changed, the size didn't – much to the distaste of the Waterbeer Street residents.
In 1836, they petitioned to widen this street and even raised £130 for the work to be done. But, it was never carried out due to complications with housing prices.
The only changes that have ever been made to this street since the 1300s were in the 1970s when the Exeter Guildhall shopping centre was constructed. It was only then that the opening at Waterbeer Street was widened slightly.
Despite these changes, it's still believed to be the narrowest street in the world and even has its very own plaque!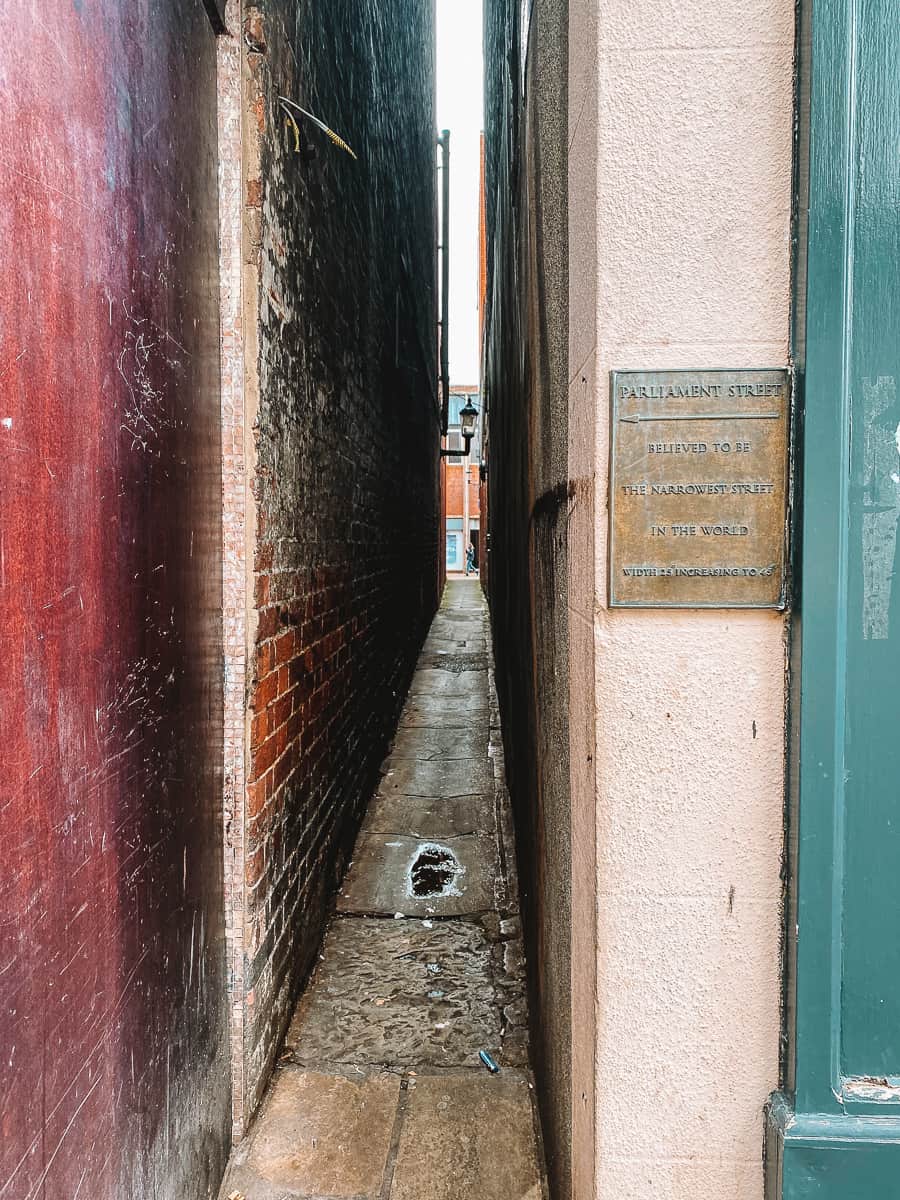 How narrow is Parliament Street in Exeter?
Parliament Street in Exeter is a tiny 25 inches at its narrowest. It's barely big enough for both shoulders and definitely not big enough for two people to pass each other!
You'll find this smaller opening on Exeter High Street along with the honorary plaque.
As you move inside and shuffle your way through this 50 metre long street (160 feet), it does gradually get wider but only by around 20 inches or so.
The widest that Parliament Street gets is 45 inches at the very end of Waterbeer Street which is now a courtyard within the Exeter Guildhall shopping centre.
That's why many believe that this street is the narrowest in the world!
Is Parliament Street Exeter the narrowest street in the world?
I'm sorry to be the one to tell you but, unfortunately, Parliament Street in Exeter is not the narrowest street in the world.
The Guinness Book of World Records confirmed that a street in the German city of Reutlingen holds that title.
It's called Spreuerhofstrasse and it's a minuscule 31 centimetres or 12 inches at its narrowest. It's 50 centimetres at its widest!
However, don't be too disappointed, this tiny street in Exeter is definitely the narrowest street in Britain.
Regardless of minor details, it's still worth seeking out and experiencing a walk down this tiny tapered street while you're here. If only for the fact that you can say that you have done it!
Related post – Visit Strada Sforii, the Narrowest Street in Eastern Europe!
How to find Parliament Street in Exeter
You can easily miss Parliament Street on your adventures through Exeter as it is such a tiny opening on a busy High Street and sandwiched in between two large bakeries.
If you head down the bustling High Street full of bus stops, you'll eventually reach Gregg's Bakery and Patisserie Valerie.
You'll find the plaque for what is believed to be the narrowest street in the world in the gap in between them. You can then shuffle on through to the very end!
Parliament Street can be found in between 194 – 195 High Street Exeter. Click here for a Google Map Pin!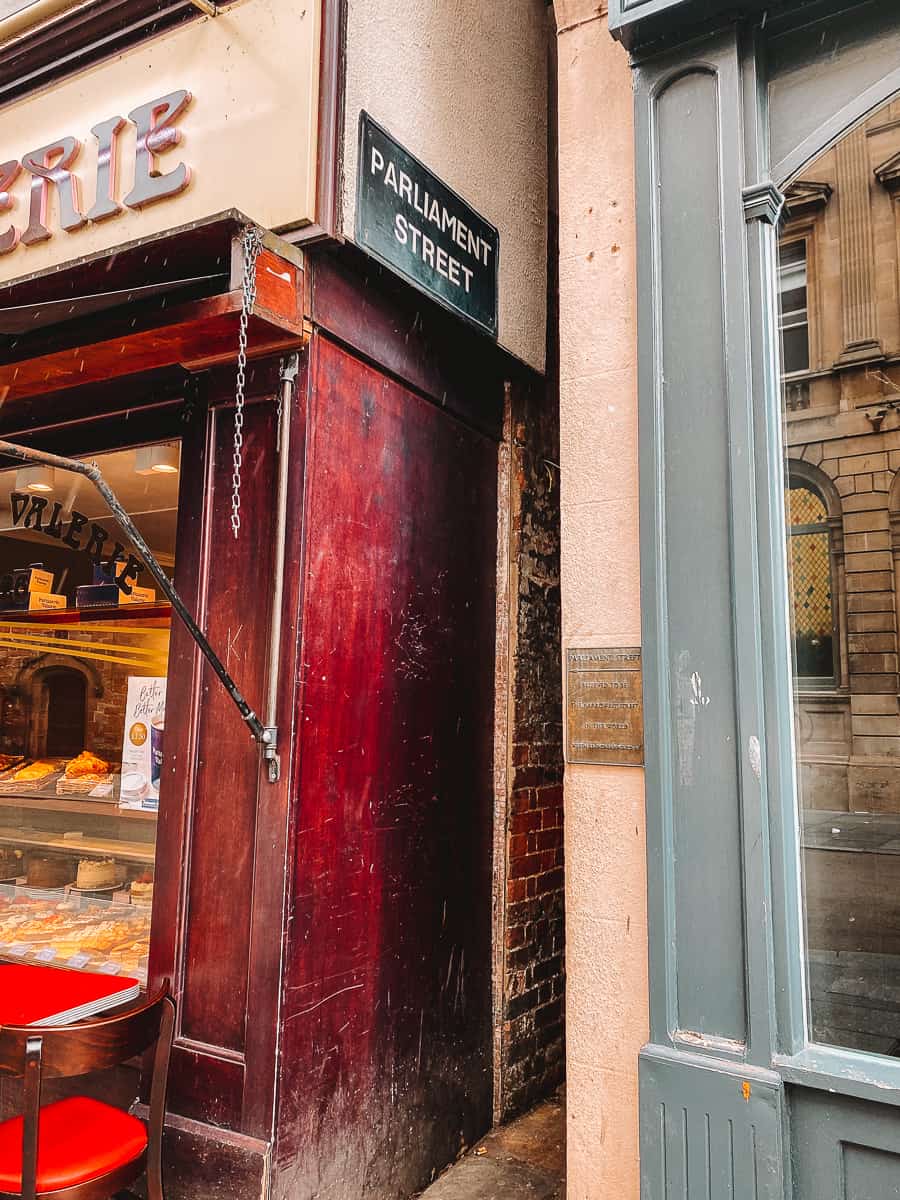 What to expect when from one of the Narrowest Streets in the World!
As someone who is slightly claustrophobic, I'm not going to lie, I was a little worried walking down this narrow street. But as I could see the opening at the end some 50-metres away, it wasn't so bad.
At the narrowest point, I could barely fit my shoulders in between the walls and my bag kept scraping on the sides!
Admittedly, this street was a little smelly. I guess people like to use this quiet street to relieve themselves on a night out. Luckily, it's a bit of a wind tunnel so there was thankfully some fresh air.
Weirdly enough, it was still fun making my way through here and I just kept laughing to myself so people probably thought I was a bit weird.
Just make sure to look and see if someone is coming the other way. Although you can probably fit through fine on your own, there is definitely not enough room for two people to cross each other!
When you reach the end, you'll now be in the Exeter Guildhall shopping centre. So, you can either carry on your merry way or head back again along the narrow passageway to the High Street.
Don't forget to take a selfie to immortalise your experience walking through one of the narrowest streets in the entire world!
Fun Parliament Street Exeter facts
Parliament Street is a tiny 25 inches wide at it's narrowest point and 45 inches at it's widest
It's also 50-metres long and it's not wide enough for two pedestrians to pass by each other inside
It used to be called Small Lane once upon a time but its moniker changed to Parliament Street later. Many say it was a joke about the Oliver Cromwell's power during the English Civil War others say it changed on the passing of the 1832 Reform Bill
The residents of Waterbeer Street Exeter petitioned for this street to be widened in 1836 but the plans fell through
This used to be a place where people would empty their chamber pots into the streets in medieval times! Can you imagine the smell?
Are you looking for more historic places in Exeter?
As a historic city in the UK, Exeter is truly littered with historic attractions, museums, and amazing places to visit.
After you've squeezed your way through Parliament Street, I would recommend crossing the road and exploring Exeter Cathedral.
You can wander along the green where Roman Bathhouses were built underneath and enter this majestic building from 1050AD.
Afterward, you can explore the historic Cathedral Close which has many incredible buildings dotted around here including 1 Cathedral Close which was once home to the famous Mols Coffee House.
Don't forget to also stop by 10 Cathedral Close with its intricately carved Devon oak door. It's thought to be the inspiration for the Room of Requirement in Harry Potter. You can find a self-guided Harry Potter tour of Exeter here.
The Royal Albert Memorial Museum (RAMM) is a great museum to visit which can be found near Gandy Street which is a vibrant shopping street similar to Diagon Alley dating back to Saxon times.
You could walk the medieval Exeter City Walls from Northernhay Gardens and see the remains of Rougemont Castle. This was the last place that women were tried and executed for witchcraft in the country.
You can visit St Nicholas' Priory on Fore Street which is a bit of a hidden gem with a peaceful garden and courtyard.
The oldest street in Exeter can be found on Stepcote Hill which has the historic and cobbled St Mary's Steps.
Here, you'll find curious The House That Moved and Book-Cycle which is one of the best bookshops in the city! Also, the Medieval Exe Bridge lies by the Historic Quays.
How to visit Exeter in the UK
Exeter is a vibrant city located on the River Exe in the county of Devon which is located in the South West of England.
It's easily accessible by car from the likes of London and The Midlands and Bristol along the M5 Motorway.
If you're heading in from Cornwall, or South Devon you can easily head to Exeter on the Devon Expressway.
A train journey to Exeter is only two hours from London. A regular direct service runs from London Paddington to Exeter St David's.
Or, you can use National Express to travel to Exeter by coach which is a lot cheaper than the railways if you're on a budget.
Exeter Parking
Exeter car parking can be expensive if you wanted to go sightseeing all day. There are park and ride options but there are some budget car parks to be found.
The cheapest place to park for Exeter all day has to be Okehampton Street Car Park. It's an Exeter City Council car park and it only costs £3.50 to park here all day.
You're only a 10-15 minute walk to the High Street and Parliament Street from here. So, it's perfect if you wanted to save some cash.
Read more of my Devon travel guides!
How to visit Lydford Gorge & White Lady Waterfall in Dartmoor
How to visit Wistman's Wood on Dartmoor
How to visit Brentor Church in Dartmoor
How to visit Burgh Island and things to do there
An afternoon tea at Burgh Island Hotel
Why you must visit Agatha Christie's Greenway House
Why you must visit the Babbacombe Cliff Railway
Wander the Agatha Christie Mile in Torquay
Top things to do in Cockington Village
Riding the Lynton and Lynmouth Cliff Railway in Exmoor
Woolacombe Bay Holiday Parks Review
Magical Valley of the Rocks Devon guide
Save this Parliament Street Exeter guide for later!