If you're heading to the pink city and are looking for Instagram-worthy spots in the city, I'm pretty sure that the Patrika Gate Jaipur will be the number one spot on your list.
It's pretty easy to see why as it's a gorgeous rainbow walkway that looks like something out of a Maharajas palace!
Over three years ago, before this place became an Instagram superstar, I attempted to find this spot in the city but there was very little information about it then.
So, I actually arrived outside right the gate, but I eventually turned back thinking it wasn't the spot at all….face palm. It was an epic fail and I felt some serious FOMO when I kept seeing it all over my Instagram feed afterwards.
So, on my most recent visit to Jaipur, I was determined to find this fabulous colourful corridor.
In order that you don't follow in my (pretty stupid) mistake, I'm going to give you all the details you need to find the Patrika Gate. Plus, some top tips for visiting and getting the best shots!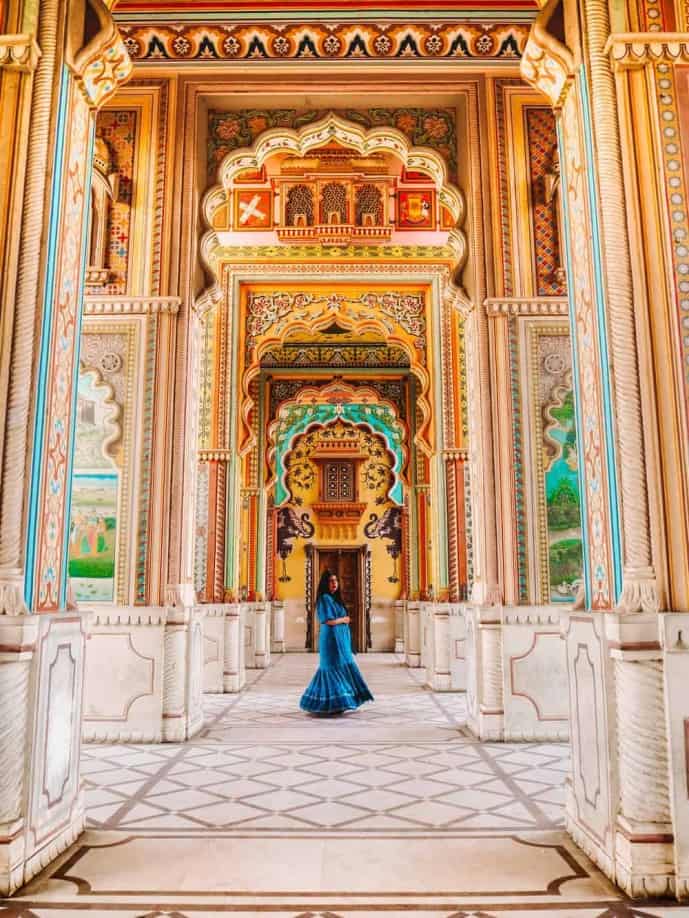 What is the Patrika Gate Jaipur?
The Patrika Gate is an entranceway to the Jahawar Circle Park which, if you didn't know already, is the biggest circular park in Asia on a traffic signal!
On the outside, you'll find a huge elaborate pink gate looming over the peaks of luscious trees. On the inside of the gate, you'll find a fabulous rainbow walkway!
As you walk under the gate, you'll find a row of fabulous archways. Each one has been decorated with Rajasthani culture in mind. It showcases major attractions in Jaipur, such as Jal Mahal, as well as colourful artwork.
You'll truly be mesmerised by the decoration and it will take you a while to stop admiring every detail. It's easy to see why this is a top photo location in the city. It's incredibly gorgeous.
Patrika Gate history
Although this gate has been based on the seven original heritage gates that used to provide access to the walled city of Jaipur, this gate is a relatively new attraction.
Jaipur was founded on the principles of Vaastu Shastrain by Maharaja Sawai Jai Singh in 1727AD. At the time, he built a fortified city away from Amer (the former capital) with seven gates on the city walls.
Later, an eighth gate called Naya Pol or New Gate was built in the city in the 1940s. A fun fact is that this gate was based on the Brandenburg Gate in Berlin!
The Patrika Gate is now the ninth gate of Jaipur and was named after a local news company called Patrika. It was constructed and opened to the public in 2016.
In 2020 the Prime Minister of India, Narendra Modi, inaugurated this gate via video conferencing! In his address, he commended Kulish Ji from the Patrika Media Company for his contribution to Indian journalism.
Top tips before you visit
I would allow at least 2-3 hours to visit the Patrika Gate. This includes your journey times there and back, waiting for photos and ogling at all the beautiful architecture!
Make sure to visit during reasonable daylight hours. Overall, Jawahar Circle is safe but visiting really late at night isn't advised. Especially alone.
On that note, watch out for pickpockets! There are so many in operation. However, I visited alone and had my tripod and camera out on show. No one came near me at all.
Don't forget to visit to Jawahar Circle Park after you've finished taking your photos. It's a really peaceful area of the city. There's also a fountain show at 7 pm.
Related post – the most Instagrammable places in Jaipur
The best time to take photos of the Patrika Gate
As one of the most instagrammable places in the whole of Jaipur, you can guarantee that this colourful gate is bound to pull in the crowds.
Locals, tourists and tour buses all visit here in the bucket load to get the perfect shots. There are even wedding photoshoots that take place here.
Although you could easily wait your turn and get a nice clean photo here at any time of the day. I would say the best time to get photos at the Patrika Gate would be in the early morning.
That way you can save some time and not have to be patient to get your shot.
I arrived at the Patrika Gate around 7 am and was totally shocked to see so many people here already. But, luckily, they weren't getting photos haha!
They were all exercising and jogging at Jahawar Circle. So, even if you do arrive early, I'd prepare for the fact that joggers may run through the gate!
Another great time to avoid crowds would be to visit India in the offseason around the Monsoon time. From July – September there will be far fewer tourists. Winter season, from October – February, is the busiest time to visit Rajasthan. So, prepare for that by arriving early in the day.
Read more – the most Instagrammable places in Delhi!
Where is Jawahar Circle in Jaipur?
Jaipur is a huge city and is split into certain zones or districts to help you navigate around. Jawahar Circle is in the Malviya Nagar District which is commonly known to locals as 'New Jaipur'. This is well outside of the popular tourist attractions of the old walled city.
To put it into perspective, the Patrika Gate is around 10km (30 minutes drive) from Hawa Mahal and 13km (40 minutes) from Jaipur train station. So, leave enough time in your day to reach there!
Indian traffic, especially in cities, is notoriously bad! So, if you're stuck for time, make sure you plan your journey wisely.
Top tip – the gate is only 5 minutes drive away from Jaipur airport. So, if you wanted to, you could stop off here on your way in or out of the city! Just ask your driver to make a quick pitstop. There is a free car park just outside the gate.
How to reach Jahawar Circle
Having lived in Jaipur, I loved the fact that it has so many options to get around the city and it's incredibly cheap!
The most popular way to get around the city is by using Uber taxis or the competitor Ola.
You can read my post on how to use Indian Uber here with a discount code for your first ride.
From Hawa Mahal to the Patrika Gate it cost me around 150 rupees one way which is nothing!
You can also rent a Tuk-Tuk or auto-rickshaw to reach Jahawar Circle from anywhere in the city. But, remember to negotiate! They can smell a tourist from miles away.
Also in Jaipur, they have an electric rickshaw that you can share with others or hire privately for rides. These are called Tam-Tams! They run slower but are cheaper and better for the environment.
Finally, you can rent a driver in Jaipur. This is the most cost-effective by hiring on a day rate. The standard is around 1800 rupees for 8 hours (remember to tip). You could ask your driver to make a stop for you here on your way to other attractions!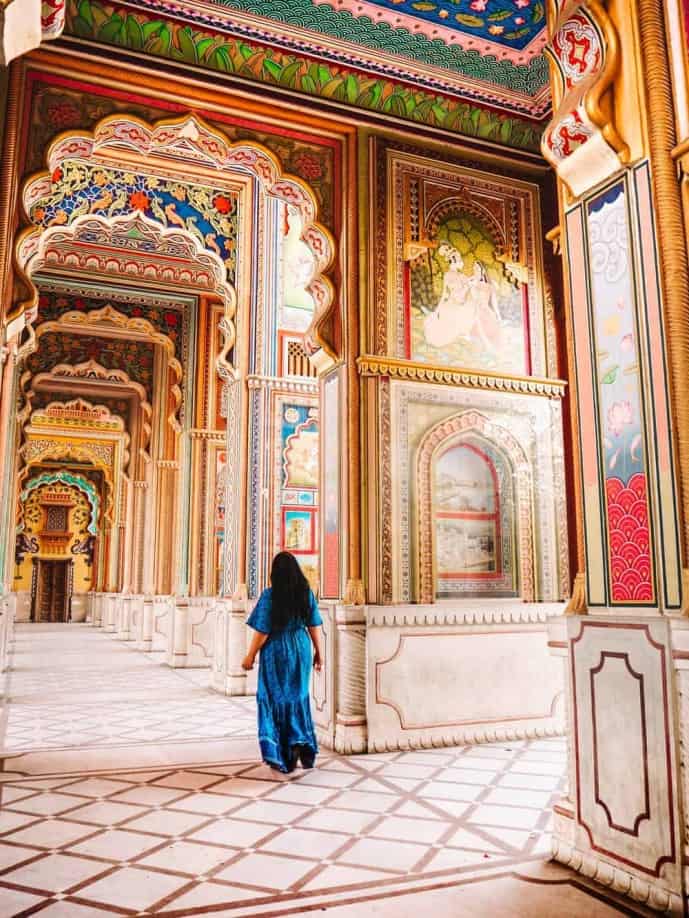 Patrika Gate opening times & prices
The Patrika Gate is open 24 hours a day and 7 days a week. So, you can visit this colourful walkway whenever you like in Jaipur. But, I would definitely say it's better for photos to arrive during daylight hours.
Even at sunrise or after just sunset, it could create low lighting inside the walkway.
It's also good to know that Jahawar Circle Park and the Patrika Gate are completely FREE to visit! So, it's a great budget activity for the Pink City.
Heading around the Pink City?
Jaipur is honestly one of my favourite cities in India and you're gonna love it! Although it's called the Pink City, you'll actually find it's more of a rosey orange.
As the capital of Rajasthan, you'll find that this place is bustling with cars, Tuk-Tuks, scooters and camels! It's an attack on the senses…but in a good way.
There are so many amazing attractions here in Jaipur, you'll be spoiled for choice. I would definitely recommend visiting the Amer Fort, the City Palace, Nahargarh Fort, Hawa Mahal and the Galta Ji Temple!
Where to stay in Jaipur
There are lot's of places for every range of budget to stay in Jaipur.
Here are some that I have stayed in or visited myself and would recommend. As a bonus, these are also highly Instagrammable;
Celebrity Status: Jaipur Marriott Jaipur, ITC Rajputana, The Raj Palace, Rambagh Palace
A little less cash to spare: Umaid Bawan Heritage Haveli, Welcom Heritage Traditional Haveli
Cheap digs: Zostel Jaipur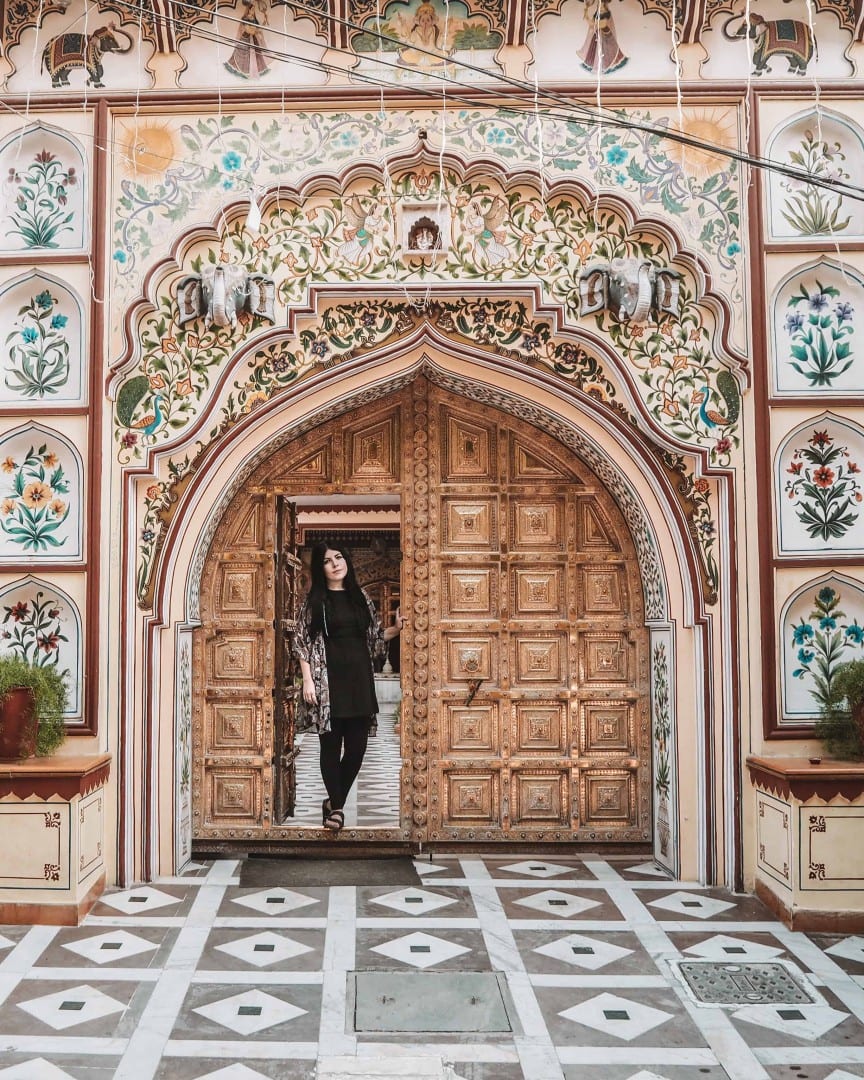 Check out more of my Rajasthan articles!
Two weeks in Rajasthan – the ultimate itinerary
How to spend 2 days in Jodhpur
The must visit places in Udaipur
Top tips for your visit to Jaisalmer
Camel Safari in the Thar Desert
A quick guide to the peaceful city of Bundi
The cheapest tiger safari in Rajasthan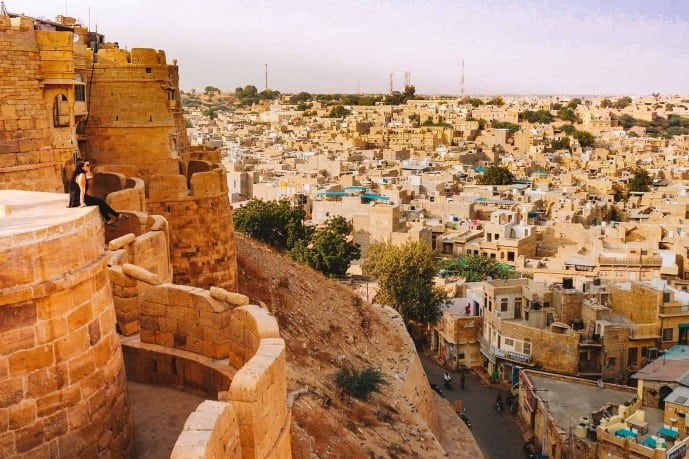 Save this Patrika Gate Jaipur Guide for later!