Jaisalmer is known as the golden city of India and a lot of its incredible buildings look like they have been dipped in honey!
One of the best things to look forward to on your visit is to marvel at the incredible historic architecture and intricate carving work. This can be found both in the hill fort and the surrounding buildings below.
Patwon Ki Haveli, also known as Patwa Haveli, showcases some of the best craftsmanship in the region.
It's a series of five incredible mansions that were built by a wealthy merchant in 1805 and was the first and largest Haveli complex to be built in Jaisalmer!
This was, by far, one of my favourite places that I visited. Not only do these lavish houses have beautiful details but there is also an incredible museum and spectacular views to be had from the top.
You really can't miss a visit while in the golden city, so here's a complete visitor guide for Patwon ki Haveli and Kothari's Patwa Haveli Museum!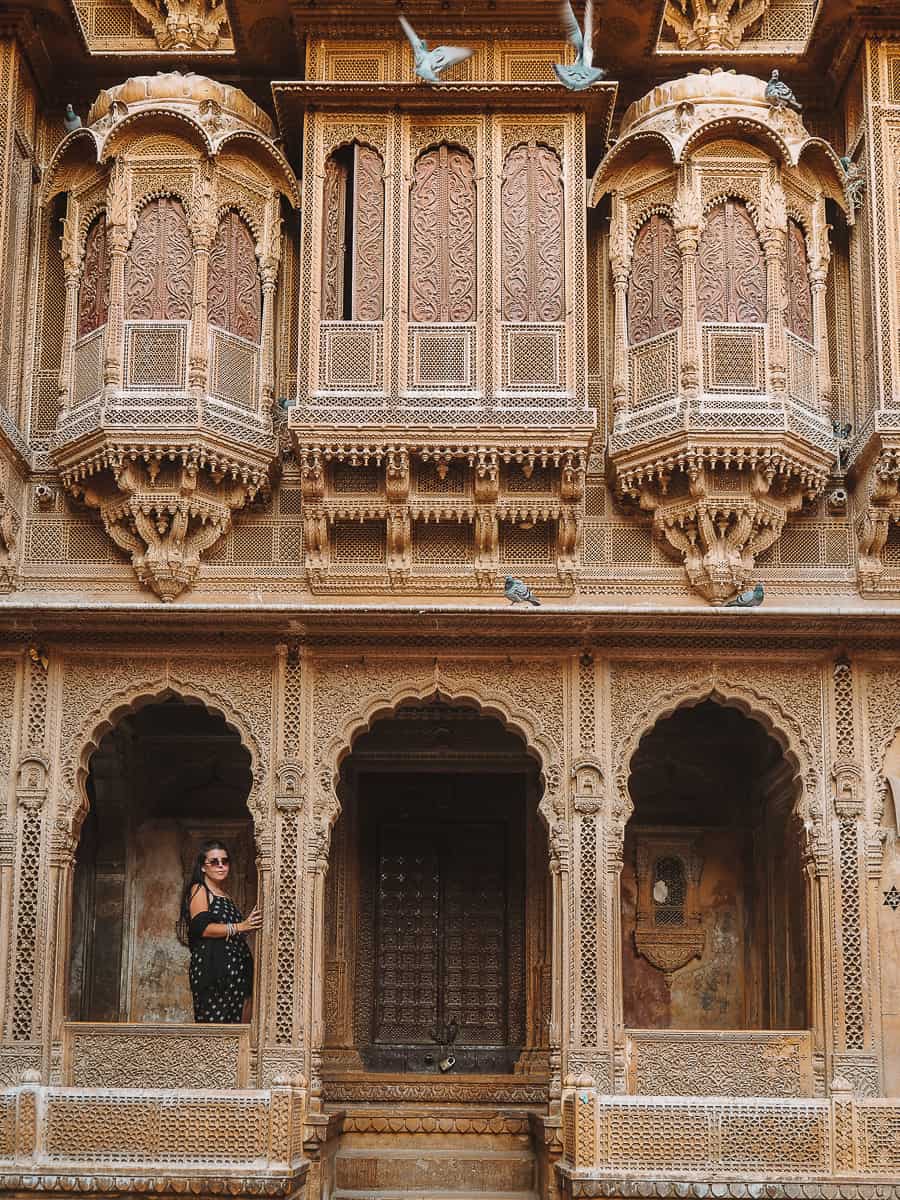 The amazing history of Patwon ki Haveli
The first Haveli in Jaisalmer was built right here in 1805 by a wealthy trader in the city called Guman Chand Patwa and it took nearly 55 years to build!
Patwa was an extremely wealthy and prominent businessman for his time and so with his riches, he could afford to construct this incredible palace for himself.
Patwa Haveli is also known as the Mansion of Brocade Merchants and the name is thought to have originated from the fact that Patwa traded in gold and silver threads for ladies' dresses.
The reason why it took so long to construct is that Patwa decided to have 5 Haveli's made around the complex. One for each of his five sons!
A short history of the Bapna family
I had the honour of discussing the Haveli's with one of Guman Chand Patwa's descendant's Mohit. He gave me a short history of the Bapna family.
The Bapna's were honoured with the title of "Patwa" by the Prince of Jaisalmer long ago. The Patwa Haveli's were then commissions in 1805 for the late Guman Chand Ji Bapna for his five sons.
These were the Late Bahadurmal Ji Bapna, Late Sawairam JI Bapna, Late Magniram Ji Bapna, Late Johrawarmal Ji Bapna and Late Pratapchand Ji Bapna.
The Bapna Patwa Family were a wealthy family and were often known to give financial aid to the Prince of Jaisalmer and even Udaipur in Rajasthan!
The Bapna family's wealth stretched far beyond that of Jaisalmer. In total, the family had over 350 offices in Asia. These covered major territories at the times such as Afghanistan, China, and Rangoon as it was known.
The family trade consisted of cotton, butter, spices, timber, ivory, gold, silver, jewellery, and even gemstones!
Patwa Seth Pratapchand Ji Bapna, the Youngest son of Late Guman Chand Ji Bapna was also known for building the famous Amar Sagar Jain Temple. This can be found at Amar Sagar in Jaisalmer if you wanted to visit.
A few of the distinguished members of the Bapna Patwa Family are Seth Jorawarmal Ji Bapna, who has played a very instrumental role in establishing the political relationships between princely states of Jaisalmer, Bikaner, Jodhpur, Udaipur, Indore, Holkar and British Government.
Rai Bahadur Siremal Ji Bapna was the Prime Minister of Holkar state and excelled at being an administrator. He became well known in his time and was Prime Minister of states such as Ratlam, Alwar, Bikaner, and home minister of Patiala State.
He was the Indian Ambassador to the League of Nations and the Indian Delegate in the Round Table Conference in London with Mahatma Gandhi. He was knighted by the British and came to be known as Sir Siremal Bapna.
The family of Patwa Seth Aidan Ji Bapna, the great great Grandson of Late Guman Chand Ji Bapna, now live in the third Haveli of the Patwa complex.
He now looks after the day-to-day affairs and maintenance of these parts of the Haveli's.

Patwon ki Haveli's today
The architecture of these incredible Haveli's has been beautifully preserved in a small alleyway of Jaisalmer over the centuries.
Nowadays the Haveli's are part way a government museum, a private museum, and part-owned by the family.
However, there is one Haveli that has been beautifully maintained and stands almost 'trapped in time' to when the family would have lived there.
It's called Kathori's Patwa Haveli Museum which is privately owned and it's well worth a look inside!
How to visit Patwon ki Haveli in Jaisalmer
This cluster of amazing Haveli's can be found in a small lane in the Patwa Valley area of Jaisalmer. It's around 1.5 kilometres from the Jaisalmer bus stand and close to the Thar Heritage Museum.
The exact address is No. 3129, Near Chura Para. Not very specific, but it has a drop pin on Google maps!
Jaisalmer is an extremely compact city in Rajasthan and you could easily walk here. But, you could also opt for a rickshaw or taxi to take you here if you didn't fancy walking. All the locals know of this place.
Once you get here, you can just admire the architecture and details of the Havelis from the outside.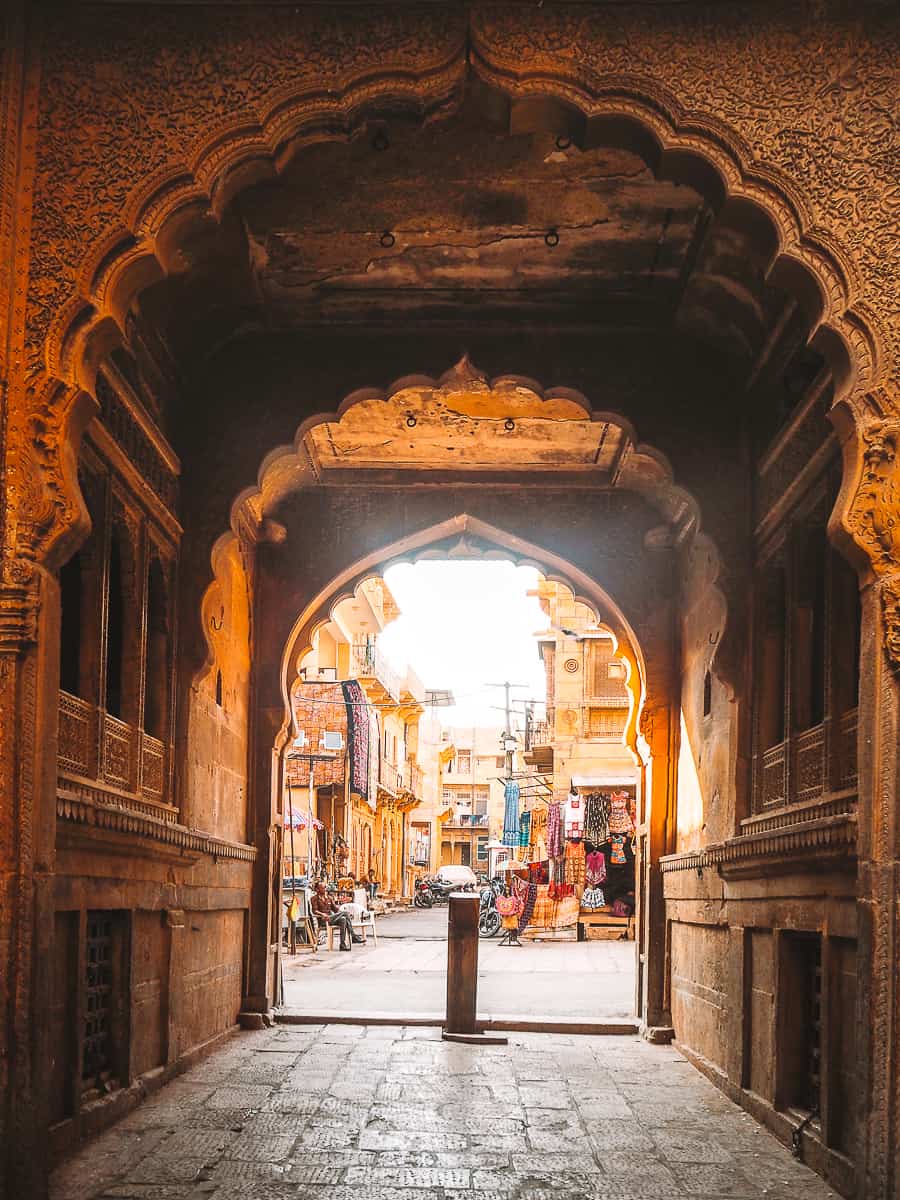 The craftsmanship is well worth seeing alone and there is thought to be over 60 balconies called jharokhas in the Haveli complex!
These jharokhas are all unique and have a mixture of both Indian and Persian styles. They are a delight to photograph.
There are five Havelis in total and two are open as tourists attractions to explore inside. Confusingly, they both have the same name on Tripadvisor and Google.
You can visit the Archaeological Survey of India Haveli but that museum is empty with barely anything inside it anymore.
Kothari's Patwa Haveli Museum
In my opinion, the best way to really experience Patwon Ki Haveli is to visit Kothari's Patwa Haveli Museum.
This is privately owned and a completely separate attraction from the government Haveli. It has so much more to see inside.
The whole Haveli has been beautifully preserved and transports you back in time to the 19th century!
You can see how the family used to live in amongst all the incredible decor, painted ceilings, mirrored walls and splendour.
It gives you a fantastic insight into what life would have been like back then in Rajasthan.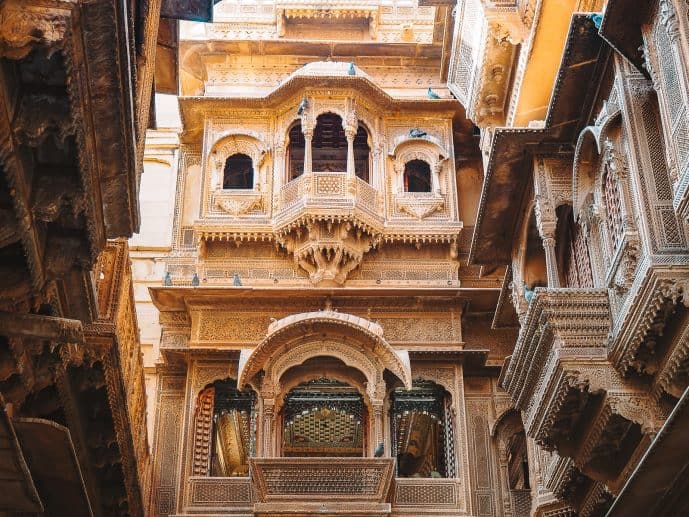 What is there to see inside Kothari's Patwa Haveli Museum?
So, once you step inside the museum, you'll walk up to the first floor of the Haveli, which provides an incredible view of the alleyway below.
The museum runs on a one-way system through the complex and the exhibitions and rooms are on a series of floors.
These stairways are pretty narrow, steep, and quite old so you'll really have to mind your step as you explore.
But, it is definitely worth the effort as the rooms are breathtaking!
See lavish rooms, paintings, mirrored walls & exhibits
The first thing you notice in the family living quarters is how elaborate the rooms are! Every wall inside is painted with murals and adorned with mirrors.
From the ceiling to the floor, you'll find traditional Rajasthani painting work. Colourful ladies in traditional sari's, royalty riding elephants, and peacocks will be on the walls. You'll also find that many of the paintings are covered in gorgeous mirrored tiles.
Inside many of the rooms, you'll find traditional instruments like Sitars'. Also, you can see things like board games and chess in the living room.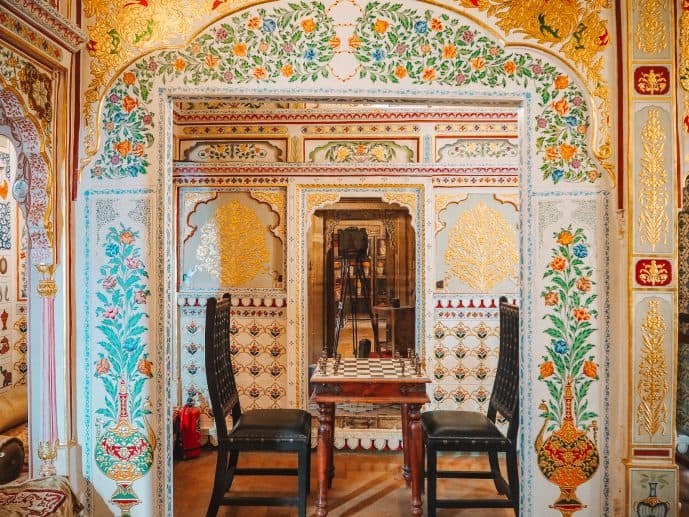 There is even a turban collection on display! Something I learned here is that every tribe in Rajasthan used to have a unique pattern for their turbans and it's how you could identify someone from that community.
You'll find bedrooms, living spaces, and places where the family would have relaxed. Also, as you make your way around the different levels, you'll find the incredible balconies and terraces that connect the Havelis in the Patwa complex.
Some of the rooms, where the kitchens would have been, have enormous pots for cooking. As well as the family living in luxury, you'll see the servant's quarters which are far more plain.
These staff members would have been employed here to cook, clean, and serve the Patwa family.
I was in love with the architecture and found it really stunning to explore. There are many museum exhibitions which give you insights too. Although there aren't many signs in English, you can still learn a lot by visiting.
An incredible viewpoint from the rooftop
Once you've finished snapping up the stunning rooms, you can make your way onto the top floor of Patwon Ki Haveli to see the view!
On the rooftop, the family would have had an incredible private terrace that overlooked Jaisalmer Fort and the city.
It was a really large area, so I'm not sure if the family used it to dine and relax. Or, if this was used by the servants to wash and dry clothes etc. There wasn't really a sign about what it was used for at all.
However, it's still a lovely view all the same and a great photo opportunity. You can see for miles all around the city. So, have your camera ready!
Exit through the gift shop
The only downside, in my opinion, of visiting Kathori's Patwa Haveli Museum is the exit through the gift shop type market on the bottom floor.
Of course, I'm used to leaving a place and seeing a shop of some kind. But here, they were constantly heckling tourists who were trying to leave.
And I'm not just talking the usual 'please buy', 'take a look' sort of thing. I'm saying they step in your way, in front of you, and even try to pull your arms as you're trying to walk out of the museum. So, you had to try and skip around them.
Or, that's what they did on my visit anyhow!
All you could hear through the Haveli was the sound of sellers trying to get tourists to buy something.
I know that traders need to make a living, but something this aggressive just puts you off. I absolutely hate it when people invade your personal space and even put their arms around you to try and drag you in a shop!
My biggest tip would be to not react to it and just attempt to walk straight through if you don't want to buy anything. Of course, if you're interested in handicrafts – go for it.
It's a bit of a maze through all the colourful textiles and bedsheets to find the exit, but just keep heading through following the signs and leave as quick as you can!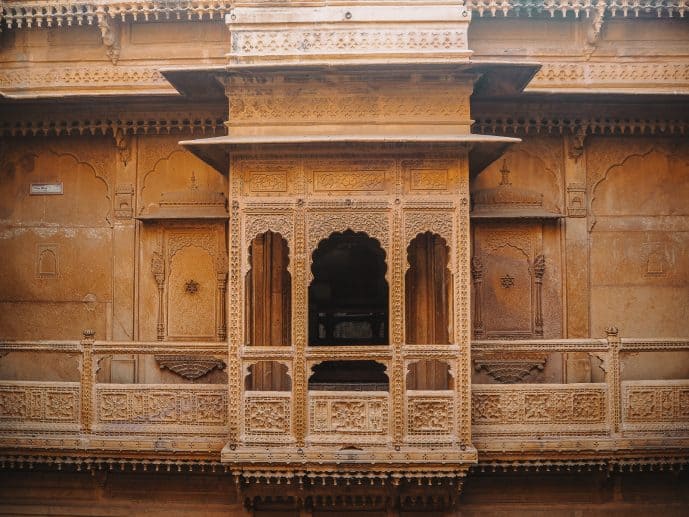 Opening times & entry fees
There are a few different Haveli's you can visit in the Patwon ki Haveli Complex.
There is the Archaeological Survey of India one owned by the government and the private Kathori's Patwa Haveli Museum.
Both have different opening times and different entry fees. Although the private museum is slightly more expensive, the entry fee is worth the price as the exhibits are far superior;
Archaeological Survey of India – Patwon Ki Haveli site
This Haveli is pretty much empty and now has just bats and pigeons that reside here. It's a government owned Haveli, so it is sad to see it abandoned and not very well maintained.
Opening times are 8.30am – 6pm.
The entry fee is 10 rupees for Indian tourists and 50 rupees for foreign tourists.
Kathori's Patwa Haveli Museum
The timings for this private museum are from 9am – 6pm.
The entry fee is 100 rupees for Indian tourists and 250 rupees for foreigners to visit. You do have to pay more for a camera fee which is around 40 rupees.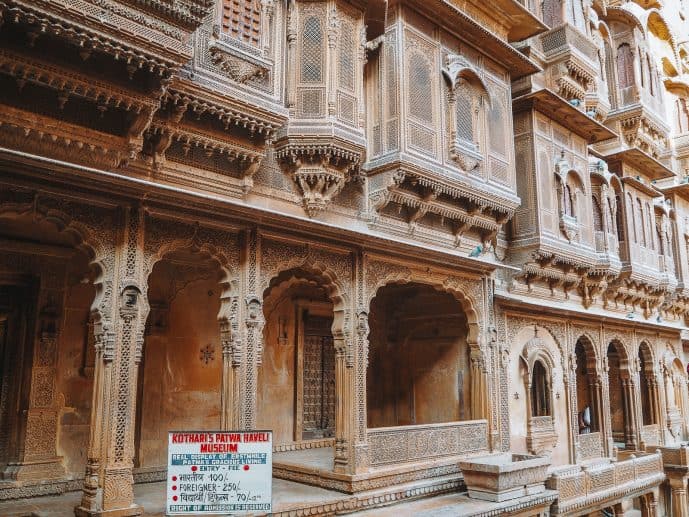 What is the best time to visit?
The best time to visit Rajasthan would be in India's winter season from November – February. This is especially important for Jaisalmer that sees temperatures of up to 50 degrees celsius in summer!
Of course, Rajasthan is all a desert state but as Jaisalmer is on the borders of the Thar Desert, the temperatures here can get scolding during the day.
If you visit in the winter season, this is when most attractions will be open and desert tours will be running too.
In terms of the best time to visit Patwon Ki Haveli, I'd say as early as possible to beat the crowds.
Beyond Jaisalmer fort, this is one of the top attractions in the city that many people call 'The Taj Mahal of Jaisalmer'. It's popular with locals and tour groups alike.
There are small hallways, staircases, and tiny rooms, so it can get crowded easily.
Looking for more things to do in Jaisalmer?
Although many call Jaisalmer overrated and touristy, I would have to disagree. It's an absolutely incredible golden city and one of my favourites in all of Rajasthan!
Everywhere you look, you'll find forts, temples, and buildings all looking like they have been dipped in honey.
You can visit the famous palaces, go shopping in Jaisalmer Fort, visit the Thar Heritage Museum and end the day boating on Gadisar Lake!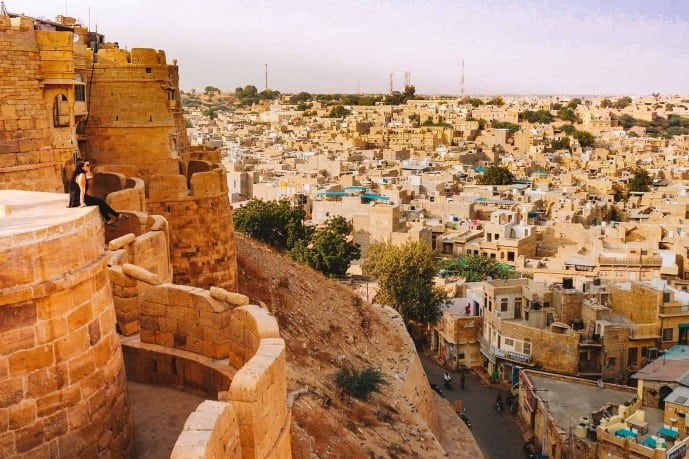 Where to stay in Jaisalmer
I wouldn't recommend staying in Jaisalmer Fort itself, even Lonely Planet deems this unethical as the fort is struggling with infrastructure as it is.
There are plenty of amazing hotels in the city surrounding Jaisalmer Fort and they are a lot more affordable as well.
I ended up staying in Helsinki House which was a gorgeous boutique hotel made of traditional honeycombed sandstone. The rooms were so clean, the beds were comfy and the rates were amazing.
From the rooftop, we had the most incredible view of the fort! I loved having breakfast there in the mornings.
If you were looking for something more luxurious, then I would recommend Suryagarh. It's almost like a royal Rajasthani palace. It's now on my hotel bucket list!
For a budget option, I'd recommend Zostel Jaisalmer. They're a recommended hostel chain here in India and sometimes they do loyalty discounts. This means you get money off for staying with other Zostel Hostels in India.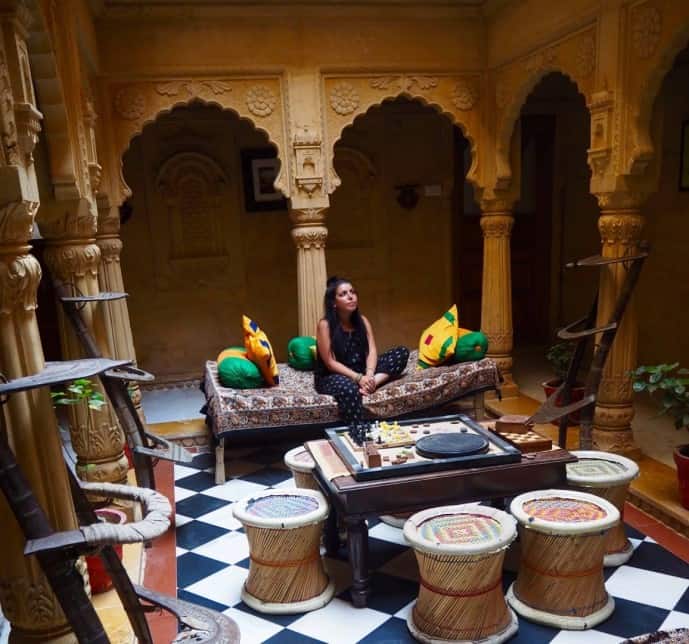 Read more of my Rajasthan travel guides
My complete guide to the Pink City of Jaipur
A photography guide for Jaipur
Why Bundi has to be on your bucket list
Top places to visit in Bikaner
Visiting the rat temple in India
Save this Patwon Ki Haveli guide for later!