One of my favourite places in all of the Peak District has to be the views that can be found from Peakshole Water Castleton.
It looks like something from a postcard where a small stream flows through a street of ancient cottages under the towering limestone cliffs of Peak's Cavern.
It's arguably one of the prettiest places in the Peak District which attracts many tourists and photographers. In my humble opinion, no visit to the national park would be complete without it!
Here's a complete guide to Peakshole Water Castleton with all the things to do here.
What is Peakshole Water?
Peakshole Water is a small stream in the village of Castleton in the Peak District. It flows from the source of Peak Cavern nearby which is locally known as The Devil's Arse!
Eventually, this stream joins up with The River Noe which flows through the nearby Hope Valley. Then, it makes its way through to the Derbyshire Derwent, the River Trent, and then over to the Humber and the North Sea!
It also has a tributary of Odin Sitch which travels over Odin's Mine and Mam Tor and ends up meeting Peakshole Water near the Castleton Visitor Centre. Quite a long journey for this tiny little stream to go, don't you think?
Although Peakshole Water is the name of the stream most people visit this area to take photos of this pretty part of Castleton village.
The cottages around here are a bit of an Instagram superstar and many say that this is the prettiest place in all of the Peak District!
The history of Peakshole Water Castleton
Peak's Cavern is the source of this stream which is a cave that dates back thousands of years. In the Domesday Books, it was referred to as Pechesers which means Peak's Arse.
For the last 400 years, the cave was an ancient village that housed a community that lived and worked inside! They would make ropes for the local lead mines.
Daniel Defoe (who famously wrote Robinson Crusoe) visited Castleton in 1725 and said that the poetic river running through this street was nameless at the time. So, many believe the name Peakshole Water came after in the Victorian Era.
Later, Peakshole Water was used to power a Corn Mill until around the 1920s when it fell out of use and the waterwheel fell into disrepair in the 1950s.
Today, it's now a famous postcard-worthy part of Castleton Village which is popular with tourists and photographers alike. No visit to the Peak District would be complete without visiting this serene hamlet!
Things to do around Peakshole Water
So, what is there to do around Peakshole Water in Castleton? Well, you'll find that there is a surprising amount to do!
From visiting some of the famous Castleton Caves to shopping for unique gems and taking one of the popular walks.
Here are the best things to do in Peakshole Water Castleton.
Take photos of the gorgeous Peakshole Water cottages
Admittedly, the thing that keeps drawing me back to Castleton is capturing this beautiful scene in a photo.
Around Peakshole Water you'll find an attractive set of cottages that are perched by the river and make a fantastic photo opportunity.
It provides something new in all seasons. From a snowy backdrop in winter to the golden brown autumn foliage or the first blossoms of spring. You'll always find a reason to keep coming back!
The cottage at the end of the river walk is the one that has grown to Instagram fame and is now arguably one of the most Instagrammable places in the Peak District.
You'll see the stream with a cascade, the iconic house with an old oil lamp along with the heights of Peaks Cavern. It's perfect.
The cottage is someone's private residence, so be mindful of this when you visit to not disturb those living here. But, it's along a public pathway and so you're free to take as many photos as you like.
Peakshole Water Castleton photography tips
As Castleton is one of the busiest places in all of the Peak District, I would always recommend visiting in the off-season for fewer crowds or visit earlier in the day if possible.
This area, in particular, can be a bit of a bottleneck as people will use this path to access Peak's Cavern which is also a popular attraction.
So, you'll need to come armed with patience to get a quiet moment with no one in it if you visit during the day.
I got here around 7.30 am and it was lovely and quiet. It was also great for lighting at this time as it was so soft.
Although there was construction and cars everywhere on the other side, with a bit of angling, you can still get some amazing photos.
Peakshole Water Walk to Peak's Cavern (The Devil's Arse)!
Most people who are visiting Castleton will pass by Peakshole Water as it's the only walking route to access Peak's Cavern!
This is where the source of the stream comes from and it's a cave that's nicknamed the Devil's Arse. The reason being that it creates loud flatulent-like noise when the floodwater is draining!
The cave had the name Devil's Arse for years until 1880 when Queen Victoria made a visit for a concert. The village then changed the name to Peak's Cavern so as not to offend her delicate ears.
It is famous as it has the largest cave entrance in Britain. It's also one of four show caves in Castleton which are some of the most popular attractions in all of the Peak District National Park.
Entry is by a guided tour only and adult tickets are £16, children are £9. Inside, you'll get a tour of the cave as well as learning about the art of rope making by the people that used to live inside.
They also regularly hold concerts, cinema, and live events in the cave throughout the year! Click here for event details.
Even if you're not visiting the cave itself, a walk towards it is still worth doing. You can see the gigantic cave entrance for yourself and enjoy the views in the limestone gorge which is under 280ft high vertical cliffs!
Go shopping at The Stones for unique gems
The little shopping area around Peakshole Water is locally known as 'The Stones' and it's well worth stopping here to look around.
You'll find lots of amazing shops like The Little Shop and Carlton Emporium Antiques but also the famous 'Silver & Stone Shop!'
It sells Blue John Stone jewellery inside as well as rocks, minerals, and crystals from around the world.
If you didn't know, Blue John stone is a semi-precious mineral that is only found in the UK at Blue John Cavern and Treak Cliff Cavern in Castleton.
You can see the famous 'Blue John Dragon' in the Visitor Centre to see some and find out more information about it!
The mineral has been mined here heavily since Victorian times and it still is on a smaller scale today! So, you'll be buying a truly unique gift.
At Silver & Stone, you can even make your own piece of Blue John Stone jewellery in their workshop! Click here for more details.
Feed the ducks
A common thing that people like to do around Peakshole Water is to feed the ducks that swim around here.
But, please always remember to buy food that is safe for them to digest! Feeding ducks bread can lead to malnutrition as it's filling their stomachs but does not provide them with any nutritional substance.
Plus, any mouldy bread can make them fatally sick as aspergillus can get in their lungs.
The Little Shop sells some duck food which is only 30p a bag so you can make sure that the ducks are fed well but in a conscious way.
Have tea at Dolly 'n' Teds tearoom
If you were looking for a quick pick me up after your visit there is an adorable café near The Stones called Dolly 'n' Ted's tearoom.
It's a tiny cafe but it has lots of warmth and character and also has the loveliest of service.
They serve up hot and cold drinks throughout the day as well as homemade cakes and light lunches. In summer, they also serve up some of the famous local ice cream!
Take the Peakshole Water Walk to Hope
From Peakshole Water there is a permissive pathway that will lead you on the Castleton to Hope Valley circular walk.
It follows the Peakshole Water stream and is an easy, scenic walk that will take you around 30 – 40 minutes! Along the way, you can enjoy the spectacular scenery of the river and countryside.
Once you reach Hope, you can stop at the Cheshire Cheese pub. It's a 16th-century inn that serves up cold drinks and warm pub meals to weary travellers!
Looking for more places to visit in Castleton?
Castleton is a quintessential Derbyshire village that is a must-visit in the Peak District!
After your visit to Peakshole Water, you can visit some of the other Castleton Caves around the area.
If you haven't already, I would recommend popping into the Castleton Museum in the Visitor Centre to learn more about the area.
Towering high above the village is Peveril Castle which dates back to the 11th-century. It has spectacular views from the top but prepare for a steep climb!
There are plenty of amazing shops and you really cannot leave without trying Bradwell's Dairy Ice Cream. It's made locally and is sold in nearly every shop in the village along with a fudge flake!
Just outside of Castleton you have the incredible Mam Tor or the Mother Hill which looks over Edale Valley. Or, you can drive through or walk up to Winnats Pass!
Further on you can visit even more amazing locations like Hathersage, Chapel-en-le-frith, Bamford Edge, Lady Bower Reservoir, Padley Gorge, and Stanage Edge with Robin Hood's Cave!
How to visit Peakshole Water Castleton in the Peak District?
If you wanted to see Castleton's Peakshole Water for yourself, you only need to visit Castleton village in the Peak District.
The Peak District National Park is one of the best areas for hiking in the UK and it's in easy access to big cities like Nottingham, Derby, Leeds, Sheffield, and Manchester!
Castleton is in the middle of the Peak District and is one of the most popular places to visit.
From Castleton, you're only a few minute's drive to the famous Winnats Pass, Mam Tor, and the Castleton Caves. Plus, you have easy access to popular walks like Stanage Edge with Robin Hood's Cave and Bamford Edge too.
It's easiest if you have a car to visit Castleton as there is no train station in the village itself. You can alight for the Peak District via the M1 and M6 and then follow the country roads to Castleton.
The nearest train station is in Hope which is 2 miles away. If you were travelling car-free, there is a Sheffield to Castleton bus via the 272 service.
The 272 Sheffield service stops at Hope Post office so you can catch the bus from Hope to Castleton if you were arriving by train.
You'll find Peakshole Water a little beyond the Castleton Visitor Centre. Once you're in the village, head towards Peak's Cavern to find it!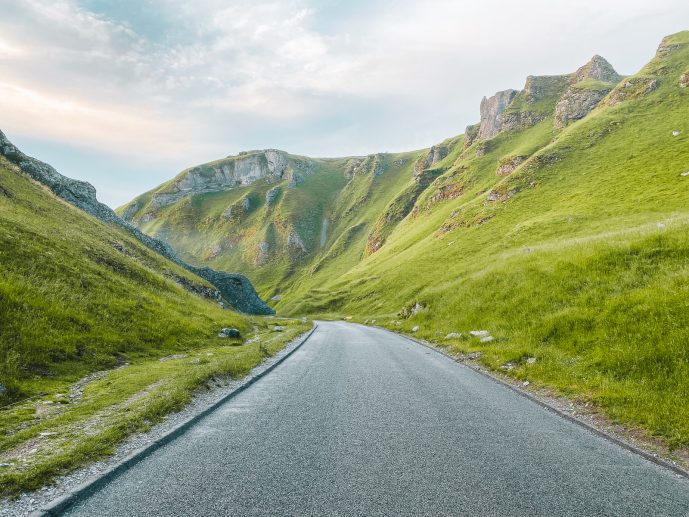 Castleton Parking
If you're visiting in the summer season, a weekend, or even on a sunny day, parking in Castleton can be an absolute nightmare.
There are limited parking spaces near to the Castleton Visitor Centre which is pay and display but these parking places fill up really quickly. I think I drove around 3 times before giving up. So, if you were planning on spending the day here, I'd recommend getting here early.
Alternatively, you can park up in the overflow visitors car park which is nearby and has more space. Peak Cavern has an all-day car park which is £6 for the entire day.
Or, on my visit, all of these parking areas were full. So, I had to park up near the Treak Cliff Cavern on Old Mam Tor Road and walk in which was free during the week.
On weekends and bank holidays, you may have to pay for a parking ticket via the meter for these off-road spaces. Always check parking restrictions before leaving your car.
Where to stay in Castleton
Castleton is a great base to explore the Peak District. It's easily one of the prettiest places in the National Park and, from here, you can access lots of the main attractions!
Here are some of the recommended Castleton hotels;
The George Inn – A top rated accommodation with a popular restaurant and pub downstairs! It's adults only and right in the heart of Castleton underneath Peveril Castle. Click here to book.
YHA Castleton Losehill Hall Hostel – A cheap option of accommodation in a renovated Victorian Gothic Mansion! Single hostel bunkbeds and shared rooms available. Click here for rates.
Read more of my Peak District guides
How to Visit Mr. Darcy's Pemberley aka Chatsworth House
Visit Hardwick Hall, the real Malfoy Manor filming location
How to visit Little John's Grave in Hathersage
How to find Robin Hood's Cave in Stanage Edge
How to get to Thor's Cave in the Peak District
How to get to the incredible Bamford Edge
A magical easy walk to Lud's Church
Why you need to visit Monsal Head Viewpoint
How to get to Solomon's Temple in Buxton
How to visit & cross Dovedale Stepping Stones
The best things to do in Milldale
Best things to do in Ashford in the Water
Why you must visit Scrivener's Books in Buxton
Chee Dale Stepping Stones walk
Things to do in Eyam Plague Village
How to visit Ramshaw Rocks from Pride and Prejudice
Save this Peakshole Water Castleton guide for later!