Jane Austen fans, did you know that you can visit Mr. Darcy's Pemberley in England?
It's called Chatsworth House and Jane Austen used this estate as inspiration for her classic novel. It's also the Pemberley Pride and Prejudice filming location in the movie!
Pride and Prejudice is one of those stories I can read or watch time and time again and never get bored.
It was the first enemies-to-lovers romance story I read and I was utterly hooked. I've never looked back.
The movie starring Keira Knightley and Mathew Macfadyen is one of the best versions of all time and never fails to make me swoon. Nothing beats that scene with Mr. Darcy's hand flex…nothing!
So, I couldn't wait to visit Mr. Darcy's Pemberley House and snoop around as Elizabeth Bennet did.
Here is how to visit the Chatsworth House Pride and Prejudice filming location in the Peak District!
"My affections and wishes have not changed, but one word from you will silence me forever. If, however, your feelings have changed, I will have to tell you: you have bewitched me, body and soul…and I love, I love, I love you. And wish from this day forth never to be parted from you." – Mr. Darcy.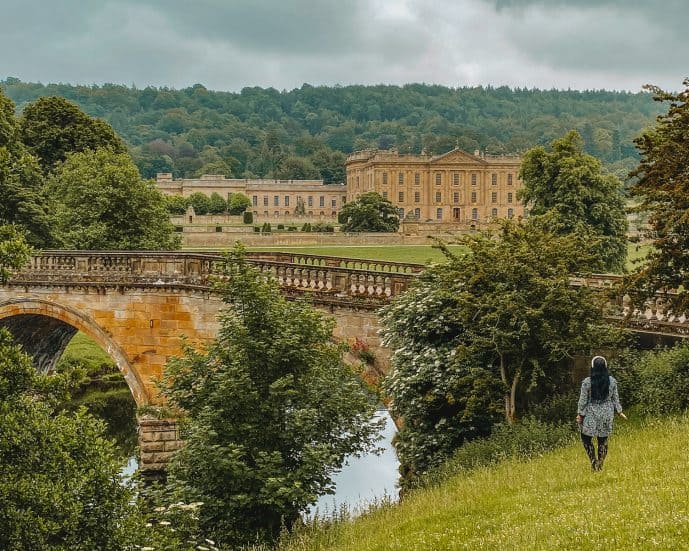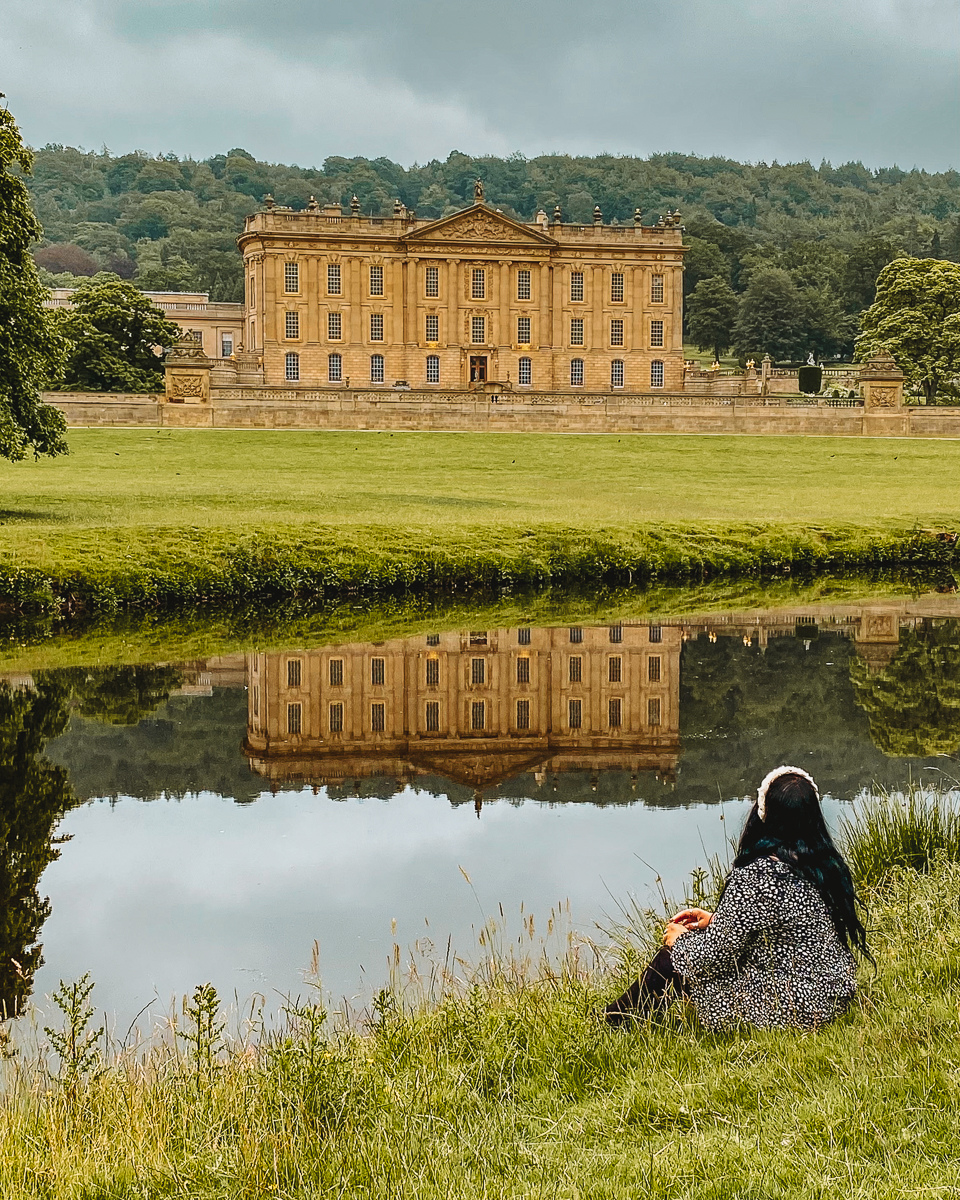 What is Pemberley in Jane Austen's Pride and Prejudice?
Pemberley House is a country estate that is owned by Fitzwilliam Darcy in Jane Austen's Pride and Prejudice.
It's based in Derbyshire near the town of Lambton and is where Elizabeth visits with her aunt and uncle on their trip to the Peak District.
By the time Elizabeth visits Pemberley she has already rejected Mr. Darcy's first botched proposal which he risked against his better judgment (FYI in the movie, this iconic rainy scene was filmed at Stourhead Gardens at the Temple of Apollo).
But, her visit to the house with praise from his housekeeper, his chivalrous behaviour, and his subsequent love letter change her mind.
"They gradually ascended for half a mile, and then found themselves at the top of a considerable eminence, where the wood ceased, and the eye was instantly caught by Pemberley House, situated on the opposite side of a valley, into which the road with some abruptness wound….Elizabeth was delighted…at that moment she felt that to be mistress of Pemberley might be something!"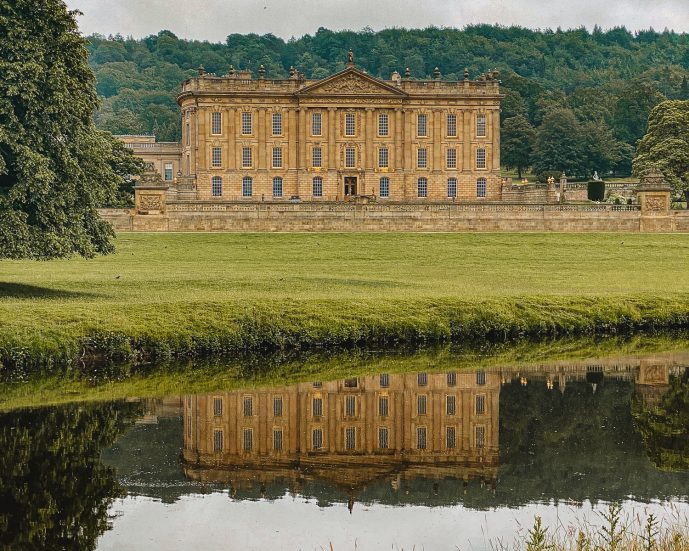 Is Pemberley based on a real place?
Yes, when Jane Austen visited the Peak District in Derbyshire in 1811 she stayed in the nearby town of Bakewell in the Rutland Arms.
Whilst she was staying here, she visited Chatsworth House on a tour and she used this visit to inspire Mr. Darcy's Pemberley House!
She penned most of the novel whilst staying at Bakewell and many of her descriptions of Pemberley match up to the exterior features of Chatsworth House;
"It was a large, handsome, stone building standing well on rising ground, and backed by a ridge of high woody hills; and in front, a stream of some natural importance was swelled into greater, but without any artificial appearance. Its banks were neither formal, nor falsely adorned."
Fun fact: Chatsworth was mentioned in the book as an estate that Elizabeth Bennet visits with her aunt and uncle before their visit to Pemberley.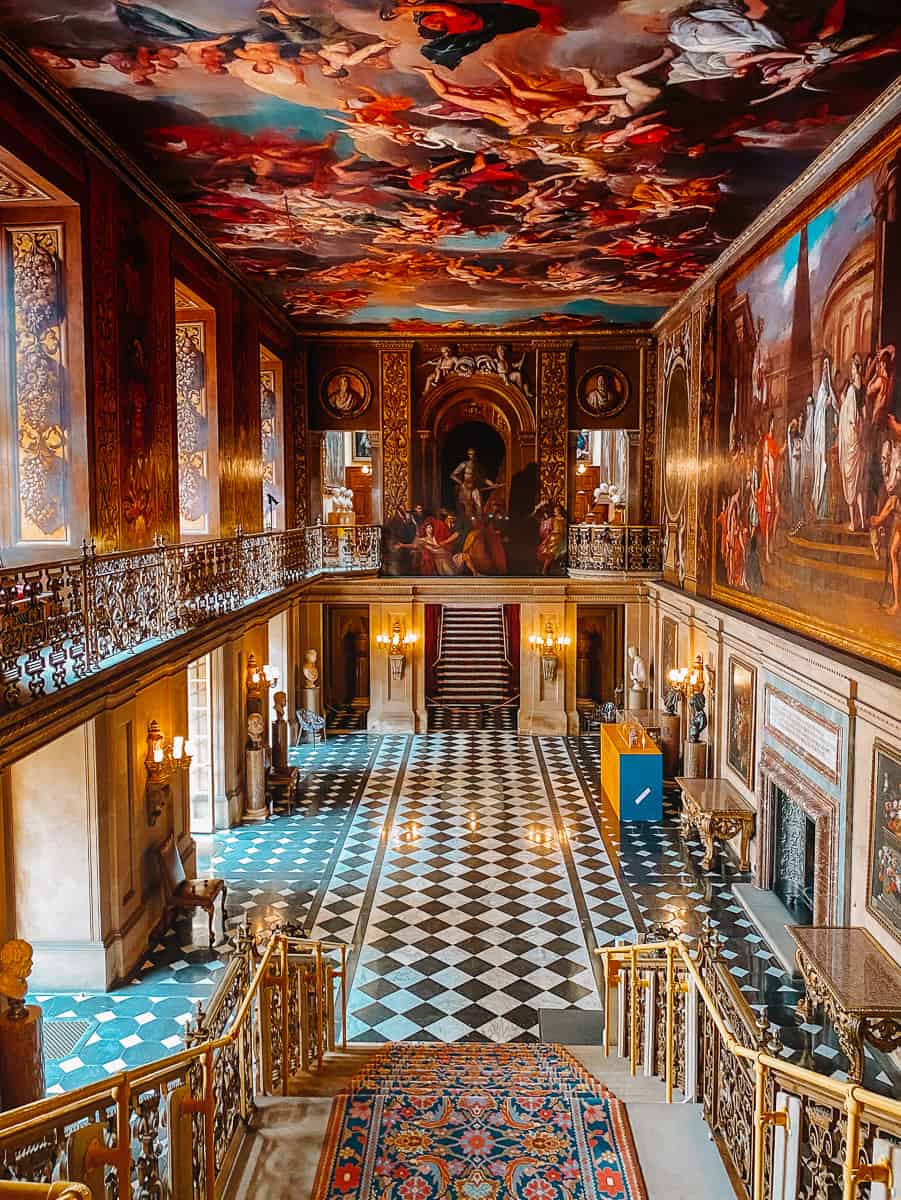 What house is used as Pemberley in Pride and Prejudice?
Fans of the 2005 Pride and Prejudice movie will be interested to know that the very same Chatsworth House was used as the filming location for Pemberley!
They used the exteriors of the house, the Painted Hall, and the Sculpture Gallery as rooms in Mr. Darcy's home when Elizabeth takes a tour of the estate with her aunt and uncle.
Chatsworth House is an ancestral home of the Cavendish family. It was founded by Bess of Hardwick also known as Elizabeth Cavendish, the Countess of Shrewsbury.
She came from a modest background but through several marriages and smart business investments, she became the second most powerful Elizabethan woman in all of England.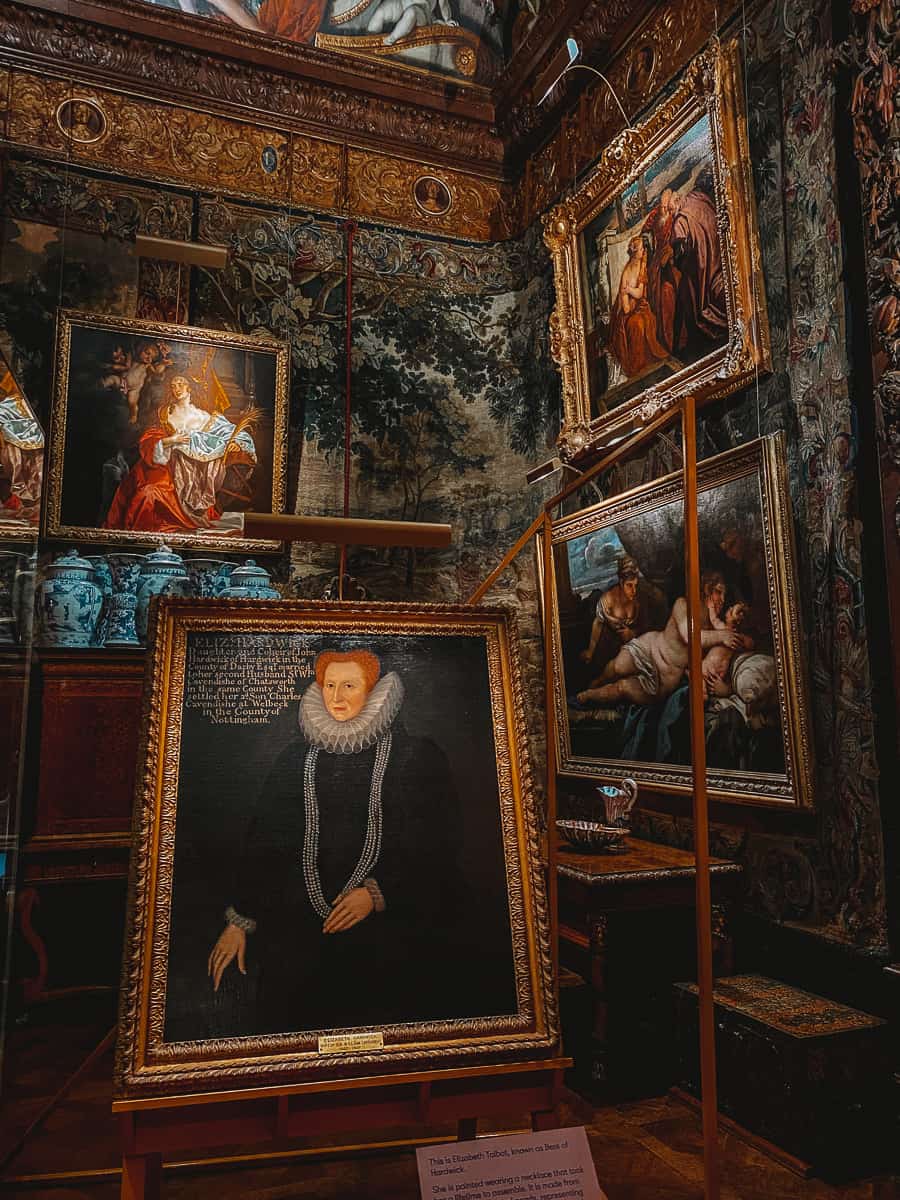 Mary Queen of Scots was a prisoner at Chatsworth House many times between 1569 and 1584 as Elizabeth Shrewsbury was her custodian.
She stayed in the East wing of the house and her rooms are still named after her today.
Bess' legacy was both Chatsworth House and Hardwick Hall, one of her masterpieces and somewhere else I would recommend visiting.
Her children carried on the Cavendish line and Chatsworth is now home to the Duke and Duchess of Devonshire.
Can you visit Pemberley House?
Yes, if you wanted to visit Pemberley House from Pride and Prejudice for yourself then you can do so as Chatsworth House is open to the public.
You have to book tickets in advance of your visit and you can do so online via the official Chatsworth House website.
Beyond being a Pride and Prejudice filming location, Chatsworth House is one of the most impressive stately homes you can visit in the country. It's also one of the top attractions to visit in the UK.
As part of your tour, you can explore the grounds, the inside of the house, extensive gardens, shops, cafés, and restaurants!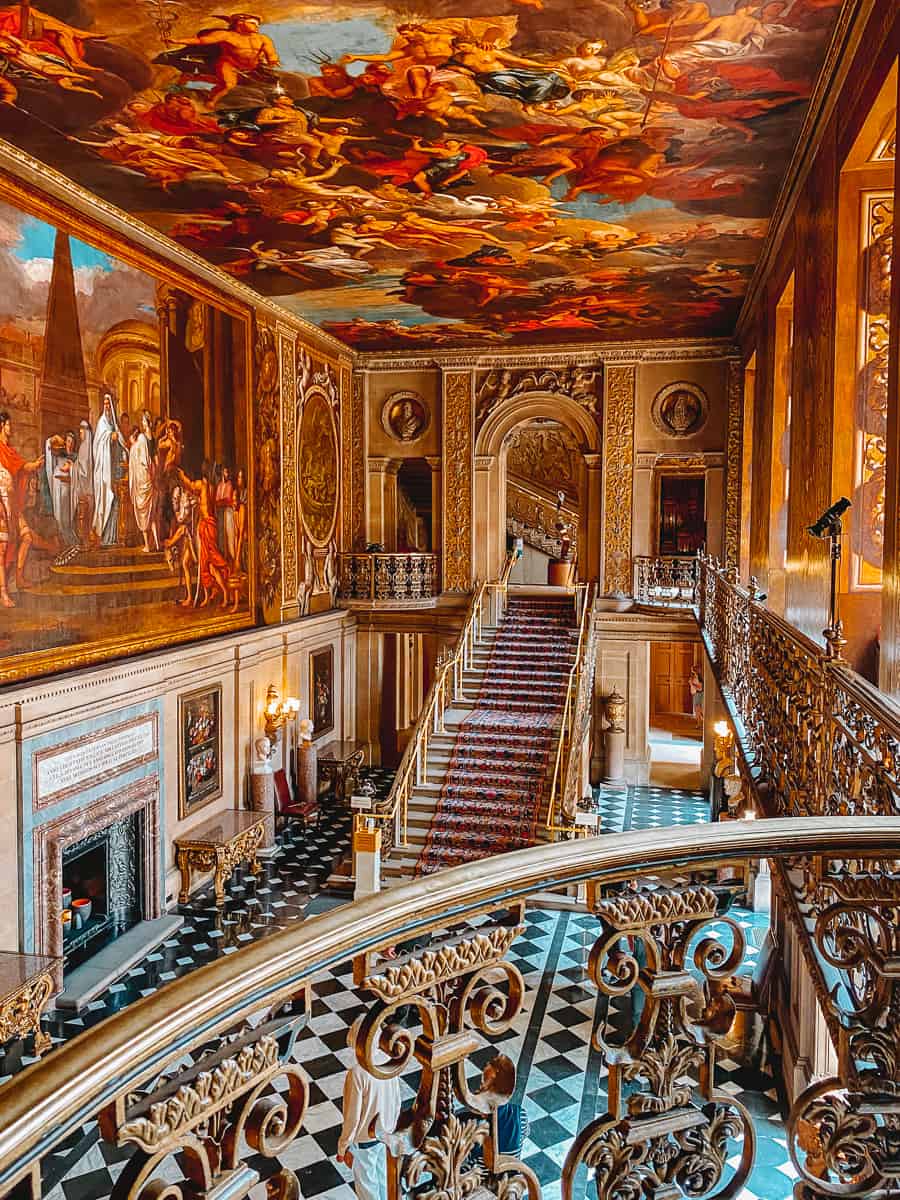 Where is the Chatsworth House Pemberley filming location?
Pemberley House aka Chatsworth House is in Derbyshire in the Peak District which is located in the heart of England.
The nearest town to Chatsworth House is Bakewell but you can also easily visit here from Buxton and Matlock as well.
The easiest way to visit Pemberley House would be to drive but be aware that parking is chargeable even with a house ticket.
Parking is £5 per vehicle and you pay contactless at the ticket booth upon entry.
If you're not planning to drive, you can take a bus to Chatsworth House. Services run from Bakewell, Sheffield, Buxton, Chesterfield, Manchester, and Matlock.
Chatsworth House address is Chatsworth, Bakewell, Derbyshire DE45 1PP. Click here for a Google Pin!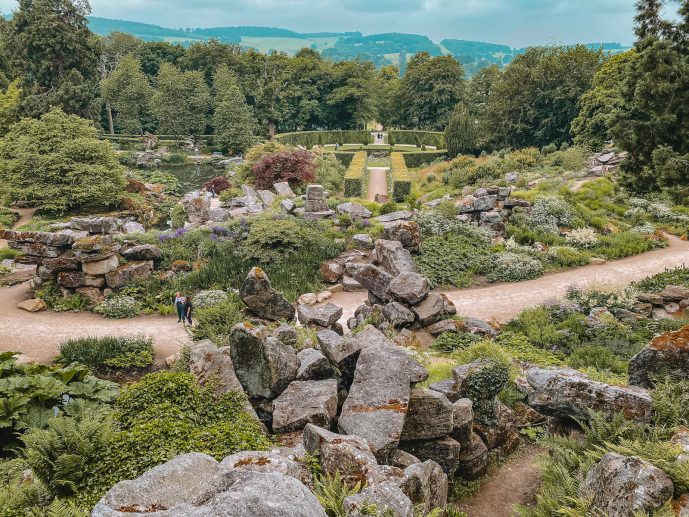 Things to do in Chatsworth House aka Pemberley
So, once you reach Pemberley what is there to do at Chatsworth House in the Peak District?
You'll be amazed at how vast this historic estate is. You could easily spend hours wandering around as Lizzie did. There is so much to see and do!
Here are all the things to do in Chatsworth House aka Mr. Darcy's Pemberley.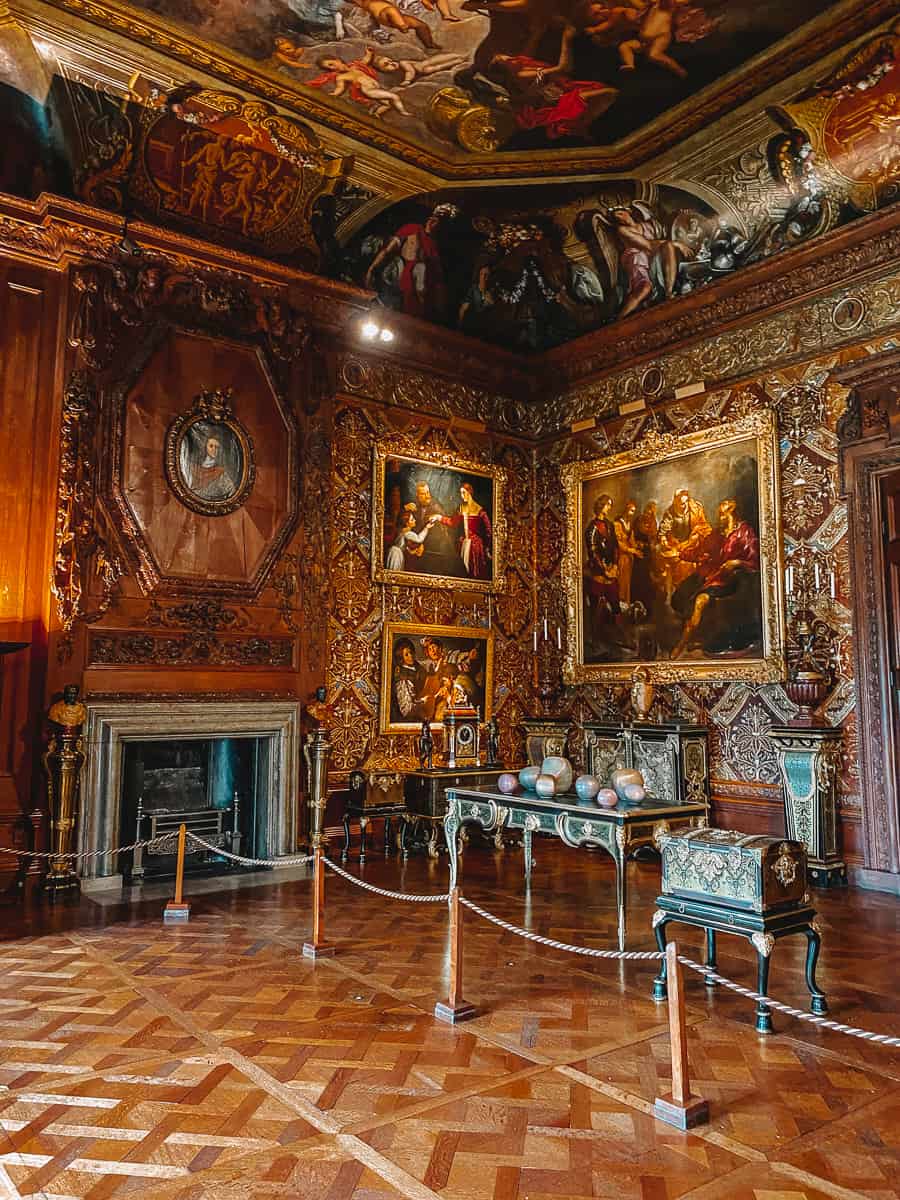 1. Admire Pemberley from the grounds
Before your tour of the house, I would recommend having a look around the grounds of Chatsworth House at the front.
The car park is open from 9 am and so you have a bit of time before the first tour of the day.
If you head out of the car park and up the road, you can get some great pictures of Pemberley from the historic bridge.
There are also some lovely walks by the lake and a river where you can see Chatsworth reflected in the water just like it's described by Jane Austen.
You can actually visit this part of the estate for free, you just need to pay for parking. There are many walks on the wider estate that you can take up to the likes of the Chatsworth Hunting Tower too.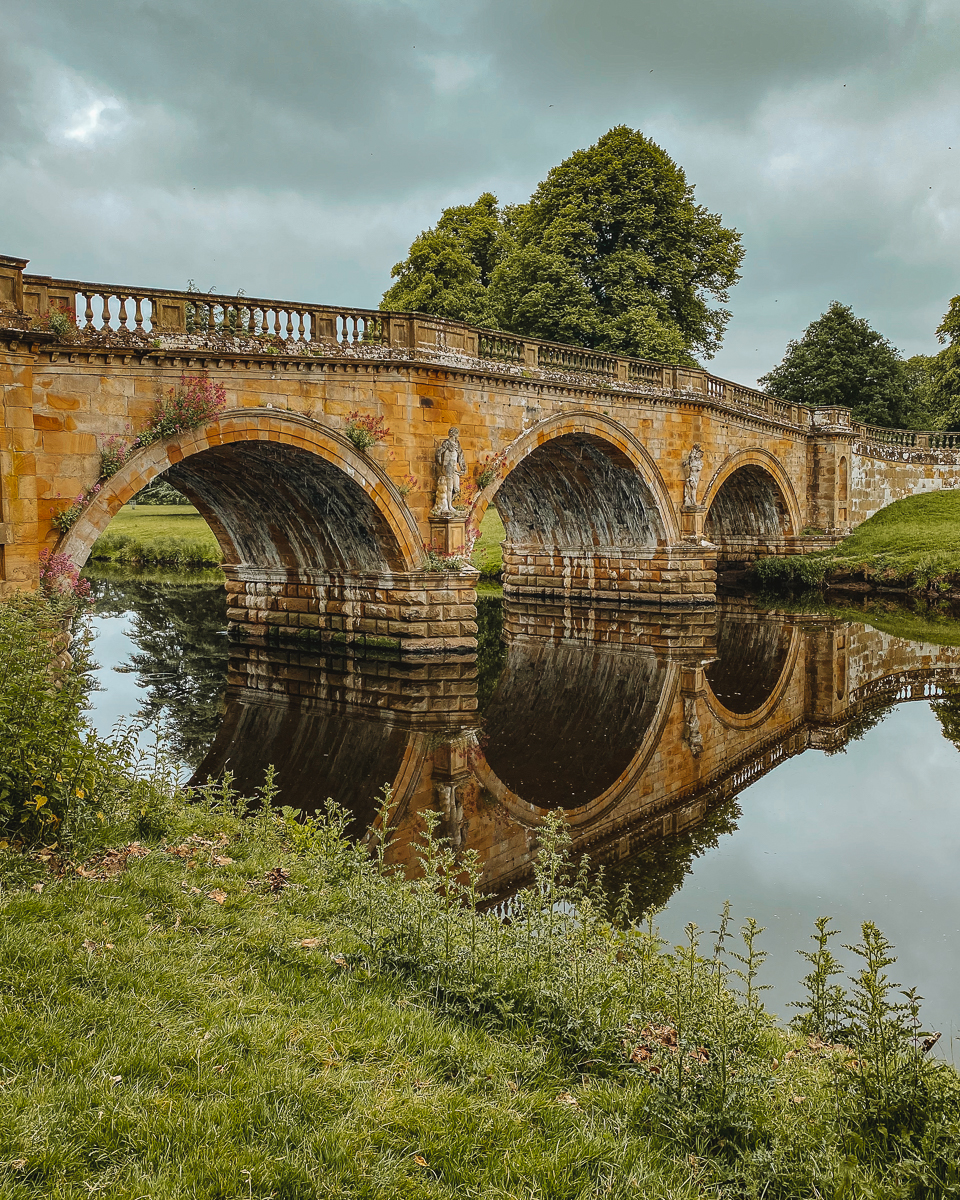 2. Visit the Chatsworth staterooms
When you book a ticket for Chatsworth House, you must visit the staterooms at your reserved time slot. You can't visit later in the day, unfortunately. It's quite strict so make sure to be on time.
You will need to make your way to the golden gates and then the staff will guide you inside when your tour is due to begin.
When exploring the house, you'll tour many of the luxurious staterooms.
You'll pass through the Grotto, Oak Room, Great Chamber, State Drawing Room, Music Rooms, and State Bedrooms.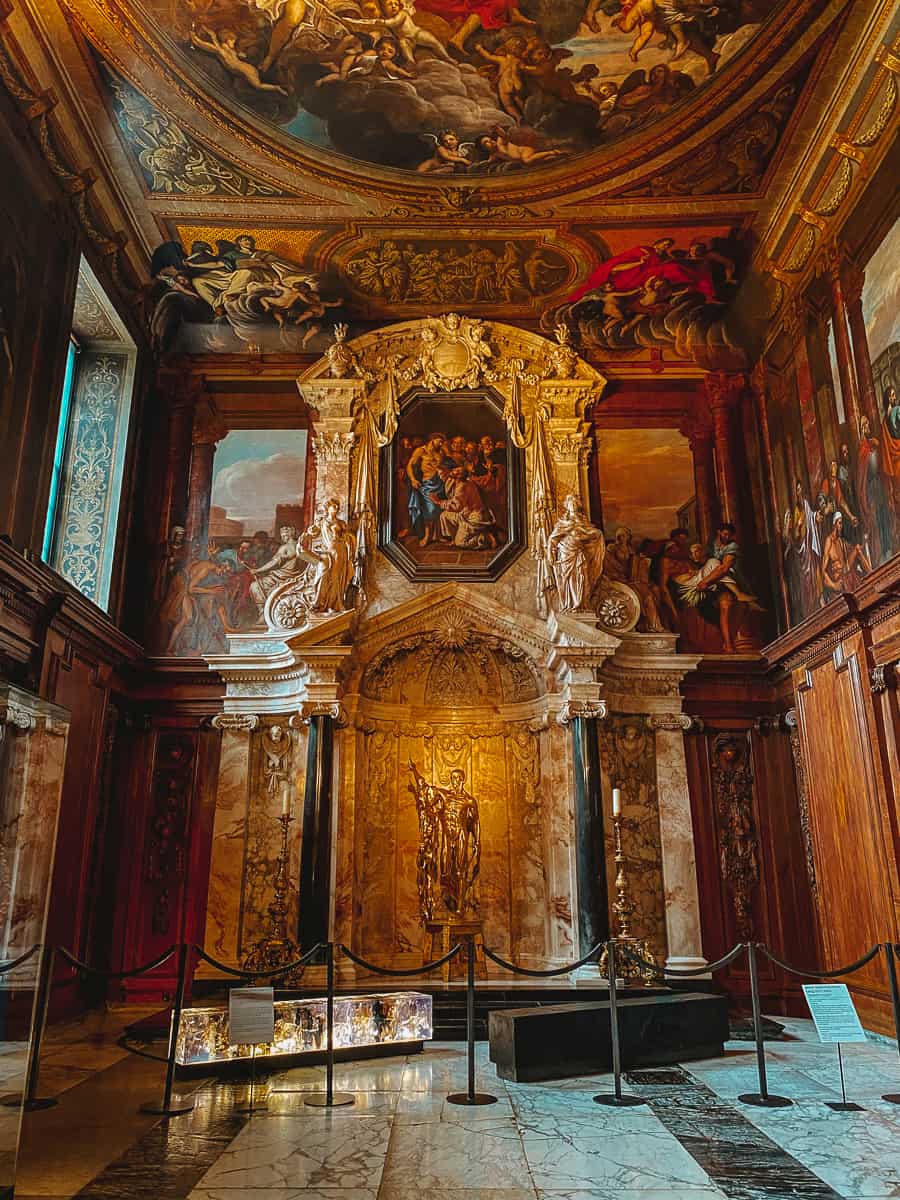 There is also the Great Sketch Galleries, Great Dining Room, and the Billiards Room/Library Lounge.
Every room is richly decorated with portraits, historic furniture, chandeliers, plush rugs, and Cavendish artifacts. The details are breathtaking.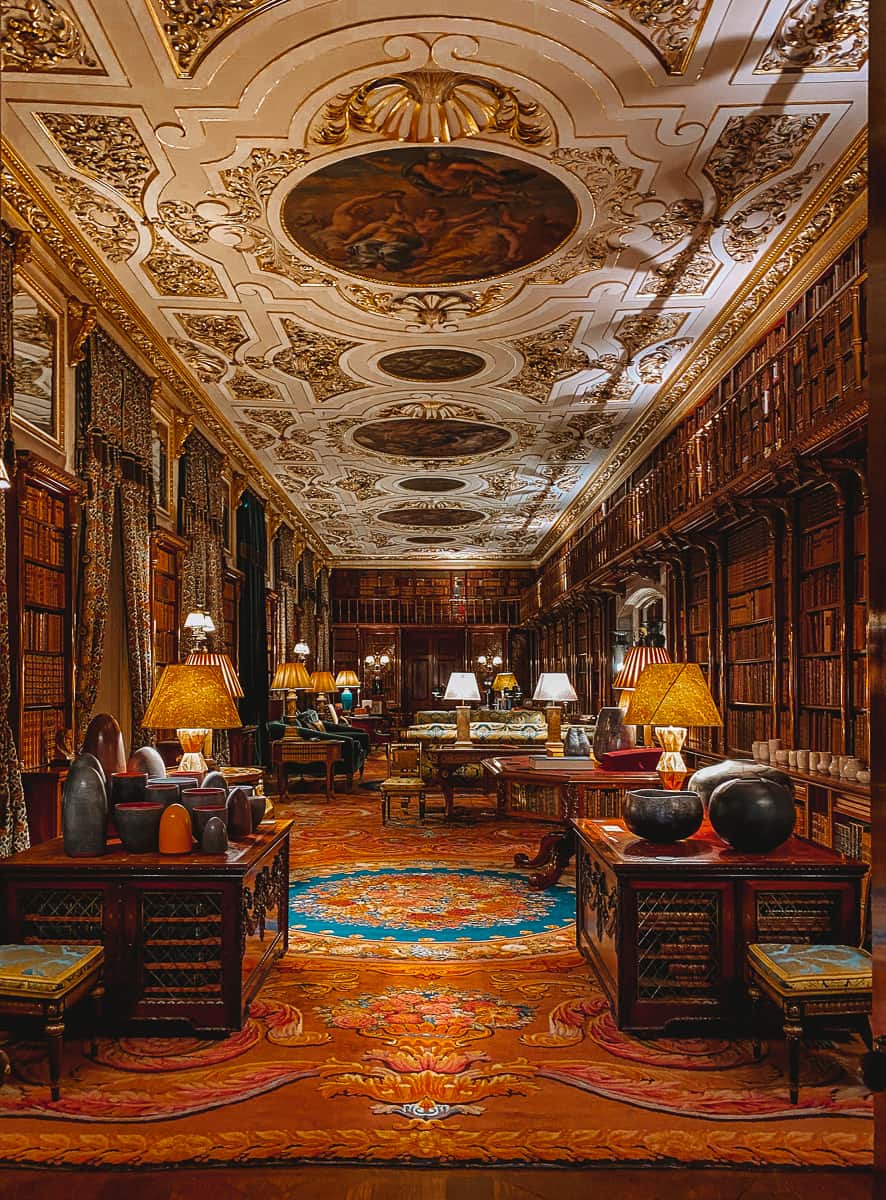 3. Chatsworth House Painted Hall & Staircase
One of the most memorable scenes of Pemberley in the Pride and Prejudice movie is when Lizzie walks up the staircase in the Painted Hall.
The housekeeper is leading them through the house and we can see the amazing painted murals on the ceiling and walls.
They didn't change anything about the house for the movie (save a few information signs) so you'll feel like you're really in Pemberley!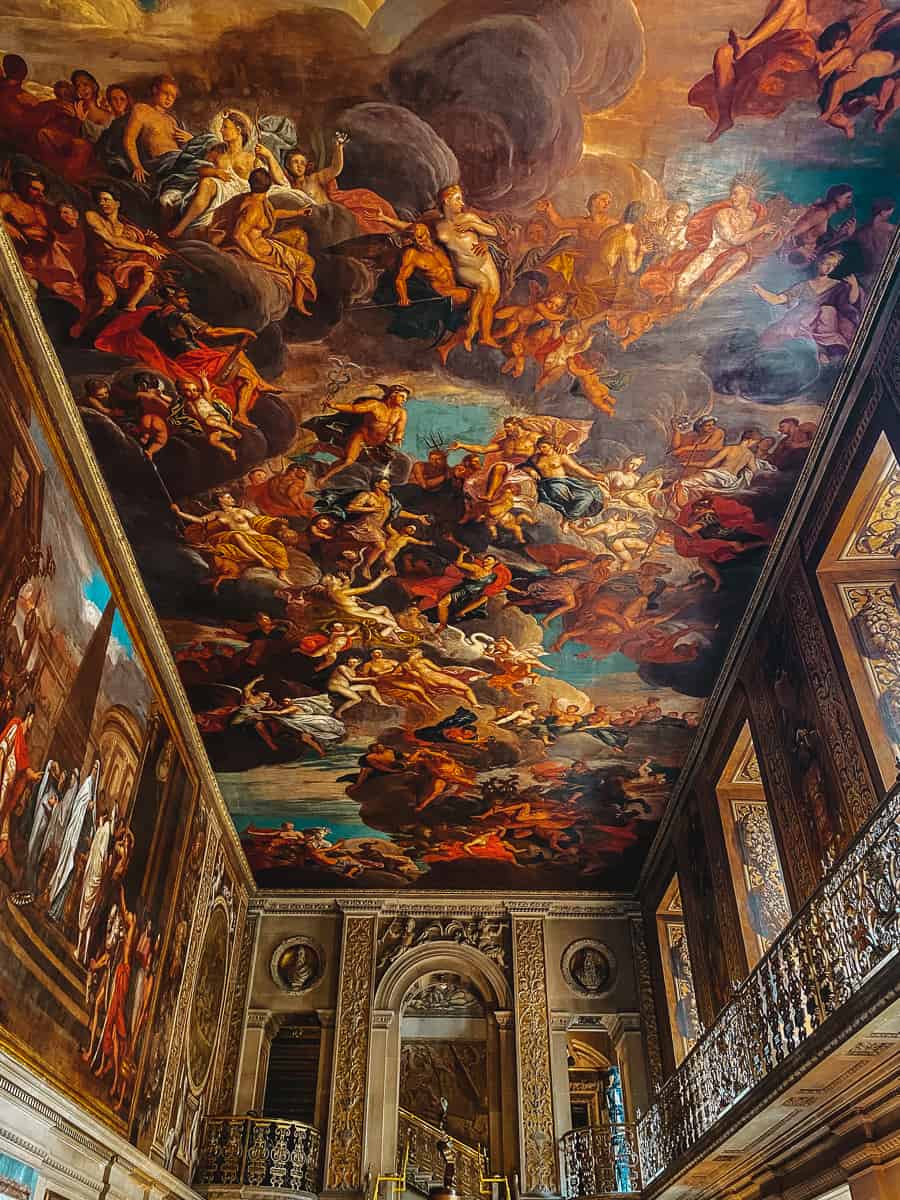 The Chatsworth Painted Hall was designed to make an all-important grand first impression when guests visit the house.
It was commissioned by William, 1st Duke of Devonshire between 1689 and 1694 and the murals depict scenes from the life of Julius Caesar.
It has been renovated over time but still remains the largest and grandest room in the entire house.
This room does get very very crowded so I would recommend being on the first tour of the day or the last tour to see it without too many people.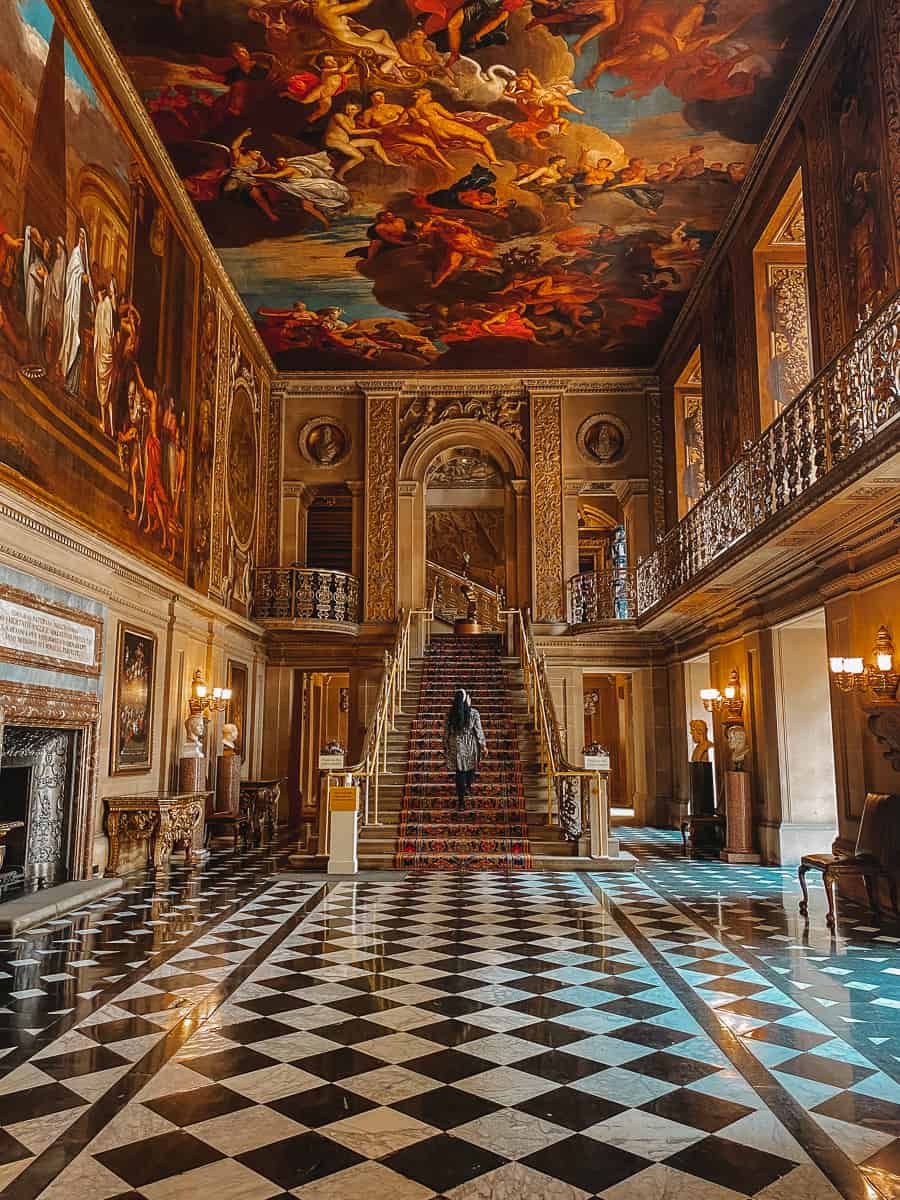 4. Explore the Chatsworth sculpture gallery
Another room you will recognise from the Pride and Prejudice movie is the Chatsworth sculpture gallery.
If you remember, Elizabeth Bennet is admiring the statues in the room on her tour of Pemberley including the Veiled Vestal Virgin sculpture.
This is a real sculpture in the Devonshire collection which you can see on your tour! It's not in the gallery itself but you'll find it in an alcove in one of the staterooms by a bookcase.
She then eventually finds the handsome statue of Mr. Darcy and wonders whether she has been right to judge him so harshly.
The collection of sculptures in the gallery is vast and you can see many highlights including the Sleeping Endymion and the Colossal Head of Napoleon Bonaparte.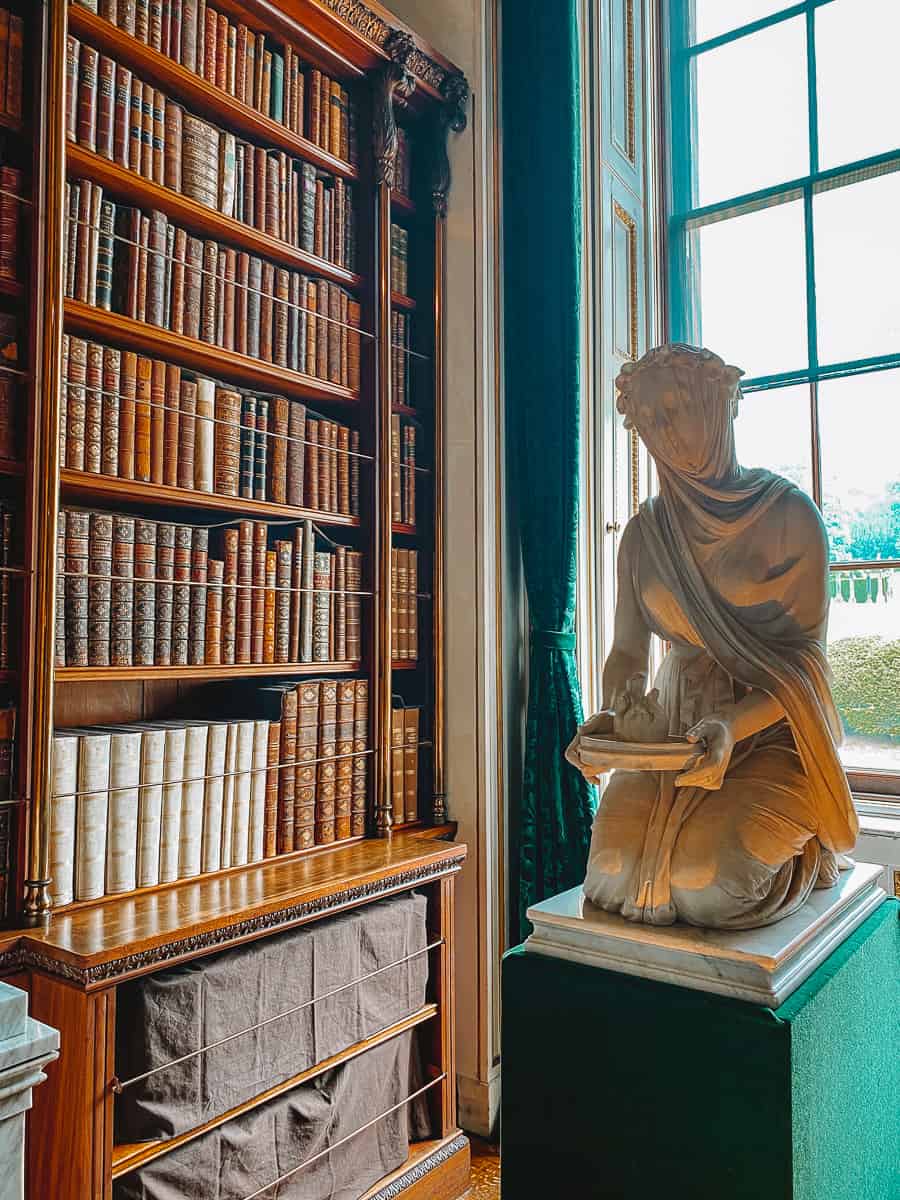 5. Chatsworth House Mr. Darcy statue
If you're like me and you're struggling to find the Mr. Darcy statue in the Chatsworth House sculpture gallery, I'm afraid to say it won't be there.
It was made especially for the movie and was only placed in the gallery for a short time during filming. But, don't despair, you can still see the Mr. Darcy bust in the gift shop!
If you head into the Orangery shop, you'll find the statue they used of Mathew Macfadyen as Mr. Darcy in the Pride and Prejudice section.
There's a sign beneath it saying 'do not kiss'. So, they must have had some obsessed fans once upon a time, haha!
You can even buy a miniature version of the Mr. Darcy bust to take home. Maybe an idea for your bookshelf?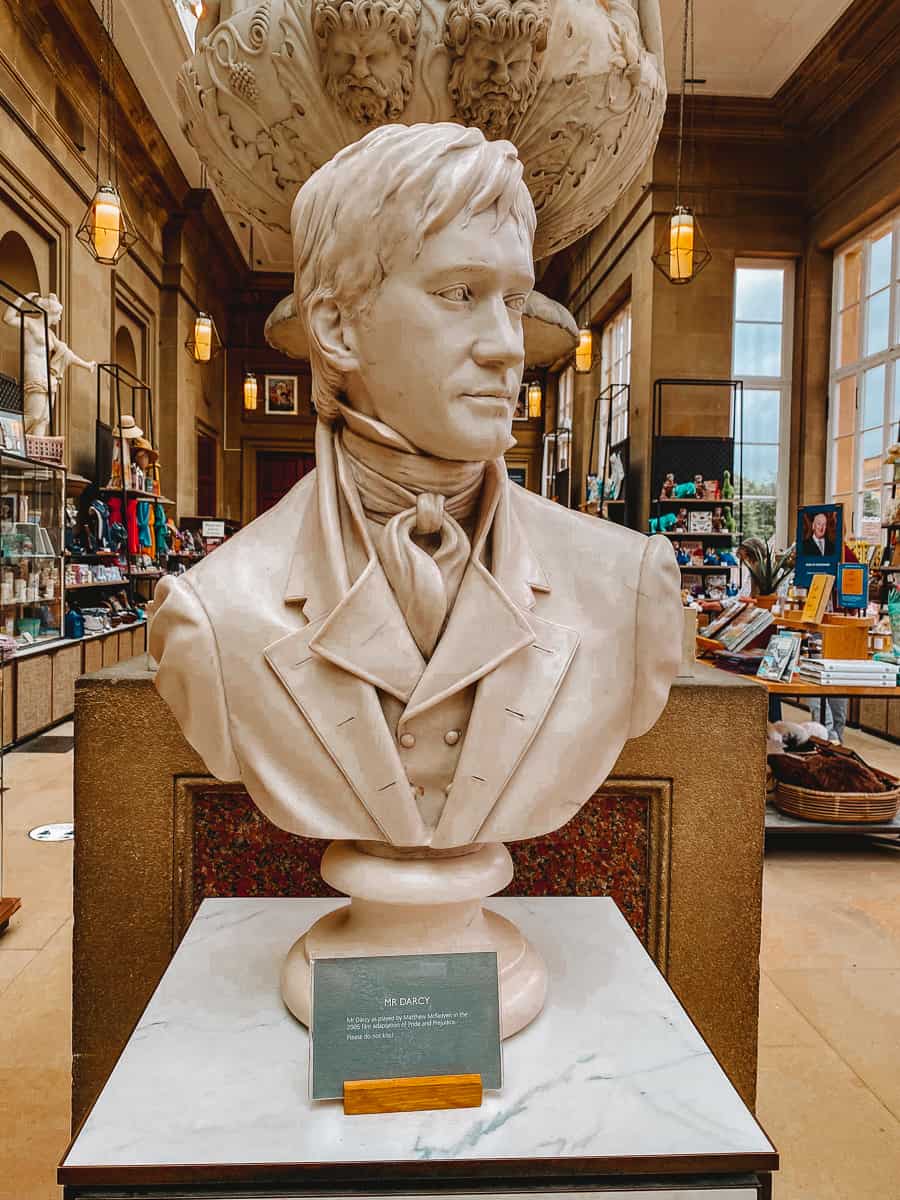 6. Buy Pride & Prejudice souvenirs
Although there are plenty of souvenirs to browse in Chatsworth House, Pride & Prejudice fans will love the number of Jane Austen-inspired souvenirs on offer.
There were notebooks, cookbooks, bags, jewellery, magnets, keyrings, and of course copies of Jane Austen's novels to buy.
I bought the most beautiful hardback copy of Pride and Prejudice whilst I was here with a dark floral front and silver painted edges. It's still sitting pride of place in the classics section of my bookshelf!
I already had two versions of Pride and Prejudice, but what's one more? I just had to buy another copy after my visit to Pemberley House.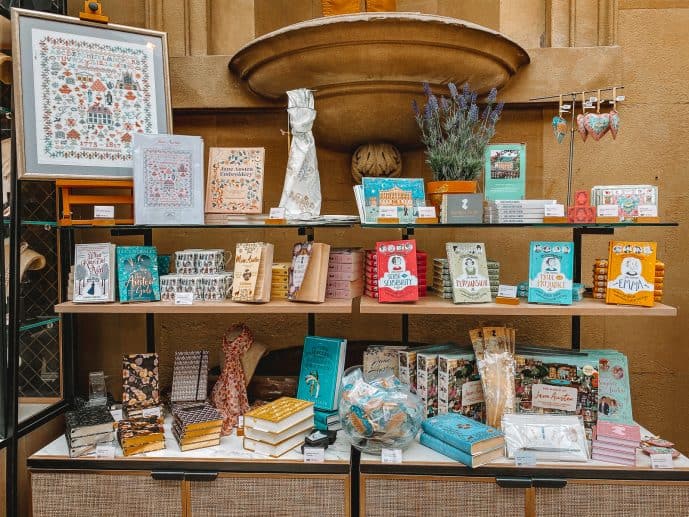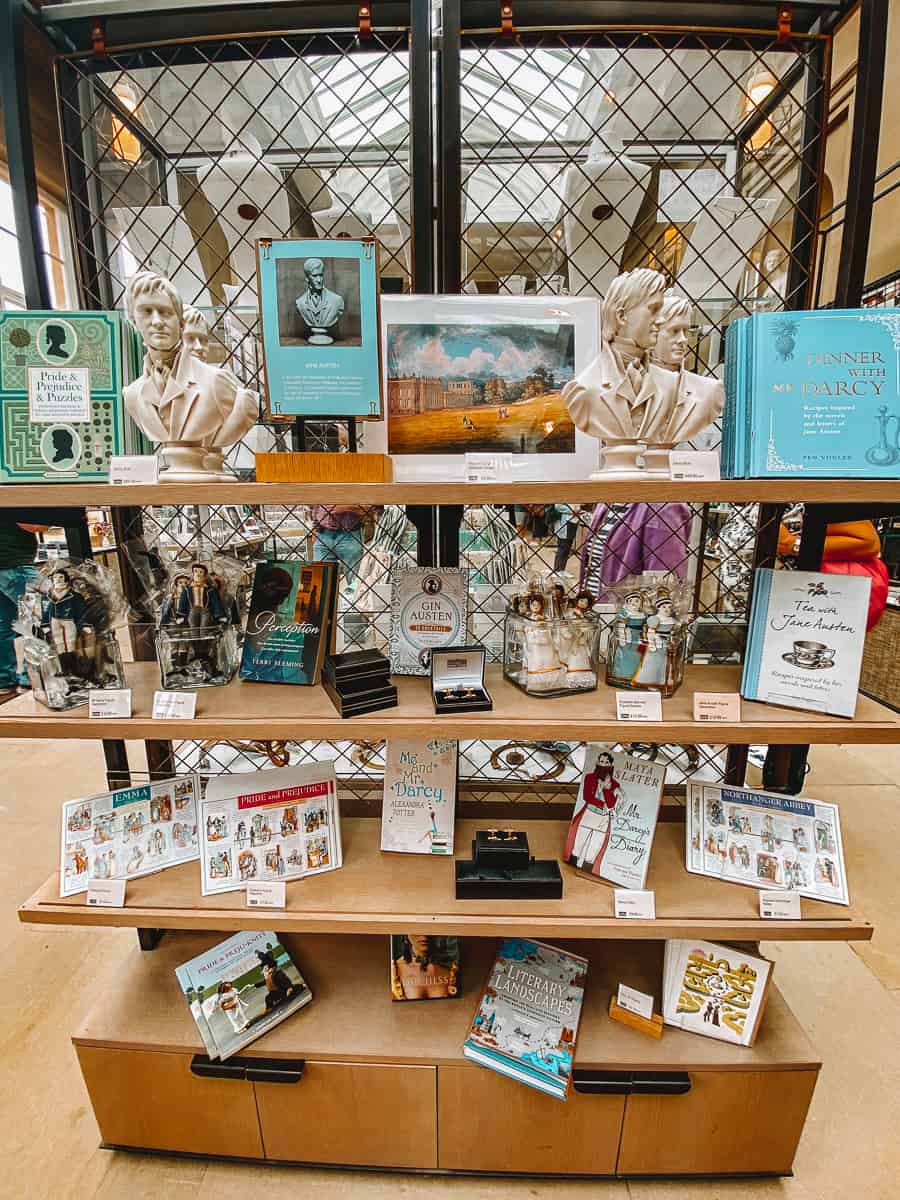 7. Visit Chatsworth House gardens
After your tour of Chatsworth House, you're then free to explore the extensive planned gardens that surround it.
You could easily spend hours walking around here and enjoying the many features such as grottos, hedge mazes, greenhouses, fountains, and topiary.
If you didn't want to walk, you can take the Chatsworth tractor train around the gardens or a buggy tour.
My favourite part of the gardens was the Rock Garden & Strid. It was built in 1842 as a reminder of the 6th's Duke's visit to the Alps during his Grand Tour of Europe.
It's a labyrinth of rocky features, viewpoints, tunnels, and flowers. There is even a 14-metre-high waterfall!
Another place I loved visiting was the Emperor Fountain and Canal Pond. From here, you can get stunning views of Pemberley reflected in the water.
We see a scene like this in the movie when Lizzie arrives at Pemberley in her aunt and uncle's carriage.
Unfortunately, the steps that Lizzie climbs down outside of Pemberley in the movie (when she tries to run from Mr. Darcy after he spots her snooping) are usually closed off to the public. It's a shame but true.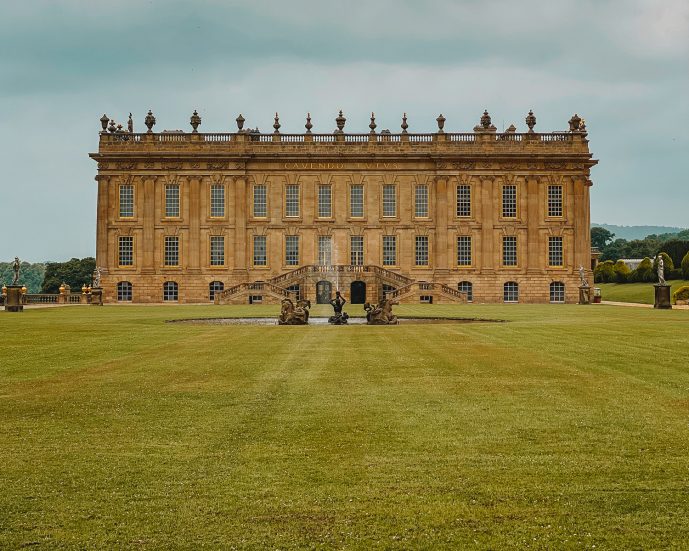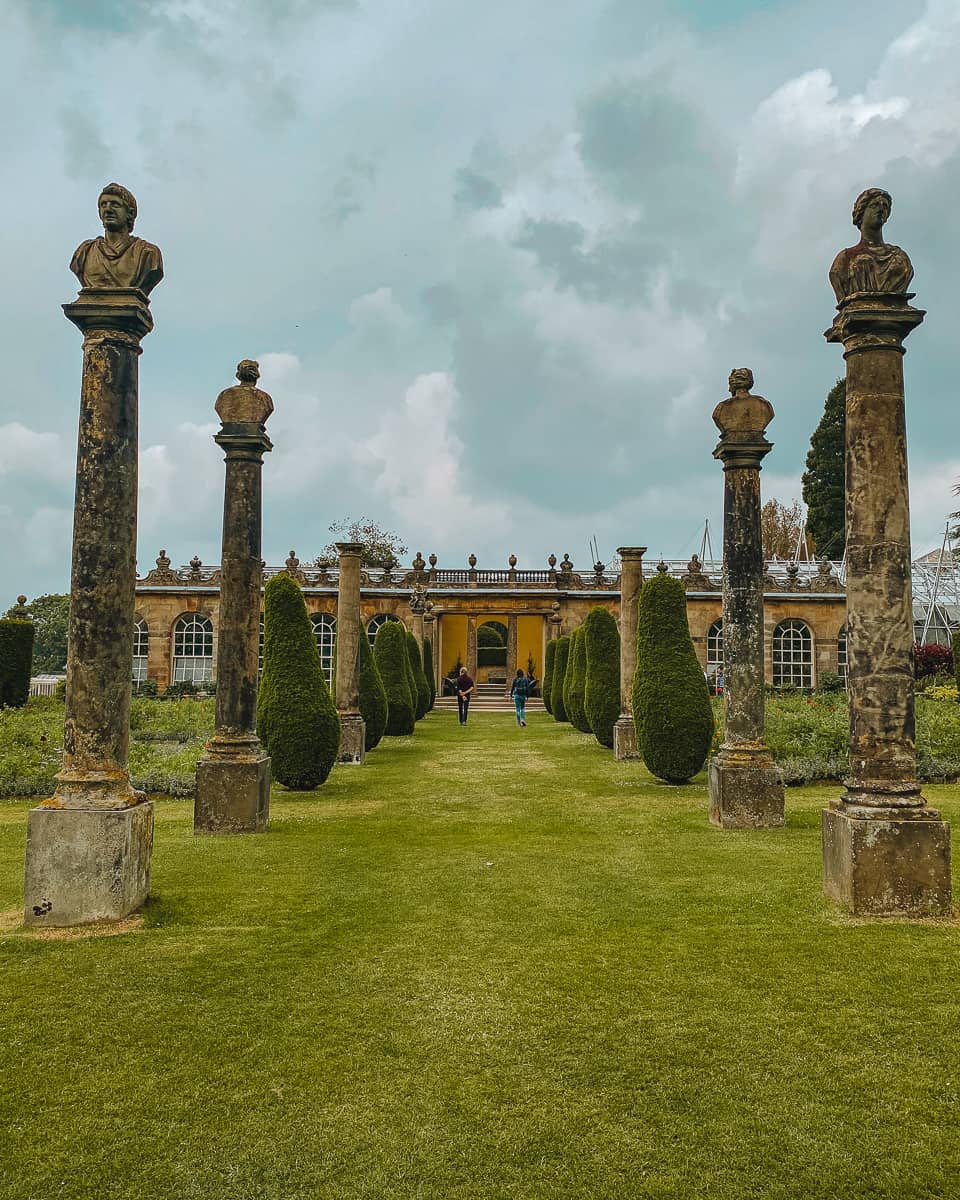 8. Have lunch or some afternoon tea
There are many options for lunch whilst at Chatsworth House. You can visit the Carriage House café that serves breakfast, light lunches, and snacks throughout the day.
They have the option to buy a picnic hamper from their Picnic Shop whilst you're here. Or, you can enjoy Flora's Temple tea room with outdoor seating in the gardens.
If you really wanted to feel like you're in the Regency era why not treat yourself to lunch or an afternoon tea at The Cavendish Restaurant? It's a fine dining experience worthy of Pemberley!
Chatsworth House opening times and ticket prices
Chatsworth House is open every day of the week during the tourist season and you will need to book a time slot to tour the house.
The car park opens from 9 am – 6 pm and tours of Chatsworth House usually start from 10 am / 10.30 am.
I would recommend booking one of the first slots of the day to avoid crowds. Chatsworth can get incredibly busy!
On that note, I would plan to spend half a day to a day here in the Peak District. There is lots to see and do plus many shops and restaurants on the estate.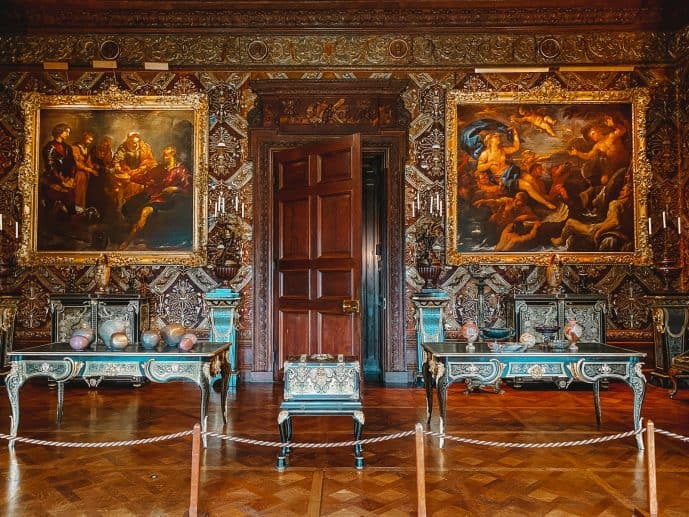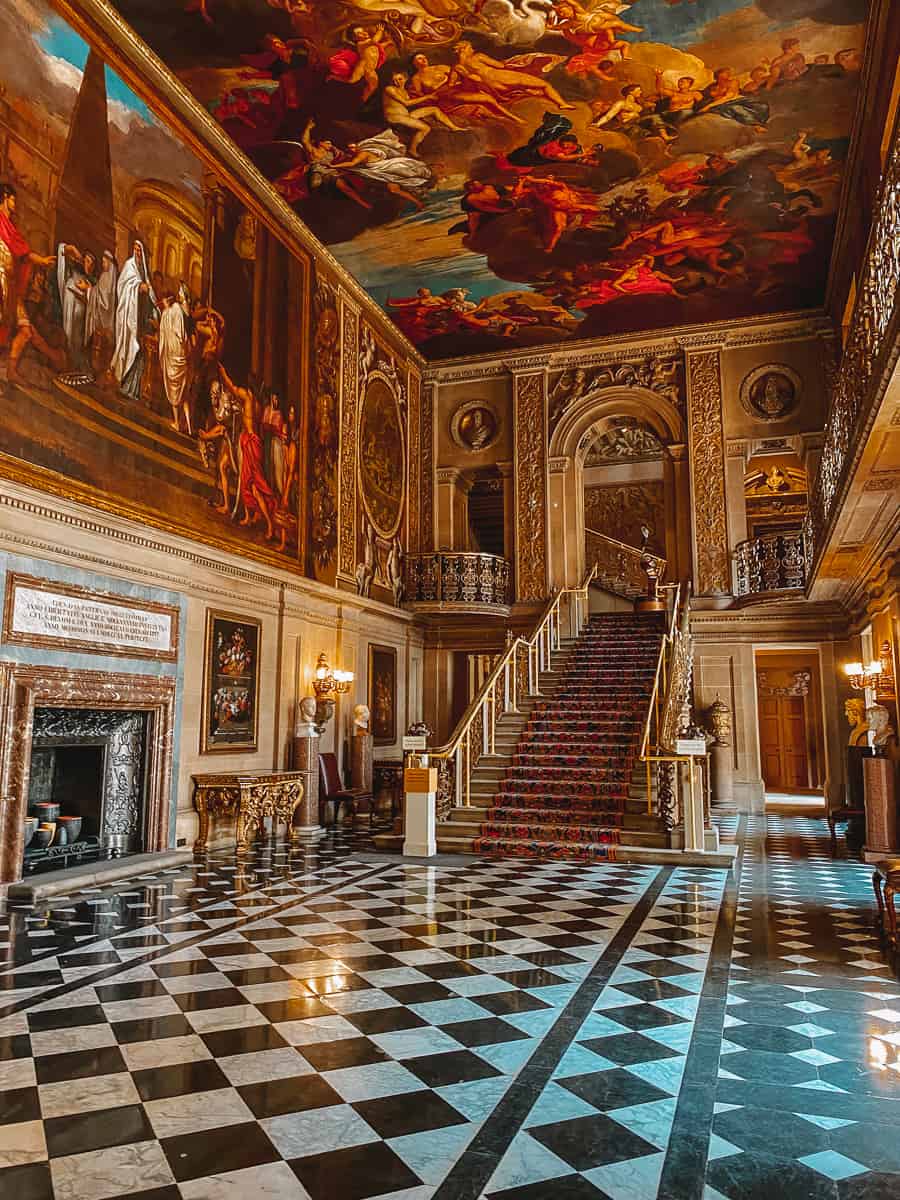 There are many ticket options available. You can just visit the gardens for £15.50 but I would recommend booking a House and Garden ticket for £28.50.
This way you can experience all that Chatsworth has to offer and see the rooms used for Mr. Darcy's Pemberley House in the Pride and Prejudice movie.
There are many special events that take place at Chatsworth throughout the year which are worth checking out on their programme.
Recently they held a Pride and Prejudice-themed regency ball but their Christmas events are meant to be spectacular!
Chatsworth House FAQs
Was Pemberley based on Chatsworth? Yes, Jane Austen stayed in Bakewell and took a tour of Chatsworth House. It is said her visit inspired Pemberley House in her novel!
Is Pemberley in Derbyshire? Yes, it's a real-life location of Chatsworth House in Derbyshire in the Peak District.
Was Chatsworth used as Pemberley? Yes, it was used as Pemberley in the book and the 2005 movie starring Keira Knightley and Matthew Macfadyen.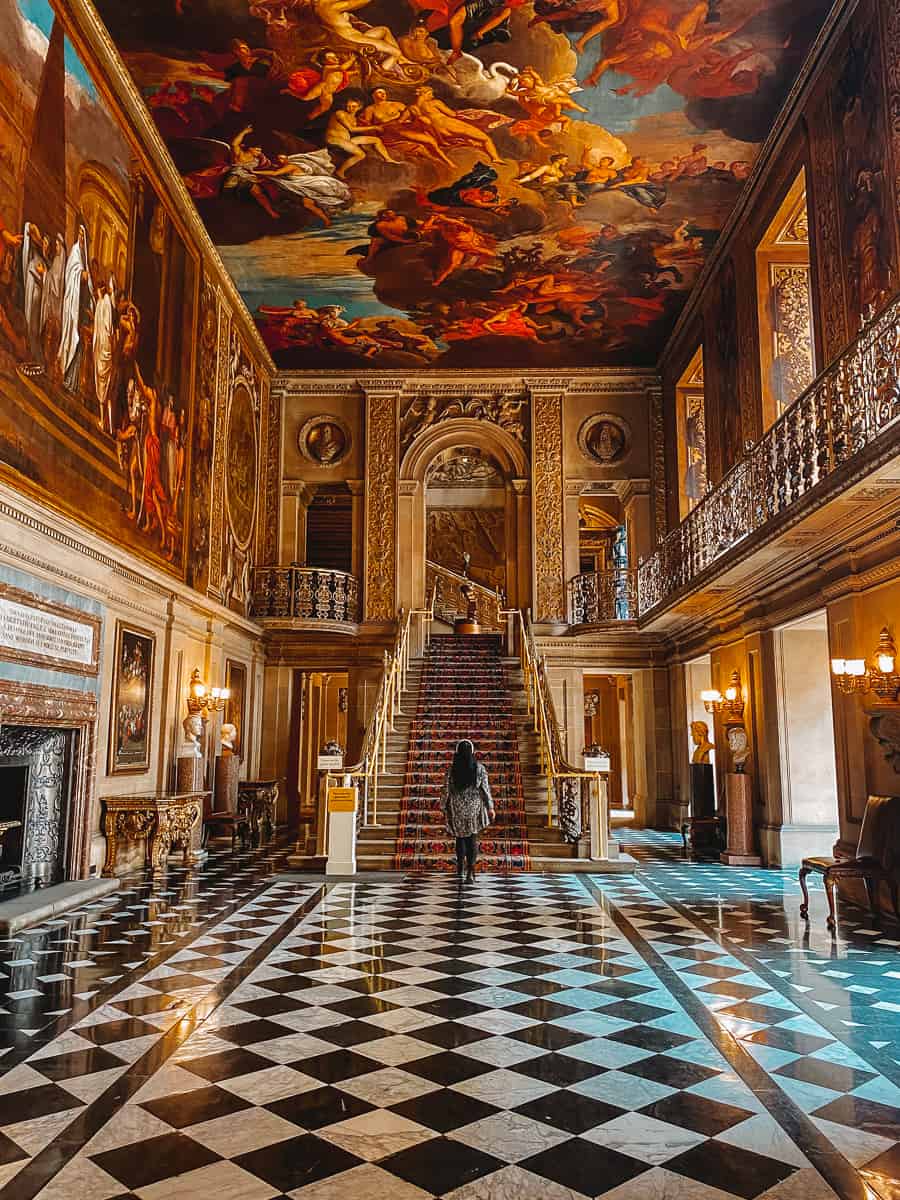 Lyme Park as Pemberley
If you were a fan of the BBC version of Pride and Prejudice (1995) and you prefer Colin Firth as Mr. Darcy then you may like to visit Lyme Park in Cheshire too.
The house is owned by the National Trust and you can visit the interior as well as take an extensive walk around the grounds.
You can even visit the reflection pool where Mr. Darcy swims in the water and gets his shirt wet!
It's one of the most famous scenes of the entire series…for obviously storytelling reasons…and not…you know… ahem.
The gift shop has lots of Pride and Prejudice souvenirs including magnets with Colin Firth as Mr. Darcy!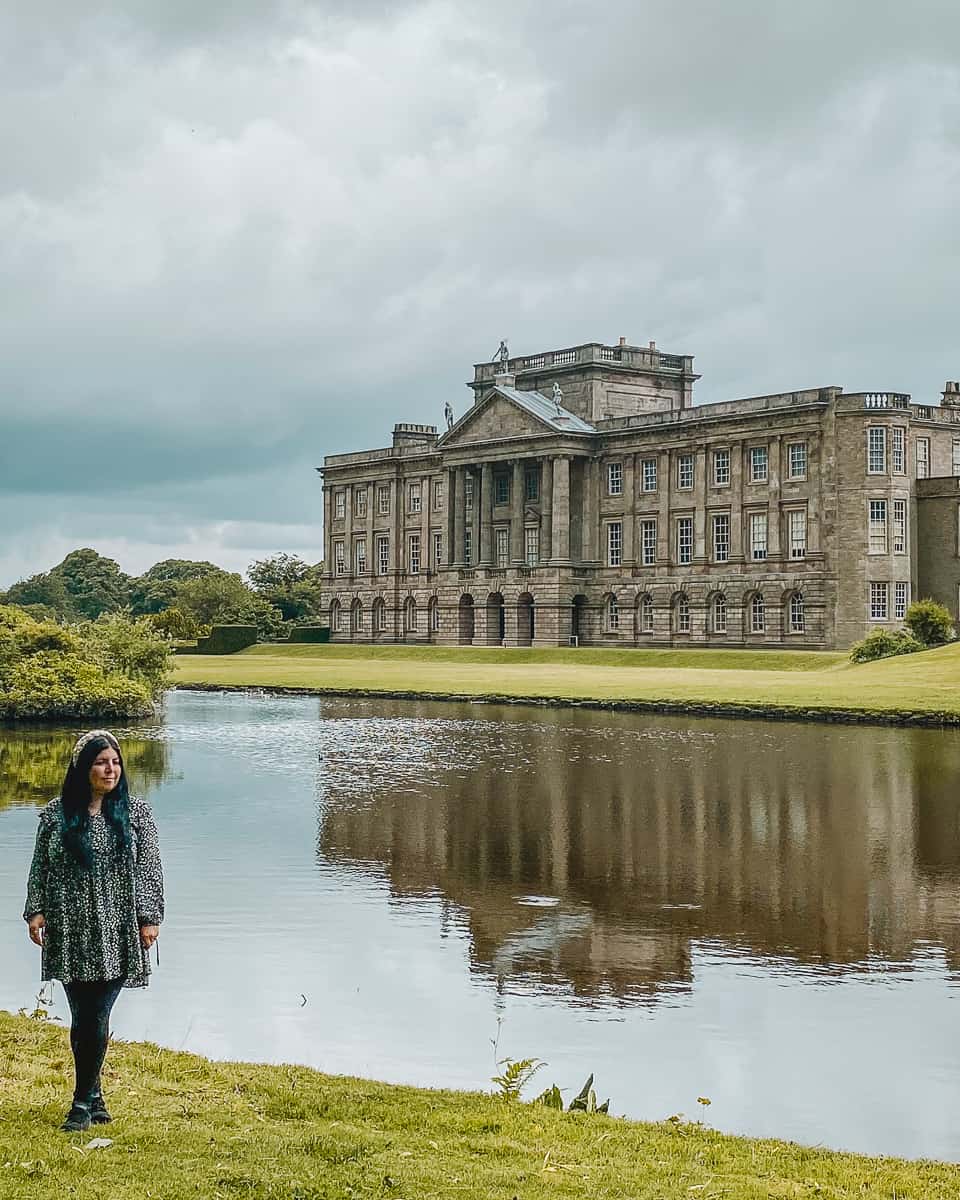 Looking for more Pride and Prejudice locations nearby?
There are plenty of locations that you can visit in the Peak District if you're a Pride and Prejudice fan!
In the TV series, you can visit the dramatic Ramshaw Rocks or Chapel Street in Longnor played the Lambton Inn.
Also, if you wanted to visit Pemberley and the famous reflection pool of Mr. Darcy then you can head up to the National Trust Lyme Park and House in Cheshire.
Sudbury Hall was also featured in the TV series which was used as the location where Elizabeth Bennet saw Mr. Darcy's painting.
Stanage Edge is where Elizabeth Bennet stands with her dress flowing in the wind at the start of the movie and Haddon Hall was transformed into the busy Lambton Inn for the 2005 production.
Read more of my Jane Austen travel guides!
Stourhead Pride and Prejudice guide
A self-guided Jane Austen tour of Lyme Regis
Things to do in Lacock Village, Wiltshire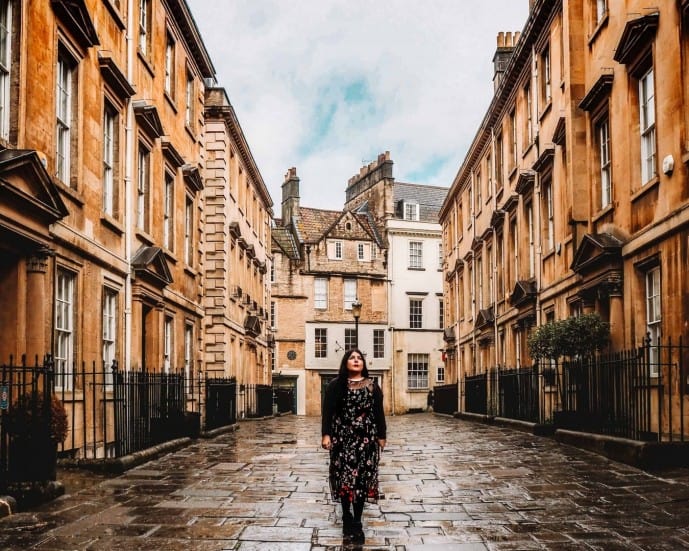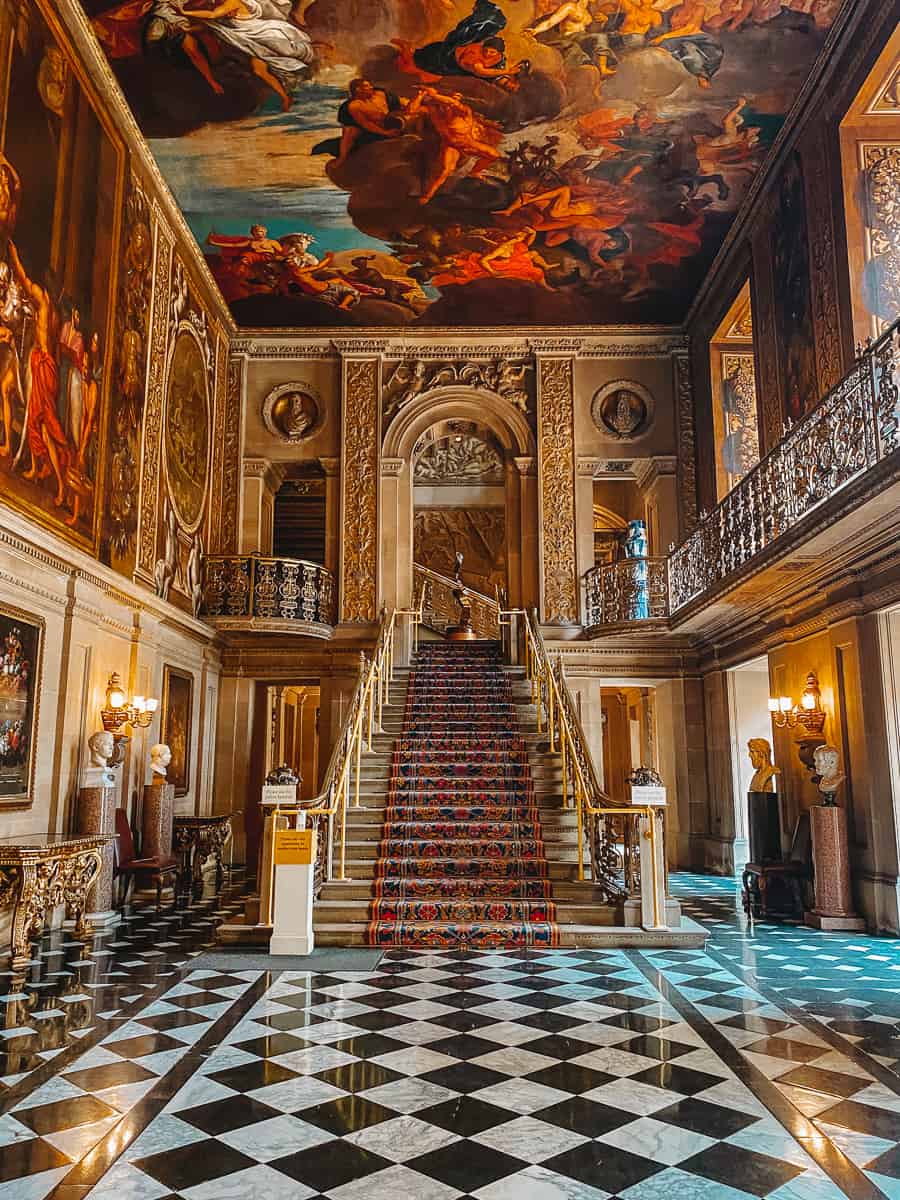 Read more of my Peak District guides
How to get to Thor's Cave in the Peak District
How to get to the incredible Bamford Edge
How to find Robin Hood's Cave in Stanage Edge
A magical easy walk to Lud's Church
How to visit & cross Dovedale Stepping Stones
A complete guide to Peakshole Water Castleton
How to visit Little John's Grave in Hathersage
Malfoy Manor location at Hardwick Hall
Monsal Head Viewpoint Visitor Guide
How to get to Solomon's Temple in Buxton
Best things to do in Ashford in the Water
The best things to do in Milldale
Chee Dale Stepping Stones walk
Why you must visit Scrivener's Books in Buxton
Things to do in Eyam Plague Village
Save how to visit Pemberley Chatsworth House for later!