I had so many places that I wanted to photograph in Snowdonia National Park on my list. It's full of amazing ruined castles, waterfalls, mountains, and llyns (lakes). There's inspiration everywhere!
But, one I was particularly excited about seeing was the Penmachno Roman Bridge & Pandy Falls.
It looked like something from a fairytale. An ancient stone archway with creeping vine leaves hanging off it. All the while, a waterfall crashes below in the River Machno! Magical.
However, I made one fatal error before I left to find it. I didn't save the Google Map pin or even a postcode of where it was!
So, when I arrived in Penmachno just before sunset, I looked at my phone and panicked as I had literally no signal to find directions. It's sad how much I rely on technology these days but it's true!
There is no sign for this bridge whatsoever and no locals around to ask. I was more than a little bit lost and frustrated as I didn't even know where to start looking. I was also losing daylight.
Finally, I called it a day and decided to go back another time. I'm happy to report that round two was a success!
In this post, I'm going to give you detailed directions on how to find the Penmachno Roman Bridge so you don't make my mistake.
Plus, I'll go through a bit of history, some photography tips, and what NOT to do while you're here!
The history of Penmachno Roman Bridge
Although this ancient bridge that crosses over the Machno River is locally known as the Penmachno Roman Bridge. Funnily enough, there is nothing Roman about it all!
In fact, this single arched bridge dates back to the Medieval era around the 16th century and it was constructed as a convenient way for packhorses to cross over the river.
But, that's not to say it didn't have Roman origins. Many believe that this 'newer' medieval bridge replaced an existing one from when the Romans were stationed here.
As disappointing as it is to know that this bridge is not thousands of years old, it is still significantly important and is now a scheduled monument in North Wales.
Understanding the construction of this bridge is a great way to know more about Medieval architecture and transportation systems at that time. So, the bridge and the area surrounding are protected.
It's still the very last bridge before the Machno River joins the Conwy.
Although it's a ruin today with a fair bit of vine-leaf overgrow. It is still structurally intact and continues to amaze visitors who see its beauty every year!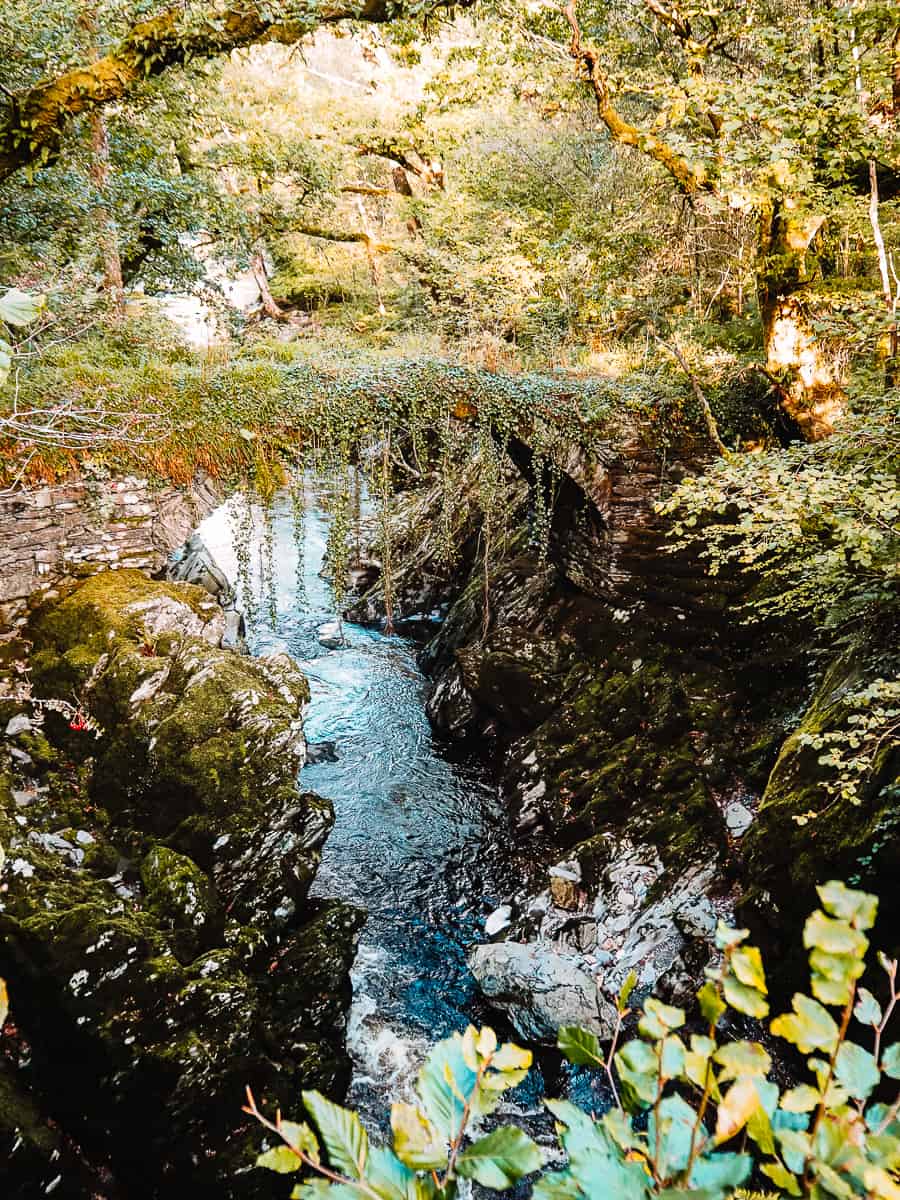 How to find the Penmachno Roman Bridge
Well, there will be no prizes for guessing where this Roman Bridge is. You guessed it, it's in Penmachno!
It's a relatively sleepy, rural valley in the North Wales countryside which has a central village of the same name.
It sits just a few miles from the busy tourist hub of Betws-y-Coed. But, the great thing is, Penmachno doesn't see a fraction of those crowds which makes it all the more peaceful and relaxing!
So, if you were exploring the area on a Snowdonia road trip, this would be a perfect addition to your visit.
As a bonus, this stop is really convenient for cars as the Roman Bridge can be found close by a turning off the A5 Betws Road. It isn't a massive detour!
This turning can be found at the intersection near the Conwy Falls Café. You'll see a sign that Penmachno is two miles away.
But, you won't even need to drive those two miles to find the Penmachno Roman Bridge. Remember, I already made that mistake!
When you turn off on the B4406 road at Conwy Falls Café, head in the direction of Penmachno village. Then, you'll come across a group of houses with a road intersection that leads you to a smaller B-road.
Turn left onto that smaller B road, and head towards the old Penmachno Woollen Mill building which you'll find on your left.
Just beyond the old mill is a newer bridge that will allow you to cross over the Machno river with your car.
The Penmachno Roman Bridge can be seen as you stand on that bridge!
I'll add an aerial view below. Click on the image to be taken to the Google Pin to save to your phone.
I would recommend saving the pin BEFORE you leave to visit the Roman Bridge as I found I had no signal when I got here. Or, download an offline version of the area via Maps.Me.
Where to park your car to visit
If you were on a Snowdonia road trip and wanted to make a quick stop here for some photos. There isn't an official car park to be found as this 'technically' isn't a tourist attraction.
It's also nowhere near Penmachno Village either and there are no facilities nearby to speak of. So, you'll need to find somewhere that you can park to visit the bridge.
Luckily, there is a small off-road area or lay-by that you can park on by the Old Mill.
It's important to find a place where you can park with consideration and you're not going to block any oncoming traffic. Although it is a B road, cars do use it often!
Failing that, there are a few parking spaces available just before you make the left turn at the intersection. This is a much larger car park with no parking charges. You can then walk over to the Roman Bridge in less than five minutes from there.
If driving is not an option you can take the bus from Betws-y-Coed provided by Llew Jones. Bus number 19 stops right outside the mill.
Penmachno walks to the Roman Bridge
If you have the time and would like to enjoy some of the countryside scenery at a slower pace. It may be a nicer idea to plan a visit to the Penmachno Roman Bridge as part of a walking route.
This bridge is part of the wider Penmachno valley and it's an area of outstanding natural beauty.
Many people will have heard of Conwy Falls and enjoy making a visit downwards through the forest to see them. From the Café area, you can easily make a scenic walking route to Penmachno and then stop by this ancient arched bridge on the way!
Or, you could trek through the Gwydir Forest which will eventually lead you to Betws-y-Coed with the gorgeous Pont-y-Pair Bridge and Swallow Falls.
There is also the famous Fairy Glen which is a gorge out of a storybook plus some National Trust properties like Ty Mawr Wybrnant to schedule in. The options really are endless.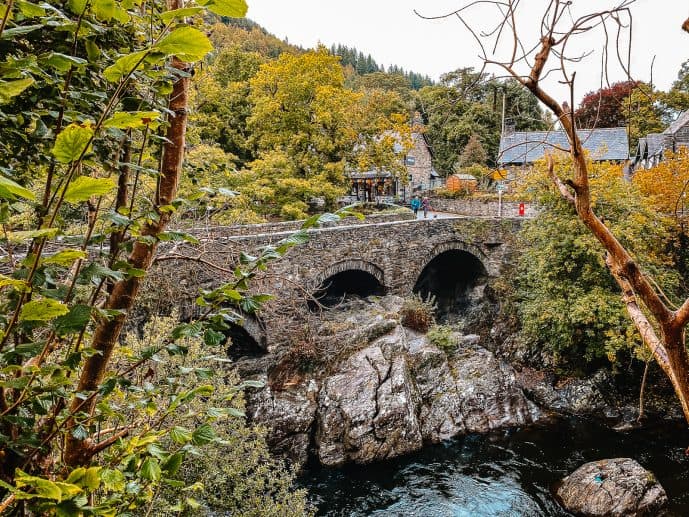 What to do while you're here
So, what is there to see while you're visiting? You may be surprised but there is quite a lot around this area as well as the Roman Bridge.
Here are some things to look out for on your visit;
See the Old Penmachno Mill (Pandy Mill)
Although this mill is largely abandoned and no longer used today. For well over 150 years, it played a major role in the village life of Penmachno.
It was built around 1839 as a fulling mill that was owned by the Penrhyn Estate which is locally known as Pandy. Hence the name Pandy Mill & Falls.
Then, in 1894, the mill was converted into a woollen mill by the leaseholder, Hannah Jones, and her sons.
It was a major employer in the area and the mill produced woven blankets and cloth to the village and beyond.
Once, their income flourished they were able to completely rebuild the mill with more up-to-date machinery including a new mill wheel.
Unfortunately, the business closed down in 1968. But, their work was revitalised in 1974 by Craft Centre Cymru who set up shop there. Their aim was to recreate the gorgeous traditional patterns by hand that Hannah Jones made in the mill.
It was again resold in 1992 and the mill finally closed down in 1997. This was due to the structure being no longer safe inside with it sitting so close to the river.
Nowadays, it's a ruin but it is still quite a pretty building that sits prettily by the Pandy Falls. You can still see the old mill wheels on the outside.
Admire Pandy Falls!
Besides the bridge, this was one of my favourite parts of visiting this tiny scenic area in Penmachno valley.
I don't know what it is, but I find the crashing sound of waterfalls so relaxing!
I loved just standing and watching the waterfalls flow down the gorge in the river and make their way under the arched bridges.
These are locally known as Pandy Falls and they flow beside the scenic Old Penmachno Mill. This Machno river will eventually lead you towards Machno Falls, the Conwy River, and the Fairy Glen!
It's a great photo opportunity, so have your camera at the ready.
Penmachno Roman Bridge photography
The reason why most people visit here is to take photos of this gorgeous bridge.
You see the images of the two arched bridges over the river with the hanging vine leaves surrounded by the Gwydir forest.
It's beautiful and exactly why I wanted to visit after seeing photos of it on my Pinterest board for months.
But, when I got here I was extremely confused. You see, the bridge and the area by the river has a barbed wire fence all around it due to an old mine shaft that had been here!
So, you're not actually allowed to climb down to the river to take those iconic photos of the two bridges at all.
There are signs everywhere telling you not to do it as it's dangerous. Another typical Instagram vs. Reality moment!
Looking at the photos that other photographers have taken, it actually looks like they stand in the middle of the river! This is dangerous and could sweep you off in an instant.
That, or some have flown a drone down there.
I don't believe in being reckless and I certainly do not believe in compromising my safety for an Instagram photo.
So, I ask, please don't climb over the fence illegally for photos!
Yes, it's a nice photograph. But, there are fences around the area for a reason. It isn't a very responsible way to visit a National Park or to protect nature and historic monuments. Plus, it's not safe.
You can still get great photos of the Roman Bridge from the top of the road as well.
Can you walk over Penmachno Roman Bridge?
Unfortunately, no! The whole bridge has been fenced off to protect it as it's a scheduled monument.
It's nearly 500 years old and so crossing over it could cause major damage to the structure with the footfall.
It's a single archway with no parapet. Meaning, that it doesn't have the structural support of a regular bridge that is built to carry a lot of weight. Hence why there is a new bridge alongside it with a road!
You can just as easily admire its beauty from the outside looking in. I mean, you can't see the amazing vine leaves and the glorious arch while you're crossing it anyway. It just looks like a patch of grass.
Plus, you definitely don't want to be the last foot that made the ancient Penmachno Roman Bridge Fall!
Read more of my related posts on Snowdonia National Park
How to visit Dinorwic Quarry Wales
How to find the Sappers Suspension Bridge
Why is the Ugly House called Ugly?
How to find the Lone Tree of Llyn Padarn
The legend of Gelert & how to visit his grave
The top places to visit in Beddgelert
Visiting the Cauldron Falls at Pont-y-Pair Bridge
When does Tu Hwnt I'r Bont tearoom turn red?
A complete guide for visiting Swallow Falls
Why you MUST visit the Fairy Glen Gorge
A complete Conwy Falls & cafe guide
Look inside the Smallest House in Great Britain!
A complete guide for the Conwy Town Walls
How to do the Llyn Idwal Circular Walk
A complete guide for the Dinas Emrys Walk & Dragon legend
How to see the Bodnant Garden Laburnum Arch
How to visit Pistyll Rhaeadr Waterfall
Gladstone's Library – Stay in the UK's only residential library
Save this Penmachno Roman Bridge Guide for later!