The Cotswolds is full of hidden gems to discover and one of the best has to be the historic Perry and Dawes Almshouses in Wotton-under-Edge.
They were built in the 17th and 18th centuries by local benefactors who bequeathed money in their wills to help the poor.
Today, a small dark passageway on Church Street leads you to a spectacular courtyard with old houses, manicured gardens, and a pretty chapel!
Here's a complete guide for the Perry and Dawes Almshouses in Wotton-under-Edge with the history and how to visit.
What are Almshouses? & an overview of Alms in England
The tradition of giving alms has been in the UK since the introduction of Christianity. Just like it is today, medieval citizens were taught in the Bible that giving Alms was an act of virtue and charity.
The alms in question could be money, food, or anything else that is given freely to the less fortunate.
Medieval English monarchs (usually queens) would hold this tradition on "Royal Maundy", which would involve giving alms to the poor on Maundy Thursday.
This usually involved issuing pennies, washing the feet of beggars, and providing rich foods. The amount of 'pennies' given and feet washed would be estimated by how old the monarch was at the time.
For example, Mary I of England washed forty-one women's feet on her Royal Maundy service reflecting her age. She also gave them forty-one pennies each and lots of extra food.
The Royal Maundy service still continues today with Queen Elizabeth II. The tradition of washing feet was quashed long ago. Now, Her Majesty issues Maundy money to a selected town/city.
The first Almshouses were built in the UK around the 10th century. They were created to provide shelter for the poor and distressed in charity.
Years ago, these would often house societies' outcasts like the ill, elderly, orphaned, and disabled. They were called bede-houses and the residents were then known as bedesmen or bedeswomen.
History of the Perry and Dawes Almshouses in Wotton Under Edge
The oldest part of these Almshouses, which sits on Church Street was built in 1638.
Hugh Perry, a resident of Wotton-under-Edge, was an Alderman who went on to be a wealthy merchant in the city of London.
On his death in 1634, he wanted a legacy to be built in his name for the people of his hometown. So, he bequeathed a large sum of £300 for a chapel and 'Almshouses to be laid with a garden'.
He requested that the Almshouses be made large enough to house six men and six women in need.
There was also a handsome yearly allowance for the residents that would provide clothing, shoes, coal, and wood for fires.
Some of the money was spared for the chapel on the grounds which would help provide services, food on feast days and fund an usher who would run free schooling.
Around a century later, another local benefactor called Thomas Dawes leased some property for the poor in 1722. It would be converted into a hospital for poorer families.
A while later, a building was demolished that stood in-between the Perry's Almshouses and Dawes Almshouses and it was replaced with a General Hospital.
It was funded by both Perry's and Dawes trustees which were separate charities. Later, the two charities became managed under one body of trustees and today these Almshouses are known as the Perry and Dawes Almshouses of Wotton-under-Edge!
Did you know? Inside the chapel, you will find stained glass windows made of the two benefactors Hugh Perry and Thomas Dawes!
Changing with the times
Over the centuries, these Almshouses have seen huge changes since they were first built.
The residents were introduced to 'earth closets' in 1876. Before then, they were using chamber pots which would need to be emptied! In 1910, outdoor washrooms were installed behind Dawes hospital.
By the 1950s, the number of rooms was reduced from 30 to 22 and each one had its very own toilet.
In the 1970s, the Almshouses were at risk of closing if the trustees did not modernise them and have adequate living standards for the time.
As it was a Grade II listed building, this proved a challenge! In the end, the Almshouses were reduced to just nine rooms. But, each one provided comforts like a sitting room, kitchen, bathroom, and bedroom.
The Perry and Dawes Almshouses in Wotten-under-Edge are still used as residences today and are administered by Trustees of the Wotton-under-Edge General Charities.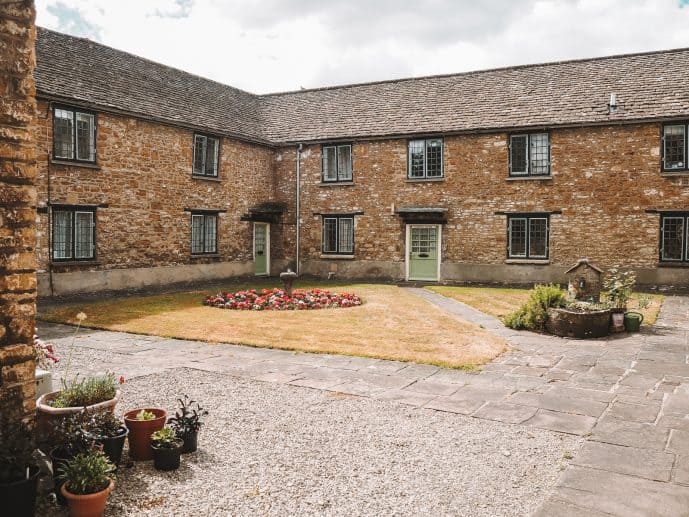 How to visit the Perry and Dawes Almshouses
You'll find these Almshouses in the centre of Wotton-under-Edge along Church Street.
The building instantly stands out as it's gleaming with Cotswolds stone and has six gables facing the street with an interesting wooden cupola on top!
Although it doesn't look like you can enter at first, there is a small passageway in the middle that will lead you to a delightful hidden courtyard.
Inside, you can see all of the residences around here along with the old Mr. Perry's Hospital. The courtyard gardens will lead you to a tiny chapel that is open for visitors!
Many people don't feel like they're in Wotton-under-Edge here. They say it feels like an 'Oxford College in miniature'.
Visiting the quaint chapel in the courtyard
This gorgeous 17th-century chapel was built at the same time as the Perry Almshouses and was funded by Hugh Perry.
Back then, Perry bequeathed a sum of £12 a year for the church to provide services and hire an Usher to provide free schooling here.
Another part of his legacy was that he provided money to the church to give as alms for the poor on feast days.
Today, this beautiful chapel is Grade II listed and is open for visitors. Inside, there is a small altar as well as some windows to admire.
Two of them are made from modern stained glass and show images of both benefactors, Hugh Perry and Thomas Dawes.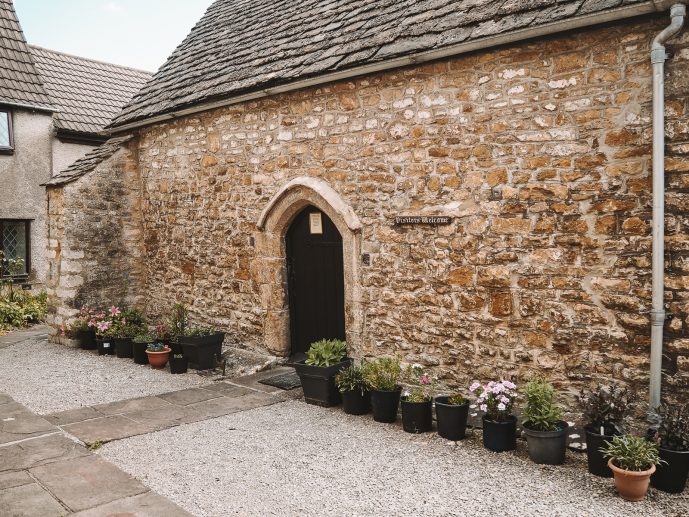 Find the long list of rules for the residents!
When you leave the chapel, make sure to look up above the passageway that will lead you back onto Church Street.
Don't walk up the steps as you don't want to disturb any of the residents! But, from the ground, you can easily see a rather comprehensive list of rules for those 'poor men and women' who were staying here long ago.
Some of the rules include;
To behave in a manner befitting of the charity
That their charity for fuel and money will be forfeit if they behave in an unfitting manner
If they are behaving in a manner unfit for 'the gift' the mayor will then distribute their charity to someone else
That the chapel shall be kept clean by the Almsmen and…
The poor scholars taught by 'the gift' are to always be present when prayers are read!
Even more Wotton Under Edge Almshouses to visit!
The Perry and Dawes Almshouse is the most famous here in Wotton-under-Edge. But, there are in fact 3 sets of attractive Almshouses in the town.
It's quite obvious that the residents cared deeply about its people and the future generations of Wotton!
If you are a fan of historic architecture, they are well worth a peek and are located just a few minute's walking distance from Church Street.
Ann Bearpacker Almshouses
The Ann Bearpacker Almshouses can be found almost opposite St Mary's Parish Church. They were built in 1837 and stand in two groups of five next to Parklands on Adey's Lane.
The name comes from their benefactor and founder who was Miss Ann Bearpacker. The Bearpacker family were prominent members of Wotton-under-Edge that made money from the wool industry and law.
Ann Bearpacker died unmarried and without children, so bequeathed a large sum of money to the town for a hospital and Almshouses to be built.
You'll find a small plaque at the end of the houses that is inscribed with the details.
Although from the outside these houses look unchanged, the interiors have just had a huge renovation to make them suitable for 21st-Century living.
Rowland Hill Almshouses
The third set of Almshouses can be found on Tabernacle Pitch at the top of the Old Town.
These wooden veranda Almshouses were built in 1887 by T.S. Child in memory of Reverand Rowland Hill.
Apparently, the Reverend visited Wotton-under-Edge as a travelling preacher in 1771. He loved the town so much that he built himself a home here!
Today, they have also been modernised and are now retirement bungalows. A spectacular chapel lies nearby that is now the Wotton auction rooms.
Map of the Wotton-under-Edge Almshouses (in purple)
Looking for more things to do in Wotton-under-Edge?
Wotton-under-Edge is truly an underrated hidden gem in the Cotswolds that is well worth a visit!
It doesn't see as many visitors as other Cotswolds towns but it is delightful. It also has a range of attractions to enjoy and it's steeped in history.
Along Long Street make sure you lookout for the historic Tolsey Clock attached to the Tolsey building built for Queen Victoria's Jubilee.
Near to the Almshouses is the ancient St Mary's Church and Parklands. In complete contrast, there is the Wotton Electric Picture House.
My favourite building in Wotton has to be the medieval Ancient Ram Inn that looks like its timber-framed gable is spilling onto the road!
Close by, you'll find the Tynedale Monument, Wotton Hill, and Cattle Country Park. Also, there is the National Trust's Newark Park which is a Tudor hunting lodge!
How to visit Wotton-under-Edge in the Cotswolds
Wotton-under-Edge is located on the Southern Fringe of the Cotswolds in the county of Gloucestershire.
Popular towns and villages nearby are Tetbury, Stroud, and Slad and it's just a few miles from the Tyndale Monument in North Nibley.
You can also find it just a 5-miles distance from the M5 motorway. So, it's perfect for a stop on a Cotswolds road trip.
You'll also find Wotton-under-Edge on the long-distance trail, The Cotswolds Way which starts off in Chipping Campden and ends in Bath!
Read more of my Cotswolds Travel guides!
The best things to do in Tetbury and the Chipping Steps
Discover Burford – gateway to the Cotswolds
Things to do in Lower Slaughter and Upper Slaughter
A complete guide to Bibury and the prettiest street in England
Discover the hidden secrets of the ruined Minster Lovell Hall!
How to visit Cotswolds Lavender
The legend of Painswicks 99 Yew trees and the best things to do in Painswick
Discover Tolkien inspirations with a real-life Moria, Barrow Downs, and the Prancing Pony!
The best things to do in Stow on the Wold
Harry Potter locations in Lacock and the best things to do
A complete visitor guide for Broadway Tower and Snowshill Village
The Most Instagrammable places in Gloucester
Harry Potter filming locations in Gloucester Cathedral
Save the Perry and Dawes Almshouses Wotton Under Edge for later!